How to Make Strawberry Syrup
As an Amazon Associate, I earn from qualifying purchases. Please read my disclosure policy.
Today I am showing you how to make Strawberry Syrup using fresh strawberries, zesty lime juice, pure cane sugar and a touch of water. This no-cook strawberry syrup is perfect to brighten and bring sunshine to cocktails, mocktails, ice cream and more!
This is such a simple and easy recipe for Fresh Strawberry Syrup, that anyone can make! No cooking, or straining required in this recipe, a blender is all you need! Be sure to read all the way to the end to see how to use this amazing syrup.
A few other flavor infused syrups that might interest you are Hibiscus Simple Syrup, Cranberry Simple Syrup and of course the basic Simple Syrup recipe.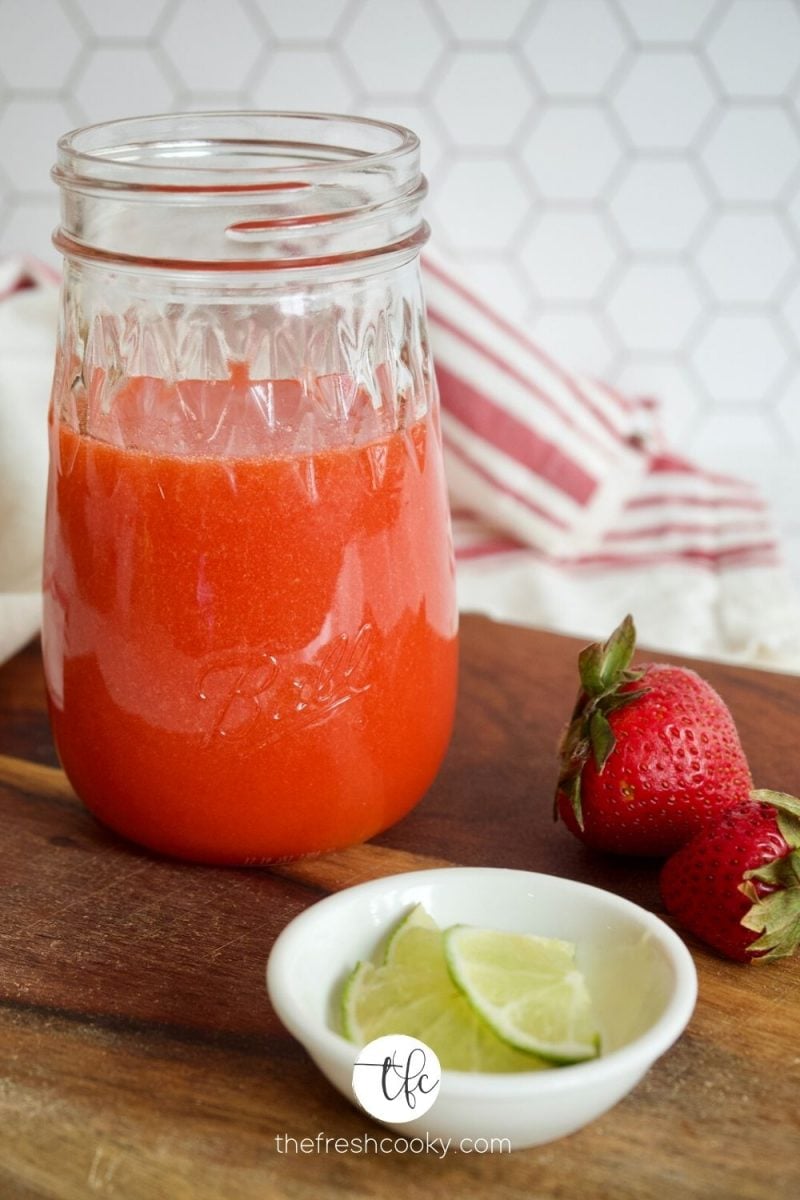 Ingredients & Substitutions
Springtime deserves the freshest of fruit! That's why I love this super simple recipe for Strawberry Syrup, plus it is ready in just a few minutes using your blender. See the frequently asked questions for how to reduce sugar and lime juice if desired.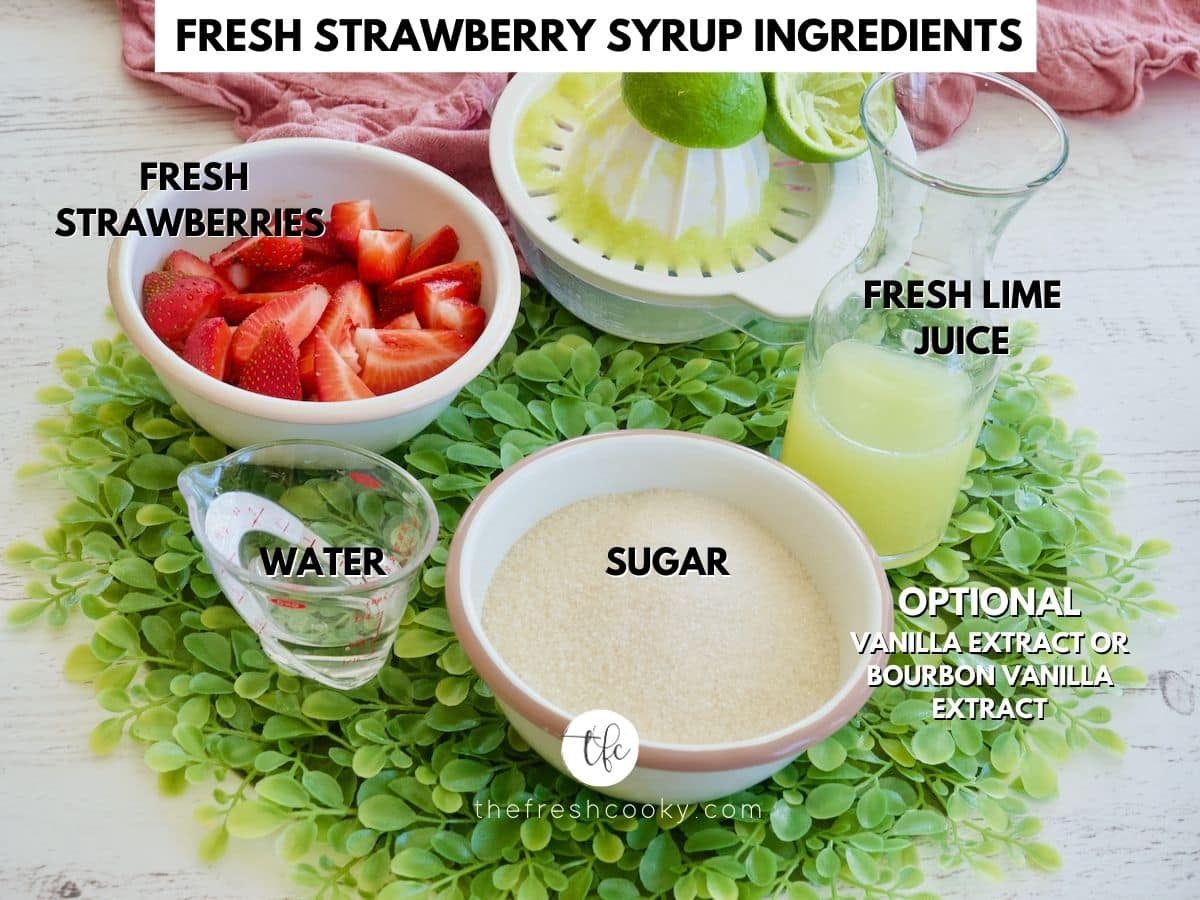 Granulated Sugar | Blending sugar with the strawberries it was gives this a syrup-y texture without cooking. I use organic all-natural cane sugar in all of my recipes, but you can use regular white sugar too.
Fresh Strawberries | Fresh is definitely best in this case, but if you are in a pinch, use the same amount of frozen.
Lime Juice | Fresh squeezed (my favorite citrus squeezer) is best, however a good quality bottled 100% lime juice will work as well!
Kathleen's Pro Lime Tip | To get the most juice from your limes, pop lime in microwave for 10 seconds then gently roll on counter before cutting OR plop lime in warmer water for 2-3 minutes.
How to Make Strawberry Syrup
Seriously, how simple is this fresh strawberry syrup! Do not believe me yet, well read on for the simple step-by-step instructions: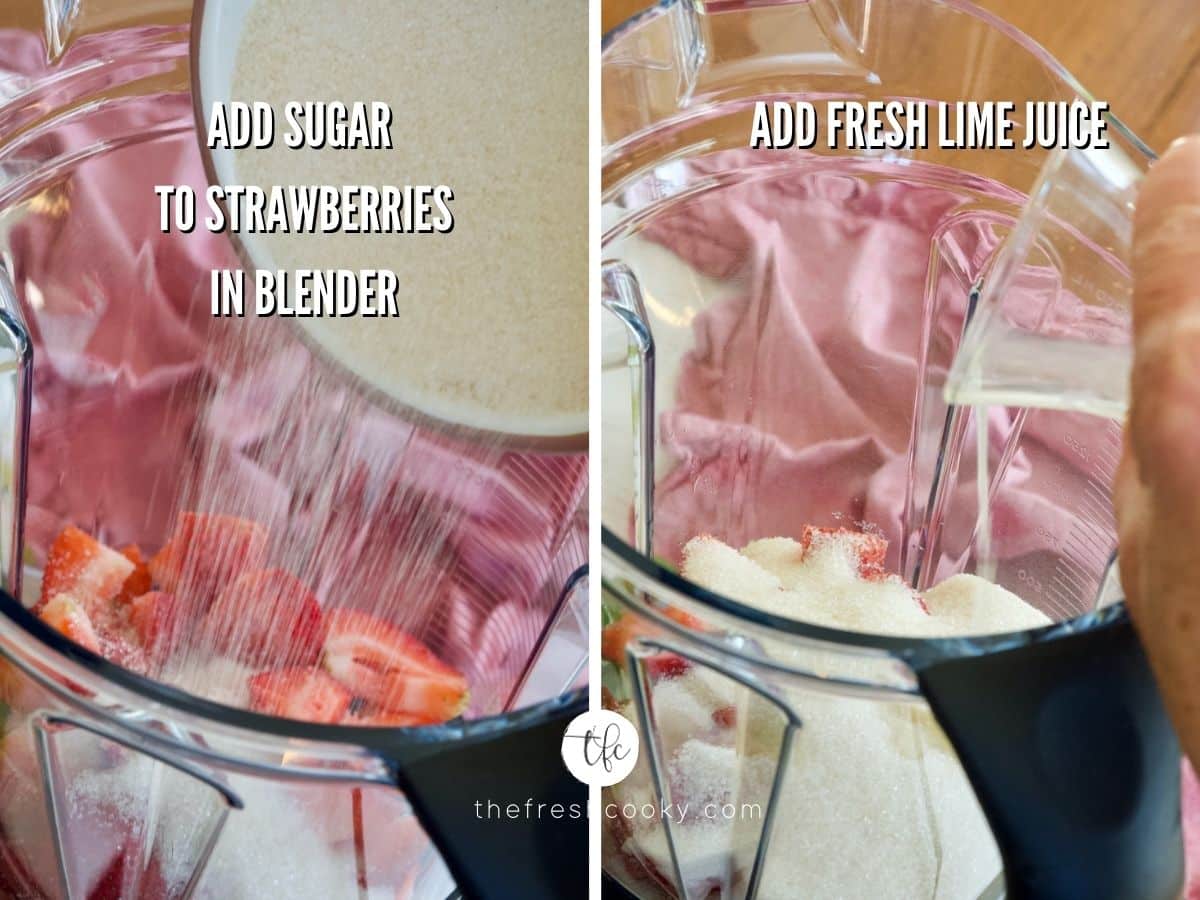 Place strawberries, sugar, lime juice and water in a blender and process until smooth and sugar has dissolved.
It'll take about 2 minutes using all-natural cane sugar, could take a little less time using white sugar.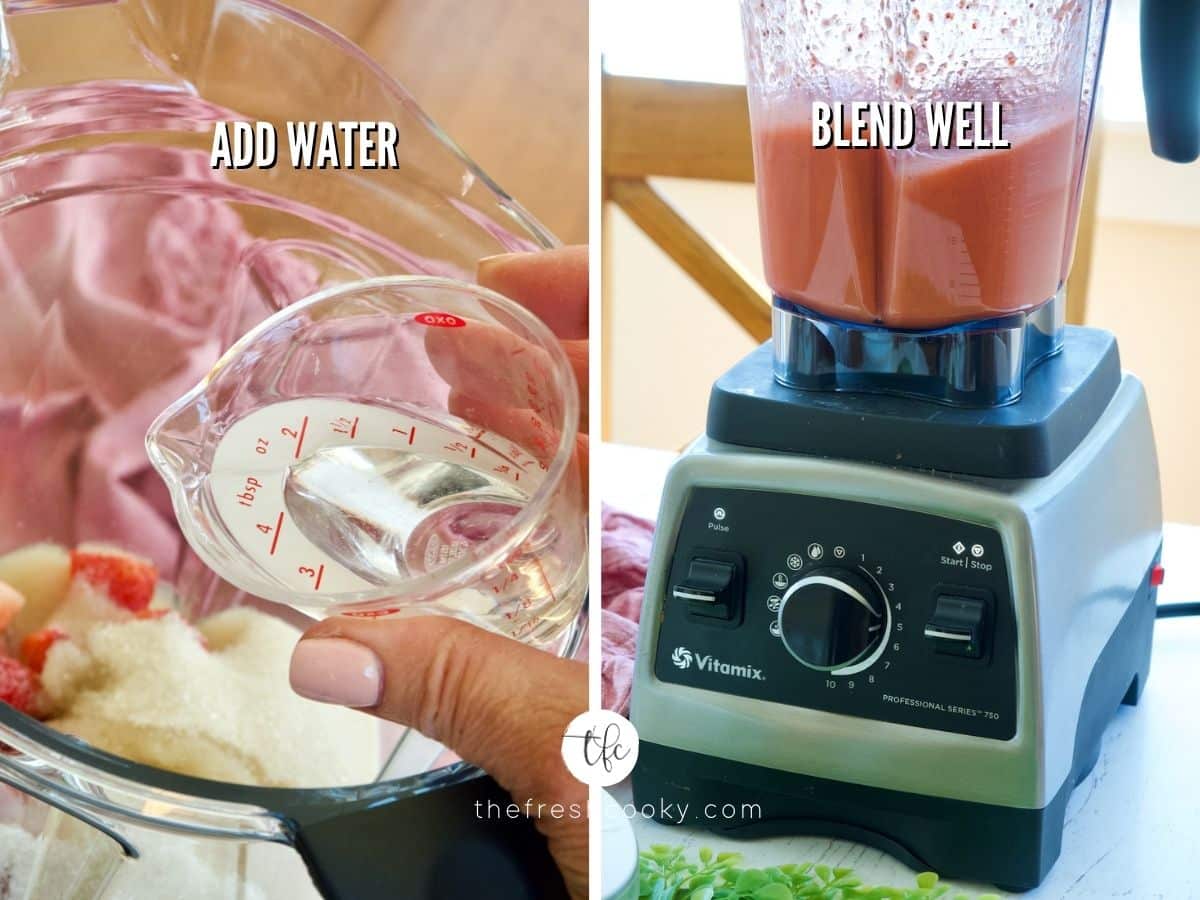 Storage Tips
If not using right away, pour the strawberry syrup recipe into an airtight container (I like using mason jars) and store in the fridge for 2-3 weeks.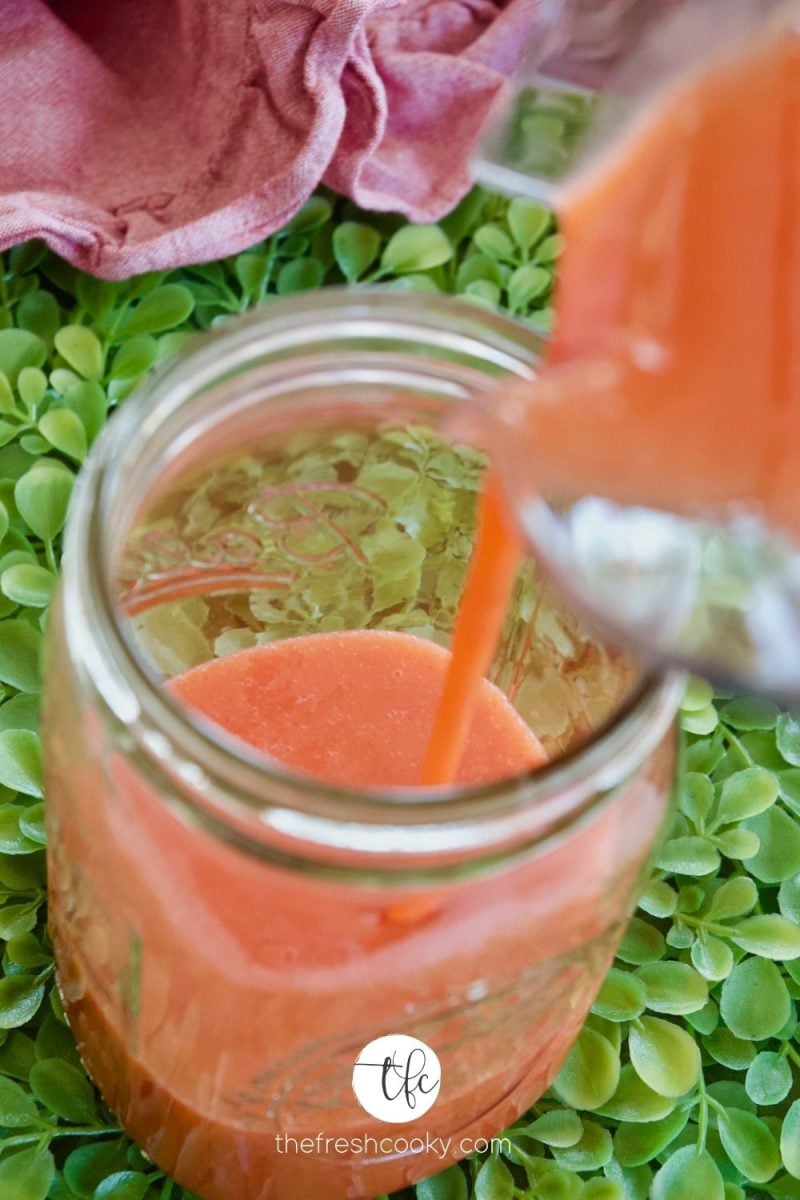 Frequently Asked Questions
Do I need to store simple syrup in the fridge?
For homemade simple syrup recipes, I highly recommend you store them in the fridge, as the chilling process greatly slows down the bacterial process that can happen, this is especially true for fruit based simple syrups.
Can I freeze fresh strawberry syrup?
Yes! Freeze in airtight container and thaw in refrigerator overnight or on counter until liquid again. You may have to give it a good shake to mix everything together again.
Can I double the recipe?
Yes! When I made this fresh strawberry syrup for cocktails on Easter, I knew I would need a lot, I doubled everything except the lime juice, I kept that at 1/2 a cup as citrus can overpower the recipe easily.
Do I need to use that much lime juice?
I love the strawberry lime explosion that happens, but if making this recipe for strawberry syrup for use on pancakes, yogurt and such, I would suggest using just 2-3 tablespoons of lime juice, or even less.
Can I make without sugar or reduce sugar?
Yes, double the strawberries and omit or reduce sugar to a few tablespoons, the syrup won't be quite as thick, but should still be fabulous. You will want to do this if you reduce the lime juice.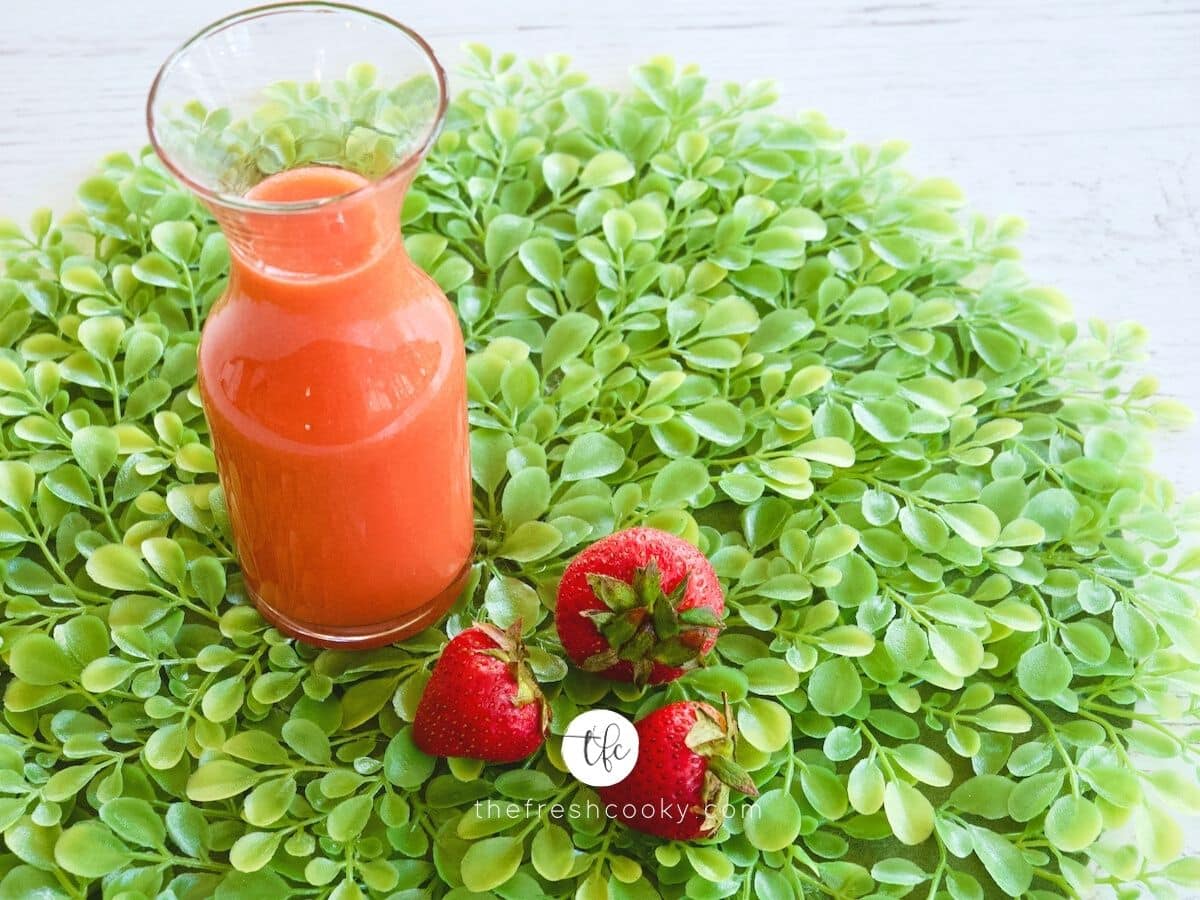 Can I use frozen strawberries?
Yes, while fresh is always better, I realize sometimes you may not have that option, replace with frozen strawberries cup for cup. Check out my friend Chellie's post on how to freeze fresh strawberries!
5 Ways to use Strawberry Syrup
Thanks for following along today on how to make strawberry syrup! If you tried it, be sure to pop down to the recipe card to rate it and leave a comment!
More fresh Strawberry recipes:
Like this recipe?
Don't forget to give it a ⭐️⭐️⭐️⭐️⭐️ star rating and comment below the recipe!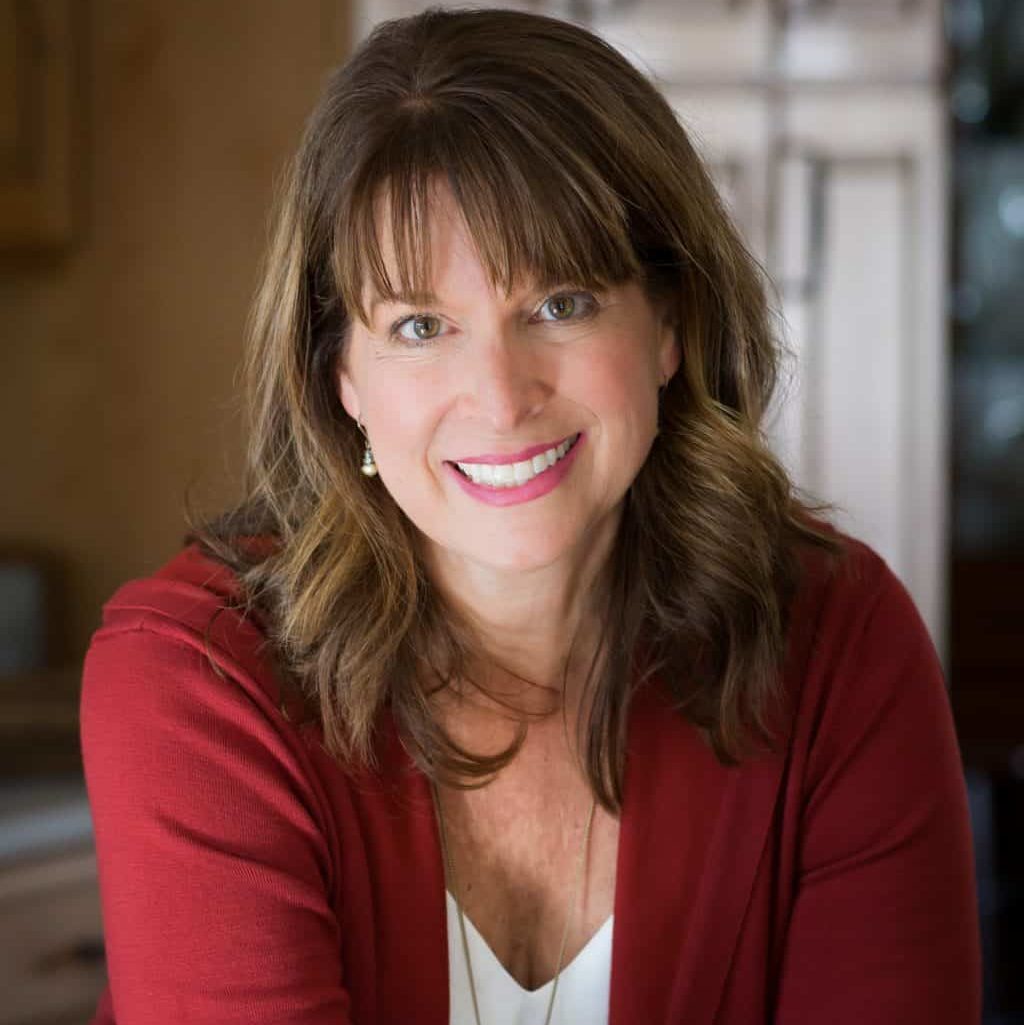 About Kathleen Pope
Recipe Innovator | Food Photographer | Food Writer
Hi, I'm Kathleen Pope. Here at The Fresh Cooky you will find easy, mostly from-scratch, trusted recipes for all occasions. From speedy dinners to tasty desserts, with easy step-by-step instructions. I am here to help teach you how to make mouthwatering recipes without spending hours in the kitchen. Read more about Kathleen here.