Best Hibachi Sauce Recipe (Yum Yum Sauce) 
As an Amazon Associate, I earn from qualifying purchases. Please read my disclosure policy.
Discover the ultimate Creamy Hibachi Sauce recipe, aka the Best Yum Yum Sauce or Yumm sauce! In just 5 minutes, unlock unparalleled flavor with simple ingredients, and unveil the secret ingredient that sets it apart, transforming your weekday meals into Benihana-worthy delights.
Get the full hibachi experience and make this Japanese mayo today. The tangy, creamy drizzle of yum yum sauce on top of those freshly stir-fried veggies, noodles, and hibachi chicken fried rice. Make authentic yum yum sauce in your very own kitchen!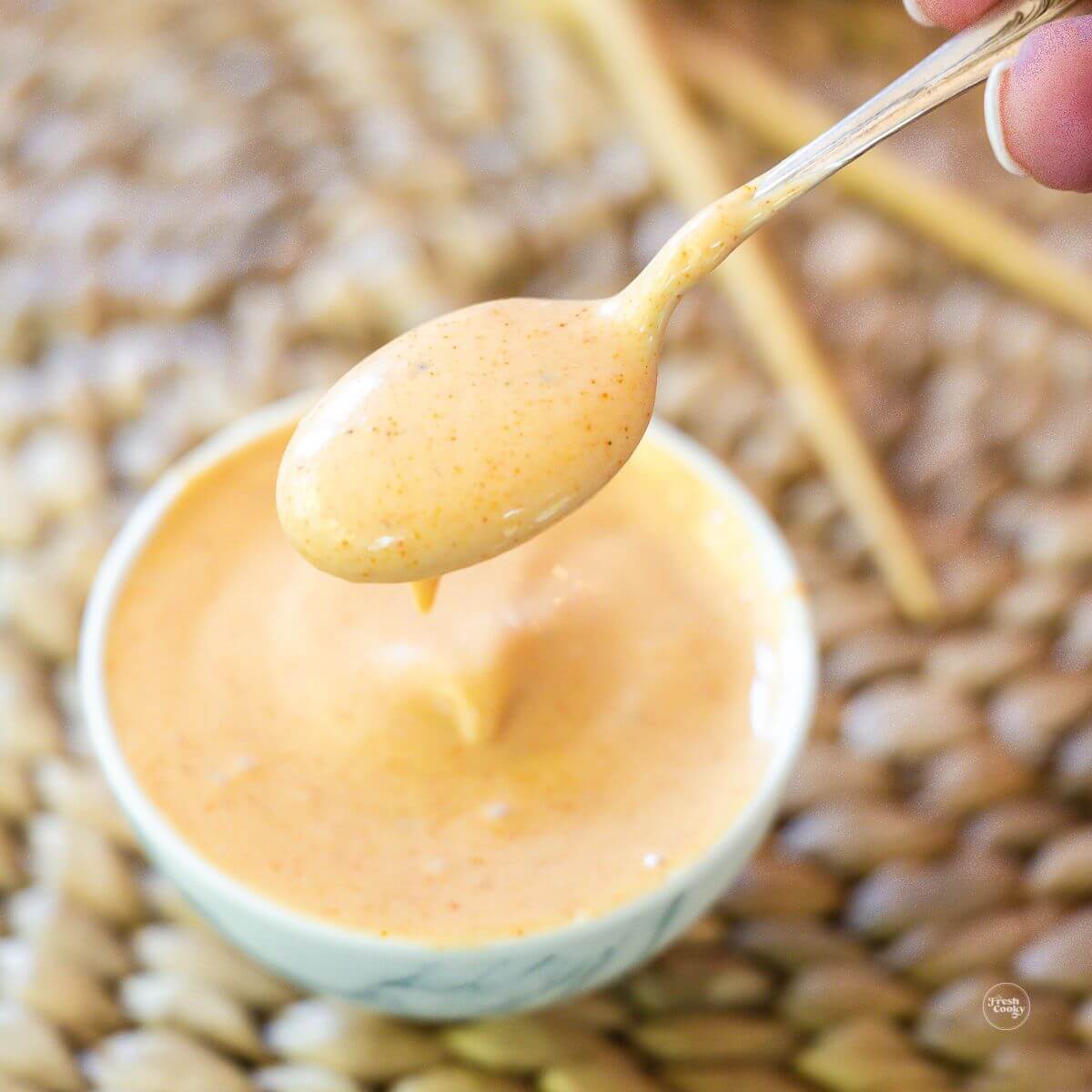 I enjoy giving precise details in my recipe posts to lead my readers through any questions. If you're just here for the printable recipe, feel free to click "Jump to Recipe" right under the title of this post, and you'll head straight there!
Why You Will Love This Recipe
Quick Sauce – Elevate your weeknight stir-fries with this speedy 5-minute yum yum sauce recipe that takes your taste buds to the next level.
Flavorful Sauce – Warning! Brace yourself for a hibachi sauce that will have you piling it on. Just like the one at Japanese hibachi restaurants, this stuff is irresistible!
Less Processed Ingredients – Skip the store-bought yum yum sauce and make this simple recipe with fresher ingredients.
Main Ingredients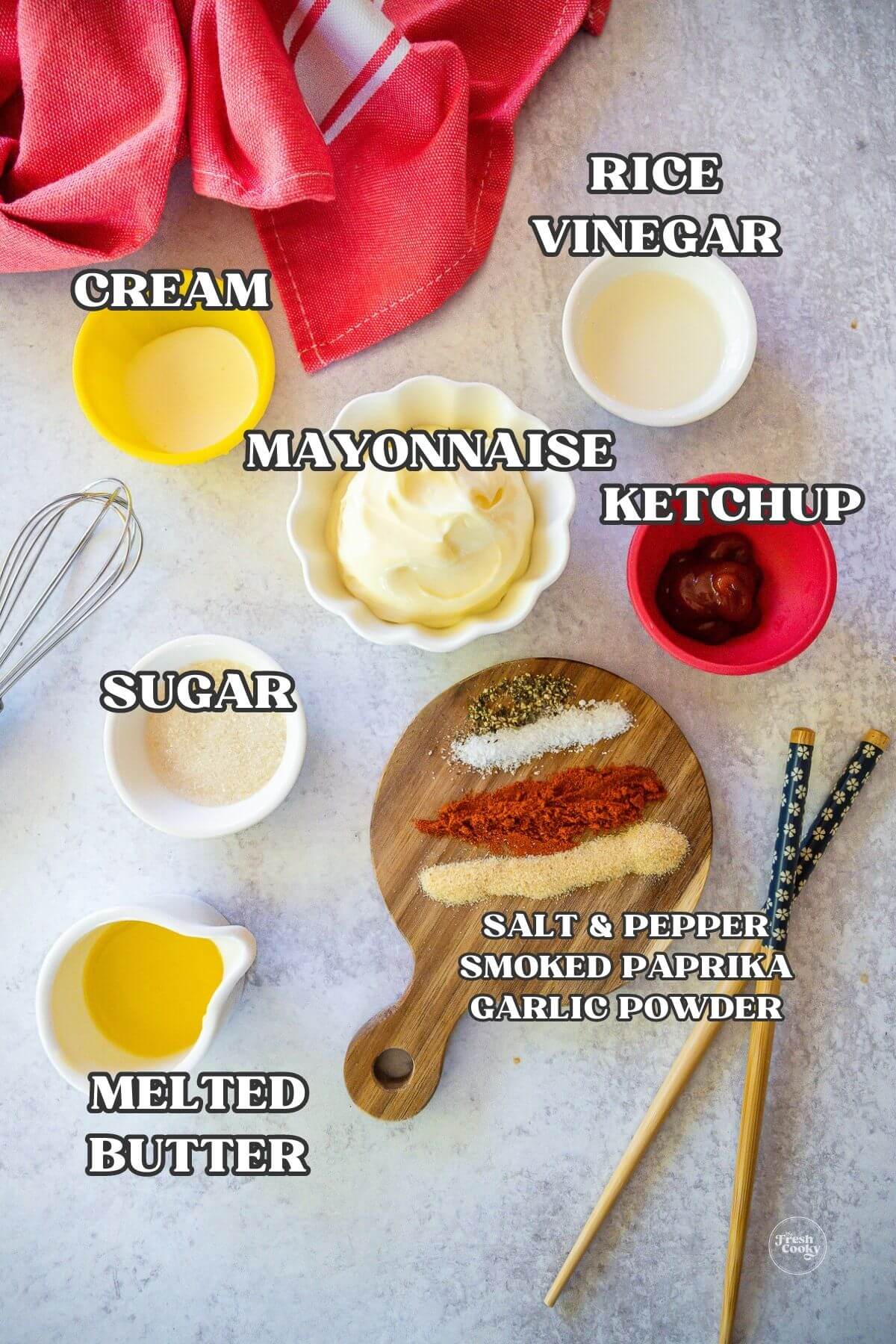 Mayonnaise | The creamy and tangy base of the yum-yum sauce is silky mayonnaise, I love heart healthy avocado mayo.
Rice vinegar | Rice wine vinegar or Mirin brings tangy notes, or sub with a squeeze of lemon juice.
Sugar | I like using all natural cane sugar in my cooking and baking.
Butter | Deepen the sauce flavors with melted butter, use real butter, you just need a bit.
Ketchup | Just a bit of ketchup brings a slight tomato flavor to the tasty sauce. Other recipes use tomato paste which also works.
Seasonings | Season the homemade hibachi sauce with garlic powder, smoked paprika, kosher salt, and black pepper.
Heavy cream | The secret ingredient to my homemade yum yum sauce recipe. Thin the sauce with heavy cream instead of water (FYI, Benihana's Yum Yum Sauce uses cream).
How to Make a Quick Hibachi Yum Yum Sauce Recipe
You couldn't ask for a simpler recipe. Just mix all ingredients in a small bowl, thinning with a little heavy cream.
Cover or transfer to an airtight container, and refrigerate until you're ready to use it.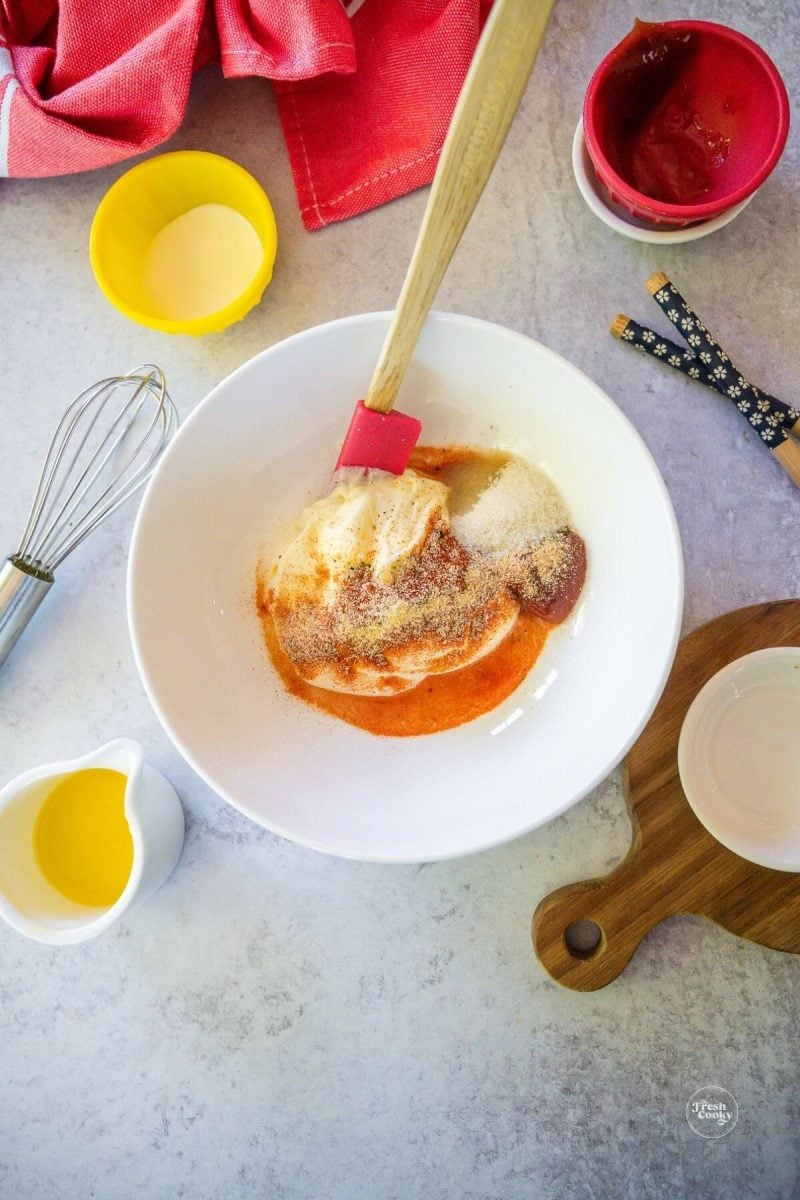 Add heavy cream, a little at a time, whisking well until desired, pourable sauce consistency achieved.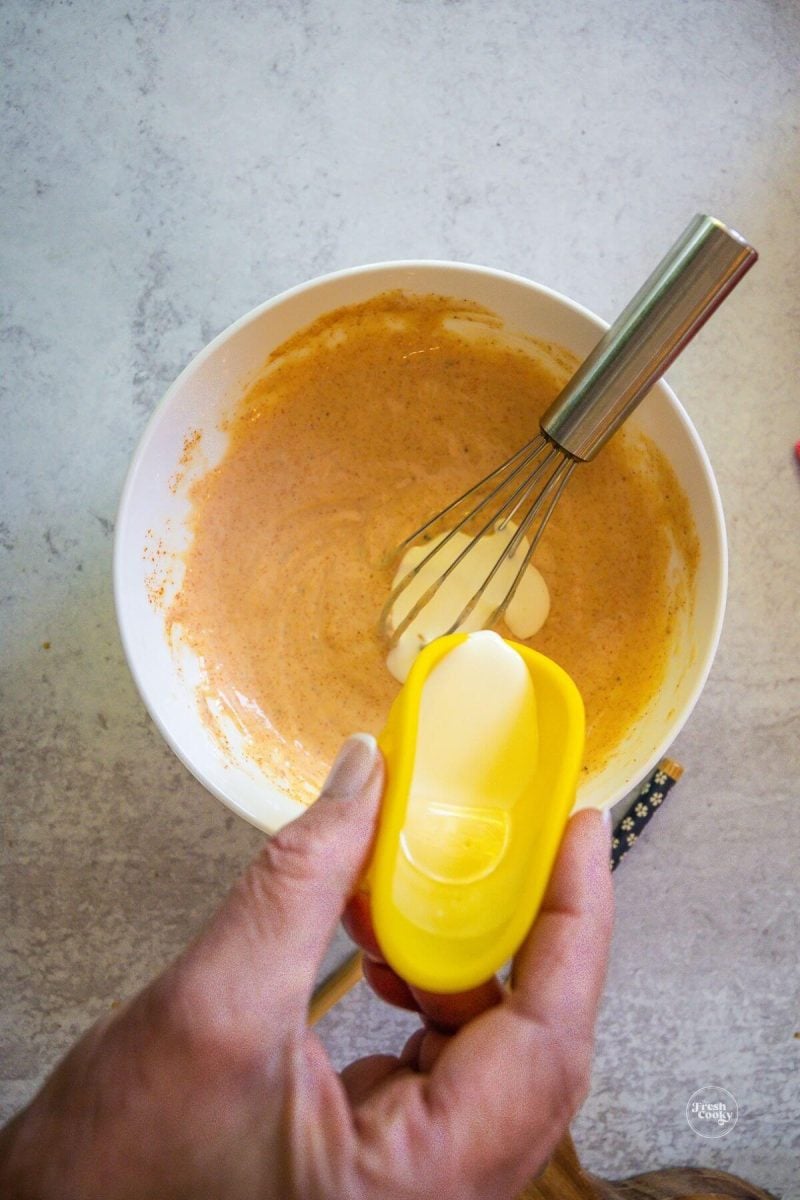 While you can serve it freshly made, it's better after an hour or two of chilling in the refrigerator, giving the ingredients time to meld together.
Fresh Tips
This recipe makes 10 servings, but you can easily half or double the ingredients to feed any sized crowd.
If your sauce comes out a little thick, use water or heavy cream to thin it by adding about a tablespoon until you reach the desired consistency.
If you love making your own sauces at home, check out this creamy and tangy Secret Smashburger Sauce Recipe, perfect for smearing on freshly grilled burgers this summer's backyard cookouts.
And this easy Homemade Honey Teriyaki Sauce that's also great for burgers but even better on grilled chicken.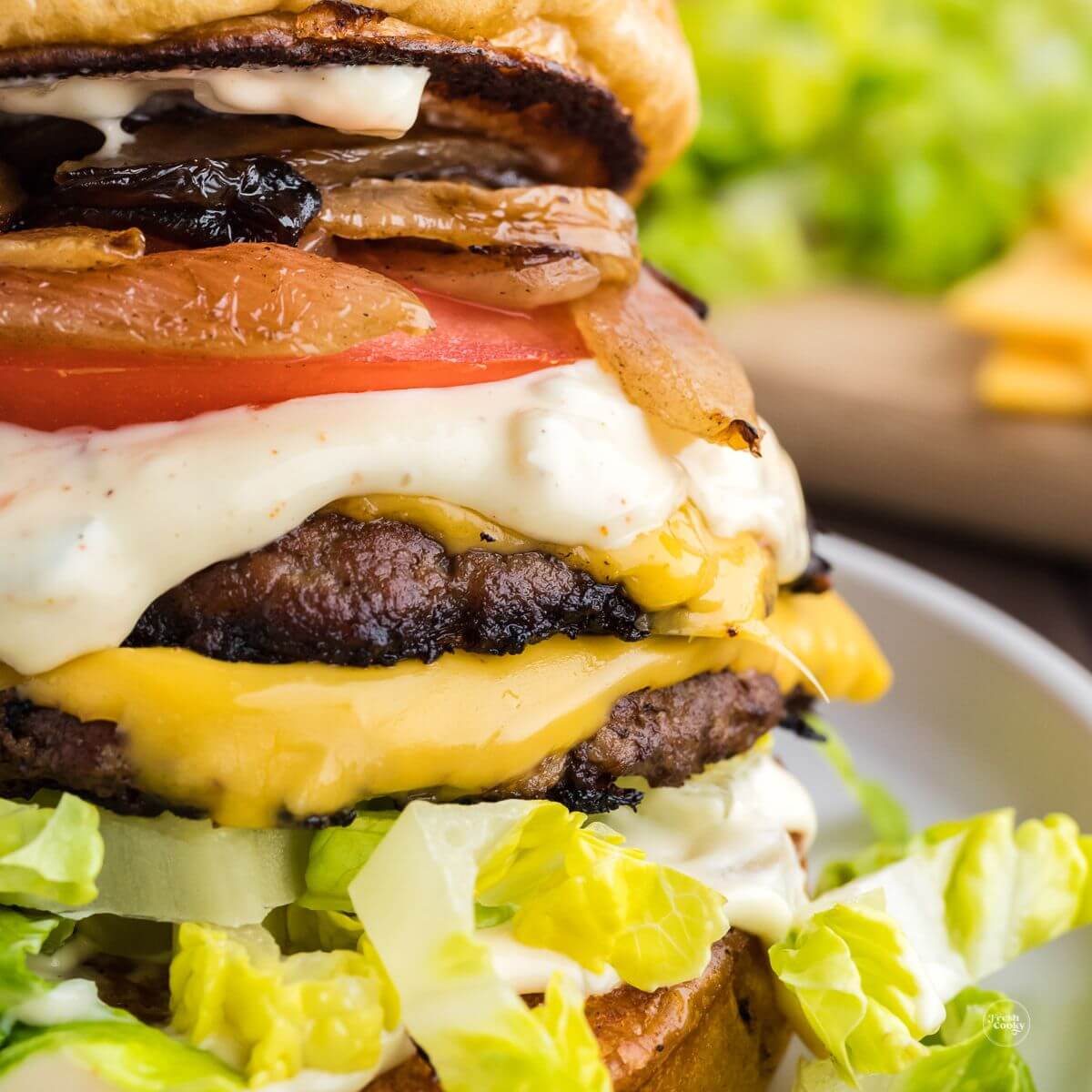 Is yum yum sauce gluten-free?
Many yum yum sauces at restaurants or from grocery stores are naturally gluten-free, but you should always look for the GF label to confirm. As far as this homemade sauce recipe, it's entirely gluten-free!
Is yum yum sauce healthy?
Yum yum sauce isn't regarded as a 'healthy' sauce. However, it's perfectly fine to consume in moderation, as with many other recipes and fattening foods. It's a bit high in calories compared to alternative sauces, but it doesn't hurt to have it occasionally. Plus, it's low carb!
Is yum yum sauce keto?
When made with sugar-free ketchup and an alternative sweetener, yum yum sauce fits a keto diet. Most store-bought products or restaurant sauces are not naturally keto-friendly.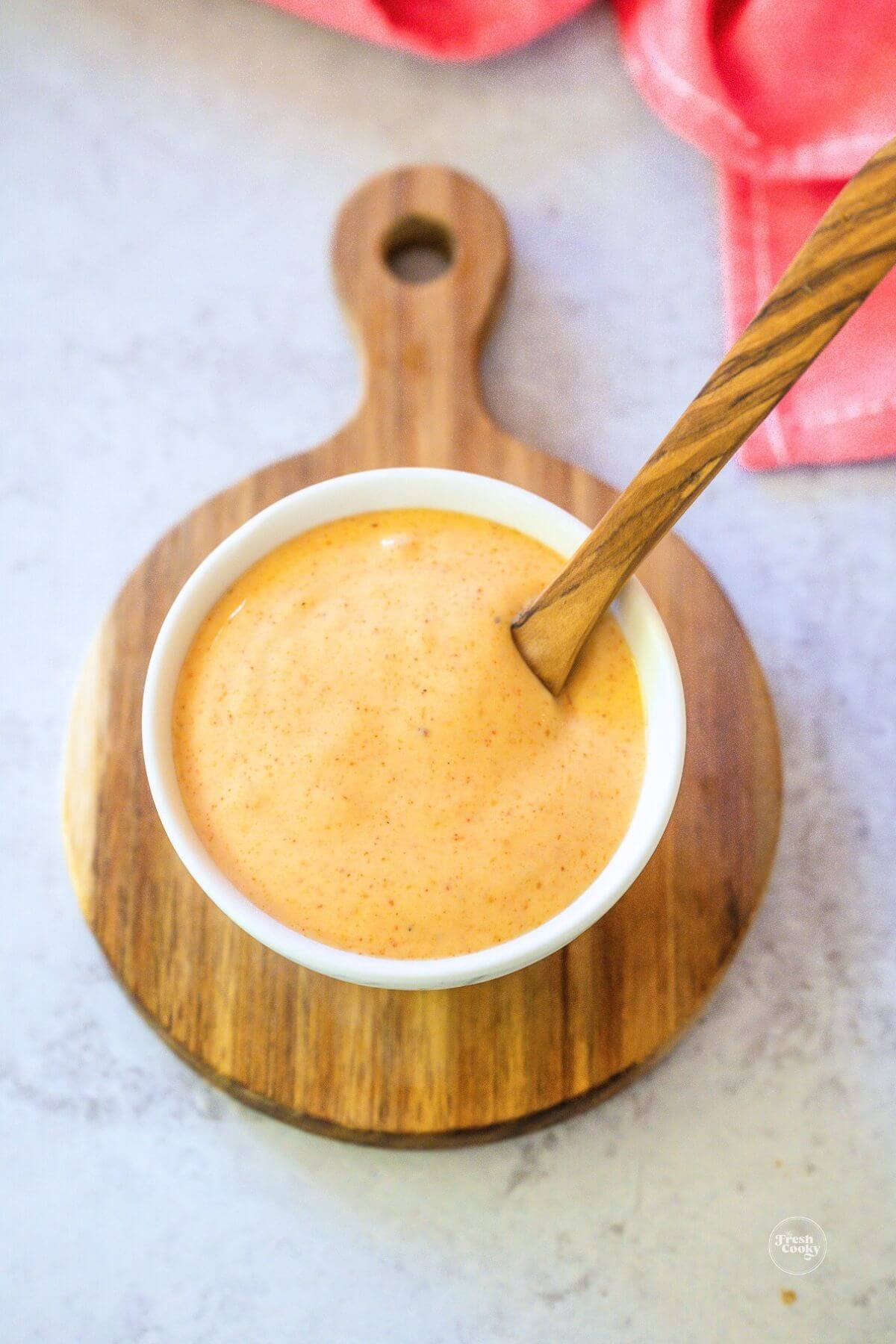 Is yum yum sauce vegan?
The mayonnaise, heavy cream, and butter in most yum yum sauce recipes make it not vegan. Luckily, you can make a vegan yum yum sauce for your hibachi dinner by using vegan-certified alternatives for the mayo, cream, and butter.
Yum Yum Sauce vs. Spicy Mayo
Yum yum sauce and spicy mayo are often confused because they look similar and build off a mayo base. They do differ in taste, though. Yum yum sauce is more savory and tangy, while spicy mayo is creamy with a kick!
While yum yum sauce has a base of mayonnaise, vinegar, cream, and savory seasonings, spicy mayo can be as simple as mayonnaise mixed with hot sauce.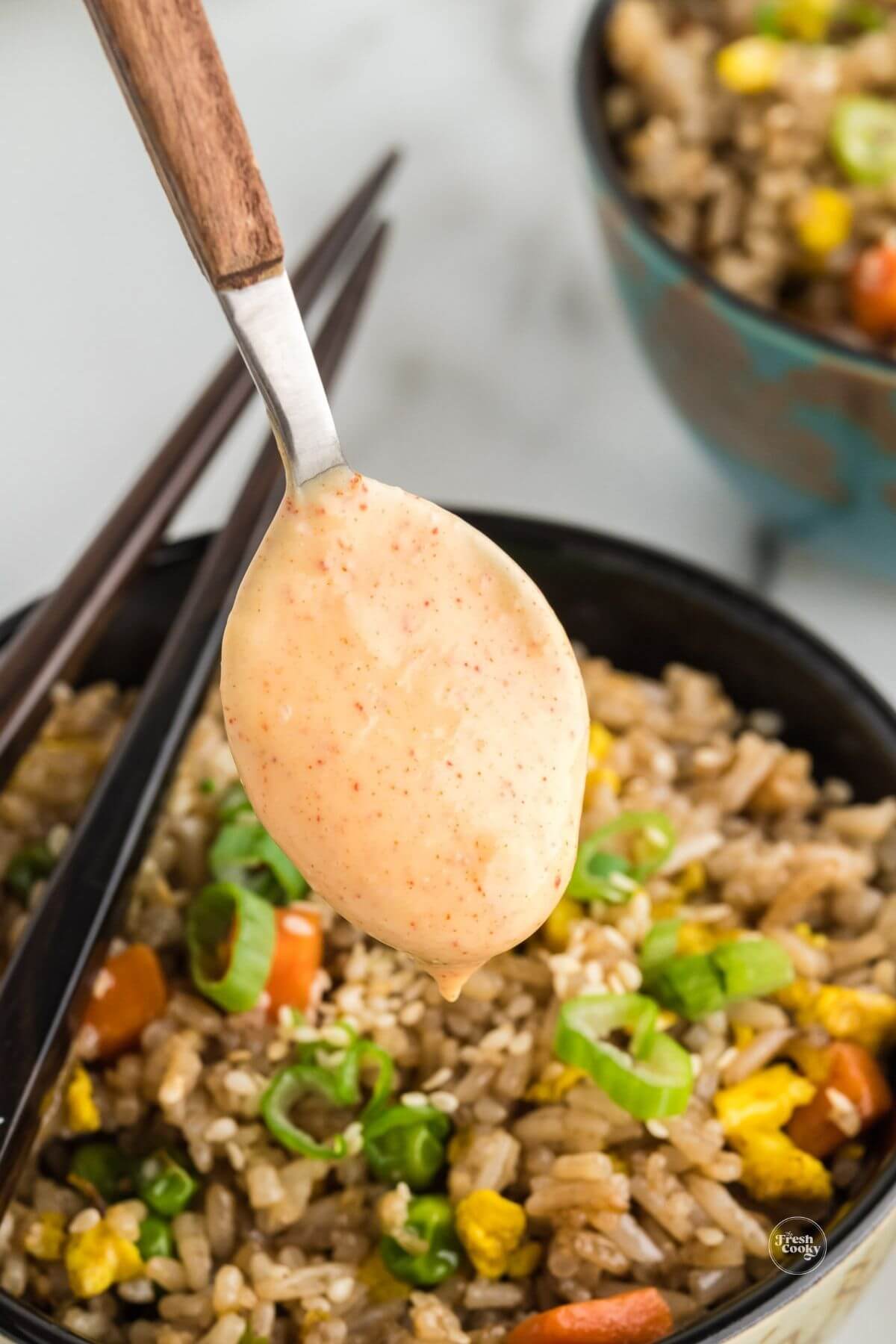 Variations & Substitutions
Vinegar Alternatives: When I don't have rice vinegar on hand, I replace it with white vinegar or apple cider vinegar, or even a little lemon juice.
Sugar-Free Yum Yum Sauce: Choose sugar-free ketchup and replace the granulated sugar with monk fruit or another alternative.
Spicy Yumm Sauce: Add a touch of spice by including a splash of Sriracha sauce, cayenne pepper, or your favorite chili pepper spice. Classic hot sauce works great, too!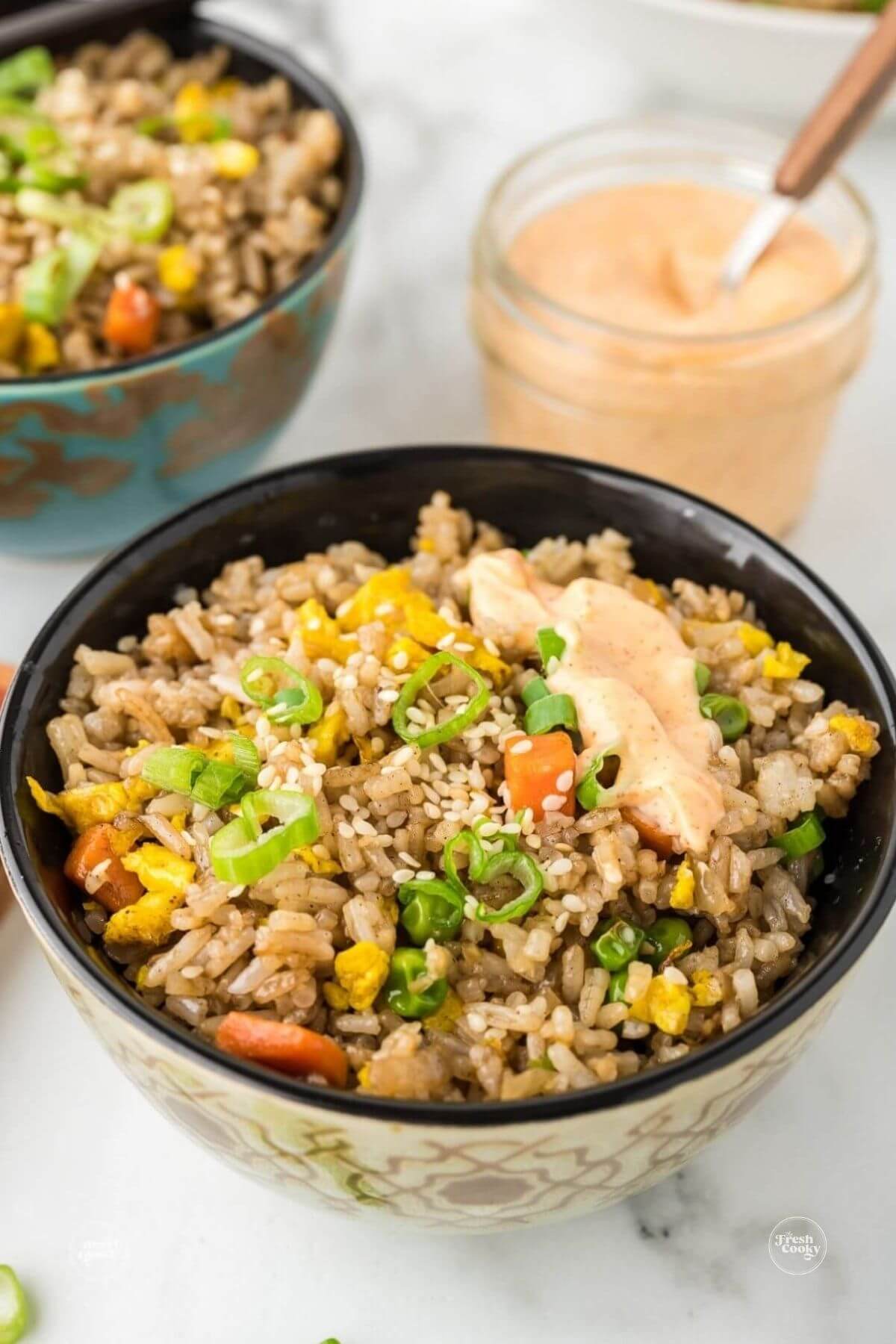 Storage Tips
Refrigerate Yum Yum Sauce – This hibachi sauce keeps for about two weeks when stored in an airtight container in the refrigerator.
Can You Freeze Yum Yum Sauce – This recipe does not freeze well because of the dairy content.
Frequently Asked Questions
Is yum yum sauce the same as yum sauce?
Yes! Yum yum sauce is also known as hibachi sauce, Japanese white sauce, shrimp sauce, yum sauce, yumm sauce, yummy sauce, and others.
What can yum yum sauce be used for?
Yum yum sauce is most commonly drizzled on or mixed into hibachi and stir-fry recipes. However, it can also be used as sushi, tempura shrimp, and veggies dipping sauce, or even for chicken tenders. It's a versatile sauce that has endless uses. Try it on a sandwich or burger, like my Smash Burger with onions!
What is yum yum sauce?
Hibachi yum yum sauce is a common dressing, dipping, and stir fry sauce served at Japanese steakhouses found in the United States and Canada. It has a base of mayonnaise, vinegar, tomatoes, and other seasonings, resulting in a creamy, tangy, and flavorful taste. You won't find it on the menus of restaurants in Japan because it is an Americanized element of the not-to-authentic Japanese cuisine that our country is familiar with.
How do you make yum yum sauce whiter?
This popular sauce varies in color depending on the specific recipe. To get whiter yum yum as opposed to one with an orange or pink tint, reduce or omit the tomato sauce or ketchup used in the recipe, and add just a pinch of smoked paprika.
What to serve with Yumm Sauce
Make this famous Japanese steakhouse sauce your own! Enjoy it drizzled on Hibachi steak and shrimp, this super easy Fried Rice and of course on these Hibachi vegetables, all Benihana copycat recipes you will fall in love with!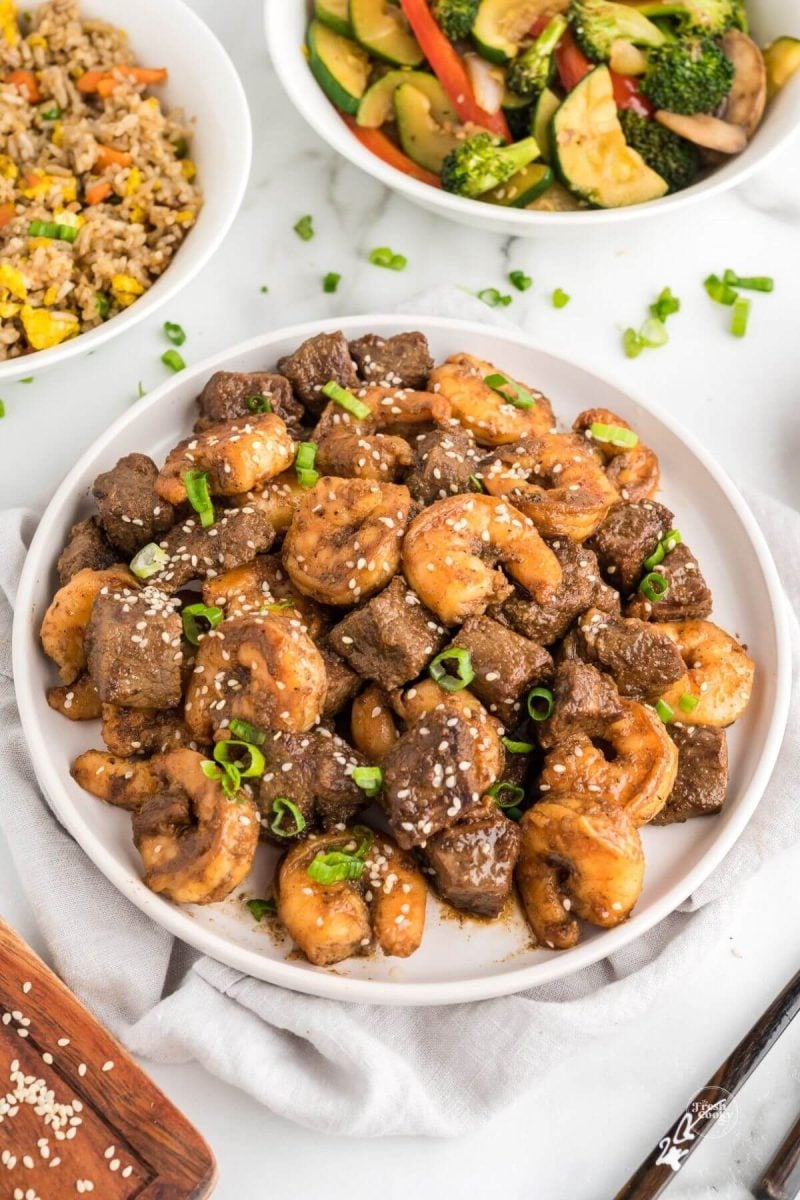 Use quality ingredients for the best tasting sauce and don't forget to refrigerate for 2 hours before serving, extra YUM!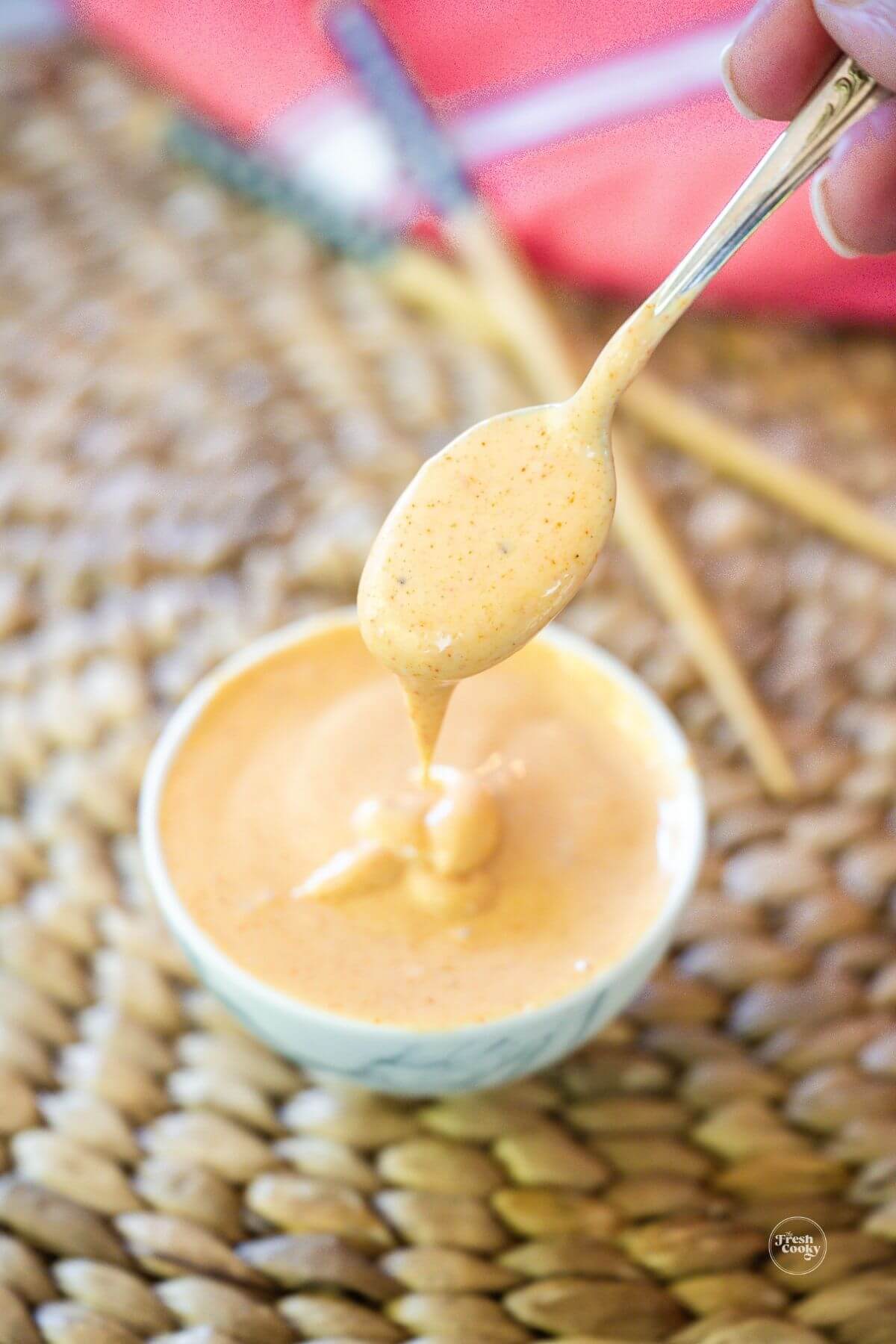 Best Dishes for Homemade Yum Yum Sauce
Besides the three delicious hibachi style recipes above, yum yum goes great with classic Chicken Fried Rice made on the Blackstone Griddle in just 30 minutes or less. Or try our easy crispy Korean Fried Chicken Recipe, or this Ground Pork Stir Fry with Holy Basil, otherwise known as Pad Kra Pao – YUM!
Ground Pork Stir Fry with Holy Basil (Pad Kra Pao)
Thai spicy ground pork stir fry with holy basil (Pad Kra Pao) is a simple and delicious 30-minute meal you must try! Loaded with fresh basil and green beans, this nutritious stir fry is typically served with rice, but can also be enjoyed on its own.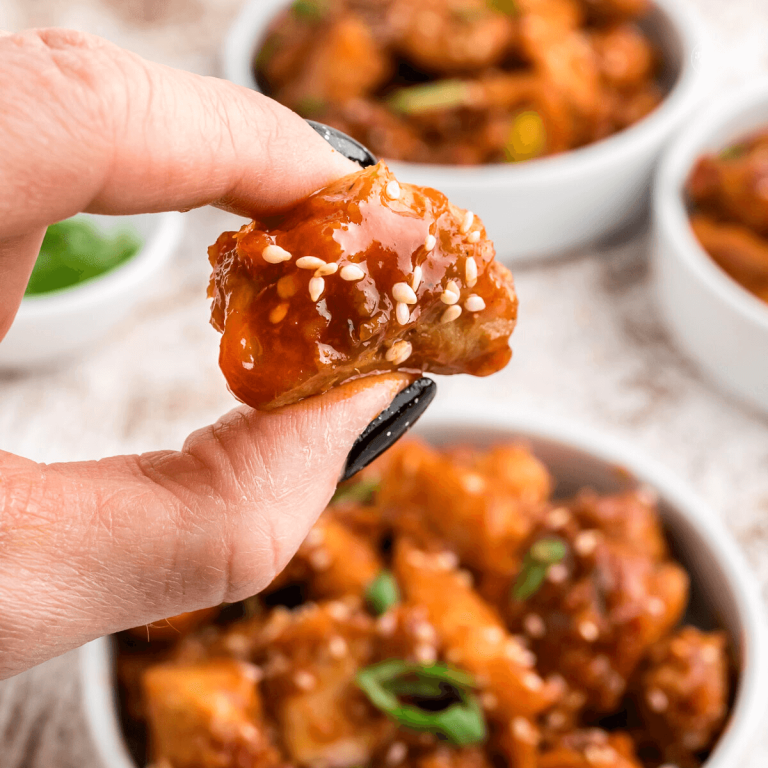 Easy Korean Fried Chicken Recipe (Air Fryer or Oven)
Korean Fried Chicken is perfectly crisp and smothered in a spicy-sweet and tangy barbecue sauce. Our version is made in the air fryer with chicken thighs! Tastier and more juicy than wings!
Chicken Fried Rice on the Blackstone Griddle
Learn how to make Chicken Fried Rice on Blackstone Griddle! Great flavors, healthy, budget friendly and a 30 minute meal! No Blackstone griddle, no problem!
10 Ways to Serve Yumm Sauce
Dipping Sauce: Serve yum yum sauce as a flavorful dipping sauce for grilled meats, seafood, or vegetables. And don't forget french fries, these zucchini corn fritters and so much more.
Drizzle over Bowls: Add a generous drizzle of yum yum sauce over rice bowls, poke bowls, or grain bowls.
Sandwich Spread: Use yum yum sauce as a tasty spread for sandwiches, wraps, or burgers.
Salad Dressing: Transform your salads by using yum yum sauce as a unique dressing. Its creamy texture and tangy flavor can elevate a simple green salad or a refreshing coleslaw.
Stir-Fry Sauce: Incorporate yum yum sauce into your stir-fries for a burst of flavor. Add it towards the end of cooking and toss your veggies, noodles, and protein in the sauce for a delicious finish.
Marinade Enhancer: Take your marinades to new heights by mixing in some yum yum sauce. It adds depth of flavor and helps tenderize the meat while infusing it with its distinctive taste.
Veggie Dip: Serve yum yum sauce as a dip for raw or roasted vegetables. It can make a plate of crudités or roasted veggies more enticing and enjoyable.
Grilled Seafood Topping: Elevate your grilled seafood dishes by spooning yum yum sauce on top. It complements grilled fish, scallops, lobster, or shrimp, adding a creamy and tangy element.
Topping for Sushi: Use yum yum sauce as a tasty topping for sushi rolls or sashimi.
Drizzle over Tacos: Add a dollop or drizzle of yum yum sauce to your tacos for a delightful twist. It pairs well with various fillings such as grilled chicken, shrimp, fish, or even vegetarian options.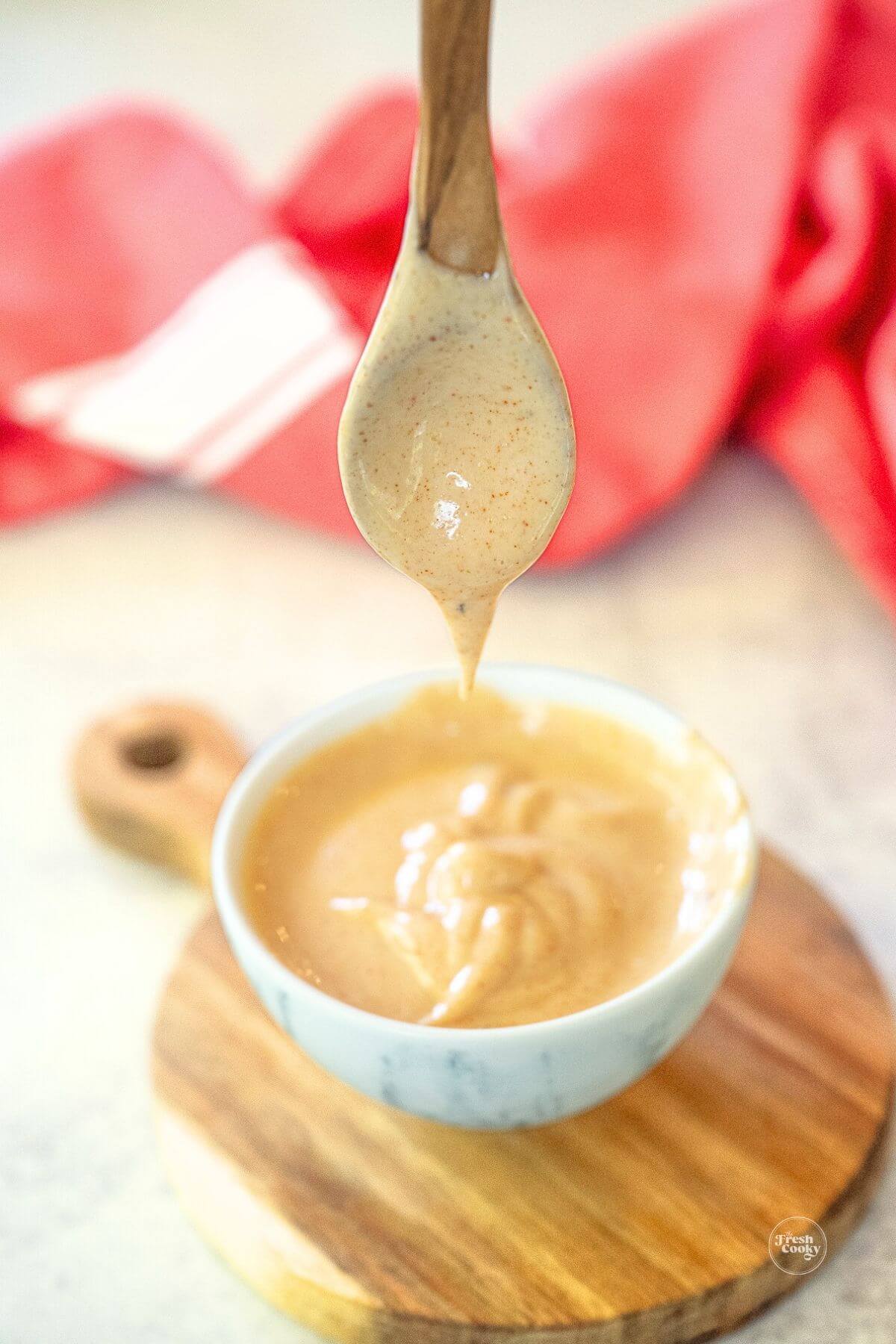 More Restaurant-Quality Sauce Recipes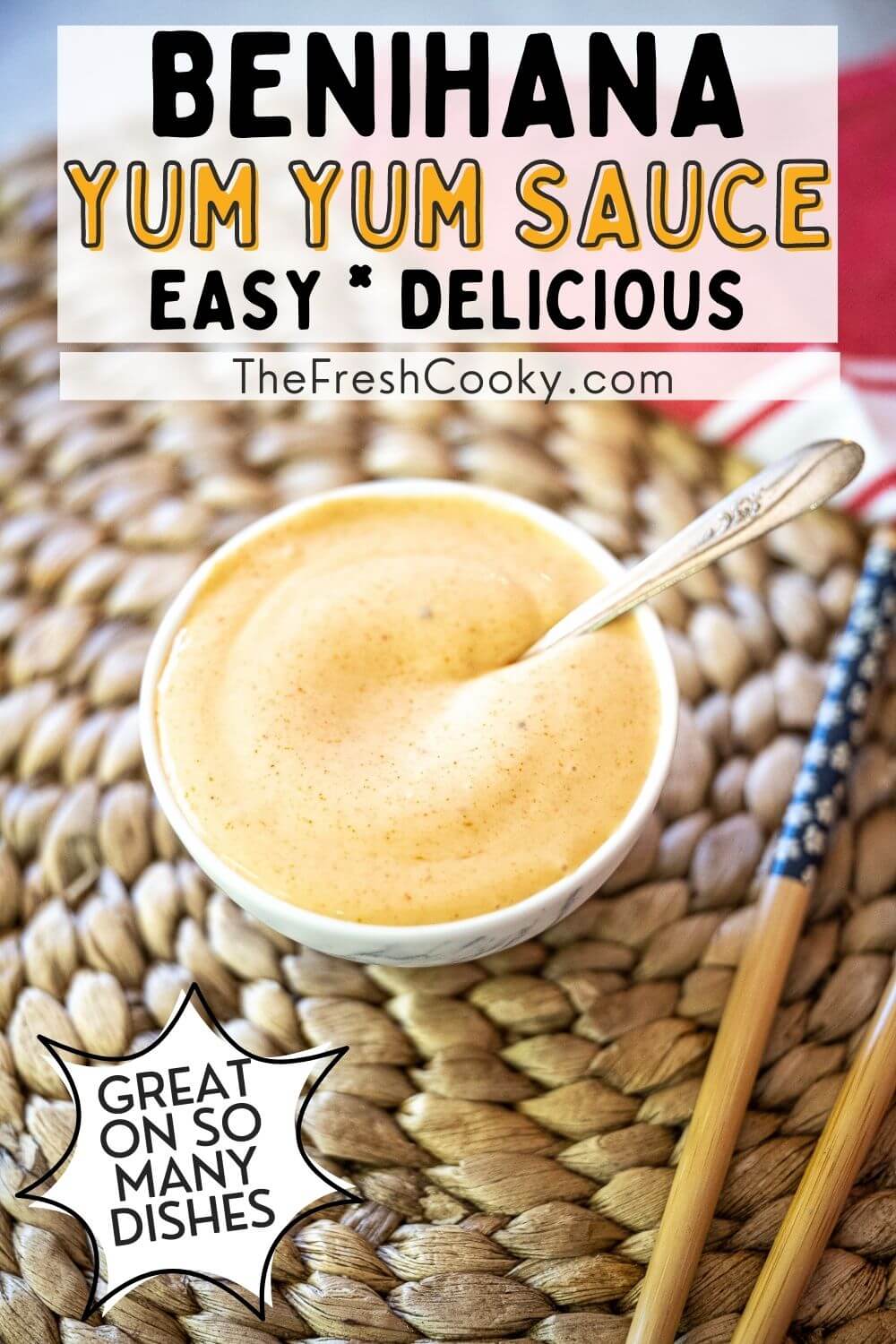 I hope you loved this Homemade Hibachi Yum Yum Sauce Recipe— if you did, would you share your creation on Instagram, Facebook, and Pinterest? And be sure to comment below!
Like this recipe?
Don't forget to give it a ⭐️⭐️⭐️⭐️⭐️ star rating and comment below the recipe!
Best Hibachi Sauce Recipe (Yum Yum Sauce)
Unleash ultimate flavor with the Best Yum Yum Sauce! In 5 minutes, create a Creamy Hibachi Sauce that elevates weekday meals into Benihana-worthy delights.
Ingredients
½

cup

mayonnaise,

my favorite is Avocado mayo

½

tablespoon

rice vinegar

,

or Mirin

½

tablespoon

granulated sugar

,

replace with Monk fruit for keto

½

tablespoon

melted butter

2

teaspoons

ketchup

,

use sugar free for keto

½

teaspoon

garlic powder

½

teaspoon

smoked paprika

heavy pinch

kosher salt

pinch

black pepper

2-3

teaspoons

heavy cream

,

for thinning (or use water)
Instructions
Mix together all ingredients except cream n a medium bowl until smooth.

Slowly stir in a little cream at a time until pouring or drizzling consistency is reached. Chill for 2 hours for best results.
✱ Kathleen's Tips
Storage
Store in an airtight container in the fridge for up to 2 weeks; freezing is not recommended.
Variations
Replace rice vinegar with regular, apple cider vinegar or Mirin
Replace sugar with monk fruit, a sugar replacement for keto yum yum sauce
Add a touch of spice by adding a splash of Sriracha sauce, cayenne pepper or your favorite chile pepper spice.
How to Use Yum Yum Sauce
Drizzle on your favorite Asian inspired dishes; try my Hibachi Steak & Shrimp, Hibachi Fried Rice, Hibachi Vegetables and this Chicken Fried Rice.
Nutrition
Serving:
1
tablespoon
Calories:
39
kcal
Carbohydrates:
2
g
Protein:
0.1
g
Fat:
3
g
Saturated Fat:
1
g
Polyunsaturated Fat:
2
g
Monounsaturated Fat:
1
g
Trans Fat:
0.03
g
Cholesterol:
4
mg
Sodium:
107
mg
Potassium:
11
mg
Fiber:
0.1
g
Sugar:
1
g
Vitamin A:
94
IU
Vitamin C:
0.1
mg
Calcium:
2
mg
Iron:
0.1
mg
Nutrition Disclaimer
The Fresh Cooky is not a dietician or nutritionist, and any nutritional information shared is only an estimate. We recommend running the ingredients through an online nutritional calculator if you need to verify any information.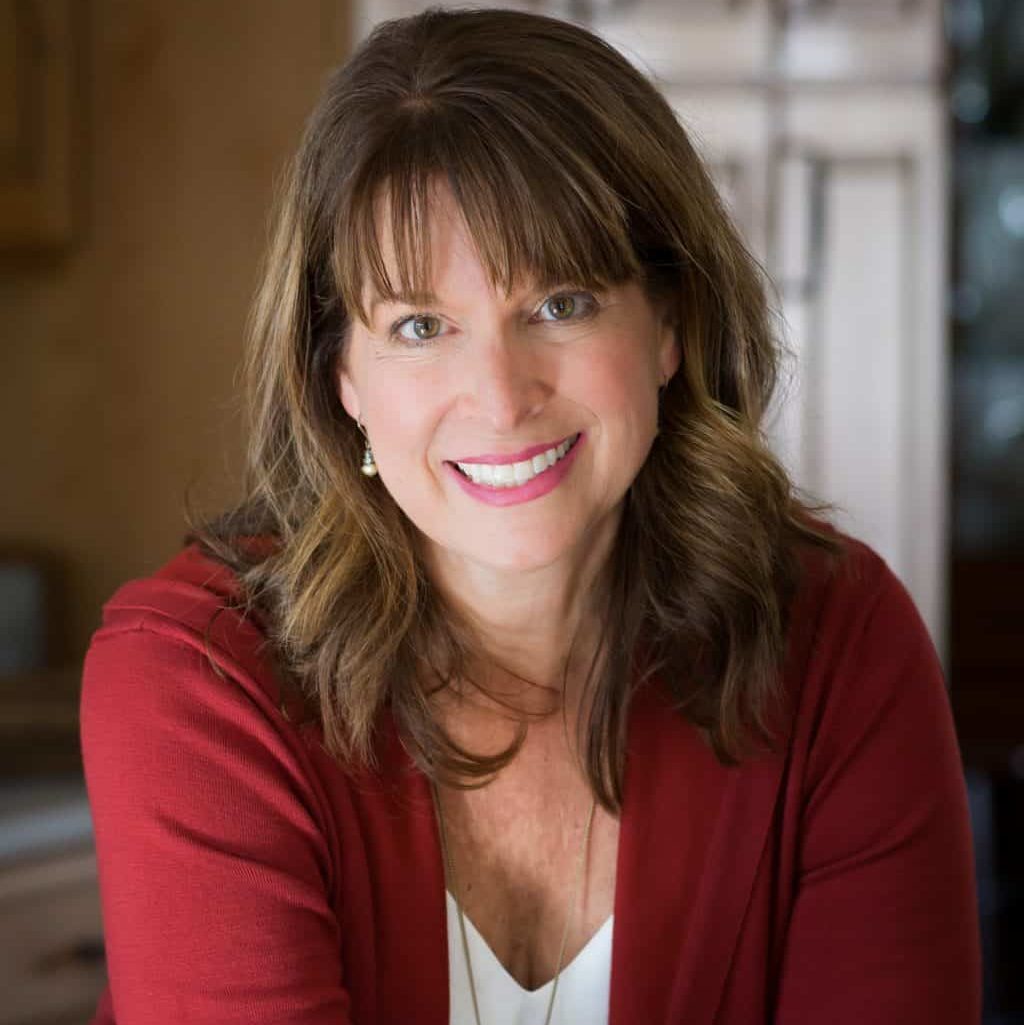 About Kathleen Pope
Recipe Innovator | Food Photographer | Food Writer
Hi, I'm Kathleen Pope. Here at The Fresh Cooky you will find easy, mostly from-scratch, trusted recipes for all occasions. From speedy dinners to tasty desserts, with easy step-by-step instructions. I am here to help teach you how to make mouthwatering recipes without spending hours in the kitchen. Read more about Kathleen here.