Lemon & Peppermint Antibacterial Hand Scrub
As an Amazon Associate, I earn from qualifying purchases. Please read my disclosure policy.
Not only is this lemon & peppermint antibacterial hand scrub practical, but it is also beautiful, exfoliating and leaves your hands feeling silky smooth. Plus it comes together in about 5 minutes!
Making my own homemade gifts or something just for myself, always makes me smile. After all you save serious money by doing it yourself and you have the enjoyment of knowing exactly what goes into the finished product.
If you like DIY, Homemade gifts, I know you will love making this tasty Homemade Golden Milk Mix, or Homemade Vanilla Extract (one of my most popular posts), or maybe just this simple everyday Carrabba's seasoning.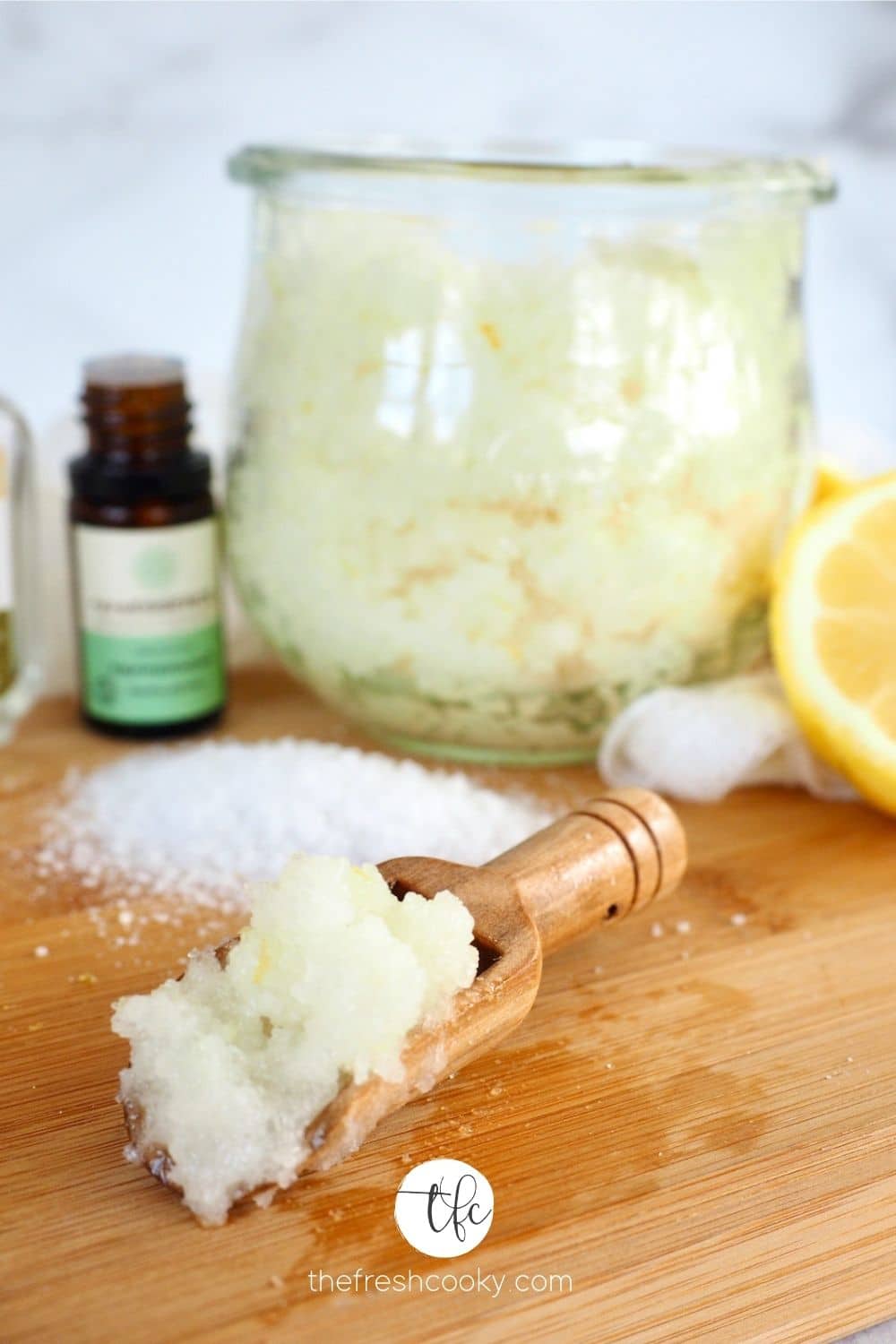 With all of the hand-washing going on these days, my hands are parched, like dried, cracking, rough parched.
Don't get me wrong, I've battled dry skin and eczema* my whole life and wintertime in a dry climate is always hard on them. But with a little extra hand-washing, they are perpetually parched!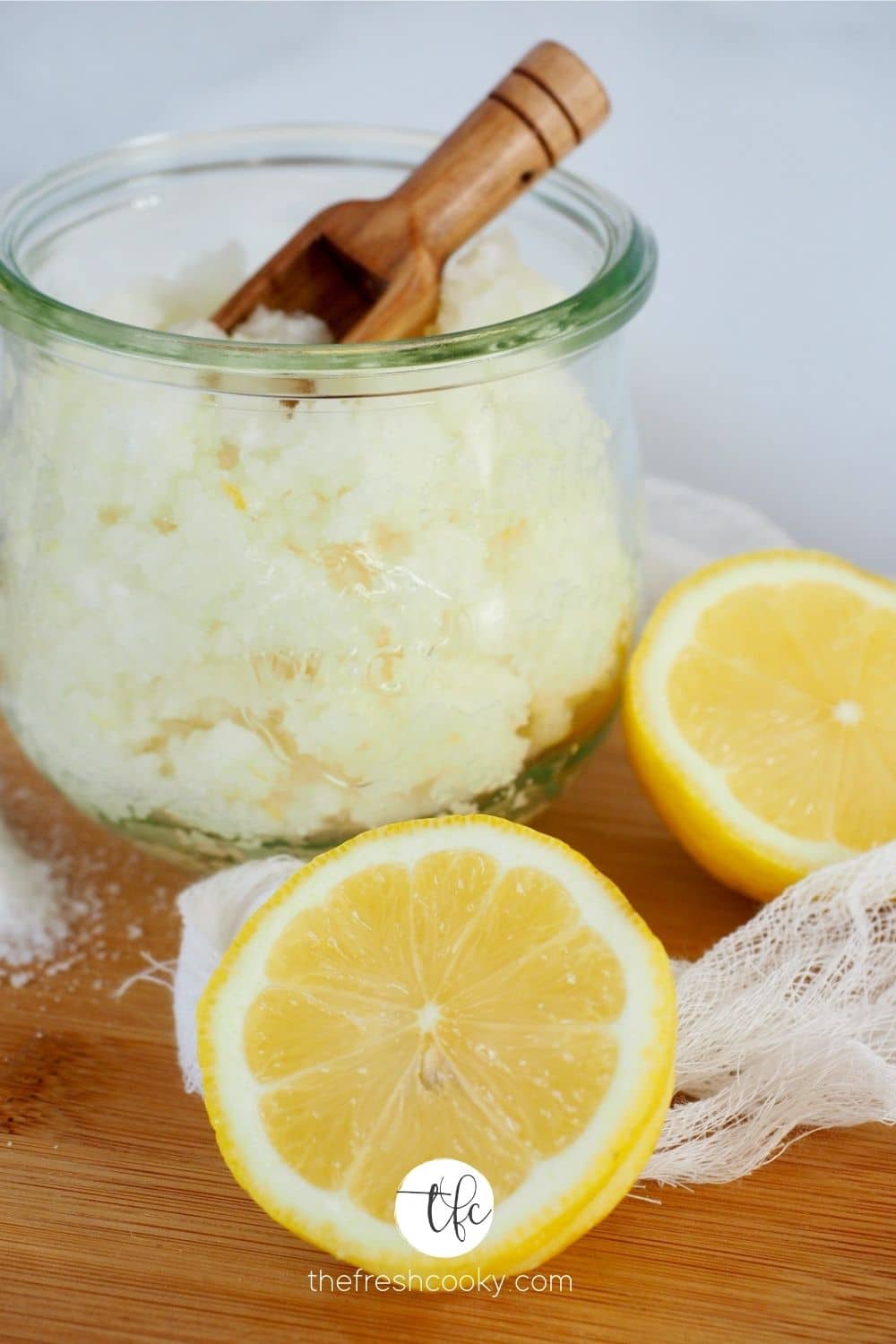 Enter, this beautiful, all-natural, cleansing antibacterial hand scrub!
Ingredients & Substitutions
Tea Tree Oil | Tea tree oil contains a number of compounds, including terpinen-4-ol, that have been shown to kill certain bacteria, viruses and fungi (1Trusted Source, 2Trusted Source). Terpinen-4-ol also appears to increase the activity of your white blood cells, which help fight germs and other foreign invaders (3Trusted Source). These germ-fighting properties make tea tree oil a valued natural remedy for treating bacterial and fungal skin conditions, preventing infection and promoting healing. I highly recommend reading more about this powerhouse of essential oils!
Peppermint essential oil | Besides smelling fabulous, peppermint oil may have some antibacterial and anti-fungal properties. (Optional)
Lemon Essential oil and fresh lemon zest | Another "smells marvelous" ingredient, but some people swear by lemon essential oil as an ingredient that fights exhaustion, helps with depression, clears your skin, kills harmful viruses and bacteria, and reduces inflammation. (Optional). Peppermint and Lemon are optional, you might also try Rosemary & Sweet Orange. Or Lavender is always a big hit, be creative.
Liquid Castille Soap | this ingredient is optional, but ads additional gentle cleansing notes.
This is a fabulous starter kit for essential oils.
DISCLAIMER | I am not a physician or specialist; I have done my own research and using natural products like this have worked for my family. As always consult your medical provider, if you have concerns.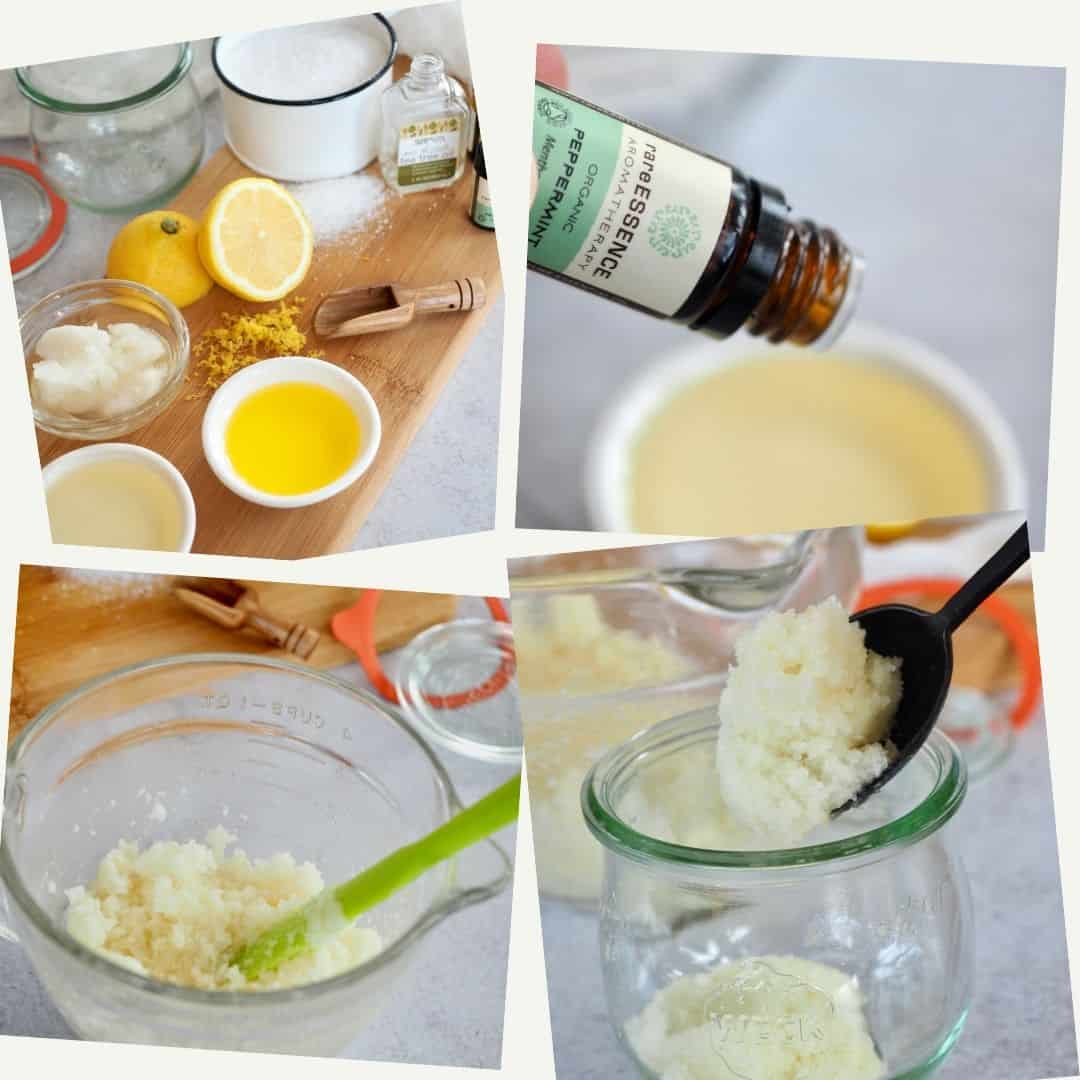 How to DIY Antibacterial Hand Scrub
Measure ingredients. To evenly distribute oils, put drops into one of the carrier oils (almond, jojoba work great), then add everything in a small mixing bowl (or double, triple or quadruple if making as gifts).
Mix well to combine. Scoop into container with a lid and provide a small scoop or spoon. Ta-da! Takes all of 5 minutes!
*Eczema Warning | I have battled eczema since childhood and my hands are the worst; however, tea tree oil can be harsh with eczema. Use sparingly and with caution. I personally use this scrub once daily and it leaves my hands soft and nourished.
How to Gift Homemade Hand Scrubs
You all know I love great homemade gifts, and this one is no different! In fact, I love the way my friend Lynn, from Nourish and Nestle puts it, Homemade Gifts that Don't Scream DIY!
Since I wanted this gift to look beautiful, like it was from a specialty store; I chose my favorite 12.5 oz tulip shaped Weck jar — they are a bit pricey, but so pretty. These ball jars work great too! Note that the recipe makes about 1 cup (8 oz) so it didn't quite fill up the above 12 oz jar.
Tie some bakers twine or jute around it, secure a cute wooden scoop to the jar, tie on a dried slice of lemon. Also try a sprig of fresh rosemary, lavender, a cinnamon stick or fresh thyme!
FREE PRINTABLE LABELS
A label makes all the difference, I created these pretty labels for you to print and punch out to either tie or glue onto the jar's. Simply click the link below for the free printable antibacterial hand scrub labels.
There are two designs, one specifically for Lemon & Eucalyptus and the second a generic Antibacterial Hand Scrub label that you can fill in the scents.
Typically, I use 65# white or kraft paper for most my gift tags, they hold up well and punch well. I have a couple of punches to make tags easier not requiring me to use a whole sheet of labels; this 1 1/2 inch punch and 3 inch punch are great!
That's about it! Check out the DIY "recipe" below, and be sure to scroll all the way to the bottom; I have gathered a few of my own and other bloggers fabulous "non-sucky" homemade gifts for you to peruse.
Think Mother's Day, birthday gifts, hostess gifts, teacher appreciation gifts, get well gifts, just because, new neighbor gifts, Easter, Holiday and Christmas…oh, you get the idea!
More homemade gift ideas:
Recipe heavily adapted from Hello Glow.
Like this recipe?
Don't forget to give it a ⭐️⭐️⭐️⭐️⭐️ star rating and comment below the recipe!
Print
Antibacterial Hand Scrub
Make your own easy DIY antibacterial hand scrub that promotes healthy, clean, soft skin.
Instructions
Combine all ingredients in small mixing bowl, mix to combine well. Spoon into desired jar or storage container with lid.

If making as gifts, place in desired lidded jar(s), apply label (see post for free printable), small scoop and tie with jute or twine.

Scoop small amount into palm of hand, gently rub all over hands for 20 seconds, then rinse with warm water. Use once or twice daily. Avoid introducing water into the scrub.

Makes about 1 cup (8 oz), easily double, triple or more the recipe for multiple gift options.
Notes
Shelf Life: to avoid oils turning rancid, always keep the lid on the container, most salt scrubs will last about 6 months, if it starts smelling rancid, then it's time to throw out.
I love to tie some bakers twine or jute around it, securing a cute wooden scoop to the jar and if you want, tie on a dried slice of lemon, but a sprig of fresh rosemary, lavender, a cinnamon stick or thyme would work great too!
*Eczema Warning | I have battled eczema forever and it's always the worst on my hands; however, tea tree oil can be harsh with eczema, so use sparingly and with caution. I personally just use this hand scrub once or twice daily.
Recipe heavily adapted from
HelloGlow
.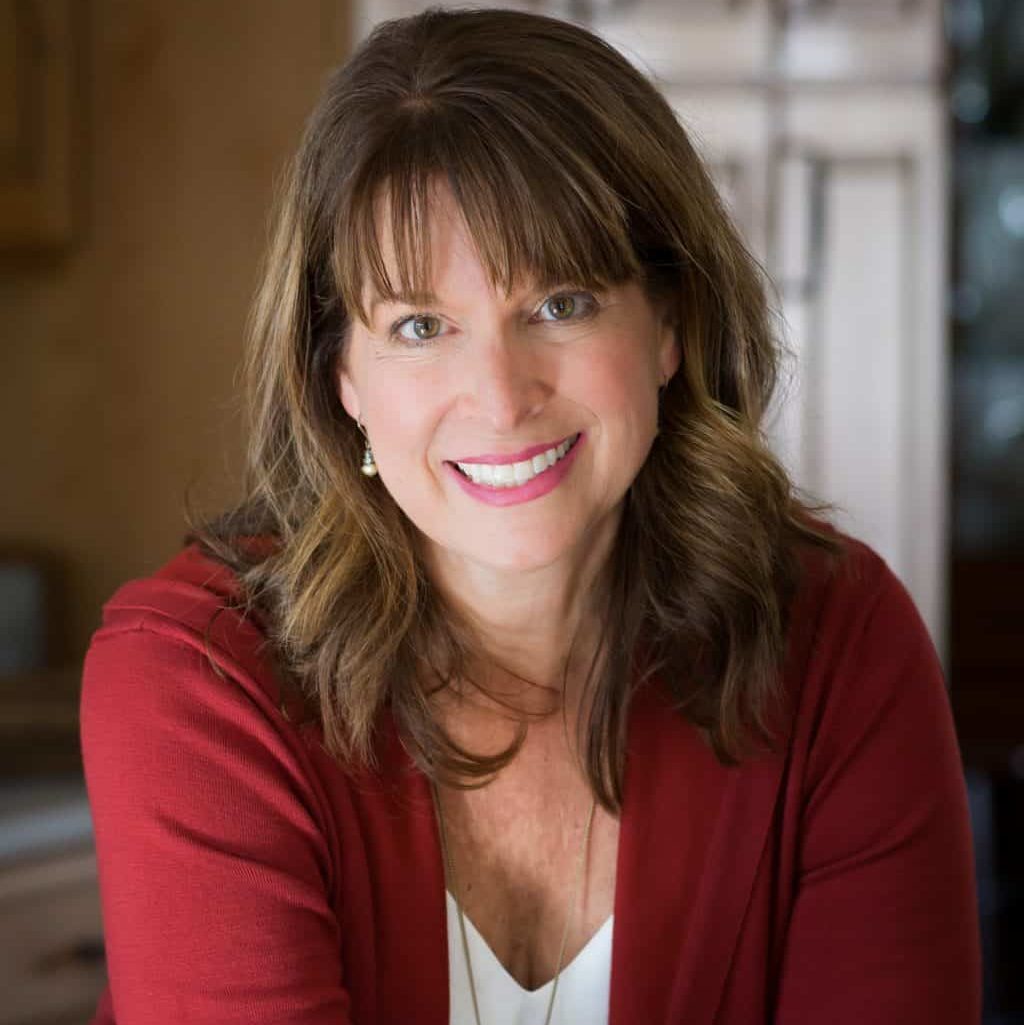 About Kathleen Pope
Recipe Innovator | Food Photographer | Food Writer
Hi, I'm Kathleen Pope. Here at The Fresh Cooky you will find easy, mostly from-scratch, trusted recipes for all occasions. From speedy dinners to tasty desserts, with easy step-by-step instructions. I am here to help teach you how to make mouthwatering recipes without spending hours in the kitchen. Read more about Kathleen here.