Rich, thick, chewy, chocolatey hot fudge sauce! I have memories of my mom making something very similar, as it cools it actually starts to become "fudge" on the ice cream creating a chewy, chocolatey, hot fudge sundae.
The recipe is inspired from a recipe from my Great Aunt Vi. I keep finding and losing that recipe, but this one is pretty darn close.
If you love hot fudge as much as I do, you may want to try it on these fabulous ice creams! Old Fashioned Chocolate Ice Cream, Old Fashioned Vanilla Ice Cream, Patriotic No Churn Ice Cream.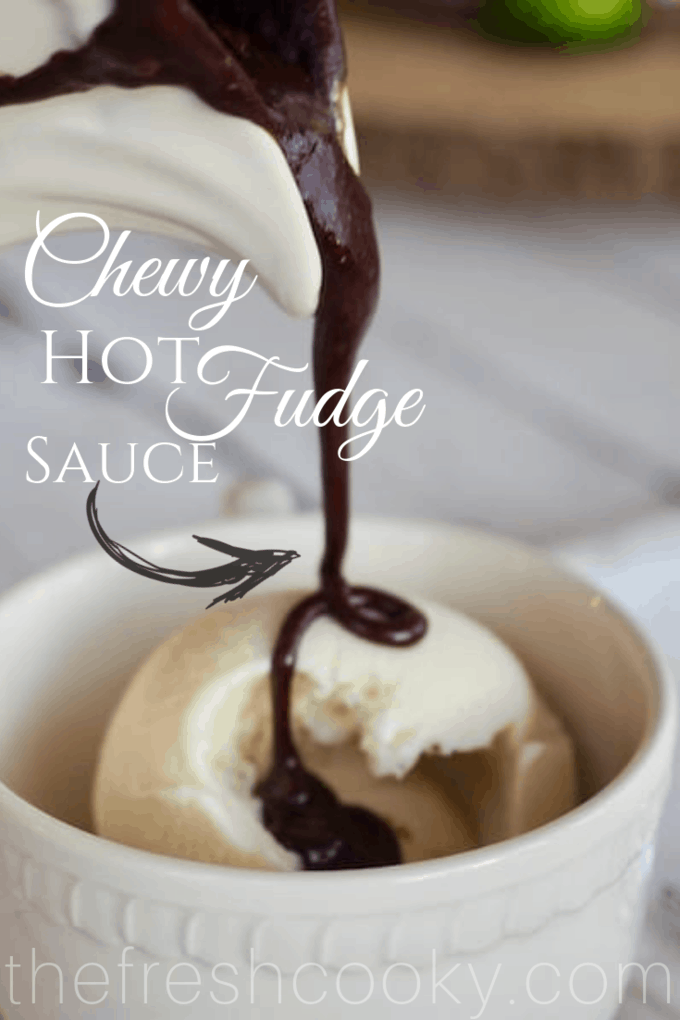 Rich & Chewy Hot Fudge Sauce
I found this recipe on The Merchant Baker and just tweaked it slightly, it's the closest thing to my Great Aunt Vi's.
This sauce is legendary in my family, well for me at least. In fact on our honeymoon, in Banff, Canada, in the middle of November, with sub-zero temps, what was I craving?
Yep, you guessed it an amazing Hot Fudge Sundae. Oh there were ice cream shops around, but none of them had real, true hot fudge; in most cases it was that runny, thin chocolate sauce, it wasn't even hot for crying out loud! I thought I'd go home without truly enjoying a real, hot fudge sundae.
Alas, on our last night in Canada, we went to a small steak house in Calgary, when our waiter asked if we would like dessert, my sweet husband of 12 days asked if by chance they had a hot fudge sundae?
Our waiter told us that they didn't have one on the menu, but the chef had prepared an amazing rich, fudgy sauce for another dessert that evening and they did indeed have vanilla ice cream, would we like to try it? UH YEAH! It was the BEST hot fudge sundae I've ever had…in November…in Canada! This is just like that sauce!
HOW TO MAKE Chewy Hot Fudge Sauce
Start by chopping up your chocolate (use a good quality chocolate) into fine pieces, some small chunks is fine. Get all of your other ingredients ready as this will all come together quickly.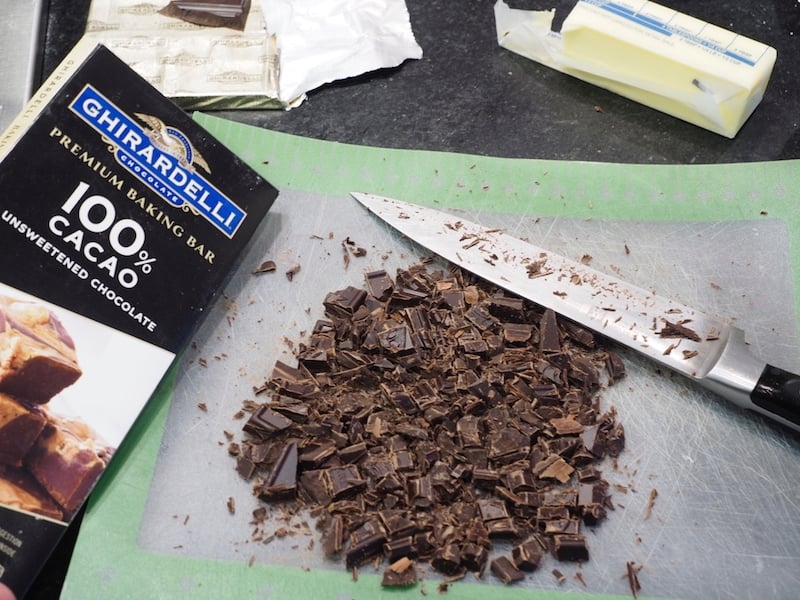 Get out a small heavy bottomed saucepan, it's important to use a heavy pan so that you don't burn your ingredients.
Place your cubed butter, chocolate and corn syrup (I used organic corn syrup).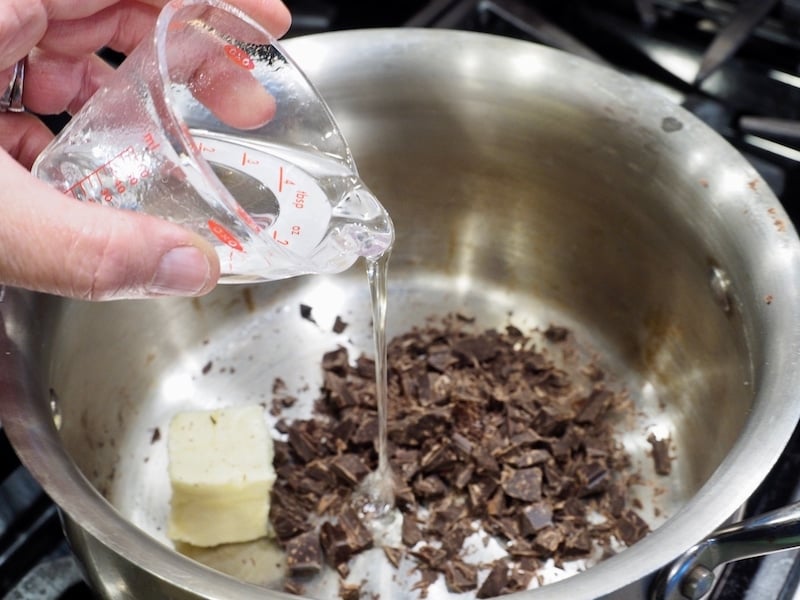 Stir constantly over medium-low heat until it's fully melted and combined.
Pour the cream into the chocolate mixture.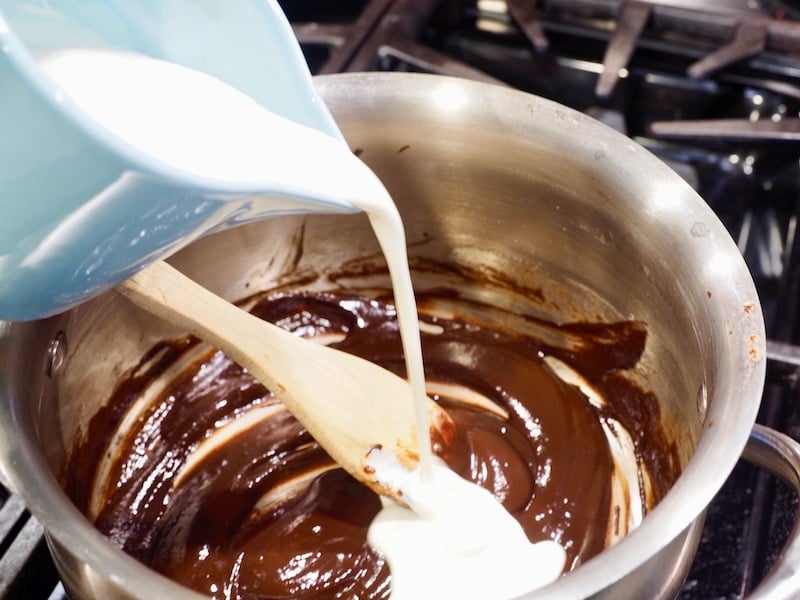 Pour the sugar into the center of the pot and carefully stir; avoid getting sugar on the sides of the pan, this will minimize sugar crystals sticking to the side of the pan. Stir until sugar is dissolved.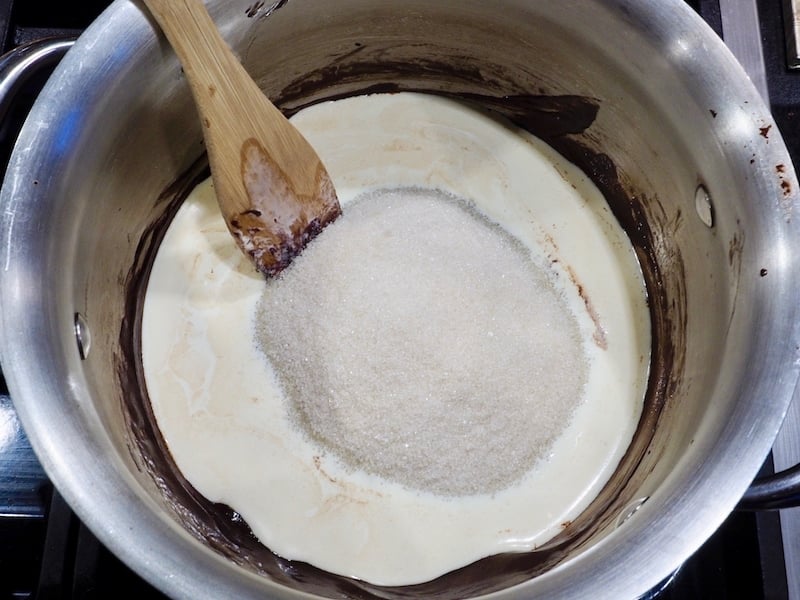 Once the sugar as dissolved, stop stirring and increase heat to medium. Bring the mixture to a boil. DO NOT STIR.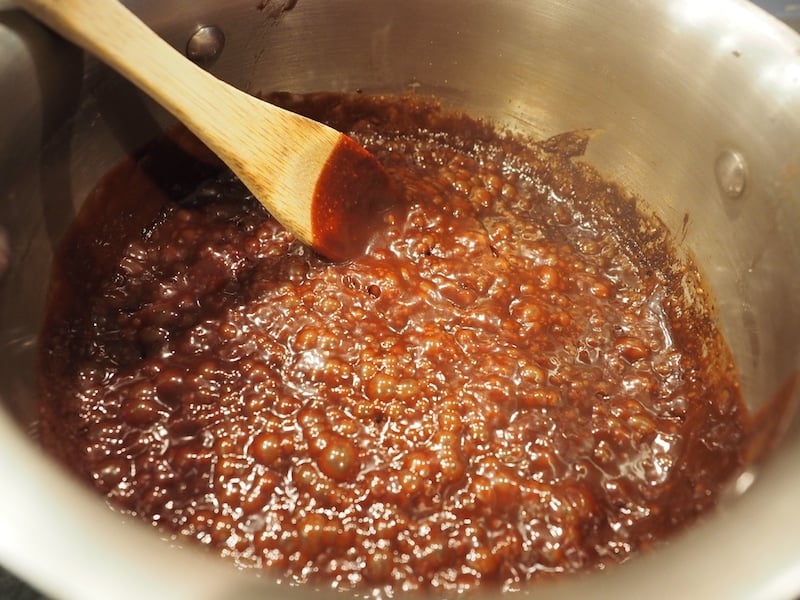 Allow to boil for 7-8 minutes until thickened.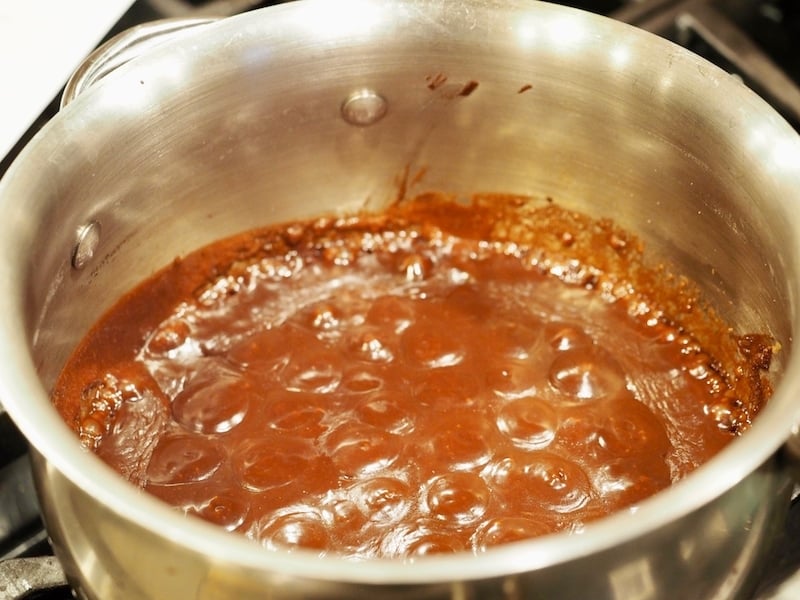 Remove from heat and stir in the vanilla. I love this mini measuring cup!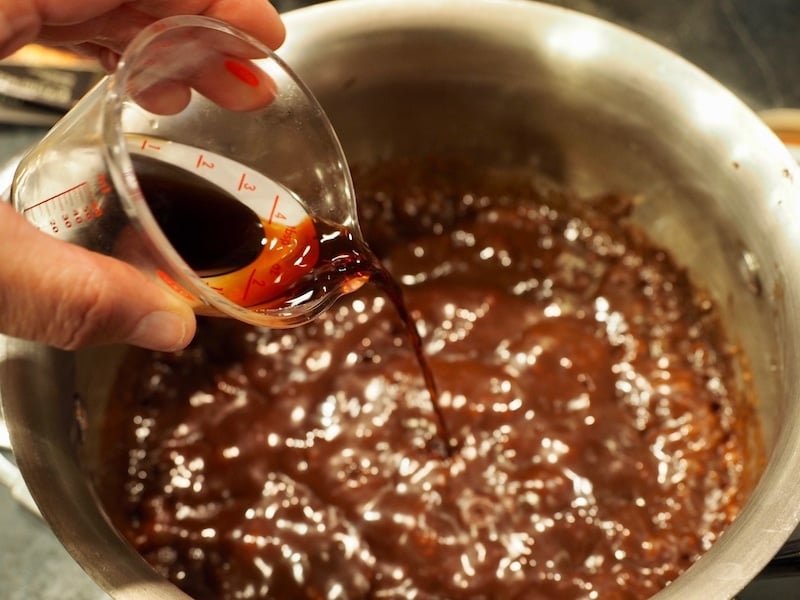 and salt, please don't forget your salt.
Stir well to combine, it should coat a wood spoon.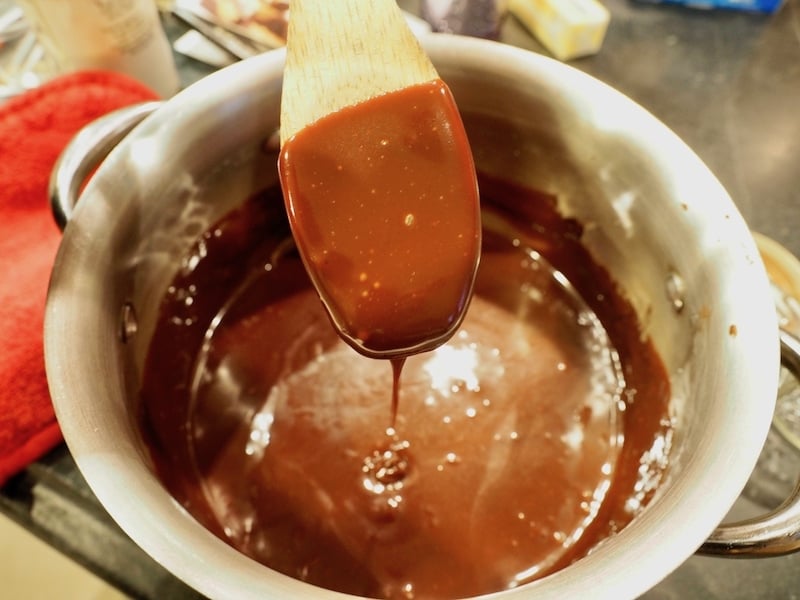 Serve hot, over ice cream and enjoy the thick, rich, chewy, fudge-y goodness.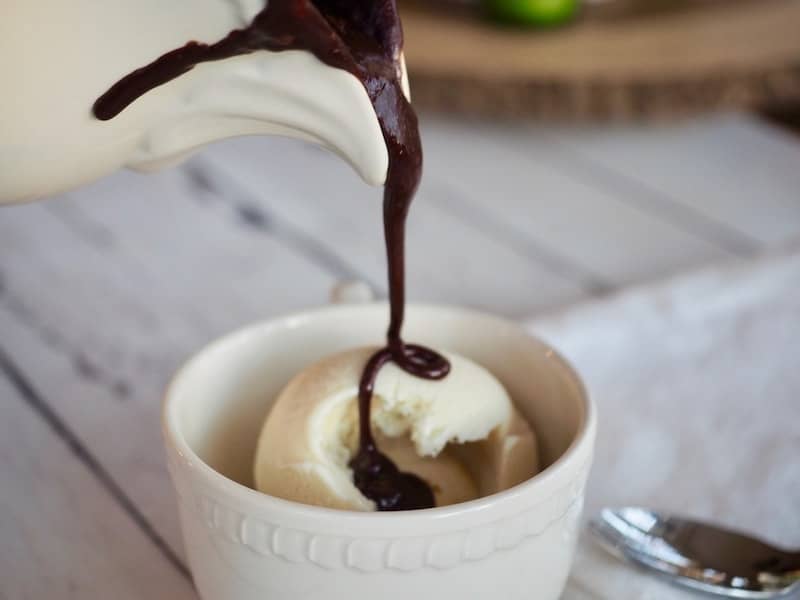 If not using immediately, cool completely before storing in the refrigerator.
Store in an airtight jar.
When you are ready to use it, scoop desired amount out and place in microwave safe jar, heating for 20 seconds or until bubbly.
These make wonderful food gifts! Pour into a pretty jar with a label instructing user to refrigerate until ready to use.
Look at how thick and fudgy it is!
This is amazing stuff, the moment it hits the ice cream it firms up into chocolate chewy fudge-i-ness!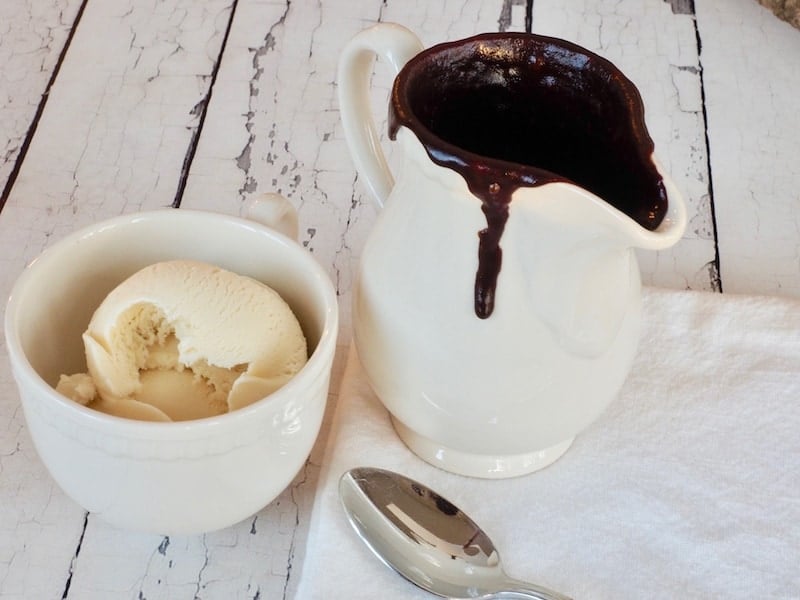 If you love sauces as much as we do, try these amazing sauces and ice cream toppings; Vanilla Bourbon Caramel Sauce, Creme Anglaise, 29 Ice Cream Toppings (a fabulous collection!).
Sharing this week on Weekend Potluck =>> check it out!
More delicious chocolate recipes or ways to use this chocolate!
Like this recipe?
Don't forget to give it a ⭐️⭐️⭐️⭐️⭐️star rating in the recipe below!
Yield:

10 oz
Rich & Chewy Hot Fudge Sauce
A sublime, rich, chewy hot fudge sauce. Warmed it melts onto your ice cream, cooling into a thick, chewy fudge.
Ingredients
2 oz unsweetened chocolate, finely chopped
2 tablespoons butter
2 tablespoons light corn syrup (I used organic corn syrup)
3/4 cup heavy cream
1 cup sugar (I used all natural cane sugar)
2 teaspoons vanilla extract
1/8 teaspoon salt
Instructions
In a heavy-bottomed saucepan, melt the butter, chocolate and corn syrup. Stir over medium-low heat until chocolate, butter and corn syrup are combined and smooth.
Add cream, then pour the sugar in the middle of the pan trying to avoid the sides. Stir carefully, trying to keep the sugar from the edges of the pan. Stir until the sugar is dissolved.
Once the sugar is dissolved, give it a final stir and then stop stirring and increase the heat to medium. Bring the mixture to a boil | DO NOT STIR!
Allow to boil for about 7-8 minutes until thick and smooth. Remove from heart and stir in the vanilla and the salt. Serve warm over ice cream. If saving, allow to cool completely before jarring and refrigerating. Rewarm in microwave safe jar in 30 second increments or set in pan of hot (not boiling) water until warmed through.
Notes
If it becomes grainy, heat in the microwave adding a small amount of heavy cream; stirring to combine until smooth.
Store in refrigerator for up to a month.
Recommended Products
As an Amazon Associate and member of other affiliate programs, I earn from qualifying purchases.
Nutrition Information:
Yield:
10 oz
Serving Size:
1
Amount Per Serving:
Calories:

210
Total Fat:

12g
Saturated Fat:

7g
Trans Fat:

0g
Unsaturated Fat:

4g
Cholesterol:

26mg
Sodium:

53mg
Carbohydrates:

26g
Fiber:

1g
Sugar:

24g
Protein:

1g
The nutritional information is estimated and may not be entirely accurate, at times it pulls information for suggestions and options which may increase calories, etc.
ABOUT KATHLEEN
I enjoy sharing easy recipes that are wholesome and delicious. I am fed by my faith, family, friends & food! Welcome to my kitchen! Read more...