Best Bacon Beef Minestrone Soup
As an Amazon Associate, I earn from qualifying purchases. Please read my disclosure policy.
This recipe for hearty Bacon Beef Minestrone soup is delicious, with a little twist on tradition it uses crisp, smokey bacon, savory chunks of sirloin, nutrient rich beans, tons of seasonal vegetables that are swimming in a tomato-y beef broth. Warm yourself up with a bowl of this delicious soup, ready in 30 minutes or less!
This recipe is based on the Bacon Minestrone recipe from the Bacon, Beans and Beer cookbook, by dear friend and fellow blogger over at BENSA Bacon Lovers.
This amazing compact, colorful cookbook has so many great recipes, with beautiful, enticing photos! I highly recommend buying this little gem of a book. I've already made the Bacon Macaroni Salad (huge hit) as well as the Bacon Cheeseburger Meatloaf (YUM!)!
Traditionally, minestrone was a "use what's leftover or in the fridge" soup, so I invite you to use up whatever leftover vegetables you might have on hand.
How to Make Bacon Beef Minestrone Soup
In a large heavy pot, cook the bacon over medium heat until crispy. Remove and set on paper towels to drain and cool, reserve drippings. Once cooled, chop or crumble bacon into bite size pieces, set aside.
PRO TIP | I used pre-cooked, all-natural, uncured bacon, that's what I had, so I didn't get all of the great fat renderings from uncooked bacon. If you do the same or use a turkey bacon or other substitute, then before moving on to browning the sirloin bits, add a tablespoon or two of olive oil to the hot pan.
I added bite-sized chopped sirloin to the recipe; I was making this for my teenage boys on a busy back-to-school night, I needed it to be a bit "beefier"! So if using some beef, if needed, add a little olive oil to the pan drippings, increase your heat to medium-high and sear/brown your beef turning quickly.
You are not cooking it, just browning; remove once browned, set aside.
When making a veggie soup, I prefer to chop my vegetables all at once, that way as they are needed it's a matter of simply scooping into the hot pot.
Saute onions, leeks and carrots in the bacon pan drippings, adding olive oil if needed until vegetables are tender and just beginning to brown, about 8 minutes. Do you have a bench scraper? I love using it to scoop up my chopped veggies, neat, clean and easy!
Toss in garlic and saute an additional minute, until fragrant and then shredded cabbage, zucchini (I grated mine; the kids are more likely to eat it that way), and diced potato.
Add in your chicken and beef broth (mix and match to your taste, I like mine beef-y, so I used more beef stock). I used my homemade beef bone broth and homemade chicken broth, but any good brand of boxed broth or stock will work just fine.
MAKE IT YOUR OWN | Our family likes our soups "broth-ier" than most, so I added an additional 32 oz of beef broth. I always feel like soups with pasta soak up so much liquid, so I typically double my liquid, optional.
Plop tomato paste and stir into the soup.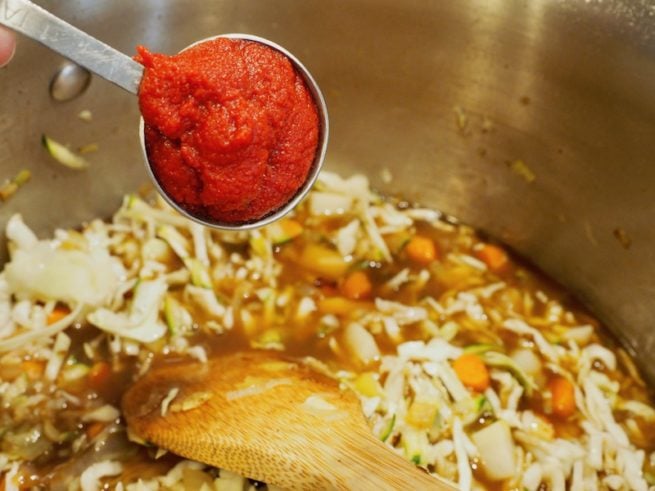 Return the browned beef and a handful of the crisp bacon to the soup and bring to a simmer. Reserve the rest of the bacon for serving.
Reduce heat to simmer and add in 2 tablespoons parsley, oregano, basil, salt and pepper. Stir into soup, simmering for about 15 minutes.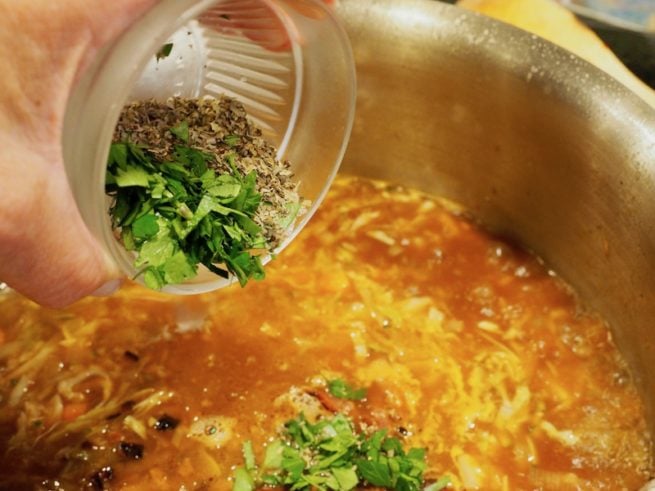 Add in beans (drained and rinsed) and chopped tomatoes. The original recipe calls for both kidney and cannellini beans, but my store was out of cannellini beans, so I replaced them white kidney beans, honestly I had never seen those before, they were yummy!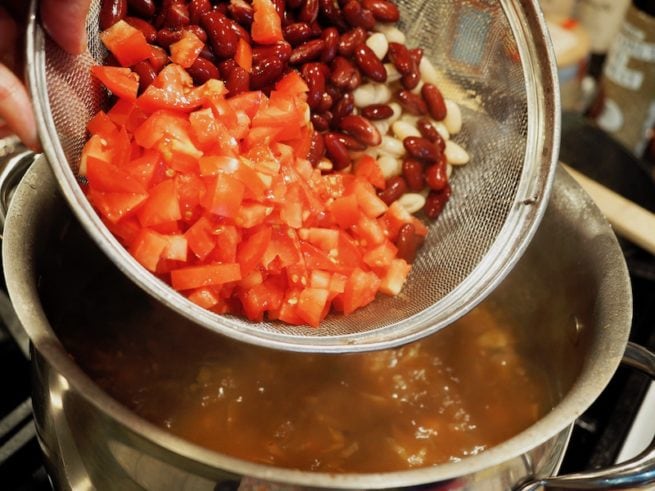 Do I Have to Use Orecchiette Pasta
I used orecchiette (means small ear) — only because that is what I had on hand!
Try using elbow macaroni, orzo or any smaller pasta.
Before serving adjust your seasonings as needed and add additional 3 tablespoons of fresh chopped parsley. Toss in your remaining cooked bacon or sprinkle on top as a garnish for serving. Garnish each bowl with a generous amount of grated parm cheese, we love Parmesan.
Why is this the best minestrone soup?
Make on Sunday and pack for lunch all week, even better the next day.
This soup freezes amazingly well.
Better than the Olive Garden or other store-bought varieties!
Uses seasonal veggies and items common in your pantry.
It's good for you, easy to make and fills a lot of tummies.
Fussy? Easily trade ingredients easily to fit your tastes.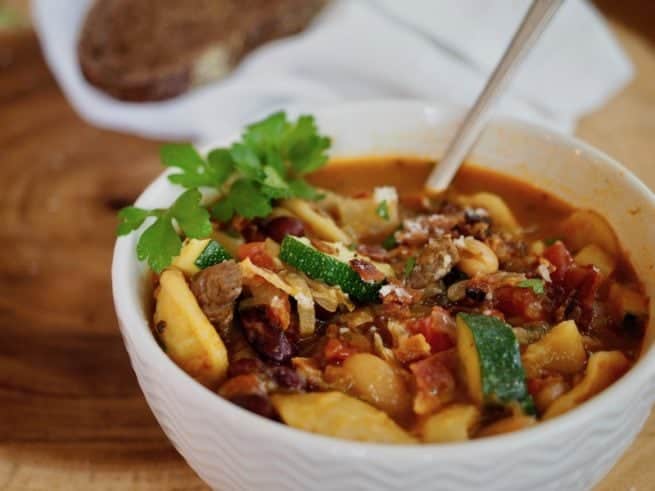 What Do You Serve with Minestrone Soup
Give these recipes a try with Minestrone Soup, they compliment it well and is sure to please everyone!
Crisp Green Salad
Easy Tiramisu (maybe a bit fancy, but this would be a great casual entertaining meal)
Give these other delicious cool weather meals a try!
Like this recipe?
Don't forget to give it a ⭐️⭐️⭐️⭐️⭐️ star rating and comment below the recipe!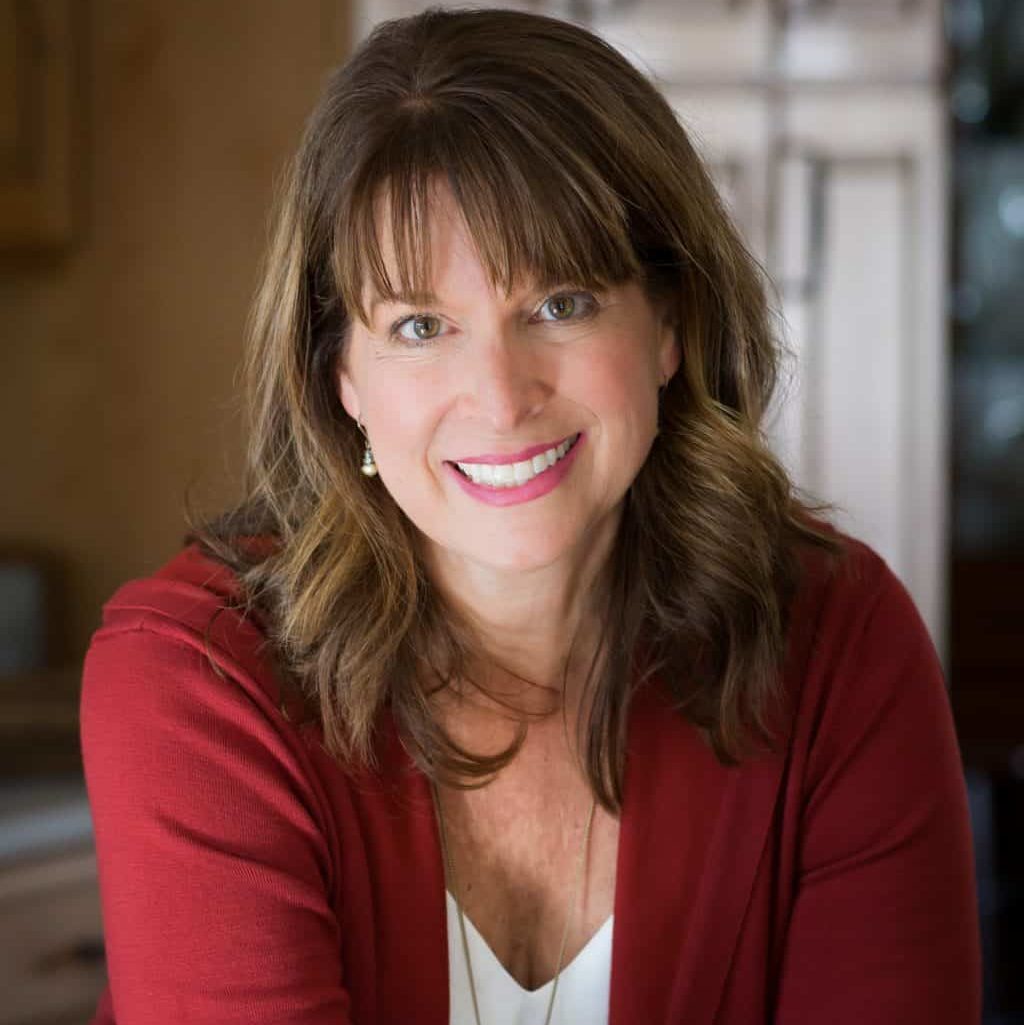 About Kathleen Pope
Recipe Innovator | Food Photographer | Food Writer
Hi, I'm Kathleen Pope. Here at The Fresh Cooky you will find easy, mostly from-scratch, trusted recipes for all occasions. From speedy dinners to tasty desserts, with easy step-by-step instructions. I am here to help teach you how to make mouthwatering recipes without spending hours in the kitchen. Read more about Kathleen here.