Half Baked Chocolate Chip Cookies (Mini Skillet Cookies)
As an Amazon Associate, I earn from qualifying purchases. Please read my disclosure policy.
Half Baked Chocolate Chip Cookies or Mini Skillet Cookies are THE BEST and easiest dessert EVER! Crisp edges, molten chocolatey, caramel-like centers, served piping hot with a scoop of creamy vanilla ice cream, slowly melting on top. Also called pizookies these warm little bites of heaven are the best!
Grab a spoon and dig into these little dishes of luscious warm, gooey chocolate chip cookies.
If you are a CCC fan, you will love our many versions of chocolate chip cookies; Giant Chewy Chocolate Chip Cookies, Triple Chocolate Pudding Cookies, or Cake Batter Chocolate Chip Cookies!
We call them Half Bakes, because Half Baked Chocolate Chip Cookie or Individual Chocolate Chip Cookie Skillets is a mouthful and the only thing you want a mouthful of are these – Half Bakes! Many people call these Pizookies, kind of a pizza cookie if you will!
About 5-6 years ago we were at our friends house; for dessert they pulled these out and introduced us to our very first, half bakes!
OH MY GOODNESS! I'm not even sure I can fully describe the mouth-watering, chewy, gooey, soft, creamy sensation that takes place in your mouth when you pop a bite of this warm out of the oven cookie smothered in melting vanilla ice cream in your mouth.
They are the most requested dessert in our house, and for good reason! I keep cookie dough balls in the freezer just for this purpose!
How Do You Make Half Baked Skillet Cookies?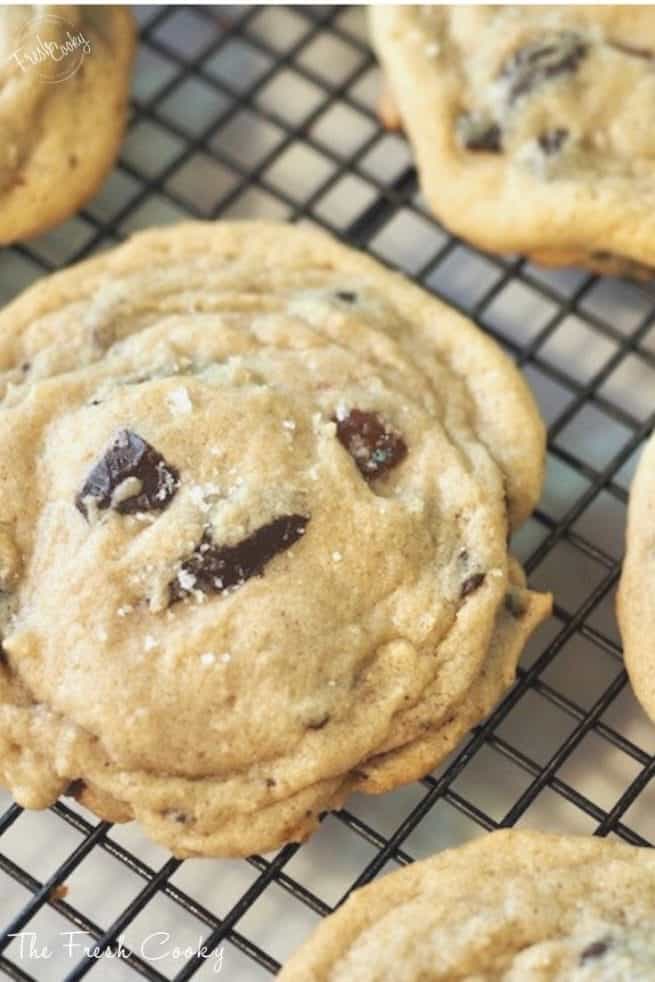 Well, ya gotta start with the BEST Chewy Chocolate Chip Cookie dough, make up a batch or a double…batch!
Bake off a dozen or two, then using a cookie scoop make cookie dough balls and freeze for Half Baked Chocolate Chip Cookies later! See all of my cookie dough tips and tricks here!
Recommended Tools
How To Assemble Half Bakes
If using Pyrex custard cup

or

ramekin spray the cup with spray oil before your cookie dough.
For mini cast iron skillets, if you are worried they'll stick, spray or rub with a little oil – DO NOT USE Pam or other non-stick sprays, this will gum up their natural non-stick, seasoned finish.
Press 2 medium sized dough balls into baking cup or 1 large dough ball. If frozen, allow to thaw for 20 minutes, then press down into pan or cup.
Place cups on cookie sheet for easy transport and baking.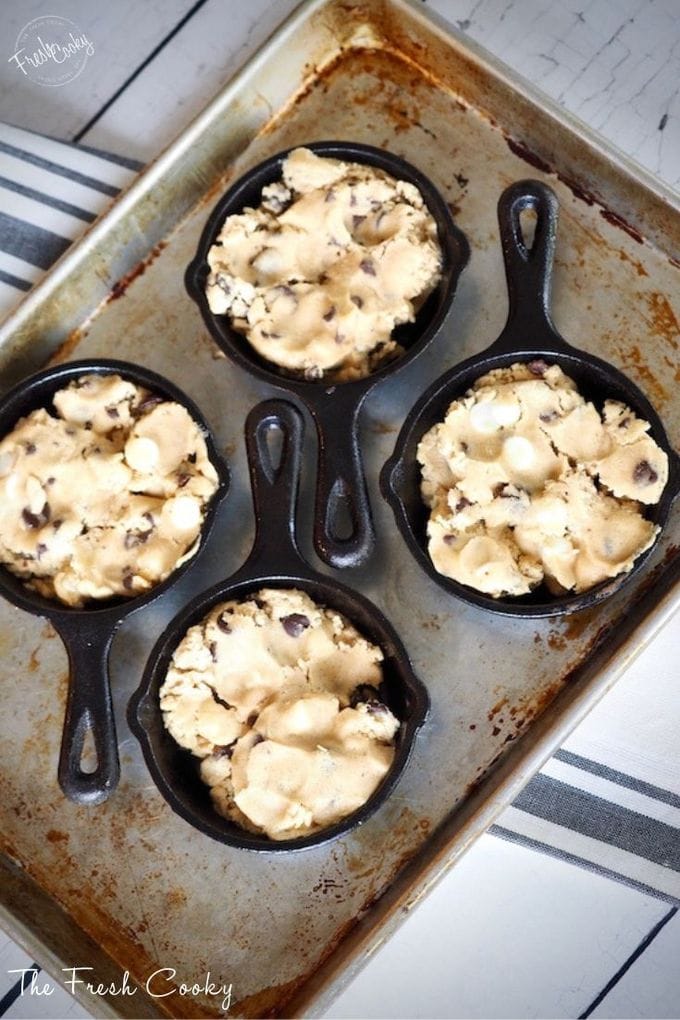 How to bake to achieve ultimate goodness!
Preheat your oven to 350°F.
Remove ice cream and place on counter to thaw slightly while cookies are baking. Or even better, pre-scoop ice cream and place on a wax paper lined small baking pan, returning to freezer until ready to use. You may want to consider making your own ice cream, try my old fashioned chocolate ice cream or vanilla bean ice cream.
Smoosh two medium or 1 large cookie dough ball into a sprayed mini skillet or small ramekin.
Place skillet/ramekin cookies on cookie sheet on middle rack of oven. Bake anywhere from 10-15 minutes.
Half Baked Cookies should be just set on the edges and getting golden brown; they might look "set" in the center, but take out before they are cooked through.
Bake to your preference, ours are HALF BAKED – hence the name!
My boys friends know what these are and they are often requested when they come over, which is why I try and keep frozen chocolate chip cookie dough in my freezer. Great for non-cake lovers birthdays as well!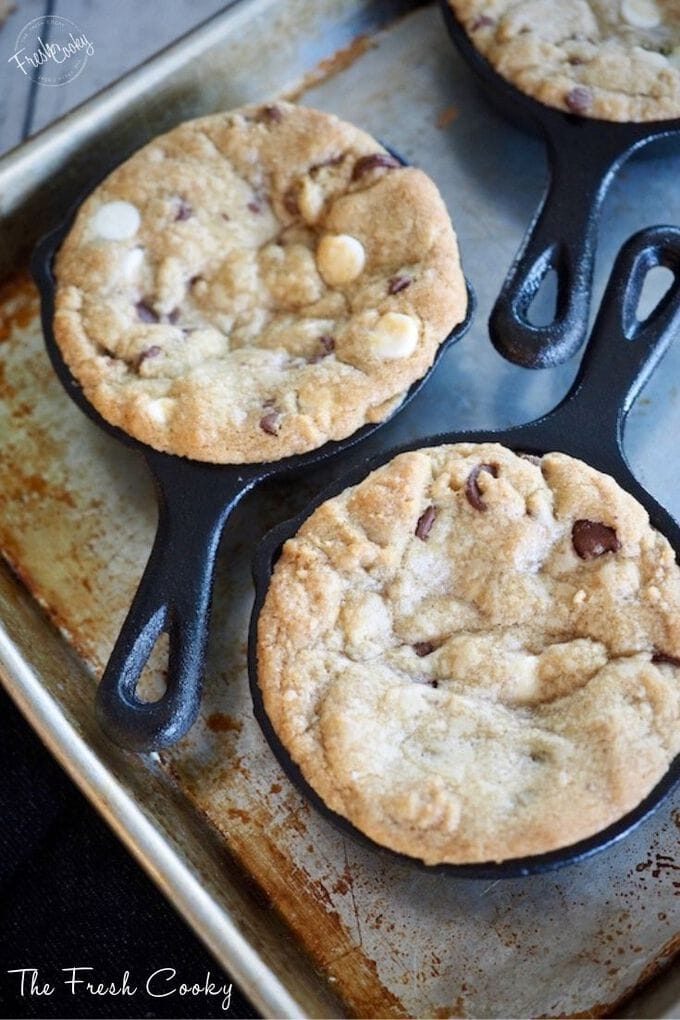 Once baked to your preference, carefully remove from oven (glass cups or ramekins tend to slide around).
If using a ramekin carefully using hot pads, place the ramekin in a larger bowl, just makes it easier to eat.
Place scoop of ice cream on top of the hot cookie, the melting ice cream mixed with the "half-bakedness" of the cookie is beyond words.
More ways to enjoy a Half Baked Sundae
Drizzle your favorite sauce on ice cream, here I used Bourbon Caramel Vanilla Sauce, or try Chewy Hot Fudge or Chocolate Ganache

, can you spell R.I.C.H. – oh wait, I just did!

In my ever so humble (do it) opinion, you should sprinkle some flaky sea salt on the cookie or on top of ice cream toppings; not a lot, just enough to get teensy little bursts of sweet and salty.
Sprinkles are always fun and festive! I really like these all natural milk chocolate sprinkles

or

multi-colored sprinkles.

Serve on a plate with a napkin under to help grab while you are devouring this astonishing dessert and remember — HALF BAKES!
Be sure to provide ample napkins for the drool fest everyone will experience – if you LOVED them please give the recipe a 5 star rating and comment below!
Try these other delicious desserts:
Like this recipe?
Don't forget to give it a ⭐️⭐️⭐️⭐️⭐️ star rating and comment below the recipe!