Healthier Fried Ice Cream Cake
As an Amazon Associate, I earn from qualifying purchases. Please read my disclosure policy.
Healthier no-bake Fried Ice Cream Cake, using organic gluten free corn flakes sweetened with fruit juice, all natural vanilla ice cream, and no Cool Whip. A delicious frozen treat, that is a crunchy, creamy, cinnamon laced Mexican dessert. All of the taste without any of the fuss, no fry!
Ice cream cakes are a must have recipe any time of the year, the fact that you make these ahead of time is the best! And this Mexican fried ice cream is all it's cracked up to be!
We are kind of bonkers about ice cream desserts in our house, try these family and reader favorites: Mile High Mud Pie, Best Ice Cream Sandwiches and definitely try my Fried Ice Cream made in the Air Fryer!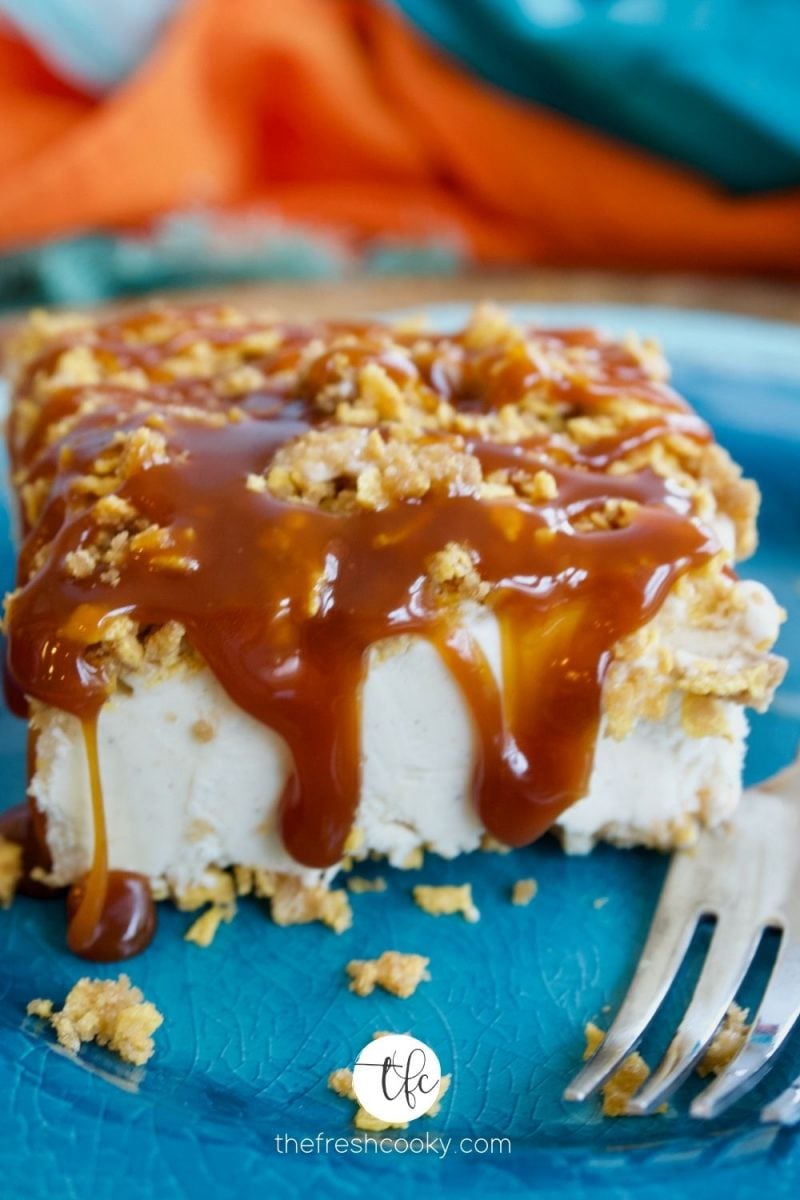 Why You Will Love this No Bake Dessert
What's not to love about a dessert that takes a few steps, but yields a decadent, restaurant quality taste!
Takes about 15 minutes hands on time, you will have this cake assembled and in the freezer
Customize the amount of cinnamon to your taste!
The crunchy, buttery topping and crust cradle your favorite ice cream.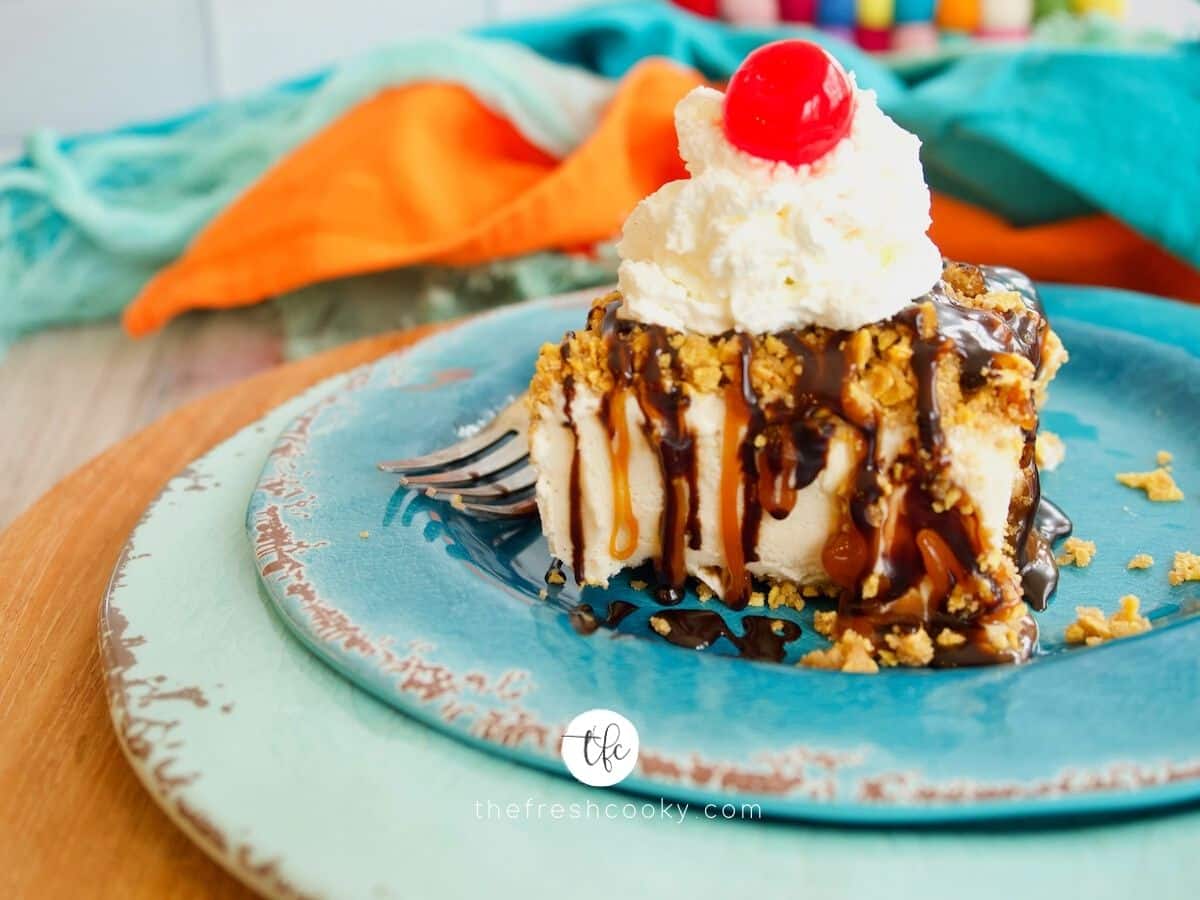 Ingredients
A pretty simple list of ingredients for a outstanding tasting ice cream cake!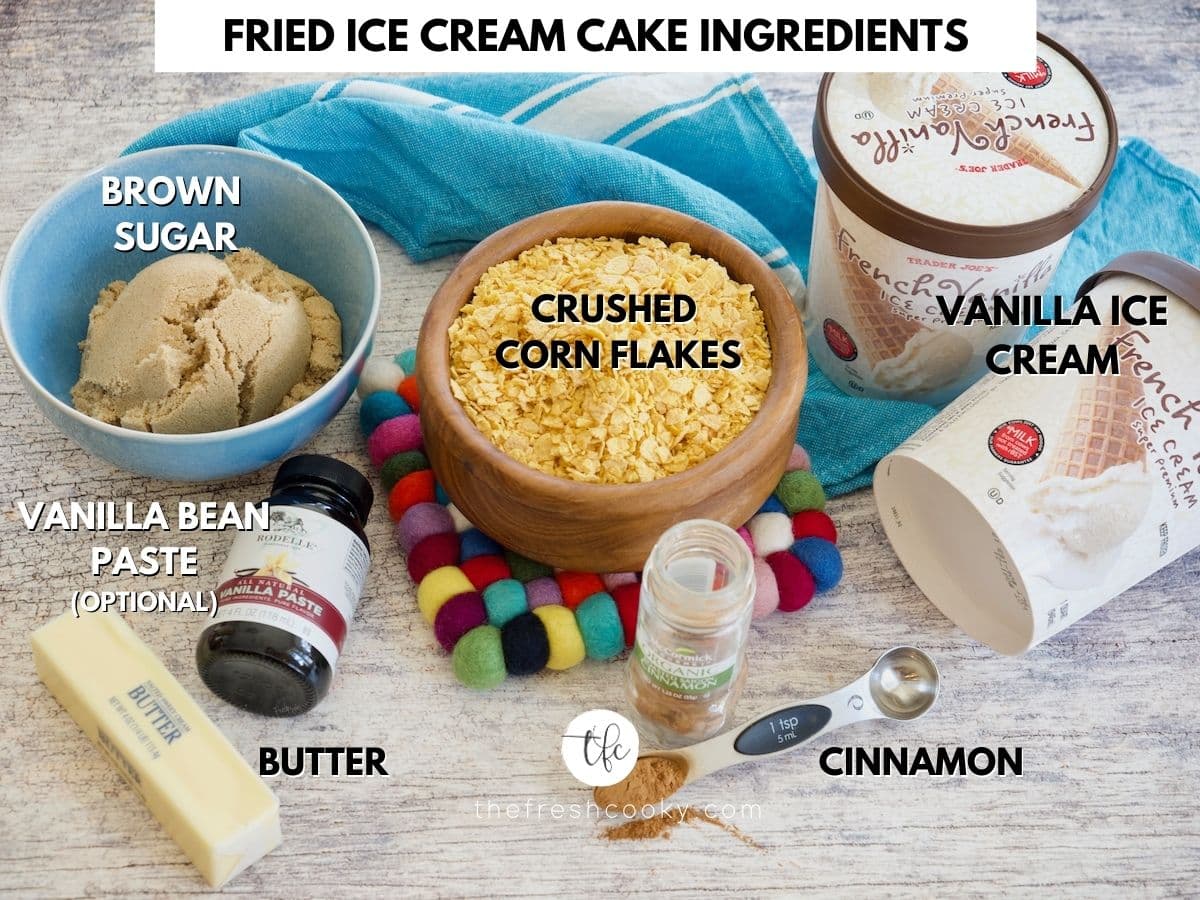 VANILLA ICE CREAM | Use your favorite here! I love Trader Joe's no RBsT Vanilla Ice Cream!
CORN FLAKES | I chose gluten free, organic fruit juice sweetened corn flakes, but use your favorite. You will crush them as fine as you like.
BUTTER | Real dairy butter, if it's not hard coming out of the fridge it's not real butter! 🙂
BROWN SUGAR | I used organic light brown sugar, but use light or dark!
CINNAMON | The key ingredient to making this a Mexican Ice Cream Cake!
VANILLA BEAN PASTE | This is optional, but adds great flavor to the fried ice cream cake.
CARAMEL, HOT FUDGE, WHIPPING CREAM | These are optional of course, eat it plain or drizzled with your favorite!
Step-by-Step Instructions
Follow these simple step-by-step instructions to make your own creamy, crunchy ice cream dessert with corn flakes!
In a medium saucepan, melt butter over medium-low heat, then add brown sugar and cinnamon and bring to a simmer.
Simmer at a low boil for about 2 minutes, then stir in corn flakes removing from heat.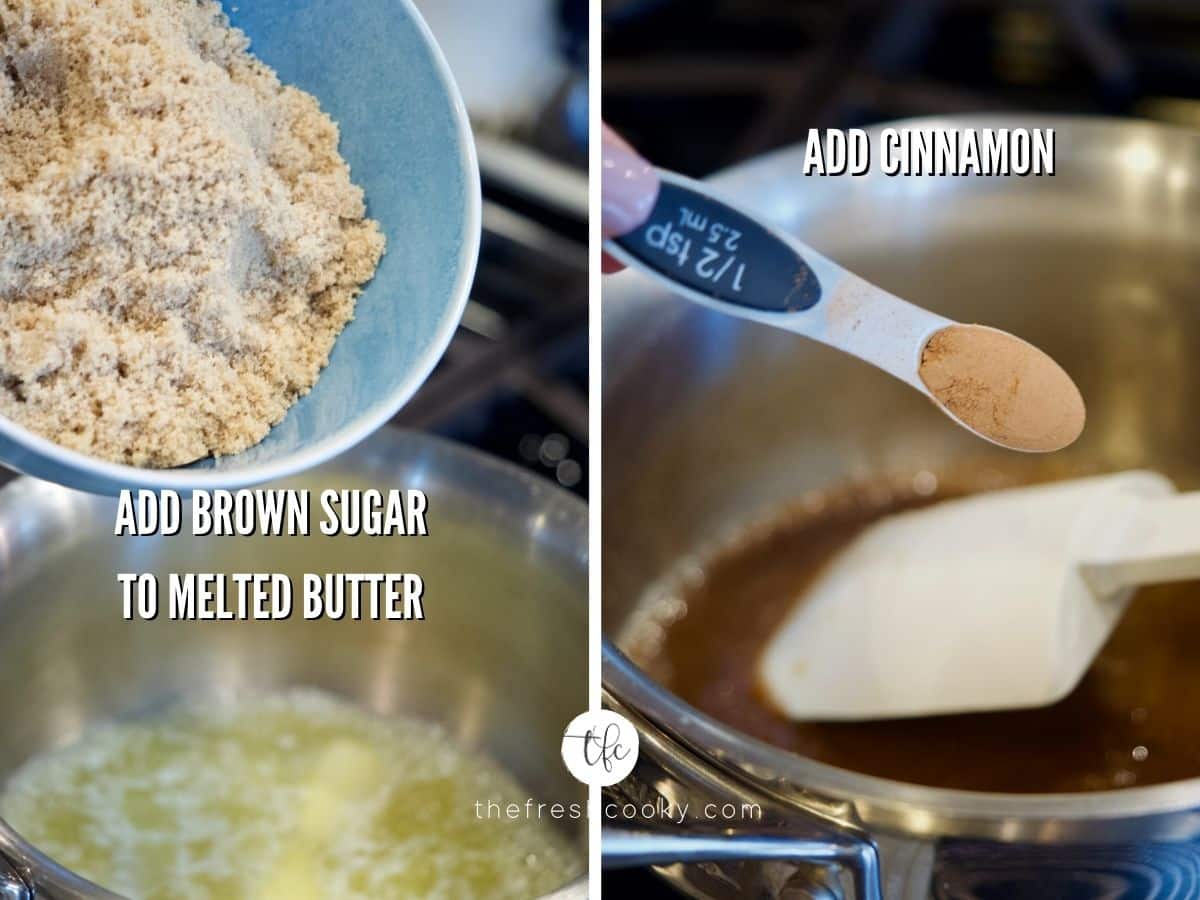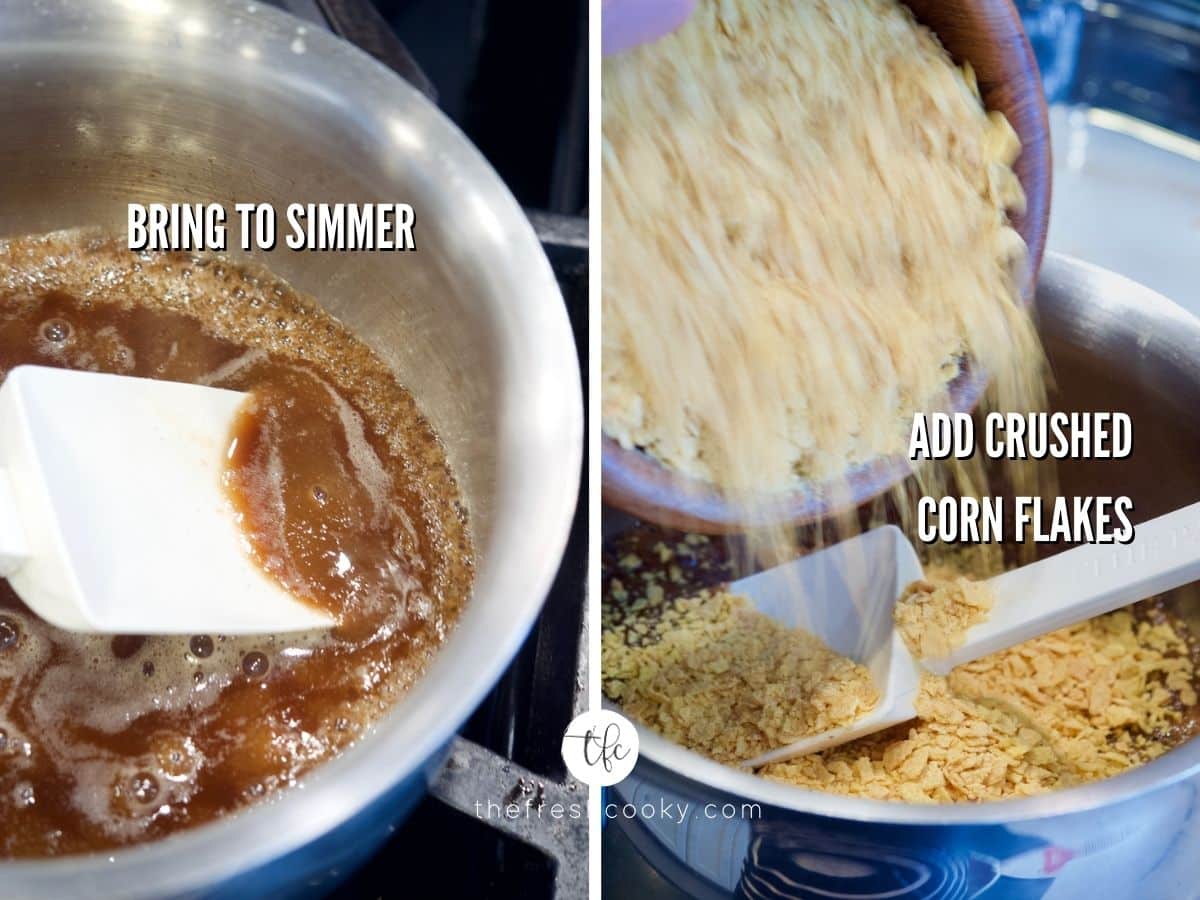 Press half of the buttery corn flake mixture into 9×13 baking dish, cooling completely (I placed mine in the freezer for 10 minutes.
Place softened ice cream into mixing bowl or bowl of a stand mixer fitted with paddle attachment, add additional cinnamon and vanilla bean paste if desired, stir on low until smooth and combined.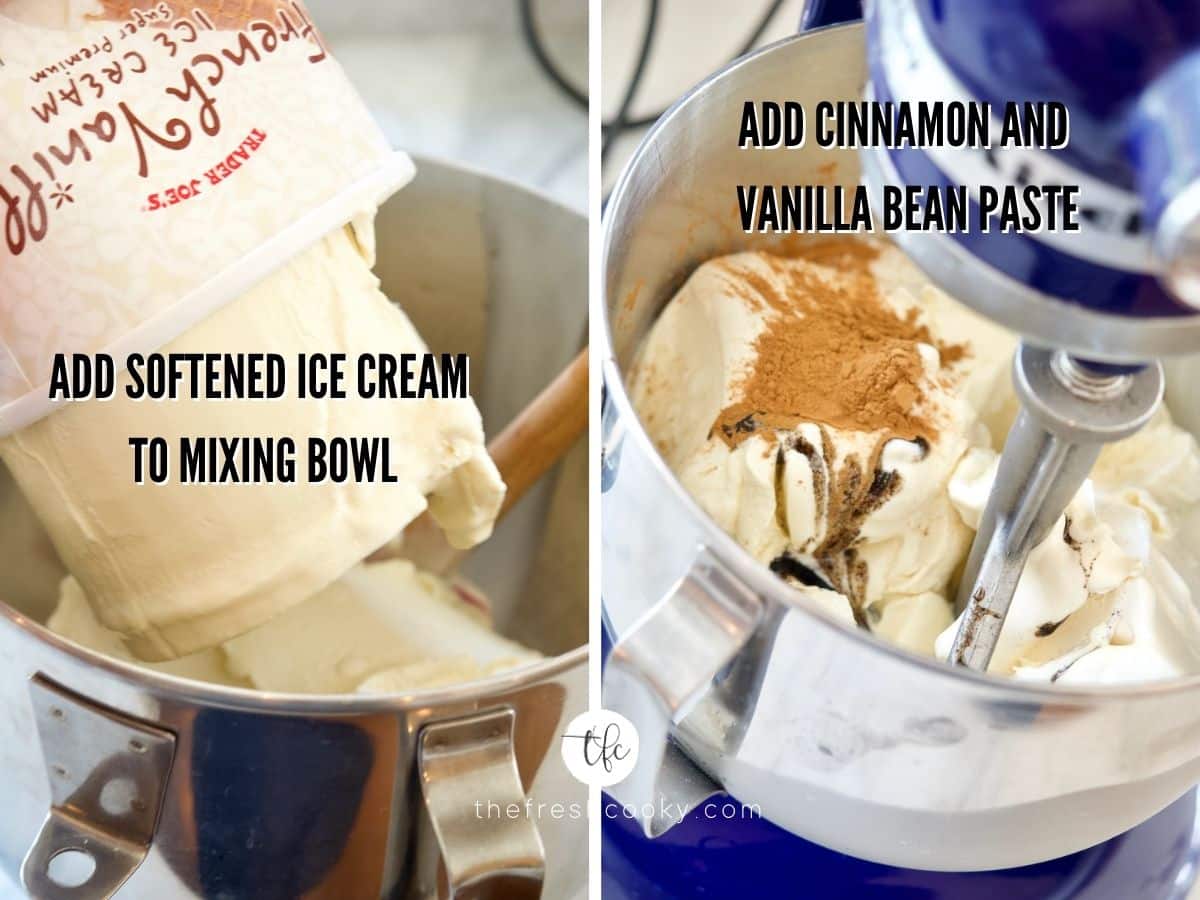 Pour over cooled corn flake crust and smooth to edges evenly.
Press rest of corn flake crust into top of ice cream; pressing down lightly, cover with plastic wrap and freeze at least 5 hours or longer.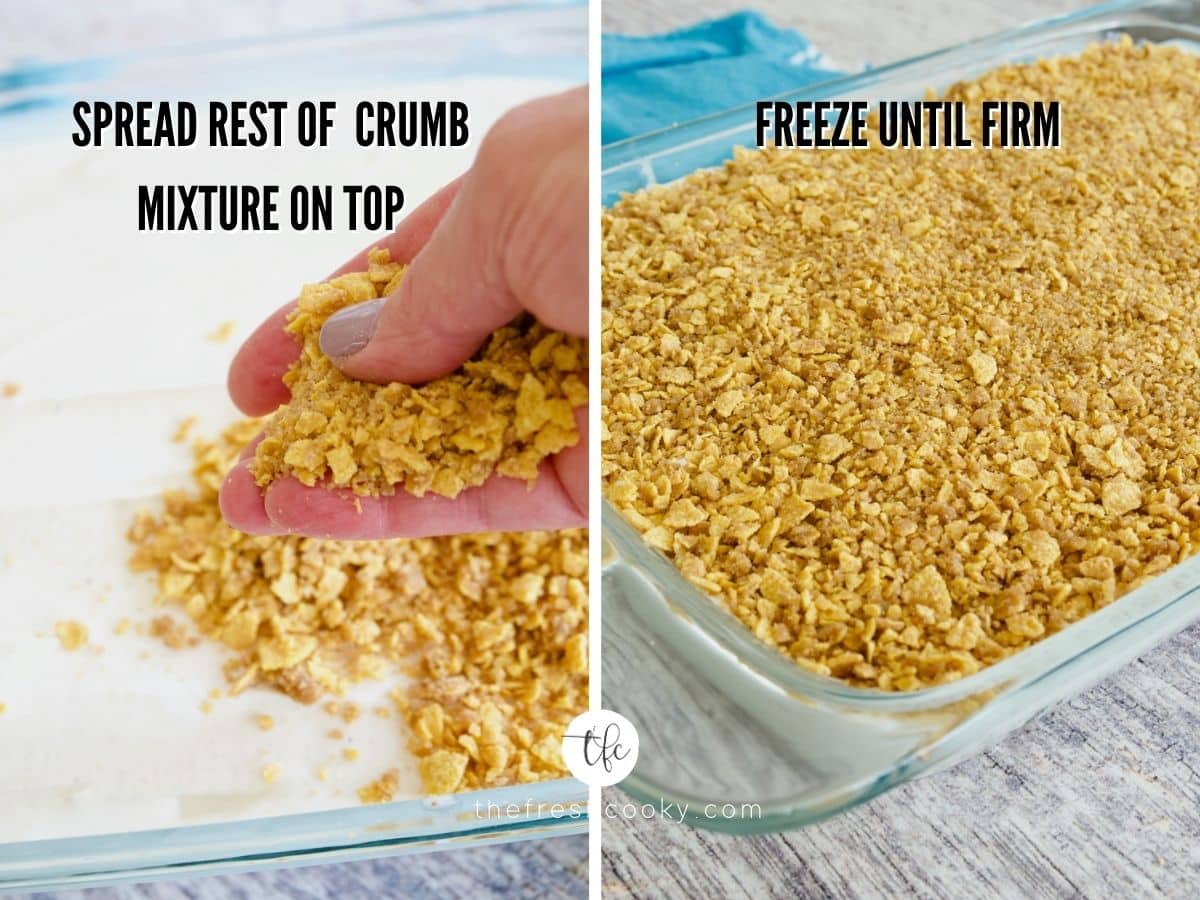 Serving Tips
Suggested serving ideas for this delicious Mexican Fried Ice Cream cake!
Remove from freezer about 10 minutes prior to cutting, this will soften slightly.
Fill tall cup with hot tap water and place sharp knife in glass to heat up, dry and slice ice cream cake into slices, using a spatula to remove individual slices.
Drizzle warm Caramel sauce and/or Hot Fudge sauce over the top, a little squirt of whipped cream and a cherry if you like that sort of thing.
Keep it plain, it has loads of taste all by itself!
Drizzle a little regular or hot honey over the top!
Sprinkle with a little cinnamon sugar mixture.
Recommended Tools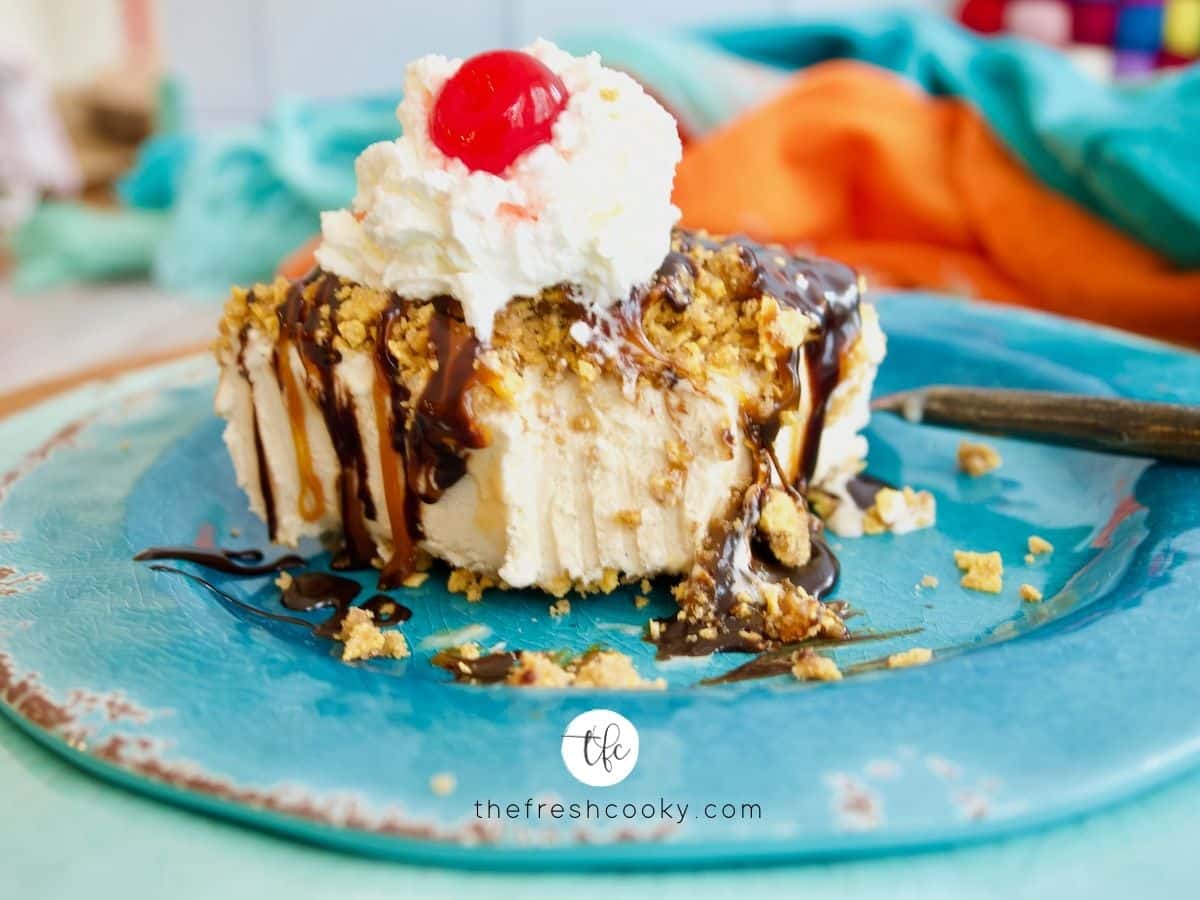 Frequently Asked Questions
Can I make Fried Ice Cream cake Gluten Free?
Yes, make sure your corn flakes are gluten free. This is a naturally gluten free dessert.
Can I use different flavored ice cream?
Why not? It's your dessert! Make it with chocolate ice cream, cinnamon ice cream, but vanilla ice cream is the classic way to make this.
Do I have to put cinnamon in this frozen dessert?
Not if you don't want too! Make it Yours is our motto, if you don't like cinnamon leave it out. Or reduce it. Classic Mexican fried ice cream does have cinnamon in it though.
More No Bake Desserts:
I hope you loved this recipe, if you did, be sure to pop into the recipe card below and give it a 5-Star rating and comment!
Like this recipe?
Don't forget to give it a ⭐️⭐️⭐️⭐️⭐️ star rating and comment below the recipe!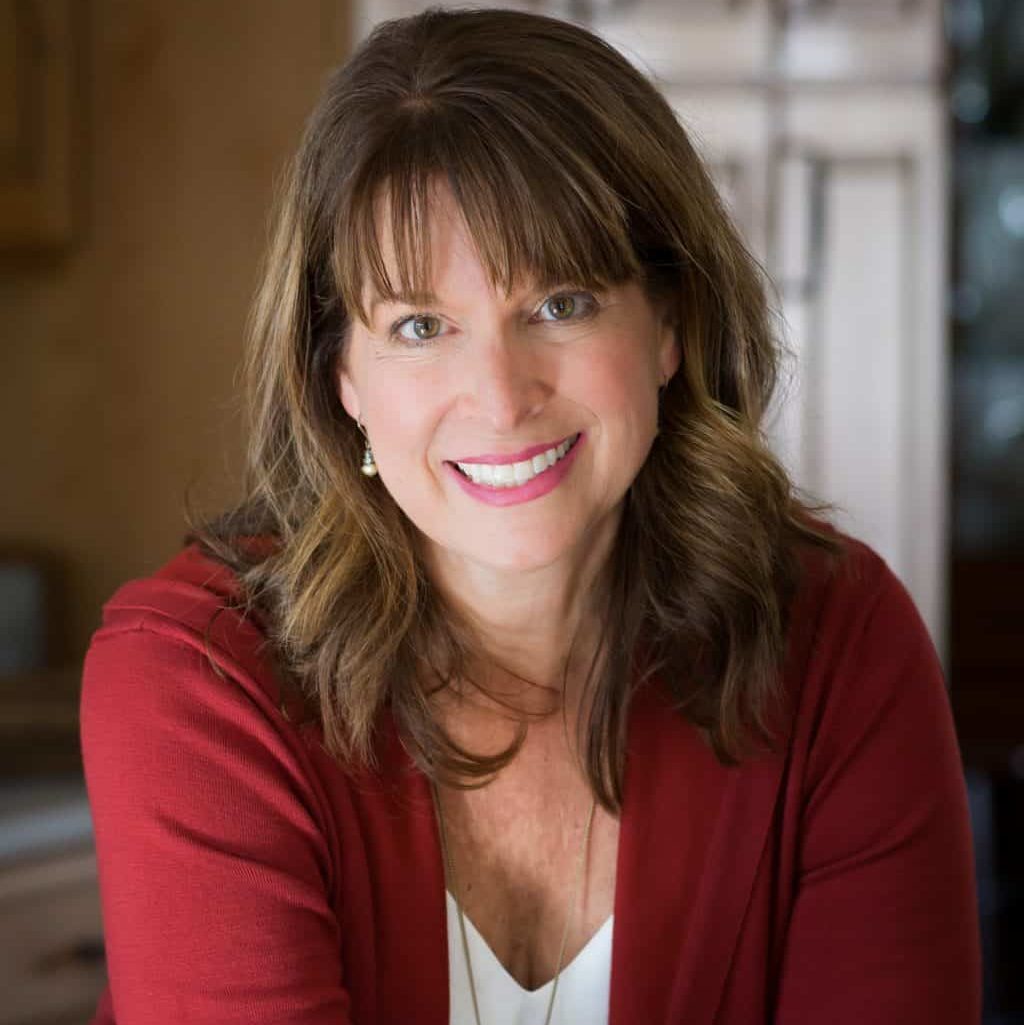 About Kathleen Pope
Recipe Innovator | Food Photographer | Food Writer
Hi, I'm Kathleen Pope. Here at The Fresh Cooky you will find easy, mostly from-scratch, trusted recipes for all occasions. From speedy dinners to tasty desserts, with easy step-by-step instructions. I am here to help teach you how to make mouthwatering recipes without spending hours in the kitchen. Read more about Kathleen here.