Gluten-Free Apple Pie with Crumb Topping
As an Amazon Associate, I earn from qualifying purchases. Please read my disclosure policy.
Crispness in the air, leaves crunching underfoot, what better way to celebrate fall apple season than with a juicy, sweet-tart, delicious apple pie! This gluten-free apple pie will rock your socks off, with the crust and crumble topping made from the same dough, this is an easy fail-proof pie.
The crust and crumb topping are made with almond flour, oat flour, brown sugar, oats and pecans for the best apple pie with crumb topping! Topped with a scoop of vanilla ice cream and a light drizzle of caramel sauce — drooling yet?
Apples are available year round, but they are especially delicious in the fall; you might also enjoy this fabulous old fashioned apple crisp, or this Amazing Apple Crumb Cake.
Best Gluten-Free Dutch Apple Pie
I received crisp, juicy Fuji apples from Melissa's produce and light brown sugar provided by Dixie Crystals; but the opinions on the deliciousness of this GF apple pie and these products are entirely my own!
As the holidays rapidly approach, we all need a slam dunk apple pie recipe in our recipe box and I can guarantee you this gluten-free apple pie is the BEST! Even if you are not gluten-free! You will also enjoy this creamy Butterscotch Cinnamon Pie recipe.
I am part of a group of bloggers featuring all the recipes inspired by fall flavors this week; this gluten-free apple crumble pie is my third recipe of the week, be sure to try out the others:
Ingredients
These ingredients are the basics for the recipe, you will find the complete list with quantities in the recipe card at the end of the post.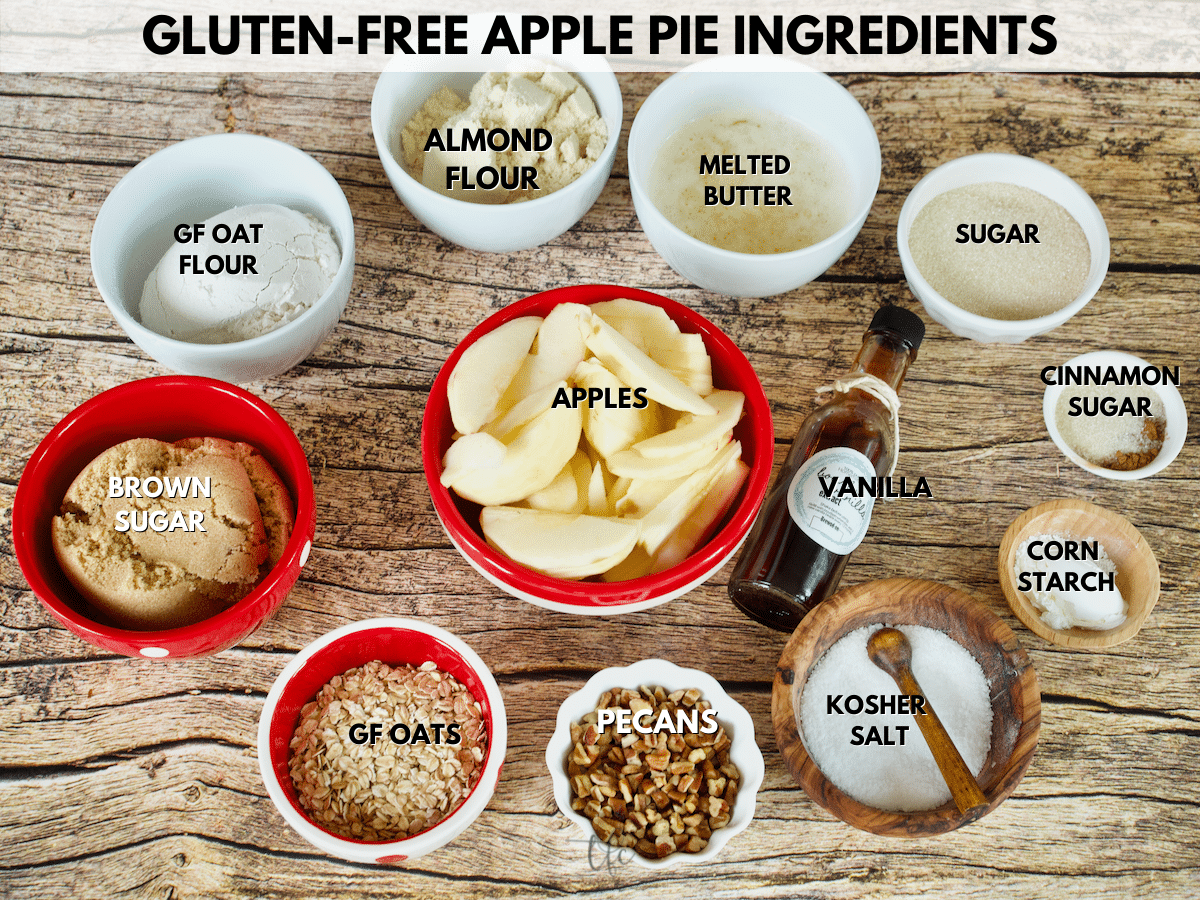 GLUTEN-FREE FLOUR | I used a combination of fine almond flour and gluten-free oat flour, if making for someone with celiac, be sure your oats are certified gluten-free. You could easily use all almond flour or all GF oat flour too or a combination of GF AP Flour and almond, oat, and even coconut flour.
LIGHT BROWN SUGAR | I love that this brown sugar from Dixie Crystals, it is non-GMO!
ROLLED OATS | Again, be sure that they are certified gluten-free if making for someone sensitive, oh and not quick cooking oats.
PECANS | leave out if desired, but they add a wonderful crunchy texture to the crust and crumble topping.
APPLES | you can't exactly have apple pie without apples! Peel, core and thinly slice apples, see below for suggestions on the types of apples to use.
VANILLA | Don't forget about vanilla, ever made your own? Try my homemade vanilla extract and if not gluten-free, try my bourbon vanilla extract recipe too!
SPICES | I opted to use Pumpkin Pie Spice, you can use Apple Pie Spice, or straight up cinnamon too!
Instructions
Enjoy the visual recipe showing you step-by-step how to make this incredible gluten-free apple pie recipe!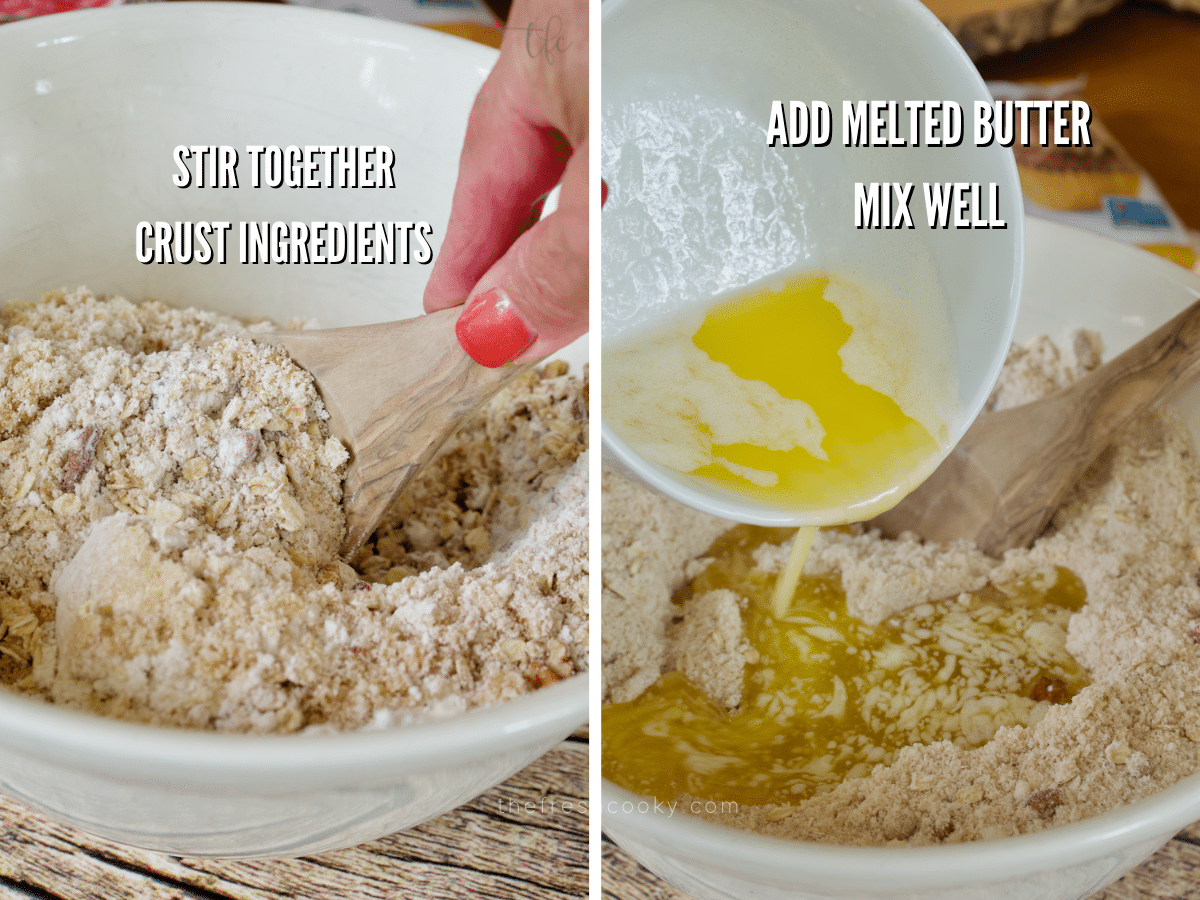 Step 1 | Making the GF Crumble Topping and Crust
In a large mixing bowl, combine GF Oat flour, Almond Flour, oats (not quick oats), ½ teaspoon salt and pecans. Finally, stir in melted butter until moistened and blended.
HINT: I like to mix crumble toppings with my hands, do not be afraid of getting your hands dirty.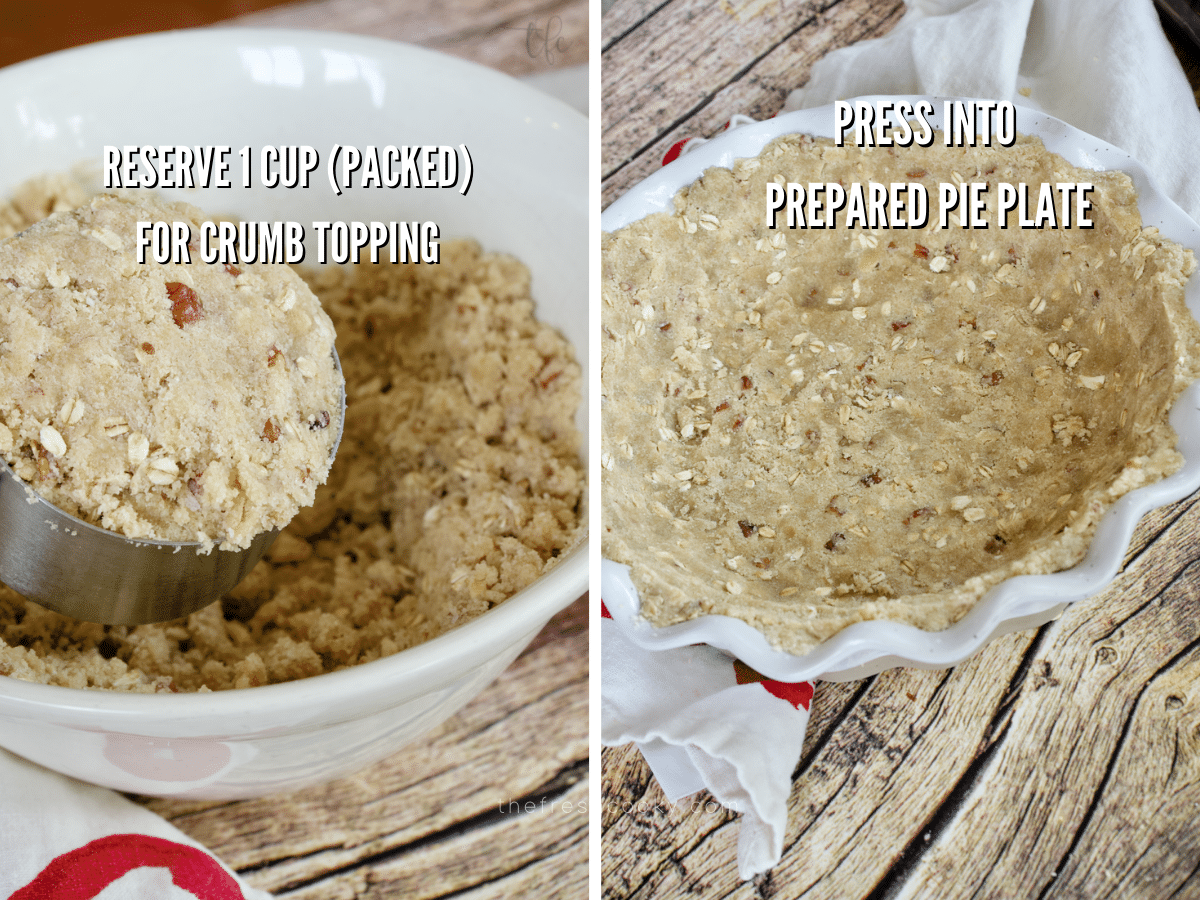 Reserve 1 cup firmly packed crumb for the topping, tossing the balance of the gluten-free crust mixture into a well greased 9-inch deep-dish pie plate. Using your hands and the edge of a measuring cup, press the crust mixture in bottom and up sides of dish.
Step 2 | Assembling Gluten Free Apple Pie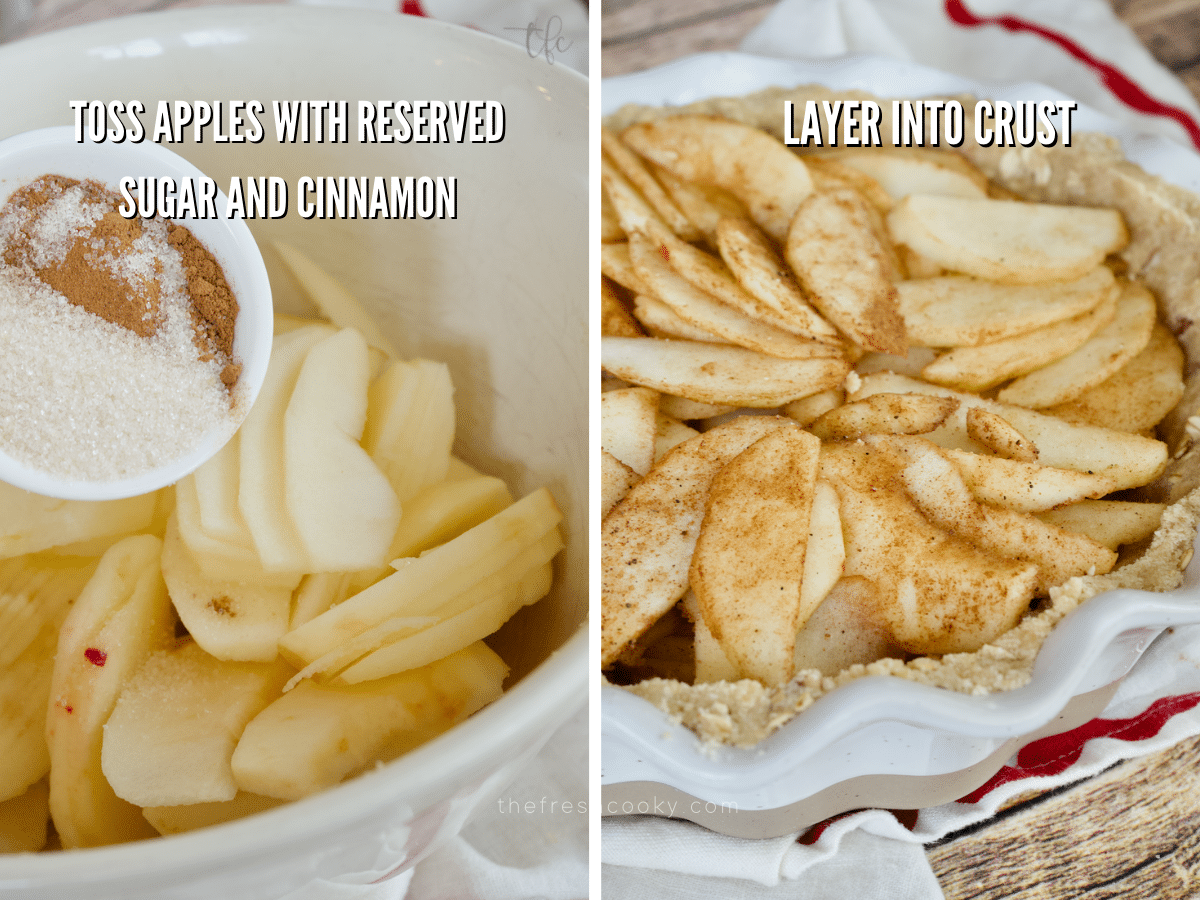 Toss the sliced apples with cinnamon sugar, coating well. Layering the apples on the crust, however, if you don't care about pretty layers, then just pour the apples into the crust, delicious either way!
Step 3 | Make sugar and cornstarch slurry
Combine cornstarch, sugar, kosher salt and vanilla in a small saucepan, stir in water. Whisking constantly over medium heat, heat mixture until it boils.
Pour the hot sugar syrup mixture over the top of the apples. Toss the reserved crumble topping into a small-medium bowl and toss about to loosen. Then grab a handful of the leftover crumble topping, crumbling evenly over the pie.
In preheated 375 degree F oven, bake gluten free apple crumble pie for 40-50 minutes, covering with foil 20 minutes into baking to avoid burning the crust and crumb topping.
TFC PRO TIP | Stick a knife in the pie, if it slides right through the apples then it's done, if still some hesitation, continue baking. Oven temperartures are inconsistent. Be sure to cover the pie with foil half way through as the gluten-free cookie crust can easily burn.
Substitutions
Here are a few suggestions to make this pie for a variety of dietary restrictions:
NOT GLUTEN-FREE | Go for it! Try 1 cup all-purpose flour and 1 cup of oat flour, because well oats! But you can use all regular flour if you choose.
VEGAN | Simply exchange the melted butter for a plant-based melted butter or melted coconut oil.
Variations
Change up your apples!
APPLES | The best apples for apple pie are; Honey Crisp and Granny Smith, but these others equally hold up as well; Gala, Pink Lady, Cripps Pink, Golden Delicious, Northern Spy, Jonagold, Braeburn, McIntosh, Pippin and Red Delicious.
I used a combination of Honey Crisp and Fuji apples. If you want your pie to be a bit less sweet, use Granny Smith, but I would suggest using at least two apple varieties.
TOPPING | Serve this pie warm or cold, it's especially delicious with a scoop of vanilla ice cream and a little sprinkle of fresh nutmeg and cinnamon. It would also be delicious with a light drizzle of salted caramel.
Recommended Equipment
Here are my favorite pie making tools!
Storage Tips
Be sure to allow your gluten-free apple pie to cool on a wire rack. If you can't wait to dig in, it's delicious warm especially with a scoop of ice cream! No worries, the pie pieces will not hold their shape well. If clean slices are desired, cool completely, slice and if desired warm, pop in microwave for 30-45 seconds per slice.
Keep pie loosely covered with plastic wrap or foil on counter for up to two days, I have always wanted a pie carrier! Place in refrigerator for an additional two days to extend it's life, that's a total of 4 days!
Freezing | Apple pie is best first baked and cooled completely, then it may be wrapped well in plastic wrap (twice or once with foil to prevent nasty freezer burn). Thaw at room temperature for several hours. Lasts up to 3 months.
Frequently Asked Questions
What is the difference between Dutch Apple Pie and Apple Crumble Pie?
Semantics really, both refer to the way the pie is topped. Instead of a traditional pastry crust or lattice crust, it is replaced with a sweet, crunchy, buttery crumb topping.
Can apple pie be left out overnight?
If your apple (or any fruit) pie has sugar in it, it does not need to be refrigerated for up to two days, after that make sure it's well covered and then refrigerate for up to 2 more days. Pies with eggs or cream (like pumpkin or French Silk Pies require refrigeration.
Can I use a regular pie crust?
Yes, make half the crumble ingredients and instead replace it with an unbaked pie crust, try my easy 3 ingredient pie crust.
Love Pie? Try these sweet and savory pies!
Watch the crust while baking, since this is a light, buttery, nutty crust, it can quickly burn. If preferred, fold a 12-inch square of aluminum foil into quarters, cut out the center, leaving an 8-inch hole. Unfold and place over pie to shield edges. You can start with this on the pie, or wait until about 20 minutes into baking.
Like this recipe?
Don't forget to give it a ⭐️⭐️⭐️⭐️⭐️ star rating and comment below the recipe!
More #FallFlavors Recipes Below:
Appetizers, Cocktails, and Snacks
Breakfast and Baked Goods
Soups and Salads
Side Dishes
Main Dishes
Desserts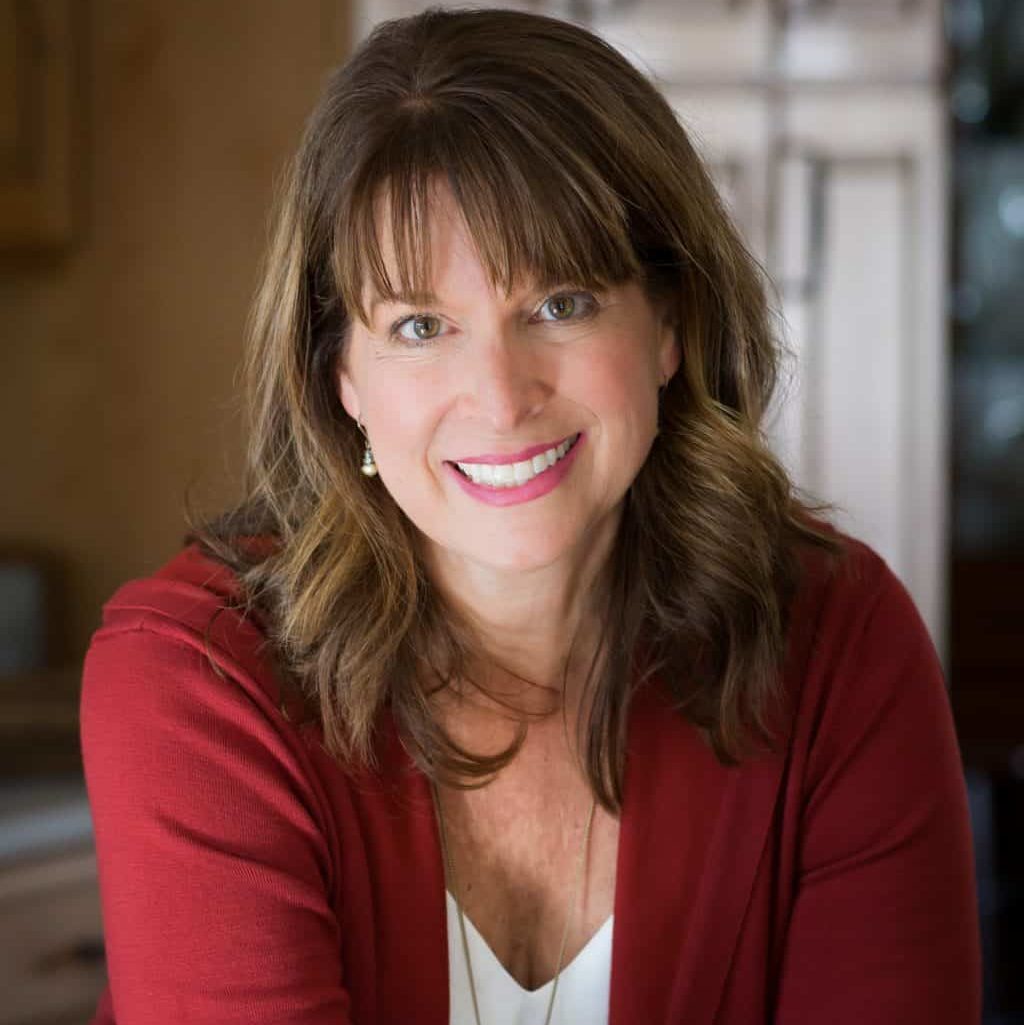 About Kathleen Pope
Recipe Innovator | Food Photographer | Food Writer
Hi, I'm Kathleen Pope. Here at The Fresh Cooky you will find easy, mostly from-scratch, trusted recipes for all occasions. From speedy dinners to tasty desserts, with easy step-by-step instructions. I am here to help teach you how to make mouthwatering recipes without spending hours in the kitchen. Read more about Kathleen here.