Shh, don't tell anyone, but I am sharing one of our treasured family recipes with you, my Grandpa Frank's Spaghetti Sauce. This delicious, easy pasta sauce is what I grew up on, my mom made it often and our mouths watered as the aroma wafted through the house while simmering all day on the stove.
I love how versatile this easy pasta sauce is; don't want to simmer all day on your stovetop, this can easily be made in a crockpot. Want to add more veggies, shred them and go for it. Since it is simmered all day, it becomes a rich, thick and zesty spaghetti sauce.
If you love a great authentic recipe, you might try these other family favorite recipes: Best Chewy Chocolate Chip Cookies, Authentic Italian Tiramisu or these traditional German Pretzels.
My best friend who is 100% Italian (and Rhode Island raised), and I disagree about the name of this sauce; she calls it gravy and I called it spaghetti sauce or easy pasta sauce.
Gravy for me is what you spoon over mashed potatoes, but regardless of what you call it; gather the ingredients and make it; East or West Coast!
SECRET RECIPE FOR GRANDPA FRANK'S SPAGHETTI SAUCE
It is based on my Grandpa Frank's authentic Italian pasta sauce, or gravy or whatever you call the red sauce you put on pasta.
Give it some time, tomato sauce is really best the next day, simmering for hours allows the natural sweetness of the tomatoes to emerge and the acidity to diminish. BUT, don't be shy about eating it the day you make it as well.
Secret Family Recipe
I didn't get to know my grandfather until my early 20's and one of my favorite memories with him was when he took me to one of his restaurants, showed me around, introduced me to a couple of his waitresses.
You know the kind, like from movies, they have served in the same restaurant their entire working life; they know the customers, the menu, rib and kid you, ask about your family, cry and laugh with you…yeah, that kind.
Why you will love this homemade spaghetti sauce
My mom learned to make the sauce from her dad, I learned from my mom. I'd watch her make it over and over again, adjusting spices and herbs slightly here and there.
I finally wrote down the basics, but it's one of those recipes that you simmer and taste, let sit and taste, adjust seasonings and simmer longer and taste.
Lot's of tasting!!! This sauce is robust, rich, thick, zesty and hearty and filled with incredible deep flavor.
I highly recommend investing in a dutch oven; like this Lodge Cast Iron Dutch Oven! Or try the Staub Dutch Oven or Le Creuset they have lifetime warranties so it might be worth it in the long run.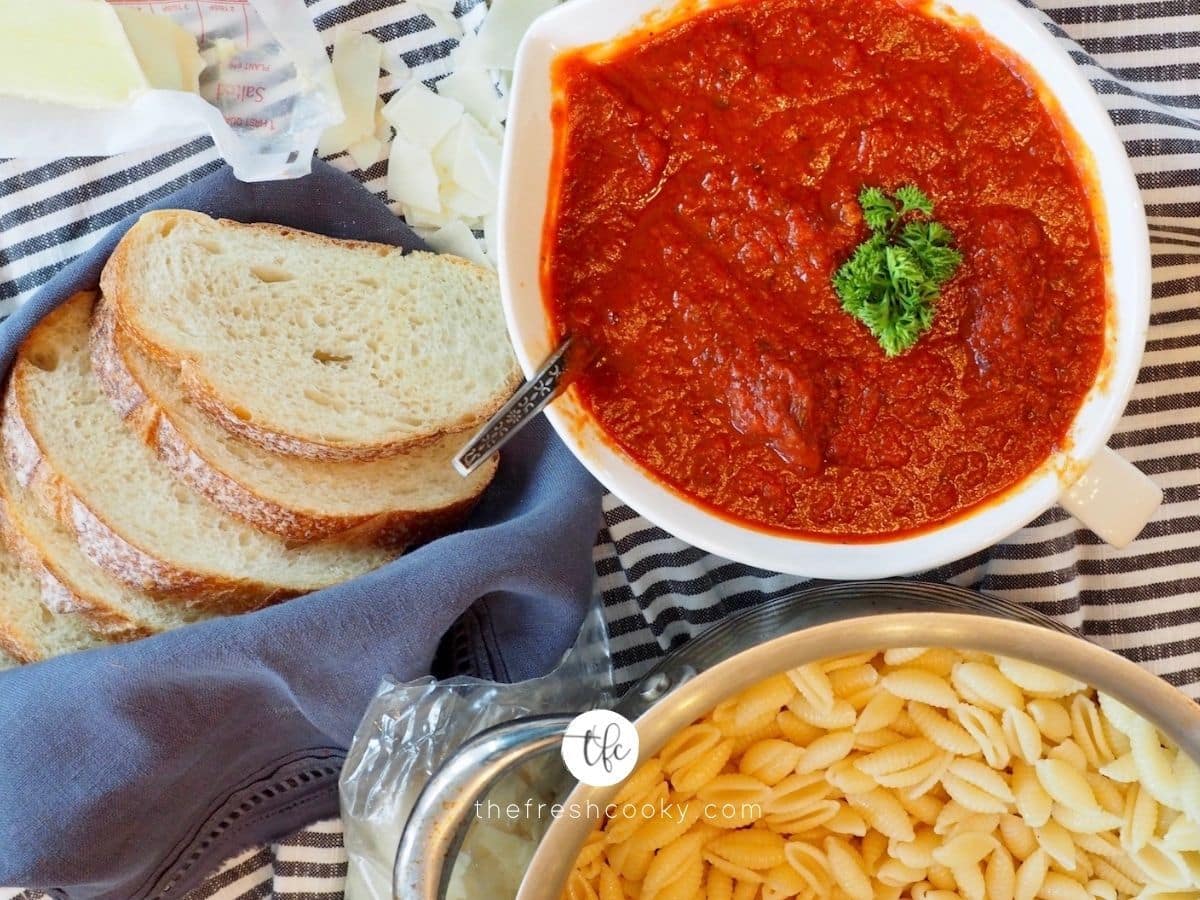 Ways to Use Spaghetti Tomato Sauce
Serve on pasta (any pasta), it's how I use it most often.
As a calzone dipping sauce
When making lasagna, stuffed shells, chicken parmesan, meatball subs, pizza sauce, or drizzled on zoodles.
Use in place of the sauce in this Spaghetti Pie
Ingredients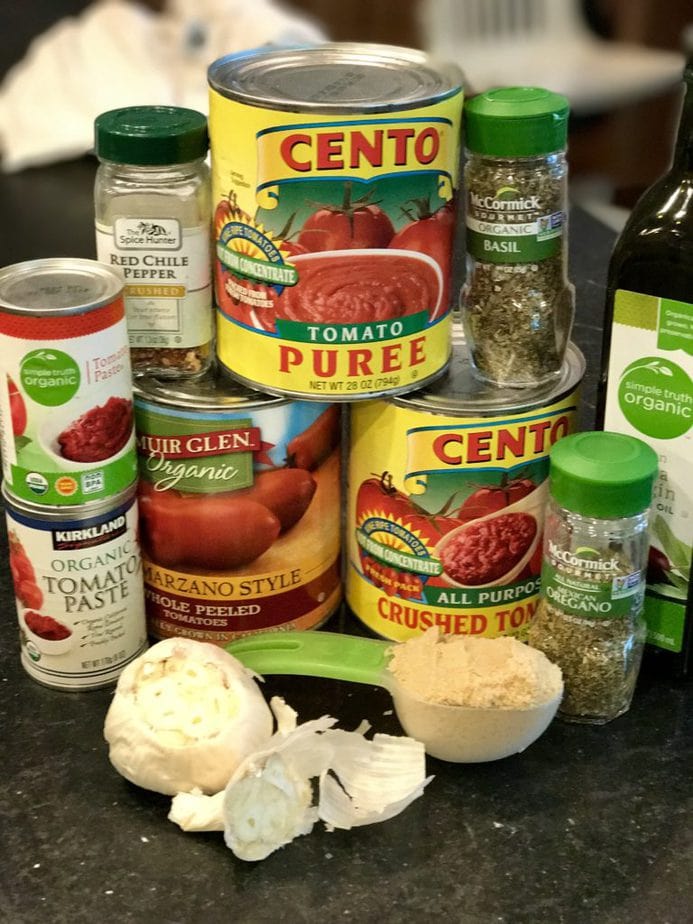 Whole San Marzano Tomatoes | I love San Marzano tomatoes, they are filled with wonderful flavor, but they aren't required to make this sauce. I do believe they are superior tomatoes, if you can find and afford them, give them a try!
Crushed Tomatoes | Rich and thick, with a little chunkiness!
Tomato Paste | I use organic, this gives thickness, and depth to the sauce.
Roasted Garlic | this is optional and I show you how to make it, takes the bite out of the garlic, so worth a little time!
Herbs & Spices | Basil, Oregano, Chile Pepper Flakes and Salt and pepper, adjust to your taste!
Brown Sugar | sometimes depending on the time of year tomatoes are picked they can be more biter than other times, if you like, you may omit the brown sugar, but for the amount of sauce it is not much!
How to Roast Garlic for this Easy Pasta Sauce
I love adding roasted garlic to my sauce, I believe it adds depth to the sauce, but it's optional. You can even get your sauce simmering and roast it later on, adding to the sauce later. Preheat oven to 400° F.
Cut about 1/4 inch off the top of the garlic bulb (the papery side, not the side with the roots), place it on a sheet of foil and drizzle a little olive oil over the top. This is my favorite knife!
Wrap the foil into a pocket and bake, about for 20-40 minutes, should be slightly brown and very squishy.
Allow it to cool for 5 minutes or so, then using a paper towel, gently squeeze from the bottom up and those little cloves of garlic will come popping out, catch them in the foil so you can remove any of the skin that falls with it.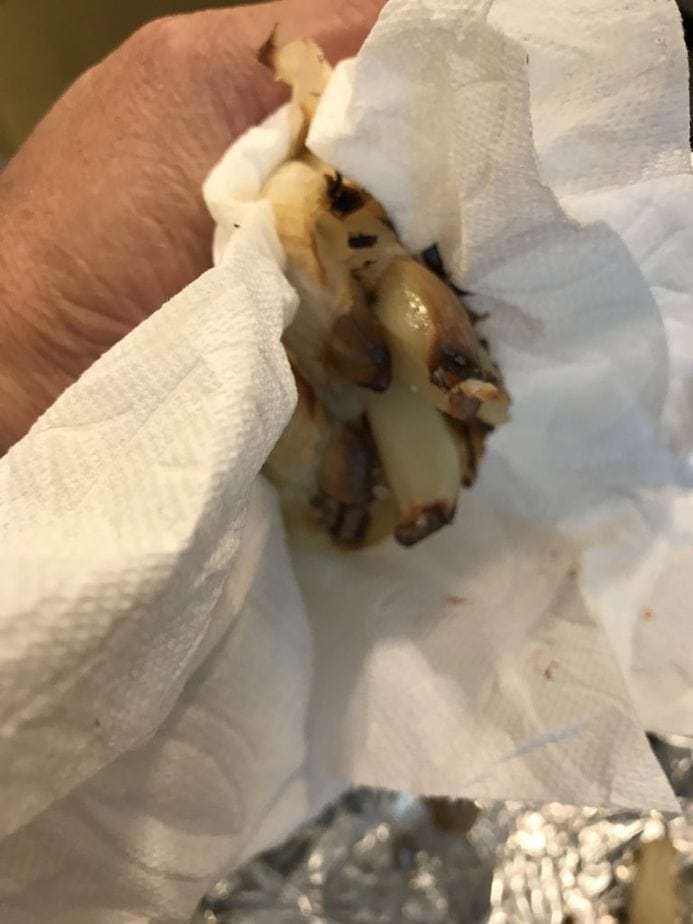 How to Make Easy Pasta Sauce
While the garlic roasts, drizzle a couple of tablespoons of olive oil into a large, heavy pot over medium heat.
If you decide not to roast your garlic, mince between 3-5 cloves of garlic and toss into the hot olive oil, prior to the tomato paste. Carefully sauté until golden, don't burn it as it will turn bitter. CAREFUL it will brown quickly!
Add tomato paste to the hot oil and garlic (if you roasted it, wait until you have all of your ingredients before place it in the sauce) and stir around until it turns just slightly darker. It should start to absorb the olive oil. It'll just take a minute or so.
Pour in crushed tomatoes and pureed tomatoes and finally whole tomatoes.
As you add the whole tomatoes, pour them into the palm of your hand a few at a time and crush/squeeze them into the sauce with your hands. Yikes, apparently photo's enhance age spots!
Once you've added tomatoes, fill one can about ½ way full of water, swish around and pour into next can and repeat, until you've "rinsed" out all of the cans, pour your "tomato sauce" water back into the sauce.
Add herbs and spices. This is done by eyeballing, a nice generous pour into your palm of dried basil and dried oregano. It's hard to add too much, you might even need to add more later on.
Alternatively, you can add your spices to the olive oil and tomato paste and "bloom" your spices with the garlic and paste.
Next shake in some red pepper flakes, I do a couple of shakes, I don't really want heat in the sauce, just some nice flavor.
Then add a generous palm full of kosher salt, you may have to add more later.
Give it a good stir and over very low heat, bring to a simmer. Be very careful, you don't want to burn the bottom, it can ruin the whole sauce.
Now is the time to toss the roasted garlic cloves into the sauce, remove any "papery skin" before tossing it in the sauce.
Toss in a couple of handfuls of fresh basil if available and if you have a Parmesan rind place in sauce as well – keep any leftover rinds and bits in the freezer for sauces and soups, adds wonderful flavor.
Frequently Asked Questions
Can I save burned tomato sauce?
Yes! If your sauce does burn, or you suspect a burn, DO NOT scrape the bottom of the pot, carefully pour your hot sauce into a new pot leaving the burnt sauce on the bottom of the other pan. Let your husband clean that pot later. That was for those of you who are still reading…tee-hee!
Does Spaghetti Sauce or Tomato Sauce Freeze well?
Yes, my #1 tip is to cool the sauce completely before freezing. I scoop the sauce in two cup portions into a freezer container or baggies (be sure to mark it). When ready to use, thaw overnight in fridge or on counter. Heat and use as planned. Lasts up to 4 months frozen.
How long does homemade tomato sauce last?
About 3-5 days in the refrigerator, freeze if you aren't going to use it by then!
Crockpot Spaghetti Sauce
I get it, sometimes you want to just walk away and not worry about the easy pasta sauce, so get all of your initial prep done on the stove.
Then when it comes time to start simmering, transfer to a crockpot and cook on low for 6-8 hours. Or place in oven safe pot at 250 degrees for 6-8 hours, allow both versions to cool over night, then bring to low simmer again the net day.
Additions & Substitutions
When I posted my Zucchini Lemon Bread

recipe

I spoke about using shredded zucchini in other dishes. Grate a zucchini or two and toss it into the sauce, or try grated carrots or other veggies to hide in the sauce! Maybe even riced cauliflower! Don't worry it will cook into the sauce, giving it even more depth, thickness, and nutrients. Optional of course!
Prefer a roasted tomato taste? Substitute the crushed tomatoes for equal amounts of roasted tomatoes.
Onions | Some people like caramelized onions in their tomato sauce, go ahead, add some when you are heating that olive oil, before the tomato paste.
Like Spicy Pasta sauce; add more red pepper flakes!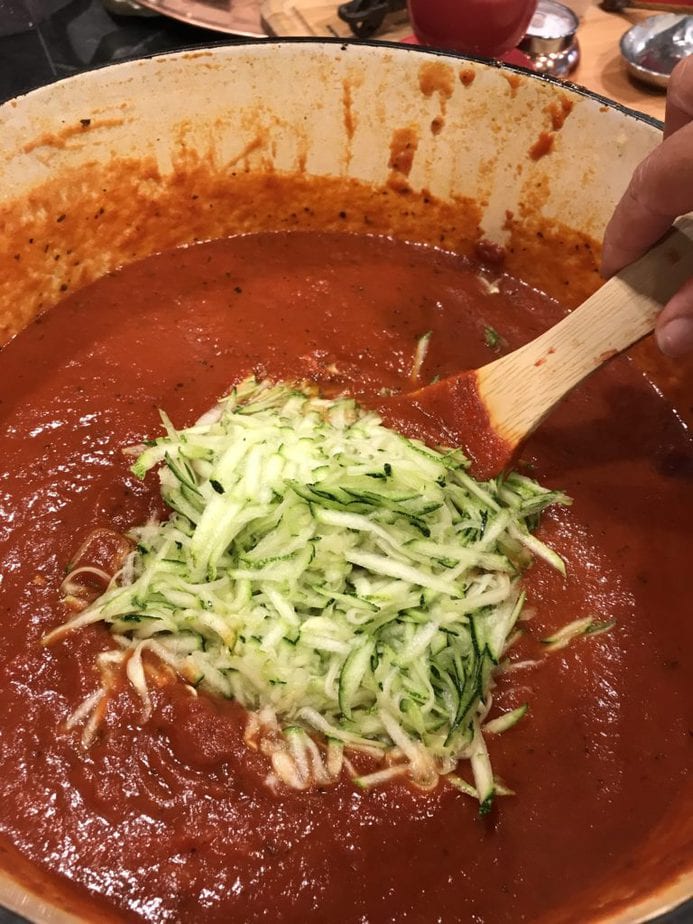 Toss in brown sugar and stir to combine…if you prefer, you can leave this out. It won't make the sauce sweet, simply neutralizes the acidity of the tomatoes, enhancing the natural sweetness. Feel free to reduce or omit it.
Covered, let it simmer on lowest setting (careful to not let it burn), stirring occasionally. You can even put it into a crock pot or into the oven, covered at 250° for as many hours as you need. Add water as needed to bring it to the thickness you like.
Turn off the heat and leave it on the stove top overnight*, lid on, cooling. The next day, slowly over very low heat, return to a simmer. The color will darken to a rich, deep red; acidity reduced and the natural sweetness of the tomatoes will have emerged and your sauce.
*If you are making this in a warm climate or are not comfortable with leaving it out overnight without refrigeration, by all means plop it in the refrigerator, then slowly reheat the following day.
Tips for the Homemade Spaghetti Sauce
Remove all the lids on cans at once and measure your spices into a small pinch pot or bowl.
Simmer!! The longer the better!
Adjust the spices after the second day if you were able to wait that long!
BURNING BOTTOM | My stovetop has some hot spots and my sauce can burn, quickly, if I am not careful. See FAQ's for how to rescue burnt sauce.
Quality Ingredients | this makes A LOT of sauce. Think of the savings on a jar of spaghetti sauce you spent $4-6 on and splurge on some higher end tomatoes.
Reserve a large tomato can, use to place wooden spoon when not using it, plus, it's handy to fill with water if you need to add a little during the simmering process.
Add cooked meatballs or Italian sausage and simmer for about an hour before serving, the meat will add even more flavor to this robust sauce.
Smooth or Chunky Homemade Tomato Sauce
I typically blend the sauce since my family likes it smooth. I love my immersion blender or if desired, place in small batches in a blender. Blend until desired texture.
If you like it chunky, either only partially blend or don't blend at all! It's a texture thing!
Serving Suggestions
Serve with fresh grated or shaved Parmesan, chopped basil, crusty Italian or French bread, a crisp salad. Or a simple plate of crisp cucumbers, grape tomatoes and carrots.
More Delicious Italian Recipes to try:
If you enjoyed this recipe take a minute to rate and make a comment below!
Like this recipe?
Don't forget to give it a ⭐️⭐️⭐️⭐️⭐️star rating in the recipe below!
Yield:

10-12 cups
Grandpa Frank's Spaghetti Sauce
Total Time:
9 hours
25 minutes
Our secret family recipe passed down from my Italian Grandpa Frank. This easy pasta sauce is thick, rich, zesty and so delicious! It will become your favorite as well!
Ingredients
Roasted Garlic
1 bulb roasted garlic, top sliced off to reveal cloves
1-2 teaspoons olive oil
Sauce
1-2 tablespoons olive oil
*if not using roasted garlic, 3-5 cloves of garlic, minced
2-3 tablespoons dried basil
1-2 tablespoons dried oregano
1-2 tablespoons kosher salt
1 bulb of roasted garlic cloves
⅛ - ¼ cup brown sugar (optional)
1 zucchini, washed and grated (optional)
1-2 parmesan rinds (optional)
1-2 Shredded Carrots (optional)
Toss in a handful of fresh basil, oregano or thyme if available (optional)
Instructions
Roasted Garlic
Preheat oven to 400 °. Slice off the top of the bulb of garlic. Place on square of foil on baking sheet and drizzle the olive oil over the tops of the garlic cloves. Sprinkle with a little kosher salt, fold the foil up and around the garlic, making a pocket.
Roast for 20-25 minutes until golden and soft. Allow to cool for about 10 minutes, then using a paper towel, hold the garlic bulb upside down over the foil and squeeze the bulb from the bottom up, pushing the garlic cloves out. Most will pop out, some might need to be encouraged or pulled out. Remove any of the papery garlic skin and set aside.
MAKING THE SAUCE
Drizzle oil into large, heavy bottomed pot and heat over medium heat. If not using roasted garlic, toss in minced garlic and stir until golden, careful not to burn. Scoop the tomato paste into the hot oil (garlic) and stir around until you see the color darken slightly, don't allow to burn.
Pour in the pureed and crushed tomatoes, next, pour one or two whole tomatoes at a time in your hand, squeezing and crushing them into the sauce. Pick one of the empty 28 oz cans and fill ½ way with water, swirling around to remove leftover tomato juice, then pour into the next can and the next until you've cleaned out all of the cans. Don't throw out. Pour tomato "water" with collected juices into the sauce, stir to combine.
Toss in basil, oregano and sea salt and a few shakes of red pepper flakes (more for more heat, less if none desired). Toss in roasted garlic, if made. Place in brown sugar and stir to combine (optional). If desired, grate 1-2 zucchini's and stir into sauce (optional) and add parmesan rind(s), optional.
Simmer, covered on lowest possible setting for 4-6 hours (or longer), stirring occasionally. Add water as needed if getting too thick, simmer longer if too thin. Adjust seasonings to taste, adding more of each if needed. Or if preferred make Crockpot spaghetti sauce, once initial prep is done, transfer sauce to crockpot and simmer for 8-10 hours on low.
Cool on stovetop overnight, covered. Before serving, bring up to simmer once again for an hour or so. Optional: Using an immersion blender, blend until smooth. Place browned and drained meatballs or Italian sausage into sauce and simmer for an hour before serving, if desired.
May be frozen (cool completely before freezing), mock "canned" by placing hot sauce into clean canning jars, sealing tightly with canning tops, allowing to cool on counter, once cooled, store in refrigerator, note that these are not shelf stable.
Notes
How to Save Your Sauce if the Bottom Burns
If your sauce does burn, or you suspect a burn, DO NOT scrape the bottom of the pot, carefully pour your hot sauce into a new pot leaving the burnt sauce on the bottom of the other pan. Let your husband clean that pot later. That was for those of you who are still reading...tee-hee!
*If you are making this in a warm climate or are not comfortable with leaving it out overnight without refrigeration, by all means plop it in the refrigerator, then slowly reheat the following day.
Recommended Products
As an Amazon Associate and member of other affiliate programs, I earn from qualifying purchases.
Nutrition Information:
Yield:
12 cups
Serving Size:
1/2 cup
Amount Per Serving:
Calories:

188
Total Fat:

8g
Saturated Fat:

2g
Trans Fat:

0g
Unsaturated Fat:

5g
Cholesterol:

15mg
Sodium:

1359mg
Carbohydrates:

25g
Fiber:

6g
Sugar:

12g
Protein:

9g
The nutritional information is estimated and may not be entirely accurate.