Homemade easy Pumpkin Spice Coffee Cake is the perfect fall breakfast treat. Using a doctored cake mix, with a ribbon of gooey brown sugar and pecan swirl throughout, finished with a simple maple syrup glaze. A quick, moist and delicious fall dessert.
While I am a firm believer in making things from scratch, sometimes even I use a mix, but you will never even know because we kick up this cake mix with so many delicious ingredients!
If you like doctored up cake mix desserts, then try our favorites: Cinnamon Swirl Bundt Cake, Cake Batter Chocolate Chip & Sprinkle Cookies and a family favorite Chocolate Chocolate Chip Copycat Nothing Bundt Cake.
How to Make a Boxed Cake Mix Taste Like Homemade
By changing out a few ingredients in a box cake mix; you have a richer, more moist and dense, delicious cake!
Ditch the Water
Try substituting whole milk, your favorite plant based milk (coconut would be divine) or even better, buttermilk, but due to the thickness of buttermilk add a few tablespoons more.
Flavor in the Fat
Normally, I'd swap out cup for cup; melted butter for oil, bu many times I stick with heart healthy avocado oil, then I could call it "healthier" right? 🙂 Give it a go and let me know if you do, but in general you can swap out melted butter for the oil in a recipe.
Add an Extra Egg (or two)
Being at high altitude, I have always added an extra egg to my cake mixes, why? The egg white contributes strength and the yolk contains a natural emulsifier that allows batter to hold extra sugar without weakening the overall structure. (source) However; in general, if you want a boxed cake mix to taste like a bakery cake or homemade then add an extra egg!
Amp Up the Flavor
Chances are the vanilla might be a little blah in the cake mix, so for all cake mixes add a teaspoon of your favorite vanilla extract, vanilla bean paste or other extract; or try homemade bourbon vanilla!
In chocolate cake mix, add a teaspoon of espresso powder.
Lemon cake mix, add the zest from one lemon, za-zing!
White or Vanilla Cake mix, add pure vanilla extract or a teaspoon of vanilla bean paste or even the seeds from a vanilla bean. Or try a little rum, maple or almond extract!
Spice or Carrot Cake Mix, use fresh grated nutmeg (this microplane is the best), an extra teaspoon of cinnamon, definitely a teaspoon of vanilla or tablespoon of rum, brandy or whisky.
Add Moisture
Add up to a cup of sour cream, plain greek yogurt or ¼ – ½ cup of creme fraiche. The richness, moisture it lends to a cake is amazing! You could even try a few tablespoons of mayonnaise, after all it's just eggs and oil!
How to Doctor up a Pumpkin Spice Cake
The first thing I did was add pumpkin puree (not pumpkin pie mix), because it wouldn't be very pumpkin-y without the pumpkin, ya know! I used a rounded ¾ cup of pumpkin. See below for how you can use leftover pumpkin puree.
I added a total of 4 eggs, giving it more lift and more moisture.
I used Greek yogurt, full fat, instead of sour cream, no big reason other than that's what I had, both work interchangeably, just make sure you are not using a fat free product, they typically do not work well in baked goods.
Added maple syrup to the glaze, giving it a decidedly fall maple-pumpkin flavor. Not overwhelming though.
Can I Freeze Leftover Pumpkin Puree
Yes! I would suggest you measure leftover canned pumpkin out first so you know how much you have, then place in airtight plastic container or baggie and write the portion amount on the outside. To use, simply thaw in fridge overnight or on counter until soft.
Ways to Use Leftover Canned Pumpkin Purée
Save it for another baking project! This is probably my favorite and what I do most of the time, like these Maple Pumpkin Scones, or Pumpkin Bread with Browned Butter Maple Frosting.
I love stirring pumpkin puree into chili, you cannot really taste it and it adds great flavor, fiber and other good for you stuff!
Make a pumpkin spice latte, yes, the famous PSL, this is especially a perfect use when you only have a few tablespoons leftover. Stir in a tablespoon into a cup of hot espresso, add frothed milk, a little vanilla and a ¼ teaspoon of pumpkin pie spice. Ta-da!
Stir into oatmeal or other hot cereal, a couple of tablespoons with a little maple syrup and pumpkin spices is dreamy.
Stir a few tablespoons into vanilla or plain yogurt and add some granola and voila you have a lovely fall yogurt parfait.
Add to a curry | pumpkin while flavorful and sometimes strong in flavor would blend beautifully with the turmeric and other spices in a curry.
How about making pumpkin pancakes or waffles?
Blend in a smoothie for a heart healthy fall smoothie!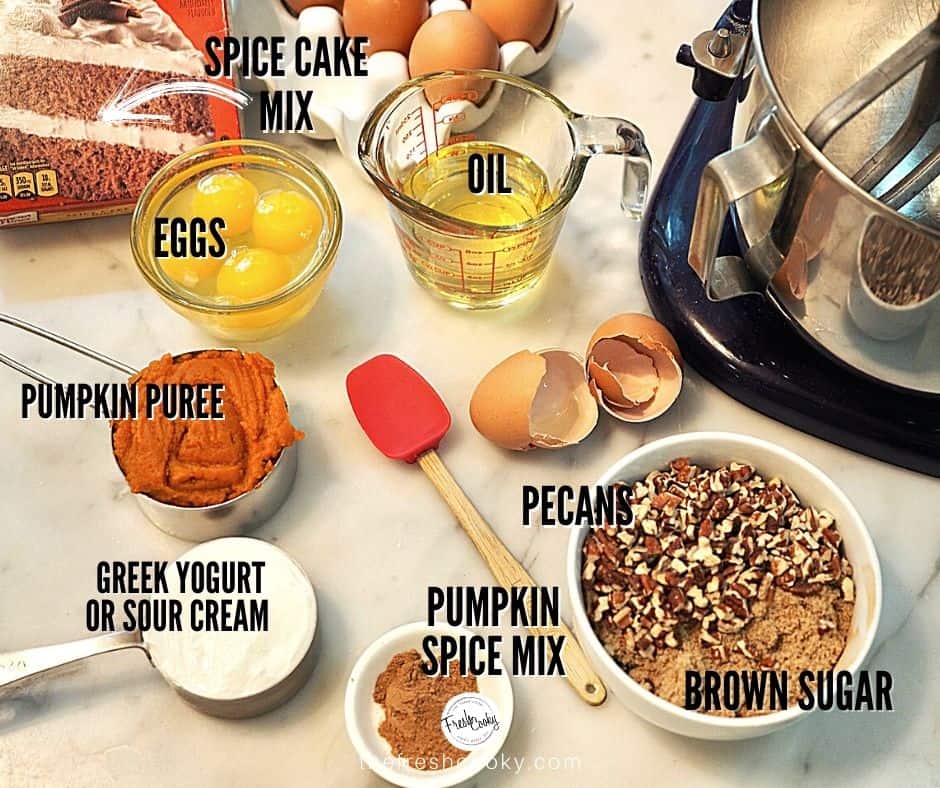 Ingredients
For the Cake
Cake Mix | I used a Spice cake mix, because I wanted it filled with warm spices, however; you could also use a white or yellow cake mix as well.
Vegetable oil | I used avocado oil
Eggs | I always use large eggs
Greek yogurt | You can use sour cream too, please just don't use fat free
Pumpkin puree | Make sure it's not pumpkin pie mix
Pumpkin pie spice | don't have any? Make your own in 5 minutes.
Streusel Swirl
Brown Sugar | Light or dark brown sugar will work fine. I used light.
Pecans | or walnuts, or you can replace equal amounts of chocolate chips tossed in a teaspoon of flour.
How Do You Make Pumpkin Coffee Cake
Dump all the ingredients, except the streusel and glaze ingredients into the bowl of a stand mixer or large mixing bowl and beat on medium until incorporated, 2 minutes.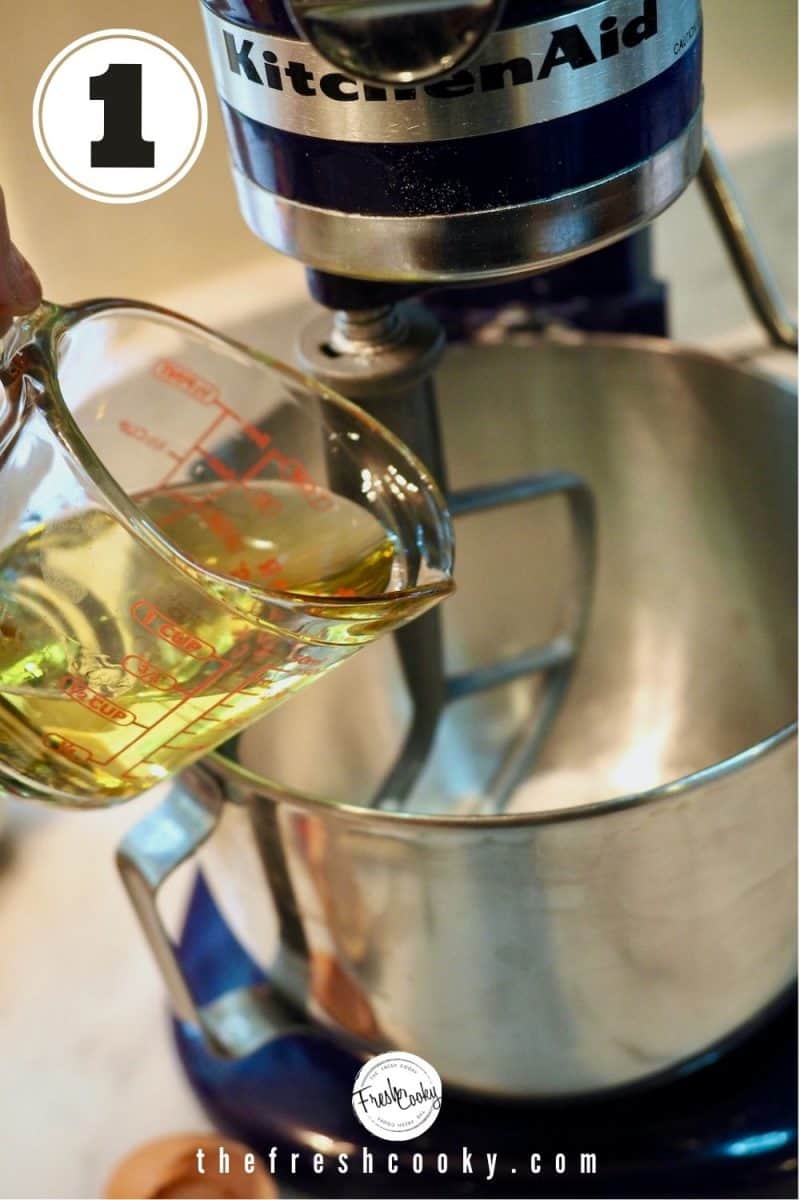 Spread half the batter into a sprayed 13×9″ baking pan, in a small bowl mix the brown sugar and chopped pecans together, the sprinkle evenly over top layer.
Spoon the rest of the batter over the top of the streusel and spread to cover the streusel. Bake at 350 degrees for 30-45 minutes, cake is ready once edges pull away slightly from edges and toothpick inserted comes out clean.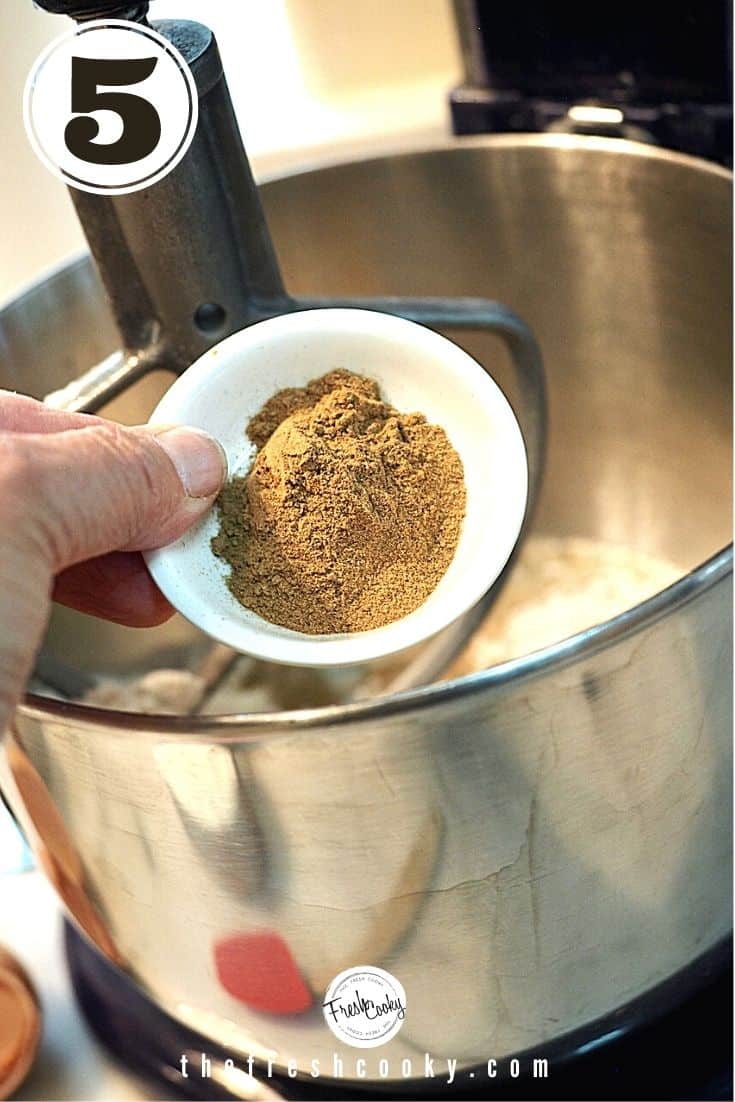 While the cake is baking, whisk together the maple glaze ingredients until smooth. Remove the cake from the oven and drizzle the glaze evenly over the top. Cool completely on wire rack.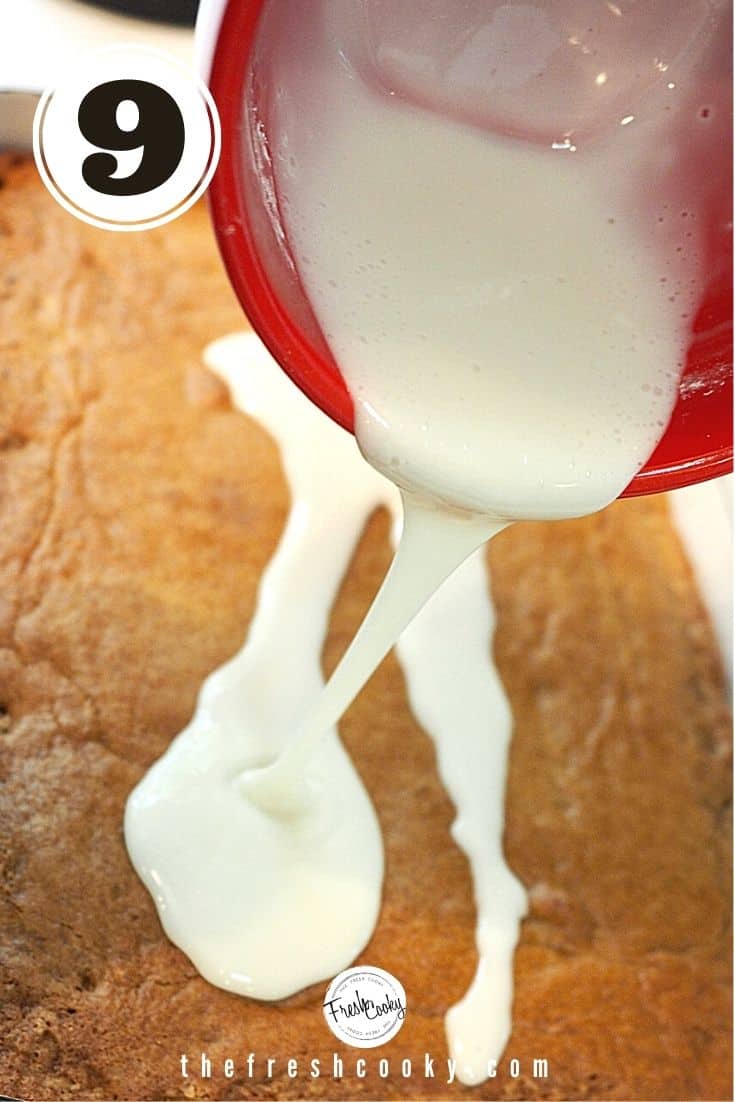 Pumpkin Spice Bundt Cake or Cupcakes?
While I haven't tried this personally, I do think based on similar recipes that making this in a bundt cake and cupcakes would work. Let me know if you try it!
Bundt Cake | Process the recipe the same, spoon half batter into well sprayed bundt cake pan, sprinkle the brown sugar and pecan mixture, spreading remaining on top. Bake at 350 for 45-60 minutes. Allow to cool for 10 minutes, then invert onto cooling rack and pour glaze over warm cake.
Cupcakes | Again, same as above in the mixing, spray and line with cupcake liners. Fill cupcake tins ⅔ full and sprinkle the brown sugar and pecan mixture on top, add a dollop (about a tablespoon) of remaining batter on top. Bake at 350 degrees for about 18-20 minutes until tops spring back when lightly touched. Drizzle glaze over tops of warm cupcakes.
Recommended Tools
Cake Pan | 13×9″ baking pan, this is my favorite brand, a lower price point. A prettier mid-range pan is this pretty Staub. The pan I baked this delicious cake in is a gorgeous Dansk pan which I recently was gifted from a friend who was cleaning out her kitchen! A gorgeous presentation.
Mixer | You can easily make this cake with a hand mixer (I use this one) or a stand mixer.
Spatula | this is my favorite brand, but any sturdy spatula will do!
Off-set Spatula | These make spreading glazes and frostings so much easier!
Mini Whisk | Not necessary but a little easier to handle in a small bowl.
High Altitude Adjustments
I made this cake just like the original recipe with a few tweaks that should not change anything if you are baking at altitude or at sea level.
My biggest suggestion when baking at altitude is to adjust your oven temp up 25 degrees (or down if using a dark or glass pan) and bake 5-10 minutes less time.
Sharing this week on Weekend Potluck!
Don't forget to PIN to your favorite Fall Recipes board!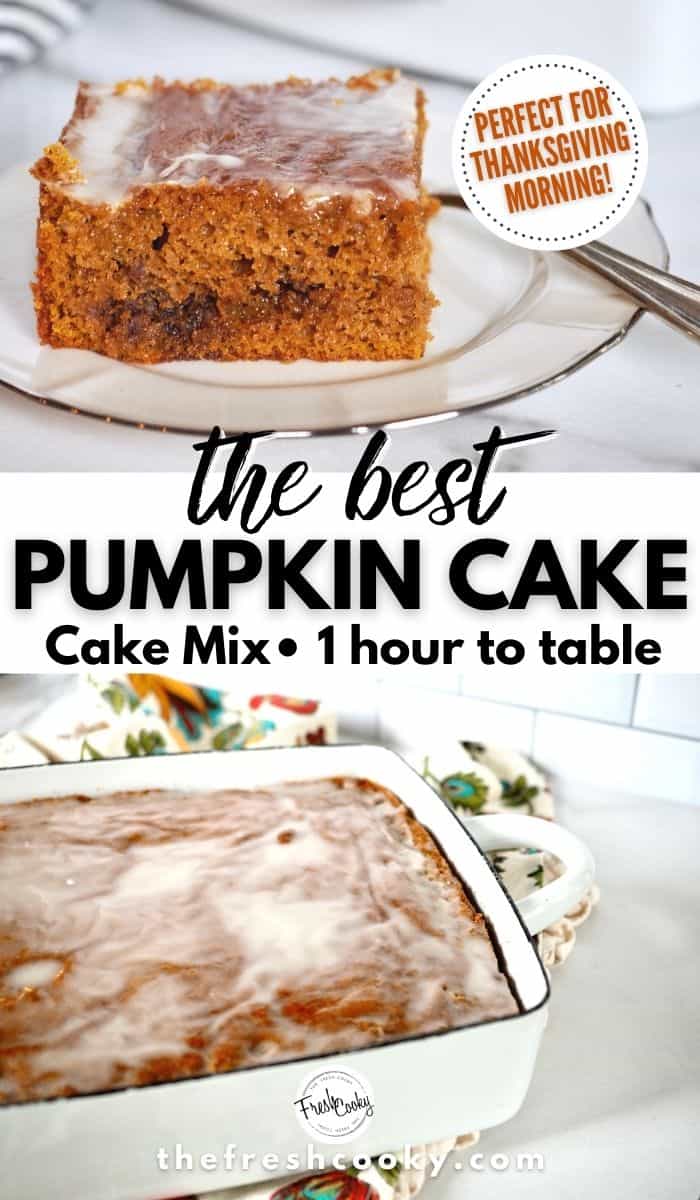 Like this recipe?
Don't forget to give it a ⭐️⭐️⭐️⭐️⭐️star rating in the recipe below!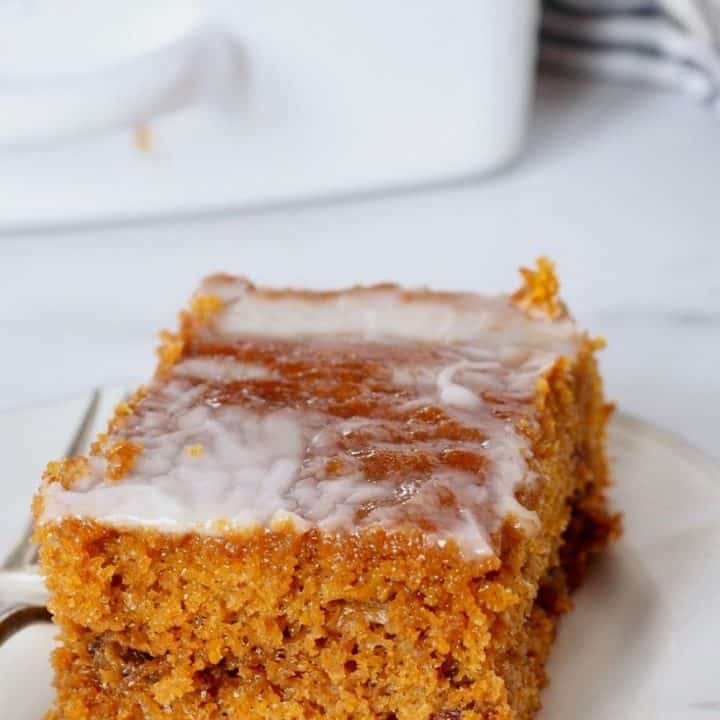 Yield:

12 servings
Pumpkin Spice Coffee Cake
A fall inspired pumpkin spice coffee cake, kind of a like a giant honey bun. With maple vanilla icing spread over a warm cake. A moist warm cake, ready in an hour.
Ingredients
Pumpkin Spice Cake
1 box Spice Cake mix
½ cup vegetable oil (I used avocado oil)
4 eggs
½ cup plain Greek yogurt (or sour cream)
¾ cup canned pumpkin puree (not pumpkin pie mix)
Streusel Swirl
¾ cup brown sugar (light or dark)
½ cup chopped pecans (or walnuts, or omit)
Maple Glaze
1 cup powdered sugar
2 Tablespoons milk or cream
1 teaspoon Maple syrup (or vanilla)
Instructions
Grease a 13x9 inch baking pan and preheat oven to 350° F (325° for dark coated or glass pans)
Pour cake mix, oil, eggs, pumpkin puree, Greek yogurt (or sour cream), pumpkin pie spice mix in a bowl or stand mixer and beat on medium speed for 2 minutes, scraping the bowl at about 1 minute.
Spoon half the batter into the bottom of the pan and spread to edges.
In a small bowl, mix brown sugar and nuts and sprinkle evenly over top of batter, then spoon the rest of the batter over top of cake, using a spatula or offset spatula to carefully and evenly cover the streusel topping.
Bake at 350 and start checking for doneness at 30 minutes, baking up until 40 minutes. Edges should just start to pull away from pan and toothpick inserted should come out clean.
Remove from oven and quickly whisk glaze ingredients together until smooth, pouring over cake and smoothing over the top of the warm cake. Cool completely on wire rack and enjoy warm or completely cooled.
Store covered on countertop for 3-4 days (if it lasts that long) or refrigerate up to a week, maybe be frozen up to 3 months, but the glaze will "melt" into the cake as it thaws, not necessarily a bad thing. If desired to "dress it back up" you may make a small amount of glaze and drizzle over thawed cake or dust with a little powdered sugar.
Notes
HIGH ALTITUDE ADJUSTMENTS
You may need to increase your heat by 25°F, though I did not for this cake, remove the cake and test for doneness about 5-10 minutes early. If tester comes out clean, remove from oven.
Substitution ideas:
Try yellow or vanilla cake mix too, just won't be quite as pumpkin spicy.
Use sour cream in place of Greek yogurt; preferably not fat free
Nuts | You can omit nuts all together, use walnuts or you might even swap with chocolate chips, toss with a teaspoon of flour or cocoa powder first to help them from sinking.
No Pumpkin Pie Spice? Either make your own (here's my 5 minute recipe) or substitute with 1 1/2 teaspoons cinnamon, ¼ teaspoon nutmeg, ¼ teaspoon ginger, ⅛ teaspoon cloves, ⅛ teaspoon allspice.
Recommended Products
As an Amazon Associate and member of other affiliate programs, I earn from qualifying purchases.
Nutrition Information:
Yield:
12
Serving Size:
1
Amount Per Serving:
Calories:

392
Total Fat:

16g
Saturated Fat:

2g
Trans Fat:

0g
Unsaturated Fat:

12g
Cholesterol:

63mg
Sodium:

351mg
Carbohydrates:

59g
Fiber:

1g
Sugar:

40g
Protein:

5g
The nutritional information is estimated and may not be entirely accurate, at times it pulls information for suggestions and options which may increase calories, etc. Nutritional information will change based on used ingredients, quantities used, etc.
ABOUT KATHLEEN
I enjoy sharing easy recipes that are wholesome and delicious. I am fed by my faith, family, friends & food! Welcome to my kitchen! Read more...