Simply, easy, fudgy, thick Chocolate Ganache! Don't be afraid of it, truly it's the most easy and decedent confection to make! Use it as a frosting, layering in a cake, filling a cupcake, layered in an ice cream cake or poured over ice cream!
Not only is this an easy way to make it, I also explain how to fix broken ganache; ganache that becomes oily or splits, chocolate that seizes becoming grainy when overheating.
If you love a thick, rich, fudge ganache; try these recipes: Mile High Mud Pie, Chocolate Raspberry Cupcakes, Death By Chocolate Cake.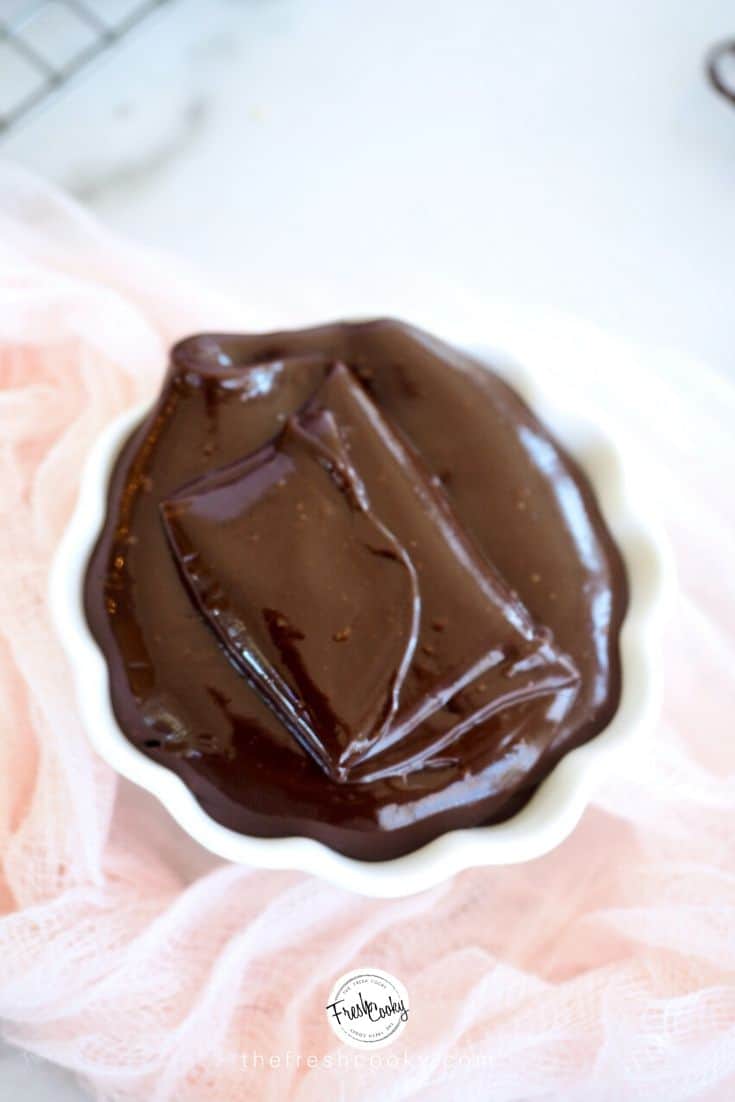 HOW TO MAKE THICK CHOCOLATE GANACHE
Easy Chocolate Ganache recipe is so simple to make, you will be surprised! But it can be a bit temperamental, so pay attention to the steps.
Simply pour chocolate chips into a microwave safe small batter bowl along with whipping cream. Or a heavy bottomed small saucepan on low, low heat.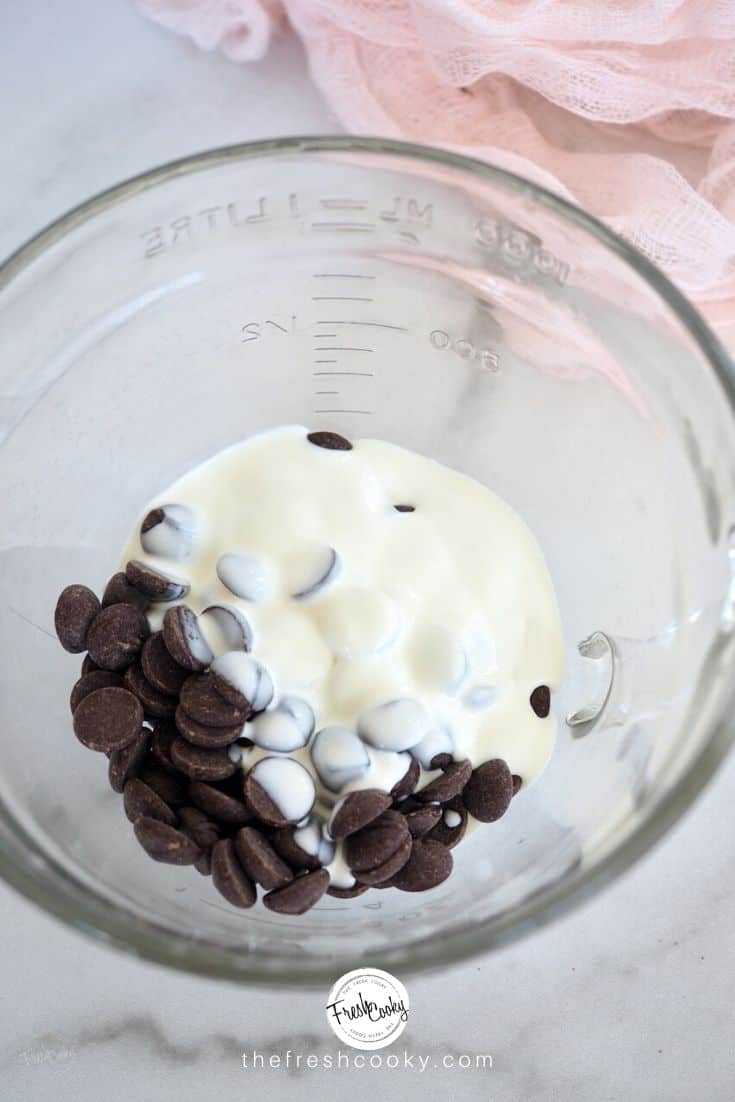 Heat in 20-30 second bursts in the microwave, stirring well after each heating, I prefer stirring with a spatula vs. a whisk as a whisk can sometimes cause it to break.
STOVETOP | Or stir constantly if on stovetop until melted and smooth, remove from heat just before all chocolate is melted.
Chocolate will continue to melt, when stirring after removing from microwave.
FRESH TIP | Remove after 30 seconds stirring well with spatula, only heat in 20 second intervals stirring well after each heating, the cream will continue to melt the chocolate as you stir, this will help avoid breaking.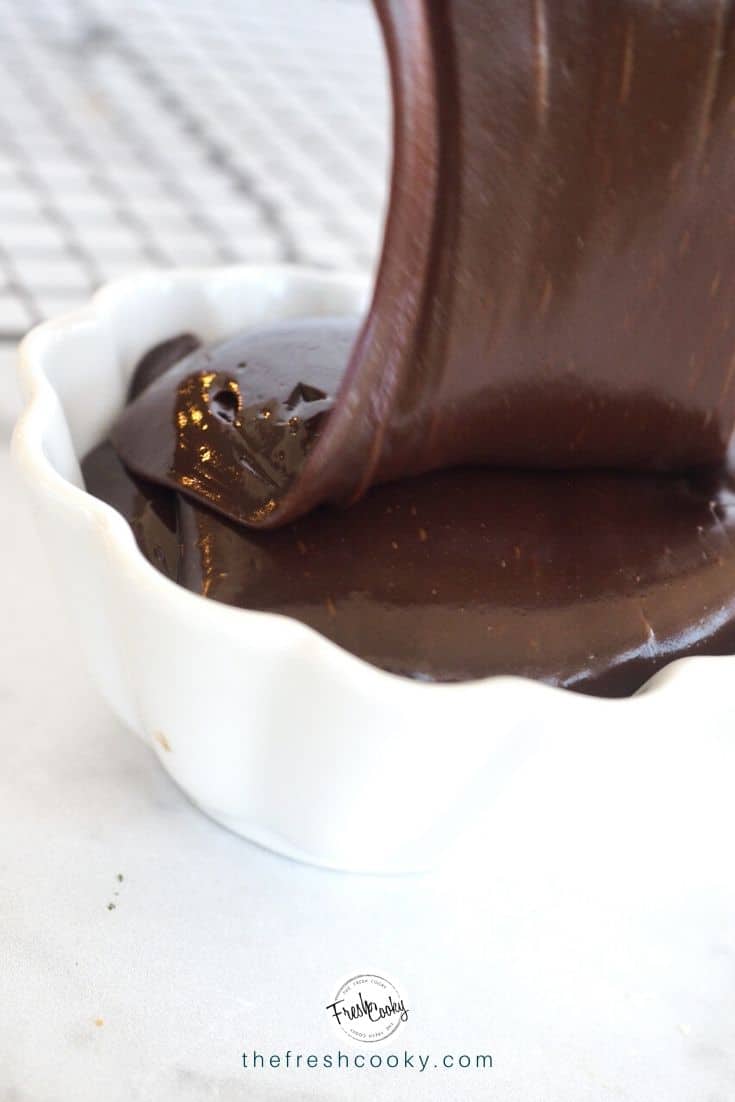 Once smooth and all chocolate has melted, plunk in your softened butter and stir or whisk until melted and incorporated.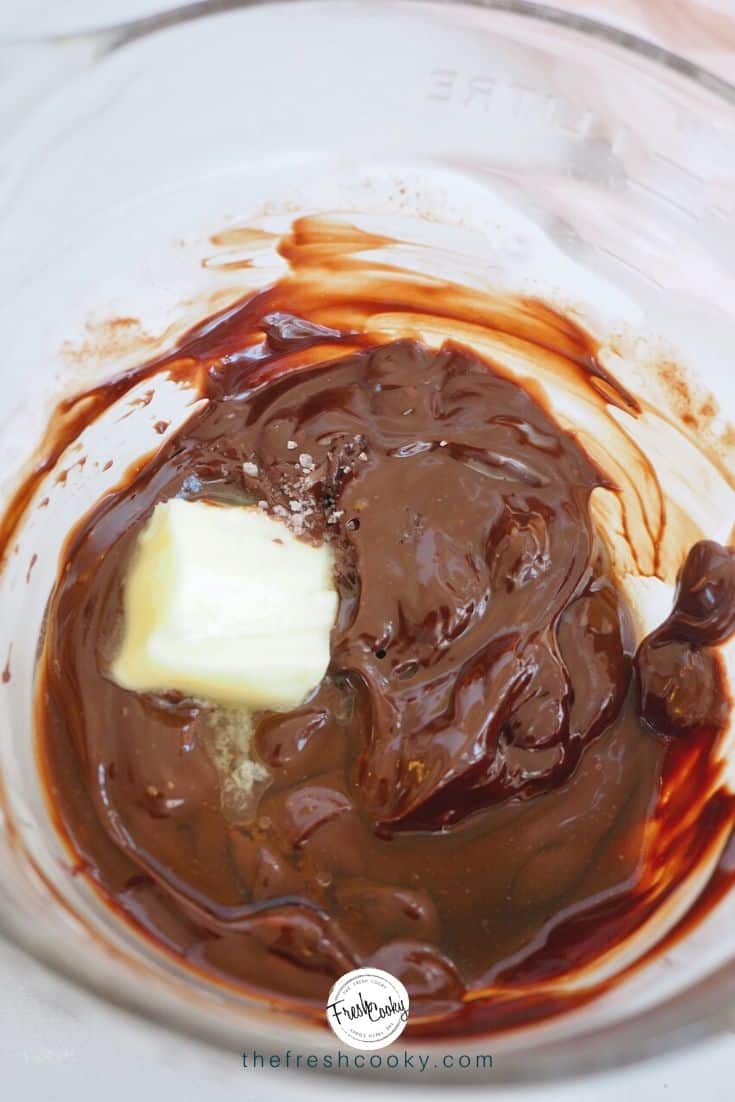 Then add vanilla and sea salt, whisking until smooth. Use as desired.
What's the difference between ganache and frosting?
Frosting is typically made with butter, powdered sugar, melted chocolate but more common is cocoa powder.
Ganache is a type of frosting made with melted chocolate and whipped cream, no powdered sugar and not nearly as much butter. It tends to be much richer and fudgier than frosting.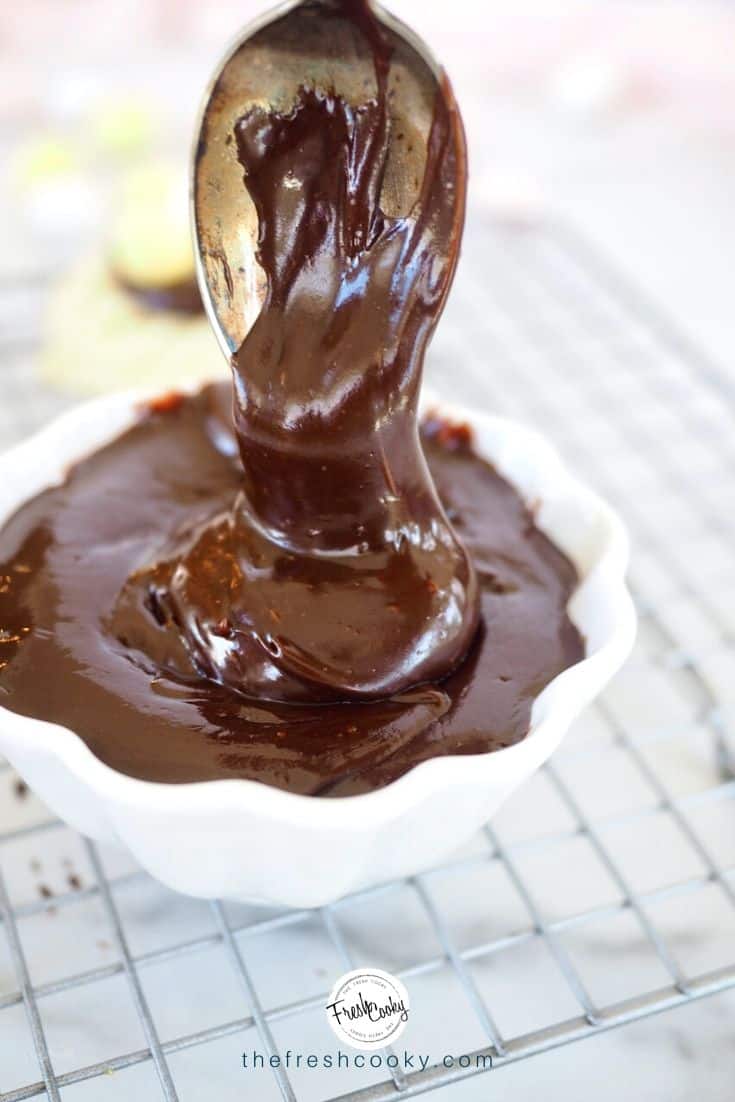 How Do You Make Ganache Thicker?
Allow to cool on counter for 15-20 minutes before using if you need it thicker.
As it thickens it will harden, to soften up, my preference is to toss in a pan over low heat, stirring constantly until smooth.
You may also cool for 15-20 minutes, then whip it with a mixer until the color lightens and you achieve a spreadable consistency, this works well for piping or frosting a cake.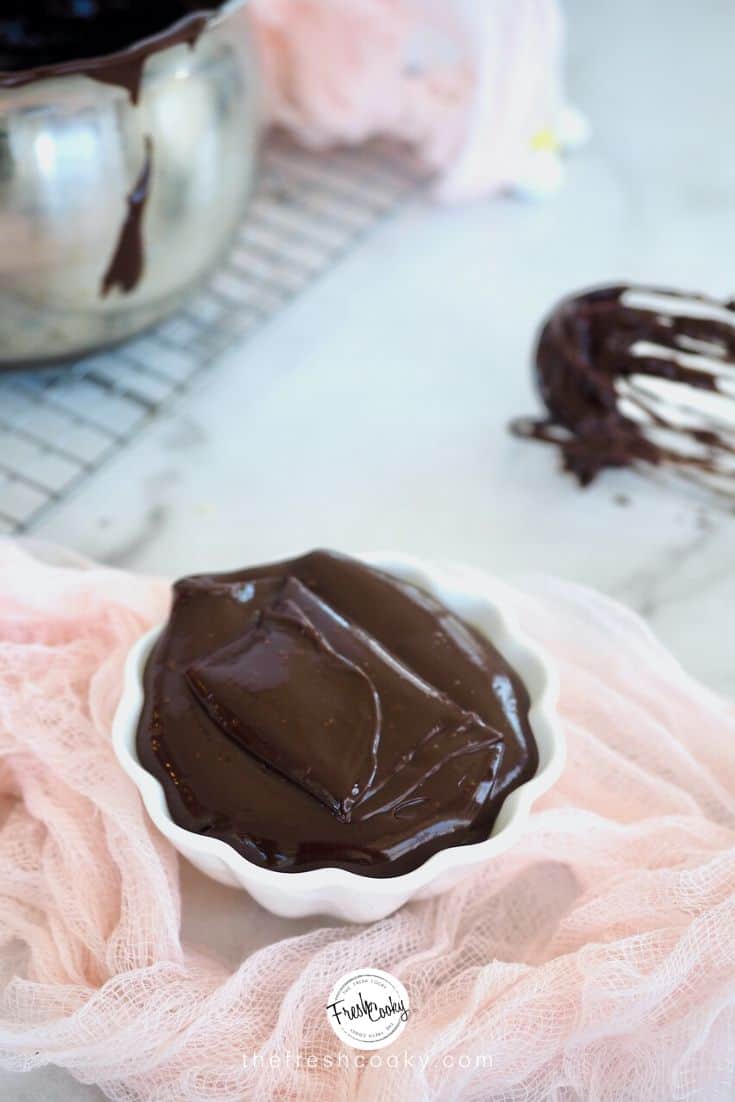 Ways to Use Chocolate Ganache
What Causes Ganache to Split, Break or become grainy?
A ganache is basically an emulsion, the combination of two ingredients that shouldn't mix together, like oil and water.
When the temperature of the ganache goes too high, you get a separation of the oil from the chocolate, creating grainy, broken or oily ganache, but don't throw it out, all is not lost!
I like to use a silicone spatula when making ganache, it doesn't whip it too much, you can clean the sides of the bowl incorporating all of the ingredients.
FRESH TIP | Use a glass bowl when making ganache, plastic tends to dull the chocolate and cause it to be more grainy! Glass is best!
How to fix broken, grainy or oily ganache
OILY or SPLIT GANACHE | Return the ganache to a saucepan, over low, low, low heat, adding a few dribbles of warmed milk or cream at a time stirring until it comes together.
GRAINY GANACHE | This works especially if your ganache has cooled down, or you've previously frozen it. Place in saucepan over low heat, using a balloon whisk to stir as it melts, 9/10 times this alone will take care of the graininess.
BROKEN or SEIZED GANACHE | This method works really well when the ganache has overheated (which can be all of a few seconds mind you), use this method if the ganache is still warm. Add a little more chocolate as it heats, if making a dark chocolate ganache especially, add a little milk chocolate, whisking gently to combine OR
Add another small pat of butter off heat if it's grainy, if oily try adding the chocolate or a bit of cream or try adding a tablespoon at a time of warmed cream, stirring to incorporate.
Can I freeze chocolate ganache?
Yes, cool completely before freezing, store in an airtight container for up to 3 months. You will get separation and graininess after it thaws, but use the above method to "fix" when ready to use.
Please PIN to your Chocolate Board!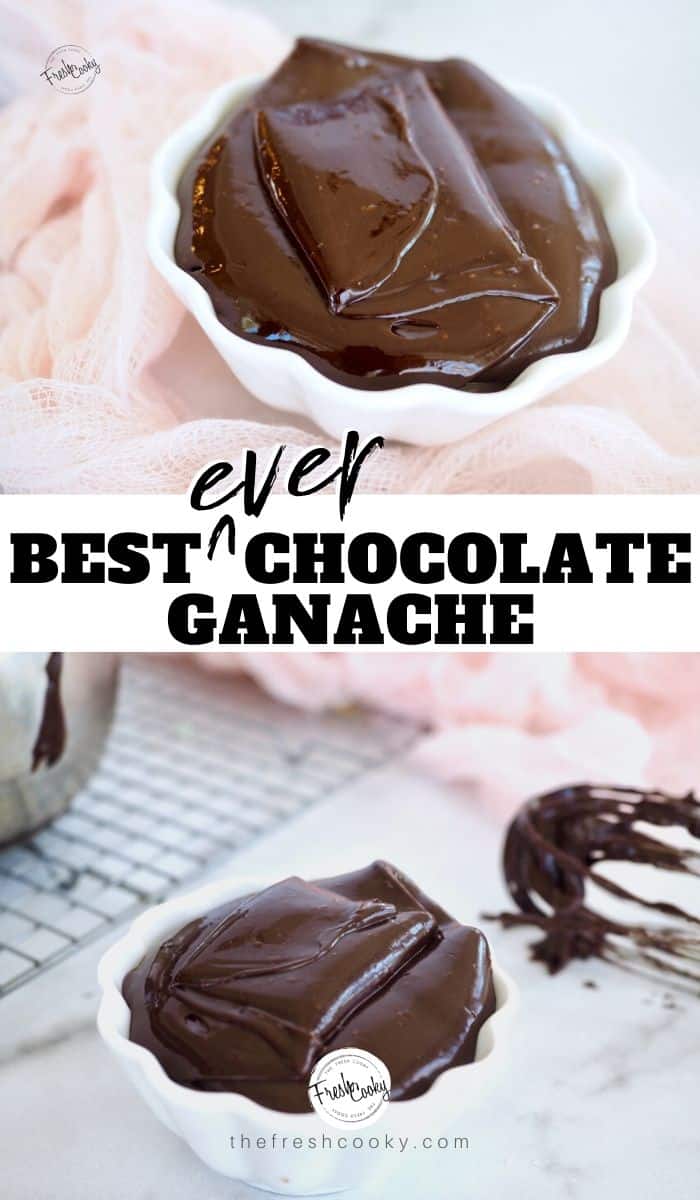 Like this recipe?
Don't forget to give it a ⭐️⭐️⭐️⭐️⭐️star rating in the recipe below!
Yield:

1 cup
Easy Chocolate Ganache
A thick, fudgy, chocolate and cream mixture that is delicious used to layers on cakes, frost a cake, fill cupcakes or simply pour over ice cream.
Ingredients
2/3 cup semisweet chocolate chips (may use all semisweet or milk chocolate)
2/3 cup milk chocolate chips
1 cup whipping cream
2 Tablespoons butter, softened
1 teaspoon vanilla extract
Pinch of salt
Instructions
In a microwave safe bowl, pour in chocolate chips and whipping cream.
Heat in 30 second bursts in the microwave, stirring well between heatings. (Should only take about 60-90 seconds)
Once melted and smooth and thoroughly combined, place in butter and stir until melted and smooth.
Add vanilla extract and a pinch of salt, use as desired.
For a thicker, more spreadable ganache, allow to cool, it will thicken as it cools. Try 15-20 minutes on the counter, if not thick enough, place in fridge or freezer for 10 minutes.
Ganache may also be whipped with a mixer after cooling making it pipeable and spreadable for cakes, cupcakes.
Notes
Recipe may be cut in half if a small amount of ganache is needed.
Recommended Products
As an Amazon Associate and member of other affiliate programs, I earn from qualifying purchases.
Nutrition Information:
Yield:
16
Serving Size:
1
Amount Per Serving:
Calories:

136
Total Fat:

11g
Saturated Fat:

7g
Trans Fat:

0g
Unsaturated Fat:

3g
Cholesterol:

22mg
Sodium:

30mg
Carbohydrates:

9g
Fiber:

1g
Sugar:

8g
Protein:

1g
The nutritional information is estimated and may not be entirely accurate, at times it pulls information for suggestions and options which may increase calories, etc.
ABOUT KATHLEEN
I enjoy sharing easy recipes that are wholesome and delicious. I am fed by my faith, family, friends & food! Welcome to my kitchen! Read more...