Homemade Vanilla Extract with Vanilla Extract Labels
As an Amazon Associate, I earn from qualifying purchases. Please read my disclosure policy.
This DIY Homemade Vanilla Extract is so stinkin' easy to make and is full-bodied with rich, sweet, earthy notes. Just 2 ingredients, vodka and vanilla beans and you are on your way. There's no better time to make your own Vanilla Extract than this week! Plus free vanilla extract labels!
Just like a fine wine, homemade vanilla extract needs time to age and brew; developing it's rich, intense flavor we've all grown to love, nothing "plain" about it!
Looking for other cost saving, but beautiful DIY ideas? Try this Bourbon Vanilla Extract, Lemon & Peppermint Antibacterial Hand Scrub or Pumpkin Spice Mix or How to Make Brown Sugar!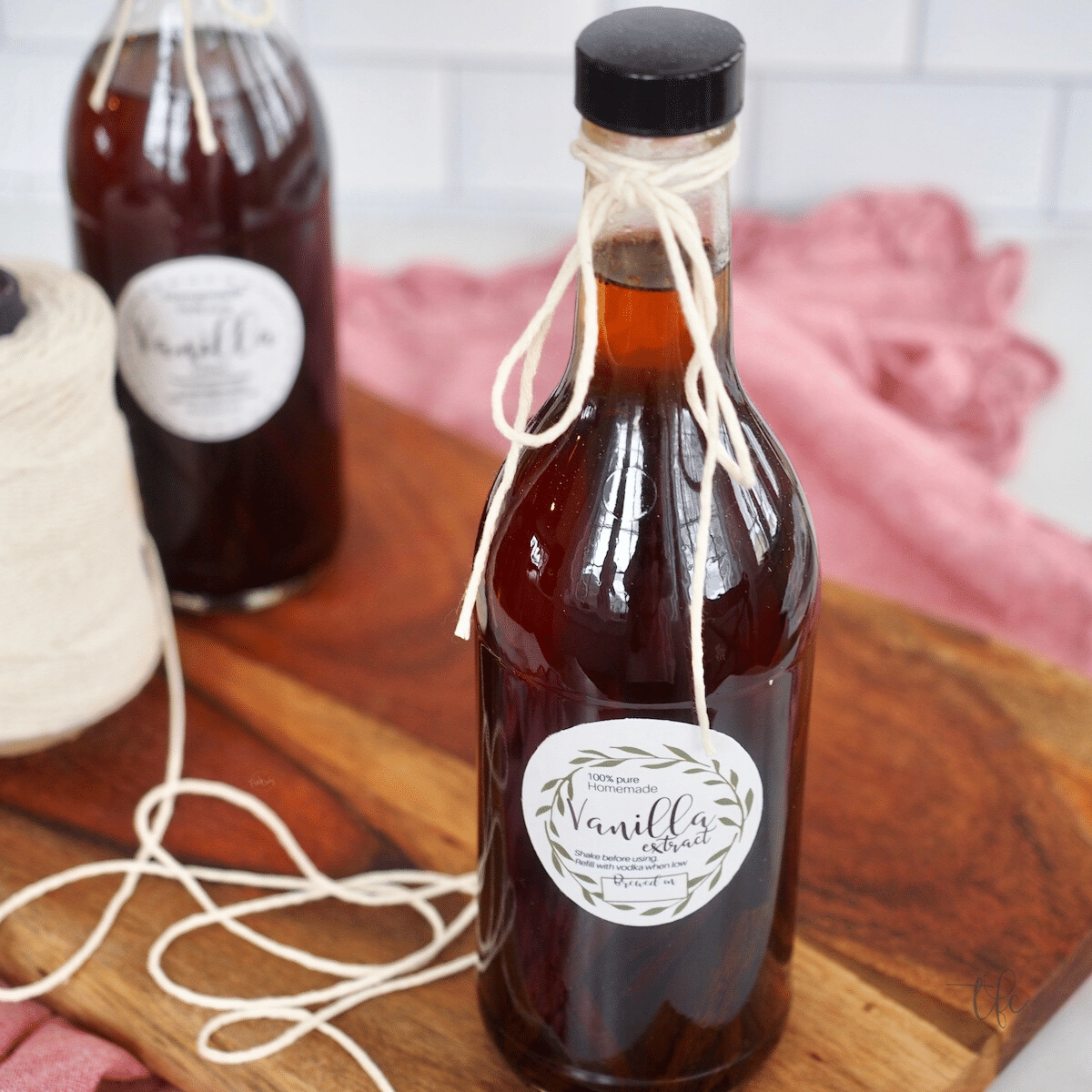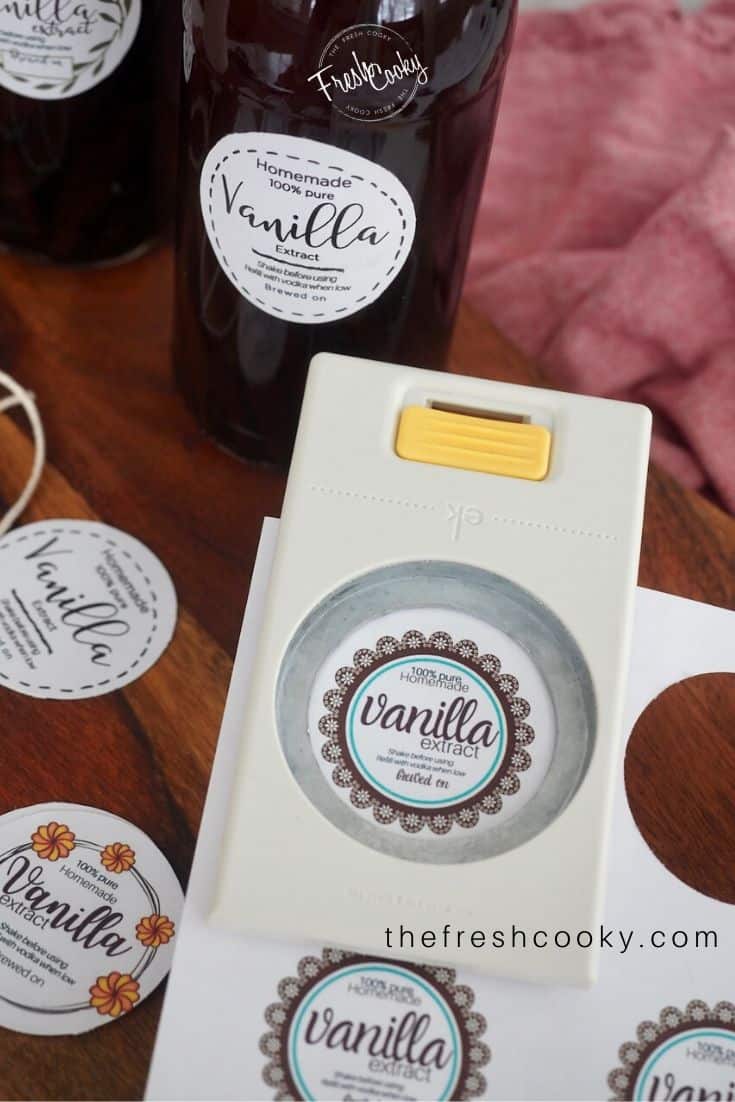 What is an Extract?
Vanilla extract is an infusion of vanilla bean pods in quality, food-grade spirits.
The beauty of homemade vanilla extract is once you get it started, simply top it off and you will have vanilla forever.
It is much more economical to make your own. I'll talk more about the how-to later in the post.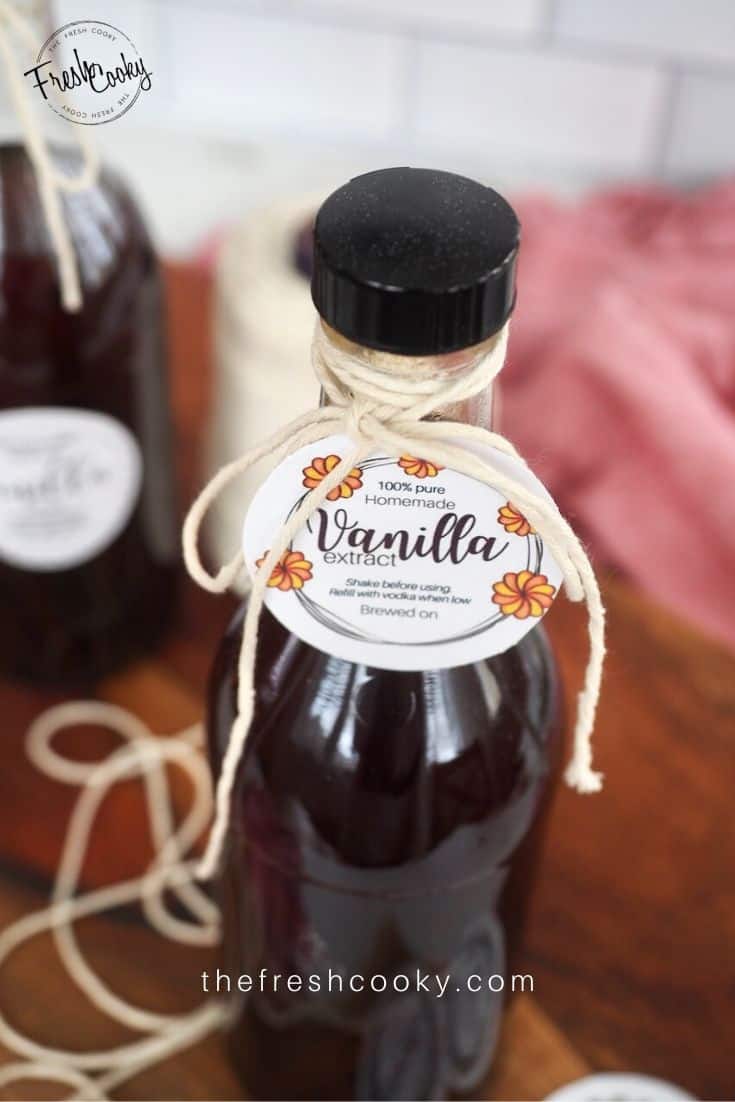 The Best Vanilla Extract Ingredients
Quality matters! I suggest you invest in quality ingredients; this is an investment that will pay off for years to come.
You don't have to purchase top shelf spirits or the highest grade vanilla beans, but buy the best you can afford.
What Alcohol Do I use to Make Vanilla Extract?
The base for vanilla extract is plain ol' alcohol, but which alcohol is best? The good news is you get to choose! Just don't use rubbing alcohol, drinking alcohol is what we're after here.
Vodka | Most Common, Neutral, Pure Vanilla Flavor (what I typically use)
Rum | Smooth, Sweet, Rich
Bourbon | Complex, Smooth, Deep Flavor (amazing!)
Brandy | Unique, Deep Flavor
Use a minimum of 70 proof/35% alcohol.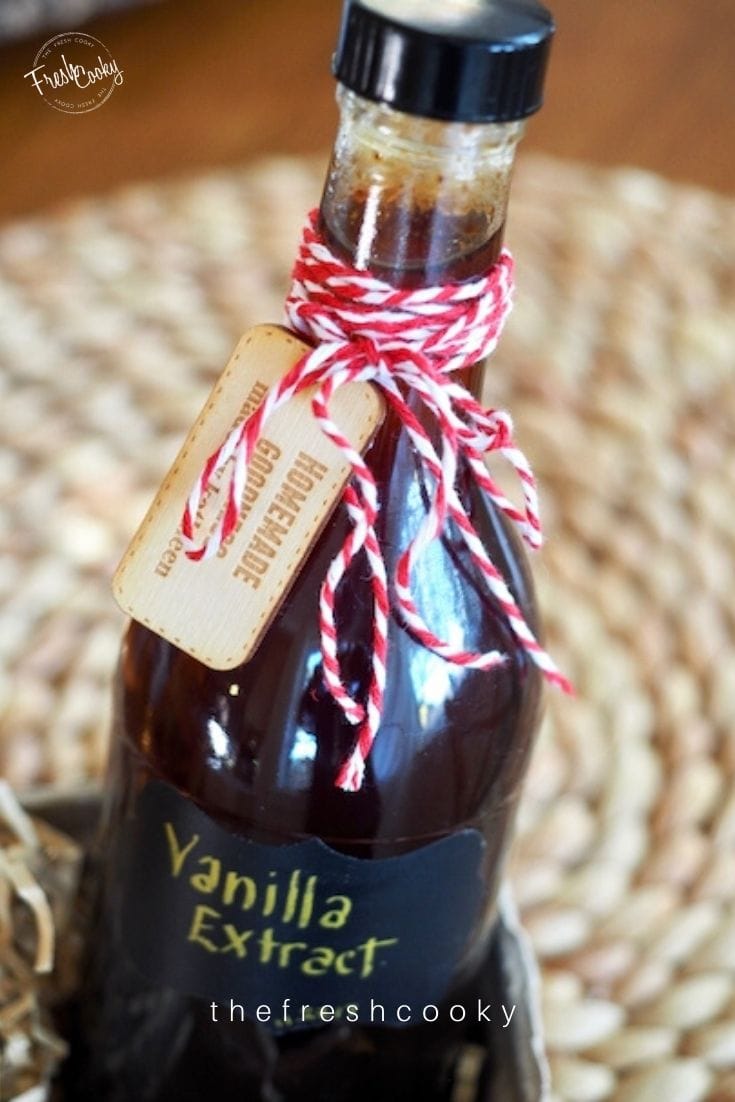 What are the best beans for vanilla extract?
The Madagascar Bourbon vanilla bean is the most popular and Indian vanilla beans are the most consistent.
The most economical beans are Madagascar Bourbon Beans, still expensive, but keep in mind this is a long term investment. I've purchased my vanilla beans primarily from Costco (when in stock) or Amazon. (Source)
What is Better, A or B Grade Vanilla Beans?
I used Grade A beans because they were the best deal at the time, however; Grade B beans work extremely well for extracts and are cheaper.
Bottom line, the vanilla bean you use is up to you, however the beans should be plump vs. dry in my experience. These vanilla beans are actually a fabulous deal.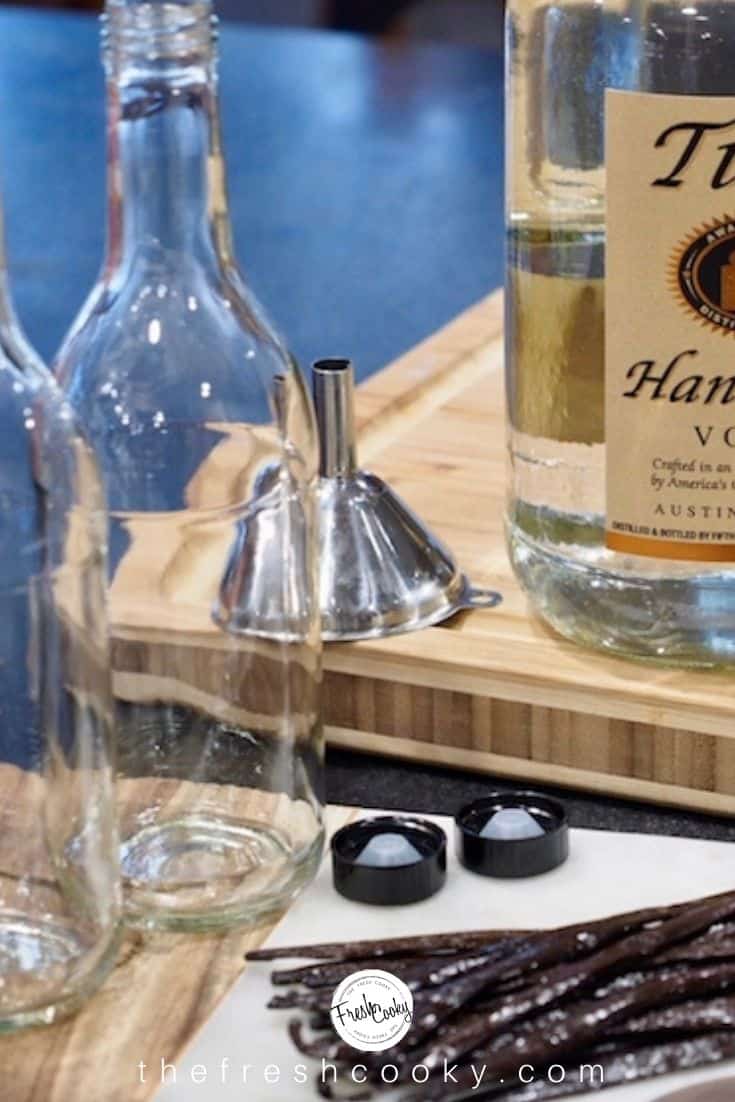 Varieties of Vanilla Beans
Madagascar Bourbon Vanilla – rich and creamy
Mexican Vanilla – bold, dark, smokey
Indian Vanilla – full, chocolate
Indonesian Vanilla – mild, well balanced
Tahitian Vanilla – floral, cherry-chocolate

Tonga Vanilla

– earthy, fig, raisin
For my first batch I used vodka and Madagascar Bourbon vanilla beans. I have since made this amazing, smoky Bourbon Vanilla Extract!
When Should I Start Vanilla Extract?
Start in October (or earlier) for December gifts! Start anytime, really, just note if gifting when it will be best, read on for ideal lengths of time.
Be sure to add a "brewed on" date and instruct recipient that the longer it sits and "brews" the better!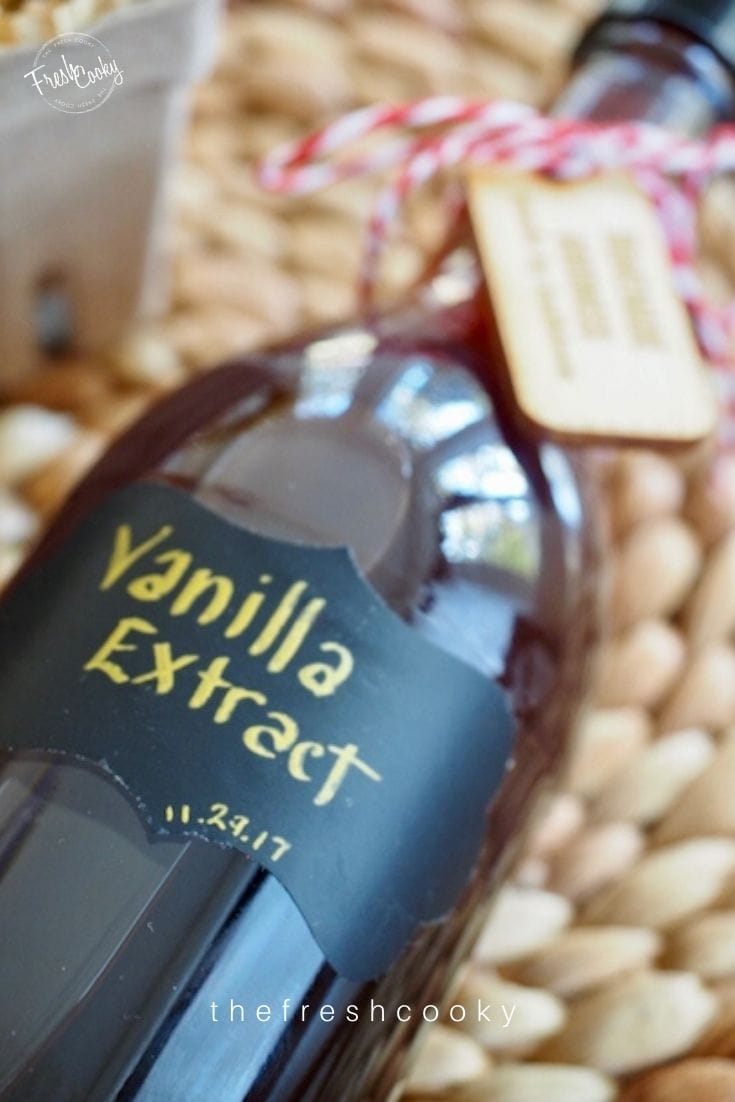 Tips
Approximately 10-15 soft Grade A or B vanilla beans per 750 ml of spirits, or cut vanilla beans into sections and place 3-4 vanilla beans per 16 oz bottle.
What is the Best Alcohol to make Vanilla Extract? Traditional vanilla uses vodka; however bourbon, light rum or brandy (use a minimum of 70 proof/35% alcohol)
Tight sealing clear glass bottle, love the dispensing cap on these! Other bottling options; swing top, boston round or a rounded swing top | *Make in a large ball jar and then once your vanilla has brewed pour into gifting jars!
While it isn't always necessary, I recommend sterilizing your bottles or jars before using them. This can be done by boiling them in a stock-pot of water for 10 minutes, then carefully remove them to a clean towel to dry completely.
A small funnel.
A sharp tipped knife, this is my all around most favorite and most versatile knife!
A little bit of patience! You need a minimum of 4 weeks for decent results, 12-16 weeks is better, 6 months best, however, one year is ultimate! Besides, the longer it "brews" the darker, richer and more full-bodied it will become! Instead of starting just one bottle, start two, one to work with and one to sit in the cupboard and brew for 6 months to a year.
How to Make Homemade Vanilla Extract
Slice the vanilla bean lengthwise, using the tip of a sharp knife, stopping just before the end of the bean, so as to not split it in half, you are exposing the "meat" of the vanilla bean.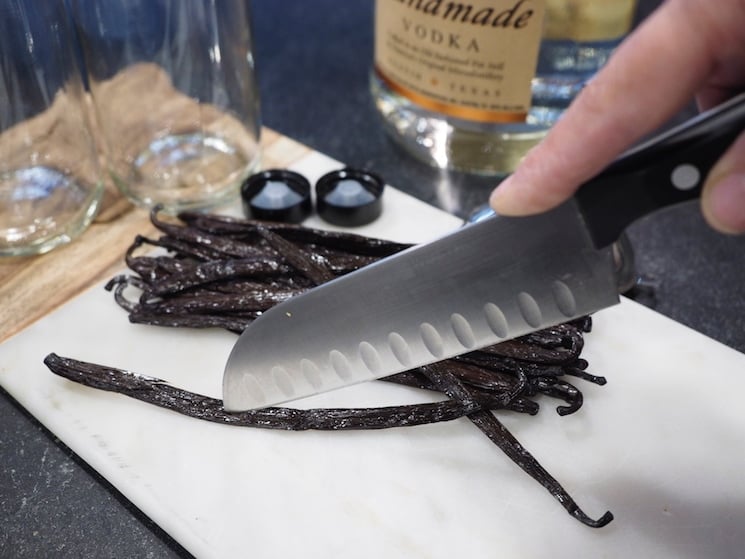 2. Place desired number of sliced vanilla beans into bottle(s) of choice. If necessary snip your beans in half or pieces so that the alcohol covers the entire bean, this will prevent mold.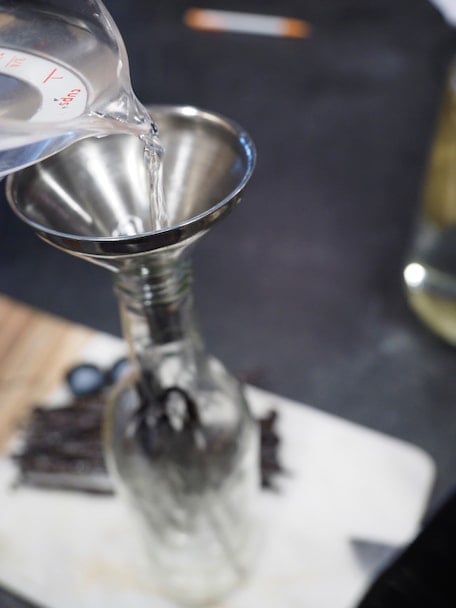 3. With funnel placed on top of the bottle, slowly pour your alcohol over the beans until they are covered and bottle is full. I'm a little anal, measuring my vodka, I love these measuring cups.
PRO TIP | If your funnel isn't flowing, simply lift the funnel slightly breaking the seal, allowing it to flow easily.
4. Place lid on and tighten, shake gently for a minute or so. Got it?!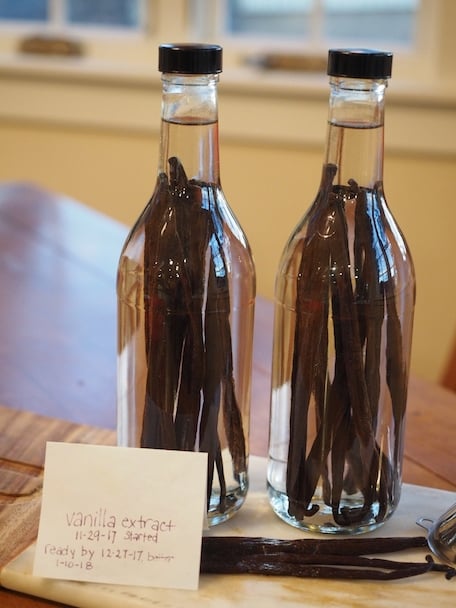 5. Finally, using a chalk or metallic marker write vanilla type, start date on the bottom or side of the bottle and place in a cool, dark part of your pantry. Place a reminder on your calendar to shake it weekly for a minimum of 4 weeks, remember the longer the better.
Too slow? See below for a suggested Instant Pot recipe.
How Long Does it Take to Make Vanilla Extract?
I call it the "SNIFF TEST" stick your nose in there, breathe deeply when it smells like vanilla and not the original spirit, it's ready!
Making Vanilla in the Instant Pot
I've been asked if I've ever made vanilla extract in my Instant Pot and my answer is, not yet. In many ways I'm slow to change and like the old, traditional methods.
The upside to making vanilla extract in a pressure cooker, is it's done in less than 24 hours and you use a fewer beans to liquid ratio — that alone might inspire me to try it!
Until then, if you are interested, here's a recipe and research on Instant Pot Vanilla Extract, plus it's an amazing blog that I know my readers will enjoy! I'd love to hear if you try it.
How Long Does Homemade Vanilla Extract Last
Forever! Yep, as long as you stick to a few rules it should last you a long time, if not a lifetime. You have several options:
Everytime you use a tablespoon or more of your vanilla top it off with the same liquor (if used vodka, use vodka, bourbon, top off with bourbon). Shake well a few times and you are ready to go for next time, plus you ensure your beans stay covered and moist. No waiting involved.
Or wait until you've used half of your vanilla or your beans are exposed, then top it off with original liquor; letting it hang out again in a dark pantry for 2 weeks or longer before using. This works well if you have two bottles of vanilla, then you can alternate between the two; my preferred method.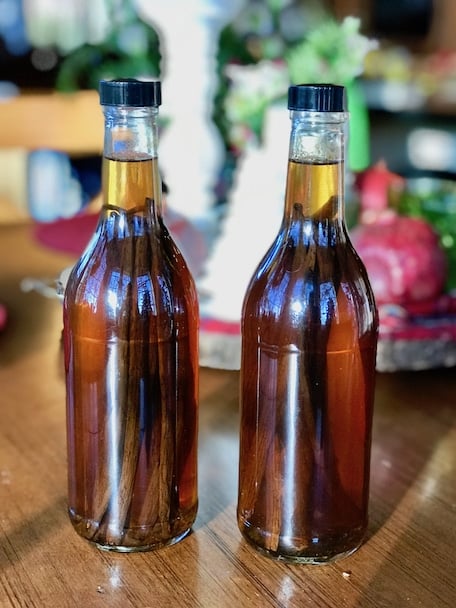 For either method, be sure to occasionally (maybe once or twice a year) throw in a split, fresh vanilla bean or two. You can pull out one of the old ones if you wish or it's getting too crowded.
Have you used a vanilla bean in a recipe? Don't throw that bean away, toss it in your bottle of vanilla. Waste not!
Vanilla Gift Giving Ideas and Tips
Free Vanilla Extract Labels
Four label styles to choose from, print one or all four. Click ABOVE button to access printables.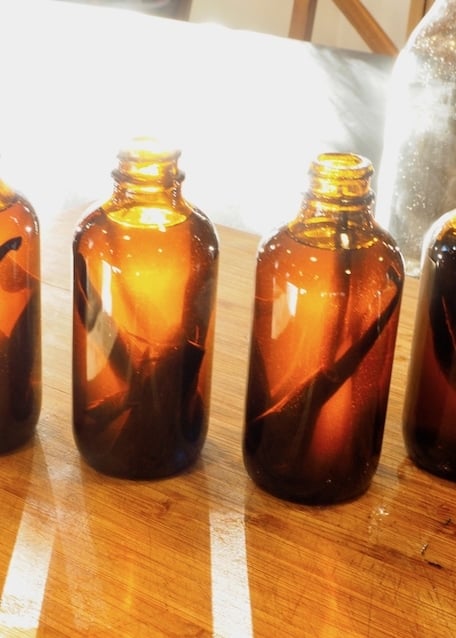 I use vanilla in most of my sweet recipes. Vanilla shines in these favorite recipes; Chewy Chocolate Chip Cookies, Oatmeal Sandwich Cookies or my Giant Pan-Banging Chocolate Chip Cookies!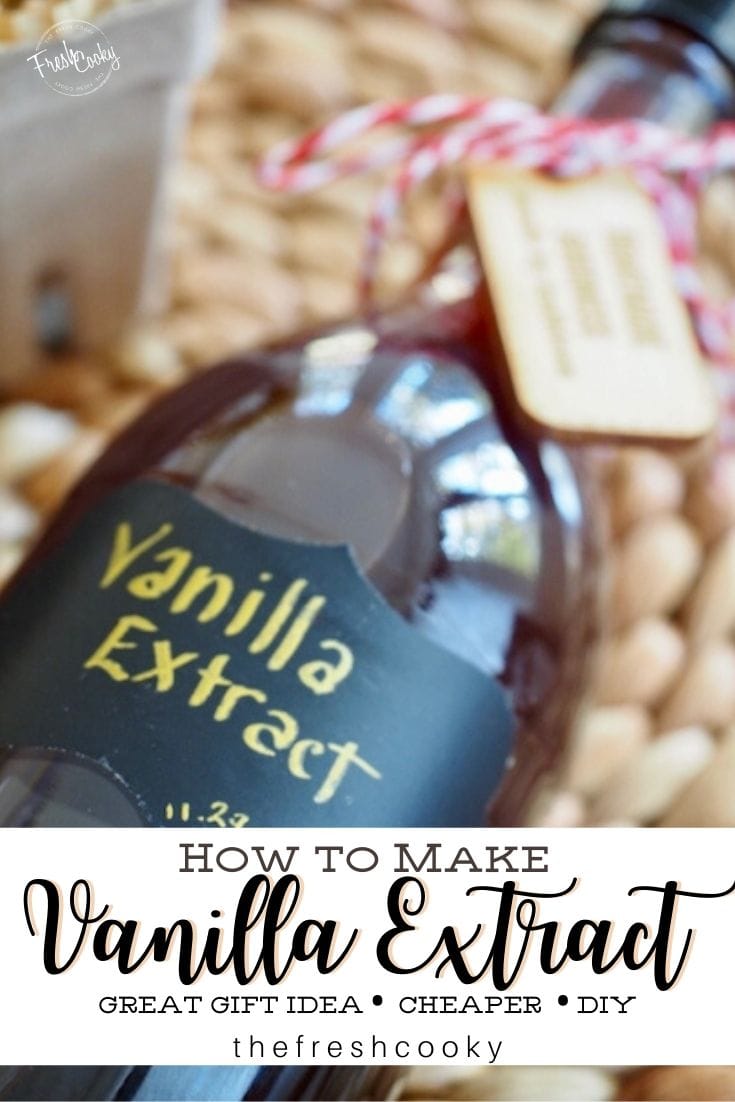 Like this recipe?
Don't forget to give it a ⭐️⭐️⭐️⭐️⭐️ star rating and comment below the recipe!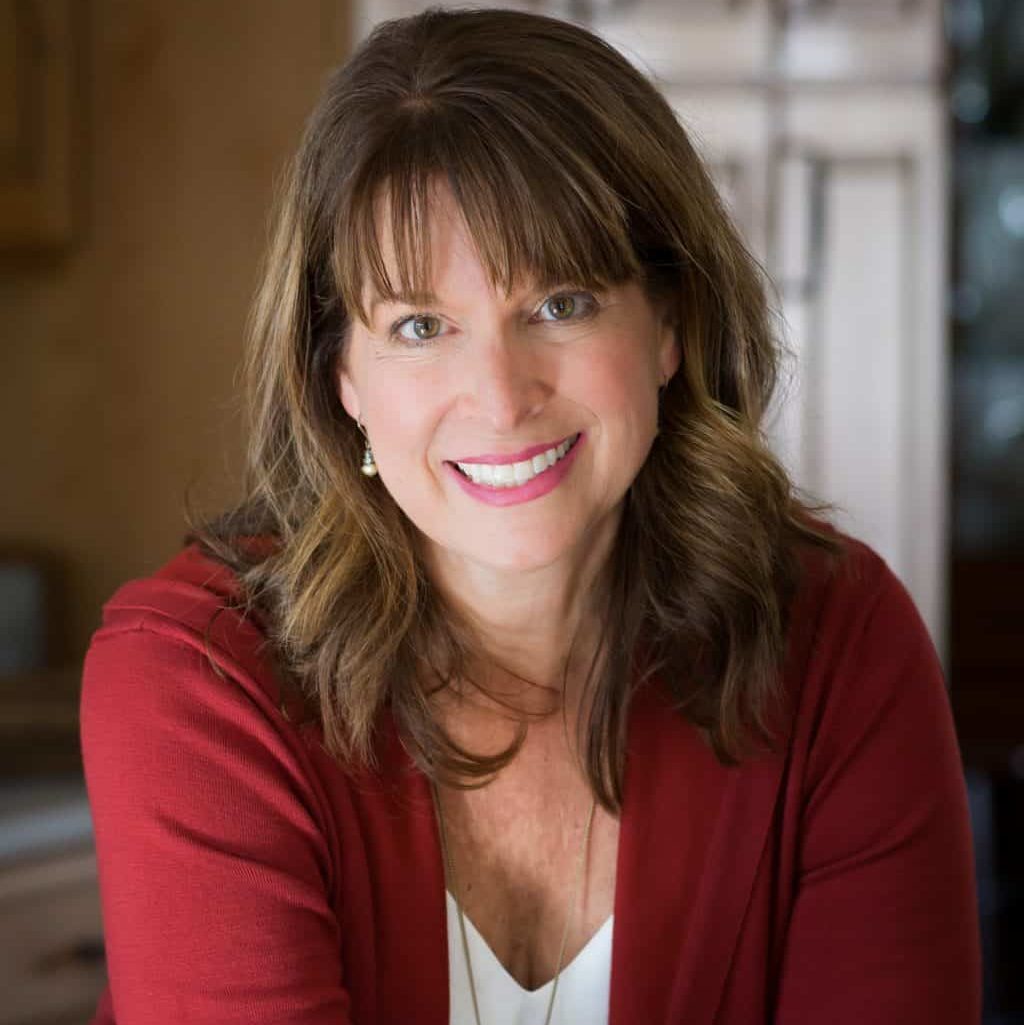 About Kathleen Pope
Recipe Innovator | Food Photographer | Food Writer
Hi, I'm Kathleen Pope. Here at The Fresh Cooky you will find easy, mostly from-scratch, trusted recipes for all occasions. From speedy dinners to tasty desserts, with easy step-by-step instructions. I am here to help teach you how to make mouthwatering recipes without spending hours in the kitchen. Read more about Kathleen here.