Juicy Air Fryer Turkey Breast (Bone-in or Boneless)
As an Amazon Associate, I earn from qualifying purchases. Please read my disclosure policy.
For crispy skin and tender juicy white meat cooked quickly and with very little mess, you will love this recipe for Boneless Turkey Breast in Air Fryer. It is perfectly seasoned with a homemade blend of herbs and spices that is delightfully tasty. A great option for small holiday meals.
If you are loving air fryer recipes like I am, try making side dishes like Air Fryer Baked Sweet Potatoes to go along with your turkey and a side of Air Fryer Asparagus and maybe you also want some dark meat, try Air Fryer Turkey Thighs. Check out all of my air fryer recipes.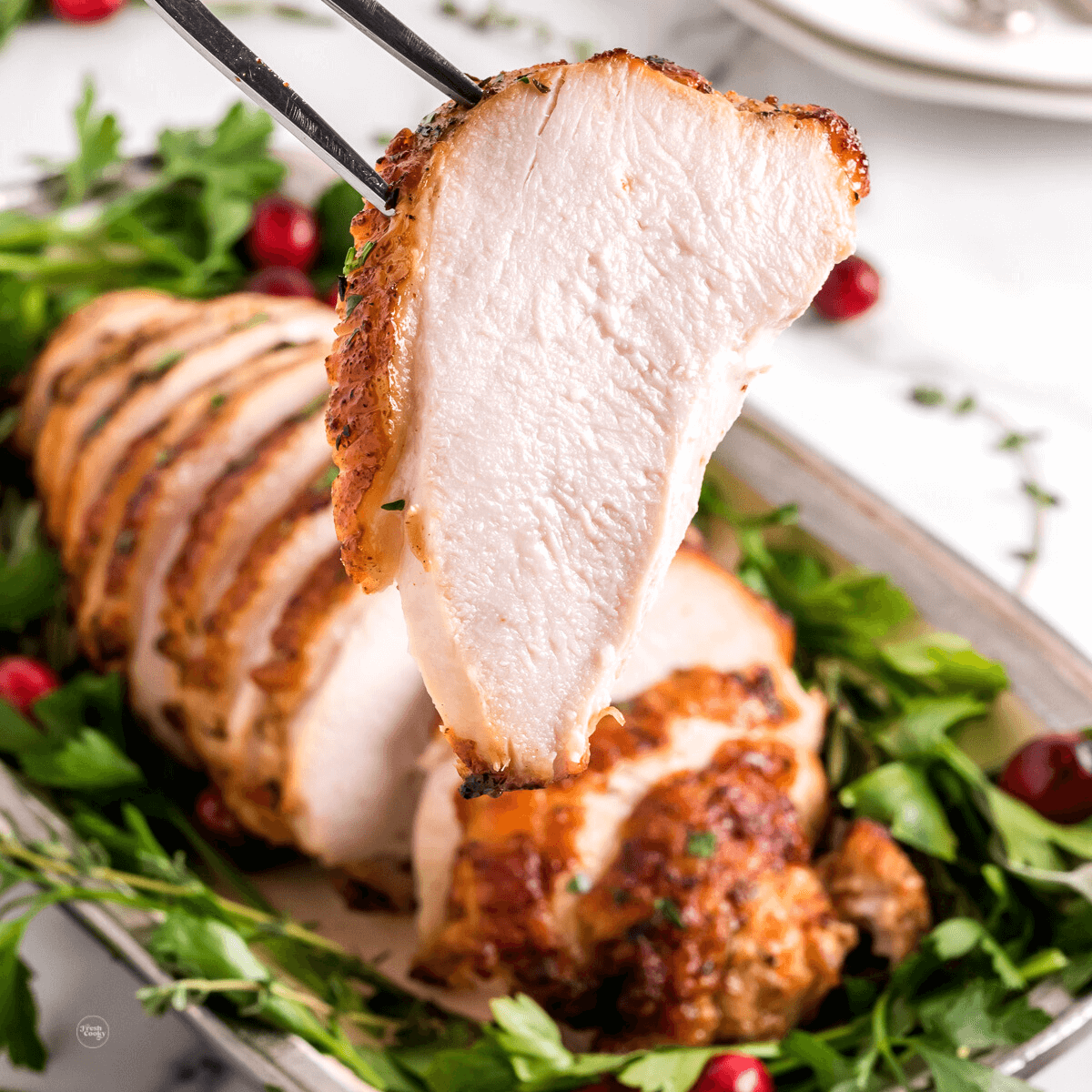 Air fryer boneless turkey breast is a meal you can make without spending hours in the kitchen. Now is the time of the year for turkey dinners and I say why wait until Thanksgiving dinner or Christmas? Enjoy this skin-on turkey breast dinner any night of the week in less time, with instructions to make it boneless or bone-in as well as oven instructions in case you don't have an air fryer, I've got you covered 😉 .
Why You Will Love this Easy Recipe
Boneless or Bone-in | For your convenience, I have included instructions for both bone-in and boneless breast meat.
A Quick Healthy Meal | White meat is a low-fat meal and cooking in the air fryer makes it so fast!
Turkey Any Day | Turkey is not just for Thanksgiving. You can make this turkey breast in air fryer for Christmas or any day of the week.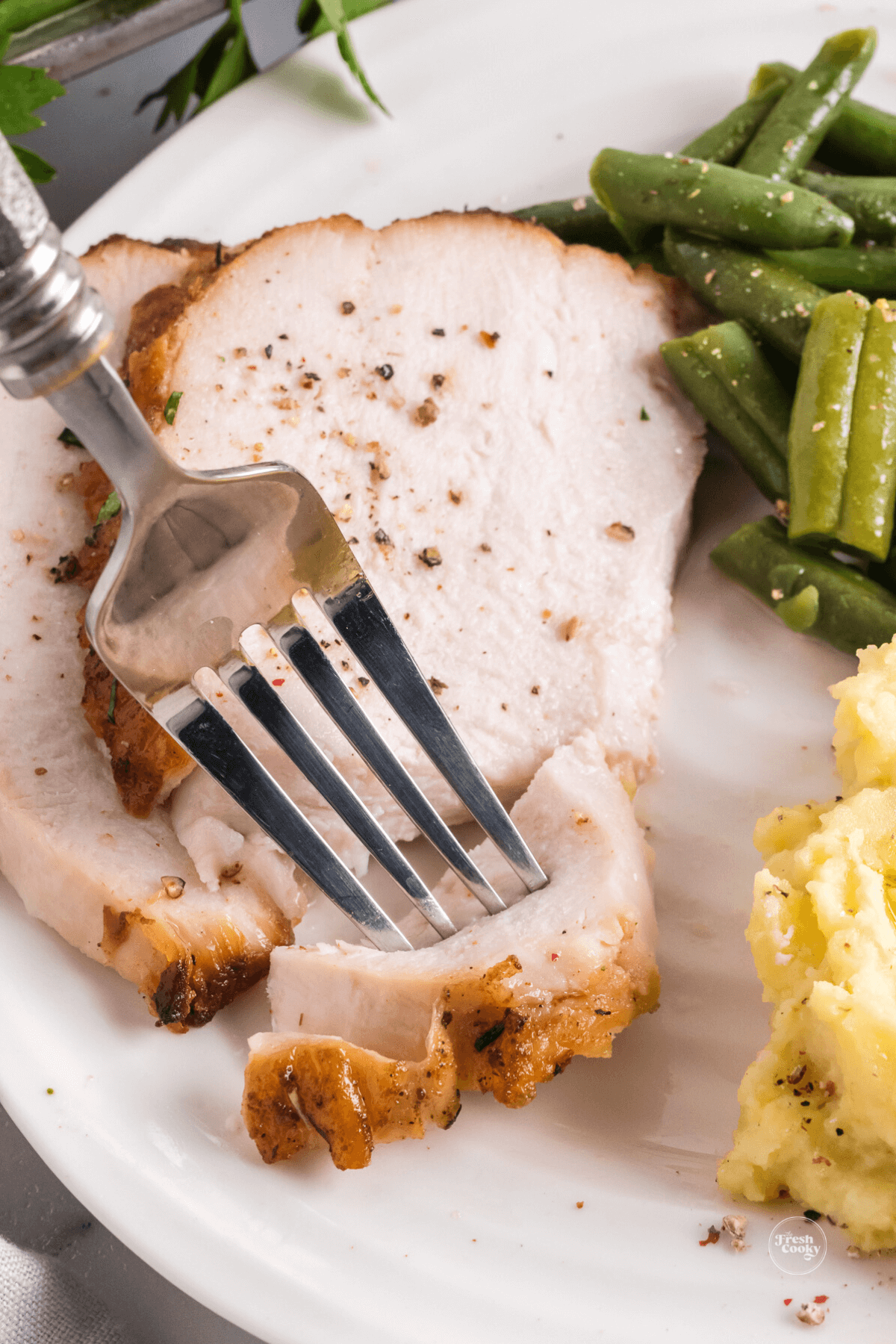 Tips for Two
Having a smaller Thanksgiving meal this year? This air fryer turkey breast recipe is perfect for two hungry people. And if you have leftovers, bonus! – I highly suggest making my Leftover Turkey Tacos. This makes an easy weeknight meal.
Simple Ingredients
Ingredients, directions and nutritional information in the printable recipe card at the end of the post.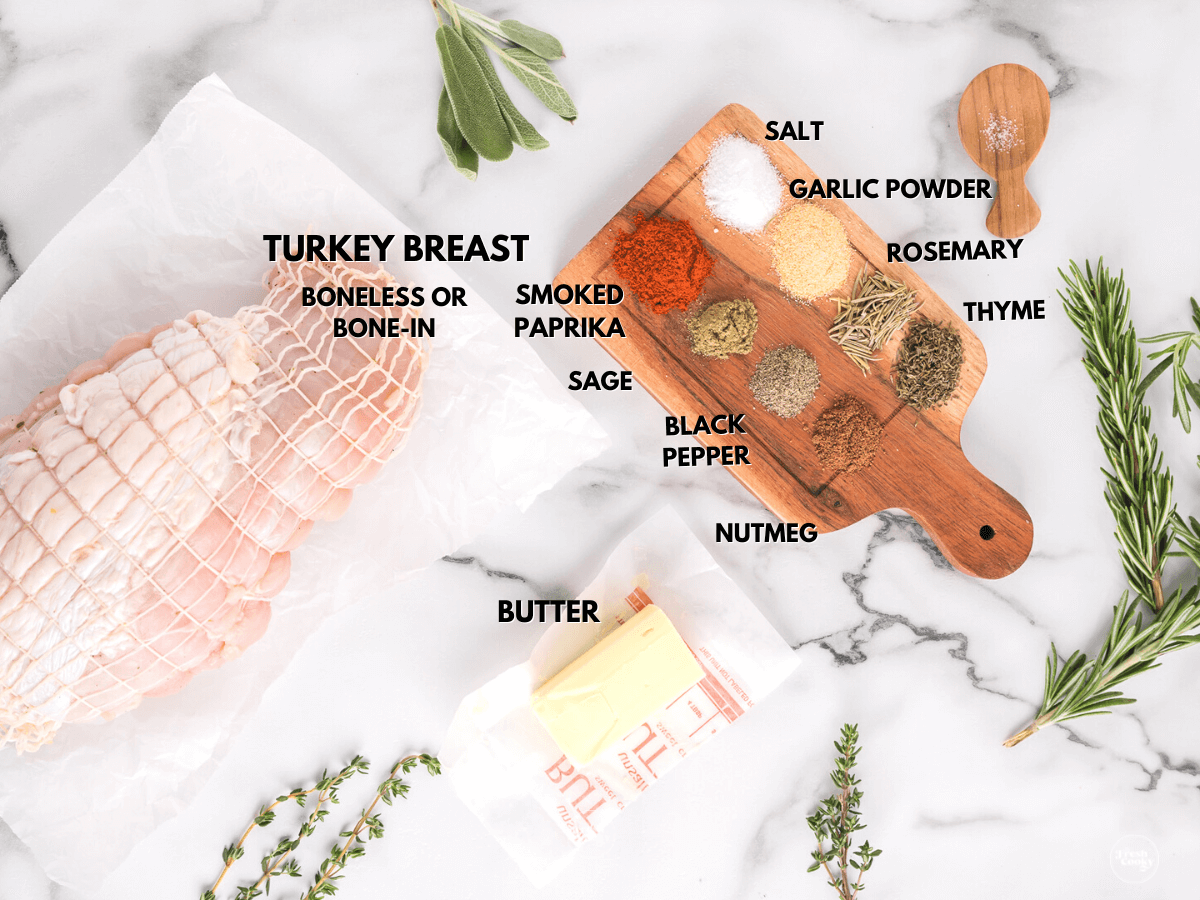 Bone-In or Boneless Turkey Breast
Bone-in Breast or Boneless Turkey Breast | Choose about a 3 pound boneless turkey breast or up to a 4 pound bone-in turkey breast. Just be sure either one you choose is thawed completely.
Butter | When cooking a turkey breast or even a chicken breast, white meat can get dry. That is why I use softened butter to keep the bird moist, adding amazing flavor as well!
Kosher Salt & Black Pepper | Classic and essential seasonings
Garlic Powder | Use garlic powder to blend with dried spices, or minced garlic if you want to use fresh garlic cloves.
Herbs | This recipe calls for rosemary, thyme, and sage.
Smoked Paprika | Not only does paprika add a rich flavor, but it helps the color of the turkey skin too!
Nutmeg | I love freshly grated nutmeg. But you can use ground nutmeg.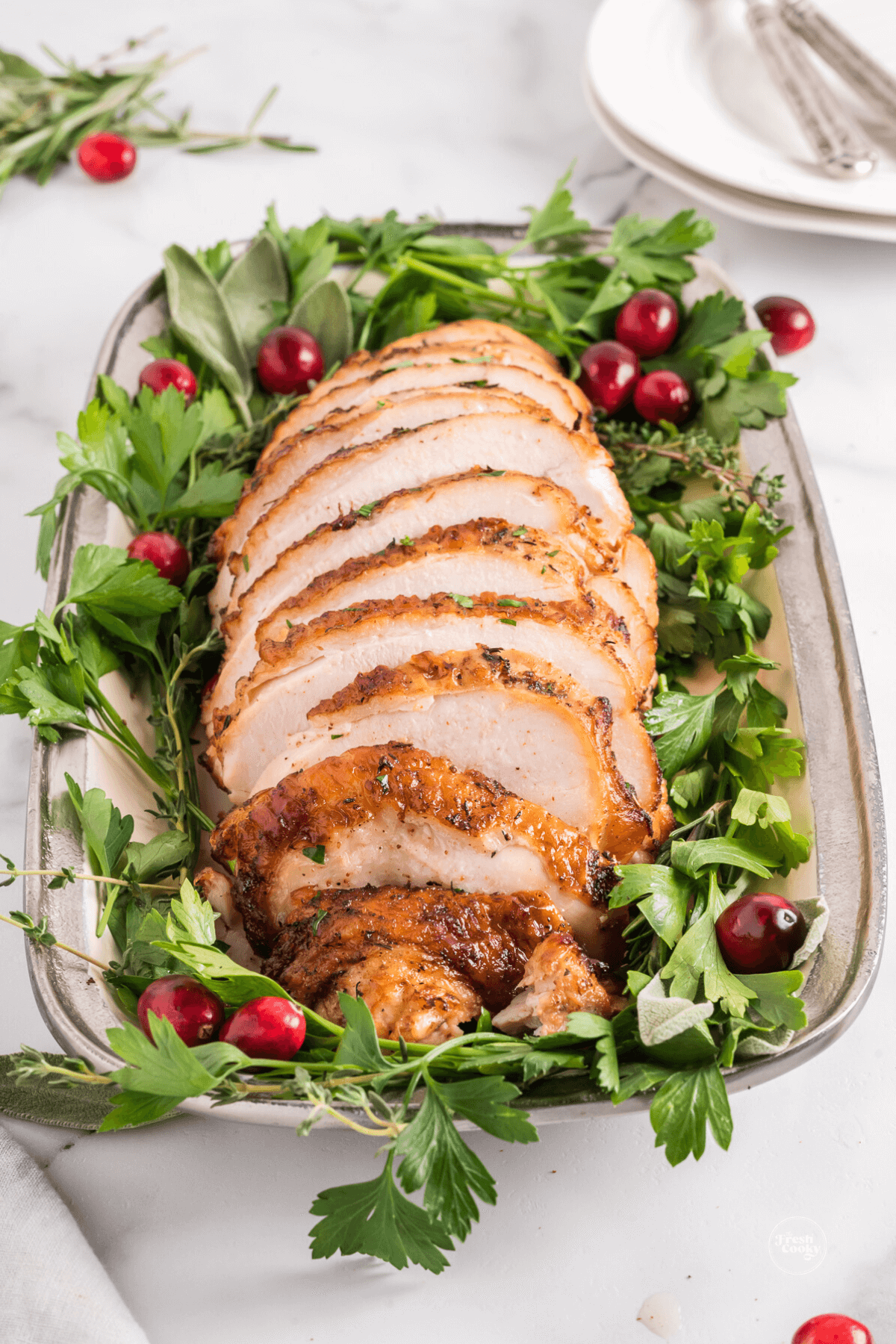 Healthy Twist
Air Fryer Method | The air fryer won't dry your turkey out causing you to need additional basting with butter, oils, and juices.
White Meat | White meat has not only less saturated fat, but it is higher in B vitamins.
How to Make Boneless Turkey Breast in Air Fryer
Start by preheating the air fryer to 360 degrees F and preparing the seasonings and the bird.
Step 1 | Prepare the Fresh Turkey Breast
To start, you will want your turkey to be at room temperature. So go ahead and take it out of the refrigerator and allow it to sit for approximately 30 to 45 minutes while you get the remainder of the recipe prepared.
Once the meat is room temp, remove it from the packaging, rinse and pat it down with paper towels inside and out to remove the excess moisture.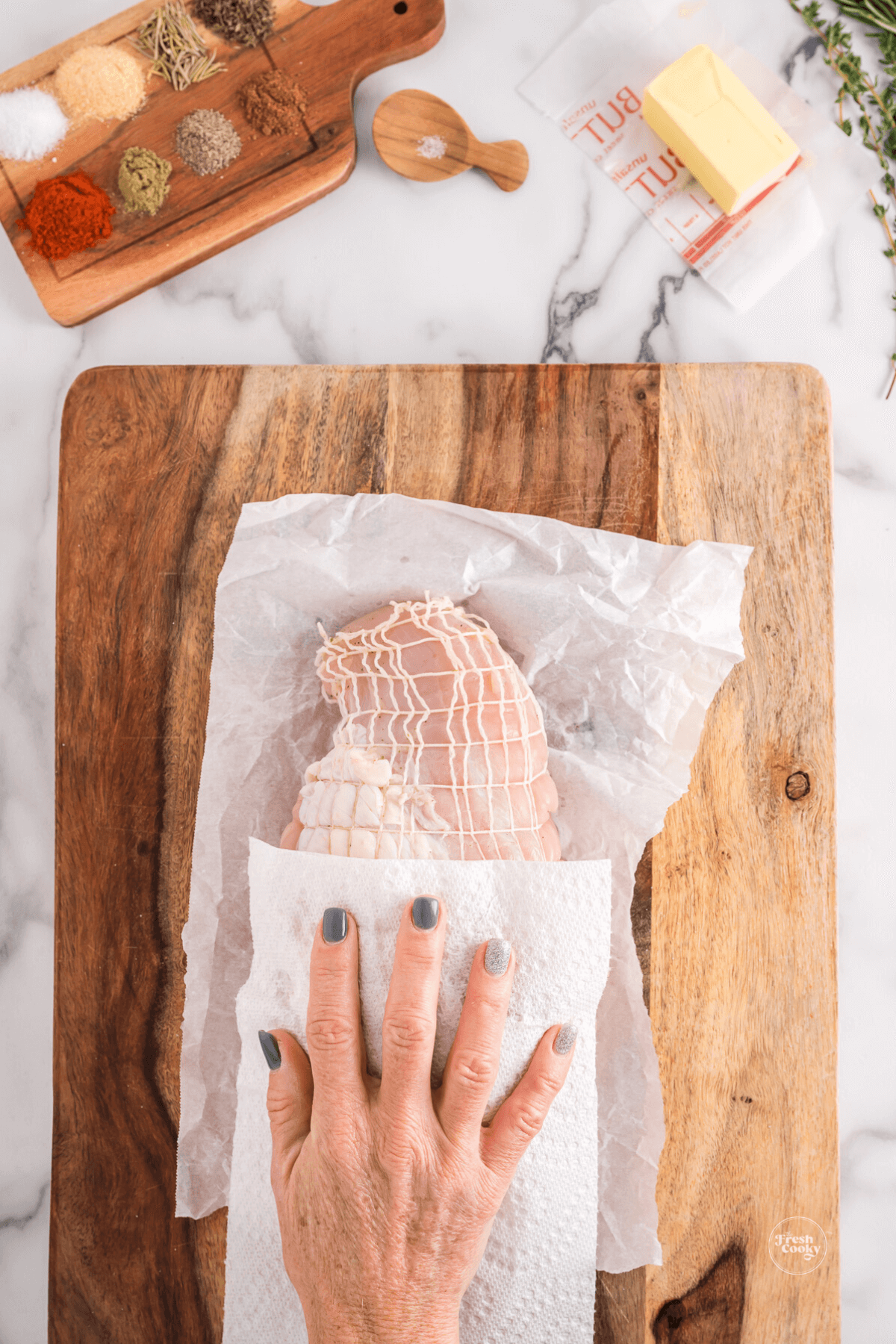 Step 2 | Spice Mixture
While the bird sits on the counter, you'll have time to get the spice rub ingredients measured and into a small mixing bowl.
Then add the softened butter to the spices and mix it well.
Rub the herb butter mixture as much under the skin as you are able and leave a little bit to rub over the top of the skin as well. This works for both bone-in and boneless.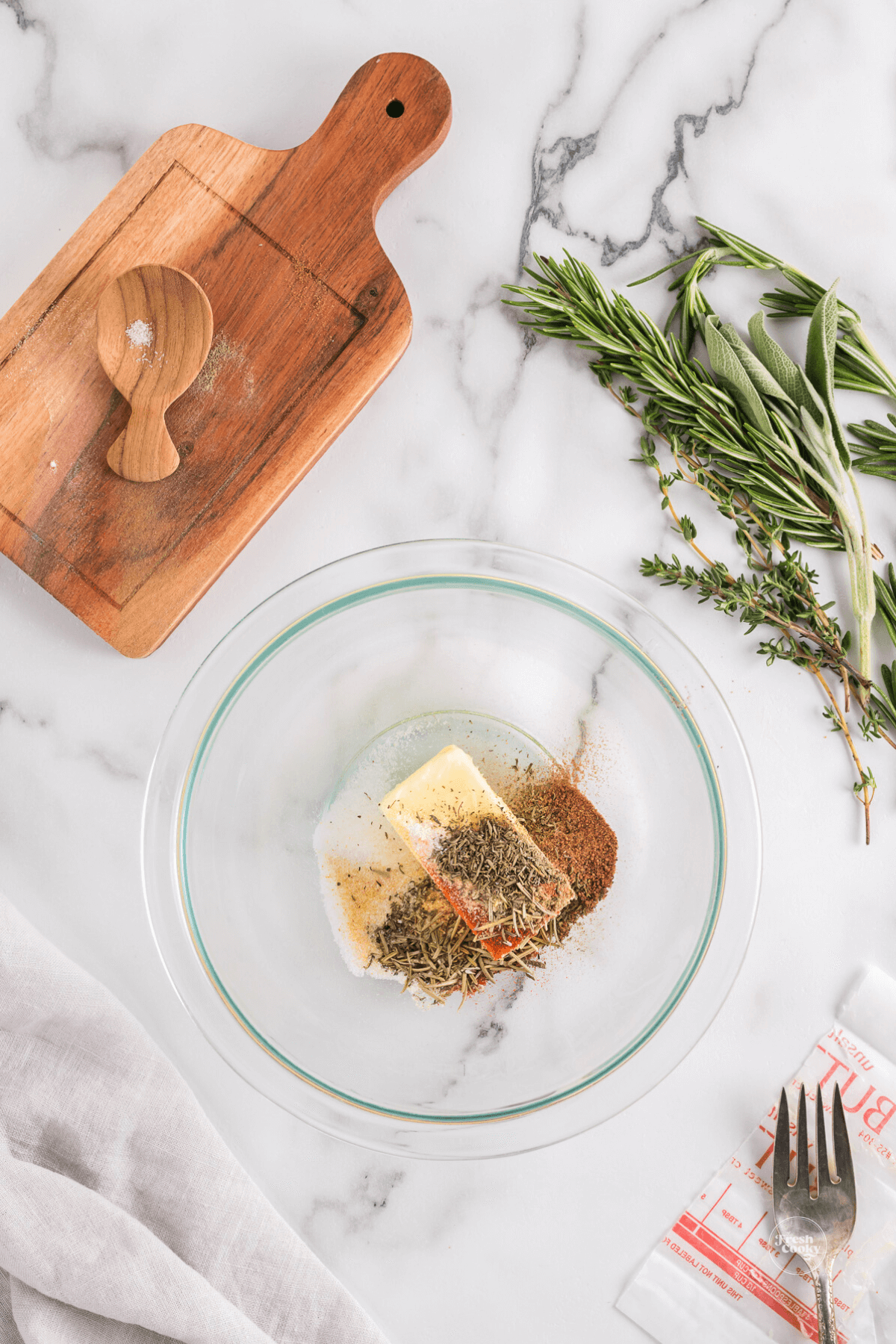 Step 3 | Cooking Turkey in the Air Fryer
Bone-in Turkey breast instructions:
Place the herb butter seasoned bone-in meat skin side up in a 360 degree F preheated air fryer basket. Air fry for 25-30 minutes, then turn and flip the breast. Then add an additional 20 minutes or so* until a meat thermometer inserted in the thickest part reads 165 degrees F.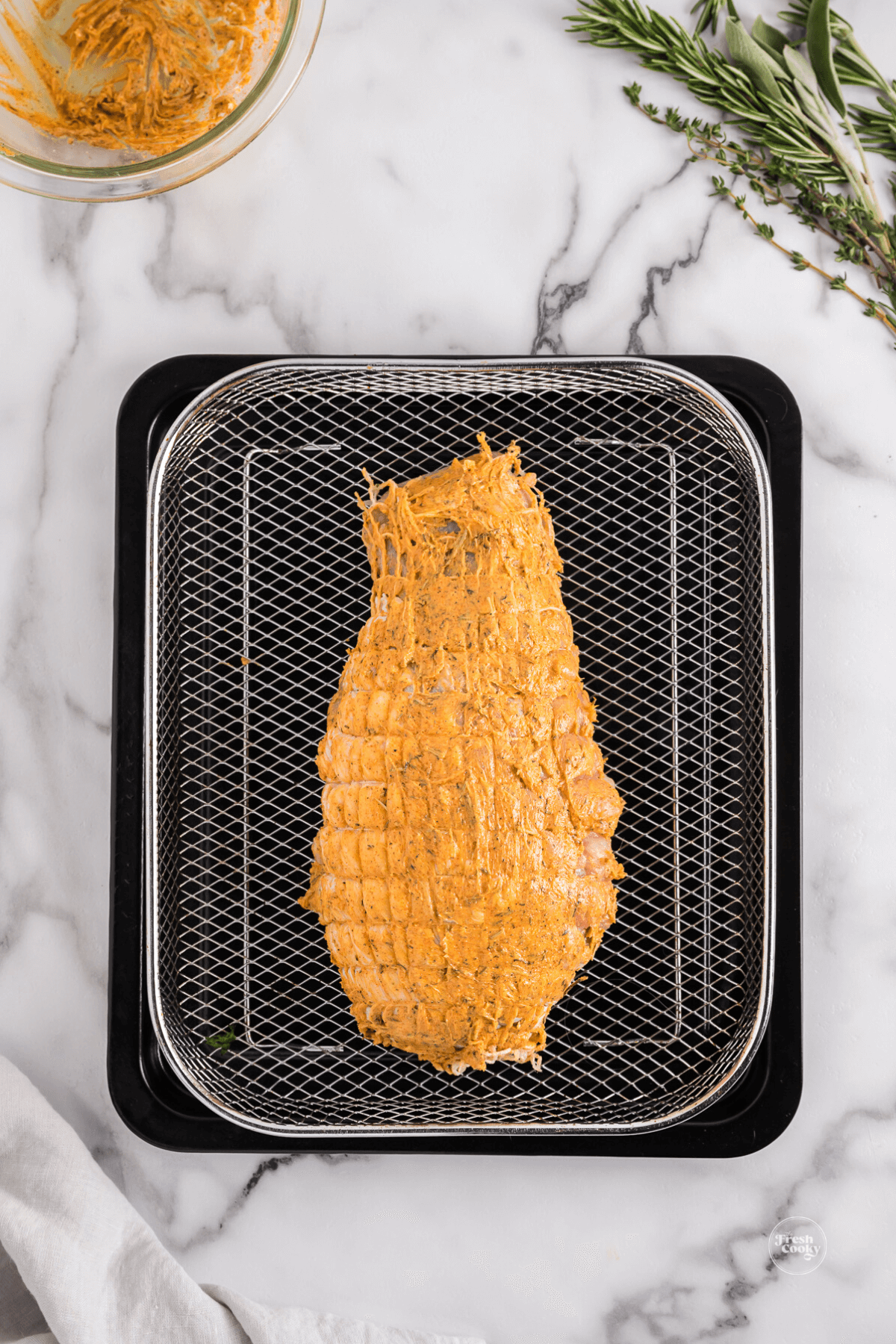 Boneless Turkey Breast instructions:
Place the boneless butter-coated turkey breast in the air fryer for an hour, air frying 360 degree F. Rotate and turn the meat about every 15 minutes, until the internal temperature reaches 165 F with your meat thermometer.
Cooking time will vary based on the size of your turkey breast and whether it is boneless or bone-in. Just make sure to use an accurate instant read thermometer making sure it reaches 165 degrees F.
Step 4 | Turkey Rest Time
Once the turkey is all done in the air fryer, carefully remove it and set it on a cutting board. Tent the entire turkey breast with aluminum foil and allow it to rest for 10-15 minutes before carving.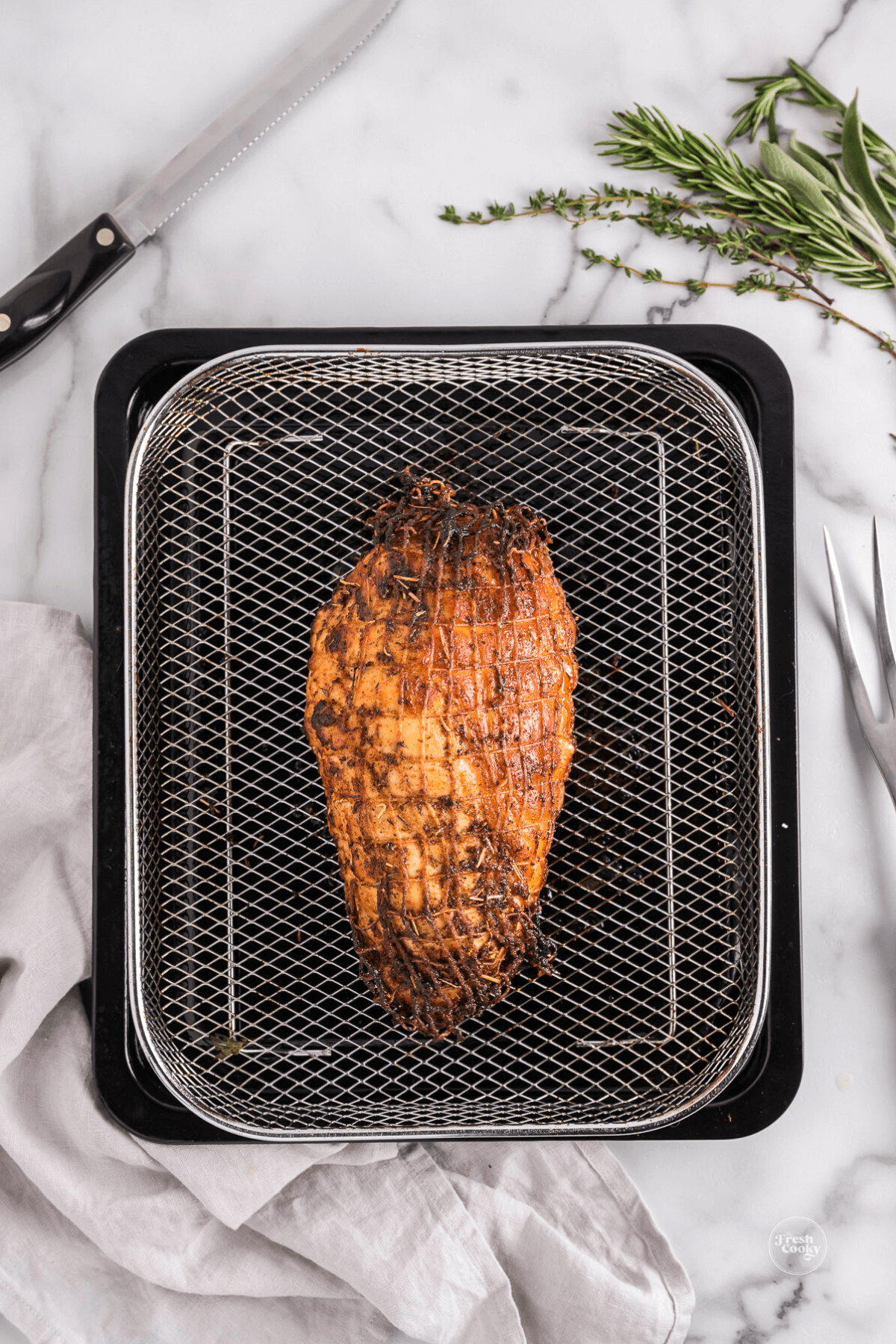 Fresh Pro Tips
If the boneless turkey breast you choose has a string net on it, that is alright. Leave it on and tuck that seasoning butter in as much as possible under the skin and all over.
Dry the turkey well before you season it or the butter will not stick to it!
Thaw a frozen turkey breast in the refrigerator for 2 days. If you need it faster, place the unopened turkey in a bath of cold water.
For more on thawing a turkey, check out my Turkey Thawing Guide here with free Turkey Guide Printable.
Variations & Substitutions
Use your favorite seasonings like Chipotle or Creole seasonings!
Replace the butter with mayonnaise.
Try using fresh herbs instead of dried herbs.
Use your favorite; bone-in or boneless turkey breast. Turkey breasts come in different sizes and shapes, make sure it's cooks to the correct temperature — some larger breasts will take longer and some air fryer's cook slightly differently.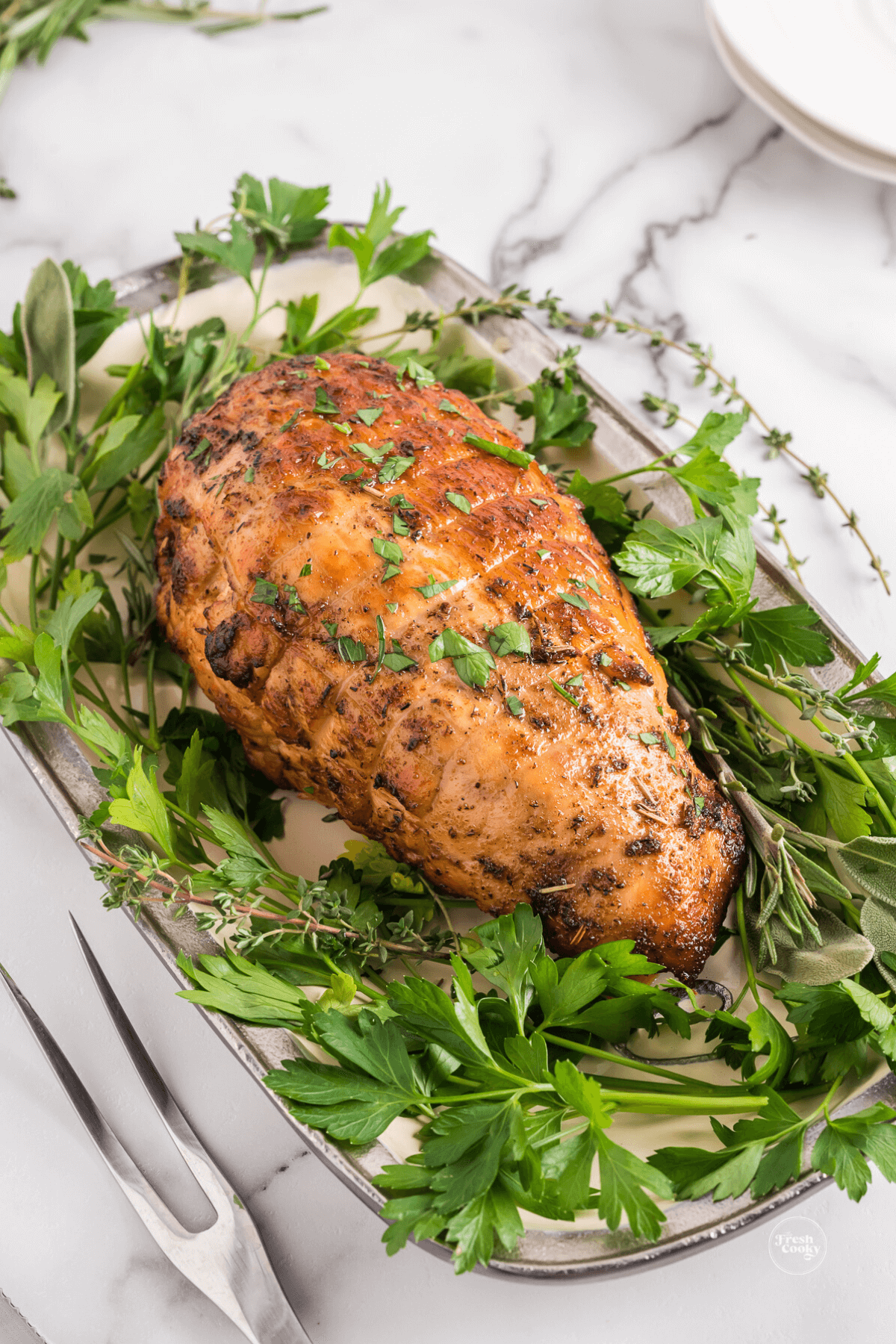 Storage Tips
For leftover turkey, store cooled, cooked turkey in an airtight container in the refrigerator for up to 3-4 days.
Freeze | Place cooled turkey breast in an airtight container, freeze up to 3 months. Thaw overnight in fridge.
Reheat | Set the air fryer to 350 degrees, cook the leftovers for about 10 minutes, and turn the turkey meat halfway through.
How to Roast Turkey Breast in the Oven
Maybe you haven't bought an air fryer yet, you can still make this tender, juicy and flavorful turkey breast.
Preheat the oven to 450 degrees F and place a roasting rack in a roasting pan or a 9×13 inch pan. You might want to spray the rack with a little spray oil, I love Avocado oil — it's great at high heat.
Place your herb butter rubbed turkey breast skin side up on the roasting rack and roast for 20 minutes. Then cover loosely with foil to prevent over-browning and roast another 30-40 minutes until the internal temperature reaches 160 degrees F. Remove from oven, let rest, tented with foil for 15-20 minutes before carving.
Recommended Equipment to Air Fry Turkey Breast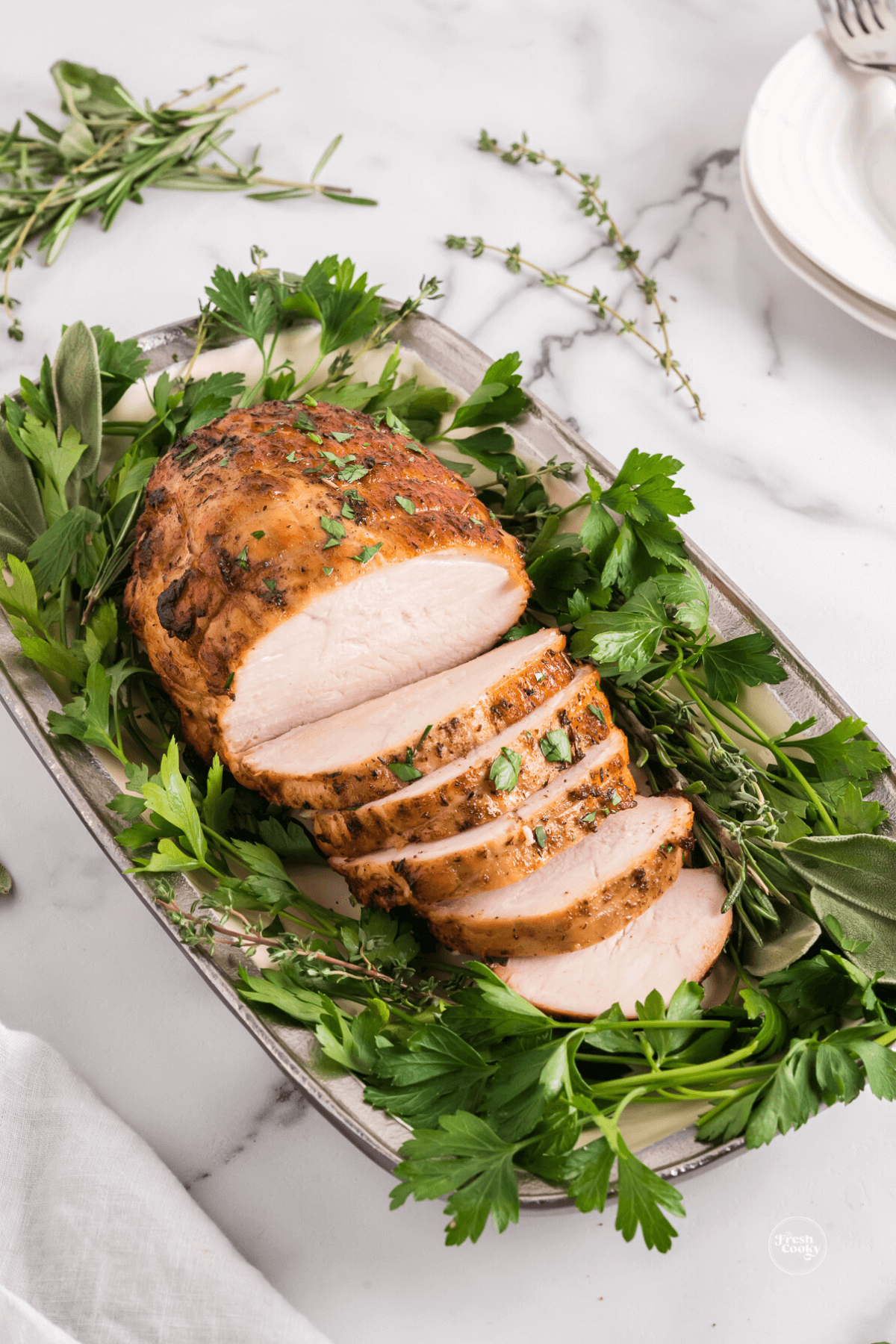 Frequently Asked Questions
How long to cook boneless turkey breast in air fryer?
Cook the boneless turkey breast (about 3 pounds) for about an hour in the air fryer, at 360 degrees F, turning every 15 minutes.
How many people will a turkey breast recipe feed?
Most people will eat about ½-¾ of a pound. So, this recipe is perfect for 2- 4 people depending on their appetites.
Can you air fry a boneless turkey breast?
Yes! Follow the instructions in this easy recipe and you will have tender, juicy and not dried out turkey breast!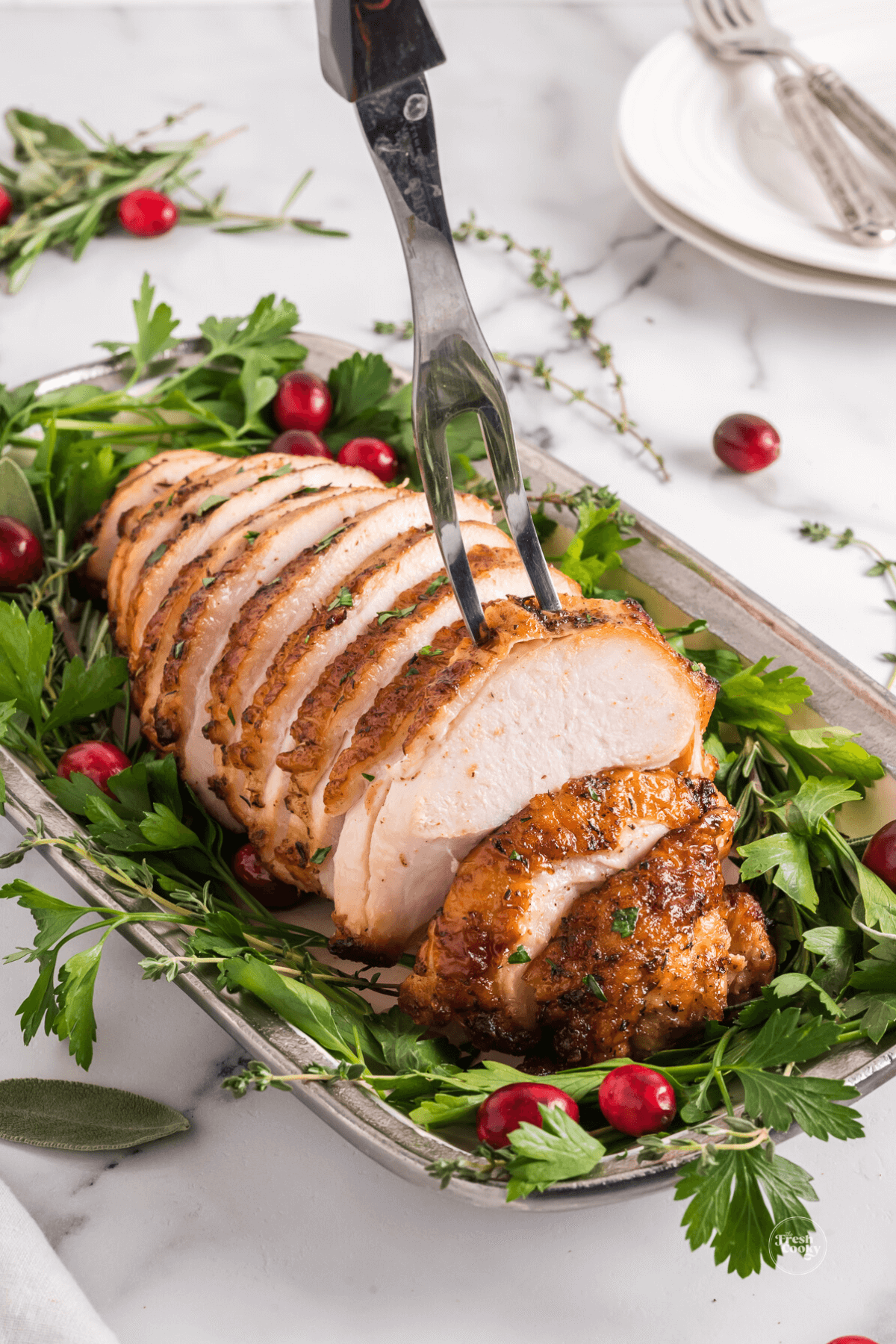 What to Serve with Air Fryer Boneless Turkey Breast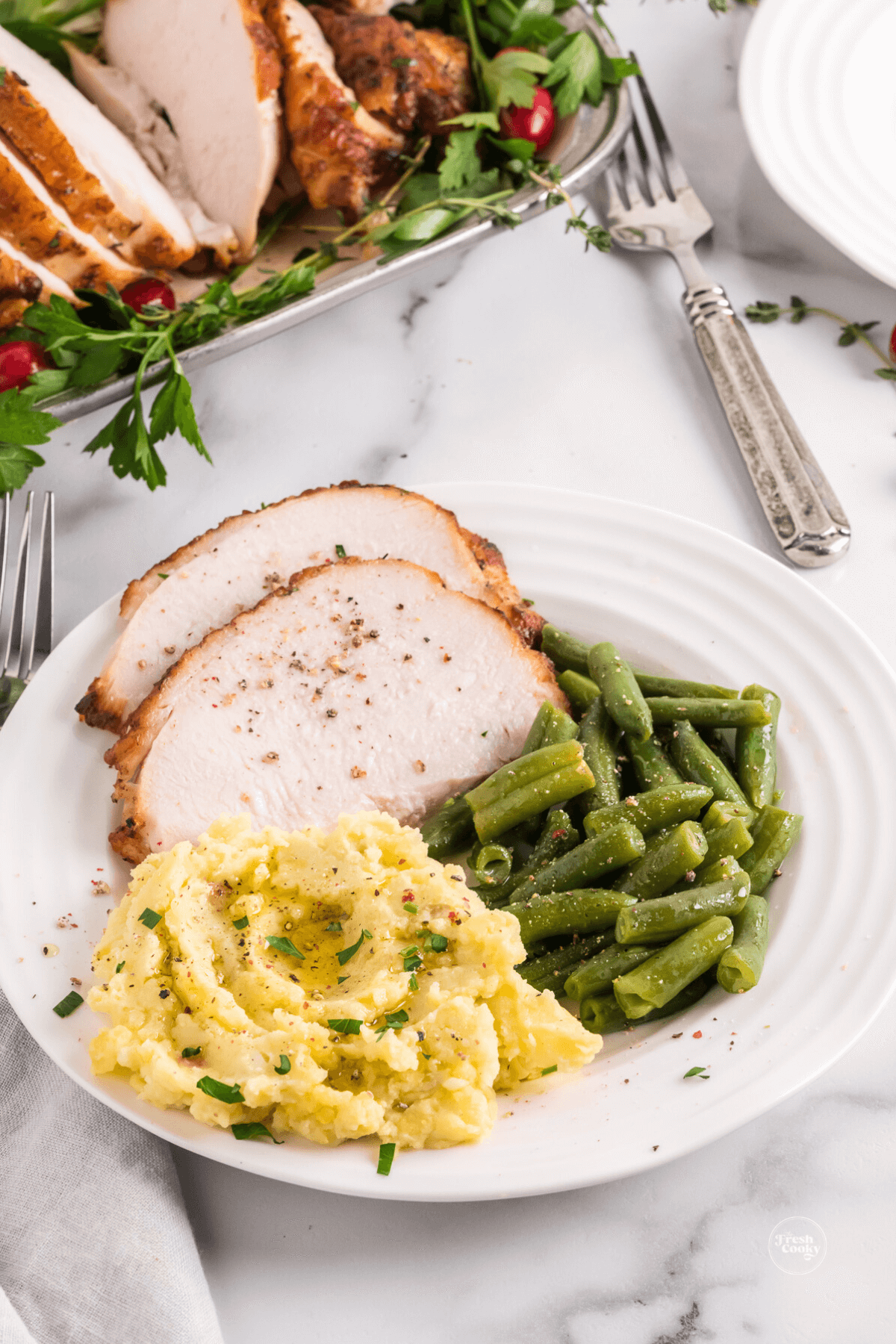 Every air fryer heats a bit differently, remember to use a meat thermometer to determine doneness. Remove your turkey when it reaches 160-165 degrees F (it will continue cooking). Tent it with aluminum foil and allow the turkey to rest for 10-20 minutes, it will continue to cook, especially bone-in turkey breasts. It's done once it reaches 165 degrees.
I hope you loved this recipe for air fryer boneless turkey breast — if you did, would you share your creation on Instagram, Facebook and Pinterest? And be sure to comment below!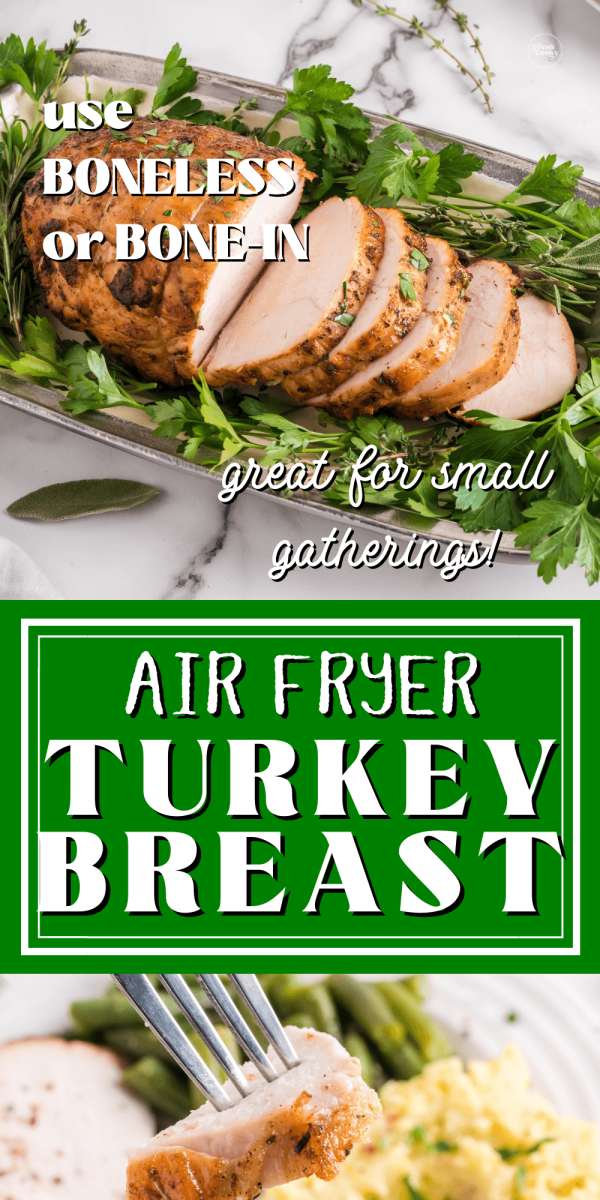 I hope you loved this air fryer boneless turkey breast — if you did, would you share your creation on Instagram, Facebook and Pinterest? And be sure to comment below!
Like this recipe?
Don't forget to give it a ⭐️⭐️⭐️⭐️⭐️ star rating and comment below the recipe!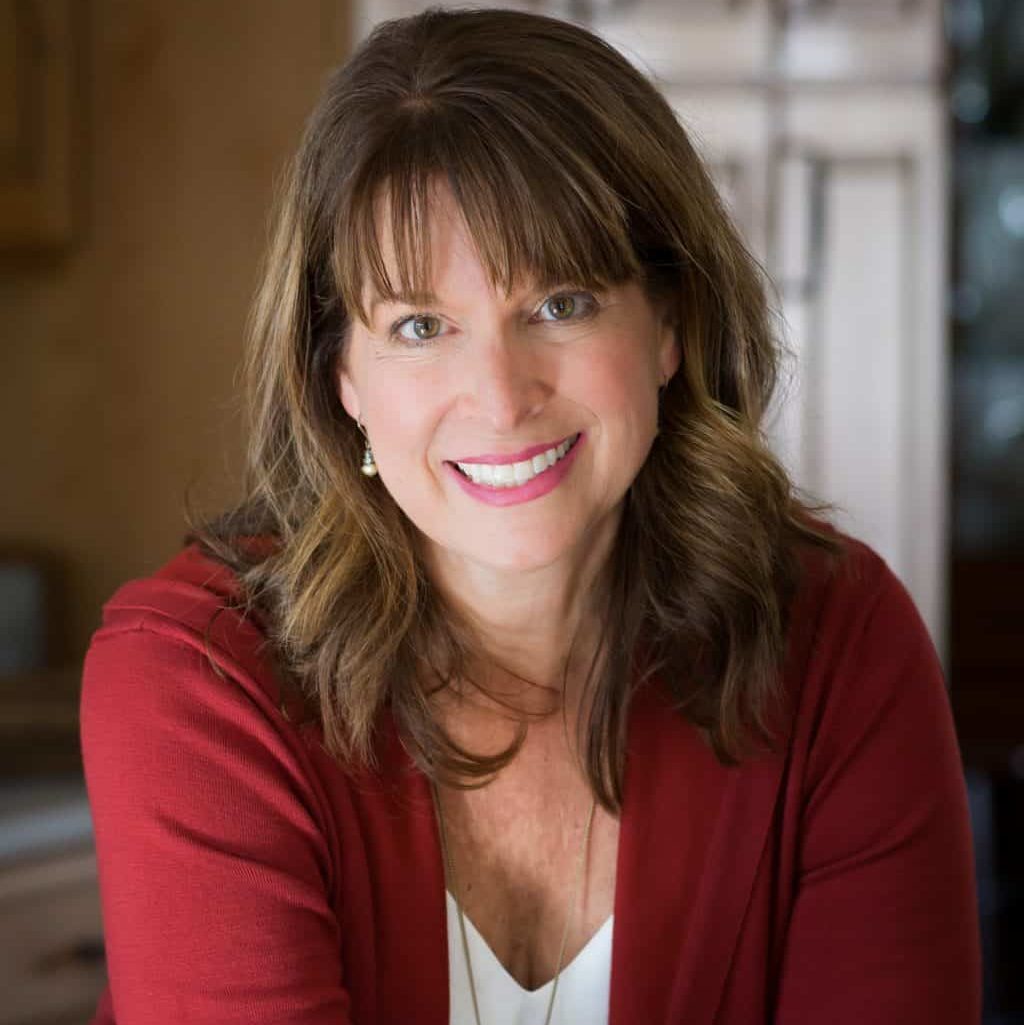 About Kathleen Pope
Recipe Innovator | Food Photographer | Food Writer
Hi, I'm Kathleen Pope. Here at The Fresh Cooky you will find easy, mostly from-scratch, trusted recipes for all occasions. From speedy dinners to tasty desserts, with easy step-by-step instructions. I am here to help teach you how to make mouthwatering recipes without spending hours in the kitchen. Read more about Kathleen here.