Pumpkin Custard Pie Recipe (Costco Copycat)
As an Amazon Associate, I earn from qualifying purchases. Please read my disclosure policy.
Looking for a traditional pumpkin pie, that is extra creamy? This pumpkin custard pie recipe is spot-on for a Costco pumpkin pie recipe! With a buttery crust, creamy custard filling; this is the best pumpkin pie, perfect for Thanksgiving dinner!
Costco's pumpkin pie is the perfect dessert for this time of year; it's a lot of pie for a good price, and it's quite good. But if you don't live near a Costco, or you just prefer a smaller, homemade pumpkin pie this holiday season, even Costco members will agree this will become your favorite pumpkin pie recipe.
If you are the pie maker for your Thanksgiving feast, you might also try this Apple Crumble pie (the crust doubles as the crumb topping), Butterscotch Cinnamon Pie, or this award winning Key Lime Pie.
Why You Will Love this Recipe
Creamy Texture | Making this recipe from scratch is easy and you are guaranteed to have creamy pumpkin pie every time.
Make Ahead | I love make ahead recipes for the holidays and you can make your pumpkin pie 2-3 days ahead, or freeze!
About Costco's Pumpkin Pie
According to the Costco Connection the Costco pie recipe has been the same since 1987, when it first hit the shelves. The actual recipe is closely guarded, but I believe you will love this copycat recipe — even more!
The variety of pumpkin used in Costco's pumpkin pie recipe is Dickinson pumpkins, which is actually a squash. And surprisingly enough, this is the same type of pumpkin that Libby's uses, it's their proprietary variety called Dickinson Squash.
Simple Ingredients
Ingredients, directions and nutritional information in the printable recipe card at the end of the post.
Pie Crust | A single pre-baked pie crust is all you need, make your own or purchase a store bought pie crust. My recipe shows you how to make your pie crust using a food processor, stand mixer or by hand.
Pumpkin Purée | 100% pureed pumpkin here, not pumpkin pie mix. I tested this recipe using several types of pumpkin and it came out best using Libby's plain pumpkin puree.
Eggs | I use large eggs in all of my baking. We'll use both whole eggs and extra egg yolks for the creamiest texture, plus I give great ideas for how to use your leftover egg whites.
Sugar | A combination regular all-natural cane sugar and brown sugar for a hint of caramel.
Cream & Milk | The best custard pies use heavy cream and we add a touch of whole milk as well, no sweetened condensed milk or evaporated milk here.
Spices | Classic pumpkin filling spices; cinnamon, ginger, nutmeg, cloves, allspice and a touch of kosher salt balances it all out.
Vanilla Extract | I used a little bit of homemade bourbon vanilla extract to make it extra special, regular vanilla extract is just fine.
If making a 9″ deep dish pie, the filling will be a little short, which is just fine if you don't mind a little more crust showing. OR make a little more pumpkin pie filling. Make 1 ½ times the filling for the recipe. If you have any extra, pour into a custard dish and bake with your pumpkin pie.
How to make Costco Pumpkin Pie Recipe
Step 1 | Prep your Pie Crust
Make your favorite pie crust, or purchase a pre-made crust. Try my all butter pie dough recipe, it's easy and delicious. Roll out unbaked pie crust dough on a lightly floured work surface and press into a standard 9″ pie plate (not deep dish). See all of my tips and tricks for the best pie crust and decoration's in the above post.
How to Blind Bake (Par-Bake) Your Pie Crust
Freeze pie crust for 30-60 minutes before baking (this helps prevent shrinking). If desired, just before baking brush the edges of the crust with a beaten egg and 1 tablespoon cream for a glossy crust. Dock pie crust all over the bottom and sides with the tines of a fork AND place a piece of aluminum foil or parchment paper in the pie, adding pie weights (dry beans or dry rice may also be used). Check out my pie crust recipe linked above for the best tips and tricks.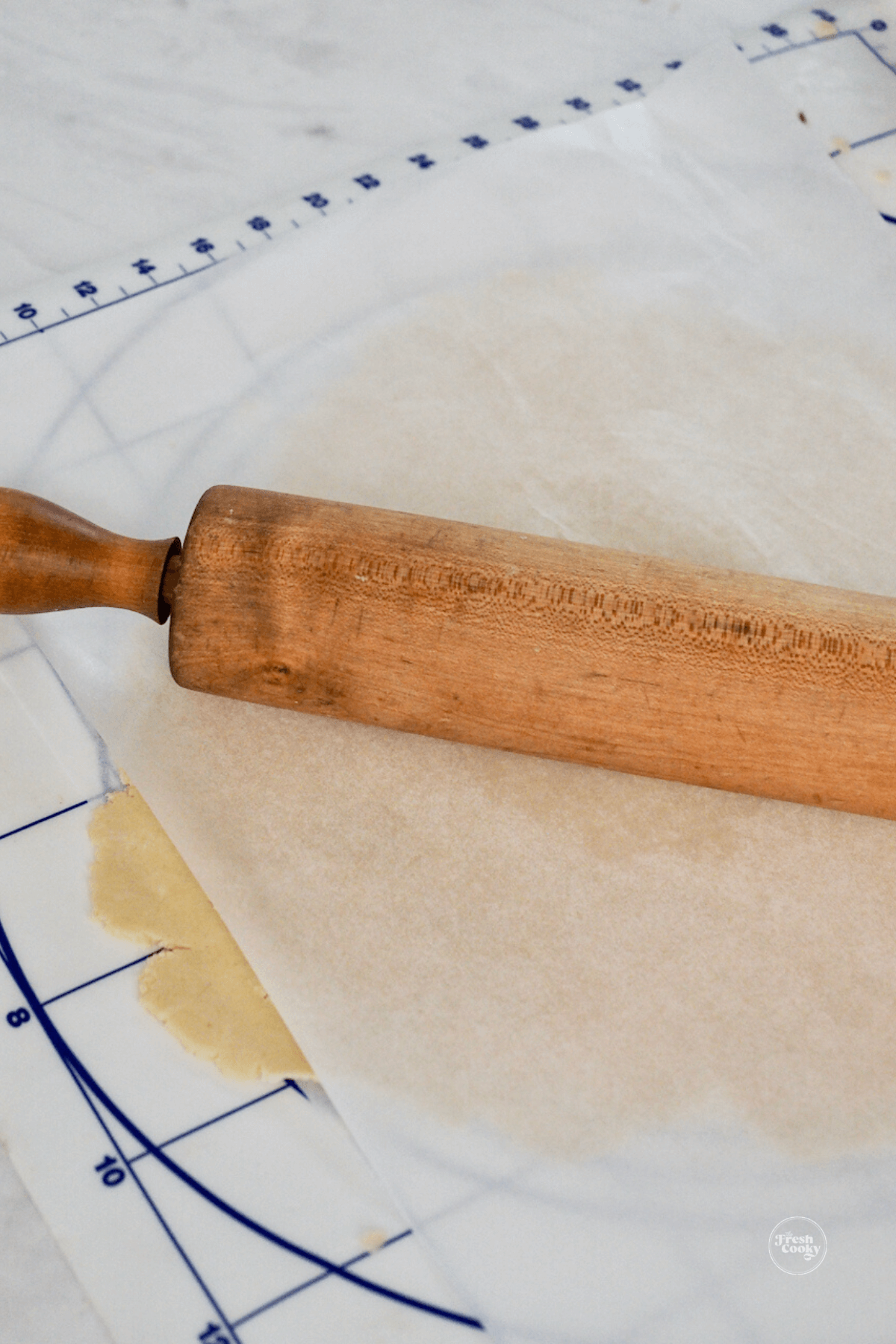 For best results Par-bake (blind bake) your pie crust, avoiding a soggy crust, but it's just a suggestion, it's not necessary if you don't mind a softer pie crust. Move the rack to the lower third of the oven, line a baking sheet with aluminum foil and place in the oven on the lower rack.
Move the rack to the lower third of the oven, place an aluminum foil lined baking sheet on the rack and preheat the oven to 425 degrees F. Place prepared uncooked pie crust (with docking and weights) in the oven and bake for 15-20 minutes, then carefully remove the pie weights and bake for another 5 minutes.
Step 2 | Make pumpkin pie filling for copycat Costco pumpkin pie recipe
In a large bowl, make your pumpkin mixture. Whisk eggs and egg yolks until smooth, then combine sugars, whisking until blended. Add remaining ingredients; pumpkin puree, spices, salt and vanilla extract whisking until smooth.
This next step is very important!
REDUCE OVEN TEMPERATURE to 325 degrees F. Keep the baking sheet in the oven.
Step 3 | Bake Custard Pumpkin Pie Recipe
Pour into the prepared pie shell and carefully place in the oven on the baking sheet. Bake for 45-60 minutes.
The pumpkin pie is done when the center shakes like jello when gently shaken. Or when the internal temperature reaches 175 degrees F. See tips below oven temps. It will firm as it cools, place on a cooling rack and cool for 2 hours, then cover with plastic wrap and transfer to the refrigerator until ready to serve. May be made up to 3 days in advance, 24 hours is just about ideal!
Step 4 | Cool pie before slicing
Chilled custard pumpkin pies are better and slice cleaner. Cool on a rack for 2 hours and then transfer to the fridge.
Serve with whipped cream or a scoop of vanilla ice cream and a drizzle of bourbon caramel sauce.
Recipe Testing Pumpkin Custard Pie Recipe
I wanted a tested and perfect recipe for my readers. So 5 pumpkin pie testing recipes later, I've come up with the best pie for pumpkin pie season. My tips are below, be sure to read through them all!
Pro Tips for the Perfect Pumpkin Pie
Accurate Oven Temperature | Many ovens are often about 25 degrees off. Mine is 25 degrees cooler, which makes a BIG difference when baking. Purchase an oven thermometer and then adjust your oven accordingly.
Not all pumpkin purees are equal | I tested with Trader Joe's organic pumpkin, Whole Foods organic pumpkin and Libby's pumpkin puree – Libby's was the thickest and least watery of the three. Libby's is non-GMO and grown in the USA, which I feel good about. Homemade pumpkin puree is not recommended as it's watery.
NO Pumpkin Pie mix, it's premixed with sugar and spices and your pie will not turn out.
Baking longer than 60 minutes can over bake the custard, causing cracking in pumpkin pie. It will still taste good, just not as creamy. Custard pies have a much creamier texture when baked at lower temperatures, then well chilled.
If par-baking the uncooked pie crust I highly recommend you use parchment paper and pie weights as it will help the pie to keep from shrinking.
You may choose not to pre-bake your pie crust, just know that your pumpkin pie might be a bit soggier, which some people like – make it yours!
If your crust is browning too much, wrap foil or a crust guard around the crust until finished baking.
Freezing your pie crust ahead of time is very important, especially when baking an all-butter pie crust, this hardens the fats and also allows the gluten to relax yielding a more tender and flaky crust.
Chilling | It's important to let your pie cool on the counter for 2 hours on a cooling rack (there's a reason Grandma used to place her pies on the windowsill), this allows the pie to set and finish cooking. Then be sure to chill for at least 4 hours, longer is preferred.
Tips for Crust Decorations
If you'd like to fancy up your pie with some festive fall cut outs, be sure to either make extra pie dough or purchase an extra crust. Roll the crust out to about ¼ inch thick. Using your favorite cookie cutter shapes, cut out desired shapes. For all of the tips and tricks, pop over to my recipe search and type in "homemade pie crust".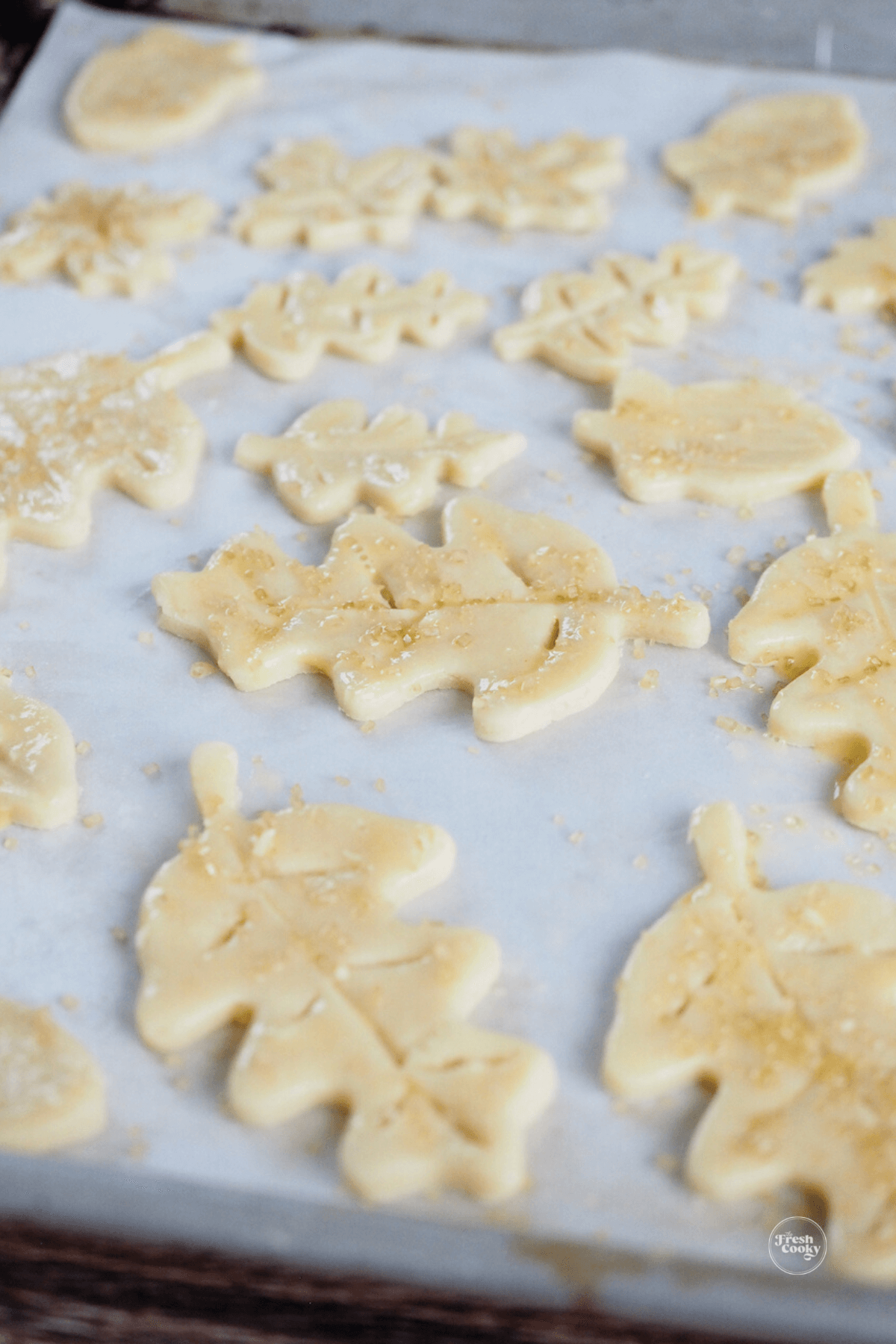 Storage
After cooling on the counter for 2 hours, refrigerate for at least 4-6 hours for best results, overnight is preferable. Place plastic wrap over pie and store in fridge up to 3 days.
FREEZE | Pumpkin custard pie actually freezes beautifully, even Costco's pies! Wrap well, several times in plastic wrap then slip into an airtight baggie and freeze up to 3 months.
THAW | Place pie in fridge overnight to thaw, bring to room temperature by setting on the counter an hour before serving.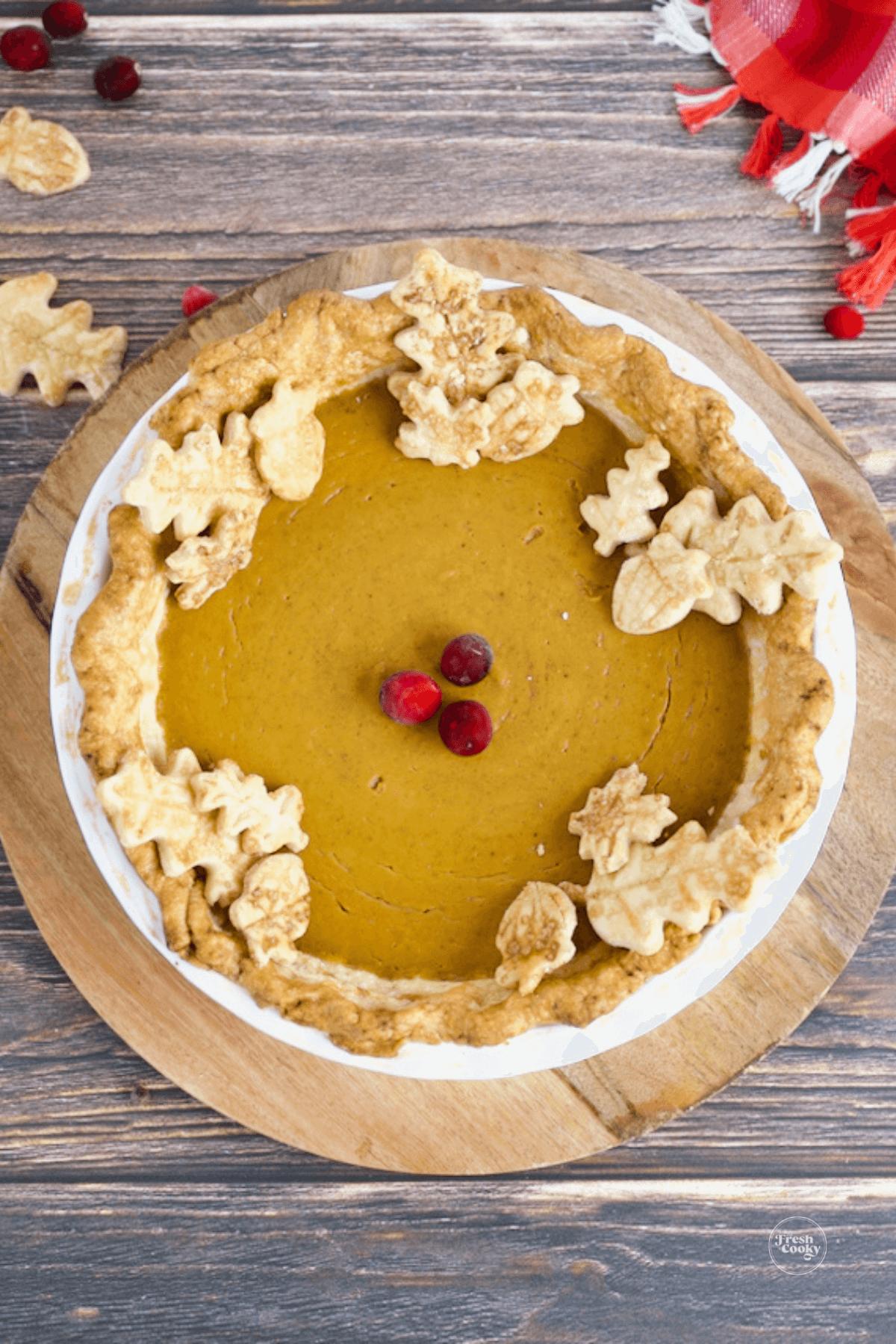 Variations & Substitutions
Try and stick with the recipe on this one, custard pies can sometimes be a bit finicky. These changes shouldn't alter the recipe.
Change up the spices | Replace the spices with Pumpkin Pie Spice, use 2 ½ – 3 teaspoons. If you don't like one of the spices, omit it. If you like it more gingery add a little more ginger, you get the idea! Make it yours!
Bake in a cookie crust or in a graham cracker crust, or replace graham crackers with gingersnaps.
Replace sugar(s) with ⅓ cup maple syrup, or even try cup for cup sugar replacements.
Ways to use leftover egg whites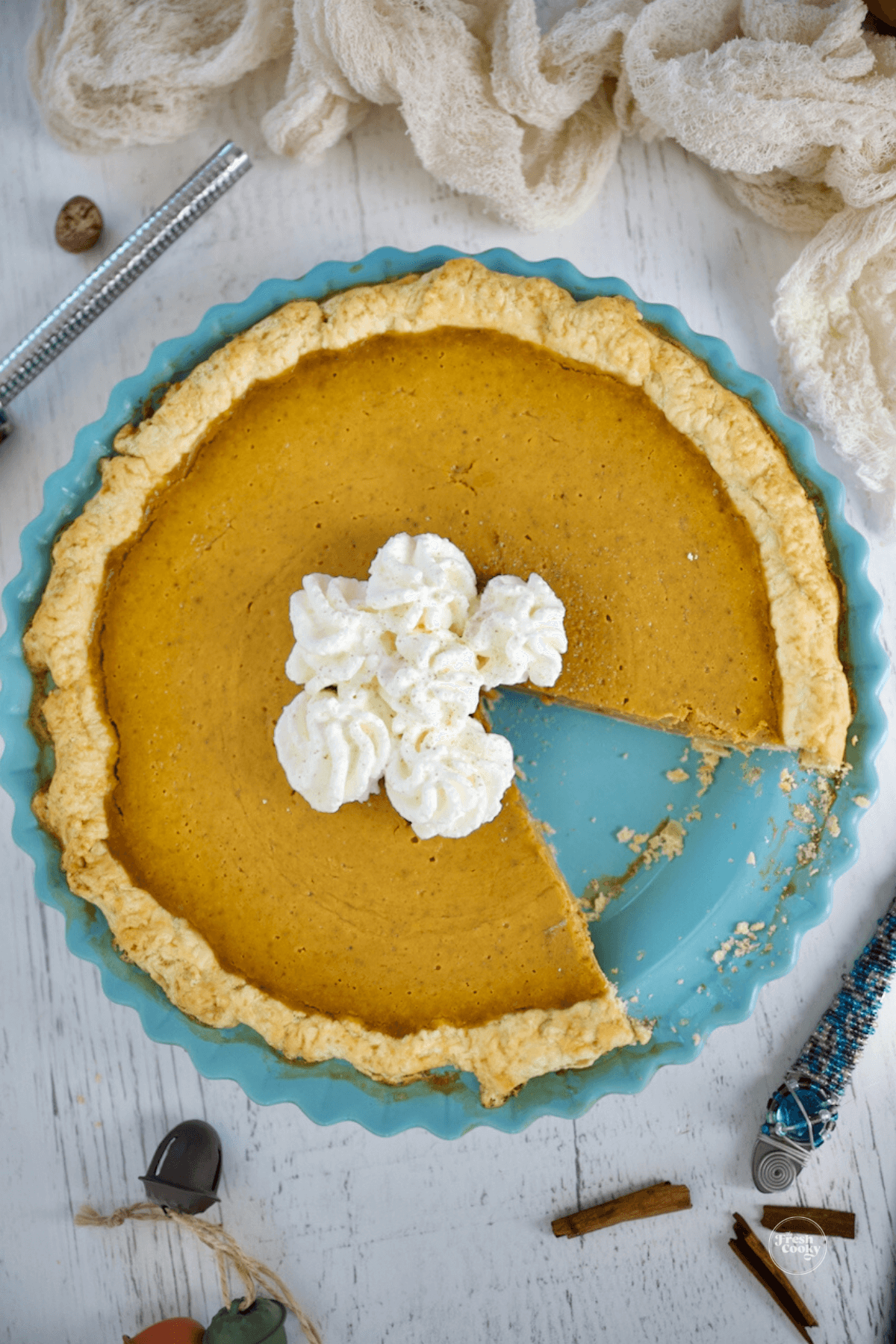 Frequently Asked Questions
Should you refrigerate Costco pumpkin pie?
Any egg rich custard pie should be refrigerated, so yes, this Costco pumpkin pie recipe should be refrigerated.
Can you freeze pumpkin pie from Costco?
Yes, you sure can, in fact, pumpkin pie freezes beautifully! Whether you are freezing the whole pie or a portion, wrap it well so it doesn't absorb the flavors in the freezer.
What is the difference between egg custard pie and custard pie?
Any uncooked custard cooked together in a par-baked or uncooked pie crust is considered a custard pie in North America. True custards contain eggs and are typically a pretty rich pie. A cream pie is typically placed in a cooked pie shell, like this Chocolate Cream Pie.
High Altitude Pumpkin Custard Pie Recipe
While I was testing this recipe, I tried increasing the oven temperature as I typically do when baking at high altitude, that resulted in the outsides of the pie baking too quickly and the inside still being runny.
As long as you stick to the recipe measurements, use thick pumpkin puree and move your rack to the lower third of the oven with the baking sheet on it, you are golden! Make sure your oven is actually heating to 325 degrees F.
More Perfect Pumpkin Recipes
Our favorite Thanksgiving Recipes
I hope you loved this Costco pumpkin pie Recipe — if you did, would you share your creation on Instagram, Facebook and Pinterest? And be sure to comment below!
Like this recipe?
Don't forget to give it a ⭐️⭐️⭐️⭐️⭐️ star rating and comment below the recipe!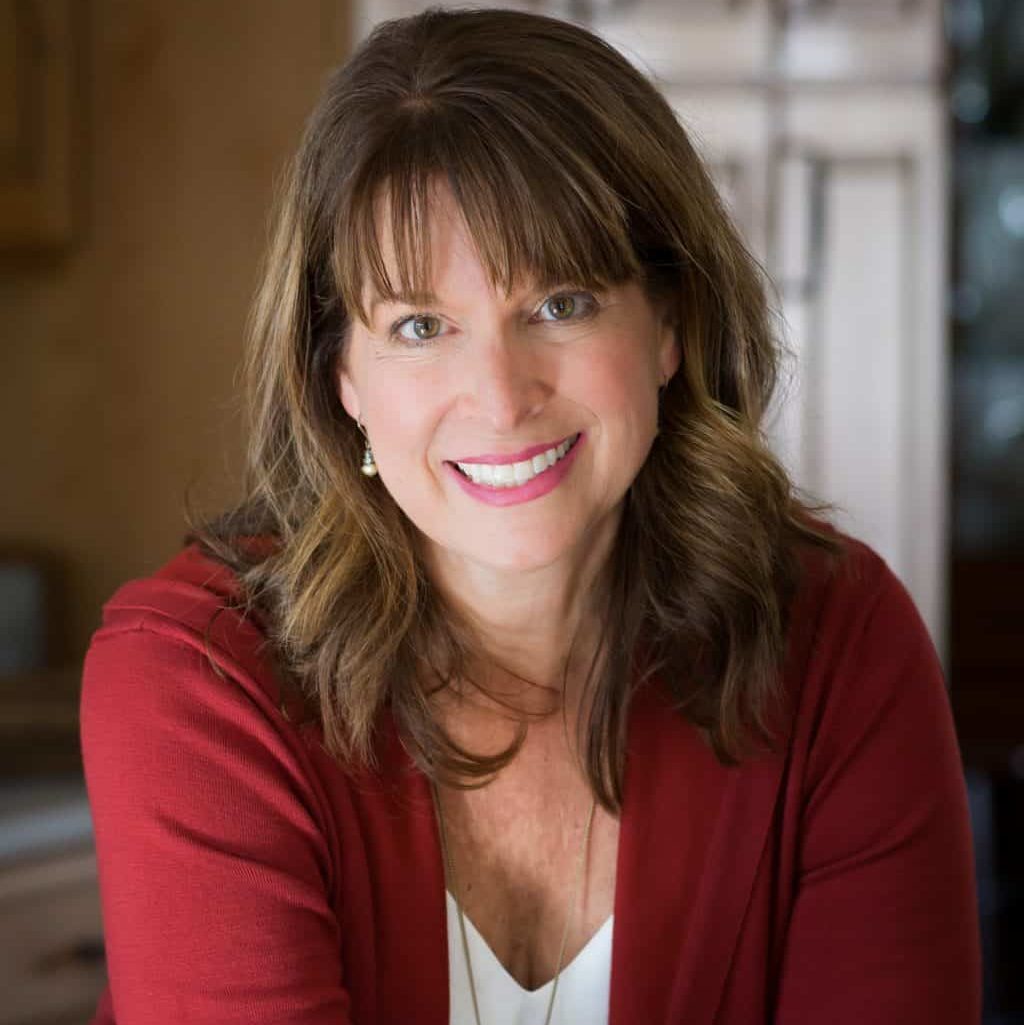 About Kathleen Pope
Recipe Innovator | Food Photographer | Food Writer
Hi, I'm Kathleen Pope. Here at The Fresh Cooky you will find easy, mostly from-scratch, trusted recipes for all occasions. From speedy dinners to tasty desserts, with easy step-by-step instructions. I am here to help teach you how to make mouthwatering recipes without spending hours in the kitchen. Read more about Kathleen here.