Easy Air Fryer French Toast Sticks Recipe
As an Amazon Associate, I earn from qualifying purchases. Please read my disclosure policy.
An easy recipe for French Toast Sticks in the Air Fryer. With a cinnamon sugar coating, these are ready in minutes with a perfectly crispy exterior and tender on the inside. The perfect answer to a quick breakfast on busy mornings.
You will love this new way to cook French toast with minimal mess and easy clean-up. In fact, the air fryer is perfect for so many dishes, like these easy Air Fryer Apple Crisp, Air Fryer Steak Tips and these scrumptious air fryer steak fries.
Try my other reader favorite breakfast recipes! Prosciutto & Gruyere Quiche with Hash Brown Crust, Orange Scones, Chile Relleno Casserole and don't forget a steaming cup of Homemade Chai Tea Latte or my White Hot Chocolate for the kiddos — all great options for breakfast.
Why You Will Love this Recipe
Air Fryer Fast | Easy air fryer recipes are fast, saving you time in the mornings.
Healthy | Since we aren't pan frying these in oil, or using tons of sugars, these are a much healthier choice for French Toast sticks!
Easy Clean-Up | This easy recipe in the air fryer cleans up with minimal effort!
Variations | Use stale bread up or choose the bread you like best. Then choose as many fresh toppings as you want. Make it your way!
Simple Ingredients
Ingredients, directions and nutritional information in the printable recipe card at the end of the post.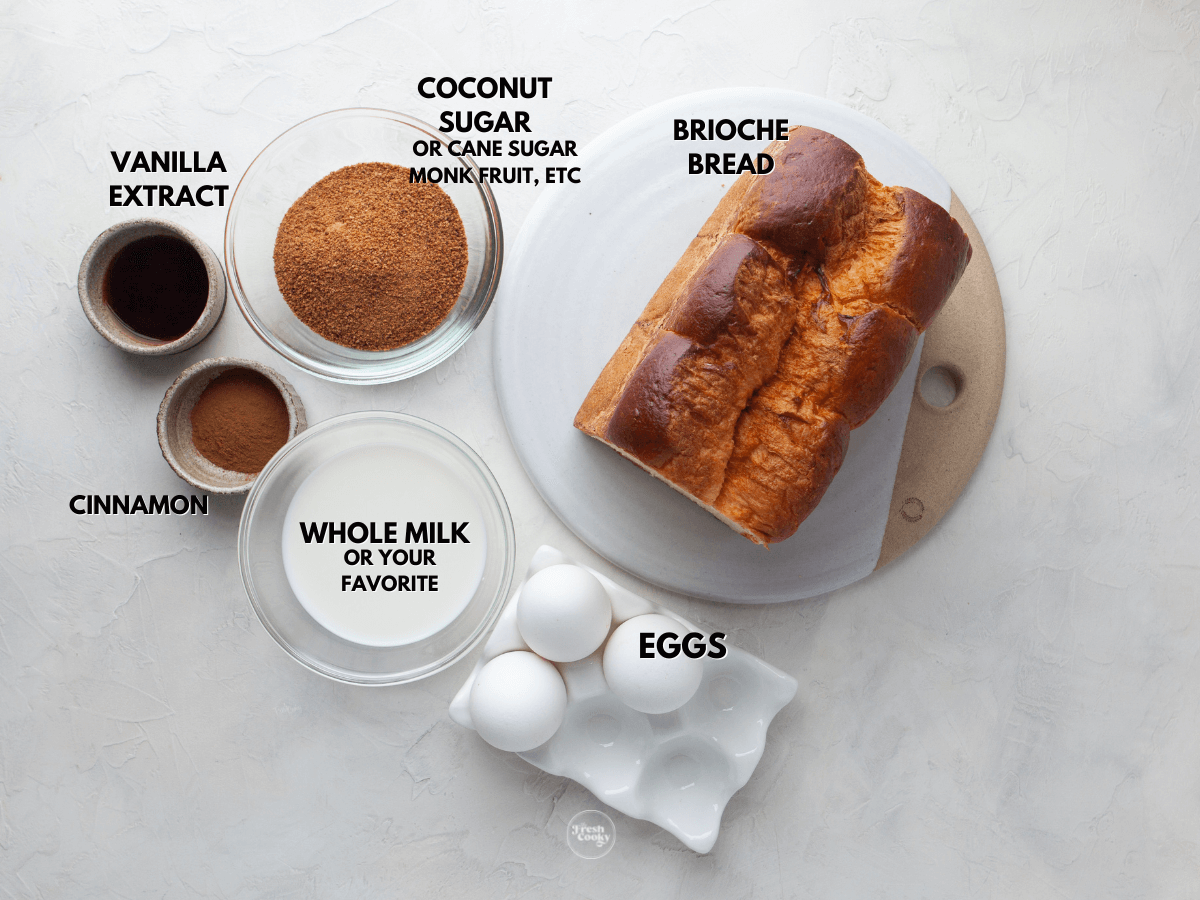 Bread | I like using sturdy brioche bread slices as they absorb up the perfect amount of the egg mixture. Trader Joes has a great brioche for this recipe!
Eggs | Dip the bread in this egg mixture to form the perfect crispy golden outside.
Milk | I use whole milk, but you can change it to whatever milk you want, even plant-based milks will work.
Vanilla | Vanilla extract adds that beautiful vanilla flavor that blends just right with the cinnamon sugar, also try my bourbon vanilla extract.
All-Natural Cane Sugar | Organic Cane sugar is not only less processed, but it adds a more molasses sugar flavor. You can also try using brown sugar, sugar-free Monk fruit, or coconut sugar (shown in pictures).
Cinnamon | Cinnamon is the stuff of breakfast bread and is one of the classic ingredients in traditional french toast recipes.
Pro Tips
Bread that is not super fresh and a bit stale is typically better for French toast. If your bread is really soft, slice it and leave it on a baking sheet while you prepare the rest of the ingredients.
The cook time and texture might turn out differently depending on the bread you use.
How to Make Cinnamon Sugar French Toast
Almost nothing is like waking up to the fragrance of breakfast cooking in the oven– and this cinnamon sugar french toast will not disappoint.
Although this easy breakfast recipe is made quickly in the air fryer, the fresh flavors will fill the room, inviting the entire family to have a seat at the table.
Step 1 | Prepare the Toast
Start by cutting the fresh loaf of brioche bread into six 1-inch-thick pieces with a sharp serrated edged bread knife. Then cut each slice into thirds, so you have 3 stick slices per piece- that are just perfectly sized for french toast.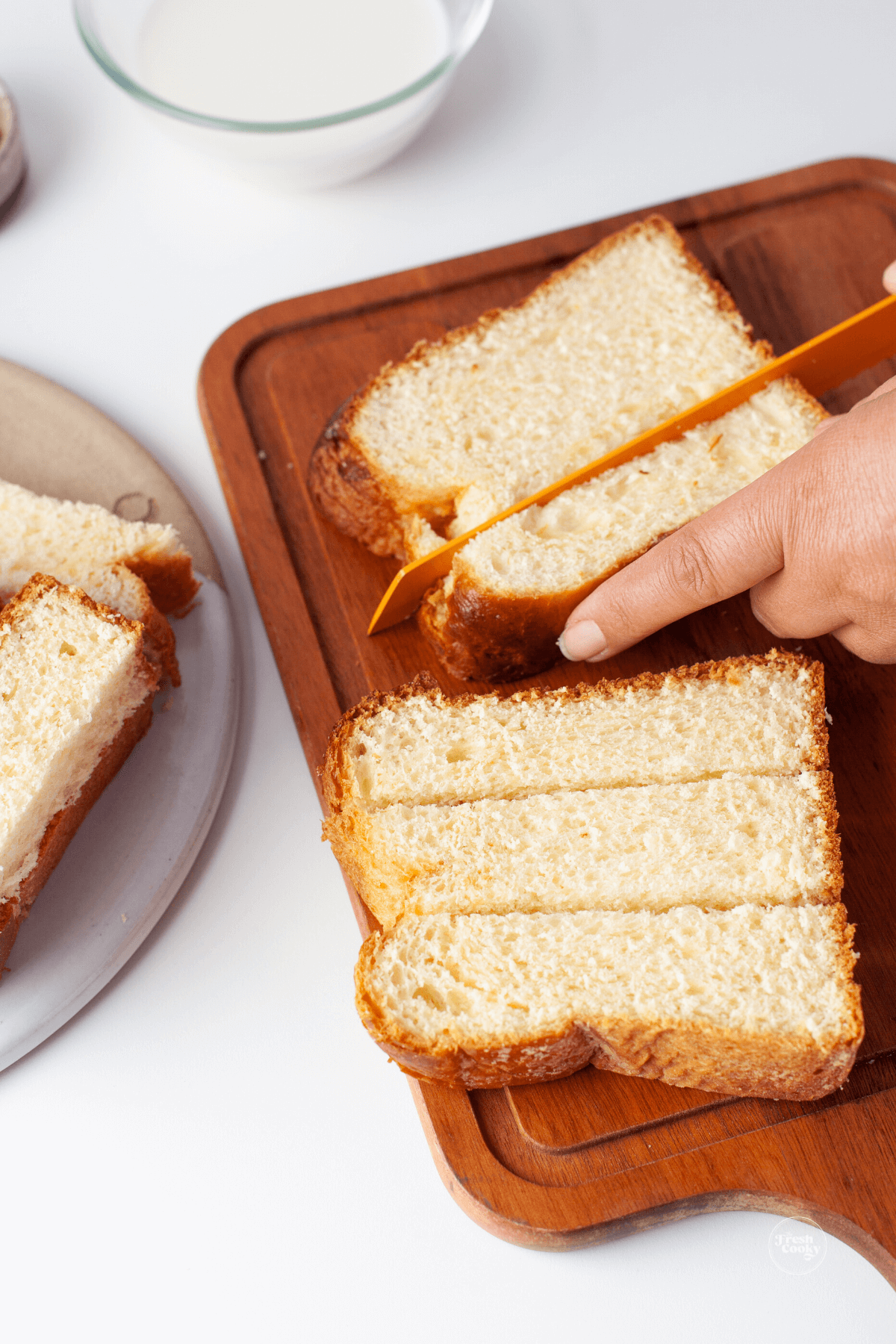 Don't forget to set the preheat function on your air fryer to 375 F degrees and line your fryer basket with parchment paper or use a little oil spray to coat the basket.
Step 2 | Mix the Egg Dip
Using a medium bowl, crack the eggs, measure the milk and vanilla and add it all into the mixing bowl. Then whisk the egg mixture until thoroughly combined and nice and thick.
Take out another medium mixing bowl to make the cinnamon sugar dip recipe. Measure and mix your sugar and cinnamon in that shallow bowl.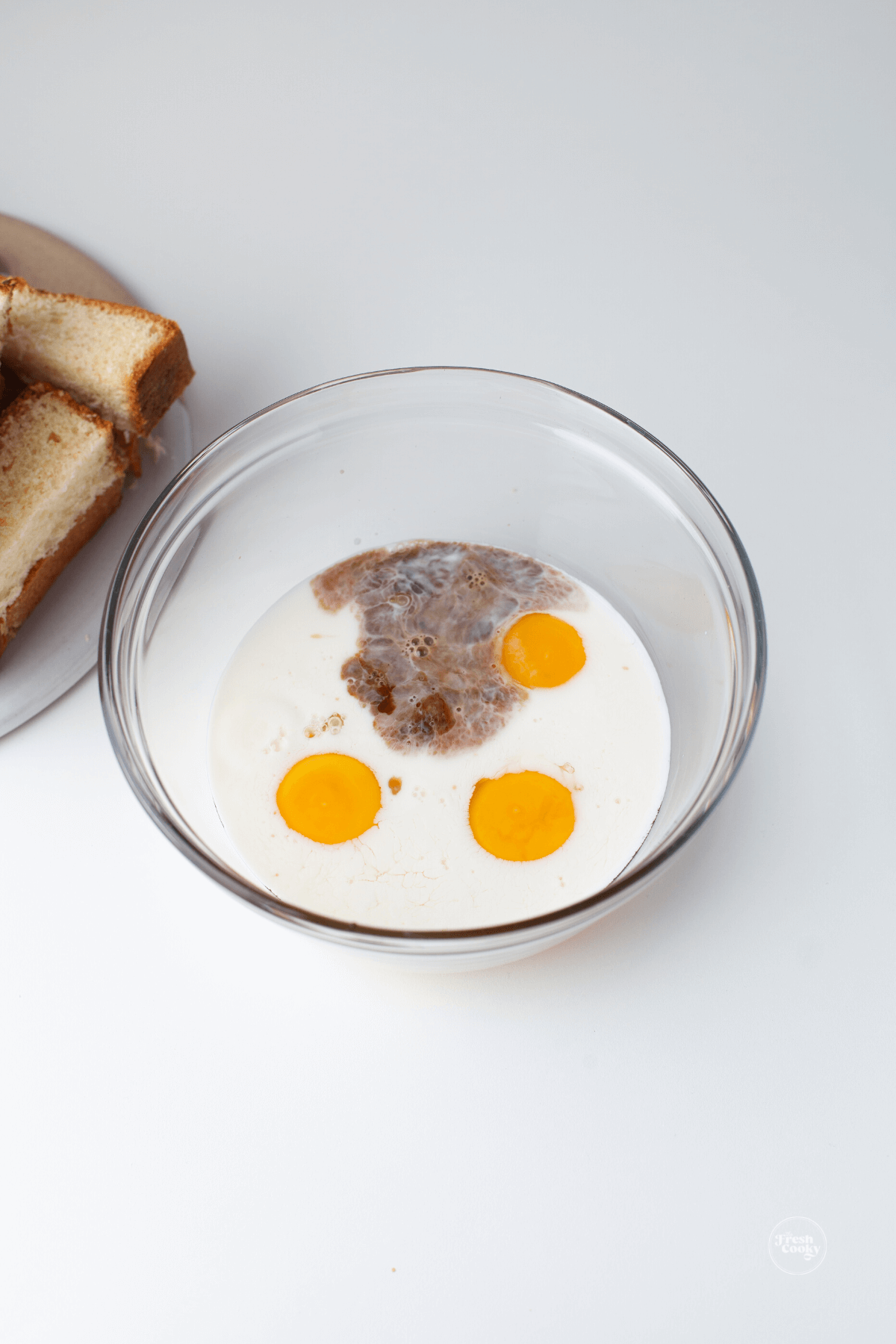 If your bread slices don't fit into this bowl evenly so that every inch of the dipped bread is covered in the mixture, there is an easy fix. Transfer some sugar and cinnamon to a shallow dish. That way, you can turn your slice around and cover all sides evenly.
Step 3 | Coating the Bread
Just like when making these air fried raviolis, this is a multi-step process. Line up your bowls to make it as easy as you can.
Then start coating the toast pieces. Dip each slice of bread into the custard mixture, ensuring each side is evenly covered in the egg wash. If you don't mind little hands getting a bit messy, invite the kids to help you with this very kid-friendly recipe!
Then dip the egg-washed bread in the cinnamon sugar mixture. Allowing excess egg mixture to drip, then carefully dip the piece into your cinnamon-sugar mixture and use a spoon to cover all sides thoroughly.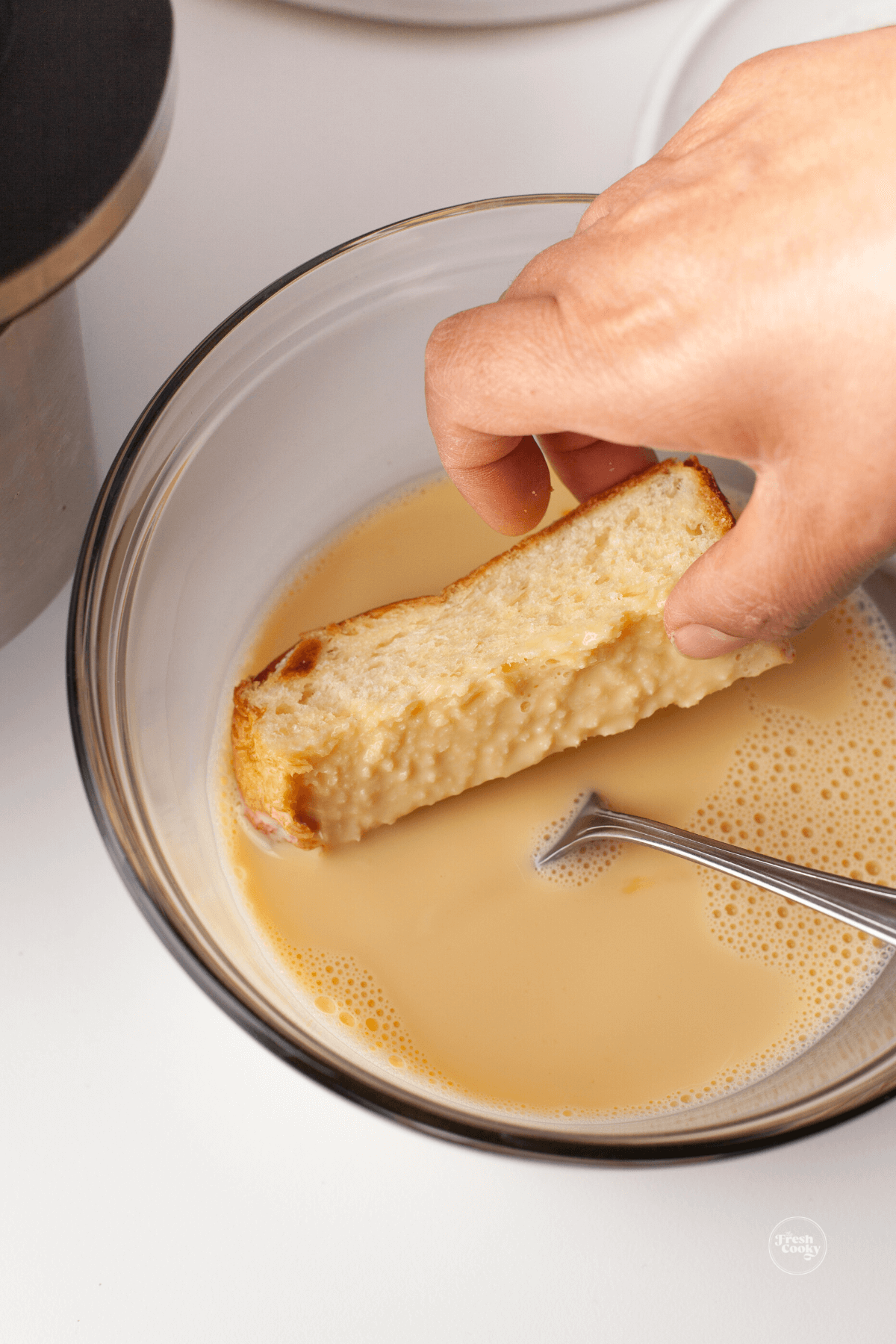 Step 5 | Into the Air Fryer
It is time to place the bread slices in your Air fryer and repeat until you have filled up all the available space in the air fryer basket. Now, it is essential to have room to turn them over and for them not to stick together. So, most likely, you will have to work in batches.
Also, as indicated on the recipe card, you will want to turn the toast pieces over halfway through the cooking time. Cook until the French toast is a gorgeous golden brown.
Then repeat the steps listed above until you have finished with all the bread slices you need for your sweet and crispy French toast recipe.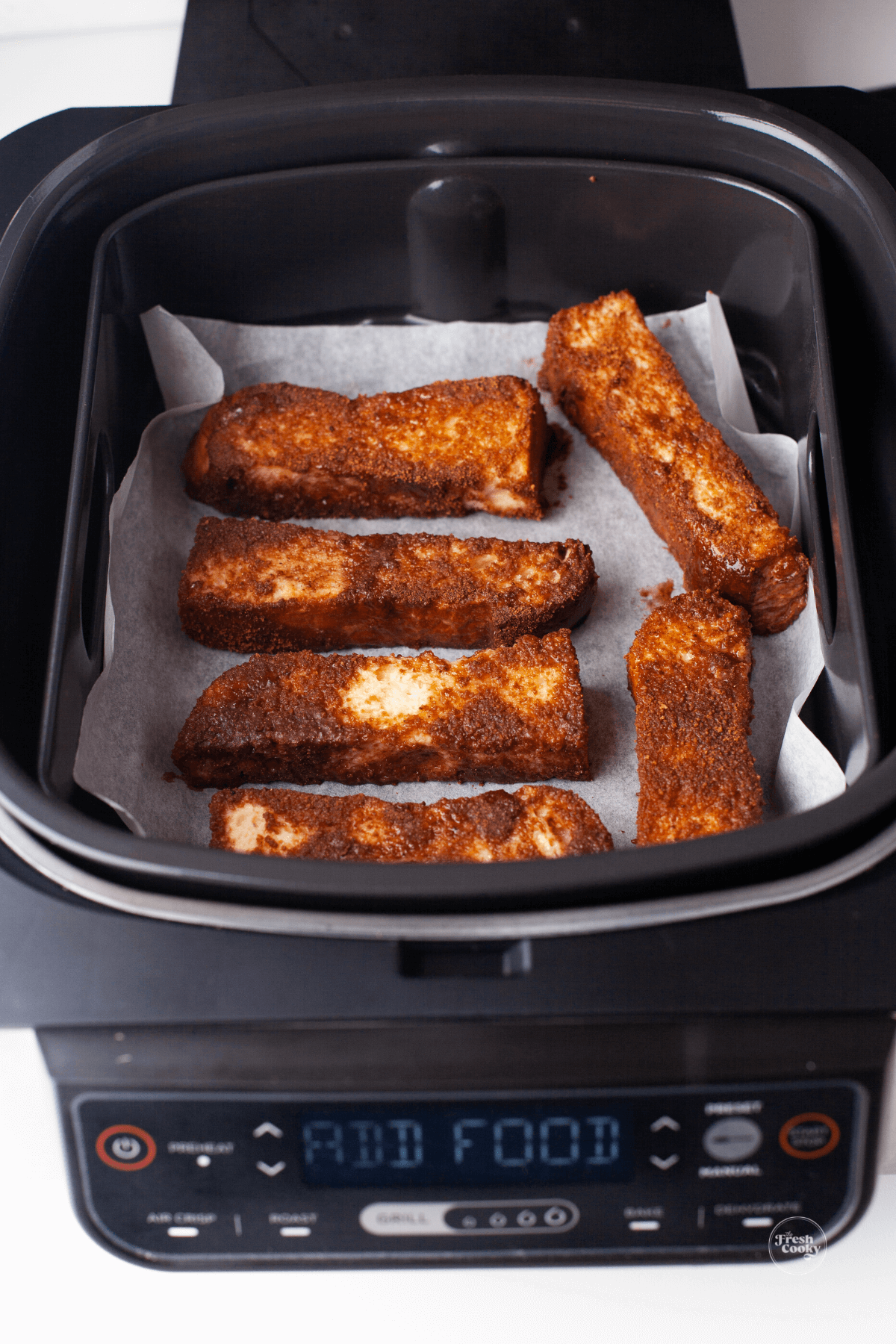 Step 6 | Top and Serve
Serve the air fryer French toast sticks immediately while they are warm and perfectly crispy golden. (Or lay them in a single layer on a baking sheet in a 275 degree oven to keep warm)
Place them on the plate and top with your choice of fresh toppings. Honestly, the options are only as limited as your imagination and taste preference.– Go crazy!
The Best Air Fryer
The best air fryer is the one that works with your budget, kitchen space and lifestyle!
Here are my favorites priced from lowest to highest:
Oven Instructions
Proceed through all of the steps, and lay cinnamon sugar coated French toast sticks on a parchment lined baking sheet.
Preheat oven to 350 degrees and then bake for 13 minutes, then turn and bake for another 13 minutes until golden, crispy and cooked through.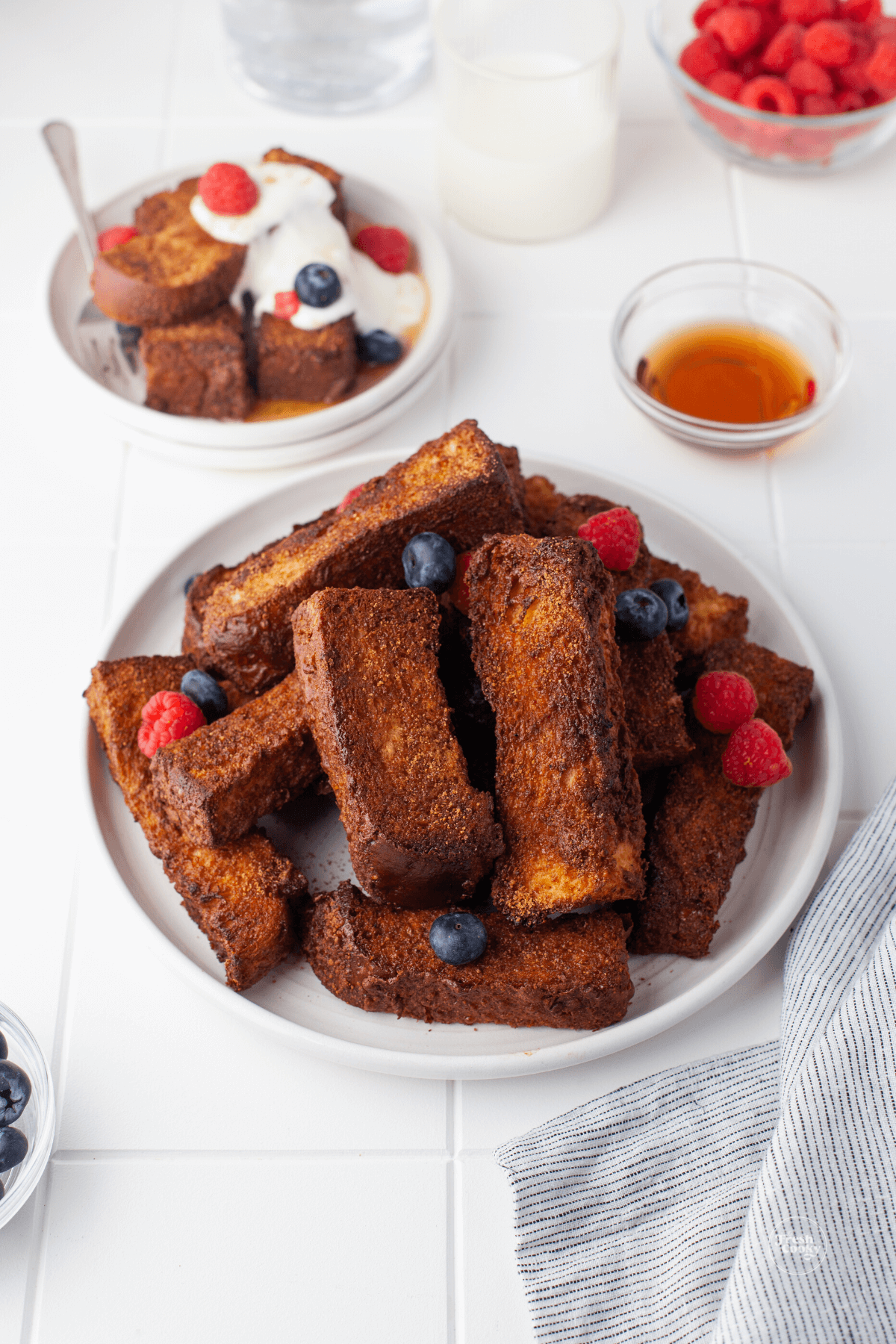 Ways to Serve
Try fresh honey, sweet powdered sugar, rich maple syrup, nut butters, Homemade whipped cream, fresh fruit, apple butter, Greek yogurt, and or fresh berries.
Oh, and you should try my strawberry syrup and blueberry syrup for a fun twist, or go over-the-top decadent and drizzle a little of this buttery vanilla sauce.
Serving Suggestions
This recipe would be perfectly paired with my Mock Eggs Benedict or a serving of Homemade Creamy Greek Yogurt and this fresh and fun Tropical Fruit Salad.
Frequently Asked Questions
Can you air fry frozen french toast sticks?
You sure can! Preheat air fryer to 375-400 F degrees. Place frozen french toast sticks uncrowded on the air fryer tray and spray lightly with a little spray oil. Bake for 3-6 minutes until crispy and hot. Serve immediately.
Can you toast toast in an air fryer?
Yes! Place desired number of slices, uncrowded in the air fryer basket. Set air fryer temperature to 400 degrees and air fry or toast for 3-5 minutes, depending on desired darkness of the toast.
Why is my French Toast not crispy?
This is one of those times when stale bread is best, fresh bread is worst. Stale bread soaks up the egg and milk mixture slower, allowing you to fry your french toast nice and crispy on the outside, soft and warm on the inside. Fresh bread absorbs your custard mixture too quickly. So go ahead, use that day or two old bread for your French Toast!
Can you use Pam cooking spray in your air fryer?
No. You should never use Pam or any cooking spray which contain propellents or additives which will harm the non-stick surface of the air fryer. So stick with pure spray oils, I like this Avocado spray oil the best.
How to Keep Cinnamon French Toast Sticks Warm
Turn your regular oven onto a warm setting and take out a baking sheet. Line the sheet with a parchment paper liner for easy cleanup. Now, place cooked slices on the baking sheet on one layer and place it in the oven until every piece of bread is air fried.
How to Make your Own Frozen French Toast Sticks
Dip and cinnamon sugar coat the bread sticks, laying them on a parchment lined baking sheet for 1 hour until firm. Then transfer frozen French Toast sticks to an airtight container or baggie. Freeze up to 3 months. Then take them to the fryer anytime you are ready, you might need a few extra minutes.
Variations and Substitutions
Bread Options | There are plenty of thick sliced bread options you can choose from. Use French bread, whole wheat bread (though it will be soggier), Challah, Texas toast or your favorite bread. Just be sure to watch the time when using different bread types, making sure it comes out perfectly crisp.
Milk | Use whole milk, other percentages of milk, plant-based milks — even half and half or heavy cream for even richer French toast sticks.
Spices | Add some pumpkin pie spice instead of cinnamon.
Sugar | Change the sugar to your taste! I used healthier coconut sugar for my first try (loved it), also used Monk fruit sugar replacement and cane sugar, too all delicious. Try brown sugar as well.
Storage and Reheating
Leftovers? Store your extra pieces of French toast in an airtight container or a ziplock bag to enjoy over the coming mornings. Up to 5 days in the fridge and 3 months frozen.
You can also freeze the cinnamon toast sticks before you place it in the air fryer for a pre-prepped and super easy best french toast anytime you desire.
To reheat, just air fry the bread slices for half the time, top, and enjoy!
More Cinnamon Breakfast Recipes for You
More Great Options for Breakfast
I hope you loved this easy breakfast recipe for Air Fryer French Toast Sticks — if you did, would you share your creation on Instagram, Facebook and Pinterest? And be sure to comment below!
Like this recipe?
Don't forget to give it a ⭐️⭐️⭐️⭐️⭐️ star rating and comment below the recipe!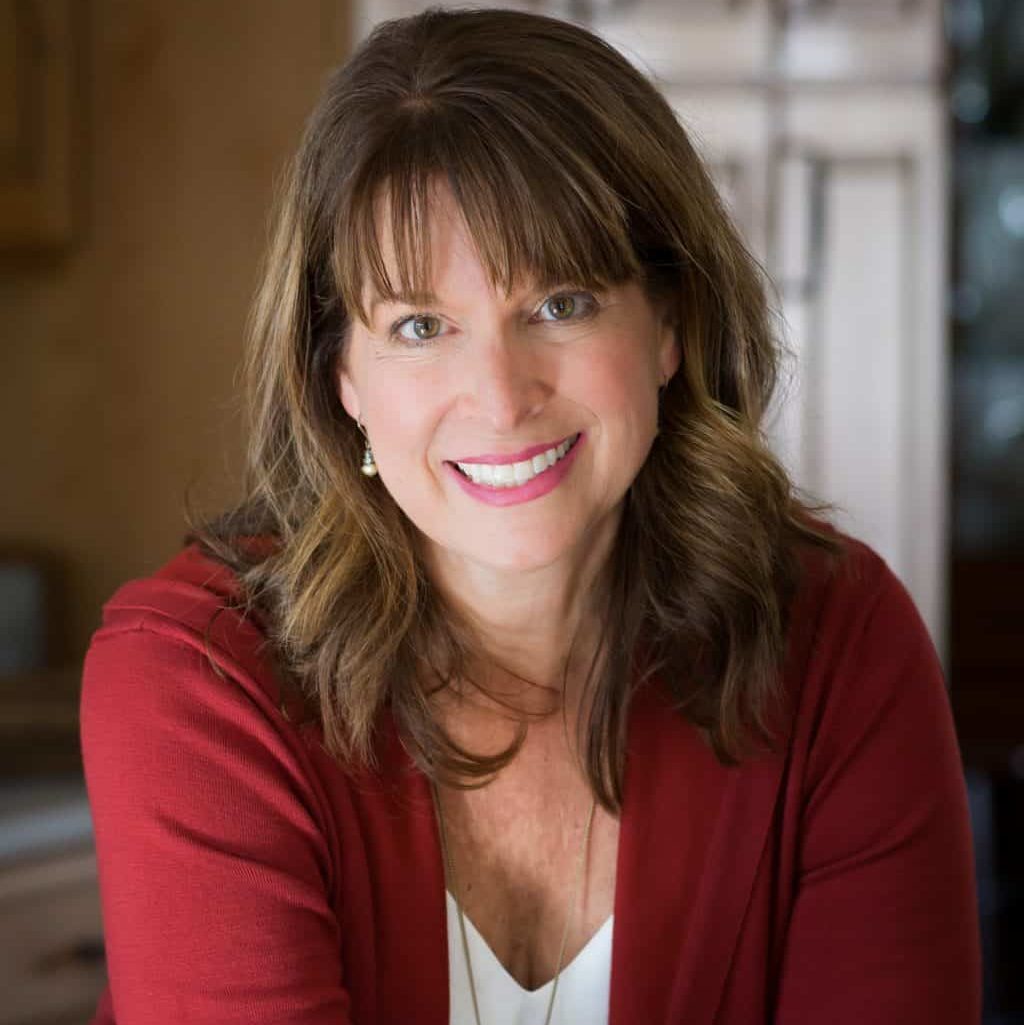 About Kathleen Pope
Recipe Innovator | Food Photographer | Food Writer
Hi, I'm Kathleen Pope. Here at The Fresh Cooky you will find easy, mostly from-scratch, trusted recipes for all occasions. From speedy dinners to tasty desserts, with easy step-by-step instructions. I am here to help teach you how to make mouthwatering recipes without spending hours in the kitchen. Read more about Kathleen here.