Easy Crispy Air Fryer Turkey Legs
As an Amazon Associate, I earn from qualifying purchases. Please read my disclosure policy.
Golden brown on the outside and tender and juicy on the inside, these easy Air Fryer Turkey Legs are perfectly rubbed with a smoky seasoned butter and air fried in no time! Yielding tender, juicy and crispy skinned turkey legs.
I just love using air fryer recipes for new and interesting ways to make weeknight dinners. And there are so many delicious recipes you can include with this juicy turkey leg entrée. For a complete meal, make Air Fryer Steak Fries or Air Fryer Sweet Potatoes. And finish off the meal with this recipe for Easy Air Fryer Apple Crisp and a hearty scoop of ice cream too!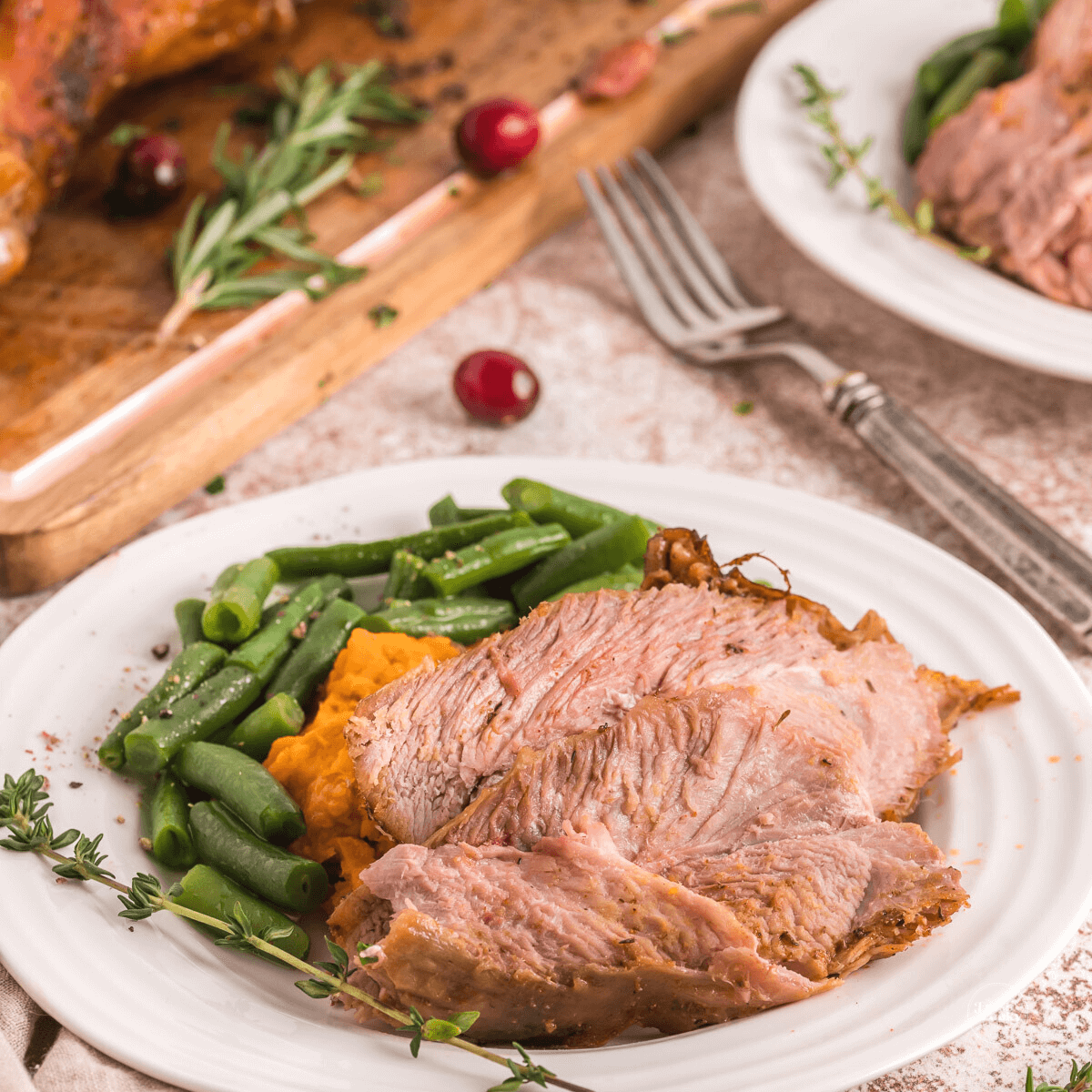 Why You Will Love this Air Fryer Turkey Legs Recipe
Hassle-Free Cooking | Easy cooking, fast results, and easy clean up—what's not to love?!
Low Fat Frying | You can still enjoy fried foods and use significantly less oil when you use an air fryer.
Variation | Enjoy turkey multiple ways this season when you get a bit creative, trying new tried-and-true fresh recipes, like my Leftover Turkey Divan!
There are always the traditional recipes we all love for the holidays, like Homemade Turkey Gravy, perfect over this juicy meat. Add a side dish of Corn Casserole, some Broccoli Au Gratin, and some Easy Yeast Rolls, and you have a classic Thanksgiving dinner made easily for any night of the week.
Healthy Twist
Turkey legs are slightly lower in calories than chicken, and air fryer doesn't dry them out.
Air Fryer cooking is fast, yes. But it uses much less oil than traditional frying for a healthier fried entrée.
Simple Ingredients
Ingredients, directions and nutritional information in the printable recipe card at the end of the post.
If you are cooking for just one or two, only make one turkey leg; or even better, make two turkey legs in air fryer and plan for leftover turkey!
If you have leftover turkey, why not make my fabulous Leftover Turkey Tacos or these Turkey and Cheese Sliders!
How to Make Air Fryer Turkey Drumsticks
Step 1 | Make the Seasoned Butter Rub
In a small bowl, combine softened butter with smoked paprika, seasoned salt, garlic powder, brown sugar, black pepper, thyme, and Italian seasoning. Stir until all the ingredients are mixed in.
*Important | Remove one tablespoon of the herb butter for basting; melt in the microwave, set aside.
Fresh Tips
Before you get started, keep this tip in mind. Different air fryers will require different cook times, so be sure to adjust your cook times accordingly.
Also, leaner turkey legs will take less time. So, start by reducing the time by 10 minutes per side. Then check the temperature progress and proceed.
Step 2 | Prepare the Turkey
I am not sure about you, but I like to rinse turkey before I begin cooking. Take the turkey legs out of the packaging and give them a good rinse.
Then, with paper towels, pat the turkey legs completely dry so the rub will stick. Then rub the herb butter all over the turkey legs, distribute the smokey herb butter all over the legs, including under the skin where you are able.
Step 3 | Get Ready to Air Fry Turkey Legs and Thighs
If you have not already, preheat the air fryer as directed on the recipe card below.
Now you are ready to place the seasoned legs in the air fryer basket. Make sure they are not touching so all the sides get nice and crispy.
Step 4 | Cook Your Turkey
In the preheated air fryer (400 degrees F), place turkey legs in basket without crowding and cook for the first 20 minutes. Then open the fryer and flip the turkey legs over, basting with 1 tablespoon of the reserved melted herb butter.
Now, close the air fryer and resume cooking for 20 more minutes or until the internal temperature reaches 160-165 degrees F with a meat thermometer.
Some larger legs may take a little longer.
Then, if they are browning too quickly, loosely tent the legs with aluminum foil and continue cooking until the correct temperature is reached.
Step 5 | Remove and Rest
Yes, you can rest too, but I am talking about resting the meat to retain all the juices. Carefully remove the turkey legs from the air fryer and allow the meat to rest on a plate or cutting board tented with foil for 5-10 minutes while you get the rest of the meal to the table.
Remember that allowing it to rest, allows the juices to return to the meat, cut it too soon and they will run out! Serve and enjoy!
How to Reheat Turkey Leg in Air Fryer
Remove the leftover turkey legs from the fridge and let them come to room temperature for 20-30 minutes. Then preheat the air fryer to 350 degrees and place turkey legs in the basket. Air fry for about 10 minutes, turning them over halfway through. Ta-da, that's how to reheat turkey leg in the air fryer.
How to Quick Thaw Frozen Turkey Legs
Without removing the packaging, submerge frozen turkey legs in room temperature water for 2-3 hours. Remember to change the water if needed and keep it cold. Or remove them from the freezer and place the sealed package in the fridge overnight.
How to Roast Turkey Legs in Oven
I get it, you might not have an air fryer yet, but when you do give it a try, until then here are the instructions to roast turkey legs in the oven.
Variations & Substitutions
Recommended Equipment to Air Fry Turkey Breast
Storage Tips
Turkey Legs in the Air Fryer will last in the refrigerator for 3 to 4 days. Keep them stored in a zippered bag or an airtight container.
Cool turkey legs completely, wrap well with foil or plastic wrap and then store in air tight freezer baggie. Freeze up to 3 months
Fresh Tips
Turkey is fully cooked when it reaches 165 degrees F, and the turkey meat juices run clear. I recommend using a meat thermometer inserted into the thickest part of the turkey leg for the most accurate results.
If using a countertop air fryer, sometimes the turkey will brown too quickly before cooking all the way through. If you are able, lower the basket to the middle-lower portion of the air fryer oven and, if needed, tent it with foil towards the end.
Frequently Asked Questions
Can I air-fry frozen turkey legs?
If you want to try and air fry frozen turkey legs, reduce the temperature to 360 degrees F and rub the legs all over with half the butter mixture. Roast for 25 minutes, then flip and baste with the remaining melted butter mixture. Resume air frying for another 20-30 minutes. If browning too quickly, tent the legs with foil.
Where do I find the giant turkey legs?
Good question. Turkey legs are available at your local grocery store in the fall. But if you want them any other time of year, you may need to ask your local butcher.
How do you keep turkey legs from drying out?
That is the beauty of Air Frying! Whatever protein you put in the air fryer comes out crispy on the outside and moist and tender inside, like these air fryer steak tips. It cooks so fast, there is no need to worry about dry turkey legs when you follow the instructions.
Do I need to brine my turkey legs?
Nope, the air fryer with its quick and cooking heat, keeps the breasts nice and moist.
More Turkey Recipes
Remember that all air fryers heat and cook a little differently; start with a little less time and use an instant-read thermometer to check the internal temperature of the turkey legs. Not to mention, the size of the turkey legs matters! Properly cooked poultry should be cooked to 165 degrees F. Be sure to let it rest for 10 minutes before enjoying.
I hope you loved this air fryer turkey leg recipe — if you did, would you share your creation on Instagram, Facebook and Pinterest? And be sure to comment below!
Like this recipe?
Don't forget to give it a ⭐️⭐️⭐️⭐️⭐️ star rating and comment below the recipe!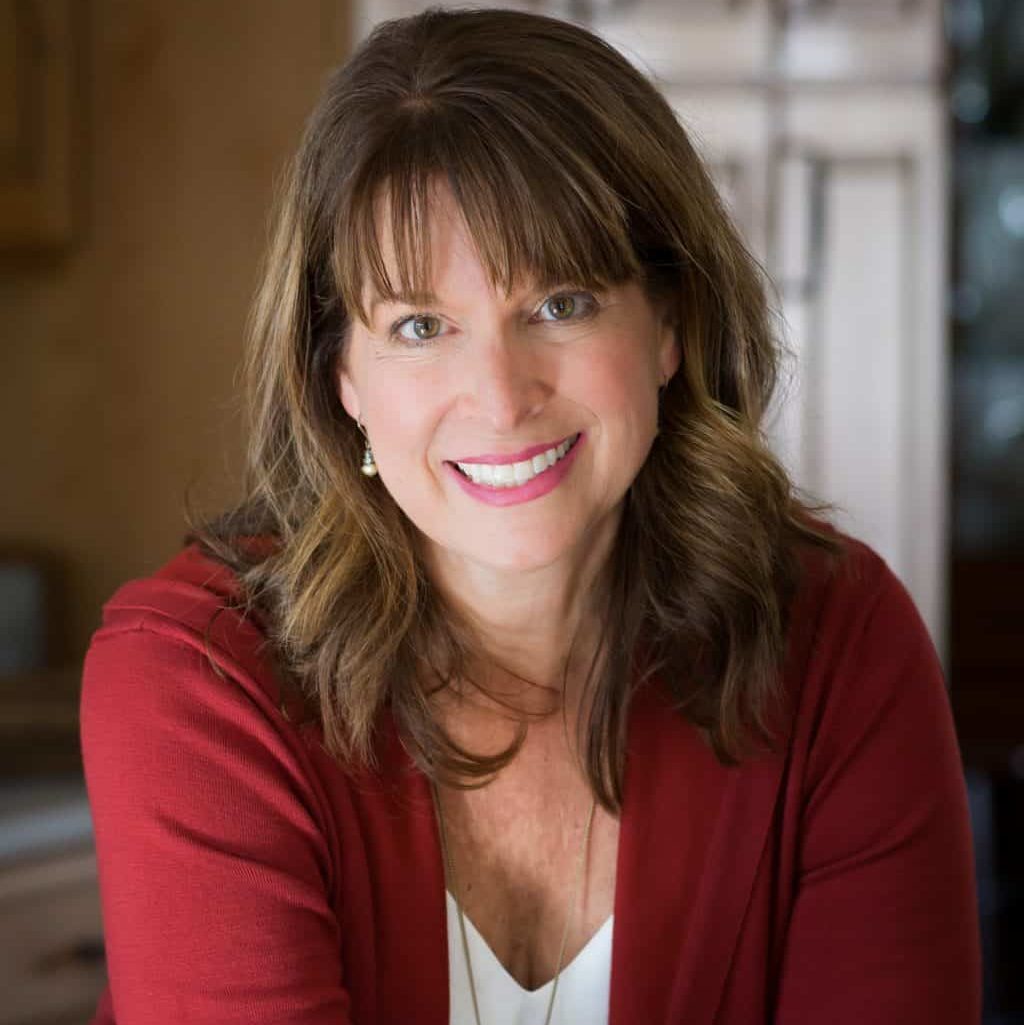 About Kathleen Pope
Recipe Innovator | Food Photographer | Food Writer
Hi, I'm Kathleen Pope. Here at The Fresh Cooky you will find easy, mostly from-scratch, trusted recipes for all occasions. From speedy dinners to tasty desserts, with easy step-by-step instructions. I am here to help teach you how to make mouthwatering recipes without spending hours in the kitchen. Read more about Kathleen here.