Easy Leftover Turkey Tacos Recipe
As an Amazon Associate, I earn from qualifying purchases. Please read my disclosure policy.
Transform leftover Thanksgiving turkey into these flavor-packed and juicy Leftover Turkey Tacos! These leftover turkey carnitas are perfectly seasoned with a balance of smoky, sweet, citrusy, and savory ingredients. It's the perfect way to enjoy leftover turkey!
Perhaps your family has its own Thanksgiving dinner leftover traditions. Well, be prepared for this one to blow all the rest out of the water! A leftover turkey taco is like a fiesta in your mouth!
Then, there are even more great ways to use all that delicious turkey. I know you will also enjoy these other uses for leftover turkey; Turkey Divan Recipe, Turkey and Wild Rice Casserole, or my Easy Oven Baked Turkey and Cheese Sliders. And if you need more leftovers, make my Air Fryer Turkey Legs, nom!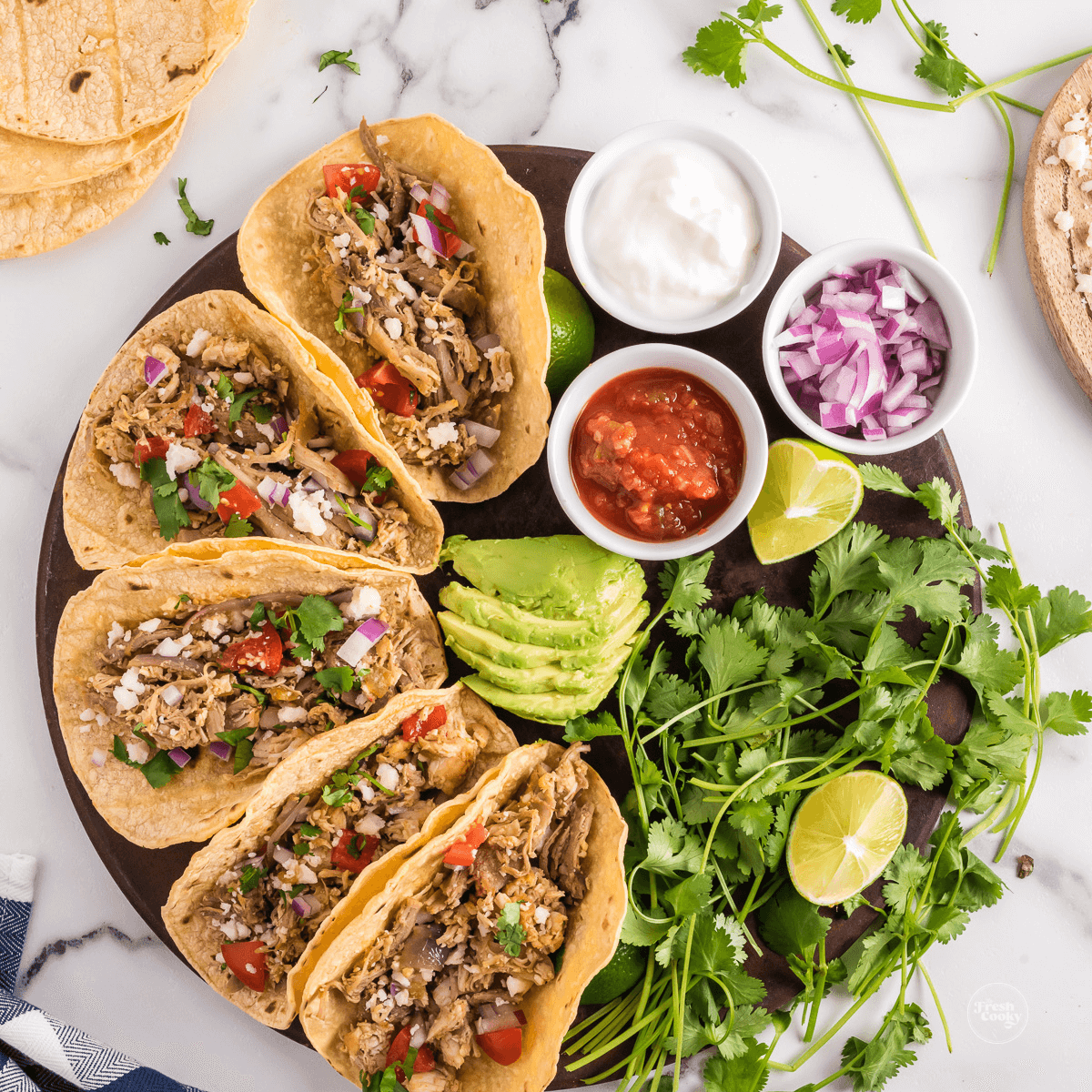 Why You Will Love this Recipe for Leftover Turkey Carnitas
And if you aren't a leftover fan, these tasty tacos are a great way to change your mind — get ready for an all-new meal.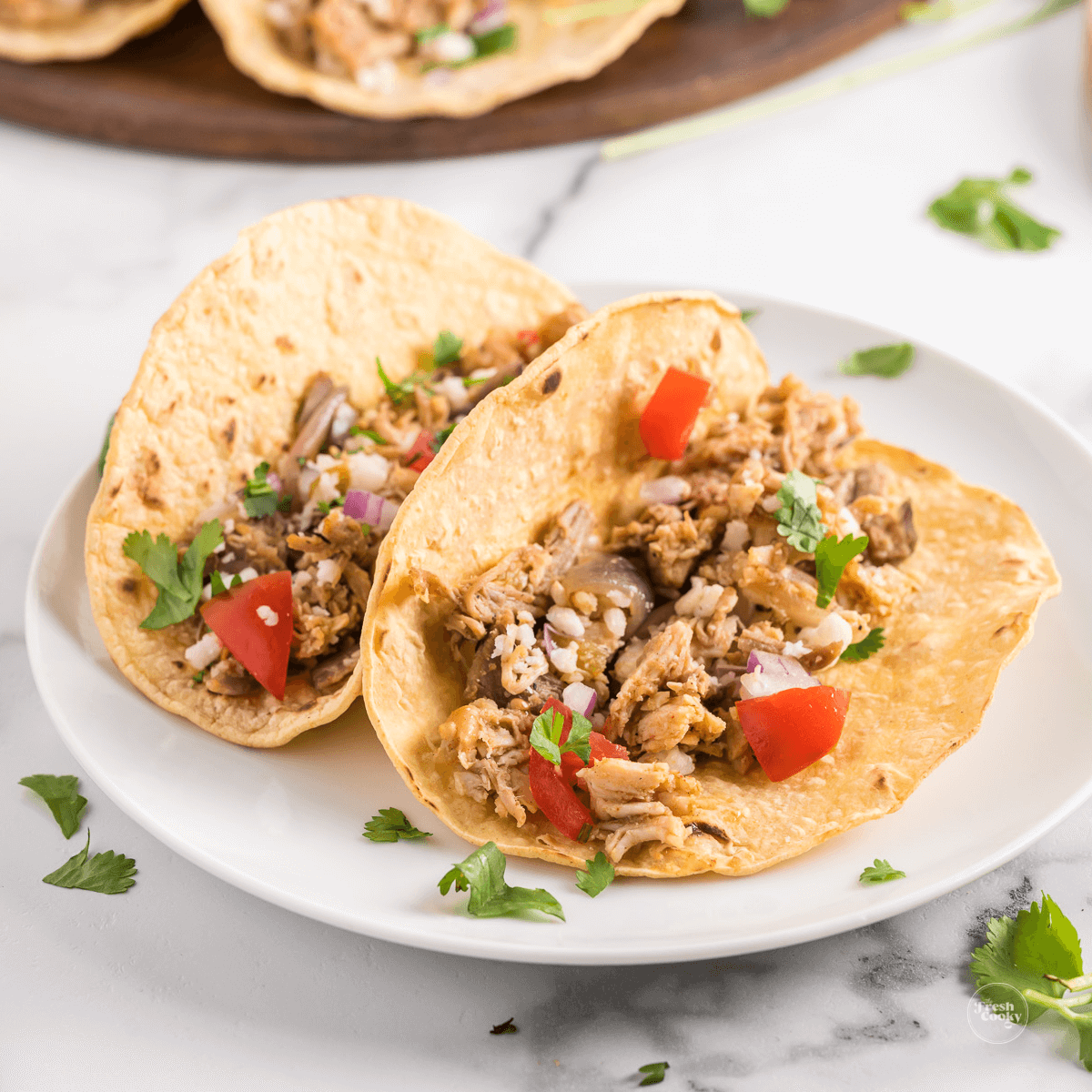 Healthy Twists
No Gravy Necessary | Often, people add a creamy and savory sauce to dress up roasted turkey, whether it's leftover or not. There's no carb-heavy gravy required for these flavorful turkey tacos. Here's a slam-dunk gravy recipe if you need one!
Customizable | Once you complete the turkey carnitas recipe, what you do with it is up to you! Toss the turkey onto a bed of mixed greens for a healthier meal.
By the way, make sure you check out these Healthy Leftover Turkey Recipes for more great ways to use extra Thanksgiving turkey.
This recipe can work for two people as it makes a total of six delicious turkey tacos—three each! You can halve the recipe, but honestly, just save the leftover turkey taco meat and freeze or make a turkey taco salad, burrito bowl, enchiladas, rice bowl for another day.
Simple Ingredients for the Best Leftover Turkey Taco
Ingredients, directions and nutritional information in the printable recipe card at the end of the post.
Leftover turkey | Use whatever turkey leftovers you have from the holiday. However, the recipe is best when you combine light and dark meat, need more leftover turkey breast, be sure to make my Air Fryer Turkey Breast.
Orange and lime | Freshly squeezed lime and orange juice give the turkey a bright citrus flavor to compliment some of the smokier notes, I created this recipe based on a Yucatan pork carnitas that are amazing!
Chicken broth | You'll want some chicken broth or stock nearby if your leftover turkey dries out while reheating. This ingredient isn't always necessary, but it's a good idea to have it just in case.
Green chilies | Use hot or mild canned green chilies to bring some heat to the taco meat.
Spices | Garlic powder, cumin and smoked paprika bring authentic flavor into this great meal.
Honey | Enhance the citrusy and savory notes in this leftover smoked turkey recipe with a touch of honey.
Oil | Use a high-heat oil with a mild flavor to sauté the onions and seasoned turkey. For example, avocados, sesame, canola, even olive oil will work great.
Red Onion & Garlic | Caramelize a diced red onion and a little garlic, adds just the punch you need.
Kosher Salt and pepper | Classic flavor boosters.
How to Make Leftover Turkey Tacos
Step 1 | Prepare the Ingredients
Put those delicious Thanksgiving leftovers to use by first tearing the turkey with clean hands or shredding it with kitchen utensils.
Now, before continuing with this recipe, you may want to prep the other ingredients. For instance, juice the lime and orange into a small cup or container and set them aside for when you need them. Also, thinly slice or finely dice the red onion and mince the garlic cloves. Now, you're ready to get rolling!
The turkey will be more tender and soak up more of the flavors of the carnitas if it is torn versus cut or diced. To make it easier, warm the turkey first in a little broth, then tear or shred with forks.
Step 2 | Season the Turkey Meat
Next, take out a medium mixing bowl. Add the orange juice, lime juice, green chiles, cumin, garlic powder, smoked paprika, and sweet honey, and stir the ingredients to combine. Then, add the turkey pieces and toss them in the spices until all the turkey is thoroughly coated. Be sure not to miss any pieces—you want each bite packed with flavor!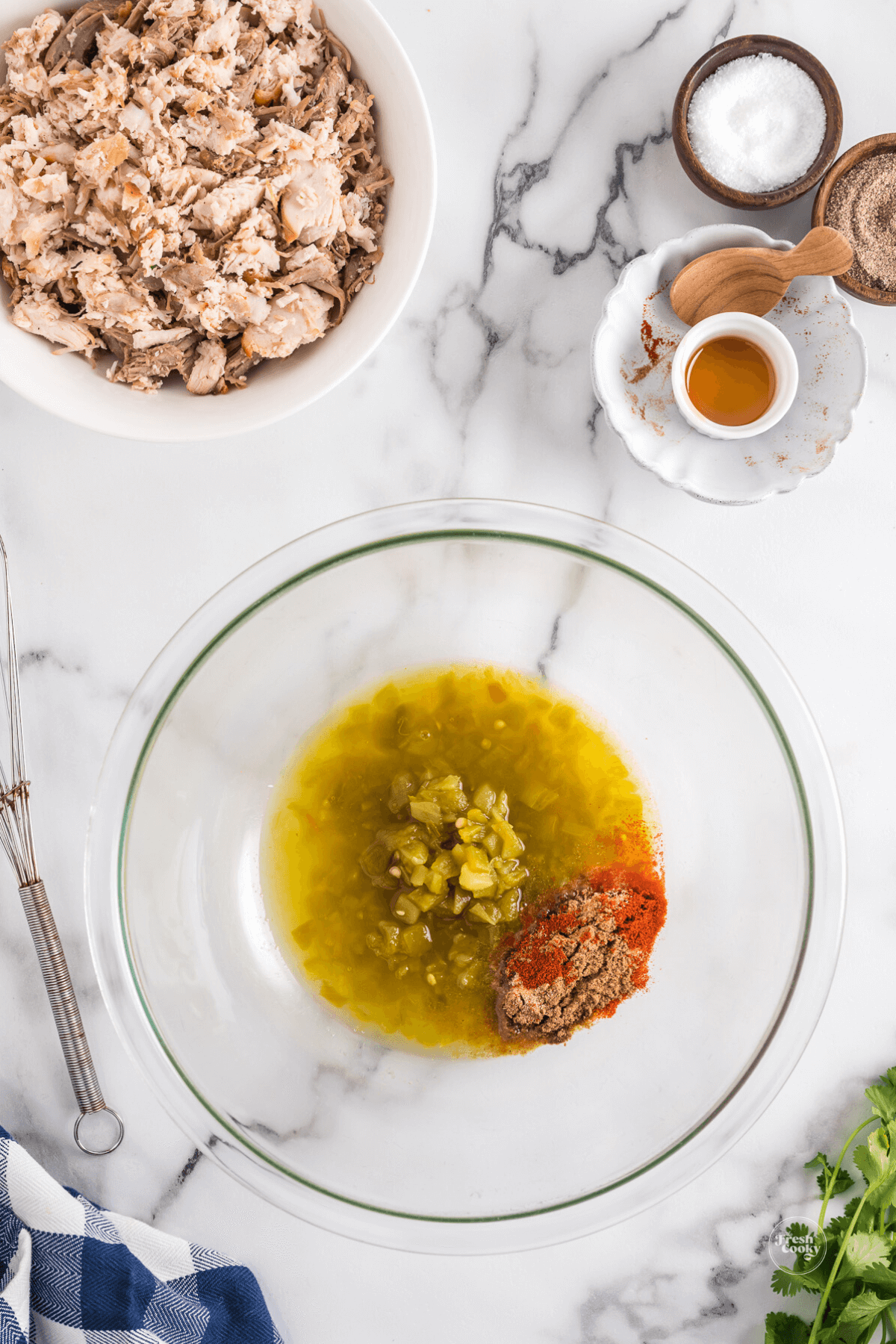 Now, pour the oil and seasoned turkey mixture into a medium pot or small Dutch oven. Set the heat to medium-low and simmer for about half an hour until the leftover turkey is tender. If the turkey begins to dry out, add a dash of chicken broth, water or a a little orange juice to keep it juicy and moist.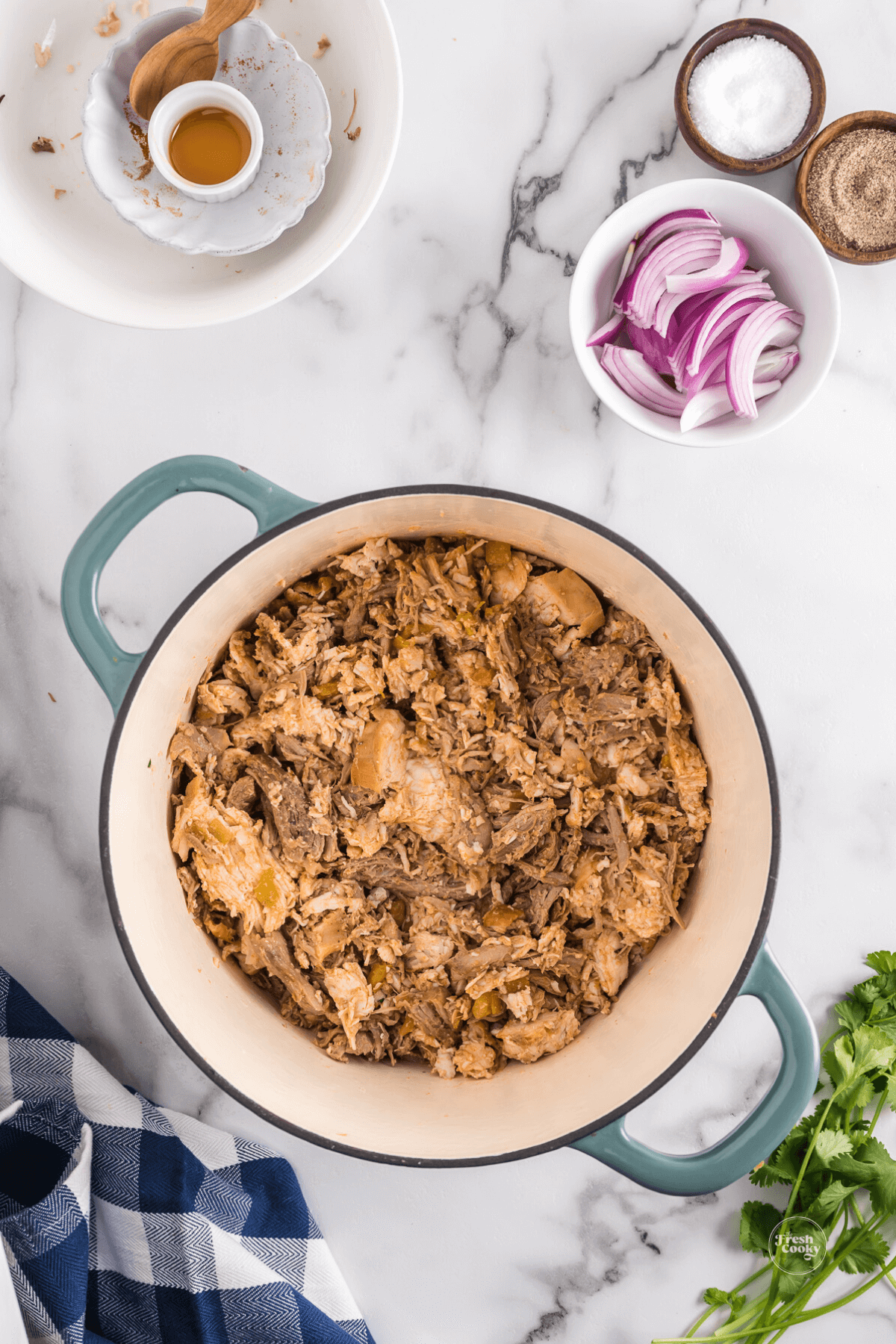 Next, shred the turkey a little more while it's still in the pot. At this point, the seasoned turkey should be tender and pull apart almost effortlessly.
Step 3 | Saute to crisp
In the meantime, heat a cast iron skillet over medium heat and add some oil as it warms. Next, sauté the diced red onions until soft and caramelized. Caramelizing the red onions should take around five minutes.
During the last minute of cooking the onions, sprinkle in the minced garlic and stir until fragrant.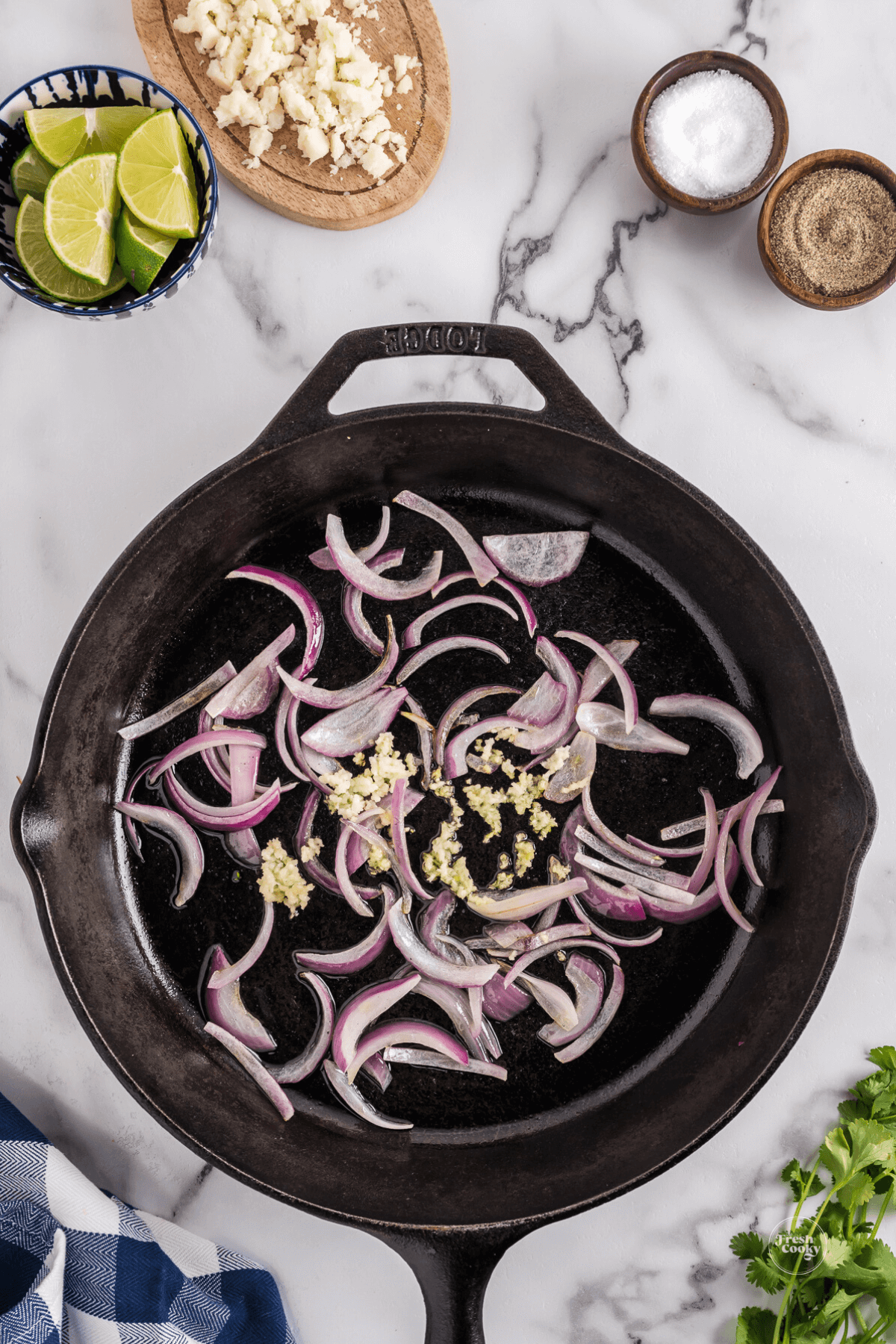 Next, increase the temperature to medium-high heat and add the tender seasoned turkey. You may need to add more oil so the turkey doesn't stick to the bottom of the pan. Sauté the meat, turning it about every five minutes. After about 15 minutes, your leftover turkey should be slightly crisp, giving it a carnitas flavor.
Step 4 | Final Seasoning
Finally, finish this simple recipe by squeezing half a lime over the meat and sprinkling some salt and pepper to taste.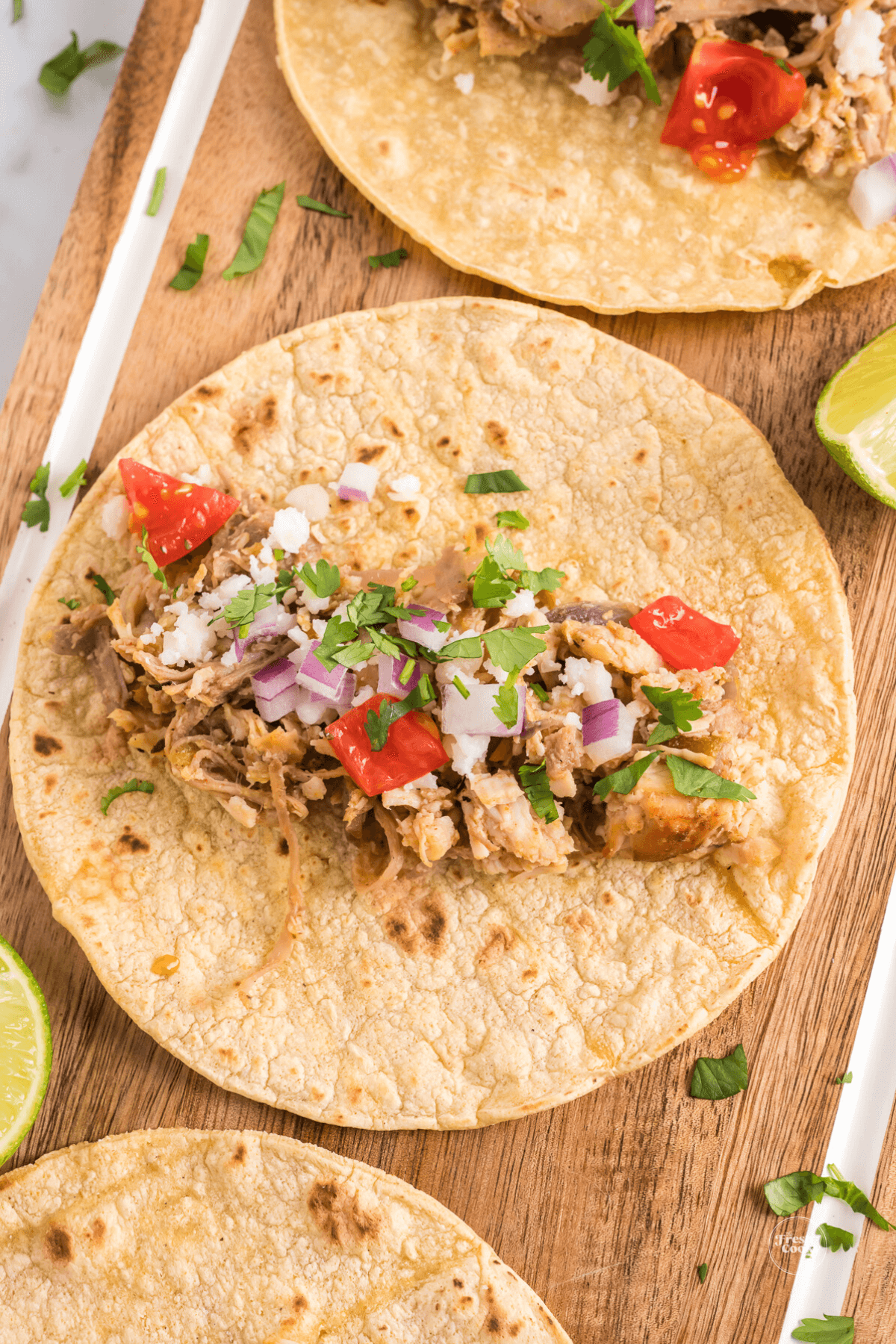 Are you ready to dive into this tasty and practical dish? Just divide the turkey taco meat into warm tortillas or hard taco shells and dress them with your favorite taco toppings. Enjoy!
Fresh Tips
To get the most juice from your orange and lemon, roll the fruit on the countertop, applying firm yet light pressure. You can also microwave each for about 30 seconds or combine both methods. Then, slice down the middle and squeeze into a container.
Serve immediately for the best flavor and experience.
In place of the oil, use leftover fat drippings from the roasted turkey or even bacon grease.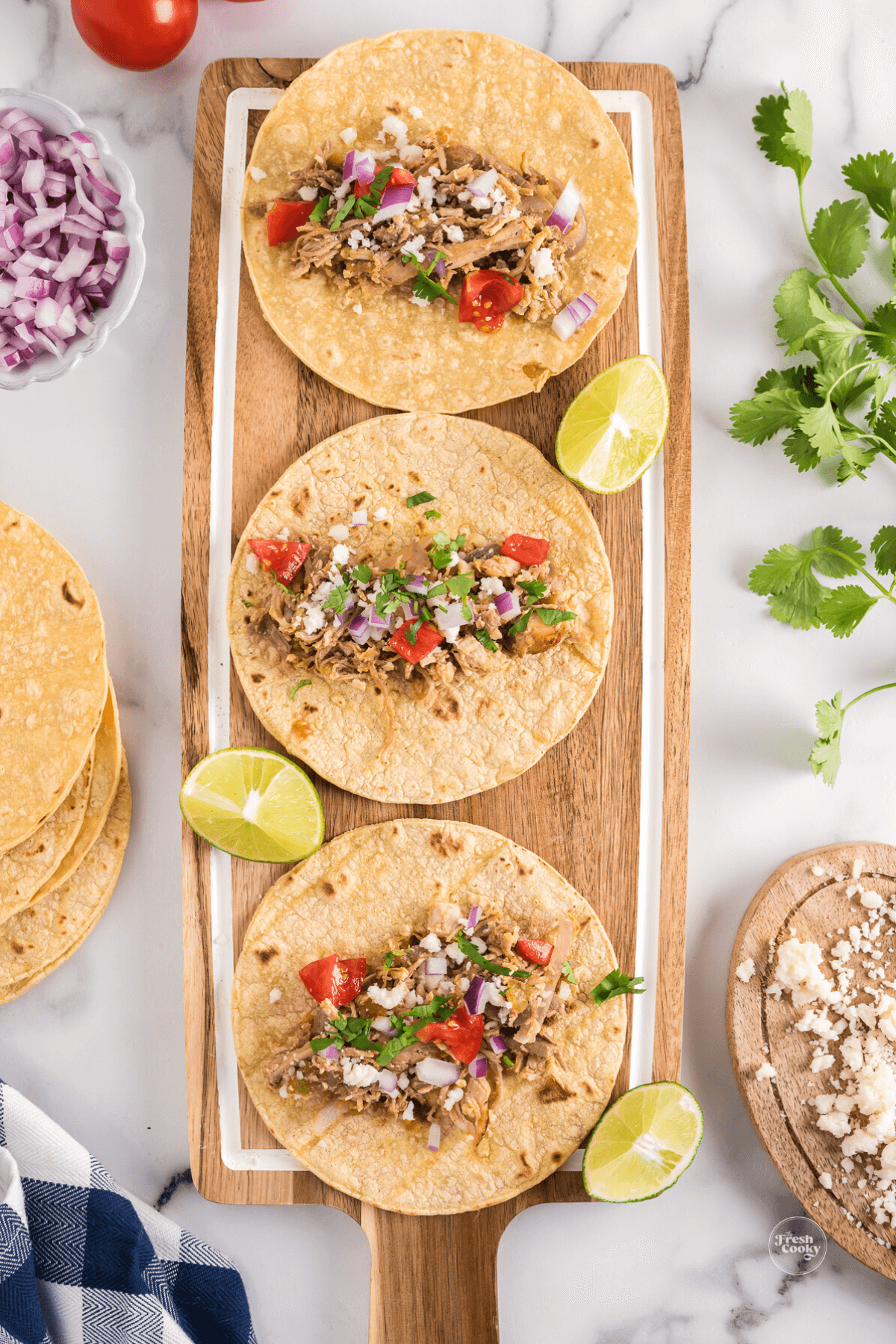 Turkey Taco Toppings
Say that three times fast! Perhaps the best part of this simple recipe is dressing up the tacos with all your favorite toppings! Here are some tasty ideas to get you started:
Corn or flour tortilla, soft or hard shells
Minced cilantro
Diced red onion
Shredded Cheese, try Cotija or your favorite Mexican cheese
Diced avocados or guacamole
Chopped green onions
Your favorite salsa
Chopped tomatoes
Sour Cream
Lime Wedges
Cranberry Relish (keeping with traditional leftovers)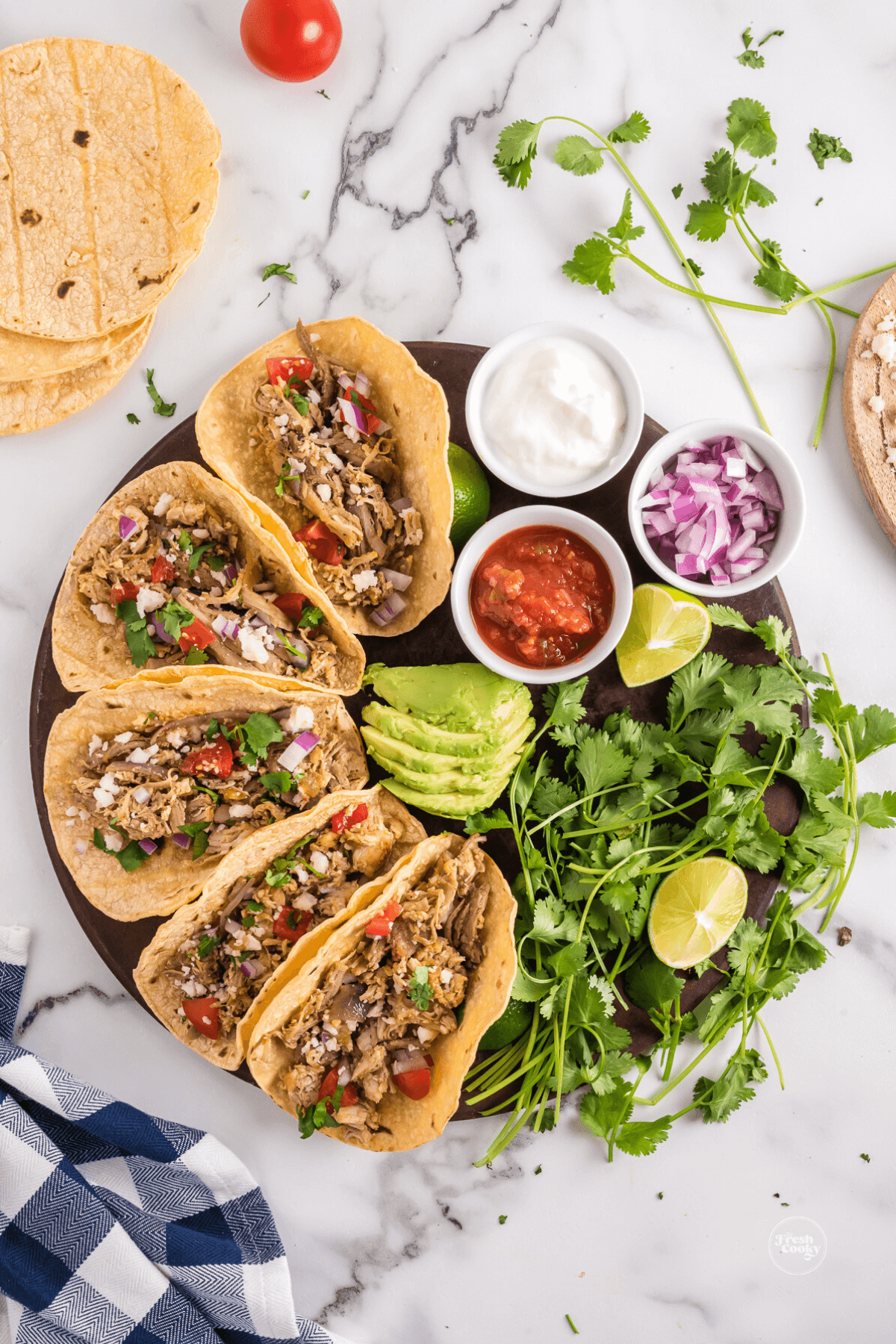 Variations & Substitutions
You may use this same process with leftover chicken as well.
If you don't have leftover Thanksgiving turkey but still want to try this tasty taco recipe, use about a pound of ground turkey and adjust the seasonings as needed.
Leave the green chilies out for a milder spice. You can also replace them with 1/2 – 1 teaspoon chili powder.
Add a tablespoon of adobo sauce to the turkey mixture for a more authentic taco flavor.
Take a shortcut using taco seasoning instead of paprika, cumin, and garlic powder – or make homemade taco seasoning for your next Taco Tuesday!
Storage Tips
Freeze | Store the completed leftover Thanksgiving turkey taco mixture in the freezer for up to six months, but keep in mind that the longer it sits in the freezer, the more flavor will be lost.
Meal Prep | Store the leftover turkey carnitas in an airtight container in the refrigerator for three to four days.
Frequently Asked Questions
How long does leftover turkey last in the fridge?
Leftover turkey lasts between 3-4 days safely in a fridge at or below 40 degrees. Bacteria growth slows, but is not halted altogether when placed in the fridge. If you aren't sure when you will use your leftover turkey, cool it completely, then place in an airtight container and freeze up to 3 months.
Can you use leftover roasted chicken instead of turkey?
You sure can! Several types of meat work well, like ground turkey, ground chicken, rotisserie chicken, or chicken breast. Also, if you don't have enough Thanksgiving turkey leftovers for this recipe, add fresh chicken breasts or ground turkey.
Are turkey tacos gluten-free?
This leftover turkey taco recipe is gluten-free. However, there are some ingredients you want to double-check before serving these turkey tacos to gluten-free guests. Double check all of your spices and ingredients to make sure.

Also, ensure the leftover thanksgiving turkey was not made with gluten-containing spices. Finally, serve the turkey carnitas with gluten-free toppings and corn taco shells or corn tortillas.
Can you use the leftover turkey taco meat for meals other than classic tacos?
Absolutely! One of my favorite things about this recipe is its versatility. Use the perfectly-seasoned turkey carnitas in a refreshing taco salad, personalized burrito bowl, cheesy quesadillas, enchiladas, loaded nachos, or carnitas fries.

You can even serve the carnitas on their own with street corn salsa and black beans —YUM!
More Easy Recipes to Serve with Leftover Turkey Carnitas
It's so easy for the leftover turkey to dry out quickly when reheating. Add a dash of chicken broth or stock as you sauté the turkey to prevent this from happening.
I hope you loved these easy Leftover Turkey Taco recipe — if you did, would you share your creation on Instagram, Facebook and Pinterest? And be sure to comment below!
Like this recipe?
Don't forget to give it a ⭐️⭐️⭐️⭐️⭐️ star rating and comment below the recipe!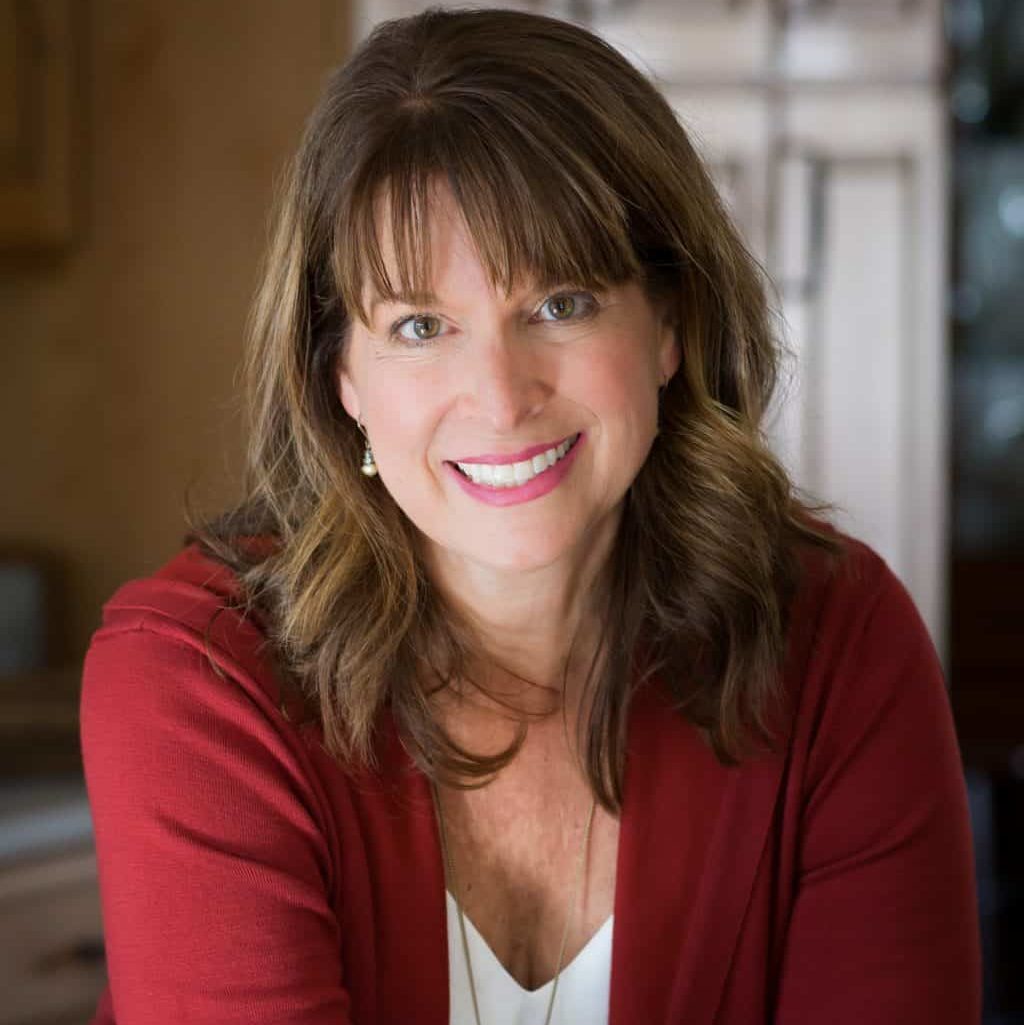 About Kathleen Pope
Recipe Innovator | Food Photographer | Food Writer
Hi, I'm Kathleen Pope. Here at The Fresh Cooky you will find easy, mostly from-scratch, trusted recipes for all occasions. From speedy dinners to tasty desserts, with easy step-by-step instructions. I am here to help teach you how to make mouthwatering recipes without spending hours in the kitchen. Read more about Kathleen here.