As an Amazon Associate, I earn commissions from qualifying purchases (
disclosure policy
).
This post covers the basics for turkey roasting; from fresh vs. frozen turkey, how to thaw a frozen turkey, cooking and roasting times for convection or conventional ovens. Plus, how to cook a frozen (or partially frozen) turkey, and finally how to rewarm turkey in the oven and in the crockpot.
All of this in a handy, free turkey roasting guide printable!
There is a LOT of information in this post for the turkey printable, I hope you use the below table of contents to make navigating a bit easier.
Every year I search online for the specifics on roasting a turkey, so this year I wanted to provide you with a free turkey printable.
Print one that you can tuck into your recipe box, or even better, print two and put one in your fall decoration boxes and the other in your Christmas decor boxes, that way, next year you will be prepared.
While this is not a recipe for how to roast turkey, try this simple tender roasted turkey. Plus you have to try my make-ahead Giblet Turkey Gravy — wowzers!
Free Turkey Cooking Printable
There is a button to click to get the free turkey printable at the end of this post. But hang around and get the all the information on turkey buying and roasting.
What is better? Fresh vs. Frozen Turkey?
The short answer is fresh is always best! A fresh turkey will actually last up to a month in the fridge.
But if you are like me, I oftentimes will buy a small frozen turkey to roast at another time of the year, especially when they are so cheap. So the bottom line is fresh is best, but frozen turkey can and will still be delicious.
Choose a Smaller Turkey vs. Giant Turkey
For years when we had a big gathering I would purchase a 20 plus pound turkey, not only do they take much longer to roast, but it is almost always more dry than a smaller turkey. Instead, for a much juicier bird, buy two smaller turkeys! If you need 20 lbs worth of turkey, then buy two 10 pound turkeys — it is so worth it in the long run, they are not harder to roast, but easier!
How much turkey per person?
Only you know your family and friends that you have invited, the general rule is 1-2 pounds per person, but here are a few more details:
Want Leftovers, plan on 2 pounds per person
Little leftovers, plan on 1 ½ pounds per person
No Leftovers, plan on 1 pound per person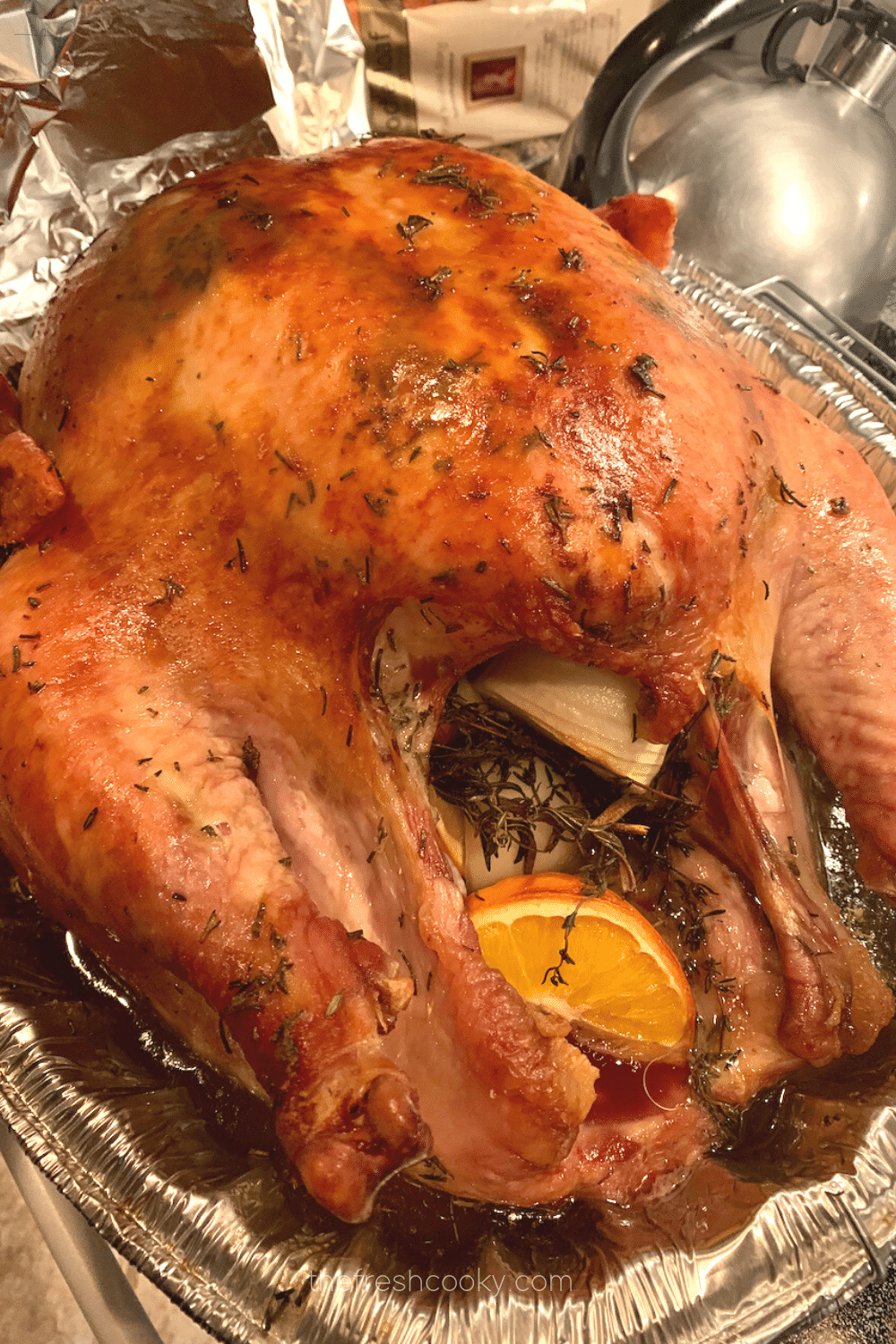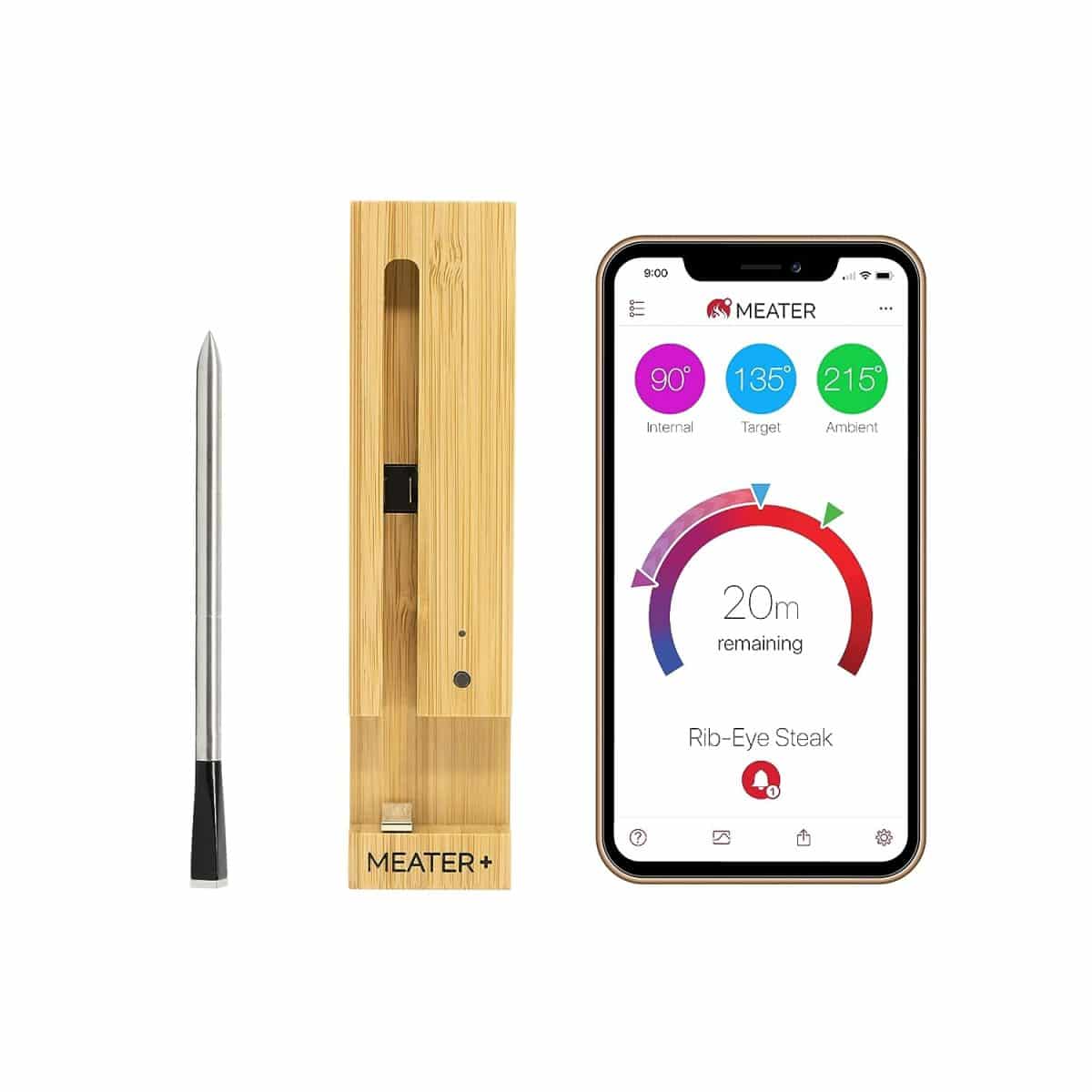 Favorite Meat Thermometer
How long does it take to defrost a frozen turkey
Thawing your turkey in the refrigerator
Allow at least one day (24 hours) of thawing for every 4 pounds of turkey; this is general rule, I can honestly say that my turkeys have always taken longer to thaw in the fridge.
Thaw turkey breast side up in the original wrapper on a tray in the fridge.
A fully thawed turkey is safe in the refrigerator 1-2 days before cooking. It may be refrozen, but you might lose some quality in the meat.
How to thaw a turkey in cold water
Plan to allow about 30 minutes per pound.
Place the turkey in a leak-proof plastic bag to prevent cross-contamination and to prevent the turkey from absorbing water, resulting in a watery bird.
Submerge completely the wrapped turkey in cold tap water.
Change the water every 30 minutes until the turkey is thawed.
Cook the turkey immediately after it is thawed.
Cold Water Thawing Times
4 to 12 pounds……..2 to 6 hours
12 to 16 pounds……6 to 8 hours
16 to 20 pounds……8 to 10 hours
20 to 24 pounds…..10 to 12 hours
A turkey thawed by the cold water method should be cooked immediately. After cooking, meat from the turkey can be refrozen. (Source)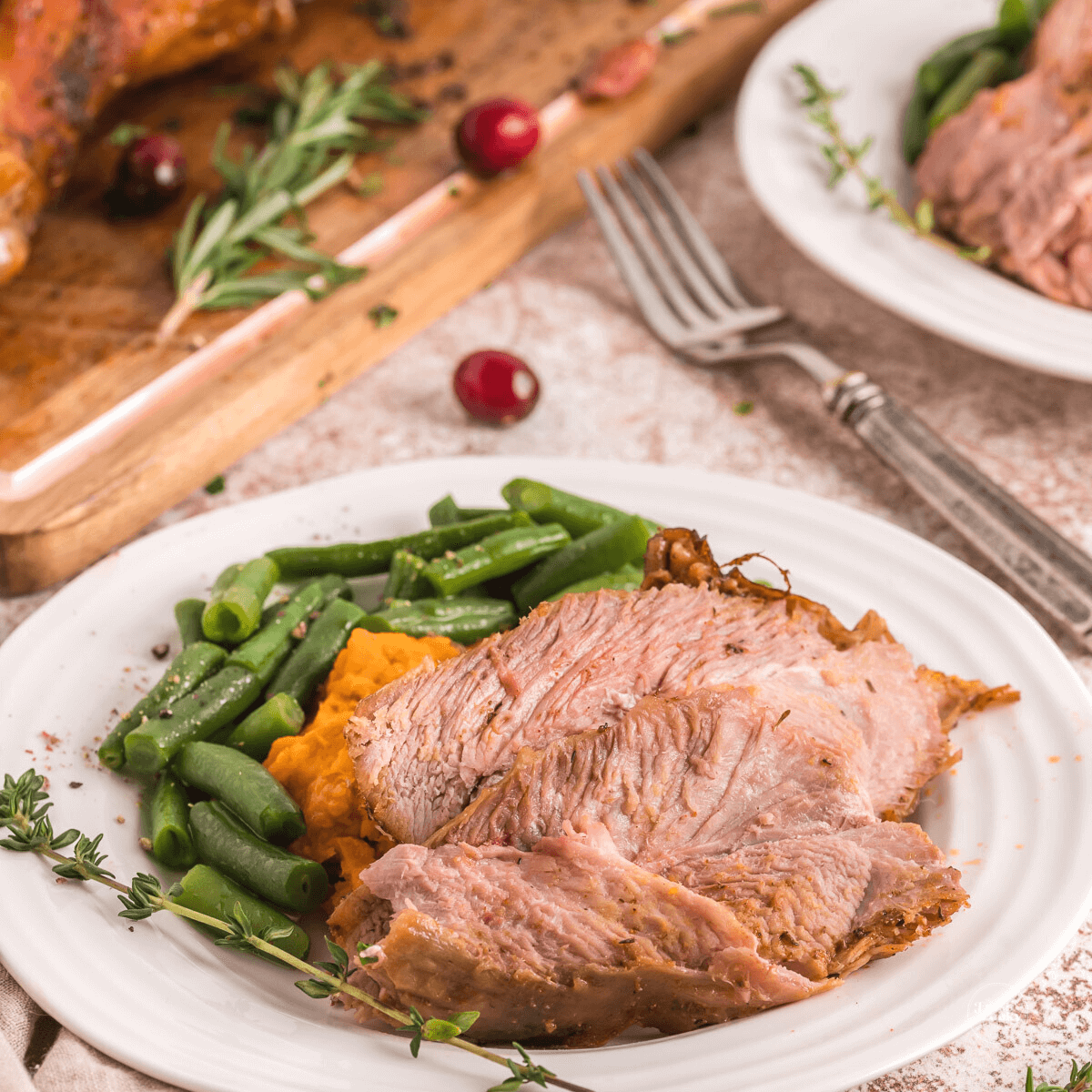 How to roast a turkey in a conventional oven
Move racks so that the turkey has plenty of room in the oven. Preheat oven to 450° F (230° C). When ready to roast your turkey, reduce heat to 350° F (175° C); roast according to below times:
Times to roast a turkey in a conventional oven
Roast an unstuffed turkey for 13 minutes per pound
Roast your stuffed turkey for 15 minutes per pound
Turkey is done when it reaches 165°F (74° C) when temperature taken in the thigh, without hitting a bone.
Remove turkey from oven and allow to rest 15-20 minutes, covered, before carving.
Pro Tip
Allow turkey to rest, tented with foil 15-20 minutes BEFORE carving! This allows the juices to return to the meat instead of running out when carved.
This is a great time to make your gravy from your giblet gravy stock!
Cooking Turkey in Convection Oven
Cooking turkey in a convection oven is faster, the meat more juicy – this is my favorite way!
Move racks to the lower part of the oven, place the turkey in the center of the oven, ensuring it has plenty of room. Preheat oven to 400° F (205° C) on the convection setting.
Why cook a turkey in convection oven?
Foods cook 25% faster in a convection oven than conventional ovens.
Prevents hot spots from forming due to constant air and heat circulation.
No need to baste the turkey when using convection oven setting, the heat that pours over the turkey sears it quickly, sealing in the juices. If a special sauce or marinade was used, baste in the last hour of roasting.
No need to cover the turkey, since the turkey will be done quicker, it will brown at a beautiful rate. If the legs and wings start browning too much, just cover those areas with foil.
What temperature should I roast a turkey in a convection oven
Roast your turkey for 15 minutes at 400° F (205° C), then reduce the temperature to 350° F for the remainder of the cooking time. If your oven has a meat probe, use it or a meat thermometer. If your oven does not have a meat probe, use the following chart as a guide.
Approximate times to roast a turkey in a convection oven
12-15 pounds 1.5 – 2 hours
15-20 pounds 2 – 2.5 hours
20-25 pounds 2.5 – 3 hours
Remember, turkey should reach 165° F (74° C) internally, when using a meat thermometer in the thickest part of the thigh (without touching the bone).
If the turkey has been stuffed, the stuffing should also reach 165° F (74° C). Adapted from the National Turkey Federation.
REMEMBER: Allow turkey to rest, covered 15-20 minutes BEFORE carving! This allows the juices to return to the meat instead of running out when carved.
How to Cook a Frozen Turkey (or partially frozen)
Did you know that you can cook a frozen turkey? Good knews for those of us who have realized, "YIKES, I totally forgot to thaw the turkey!" "Or yowza, my turkey is still partially frozen!"
I've got you covered!
Unwrap the turkey, remove the giblets, if included (should say on the packaging) they will be in the neck and/or the bottom cavity. Remove them and make that amazing giblet gravy!
Place frozen or partially frozen turkey on a roasting rack, then place in a roasting pan.
Fresh Tip
No roasting rack? No problem. Using foil, coil the foil into a curled up snake like shape, and place turkey on top. You will need a decent amount of foil. You can also use a small cooling rack that is oven safe and if you don't have foil, use thick sliced onions under the turkey.
Roast turkey in a preheated 325° F (165° C) oven; roasting until internal temps reach 165° F (74° C).
Roasting Times for Frozen Turkey
8 – 12 pounds | 4 to 4.5 hours
12 – 14 pounds | 4.5 to 5.75 hours
14 – 18 pounds | 5.75 to 6.25 hours
18 – 20 pounds | 6.25 to 6.75 hours
20 to 24 pound | 6.75 to 7.5 hours
Slightly thawed turkey will take a little less time, just keep an eye on that internal temperature using a trusted meat thermometer.
REMEMBER: Allow turkey to rest, covered 15-20 minutes BEFORE carving! This allows the juices to return to the meat instead of running out when carved.
A Note about Roasting a Frozen Turkey
Frozen turkeys roast from the outside in, once the outside is thawed, pull it out, brush with butter, rub with herbs, salt and pepper and start basting with juices. The legs and wings will cook quicker than the rest of the bird, so cover those loosely with foil if they get too browned.
Reheating Turkey in the Oven (sliced)
Place slices of turkey in a covered baking dish, adding 1 cup of liquid (stock or broth) per every 2 cups of turkey, add a pat or two of butter over the top. Bake in a 300 degree oven for 20-45 minutes, depending on how much turkey and how cold it was to begin.
Reheating a Whole Turkey
Preheat the oven to 275° F (135° C).
Cover the entire turkey with foil and place back in the roasting pan, then place in the preheated oven. Heating for about 5 minutes per pound. For reference, a whole 10 pound turkey would take about 50 minutes to reheat.
In case you haven't read it earlier: Allow turkey to rest, covered 15-20 minutes BEFORE carving! This allows the juices to return to the meat instead of running out when carved.
Reheating Turkey Using a Slow Cooker or Crockpot
This is one of my favorite ways and this year, I plan on roasting our turkey for the family dinner the day before, then reheat or warm up in the crockpot.
If roasting turkey ahead of time, roast using one of the methods above; then allow to rest for 15-20 minutes before carving. Carve and place desired amount of turkey in crockpot or slow cooker.
Add turkey slices to crockpot and pour turkey or chicken stock or broth over the top, 1 cup of liquid per 2 cups of turkey. Add 1-3 pats of butter to the top of the turkey, cover, and set the crockpot on low for 3-4 hours. Moist, juicy turkey and saved time and oven space.
Turkey Printable
To download the turkey printable, click the button below. It will have you sign up to receive my weekly newsletter always chock full of new recipes, tips and ideas, you may unsubscribe anytime.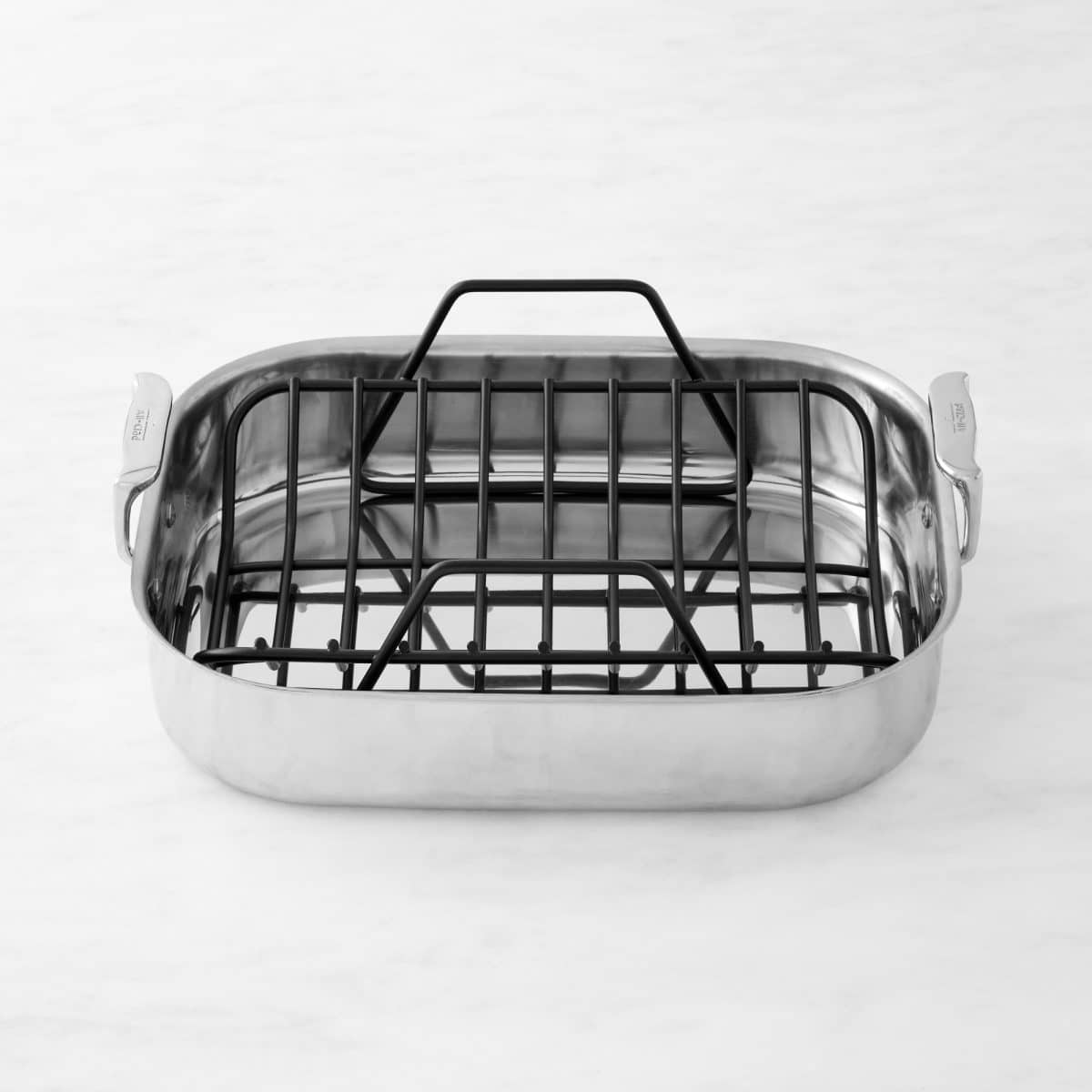 Thanks for hanging out with me today, I hope you learned something! Don't forget to download the free turkey printable!
Be sure to check out all of my holiday recipes!
Try my Air Fryer Turkey Recipes
If you don't have a large crowd, then you will love my air fryer turkey recipes.
Best Roasted Air Fryer Turkey Breast Recipe (Boneless or Bone-In)
You can have this easy Roasted Air Fryer Turkey Breast on the table in less than an hour. Loaded with flavor, juicy and tender every time. Use boneless or bone-in turkey breast.
Easy Crispy Air Fryer Turkey Legs
Golden brown on the outside and tender and juicy on the inside, these easy Air Fryer Turkey Legs are perfectly rubbed with a smoky seasoned butter and air fried in no time! Yielding tender, juicy and crispy skinned turkey legs.
Easy Juicy Air Fryer Turkey Thighs Recipe
Enjoy these easy juicy Air Fryer Turkey Thighs in less than an hour. Crispy skin on the outside, juicy and tender on the inside. Perfect for those times you don't need a whole turkey and are craving dark meat.
What to Make with Turkey Leftovers
Be sure to check out all of my holiday sides, holiday sweets and holiday drinks! I hope this turkey printable is something that you can use for years to come!
Happy turkey roasting!