Easy & Healthy Air Fryer Baked Sweet Potato
As an Amazon Associate, I earn from qualifying purchases. Please read my disclosure policy.
In minutes you will be serving hot, fluffy Air Fryer Baked Sweet Potatoes. They are incredibly healthy and easy to make, and they turn out perfectly soft inside with a delicious crispy skin.
This recipe takes a little less time than the traditional oven method. And leaves the oven open to make other scrumptious foods! Or in the summer you won't be heating up your whole house!
If you like this air fryer recipe, then try this yummy Air Fryer Ravioli or savory Air Fryer Steak Tips. For breakfast, try these Air Fryer French Toast Sticks. Don't forget dessert! Try this fantastic Fried Ice Cream! That is right; ice cream in the air fryer!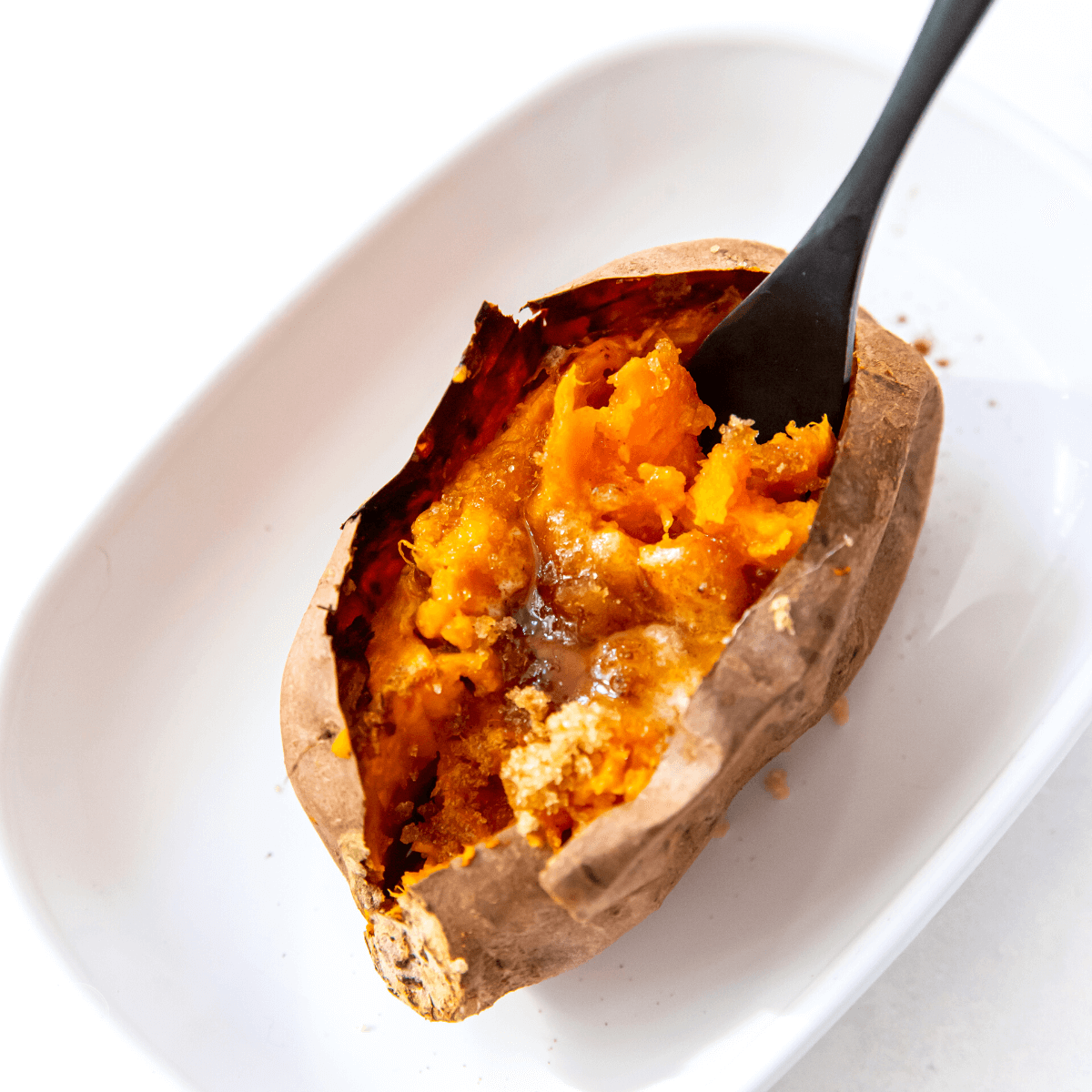 Why You Will Love this Recipe
EASY! This recipe is practically effortless. Just wash the sweet potatoes, pierce them with a fork, and pop them in the air fryer. Add toppings if you'd like, and that's it!
NO PREHEATING | This recipe starts in the cold air fryer, unlike waiting to heat up your oven.
CUSTOMIZE | Simple sweet potatoes give the cook plenty of room for personalization. Double up on the sweetness and add cinnamon or marshmallows. Or go savory and top with butter and herbs.
I am loving my air fryer and have been regular adding to my air fryer recipe collection!
This air fryer sweet potato recipe is great for an easy fall super. They're also a unique treat to bring to an office potluck, family dinner party, or Thanksgiving feast—especially when decadently topped with mini marshmallows, brown sugar, or cinnamon. Or keep them healthy by serving with a little pat of butter and a drizzle of maple syrup.
Healthy Twist
Optional Toppings | With this simple recipe, you have complete control over the toppings, meaning you decide on the additional calories.
Rich in Fiber and Antioxidants | Sweet potatoes are high in dietary fiber, which can help with digestion and weight control. Even better, they are rich in antioxidants and other vitamins and minerals.
Simple Ingredients
Ingredients, directions and nutritional information in the printable recipe card at the end of the post.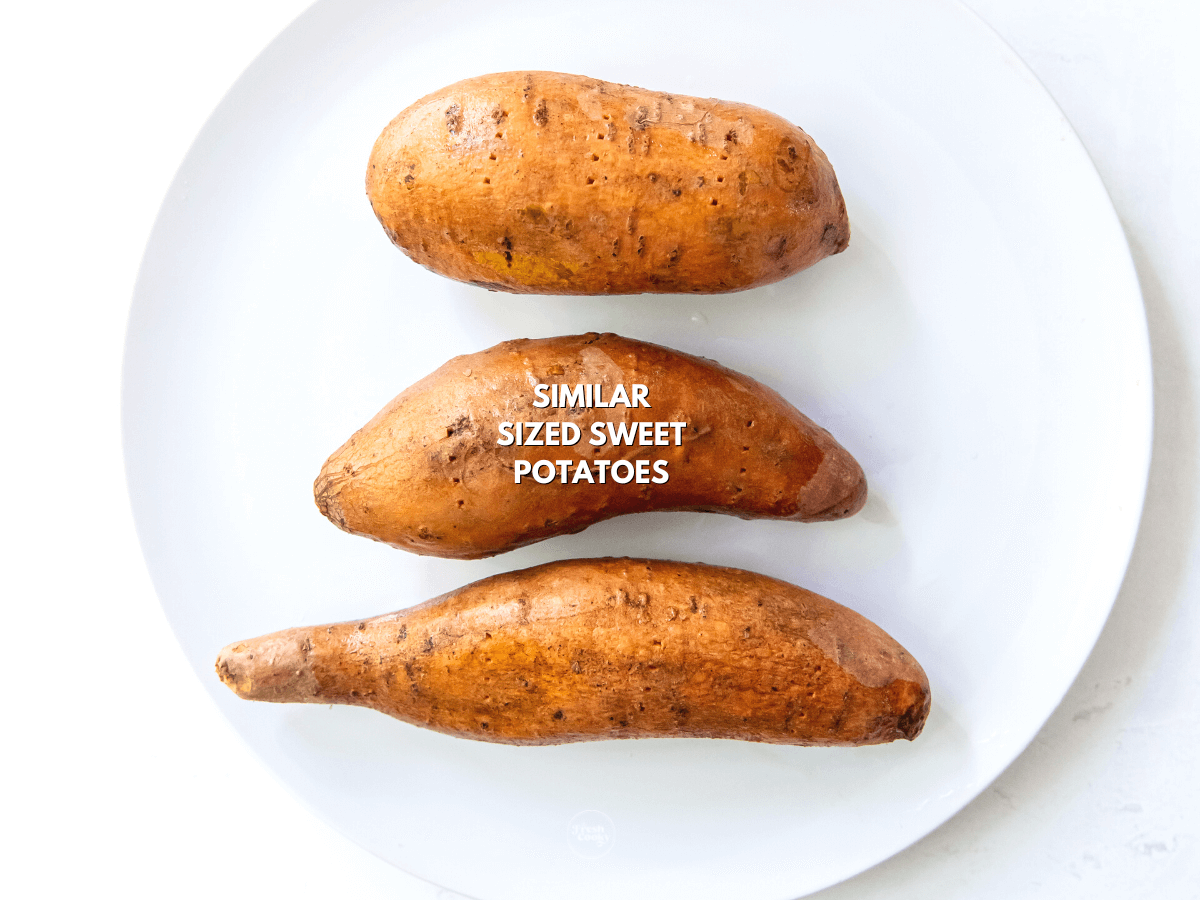 Sweet potatoes | Choose similar sized sweet potatoes, wash them well and dry them well.
Spray Oil & Kosher Salt | Optional, I like a little spritz on mine to crisp the skins even more!
Optional toppings | Some like to enjoy their sweet potatoes plain. However, most want to add a little something special. Read to the end of the post where I have loads of topping ideas!
The Best Air Fryer
The best air fryer is the one that works with your budget, kitchen space and lifestyle! Here are my favorites priced from lowest to highest:
How to Make Sweet Potato in the Air fryer
With less than five minutes of prep time and 35 of cooking time, these air fryer sweet potatoes for three make a great weeknight meal.
Start this simple recipe with some basic prep. Wash your sweet potatoes, dry them really well. Then carefully pierce them with a fork to prevent them from bursting out of their skin while being cooked.
Next, spray or brush the whole sweet potatoes with avocado oil or olive oil, if desired. This will create a crispier outside once cooked. If desired, sprinkle with a little kosher salt.
Then, place the sweet potatoes in your Air Fryer basket in a single layer; the rest is almost entirely hands-free!
Do not preheat the air fryer! Simply set the air fryer to 390 degrees for a cook time of about 35 minutes. The skins will crisp better if you start it as soon as you place the sweet potatoes in the basket.
You will know your sweet potatoes are done when they start to ooze a bit of juices from the holes made with your fork. Or do a simple squeeze test with a hot pad, if they give to gentle pressure they are done!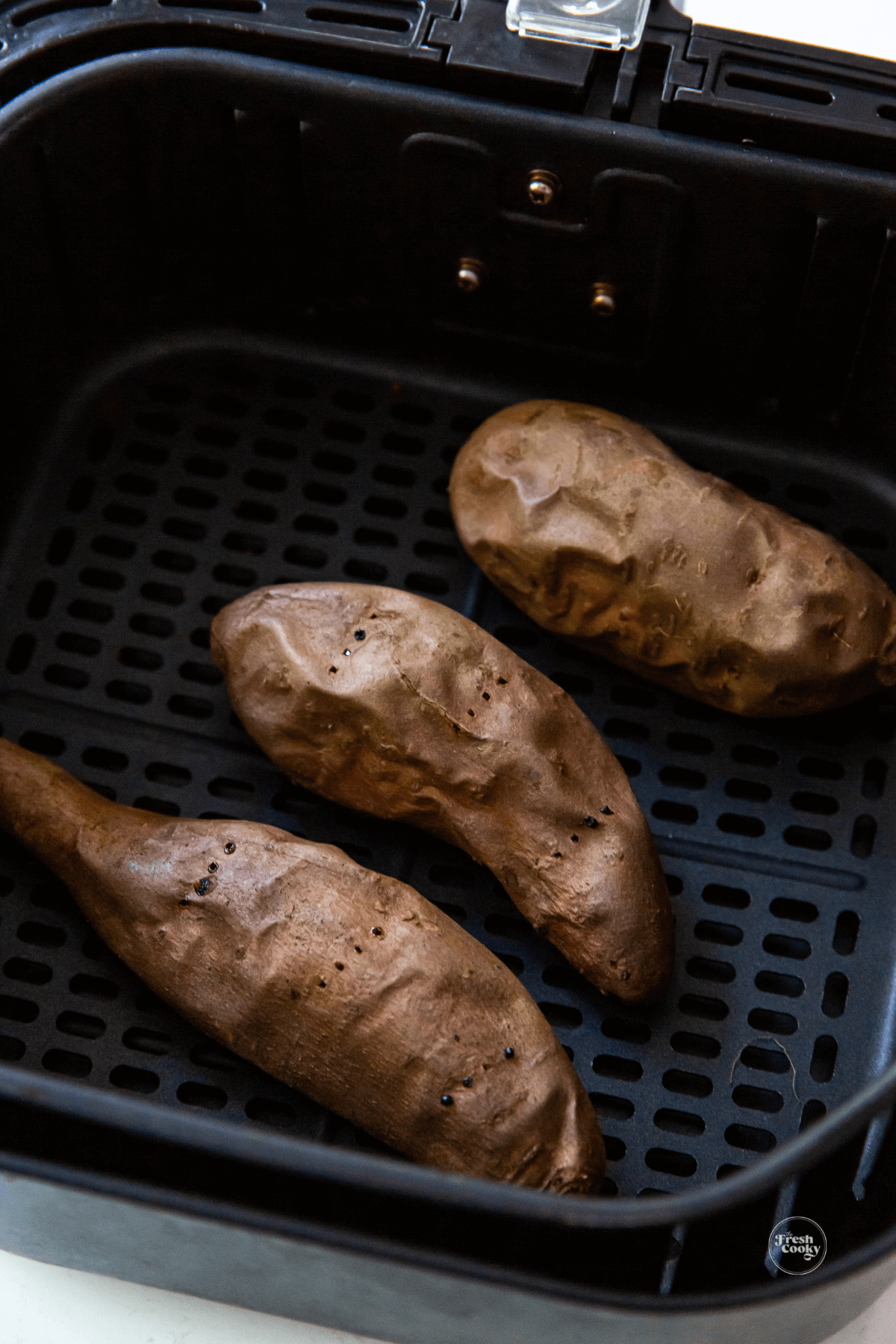 Carefully remove the fluffy sweet potatoes from the air fryer basket and serve with your favorite toppings—And that's it!
Fresh Tips for Air Fryer Baked Sweet Potatoes (Healthy)
The best way to wash your sweet potatoes is to scrub them with a vegetable scrubber or brush in circular motions. Run them under cool water, and remember to dry them really well before spraying with oil or adding them to the air fryer.
Choose similar sized whole sweet potatoes so they bake evenly.
Air fryer baked sweet potato is a healthy choice, great for meal prep!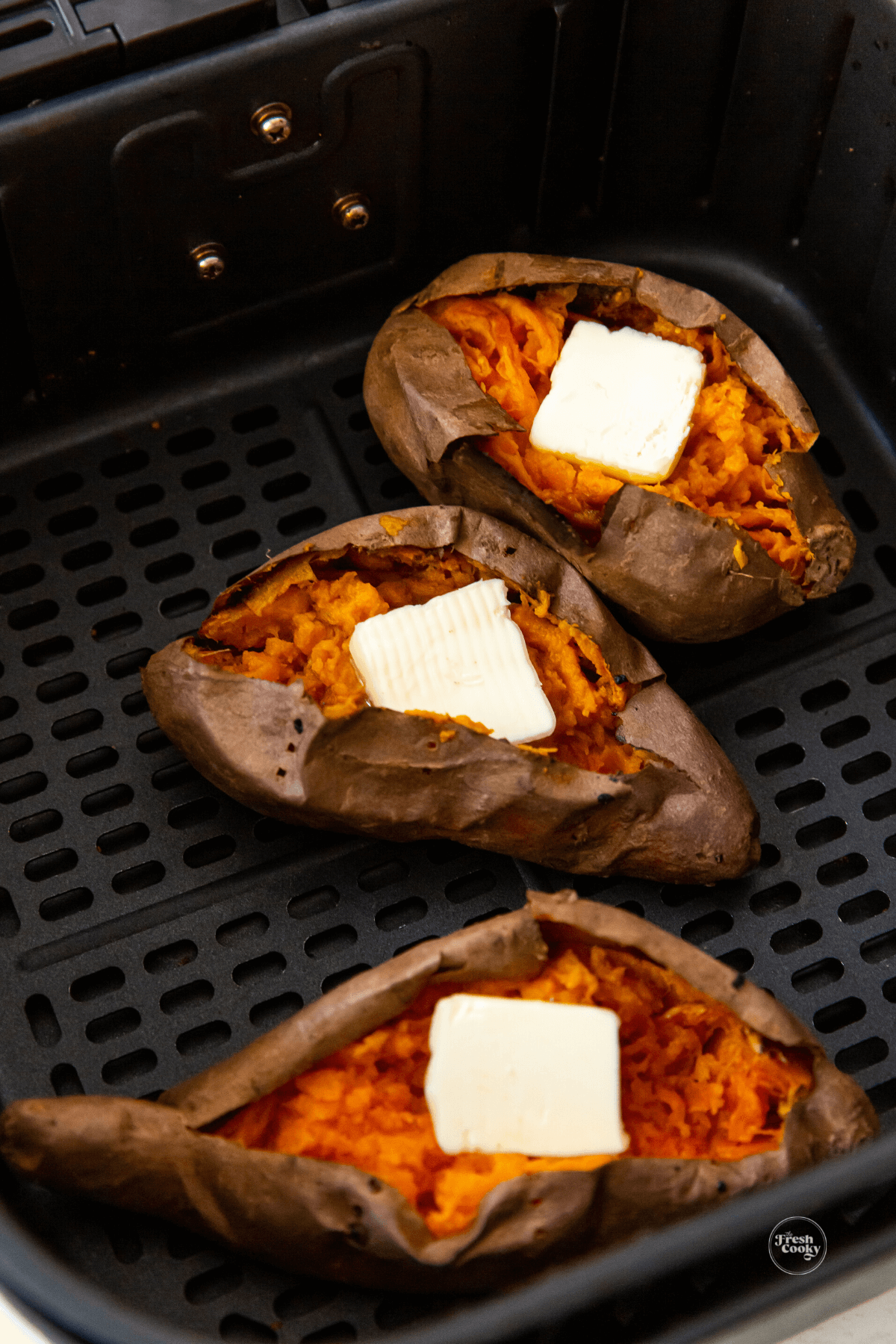 Sweet Potato Topping Ideas
Perhaps you like your sweet potatoes plain and fresh out of the fryer. Want to try something new and find more of your favorite toppings? Check out the following creative healthy options:
Go traditional and add a little butter, brown sugar, cinnamon and mini marshmallows! (see FAQ for how to toast the marshmallows)
Make some compound butter to pack in the flavors!
Or how about some cinnamon honey butter? YUM!
For something extra unique, serve with ricotta cheese, a drizzle of hot honey (or regular honey), and some fresh blackberries.
How about Enchilada Stuffed Sweet Potatoes?!? YUM!
Try a dollop of Greek yogurt, a drizzle of maple syrup or honey, and some pistachios or toasted pecans.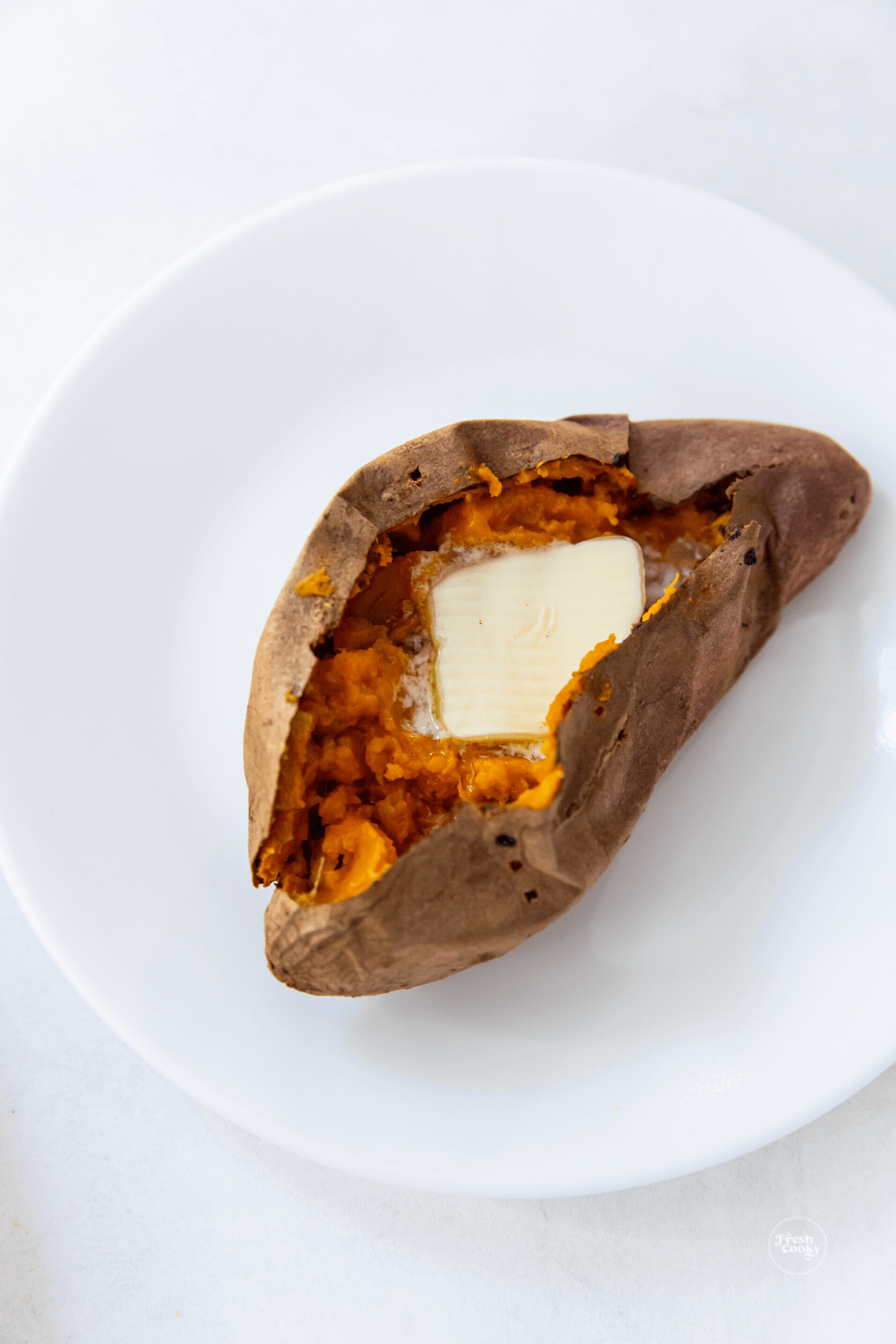 Variations & Substitutions
With such a simple recipe, there's plenty of room to get creative! If you'd like, try some of these variations and discover your new favorite way to serve sweet potatoes:
Chop the sweet potato into cubes, lightly toss them in oil, herbs, and a sprinkle of garlic powder, then cook in the air fryer. Try these roasted sweet potatoes in air fryer.
I have yet to attempt to do so, but you should be able to use the exact recipe instructions with yams. If you try this out, let me know how it goes in the comments!
Top with marshmallow fluff instead of using whole marshmallows.
Cut the sweet potatoes into fries, air frying them using less oil, making way less of a mess in the air fryer. For additional flavor, serve them tossed in chili powder.
Partially slice them for Hasselback sweet potatoes that will perfectly hold whatever topping you choose, like sour cream and chives.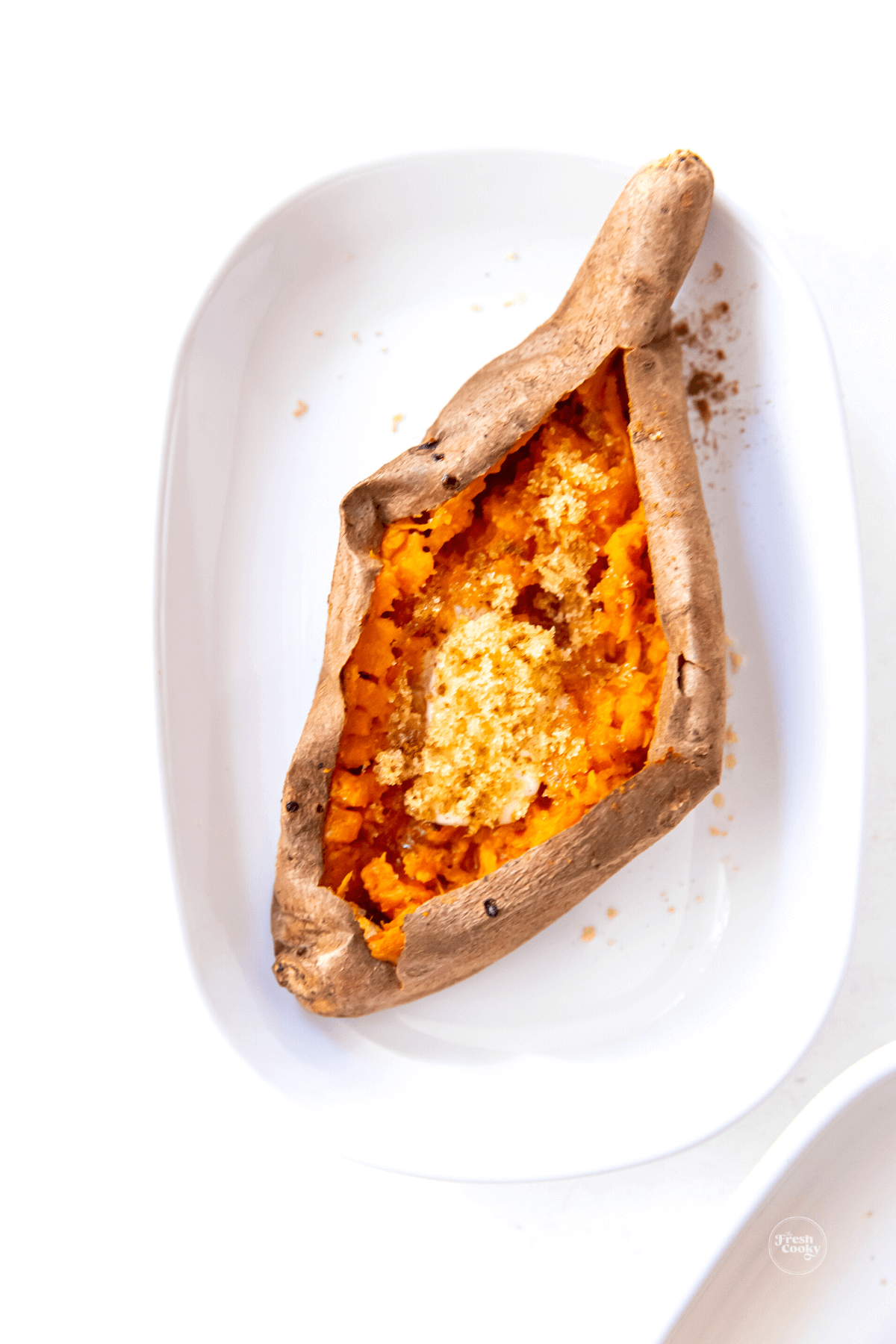 Frequently Asked Questions
How do you toast marshmallows for sweet potato topping?
Start by slicing the sweet potatoes in half and adding any additional toppings desired, like a little butter, brown sugar, pecans, then mini marshmallows. Place in 400 degree air fryer and toast for 2-4 minutes until golden and bubbly.
How long to cook sweet potatoes in air fryer?
Take all the guess work out of air fryer sweet potatoes, air fry for about 35-40 minutes at 390 degrees F.
Why are my sweet potatoes not crispy air fryer?
The culprit is moisture! Be sure to wash and the dry your sweet potatoes well before air frying. You can also spritz with a little spray oil after you dry them for a crisper skin. Or increase the heat to 425 for the last few minutes of air frying.
Are sweet potatoes good for a keto diet?
Unfortunately, no, but they are Whole30! Sweet potatoes are high in carbs, so they will not fit into a keto diet plan. However, they have many other health benefits, like fiber, vitamins, and minerals. They aren't considered fattening and are a healthier alternative to regular potatoes.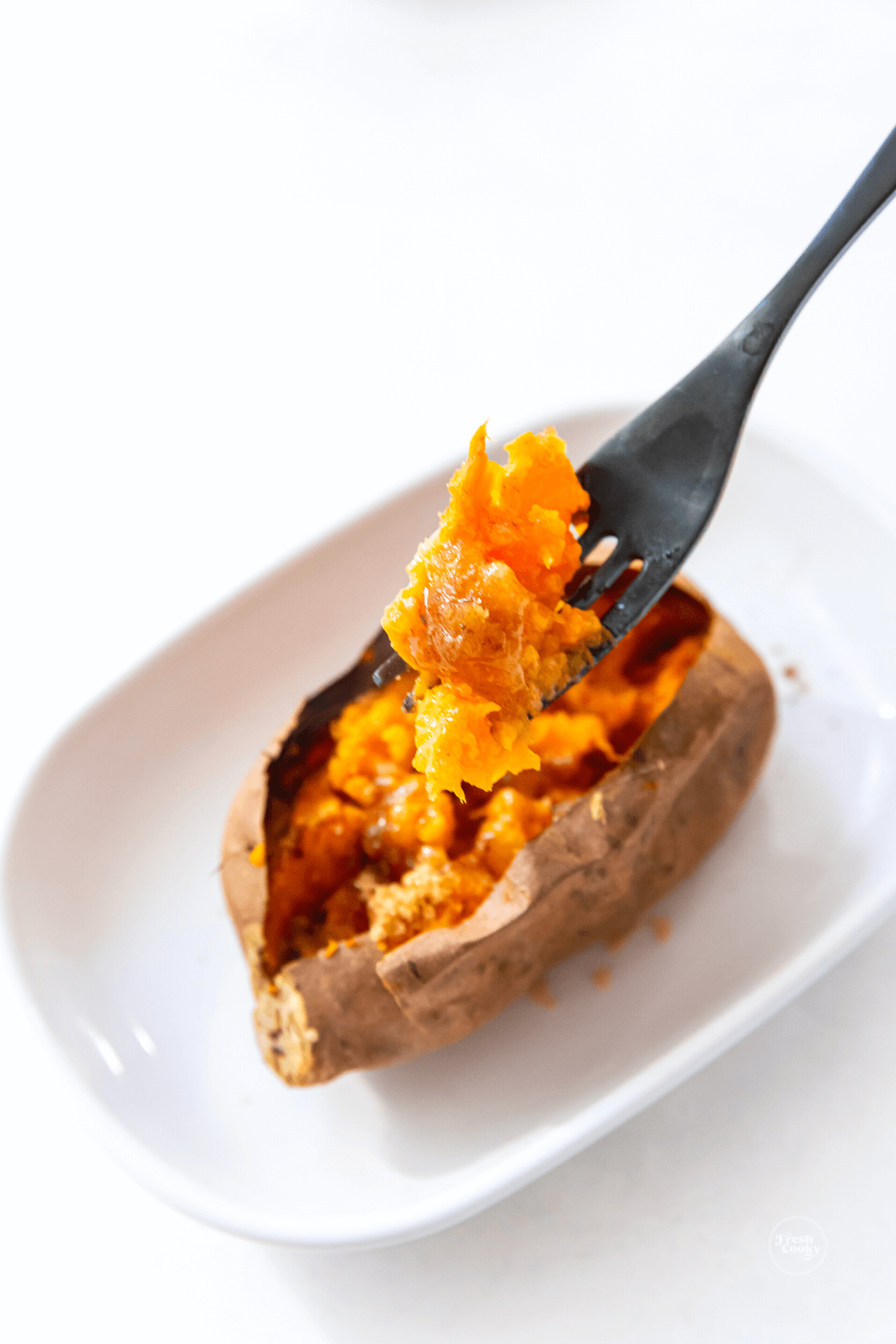 Storage Tips
Can you freeze cooked sweet potatoes? | Yes! Let them cool completely, if whole, wrap Air fryer sweet potatoes well in foil, then place in freezer baggie. Mashed or boiled sweet potatoes may also be frozen, do the same, let cool completely, then transfer to airtight container. Freeze up to 6 months.
Refrigerate Leftovers | Do you have some leftover sweet potatoes? They also store well in the refrigerator—place them in an airtight container for up to one week. Then, reheat when you're ready to serve.
To-Go | If you're taking these air fryer sweet potatoes to a family dinner or office potluck, wrap them in aluminum foil and place them in an insulated bag or cooler. You could also put some hand towels around the wrapped potatoes.
How to Reheat Sweet Potatoes in Air Fryer | Slice your whole sweet potato in half, then place in preheated 350 degree air fryer, air frying for 3-5 minutes until toasty and hot. Enjoy!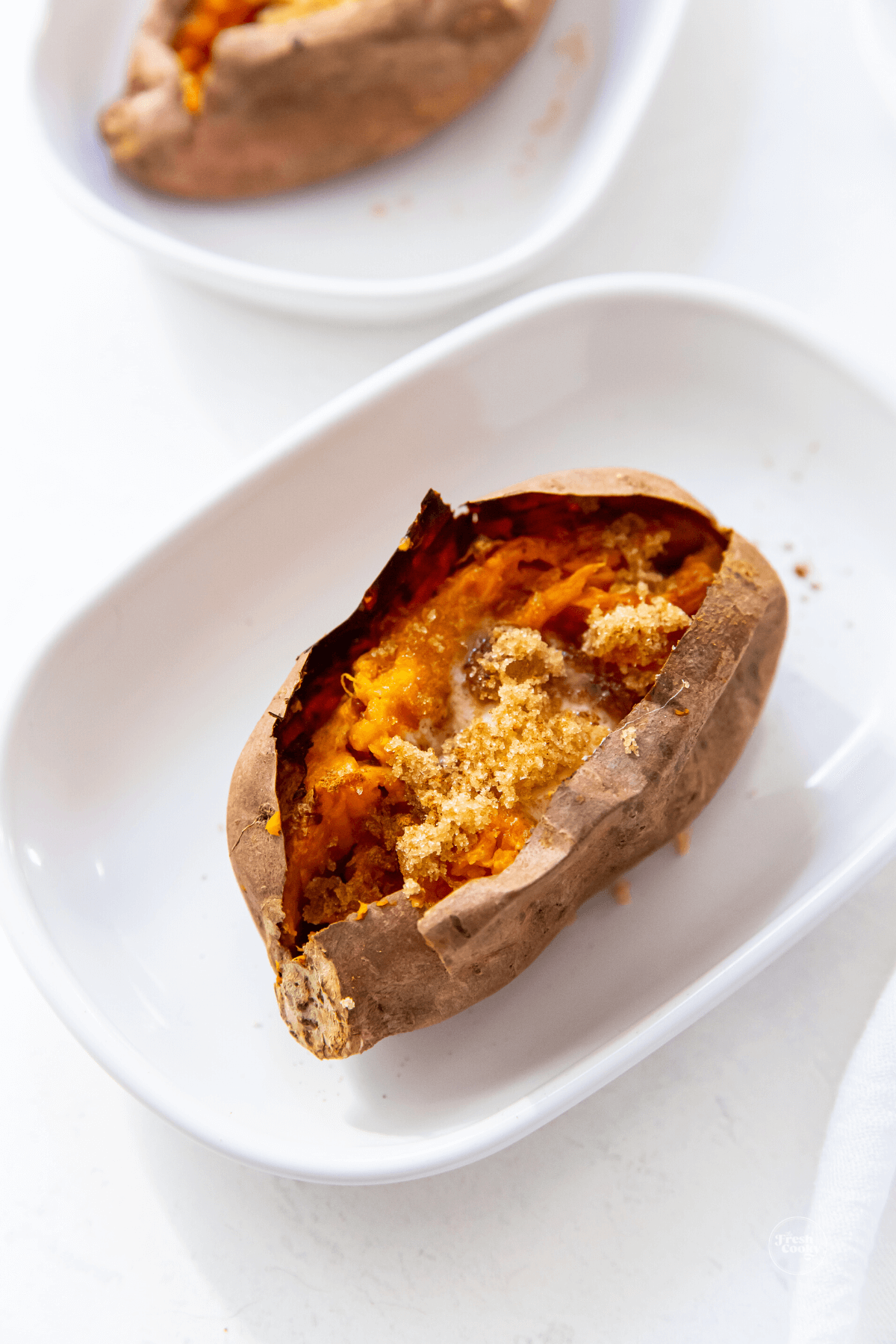 What to Serve with Healthy Air Fryer Baked Sweet Potatoes
Honestly, what you serve with these incredible air fryer sweet potatoes will depend on your preference.
Sweet potatoes are versatile and a great addition to any meal, whether you're having pork, chicken, beef, fish, or green veggies. Here are some suggestions of what to serve with this healthy side dish: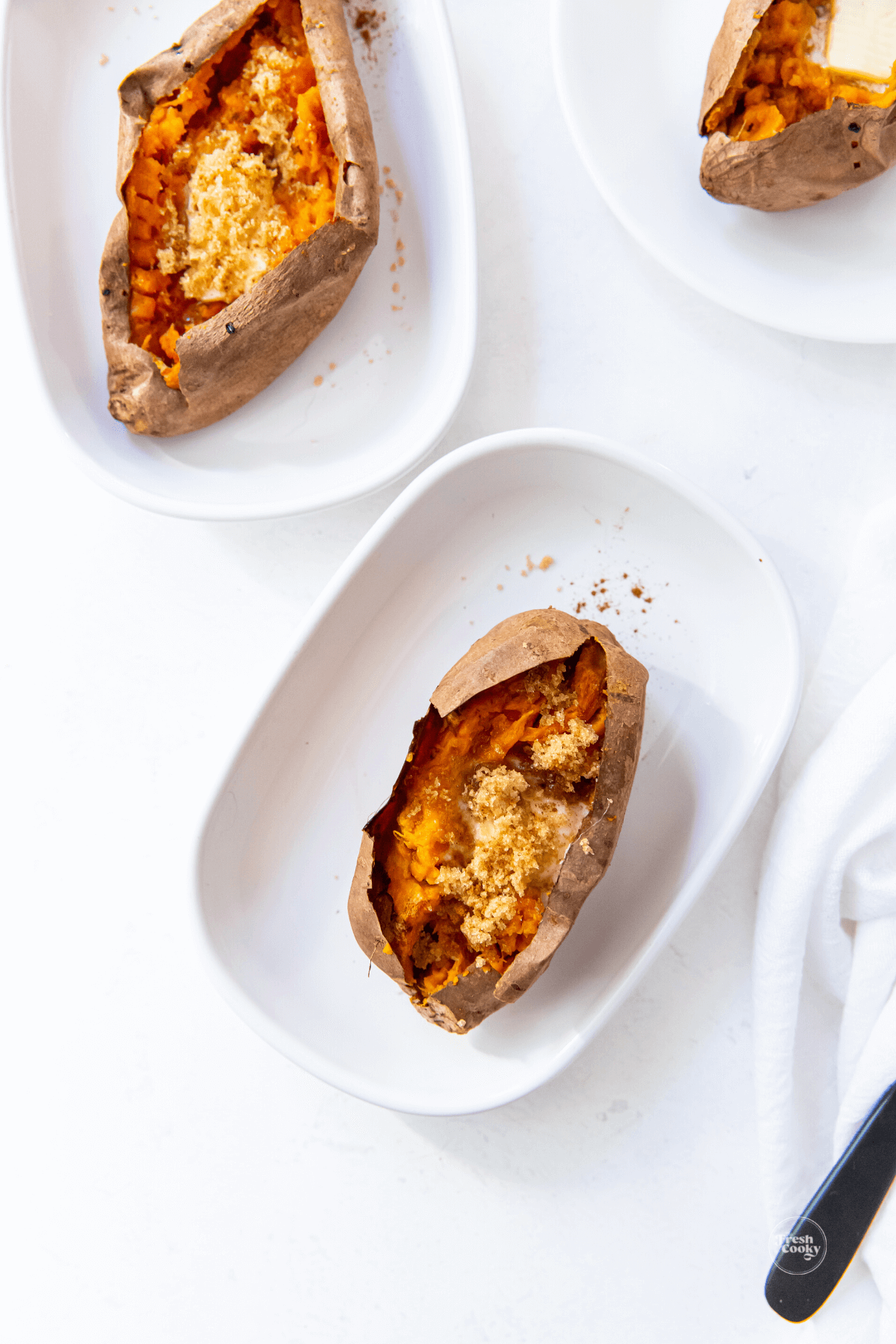 More Great Side Dish Recipes
While you don't need to wrap these sweet potatoes in foil before placing them in the air fryer, you must ensure you pierce them with a fork. Doing this prevents the potatoes from bursting while cooking, which can be a little messy.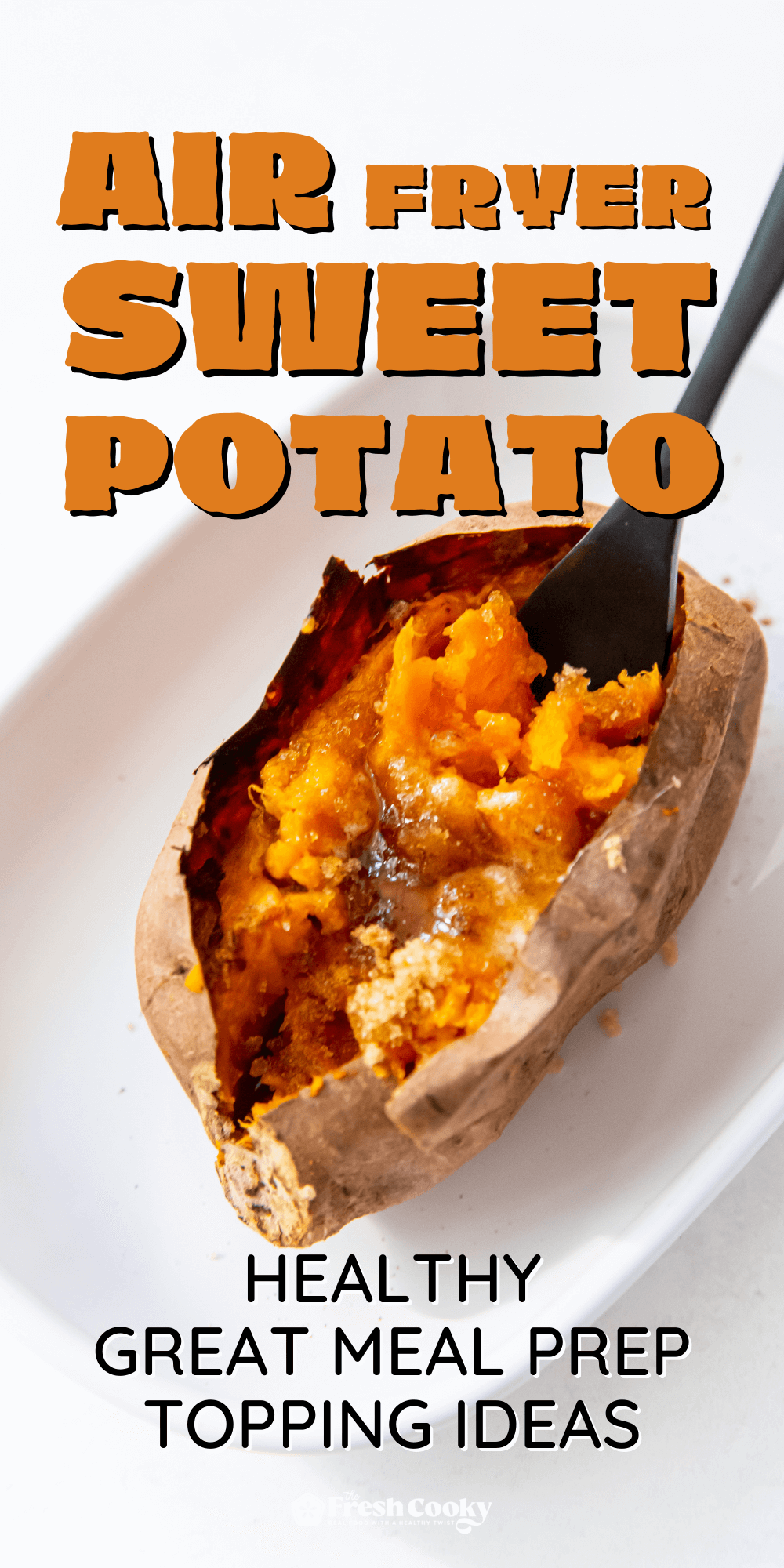 I hope you loved this air fryer baked sweet potato recipe — if you did, would you share your creation on Instagram, Facebook and Pinterest? And be sure to comment below!
Like this recipe?
Don't forget to give it a ⭐️⭐️⭐️⭐️⭐️ star rating and comment below the recipe!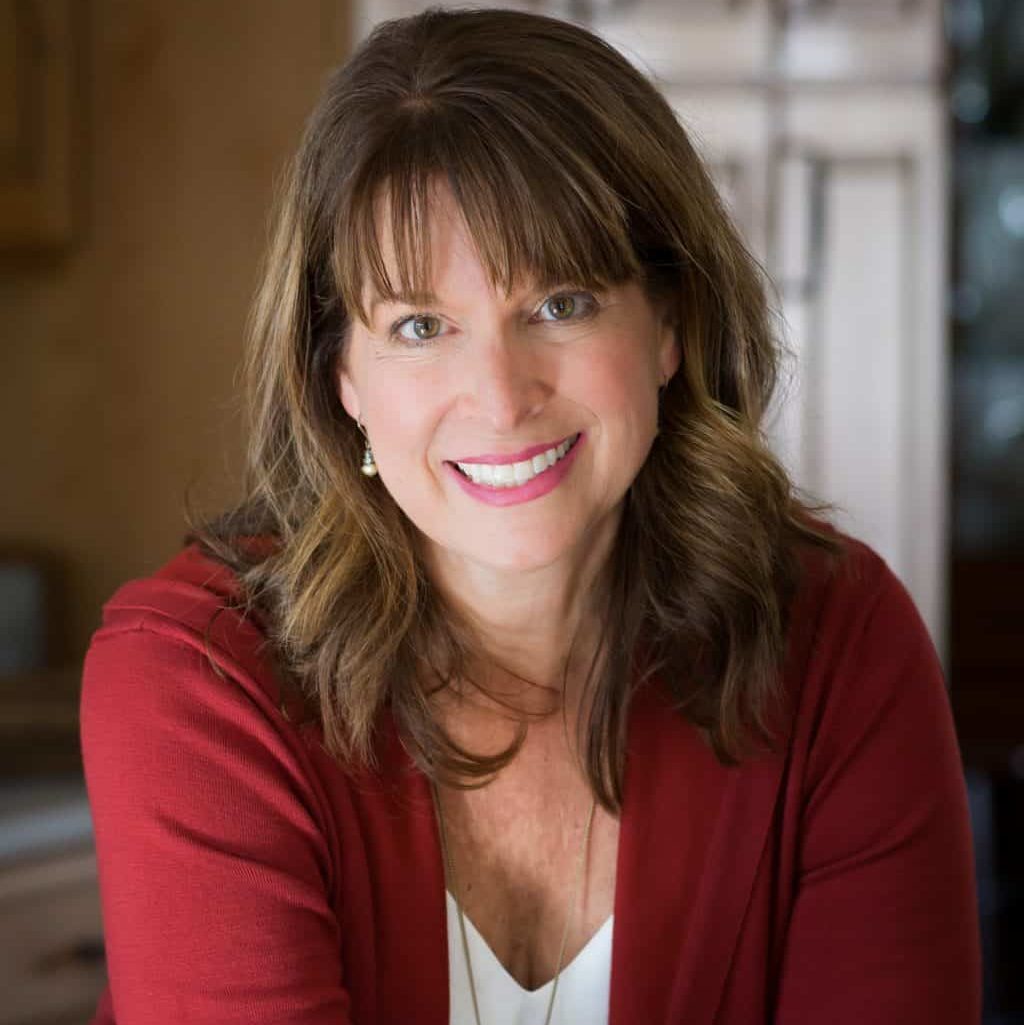 About Kathleen Pope
Recipe Innovator | Food Photographer | Food Writer
Hi, I'm Kathleen Pope. Here at The Fresh Cooky you will find easy, mostly from-scratch, trusted recipes for all occasions. From speedy dinners to tasty desserts, with easy step-by-step instructions. I am here to help teach you how to make mouthwatering recipes without spending hours in the kitchen. Read more about Kathleen here.