Copycat Panera Autumn Squash Soup Recipe
As an Amazon Associate, I earn from qualifying purchases. Please read my disclosure policy.
When a nip hits the air, and you're ready for soup, this copycat Panera Autumn Squash Soup recipe hits the spot. Its creamy texture is silky smooth and delicious. The warm spices give it a fall flavor—full of cinnamon, nutmeg, and a dash of pepper. A hint of curry will warm you from the inside out. A healthier copycat recipe the whole family will love.
This Panera butternut squash soup is perfect for sitting in front of a fire with your favorite blanket and a book! The yellow color and thick texture say fall has arrived. It's a hearty meal that works well with bread and salad.
I received produce from Melissa's produce and light brown sugar provided by Dixie Crystals; but the opinions on the delicious soup and these products are entirely my own!
I am thrilled to be joining many other bloggers for Fall Flavors Week this week, be sure to enter for a chance to win one of the amazing prizes provided by our sponsors at the end of the post. Check out all of my posts from this fun week; Fall Charcuterie Board, Gluten-Free Apple Pie, Graham Cracker Crumble, and this easy Pear Bundt cake.
If you are a soup lover like us, you will love these reader and family favorites. For instance this Creamy Poblano Chicken Soup, along with this Panera recipe Broccoli Cheese Soup and this Chicken & Wild Rice Soup!
Are you looking for something for a fall party? This autumn squash soup fits the bill. It's easy to make and is always a big hit! You can control the level of spice to meet your needs. It works for both lunch or dinner!
This copycat version of Panera Autumn Squash Soup is also wonderful for a romantic dinner and it can be sophisticated or countrified depending on the dishes you choose to serve. Why not break out the candles and set the table for this delicious soup.
Primary Ingredients for Panera Bread's Autumn Squash Soup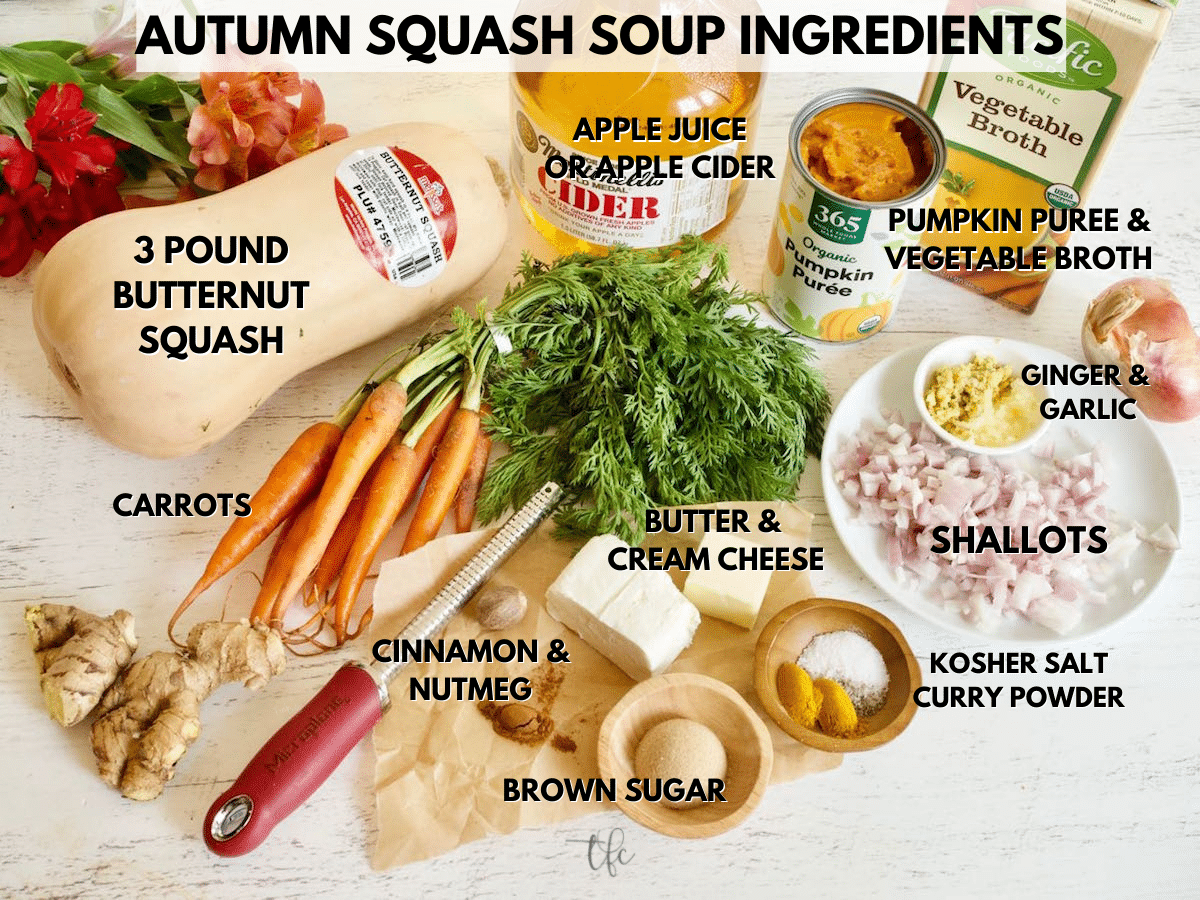 Butternut squash | The heart of this recipe, providing the fall flavor and color, this delicious squash is from Melissa's Produce.
Vegetable broth | It adds the perfect flavor and you can substitute beef or chicken broth.
Pumpkin puree | Not to be confused with pumpkin pie filling. Also it provides a natural sweetness that is a beautiful compliment to the squash.
Apple Juice or Apple Cider | The secret ingredient! Adds a delicious sweetness, naturally! Not to be confused with apple cider vinegar!
Spices & Seasonings | A combination of fresh ginger, cinnamon, kosher salt, pepper, and a dash of nutmeg gives the dish a kick of flavor.
Cream Cheese | The best secret to making this autumn squash soup rich and smooth is the cream cheese.
Brown Sugar | Using Dixie Crystals brown sugar is a must because it adds the right amount of sweetness and it's non-GMO! WHOOT!
Chili Pepitas | Also called pumpkin seeds are made with cayenne pepper or chili powder, olive oil, salt, and raw pepitas. They add a nice crunch.
How to Make Panera Autumn Squash Soup Recipe
Full list of measurements and detailed instructions in the printable recipe at the bottom of this post.
Step 1 | How to Cut Butternut Squash
Wash squash and dry, using a sharp knife on a sturdy cutting board, slice off the ends of the squash. Using a Y Peeler or regular vegetable peeler, peel away the tough skin of the squash.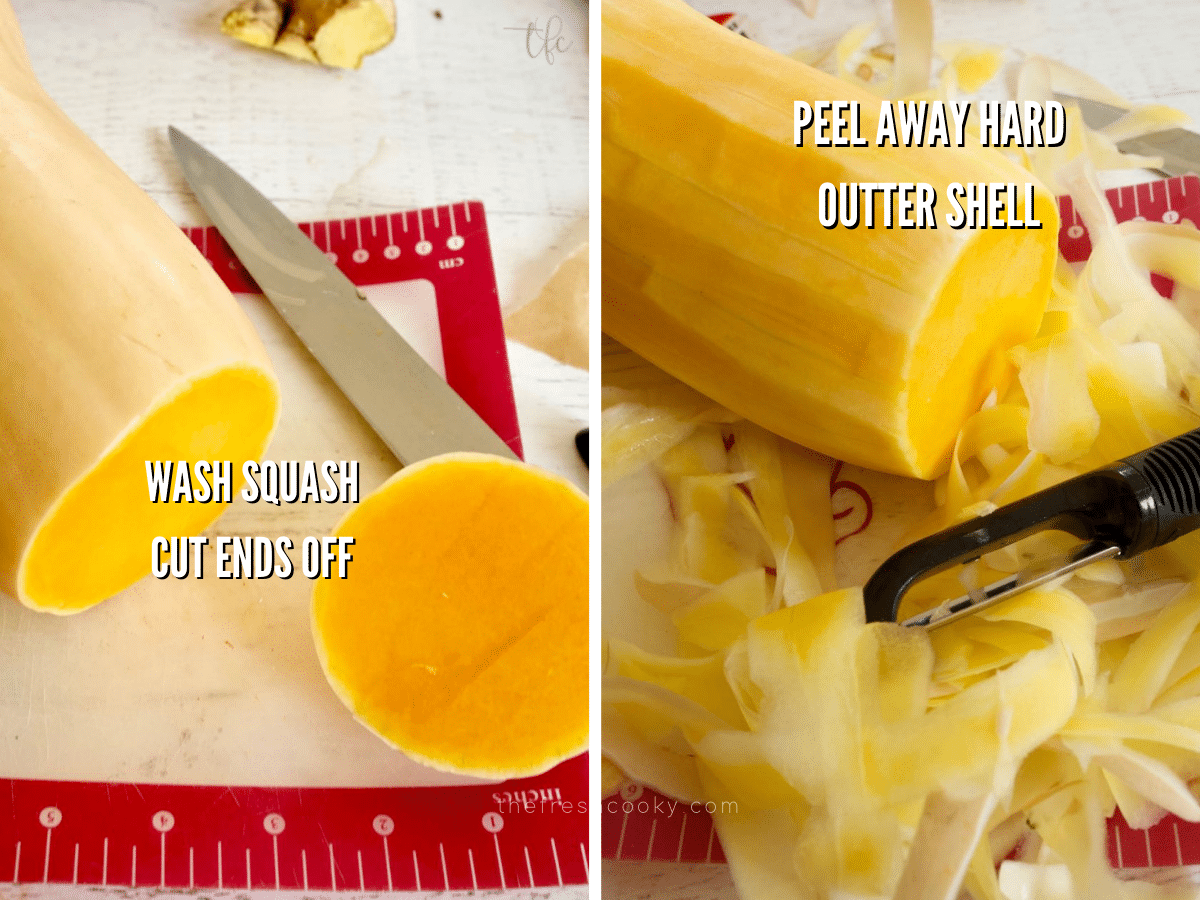 Cut the squash in half, then again in quarters to reveal the seeds and "guts" of the squash. Using a grapefruit spoon or regular sharper spoon, scoop out the seeds.
Using a large sharp knife, chop the butternut squash into 1 inch cubes.
Step 2 | Making Autumn Squash Soup
In a large pot, heat the oil and add the shallots and saute for a few minutes.

Add the squash, carrots, salt, and pepper, cooking and stirring until the veggies soften. Stir occasionally to prevent sticking.

Mix in the garlic, ginger, brown sugar, curry powder, and cook until the veggies begin to caramelize.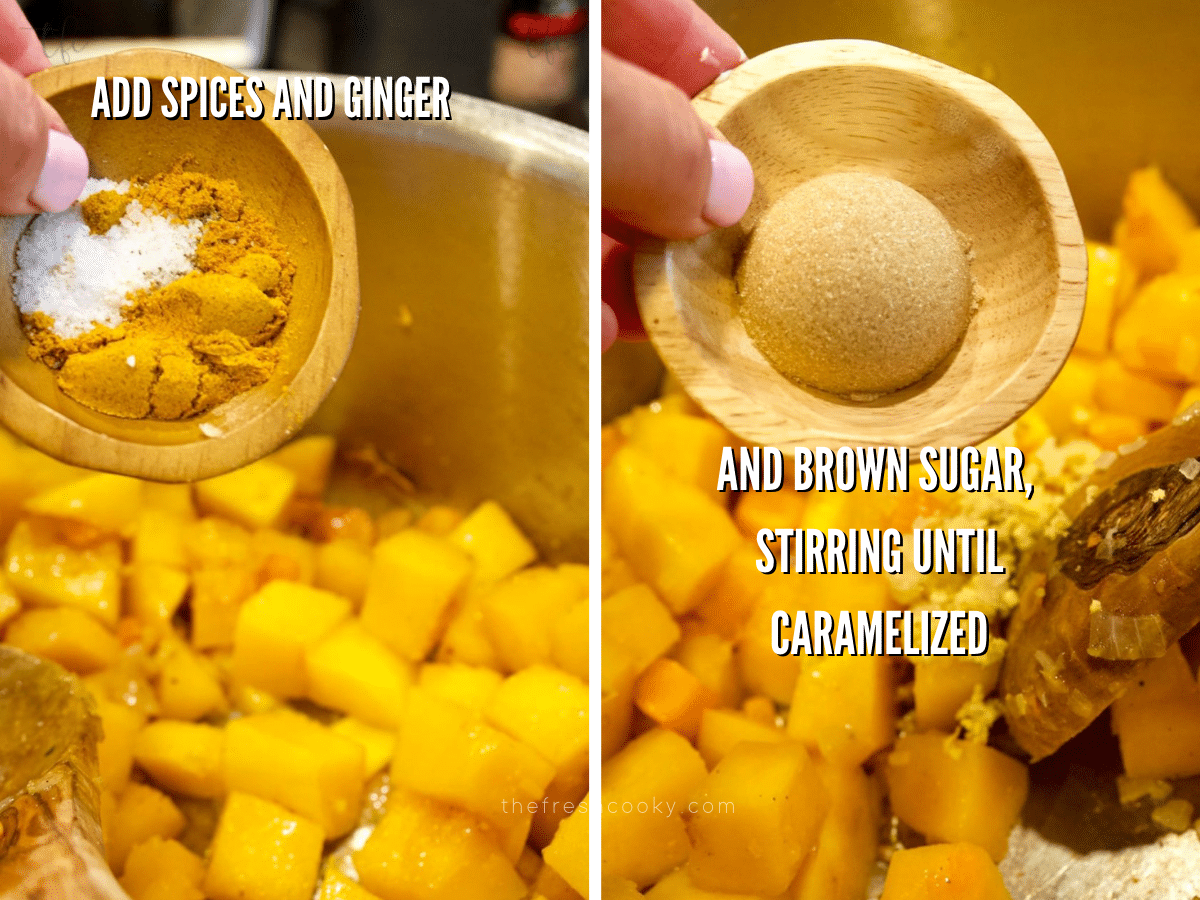 Add the water, broth, and apple juice to the pan and bring to a boil. Simmer the soup until the squash can easily be pierced with a fork.

Remove from the heat. Stir in butter, cream cheese, pumpkin puree, and brown sugar.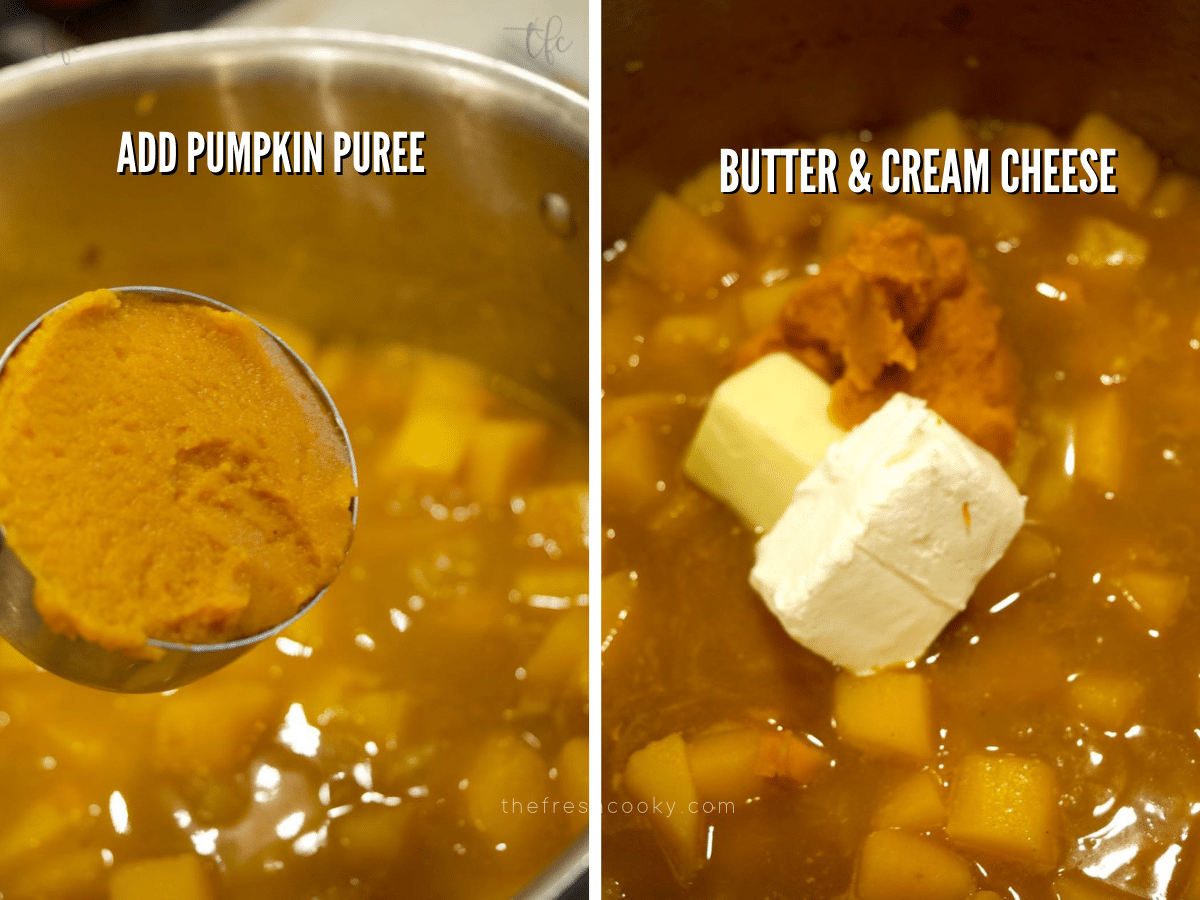 Step 3 | Puree soup and make Pepitas
Prepare the Chili Pepitas by adding to a hot pan with melted butter or oil. Sprinkle with salt and chili powder. Cook until they begin to pop and stir constantly.
Puree with a hand-held immersion blender or high speed blender until smooth and creamy, or see notes below for silky smooth butternut squash soup. Making Autumn Squash soup in your Vitamix makes it so easy!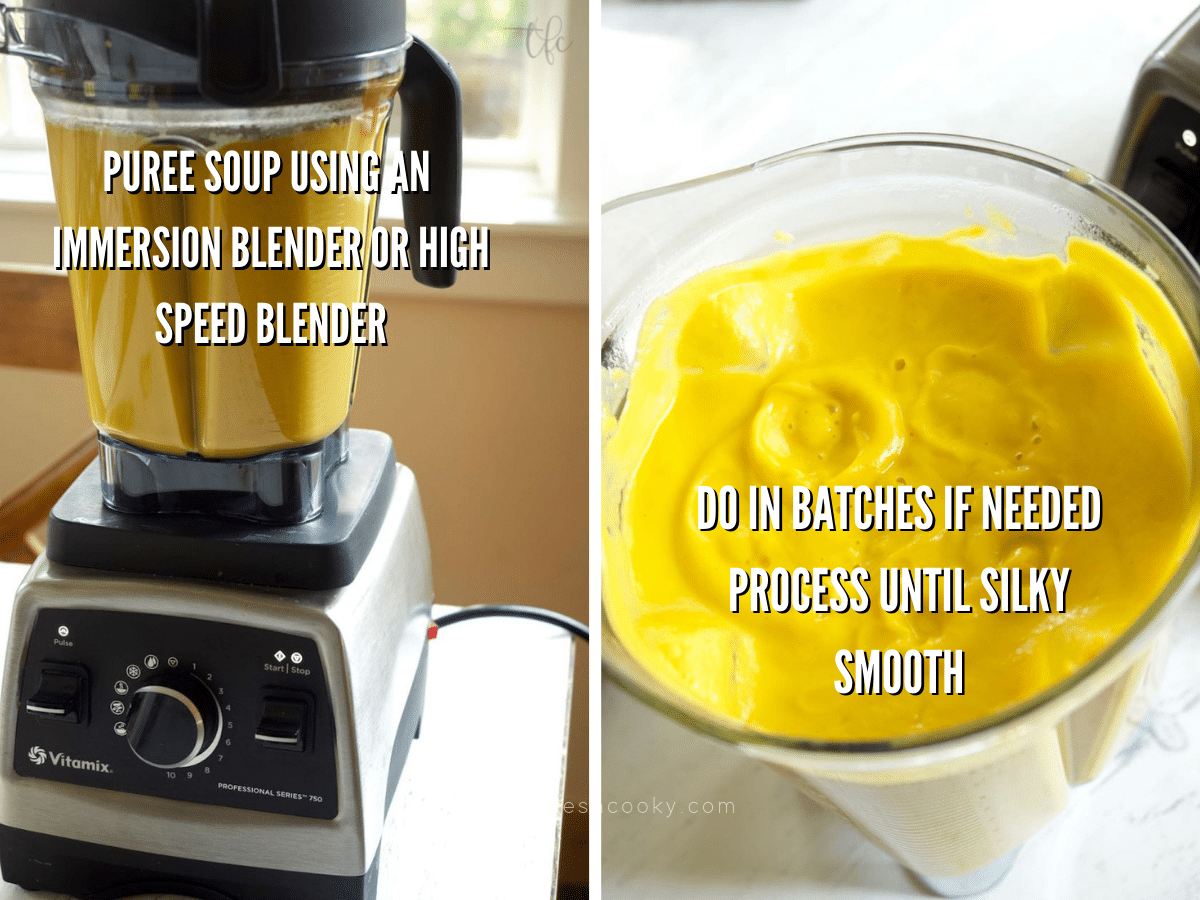 Pro Chef Tips
A silkier, smoother butternut squash soup using a Vitamix. A high speed blender such as a Vitamix or Blendtec have better motors and blades than your average blender, it is worth the investment. Try this Potato Leek Soup too!
You can garnish the soup with freshly grated nutmeg. If you love creamy textures, try a dollop of sour cream or creme fraiche before serving and definitely some toasted Chile Pepitas!
Panera Autumn Squash Soup can be frozen for up to 3 months! This silicone freezer tray is a great way to keep your soup for later, plus it's best to leave the cream out if you are planning on freezing.
To achieve the same silkiness as Panera, I recommend using a high speed blender and if necessary, puree in batches. Do not fill more than half way on a regular blender, this can cause the top to explode.
Frequently Asked Questions
How do I make butternut squash soup thicker?
While the soup is pretty thick already, you can make it even thicker. Adding starch will thicken the soup. You can use flour, cornstarch, tapioca, or other thickeners. It works best to put a little soup in a separate bowl and whisk the thickener to keep the soup from clumping.
Is butternut squash soup healthy for you?
Yes! This autumn squash soup is loaded with potassium, fiber, and antioxidants. While it does have some sugar, it's a tiny amount. If that bothers you, it's fine to swap it with a sweetener of your choice or omit it.
How can I make butternut squash soup sweeter?
To add a little extra sweetness, mix in some honey, maple syrup, or brown sugar. I recommend adding a small amount and tasting, then add more if needed until the desired flavor is reached. Adding a little extra apple cider will also sweeten the soup naturally.
An Ina Garten Butternut Squash Soup recipe?
While this is similar to Ina's Butternut squash soup recipe, this has a few extra spices that duplicate Panera's autumn squash soup.
Is Panera Butternut squash soup recipe vegan?
Panera's autumn squash soup is not vegan, but has cream and animal fats in it. My version of of Panera bread autumn squash soup is naturally vegetarian soup, it's easy to make this vegan as well. Omit or replace the cream cheese with your favorite plant-based cream cheese, replace the butter with olive oil and you are all set!
Can I roast the butternut squash?
If you'd like to roast your butternut squash use my friend Min Shien's Whole Roasted Butternut Squash! It will add even deeper flavor!
Variations & Substitutions
Vegan or Dairy-Free Autumn Squash Soup | Easily make this recipe vegan or dairy free by substituting the cream cheese with plant-based cream cheese or coconut cream, and use plant-based butter or replace with a little olive oil.
Use heavy cream in place of cream cheese for a silky, hot soup.
Slow Cooker Butternut Squash Soup | I still recommend that you saute your veggies in a pan to get the most flavor, but if you are rushed, you can toss it all in a slow cooker/crock pot (except butter and cream cheese). Cook for 4-6 hours on low, or 2-3 hours on high, until soft and tender, stir in butter and cream cheese, then proceed with immersion blender or high speed blender until smooth.
Replace shallots with one small diced onion.
Recommended Equipment
You can easily make this soup using equipment you have around your kitchen, but here are a few that might make this soup even easier.
How to Store Panera Autumn Squash Soup Recipe
Cool soup completely and store any leftover soup in an airtight container in the fridge up to one week, frozen up to 3 months. Thaw overnight in fridge for best texture, then reheat on stovetop adding a little additional cream if necessary to bring it all together.
More Fantastic Fall Flavor Recipes
Panera Autumn Squash Soup recipe pairs well with many dishes. Here are a few ideas that you will love to try!
More Copycat Recipes
Check out ALL of the fantastic fall flavor recipes at the end of this post!
I hope you loved Panera's autumn squash soup recipe, it is the perfect soup for a chilly fall day or anytime really!
Like this recipe?
Don't forget to give it a ⭐️⭐️⭐️⭐️⭐️ star rating and comment below the recipe!
More #FallFlavors Recipes Below:
Appetizers and Snacks
Breakfast and Baked Goods
Soups and Salads
Side Dishes
Main Dishes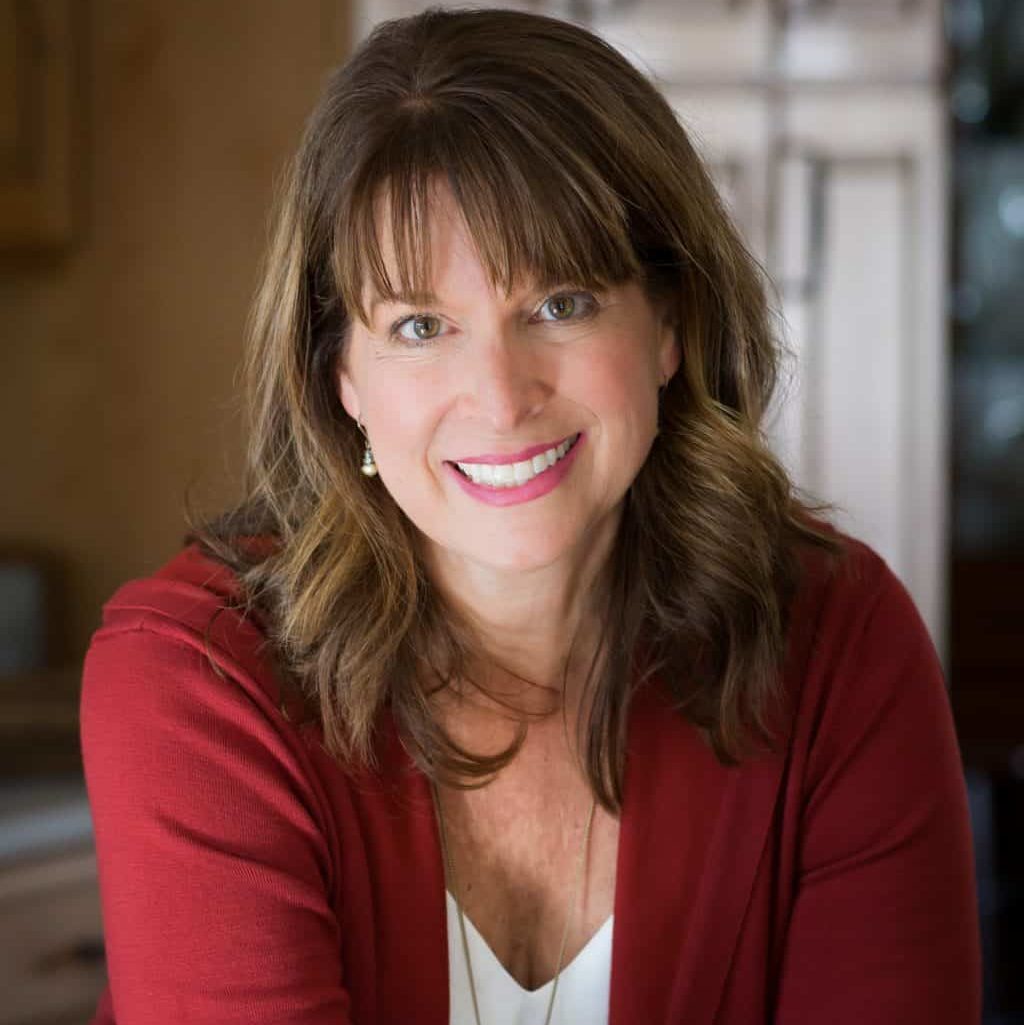 About Kathleen Pope
Recipe Innovator | Food Photographer | Food Writer
Hi, I'm Kathleen Pope. Here at The Fresh Cooky you will find easy, mostly from-scratch, trusted recipes for all occasions. From speedy dinners to tasty desserts, with easy step-by-step instructions. I am here to help teach you how to make mouthwatering recipes without spending hours in the kitchen. Read more about Kathleen here.