Best Instant Pot Turkey Breast Recipe
As an Amazon Associate, I earn from qualifying purchases. Please read my disclosure policy.
This holiday season (or anytime turkey cravings hit) make this Instant Pot turkey breast recipe! Crazy juicy, simple, so flavorful; this roasted turkey breast is done in a little over an hour with drippings to make a delicious gravy too!
Whether you are hosting a big family gathering and need a little extra turkey or you are having a quiet, small Thanksgiving or Christmas dinner, this Instant Pot Turkey Boneless Breast recipe will do the trick.
Great sides to accompany your pressure cooker turkey breast are: Cheesy Potato Casserole, Maple Apple Sausage Stuffing Recipe, Praline Yams and you have to to have fancy Mashed Potatoes!
No Instant Pot? It's time to break it out of it's box, or put it on your wish list, they are so handy — I was afraid of mine at first too, then I became an Instant Pot'ing fool!
I admit, I was skeptical about this tasting as good as a roasted turkey, we were all pleasantly surprised at the flavor and tenderness of this boneless turkey breast.
KEY INGREDIENTS
Turkey breast, boneless, skin on | I couldn't find a whole boneless turkey breast, so had to opt for using two halves and using bakers twine, easily tied them together to form one whole turkey breast. There was a little cartilage and bone still on the breasts, which I removed (easily) just before prepping using a sharp knife.
Unsalted butter | please use real butter, my mantra, "If it's soft coming out of the fridge, it's not real butter, but a blend" YADA, YADA!
Herbs | Use fresh thyme and rosemary, chopped (or sub with 1 teaspoon dried)
kosher salt, garlic powder, smoked paprika
Orange Juice
What About Other Herbs & Spices?
I love it when my readers get creative! Make it Yours! My suggestions:
Sage, try 1 teaspoon fresh, chopped (or ½ teaspoon dried)
Fresh Marjoram, about 1 ½ teaspoons, chopped (or 1 teaspoon dried)
Italian Seasoning Blend, this is my favorite Italian Blend. Use about 1 ½ teaspoons.
Parsley, fresh, chopped, 1-2 teaspoons
Tarragon, fresh chopped, 1 teaspoon (or ½ teaspoon dried)
How will you season your turkey?
Instant Pot Turkey Gravy Ingredients!
Did I mention that this makes quick and simple gravy too??
turkey drippings
cornstarch (or 2-4 tablespoons all purpose flour)
water (for mixing that cornstarch)
bay leaf
turkey or chicken stock
PRO TIP | As you add turkey or chicken stock, taste it, if too salty, add a bit more stock, if not flavorful enough, add a pinch of salt a little at a time. Careful, it can get salty quickly!
Required & Helpful Tools
Instant Pot or Pressure Cooker | They are indeed one and the same, Instant Pot is a name brand but it's a pressure cooker! We love our 6 quart 7-in-1 Instant Pot, it's perfect for our family of four, two of which are hungry teen boys!
Kitchen Twine | If you purchased half breasts they probably did not come already in twine, you can easily tie up your breast for more even cooking by using kitchen twine.
Meat Claws or Large Tongs | Easier when browning, turning and lifting a turkey, be it a breast or a whole turkey. Barbecue tongs work great too!
Fat Separator | I admit I just recently purchased this fat separator and I cannot believe I haven't before now, it will become your new best friend!
Meat Thermometer | If you are worried about the turkey breast being done, invest in a good kitchen thermometer.
How to Rub Herb Butter on Turkey Breast
Rinse under cold water the turkey breast, then pat dry with some paper towels, this will make it easier for the herbed butter to stick. In a small bowl, combine butter, herbs, spices and salt, until well incorporated and easy to schmear all over the turkey breast.
Using your fingers, gently separate the skin from the breast, then rub* herbed butter mixture under the skin and on top of the skin. Using all of the herbed butter.
*If your turkey came pre-wrapped in twine, then just do the best you can working around the twine, getting under the skin where you are able.
What is Trussing?
If like me, you could only find turkey breast halves, then you will have to tie up your turkey. Keep the skin side out as much as you are able, lay twine out about every 2-3 inches and secure with a knot.
Why Should I Sear My Boneless Breast?
Searing (or pan searing) is a technique used in grilling, baking, braising, roasting, sautéing, etc., in which the surface of the food (usually meat: beef, poultry, pork, seafood) is cooked at high temperature until a browned crust forms. (Source)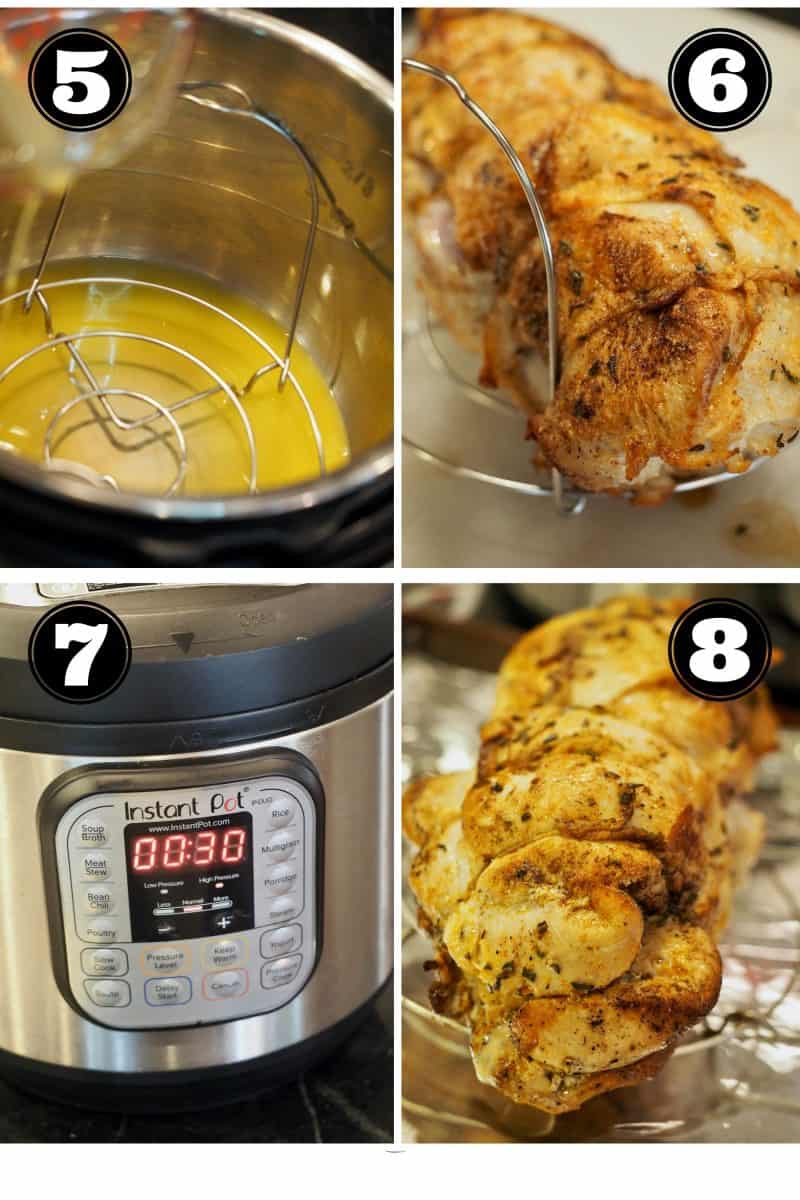 How to Make Instant Pot Turkey
Heat large skillet* over medium-high heat. Take butter slathered breast and place in large hot saute pan and sear (brown) quickly on all sides. Remove to Instant Pot trivet.
Pour pan juices and orange juice into the Instant Pot.
Using trivet arms, carefully add the turkey to the pressure cooker.
Seal lid, making sure the valve is set to the seal position. Set to HIGH pressure cook for 25 minutes if using two breast halves and 30 minutes if using a whole turkey breast.
Natural release for 10 minutes, remove breast using trivet and transfer breast to baking sheet.
Place under broiler (rack about ⅔ up) and crisp up skin again, watch closely, should only take 2-3 minutes, you may want to turn and crisp the other side too.
Remove from oven and tent with foil, RESTING meat for 10-20 minutes. DO NOT SKIP THIS STEP! This allows the juices to return to the meat before slicing.
*I have found that larger pieces of meat do not sear well in the sauté mode of the Instant Pot, which is why I prefer a pan. If you do try it in your pressure cooker, be sure to wait until the sauté function reads HOT on the display.
How to Make Turkey Gravy from Drippings
Pour drippings into gravy separator or carefully pour into glass measuring cup, wait a few minutes and using a large spoon skim the fat off the top.
This GRAVY SEPARATOR is my new best friend!
Heat a medium-large skillet to medium heat, pouring the drippings, but stopping at the fat, add the bay leaf, pour in 1 cup at a time of additional stock (turkey or chicken), adjusting flavor to your liking.
Whisk the cornstarch (or flour) and water together until smooth.
Bring drippings to simmer, then whisking, slowly drizzle the cornstarch mixture until desired consistency.
Remove from heat, serve warm.
Cooking Times for Instant Pot Turkey Breast
I was only able to find boneless turkey breast halves (it's hard to find turkey breast in summer), so I bought two and tied them together with bakers twine. The first one came out a smidge dry at 30 minutes, so I backed off to 25 minutes and it worked great!
A whole boneless turkey breast is going to be a bit more dense, so be sure to cook it under pressure for 30 minutes. It only takes about 5 minutes to come to pressure, making this recipe really, really fast.
Can I make the turkey breast in the Slow Cooker?
Yes! Follow all of the steps for the Instant Pot, but instead place in slow cooker on low for 5-6 hours.
Briefly broil/grill or bake to crisp the skin; then
Use slow cooker juices to make gravy.
Can I Cook Frozen Turkey Breast in Instant Pot?
Short answer, yes! We all forget to thaw these things right! You CAN cook frozen turkey breast in the Instant Pot.
Long answer, you won't be able to get your herbed butter under the skin but do the best you can, because a not as buttered bird is better than no Thanksgiving turkey at all!
Increase your pressure cooking time to 1 hour (60 minutes), following the other steps.
How to FIX UNDERCOOKED TURKEY?
I get it, it happens to the best of us. The fastest way to recook turkey is to carve or slice your turkey and lay in a baking dish, splashing on some of the drippings or some chicken or turkey stock, cover with heavy duty foil.
Place covered turkey in 375 degree oven, checking the meat every 15 minutes until it's done. Typically, you can remove the turkey from the oven when it is 165 degrees internally.
As it rests for about 15 minutes, the temperature will increase to 180. Boneless breasts should appear all white, with no pink.
The Best Way to Reheat Turkey
Place turkey slices, pieces into a casserole dish or rimmed cookie sheet, splash with some pan juices or extra turkey or chicken broth, cover well with foil and warm in 350 degree F oven for 15-20 minutes.
How to Reheat Gravy
Gravy will thicken as it cools, sometimes becoming a downright gelatinous slab! Have no fear. Pour into small saucepan and heat over low heat adding a splash of water or chicken broth as needed to thin to desired consistency.
May also be placed in microwave safe dish and heated at 50% power for 30-60 second intervals, stirring in between until warm and desired consistency. Add a little water or broth if too thick.
More Thanksgiving Recipes to accompany the turkey!
More Great Turkey Recipes
Like this recipe?
Don't forget to give it a ⭐️⭐️⭐️⭐️⭐️ star rating and comment below the recipe!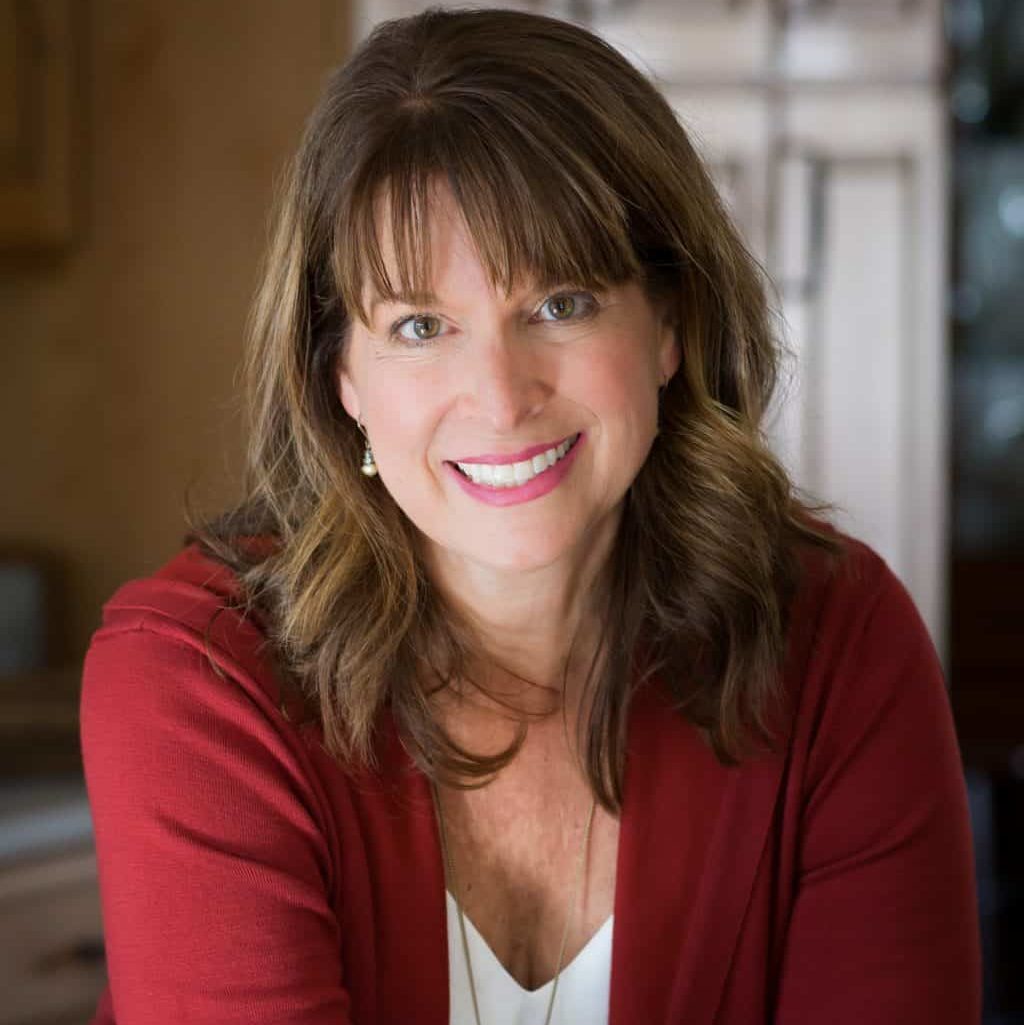 About Kathleen Pope
Recipe Innovator | Food Photographer | Food Writer
Hi, I'm Kathleen Pope. Here at The Fresh Cooky you will find easy, mostly from-scratch, trusted recipes for all occasions. From speedy dinners to tasty desserts, with easy step-by-step instructions. I am here to help teach you how to make mouthwatering recipes without spending hours in the kitchen. Read more about Kathleen here.