Easy Pigs in a Blanket Recipe (Air Fryer or Oven)
As an Amazon Associate, I earn from qualifying purchases. Please read my disclosure policy.
This easy Pigs in a Blanket Recipe includes savory cocktail sausages wrapped in buttery crescent rolls cooked quickly in the air fryer or oven. Plus, we have three different dipping sauces for you to try!
This easy recipe is ALWAYS a hit– a classic appetizer! Lil Smokies are sure to please; Christmas time, football games and parties, tailgating, potlucks and so much more.
Try these other Air Fryer Appetizers like these Steak Bites, Toasted Raviolis, Steak Fries or these easy Pretzel Bites. This Mini King Cake Recipe also uses crescent roll dough.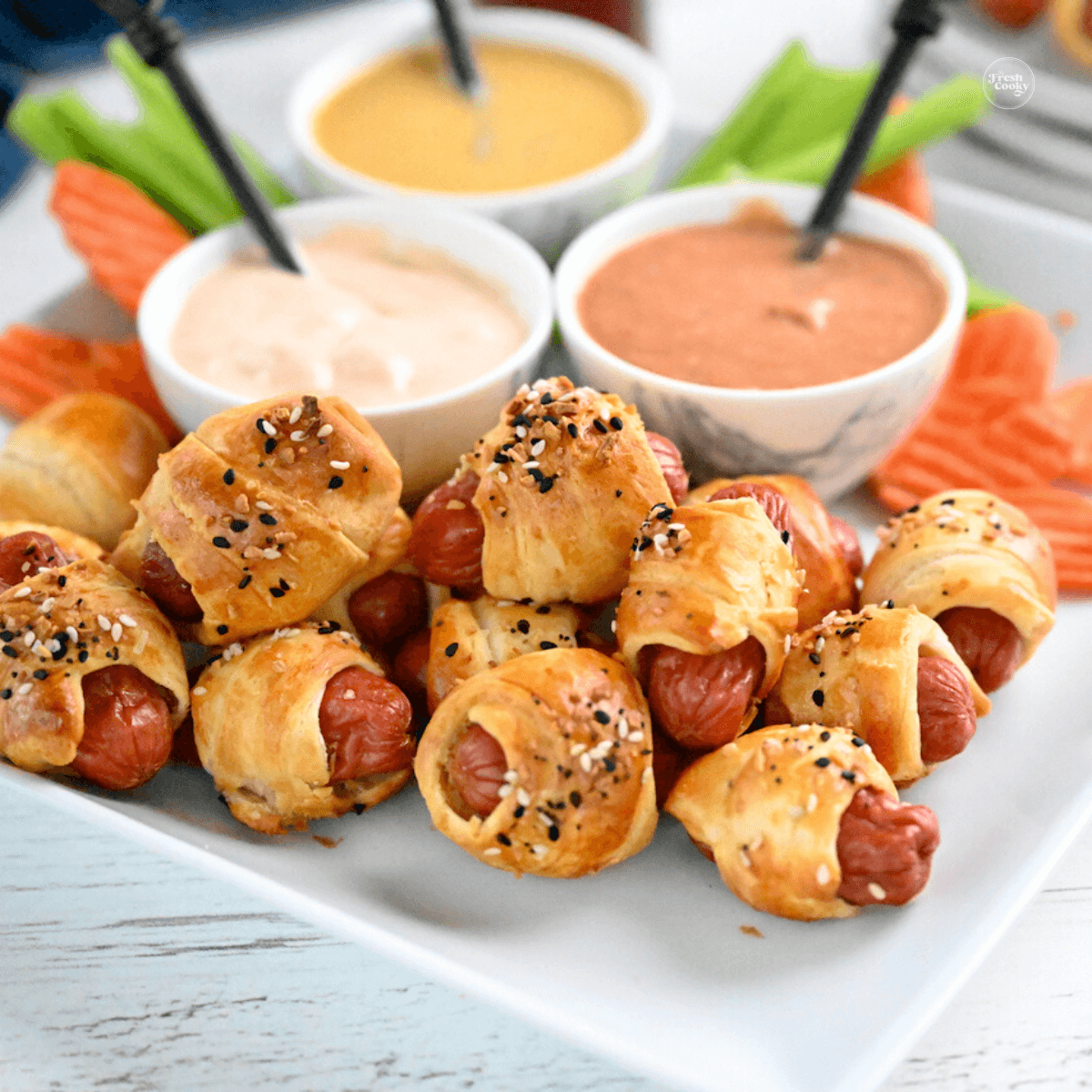 Why You Will Love this Recipe
Two Easy Methods | For these easy air fryer pigs in a blanket, you'll have the choice to cook them in the Air Fryer or oven!
Quick Appetizer | A 2-ingredient appetizer ready in minutes for football season or any game day party, potluck or holiday appetizer.
Super Bowl Hit | Perfect appetizer to serve or bring to your Super Bowl party! Pair them with this Korean Fried Chicken for a double win!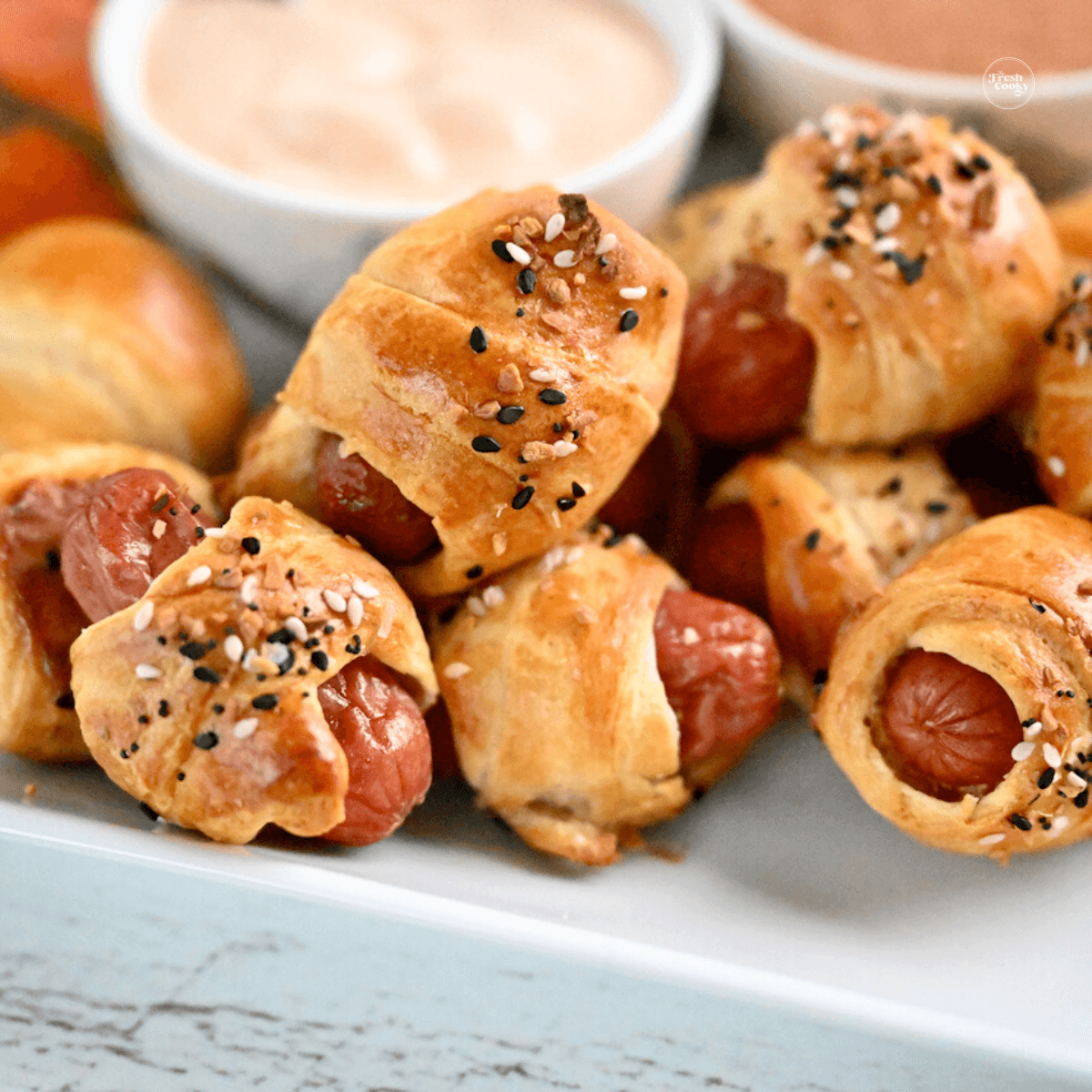 Why are they called "Pigs in a Blanket"?
Pigs in blanket have many variations depending on the country. For instance in the UK pigs in blankets are sausages wrapped in bacon.
Here in America, they were first found in an US Army cookbook from the 40's, called "pork sausage links (pigs) in blankets". A sausage wrapped in some bread dough.
Growing up, mom made pigs in a blanket — but it was a breakfast sausage link wrapped in round steak, fastened with a toothpick and baked in a delicious gravy, similar to German Rouladen.
Then there are kolaches; my German grandmother would typically make them more sweet, filled with apricots or prunes, but the savory version was a sausage or hot dog wrapped in dough and baked until golden, kolaches are actually Czech in origin.
Pigs in a Blanket Around the World
Argentina tops the sausage with ketchup and then wraps them in empanada dough, then baked. In Brazil, a sausage is wrapped in bread-like dough, then baked, better known as enroladinho de salsicha, translated means "sausage roll".
A Chinese sausage wrapped in pastry is called là cháng bāo and is steamed rather than baked.
A Czech-American dish, called klo basnek, is a sausage wrapped in kolach dough. In Sweden and Denmark, it is called a fransk hot dog (meaning 'French hot dog') and in Estonia they are a sausage pastry known as viineripirukas.
In Finland, sausages in pastry are known as nakkipiilo which is translated into weiner hideout – I love that!
Key Ingredients for Pigs in Blanket (Air Fryer)
Ingredients, directions and nutritional information in the printable recipe card at the end of the post.
Crescent roll dough | Canned crescent dough creates puffy, flaky, buttery "blankets" for the sausages. We used organic canned crescent roll dough, not the same as croissant dough.
Cocktail smoked sausages | The "pigs" for this easy appetizer recipe are cocktail-sized smoked sausages, known as little smokies. I use uncured, nitrate & nitrite free smokies.
Egg | If desired, brush the surface of the wrapped pig in a blanket with an egg wash using water and one large egg. This will produce a shiny finish on the outside.
Seasoning | If you'd like, add your favorite seasoning blend to the outside of the appetizer. Try Everything but the Bagel seasoning, sesame seeds, poppy seeds, or flaky sea salt.
Sauce Ingredients | All of the directions for the three sauces are in the recipe card below, ingredients, suggestions and instructions.
How to Make the Best Pigs in a Blanket with Dipping Sauces
If making dipping sauces, make those up before you assemble your pigs in a blanket and store in fridge until ready to dip.
Step 1 | Air Fryer Pigs in Blankets
Start this recipe by preheating the air fryer to 350-365 degrees F. While it heats up, lightly flour a surface and unroll the crescent roll dough.
Fresh Tip
Remember every air fryer cooks slightly different, so test a few first and make your own notes and adjustments. Start with the lower temp and time and adjust.
Step 2 | Prep the Crescent Dough
Next, separate the dough at the perforations to form 8 triangles. Then, cut each triangle into three or four smaller triangles, making a total of 24 or more triangles. Using a pizza cutter makes this process much more manageable than if you used a small knife.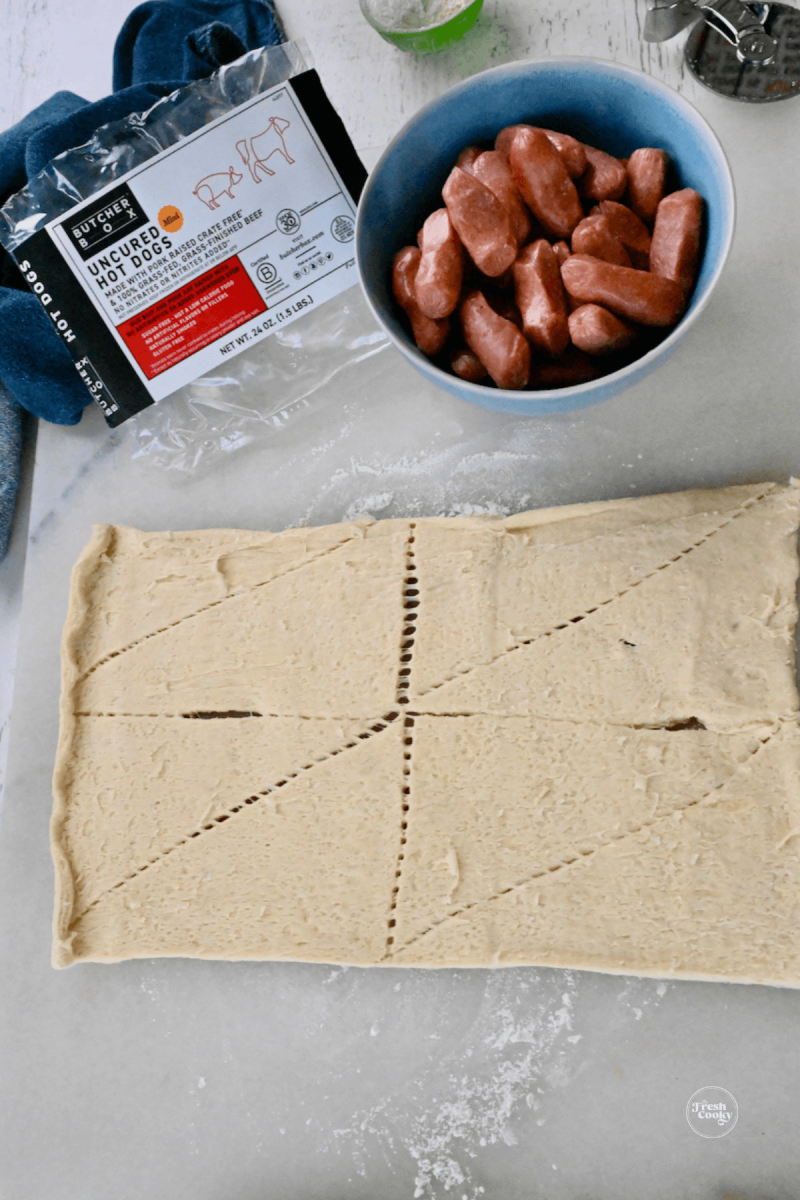 Note that you will likely have more little smokies than you do crescent dough pieces. I like to cut some of my triangles into fourths to make enough pieces for as many mini sausages as possible, I figure some people like less "bread" anyway.
Step 3 | Rolling Lil' Smokies in Crescent Dough
Next, place one cocktail sausage on the widest portion of the triangle and roll it toward the pointed end. Notice that the dough overlaps as it wraps around the sausage to form a sweet little blanket.
Step 4 | Adding Optional Egg Wash
For a shiny or glossy finish brush with egg wash. All you need to do is beat an egg with one teaspoon of water and brush it all over the dough with a pastry brush. Then, sprinkle the surfaces with your choice of seasoning or a salt blend. These steps are optional, but they are easy to do and really bring the appetizer to the next level.
Step 5 | Air Fryer Pigs in Blankets
When ready to bake, set the pigs in blanket with the seam side down into the air fryer basket.
Now, bake the pigs in blankets in the air fryer for about 5 minutes until they are puffed and golden. Depending on your air fryer, you may need to bake them a bit longer. I used the Ninja Foodi XL, and they baked beautifully at 350 degrees for about 5 minutes.
Begin with the minimal minutes and check the appetizer to see if you need to bake them for a few more minutes. Finally, remove them from the air fryer and dig or dip in!
Oven Baked Pigs in a Blanket
First, preheat the oven to 375 degrees. Next, assemble the pigs in blankets as directed in the air fryer instructions. One by one, place them onto a parchment paper or silicone mat-lined baking sheet with the seam side down.
Then, bake for 12-15 minutes until they are golden brown on the surface. Serve hot with your favorite dipping sauces!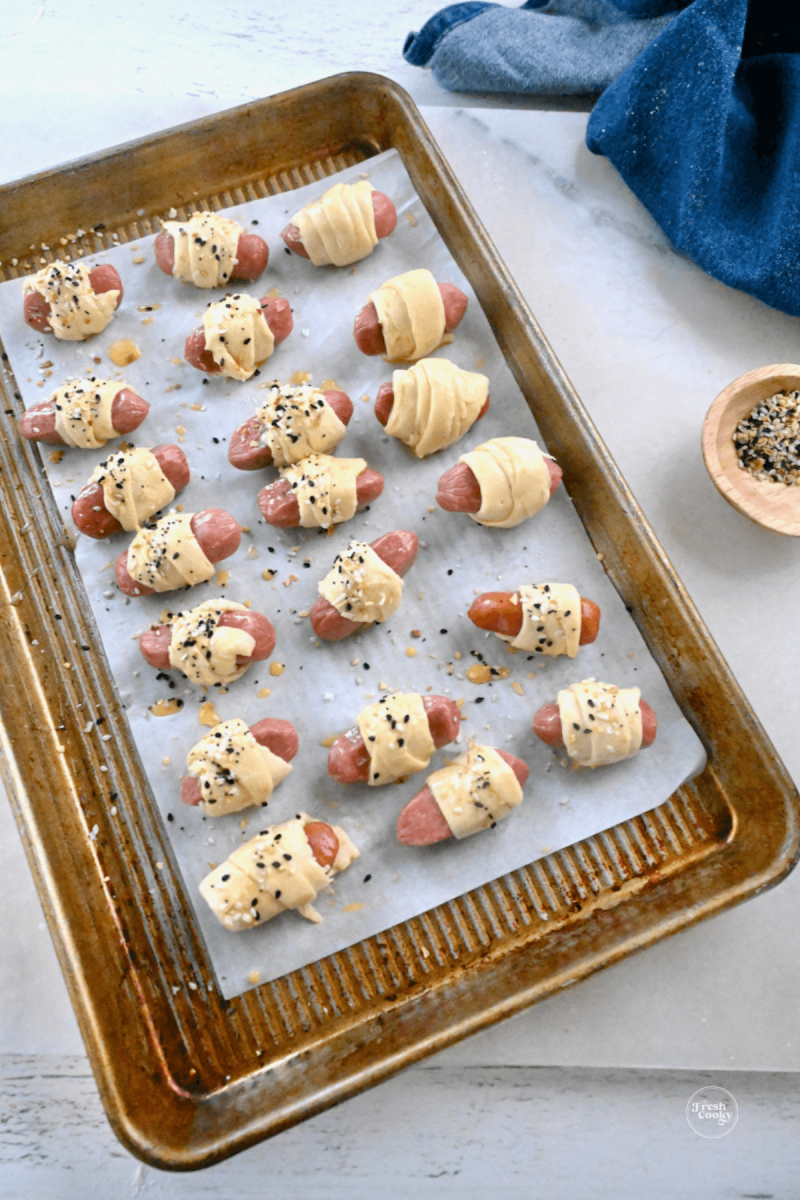 What to Serve with Pigs in a Blanket
Complete this classic appetizer by making some quick homemade dipping sauces. Of course, you could use store-bought barbecue sauce, ranch dressing, blue cheese, and honey mustard for the crescent dogs.
You can even serve the pigs in blankets with plain ol' ketchup and mustard! Use whatever you have, also try serving with Hot Honey for a unique spicy sweet variation.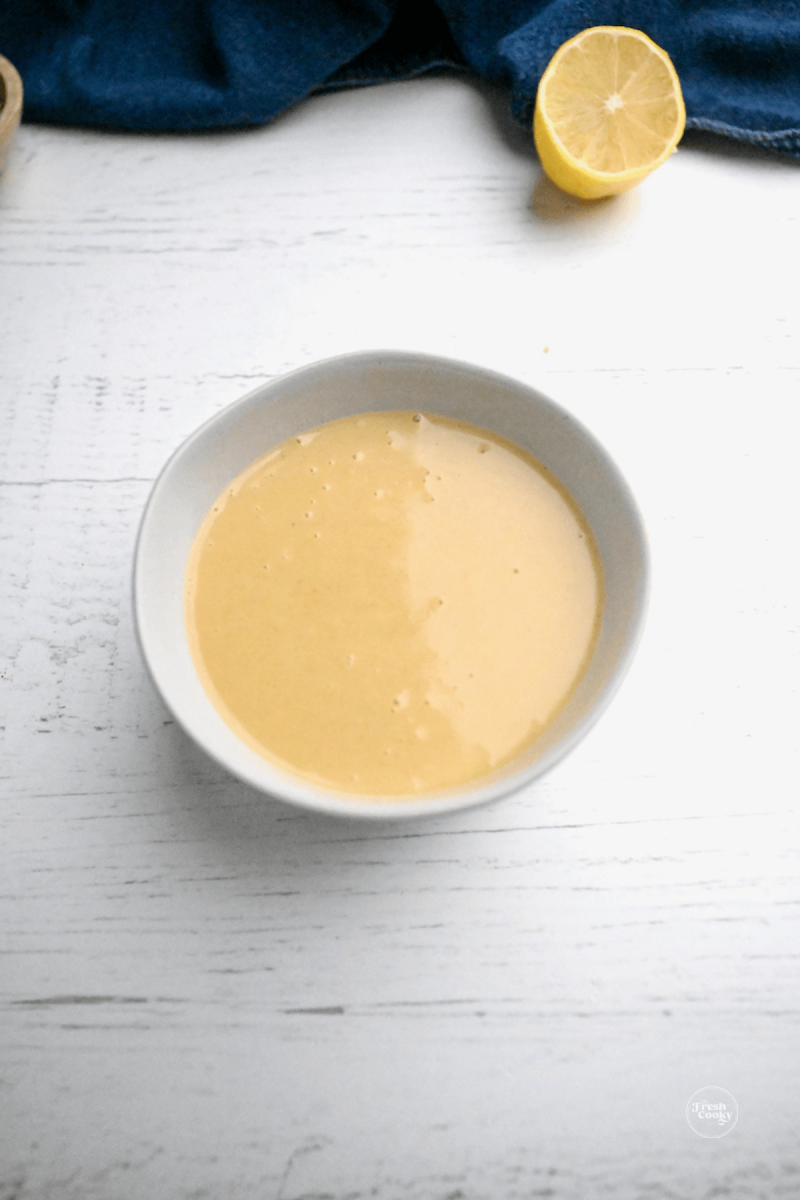 Fresh Tips
f you double or triple the recipe and use more than one can of dough, remember to work in batches. The refrigerated dough needs to remain chilled, or it becomes difficult to work with. Make the first batch, then remove the second can from the fridge and go from there.
Leave about a ½ inch of space between the individual pigs in a blanket. They do puff and rise some.
Variations & Substitutions
Gluten-Free Crescent Dogs | Check sausages to make sure GF. Then, all you need to do is use a GF crescent roll dough mix, as I have not yet found a canned GF dough.
Cheesy Pigs in a Blanket | Add cheese to this crowd-pleasing appetizer by wrapping a slice of cheese around the sausage before adding the dough. Use whatever cheese you'd like—American cheese, pepper jack, and mozzarella work great!
Add Bacon! | Yep—that's right. You can even add bacon to your pigs in a blanket! Tear raw bacon strips into smaller pieces and partially fry them in a pan on the stovetop, or use pre-cooked bacon. You don't have to thoroughly cook the bacon because it will continue to bake as you bake the pigs in a blanket. Then, wrap the sausages in the bacon, layer in the cheese if preferred, and finally, wrap in the crescent roll dough and bake as directed.
Storage Tips
Freeze Leftovers | Freeze cooled appetizers in airtight baggie or storage container up to 3 months.
Refrigerate | Store leftovers in tightly sealed container or baggie in fridge for 5-7 days.
Reheat | Reheat pigs in a blanket by placing them back in the air fryer for 2 minutes or so at 350 degrees.
Can you Freeze Unbaked Pigs in a Blanket?
Yes! Flash freeze the pigs in a blanket by placing the little bites on a parchment lined baking sheet in freezer for 1-2 hours, then transfer them to a freezer baggie or airtight container, freeze up to 3 months.
Air fry Frozen Pigs in a Blanket | Preheat air fryer to 350-375 degrees and place frozen pigs seam side down in air fryer basket and cook for 8-10 minutes until golden, checking around 7 minutes. Mine were perfect at 9 minutes.
Oven Baked frozen pigs in a blanket, place frozen on parchment lined baking sheet and cook in a preheated 400 degree oven for 20-25 minutes until puffed and golden.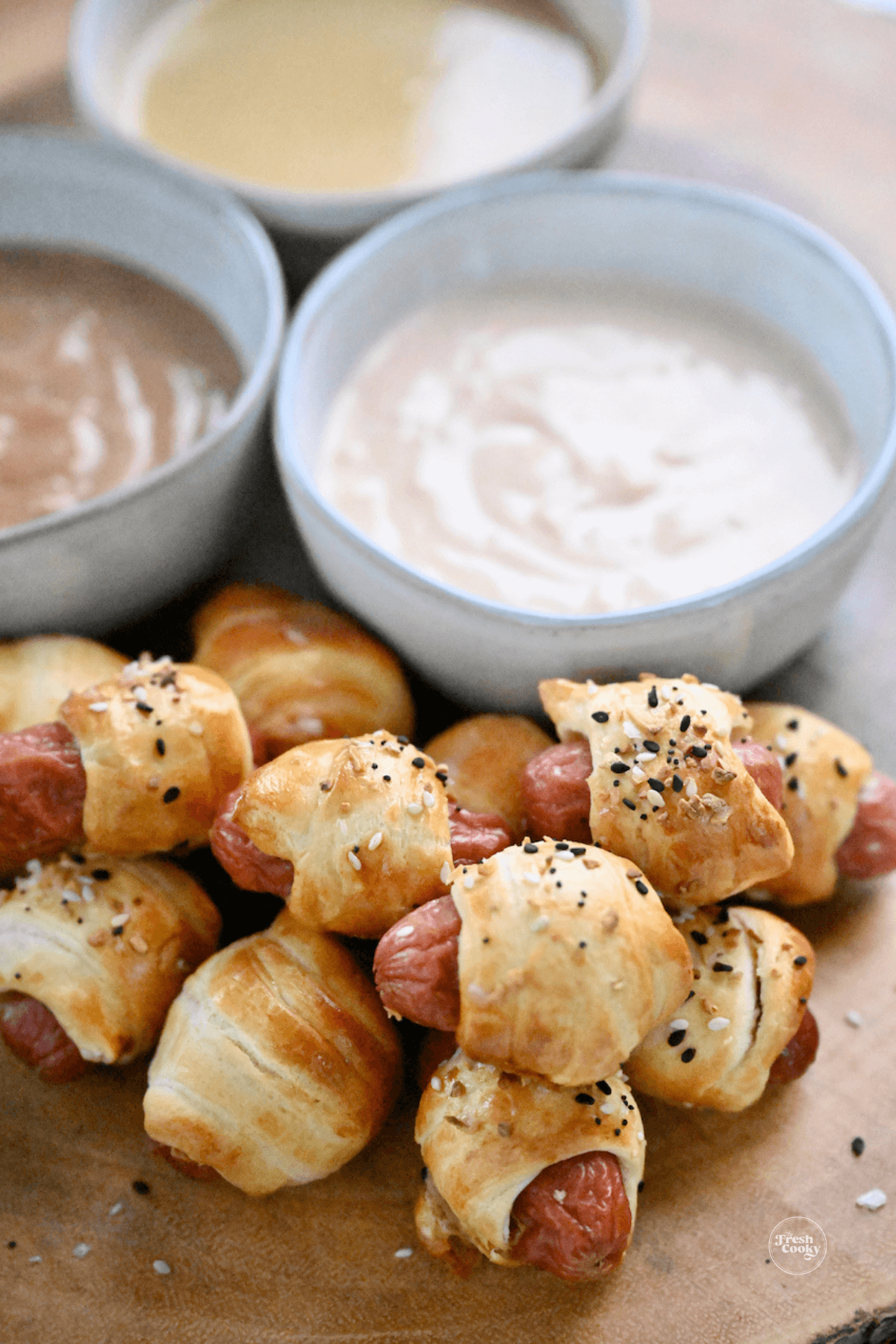 Frequently Asked Questions
What is the original pigs in a blanket?
Folks say it was a lunch for on-the-go manual laborers in England. And still, others say it was originally a sausage wrapped in bacon! Either way, they have always been a meat wrapped up and easy to eat– and that is good enough for me!
Can you make pigs in a blanket ahead of time
To make this easy appetizer ahead of time, follow the recipe up until you slip the pig in a blanket into the oven or air fryer. Then, freeze the unbaked wrapped sausages on a parchment-lined cookie sheet for 1-2 hours. Once frozen, you can remove them and dump them into a freezer baggie. The uncooked pig in a blanket will last up to 2 months in the freezer.
When ready to serve them, bake the frozen pigs rather than letting them thaw first. Preheat the air fryer to 350 – 375 degrees F for 5 minutes.
Then, layer pigs in a blanket in a single layer in the preheated air fryer basket with ½ inch space apart to rise. Bake for 8-10 minutes until puffed and golden brown.
Can you make pigs in a blanket with hot dogs?
Yes! If preferred or needed, slice hot dogs into thirds or fourths, so they are about the same size as the cocktail sausages would be. You may also use whole or mini hotdogs and wrap them in large triangles of crescent dough if you like!
The cook time should be the same if you cut the hot dogs into pieces. However, if you use whole ones, you might need to air fry or bake them a little longer
Dipping Sauces for Pigs in a Blanket
Whip up these easy dipping sauces like Spicy Blue Cheese, Barbecue Ranch or this creamy Honey Mustard sauce. Stir together honey, dijon mustard, sour cream and mayo for a delicious honey mustard sauce or use your favorite BBQ sauce. Delicious dipped in hot honey or even a little maple syrup.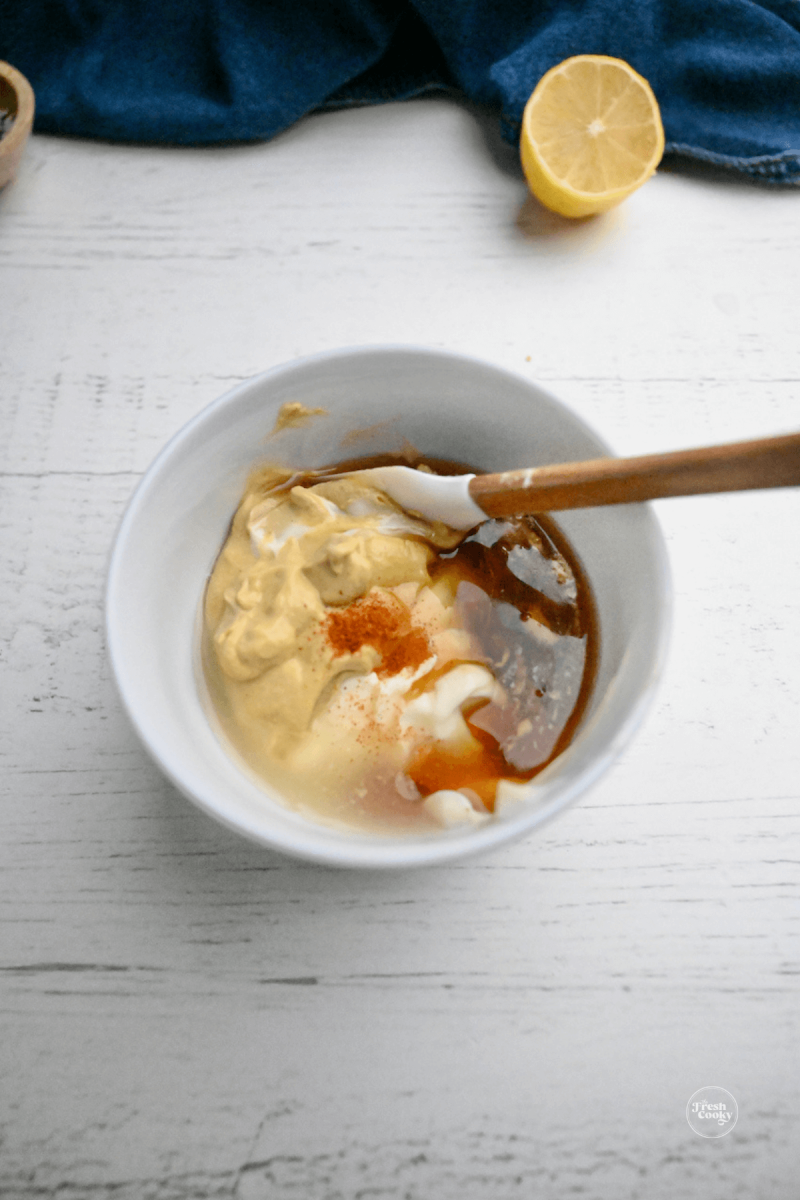 What to Serve with Pigs in a Blanket
Here are some delicious sides to round out your cocktail wieners, some of the most popular side dishes with pigs in a blanket are: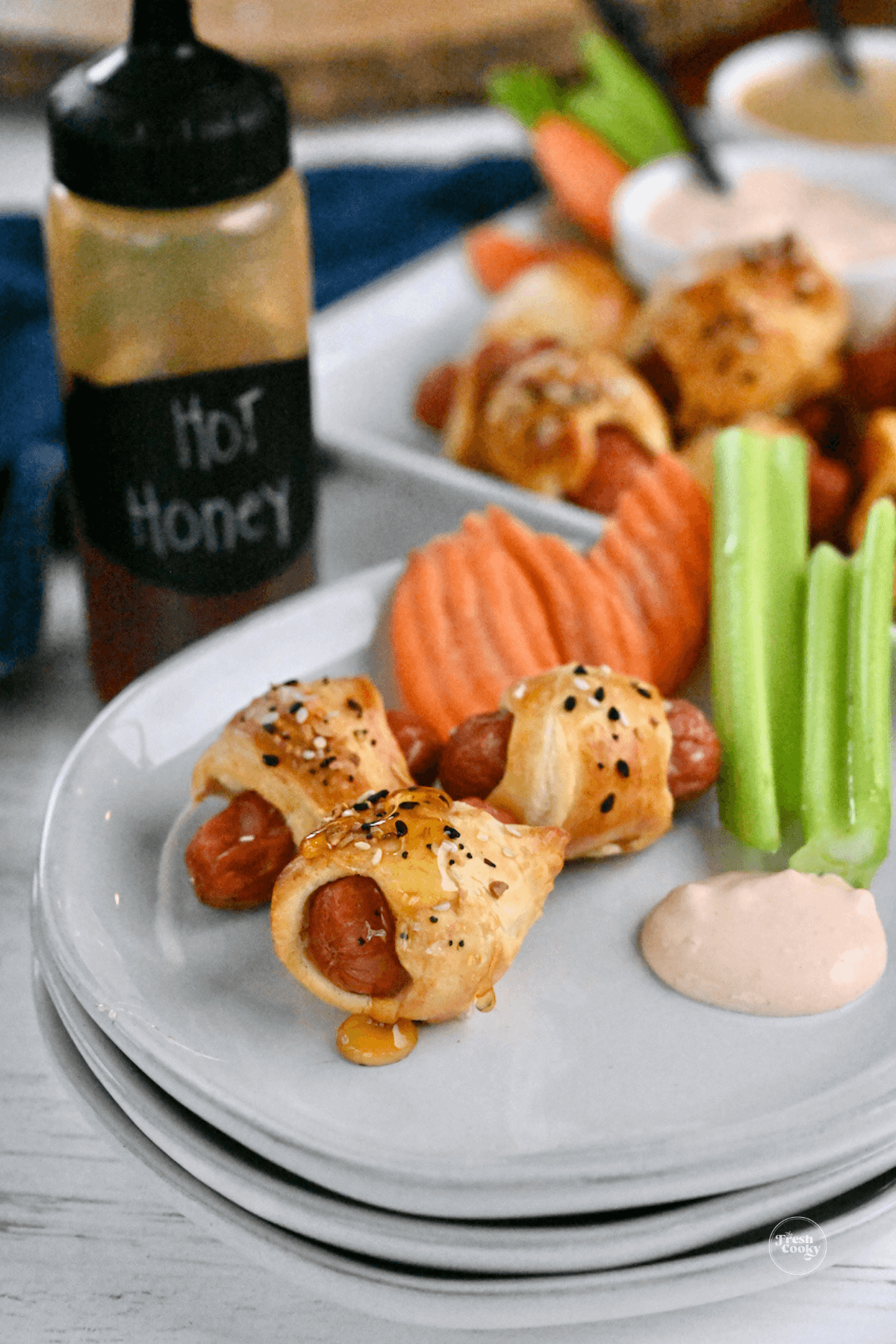 More Hit Appetizers to Feed a Crowd
Keep a close eye on your pig in a blanket when using the air fryer method. The various kinds of air fryers makes their cooking times different. So, use this recipe as a baseline, and adjust as needed.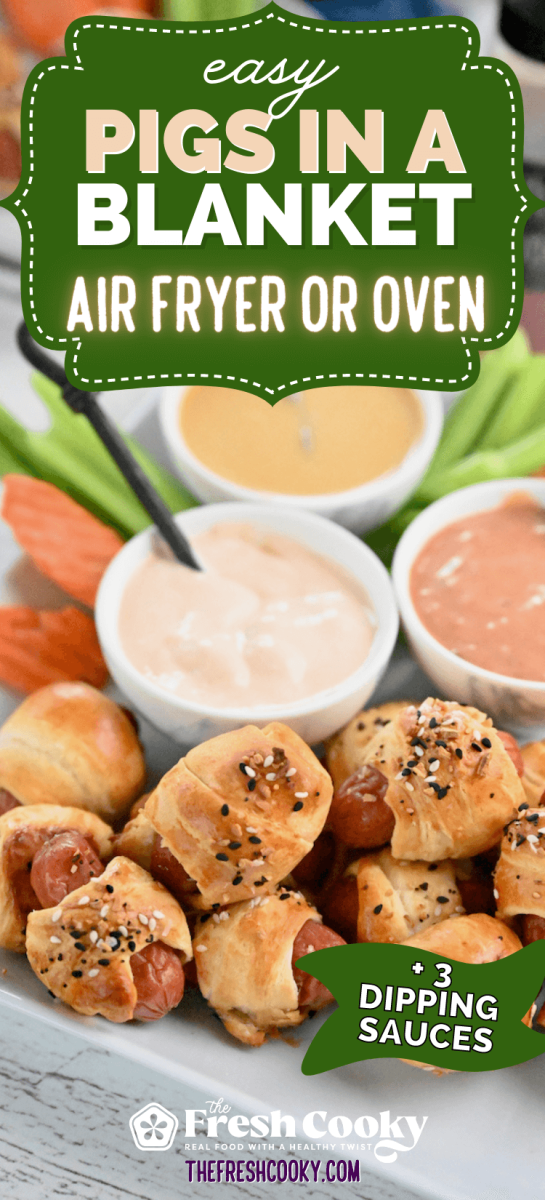 I hope you loved this Pigs in Blanket Air Fryer Recipe — if you did, would you share your creation on Instagram, Facebook & Pinterest? And be sure to comment below!
Like this recipe?
Don't forget to give it a ⭐️⭐️⭐️⭐️⭐️ star rating and comment below the recipe!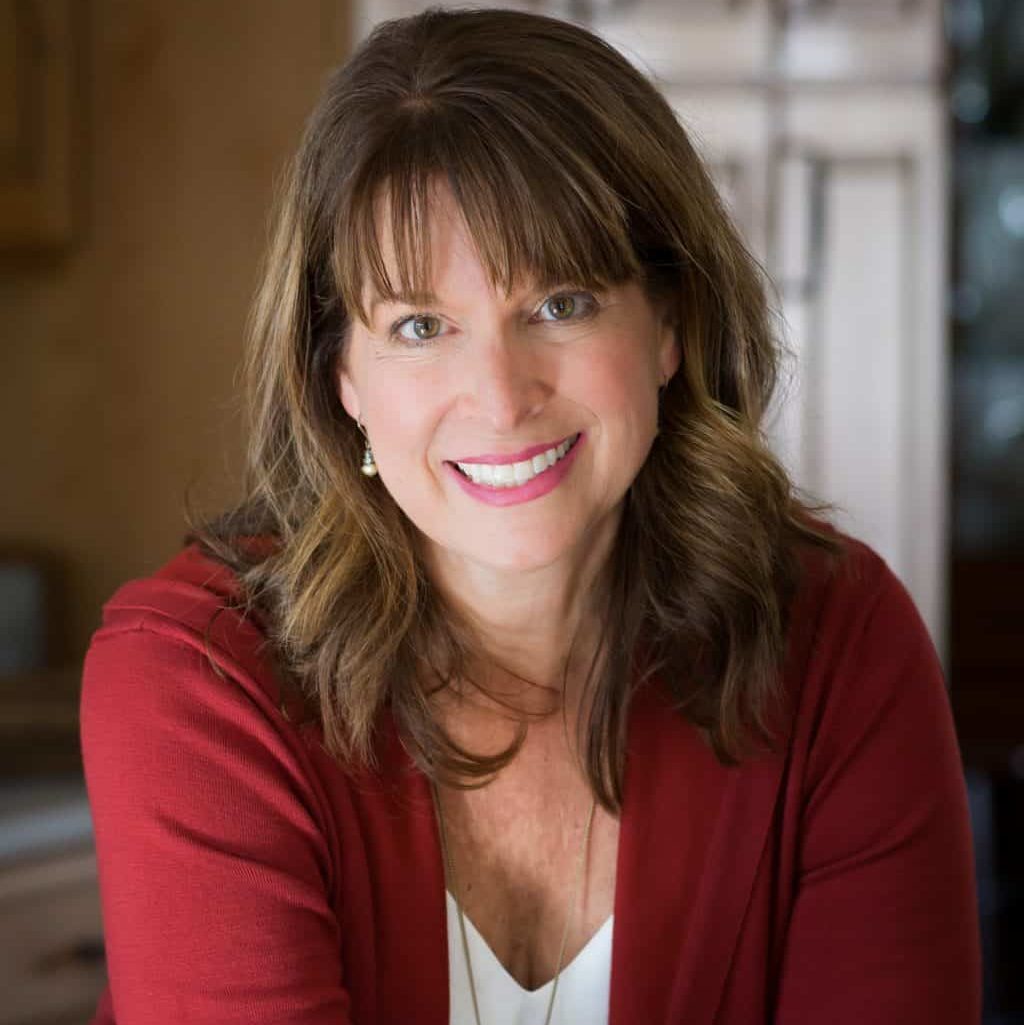 About Kathleen Pope
Recipe Innovator | Food Photographer | Food Writer
Hi, I'm Kathleen Pope. Here at The Fresh Cooky you will find easy, mostly from-scratch, trusted recipes for all occasions. From speedy dinners to tasty desserts, with easy step-by-step instructions. I am here to help teach you how to make mouthwatering recipes without spending hours in the kitchen. Read more about Kathleen here.