Turkey Divan Recipe (or chicken)
As an Amazon Associate, I earn from qualifying purchases. Please read my disclosure policy.
This best turkey divan recipe uses leftover turkey or chicken. It is creamy, flavorful, with bright pops of broccoli and topped with either a crispy, buttery cracker topping or leftover stuffing. Made from scratch, with no canned soups, plus easy ways to make gluten free!
Don't you just love a good casserole or bake, with clean and delicious ingredients, a healthier chicken divan!
If you love meals that come together quickly, try these winter family favorites: Easy Chicken and Sausage Jambalaya, Copycat Cracker Barrel Chicken and Rice Recipe or another leftover favorite, Wild Rice Casserole (with chicken or turkey)!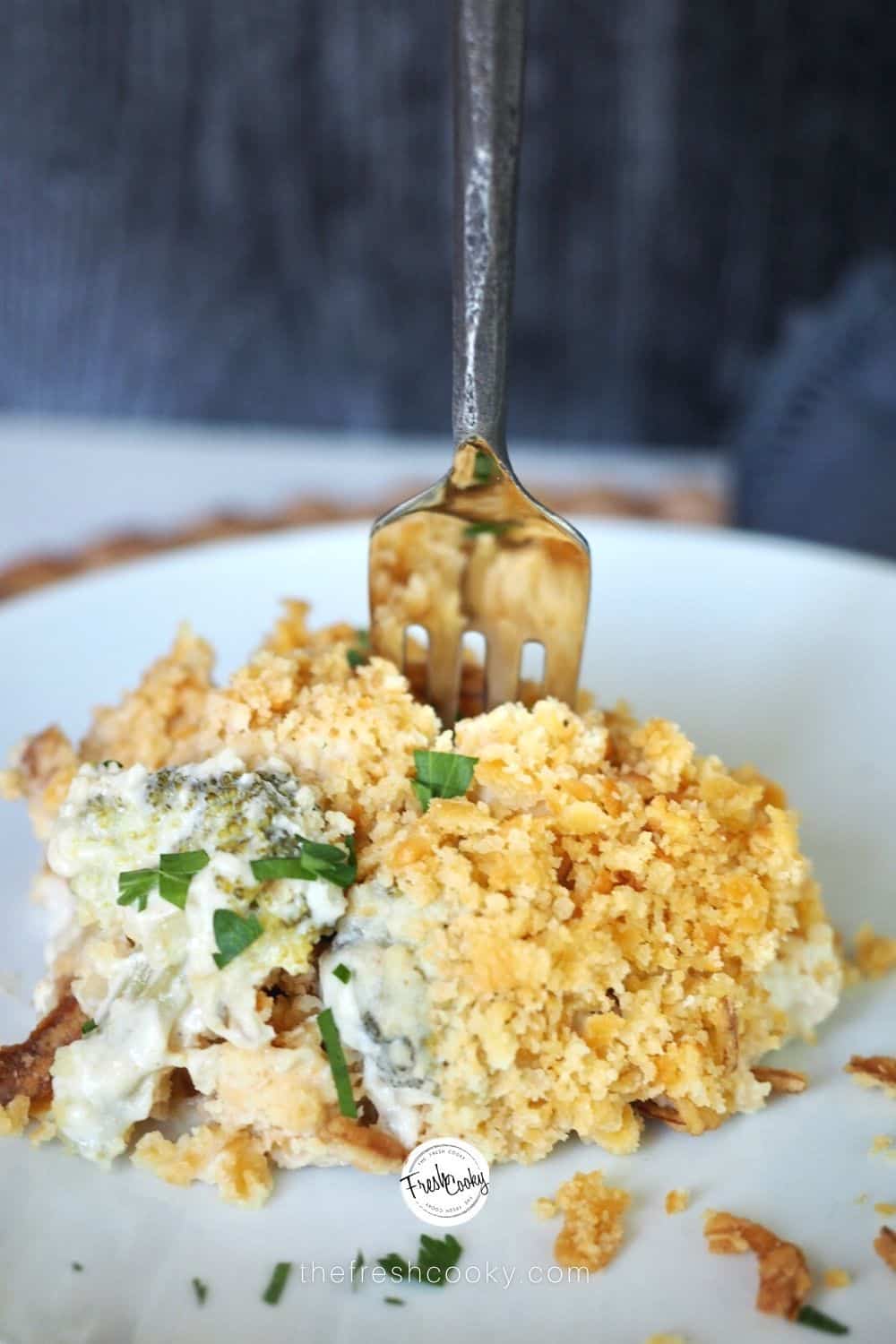 How to Repurpose Holiday Leftovers
It's no secret that I am not a leftovers fan, however; I am learning to repurpose them into new and creative dishes more and more!
Recipes that use multiple holiday leftovers in ways other than the traditional turkey sandwich (not that there is anything wrong with a turkey sandwich, mind you!) are the best!
And this Turkey Divan is just the dish, read on for how I incorporate numerous leftovers into this delicious dish!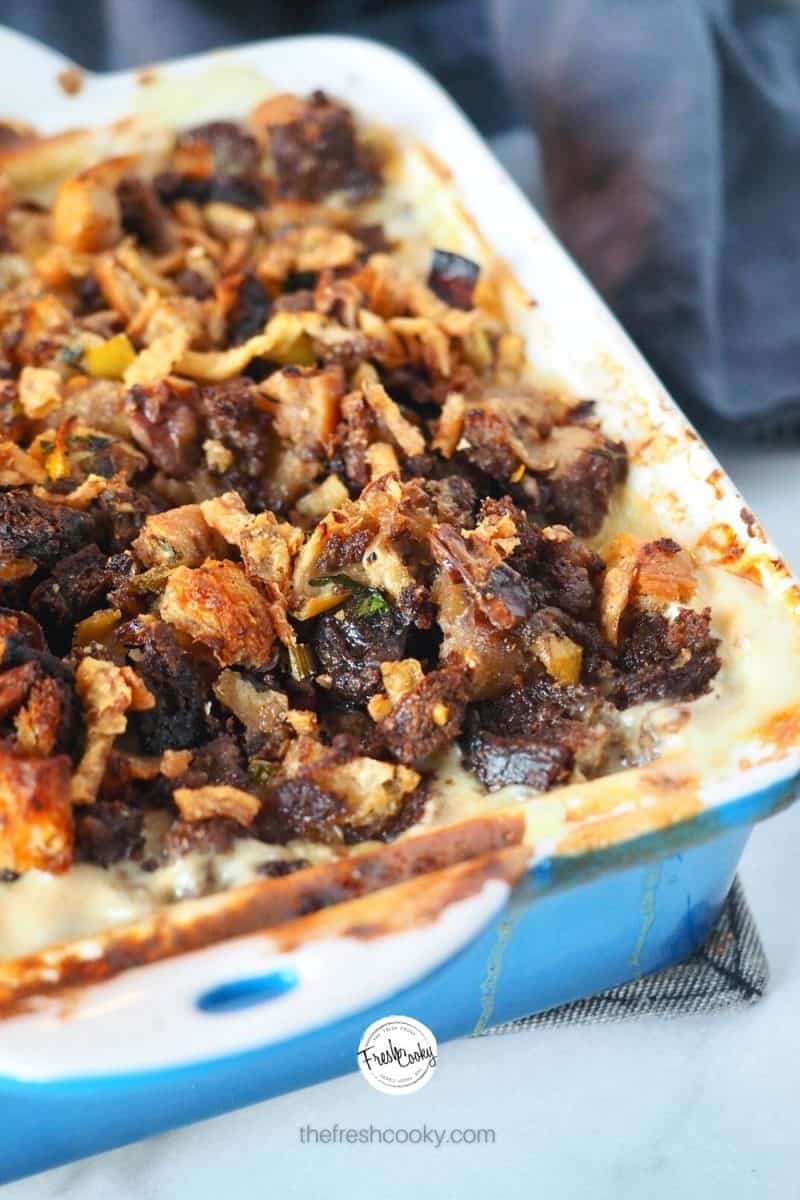 Why is it called Chicken Divan (or Turkey Divan)?
I love history, so it won't surprise you that I dug in a bit to the origin of this iconic American casserole, originally created using chicken and later adapted to use leftover turkey.
Created by Chef Lagasi in the 1950's for New York City Chatham Hotel, where it was the highlighted, signature dish.
A casserole typically served with broccoli and a mornay (cheese sauce), it was named after the place where it was created, the Divan Parisien, a fine restaurant in the Chatham Hotel.
The dish is now commonly prepared with, many different types of cheese, and has become a great use for holiday leftovers. Many recipes use canned soups or mayonnaise, it is still one of the most classic American casserole dishes today.
My version uses gruyere cheese, more of a classic divan recipe; even the Barefoot Contessa, Paula Deen and Nancy Fuller use Gruyere cheese.
PRIMARY INGREDIENTS
Remember these are the main ingredients, for the full printable recipe, head to the end of the post.
FLAVOR | You'll need a little butter, onions and garlic to impart simple, but amazing flavor!
ALL PURPOSE FLOUR | Used to make a roux, a thickening agent – you may use Gluten-Free AP Flour
DIJON MUSTARD | adds classic flavor to the sauce.
WHOLE MILK | You may use lesser fat milk's, but it won't be quite as thick and rich
GRUYERE CHEESE | This cheese is what makes it a classic Chicken Divan recipe
CHICKEN BROTH | In place of using a cream of…soup you are making your own mornay sauce!
SOUR CREAM | You can substitute with plain Greek yogurt
CAYENNE PEPPER | see substitution ideas for other spices
COOKED turkey or chicken breast, diced, you can also use rotisserie chicken or turkey
BROCCOLI | fresh or frozen (thawed and drained)
BUTTER CRACKERS Z| or you can use leftover stuffing
French Fried Onions | these are optional, but wow do they add great taste!
How do you make Turkey Divan from Scratch?
Preheat oven to 375F and grease, butter or spray a 2 quart baking dish (one of my favorite dishes) OR split into two 8×8 baking dishes, one to eat and one to freeze.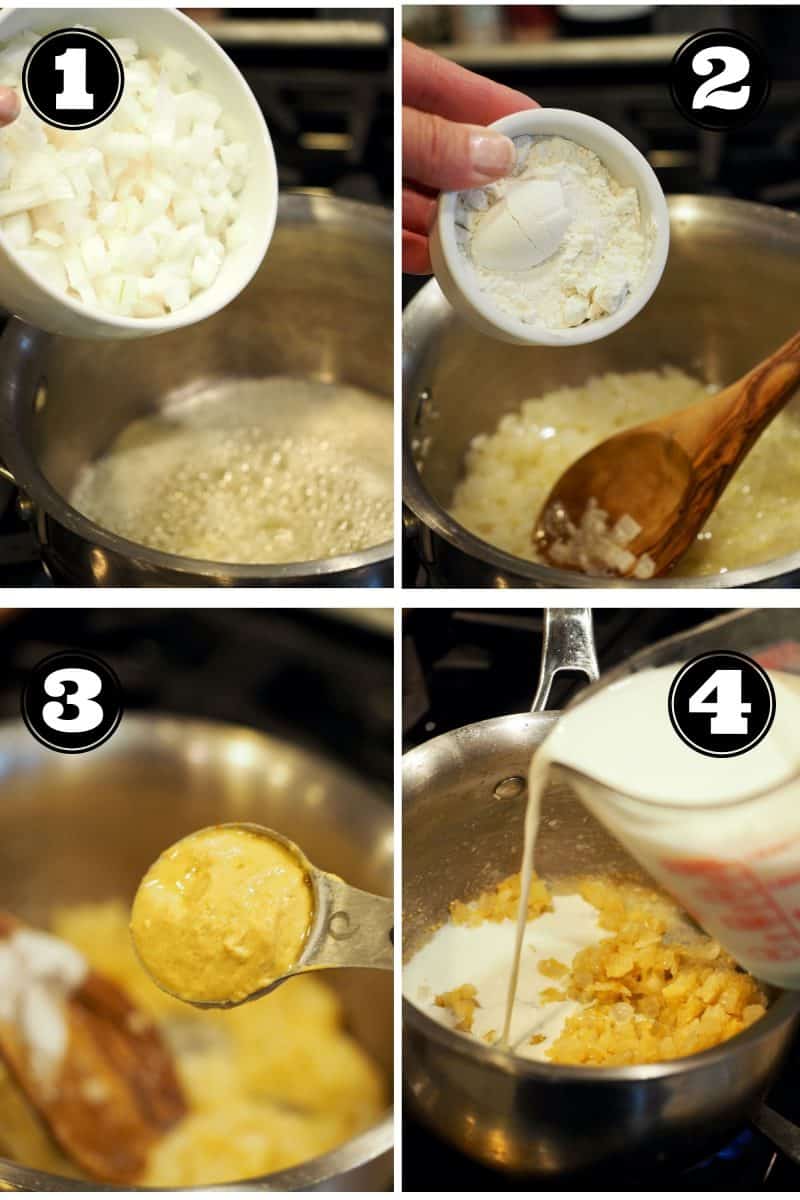 Melt 4 tablespoons of butter in a medium-large saucepan over medium-high heat and sauté onions and garlic, stirring until soft and slightly browned, about 5 minutes.
Sprinkle flour over the top, stirring constantly, for about a minute.
Stir in mustard.
Slowly pour in milk, while whisking constantly until smooth.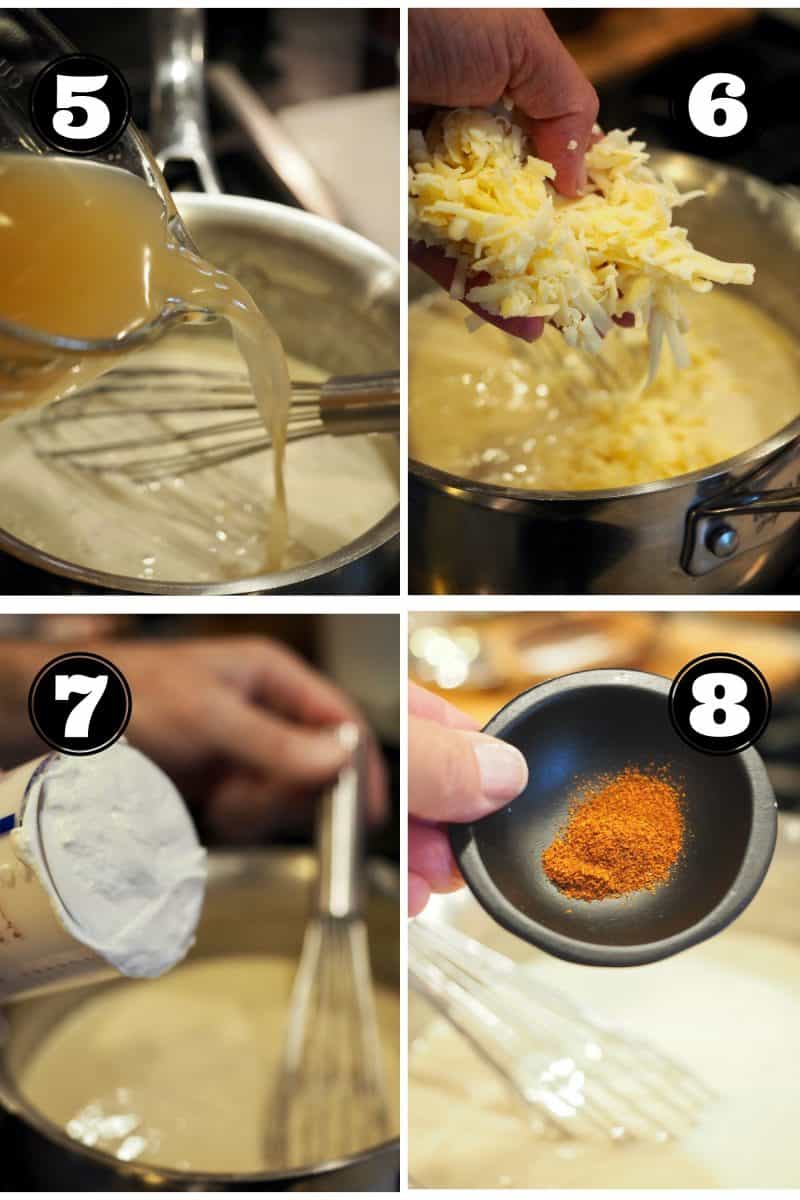 Then add the chicken broth, while whisking, bring to simmer and whisk until thickened, about 5-7 minutes over medium heat.
Reduce heat to low and stir in cheese
and sour cream or Greek yogurt.
Toss in cayenne pepper, whisking until fully melted and combined, season with salt and pepper.
Add diced or shredded leftover turkey (or chicken) and stir.
Stir in broccoli.
Spread mixture into prepared pan(s) and take a taste, season with additional salt and pepper if needed.
Mix crushed crackers with remaining 2 tablespoons of melted butter and top the casserole, sprinkle French fried crispy onions on top if desired. Or replace crackers with leftover stuffing.
Cover with foil and bake until broccoli is tender, about 40 minutes, remove foil and bake for another 20-25 minutes until bubbly and top is crispy. If desired, sprinkle with chopped parsley or chives before serving.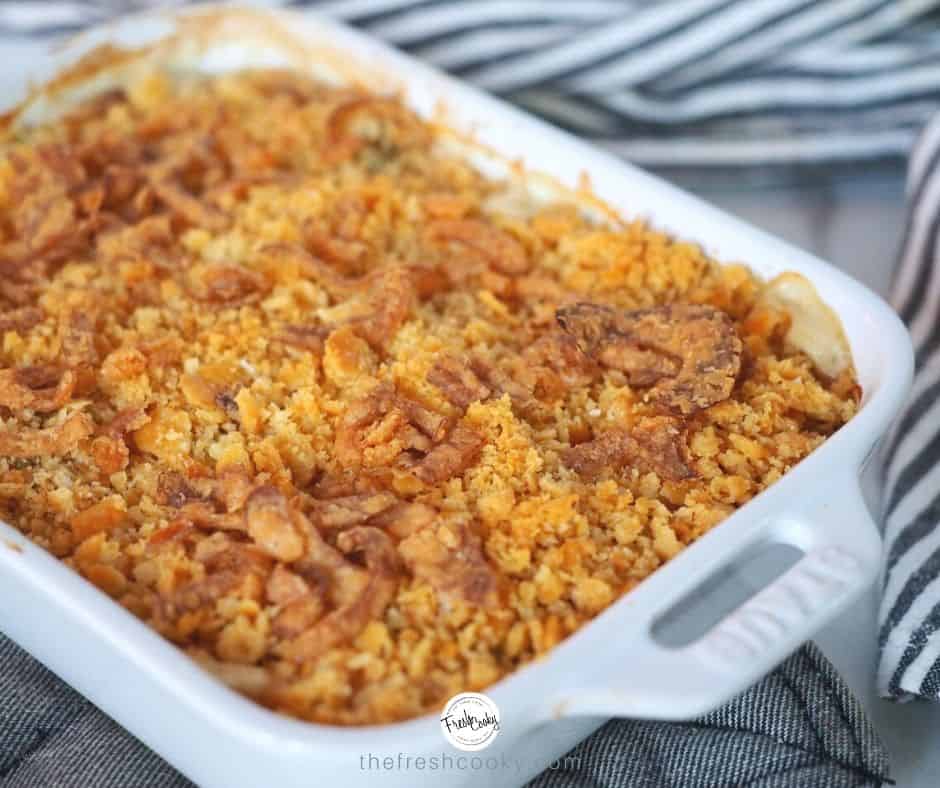 SUBSTITUTIONS & VARIATIONS
There are so many ways you can change this up, make it yours! Don't like cayenne pepper, swap it out; have leftover asparagus from that cheesy asparagus bake, use that instead. This is not Chicken Divan Paula Deen style (nothing wrong with that, but this is healthier!)
CHANGE THE SPICES
Chicken Divan with Curry | Add 1 teaspoon curry powder and a squeeze from a half of a lemon, yummy!
How about Hungarian Turkey Divan, Paprikash style | Add 1 tablespoon of your favorite Smoked or Sweet Paprika.
Cajun Turkey Divan | Toss in ½ – 1 tablespoon of your favorite Cajun Spice Blend.
Add 1 teaspoon cumin and 1 – 2 teaspoons chili or chipotle power for a Mexican Turkey Divan.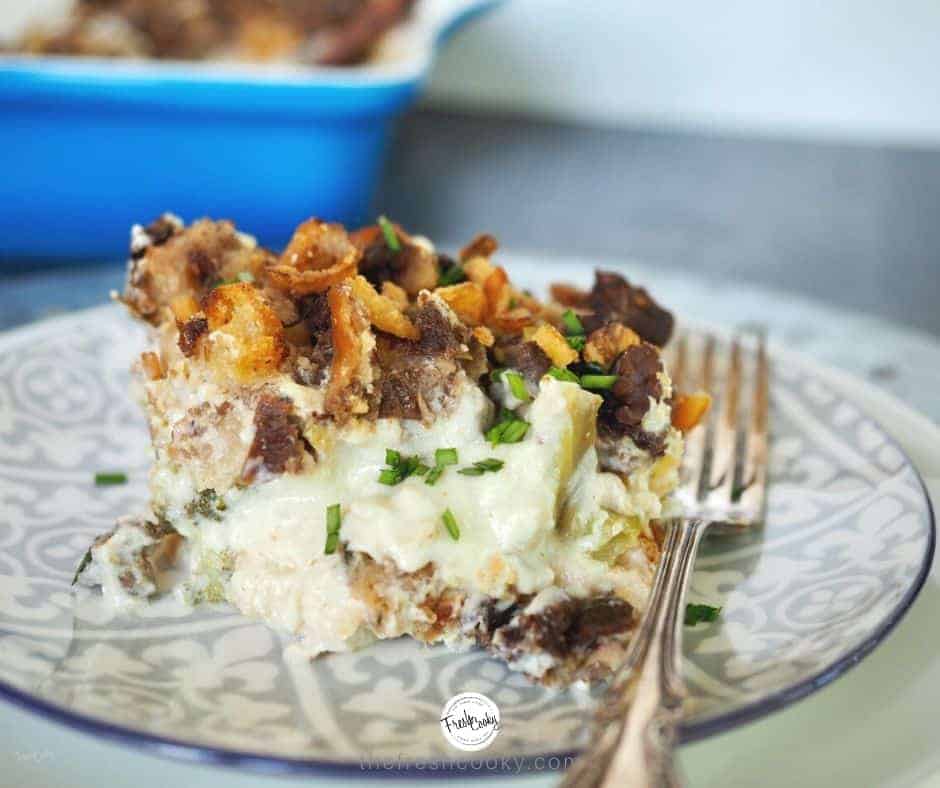 CHICKEN BROCCOLI DIVAN
Try using bite sized pieces of asparagus, green beans or peas.
Got leftover broccoli, asparagus or green bean casserole? Most likely they were also baked in a creamy, cheesy sauce; so add away!
CHANGE THE TOPPING
As you can see from the pictures, I made two casseroles (split one recipe into two smaller dishes), the first I topped with the traditional buttery cracker topping and the second with leftover stuffing, we loved them both, but the stuffing one was dreamy!
Use leftover mashed potatoes, scalloped potatoes, be creative!
Use gluten free Panko bread crumbs instead of crackers.
Trying to keep it lighter? Omit the crackers and stuffing and if a crunchy topping is desired, top with French Fried Onions or nothing at all.
CHANGE THE CHEESE
Traditionally this dish was made with Gruyere and Parmesan cheese, split the amount of cheese and add both.
Try using Ementhaler or Swiss cheese
Swap out Gruyere for Sharp White Cheddar cheese
CHANGE THE MEAT
As mentioned earlier, the original dish was made with chicken and later adapted to use turkey.
Make this dish anytime of year using rotisserie turkey or chicken.
Got leftover ham and not turkey or chicken? Use it!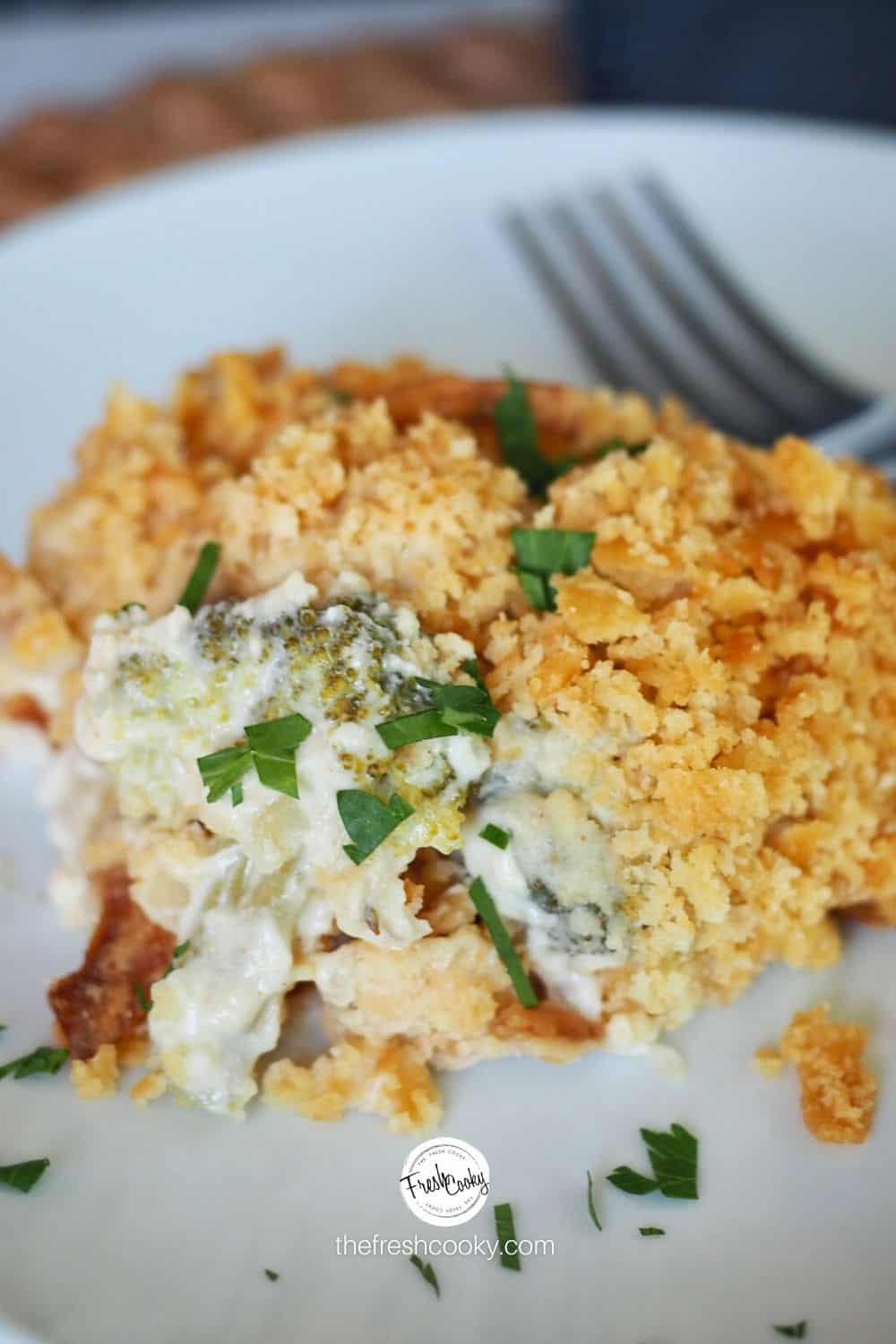 CAN I FREEZE TURKEY BROCCOLI DIVAN?
Casseroles are the best to freeze and eat another day, so yes! I split this into two smaller 8×8 square baking dishes, topping one with buttery crackers and the other with leftover stuffing.
You can bake ahead of time, cool completely and covering well, freeze. To reheat, simply place foil covered in 325 degree oven for 30-40 minutes until warm and bubbly, you may want to uncover the last 20 minutes to crisp the topping.
May also be frozen unbaked, I suggest placing the topping in a freezer baggie and wrap with the cooled, unbaked casserole with instructions. Thaw in refrigerator overnight and bake as directed.
Gluten-Free Turkey Divan
By swapping in gluten-free ingredients, you can easily make this dish GF!
If you enjoyed this dish, you might also enjoy these comfort food recipes:
Like it? PIN to your Favorite Leftovers Board.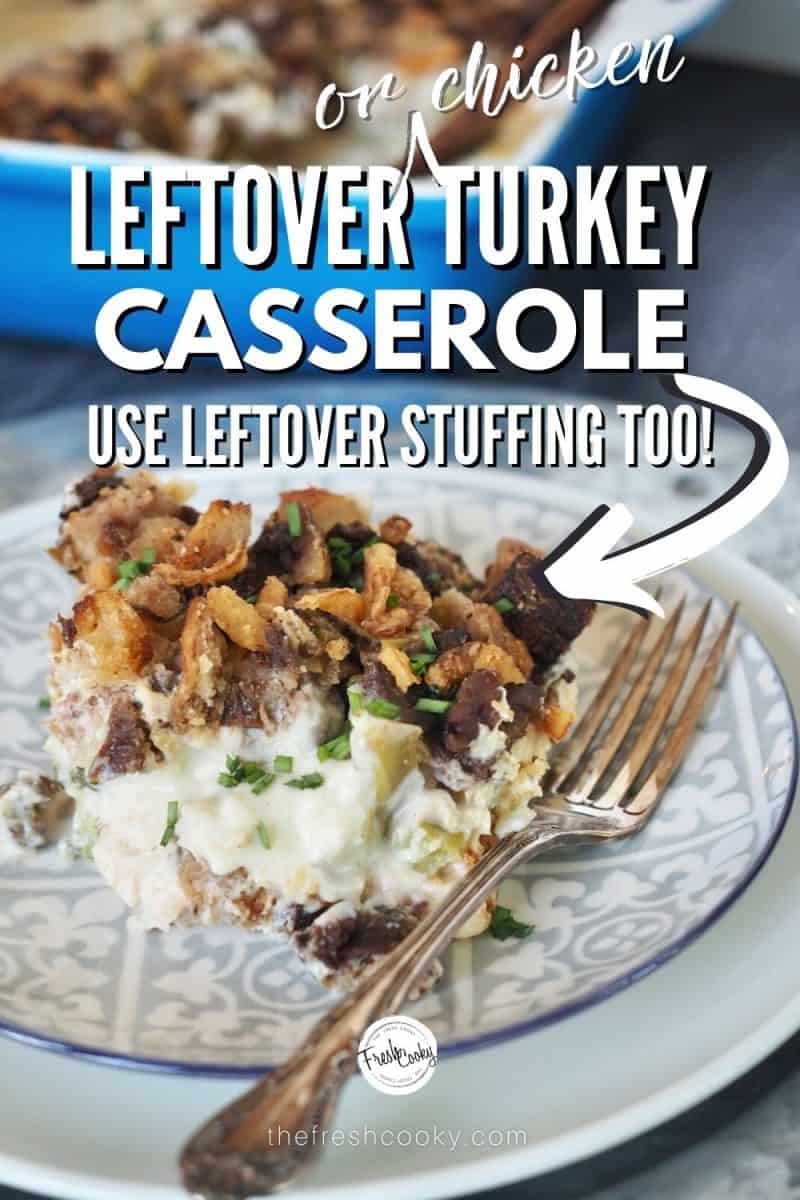 Like this recipe?
Don't forget to give it a ⭐️⭐️⭐️⭐️⭐️ star rating and comment below the recipe!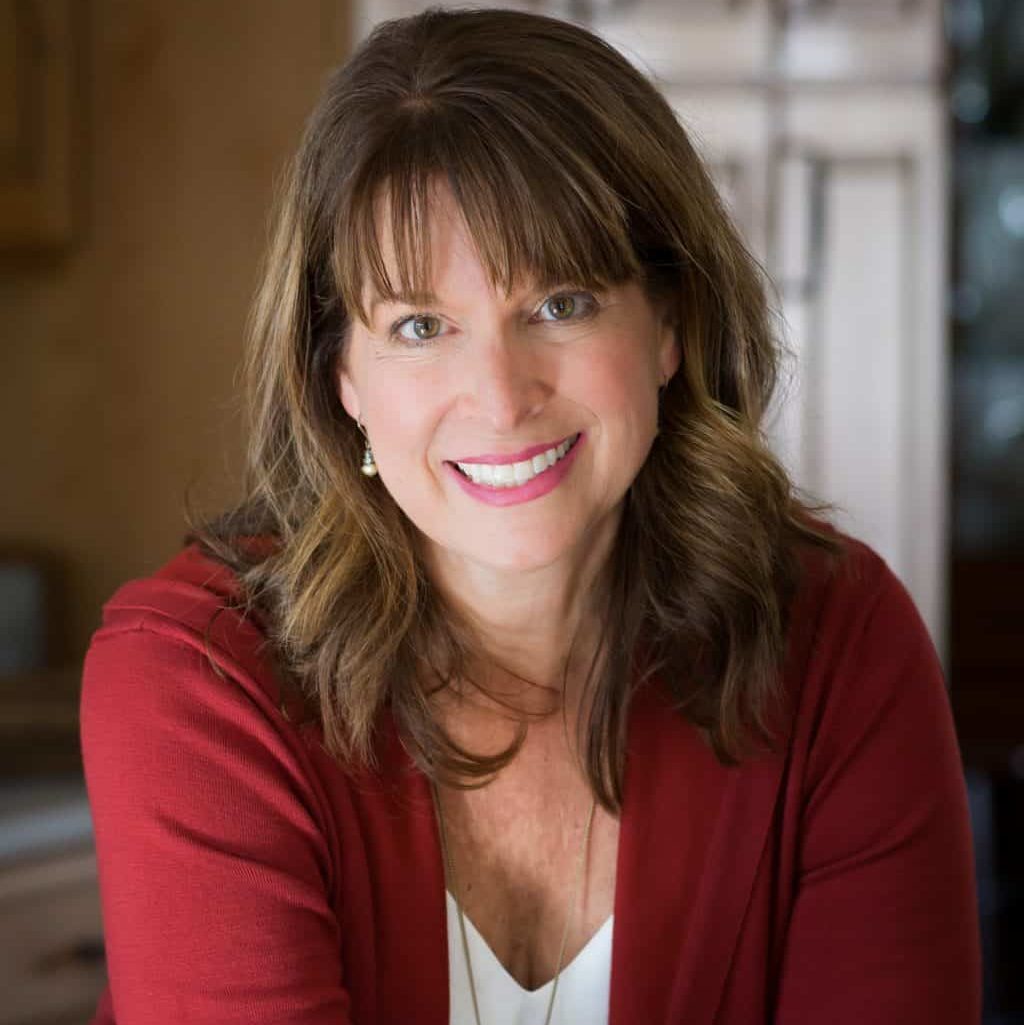 About Kathleen Pope
Recipe Innovator | Food Photographer | Food Writer
Hi, I'm Kathleen Pope. Here at The Fresh Cooky you will find easy, mostly from-scratch, trusted recipes for all occasions. From speedy dinners to tasty desserts, with easy step-by-step instructions. I am here to help teach you how to make mouthwatering recipes without spending hours in the kitchen. Read more about Kathleen here.