Easy Crispy Air Fryer Turkey Thighs Recipe
As an Amazon Associate, I earn from qualifying purchases. Please read my disclosure policy.
This simple Air Fryer Turkey Thighs recipe is so flavorful with crispy skin with a tender, juicy inside. These delicious juicy turkey thighs are perfectly seasoned with garlic powder, herbs, smoked paprika, and a pinch of salt and pepper. Perfect for those times you don't need a whole turkey and are craving dark meat.
An air fryer is a great appliance if you want faster cooking time and healthier alternatives. For more simple and delicious air fryer recipes, try my Air Fryer Ravioli, Steak Bites, and Easy Air Fryer Halibut Recipe with Lemon Butter Sauce and Air Fryer Turkey Breast!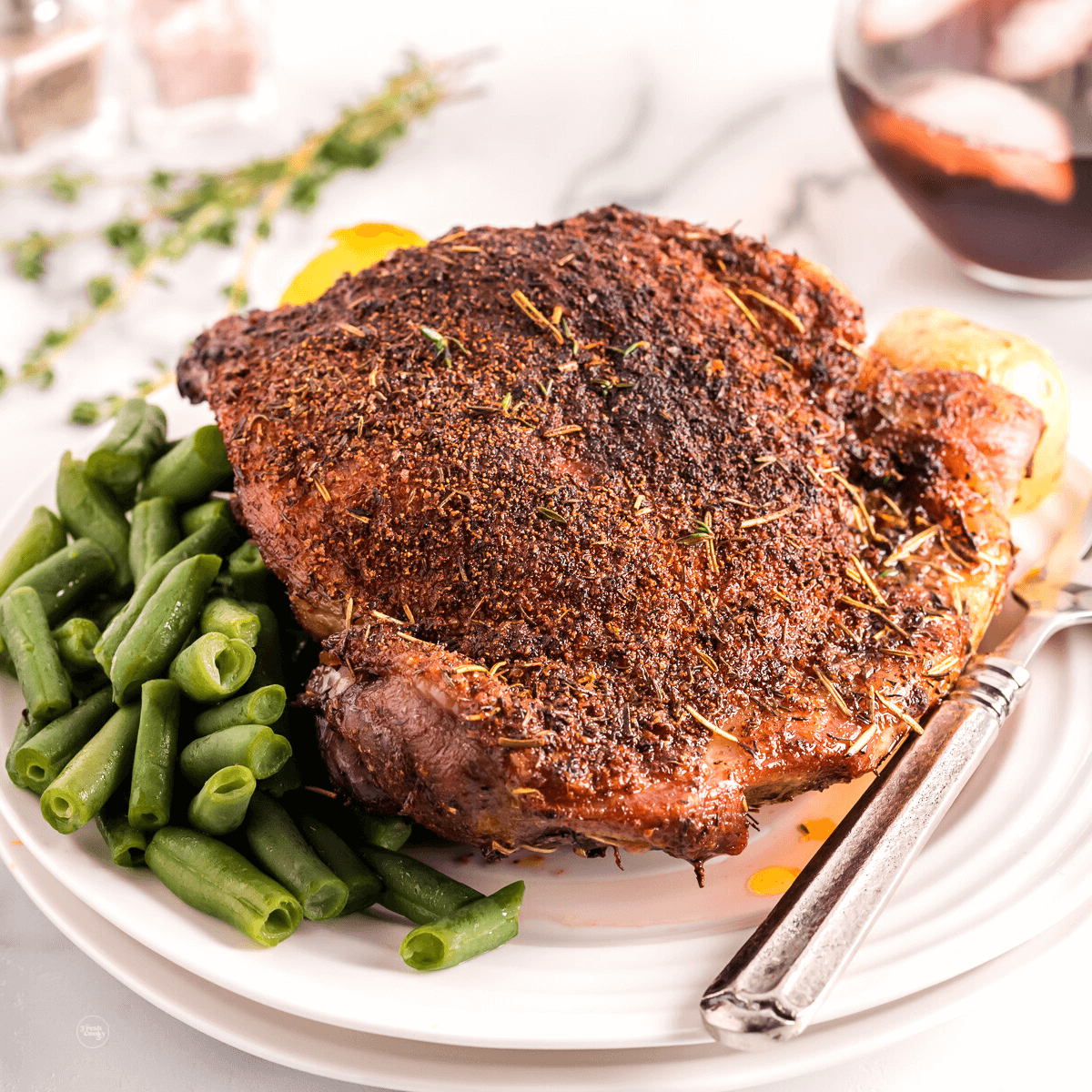 Why You Will Love this Recipe
Use Frozen or Fresh Turkey Thighs | I love options. I provide the instructions to make air fryer turkey thighs from frozen or fresh.
Simple and Classic | These air fryer turkey thighs are easy to make, using simple ingredients. Most likely, you will already have all these seasonings in your pantry.
Less Mess | One of the best things about frying foods in an air fryer is that you can get the same crispy outside and tender inside without the mess of deep frying or the stovetop method. Not to mention, cooking in the air fryer often takes less time.
The air fryer especially comes in handy during this busy time of the year. Try this air fryer baked sweet potatoes or these air fryer steak fries.
Healthy Twist
No Oil or Butter Required | How can you fry turkey thighs without butter or oil? Using the air fryer—that's how! You don't need olive oil or butter with an air fryer to get a perfectly crisp skin, the fats in the skin do it all for you!
Simply Seasoned | These turkey thighs are seasoned with a dry rub of herbs and spices—no heavy gravy, breadcrumbs, or any other high-calorie flavor booster.
Simple Ingredients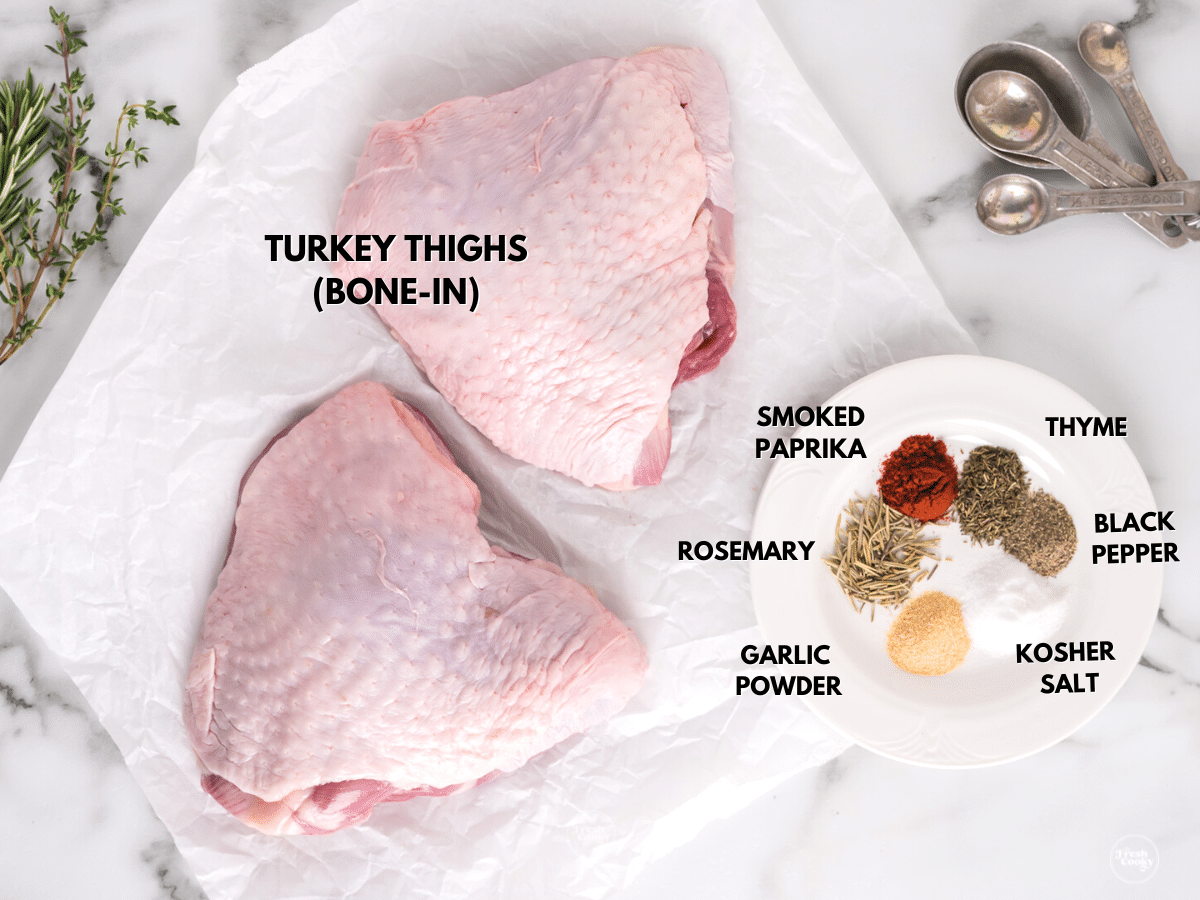 Ingredients, directions and nutritional information in the printable recipe card at the end of the post.
Turkey thighs | Select quality bone-in turkey thighs with skin. You may use frozen or fresh. The instructions for both are provided. They should be about a pound each.
Kosher salt | Sprinkle the thighs with a pinch of kosher salt to enhance the savory notes.
Garlic powder | Add a little garlic powder for subtle spice.
Herbs | Add to the seasoning mix some dried thyme and rosemary. If desired, you may finely chop fresh rosemary and thyme.
Smoked paprika | Smoked paprika lends a rich and smokey flavor to the turkey thigh seasoning mix.
Black pepper | Finally, add some freshly ground black pepper for a subtle kick of heat.
This recipe serves one or two people. To feed more increase the measurements for the seasonings and batch-cook multiple turkey thighs.
Air fryers are great for couples and households of two! They tend to cook smaller portions of food, which is fitting for a smaller crowd. To serve two, use the number of thighs you and your dinner guest prefer.
How to Make Turkey Thighs in Air Fryer
Air Fry Fresh Turkey Thighs
First, remove the turkey thighs from the refrigerator and allow them to sit out for about 30 minutes to come to room temperature. Then, pat them dry with paper towels, removing the excess moisture.
Next, prepare the seasonings by mixing them together in a small bowl. Rub the spices all over the turkey thighs. Completely cover the outside and be sure to get under the turkey skin, too. This method is called dry brining. For the best results, dry brine the turkey thighs for up to 24 hours, allowing the seasonings to sit and the flavors to meld. If you are short on time, at least let the dry brine sit for 30 minutes.
Then, get the air fryer hot and ready by preheating it to 390 degrees F. Place the turkey thighs in the bottom of the preheated air fryer basket, if desired, spray the turkey thigh with a little spray oil. Fit as many thighs as you can in a single layer without crowding the air fryer.
Now, let the air fryer do its magic and cook the thighs for about 30-45 minutes (depending on the size of the turkey thigh). Use a meat thermometer to ensure the internal temperature reaches 160-165 degrees F. Next, remove the thighs from the air fryer and rest for 10 minutes. Tent the thighs with tin foil to contain some of the heat.
This allows the juices to return to the thigh meat before carving into this tasty recipe. Then, you're ready to serve this recipe with your favorite side dish. ENJOY!
Recommended Air Fryer Equipment
Frozen Turkey Thighs in Air Fryer
If you are cooking the turkey thighs from frozen, start by patting the turkey thighs dry with a clean rag or paper towel. Next, rub the mixed seasonings all over the skin and place the thighs in the air fryer basket. Set the air fryer to 390 degrees and immediately add the turkey. You don't need to wait for the air fryer to preheat.
Then, cook for 35-50 minutes. If you notice the air fryer collecting some liquid as the turkey thighs thaw, you might want to drain the extra moisture halfway through. To ensure the thighs are cooked all the way through, use a cooking thermometer to check the internal temperature.
When it reaches 165 degrees, the turkey is done! Finally, as with the fresh thighs, allow the turkey to rest under a tent of aluminum foil for about 10 minutes before slicing into them. Then, serve!
Fresh Tips
Remember to pat the thighs dry before proceeding with the recipe. This will help to produce delicious crispy skin.
Avoid crowding the air fryer. The turkey thighs won't cook as evenly, and the skins won't be as crisp if the basket is overcrowded.
The best way to check if the turkey is done is to insert the meat thermometer into the thickest part of each thigh.
This recipe is for one turkey thigh in the air fryer, it easily multiplies just make enough seasoning for each turkey thigh. Seasoning measurements are for one thigh.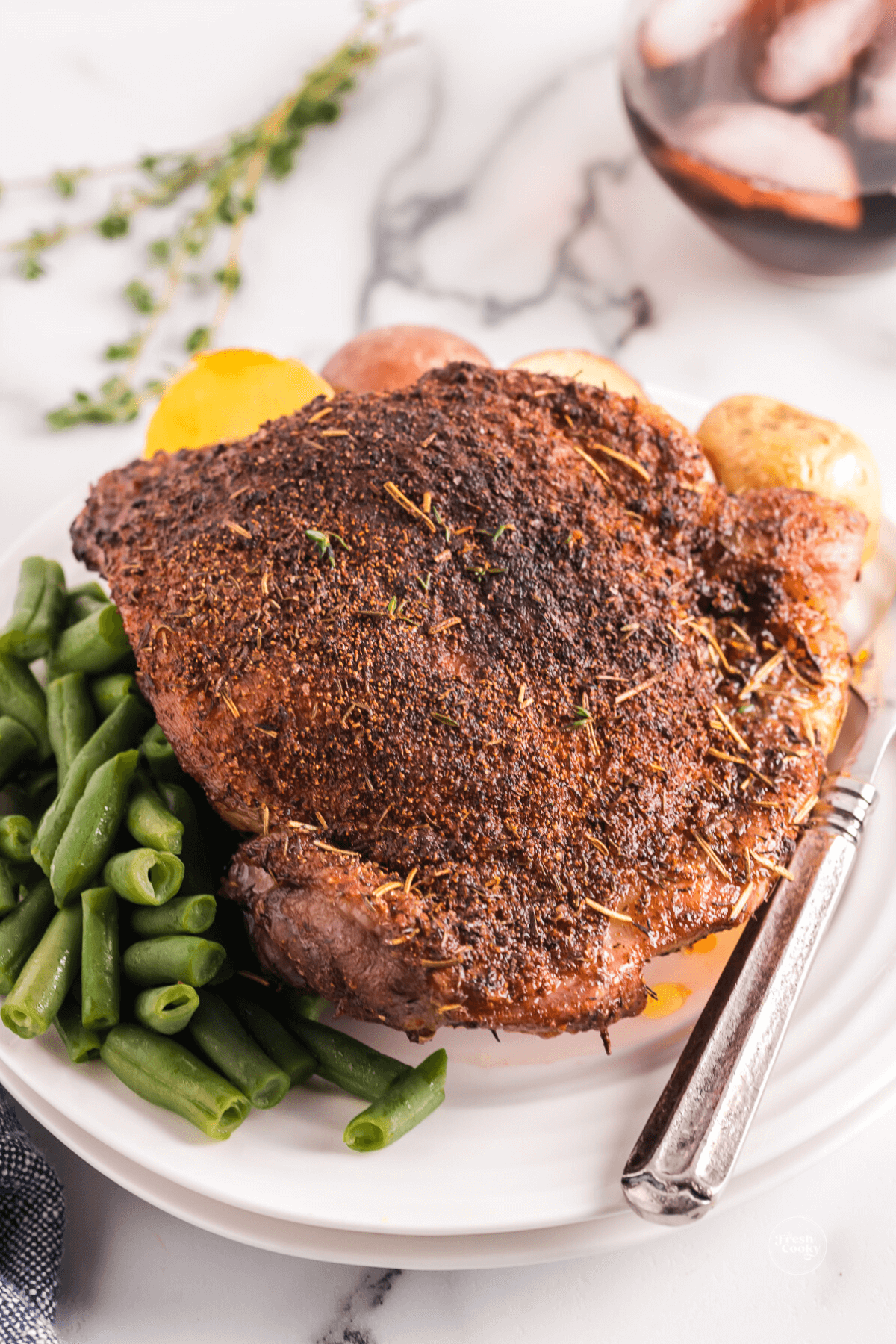 Variations & Substitutions
This is a great recipe to personalize and make it more enjoyable for you and your family. Here are some additional seasonings you can experiment with:
Chipotle seasoning or Creole Seasoning
Mustard powder, Onion powder or Garlic salt
Oregano, dried marjoram or Italian Seasoning
Butter Basted Turkey Thighs | Soften 4 tablespoons of butter and mix all seasonings into the butter, like my simple roasted turkey recipe, slather that herb and butter mixture inside the skin of the turkey thigh. Mmmm!
Storage Tips
Refrigerate Leftovers | If you are left with extra turkey thighs, store the completed recipe in an airtight container in the refrigerator for four days max. Better yet, make these leftover turkey tacos!
Freeze | Cool turkey thighs completely and wrap well in plastic wrap or store in an airtight container and freeze for up to 3 months. Thaw in fridge overnight.
Reheat | Set the air fryer to 350 degrees, cook the leftovers for about 10 minutes, and turn the thighs halfway through.
To-go | If you are traveling with this delicious recipe for a family dinner, you'll want to keep the thighs nice and warm. Wrap each thigh in aluminum foil as soon as they come out of the air fryer. While traveling, they will have plenty of time to absorb the juices and seasonings. Place the wrapped turkey thighs in an insulated bag or an airtight container surrounded by paper towels to contain some heat.
Frequently Asked Questions
What temperature should turkey thighs be cooked to?
As with a whole bird, you want to cook all poultry until it reaches 160 degree F, be sure to rest it for about 10 minutes, covered with foil, that will raise the temperature to 165 degrees F, which is then safe and perfect to eat.
How can you tell if the turkey is done without a meat thermometer?
A cooking thermometer is the most accurate method to ensure your turkey thighs are thoroughly cooked. If you cook often, I recommend purchasing one. However, if you don't have one handy, there is another way to check the turkey's doneness.
Remove the turkey from the fryer and place it on a white plate or another plain surface.

Pierce the thigh in the thickest part with a fork. Observe the juices that leak out—if they are reddish or slightly pink, the turkey needs to cook a little longer. If the juices run clear, they should be good to go! Note that this method is less reliable than using a cooking thermometer
Is pink turkey meat safe to eat?
As long as you have an accurate meat thermometer and you tested it in the thickest part of the turkey thigh meat, pink meat is still safe to eat. Before eating, the temperature should be at 165 degrees F for all poultry. If the meat is still pink, it might just be a natural chemical reaction that the turkey meat had while roasting and is still safe to eat, read this article from the USDA.
Are turkey thighs better from fresh or frozen?
Truthfully, fresh is always best. Using fresh turkey thighs, you can rub the seasonings under the skin, which makes a big difference in the final taste. However, if you choose frozen thighs, you'll still have a tasty air fryer entrée!
Oven Baked Turkey Thighs
So maybe you don't have an air fryer yet (it's my new favorite kitchen toy!), here is how to cook turkey thighs in the oven.
Proceed with the recipe rub and patting dry, place turkey thighs in a baking pan and bake in preheated 350 degree F oven.
How long do you bake turkey thighs in the oven?
Roast 50-60 minutes until internal temperature reads 160-165 degrees. Remove from oven, let sit for 10 minutes before slicing. If desired, since turkey will dry out a bit more in the oven, rub a few tablespoons of softened butter under the skin of the thighs before baking.
What to Serve with Air Fryer Turkey Thighs
When I think of turkey, I think of Thanksgiving dinner. So, it's only fitting to serve these turkey thighs with Thanksgiving-like sides, right?
Here are some delicious ideas of what to serve with this tasty air fryer main dish:
What to make with Leftover Turkey
Here are some of our favorite recipes using leftover turkey!
Top Pro Tips
Don't rush this air fryer turkey recipe! Remember to allow the thighs to sit for about 10 minutes once removed from the air fryer.
Cover with aluminum foil and let the juices return to the thigh meat.
Use an accurate meat thermometer for best results!
Turkey thighs come in all weights and thicknesses, meaning your turkey thighs might take a bit less time or a bit longer.
I hope you loved this Air Fryer Turkey Thighs Recipe — if you did, would you share your creation on Instagram, Facebook and Pinterest? And be sure to comment below!
Like this recipe?
Don't forget to give it a ⭐️⭐️⭐️⭐️⭐️ star rating and comment below the recipe!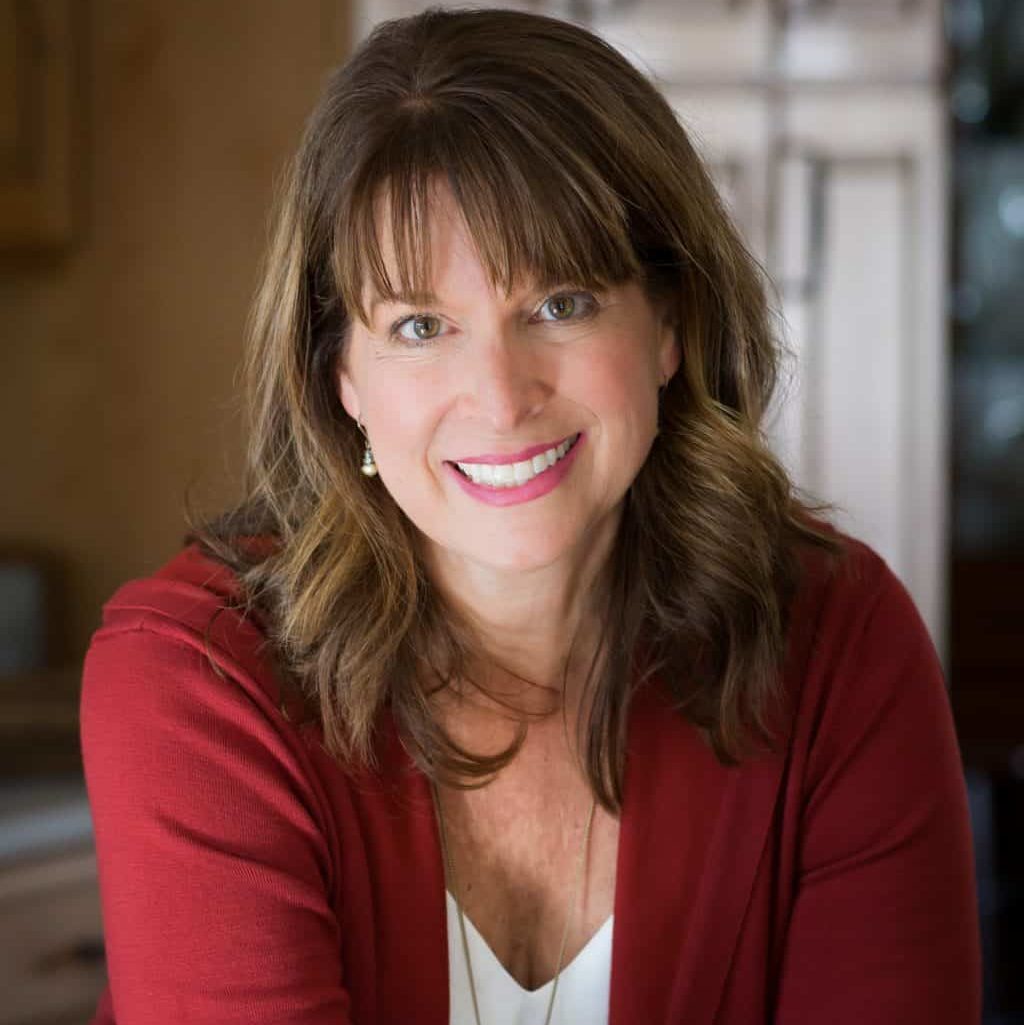 About Kathleen Pope
Recipe Innovator | Food Photographer | Food Writer
Hi, I'm Kathleen Pope. Here at The Fresh Cooky you will find easy, mostly from-scratch, trusted recipes for all occasions. From speedy dinners to tasty desserts, with easy step-by-step instructions. I am here to help teach you how to make mouthwatering recipes without spending hours in the kitchen. Read more about Kathleen here.