Easy Chicken and Wild Rice Casserole (or leftover turkey)
As an Amazon Associate, I earn from qualifying purchases. Please read my disclosure policy.
Easy chicken and wild rice casserole is a healthier creamy hot dish full of veggies, long grain and wild rice, slivered almonds and is a fabulous way to use up leftover chicken or turkey! Plus simple instructions on how to convert to gluten free and vegetarian.
Looking for an easy, make ahead meal or holiday side? This wild rice supreme is the best, especially since you can assemble this days ahead of time or even freeze making your holidays even simpler.
Try our favorite holiday sides: Best Potato Gratin, Easy Corn Casserole and Best Thanksgiving Stuffing.
What is Wild Rice?
It's actually not a rice, but a grass! Wild rice is the seed of a species of aquatic grass that grows primarily in the Great Lakes region of North America. It was once a dietary staple of the Native Americans living in this region, and these days, most of the wild rice available in the supermarket is specially cultivated in Minnesota and California.
If you haven't tried wild rice before, it's time to get on it. A firm, chewy, nutty-tasting, higher in protein grain that is delicious in salads, like this Harvest Wild Rice Salad, or in casseroles like the one I am showing you today.
Simple Ingredients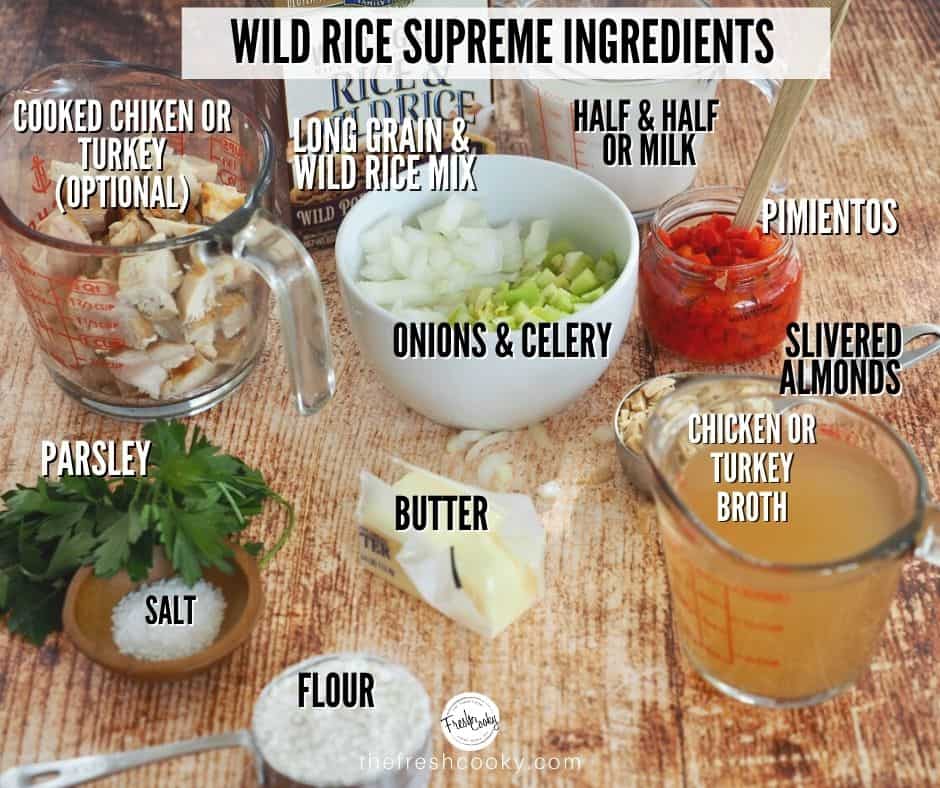 Can you Add Uncooked Rice to a Casserole?
The short answer is no, rice needs a lot of liquid and requires the steam from a covered dish, this casserole would take hours to bake if you placed uncooked rice in the dish.
However; if you happen to have some leftover, already cooked Wild Rice, feel free to add up to a cup of the cooked wild rice to the final dish.
How to Make Easy Chicken and Wild Rice Casserole
Prepare long grain and wild rice according to the box directions and in the meantime begin prepping your ingredients.
Preheat oven to 400F degrees and grease or butter a 2 qt casserole, this is my favorite!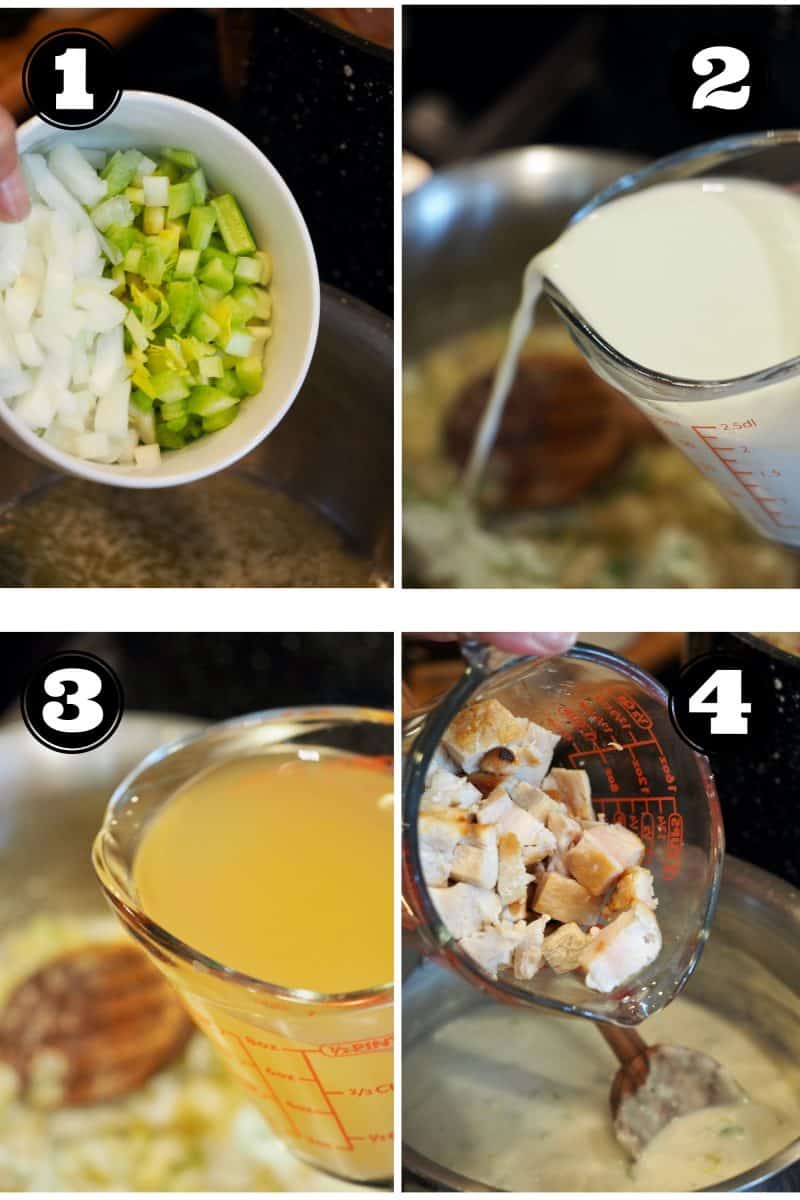 Melt butter in a large saucepan or skillet or medium heat; add chopped onion and celery; cook, stirring occasionally until soft, about 5 minutes. Stir in flour, salt, pepper and cook for one minute.
Pour in half-and-half and stir,
And chicken broth, stirring until thickened, about 5 minutes.
Add chicken, stirring to coat.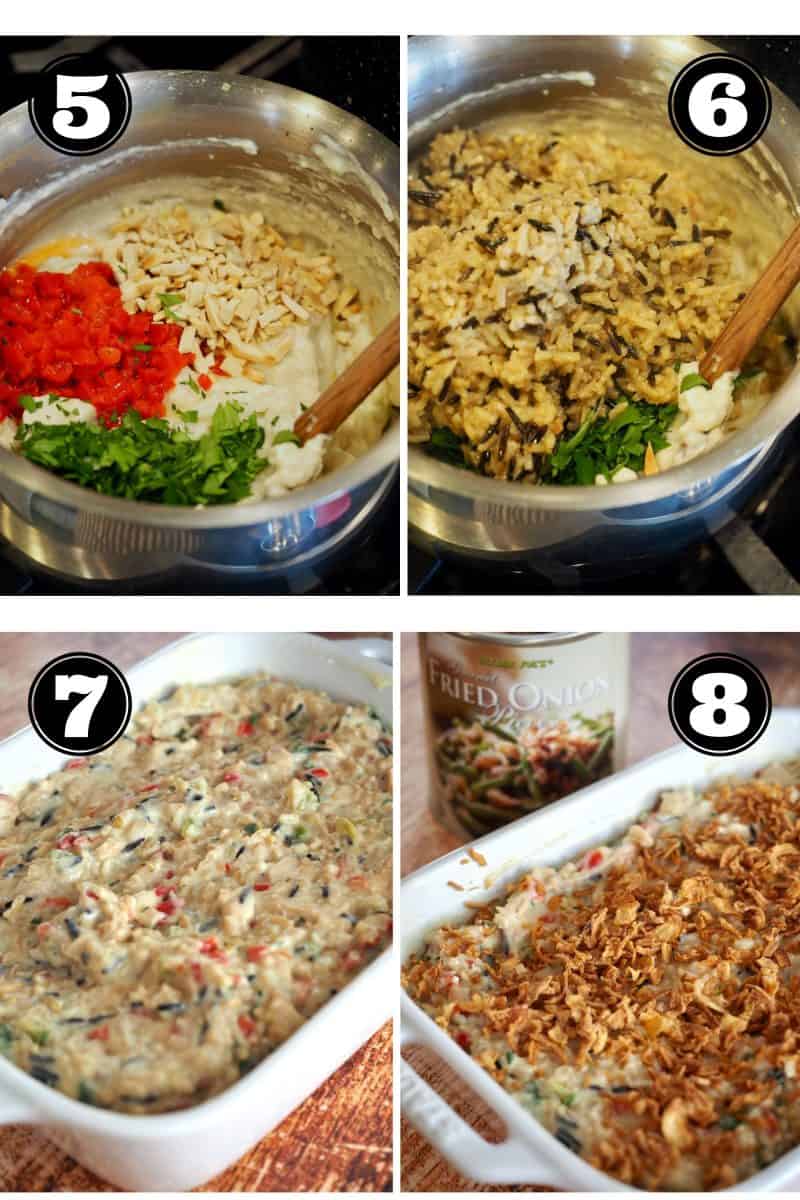 Toss in chopped almonds, pimientos and fresh parsley.
Add pre-cooked long grain and wild rice mix, stir to combine.
Pour into buttered or greased 2 qt casserole dish and smooth.
If desired, top with crispy fried onions. Bake, uncovered for 30 minutes.
This recipe easily doubles, use a 9×13 casserole dish and adjust baking time longer if not bubbly and crisp on top.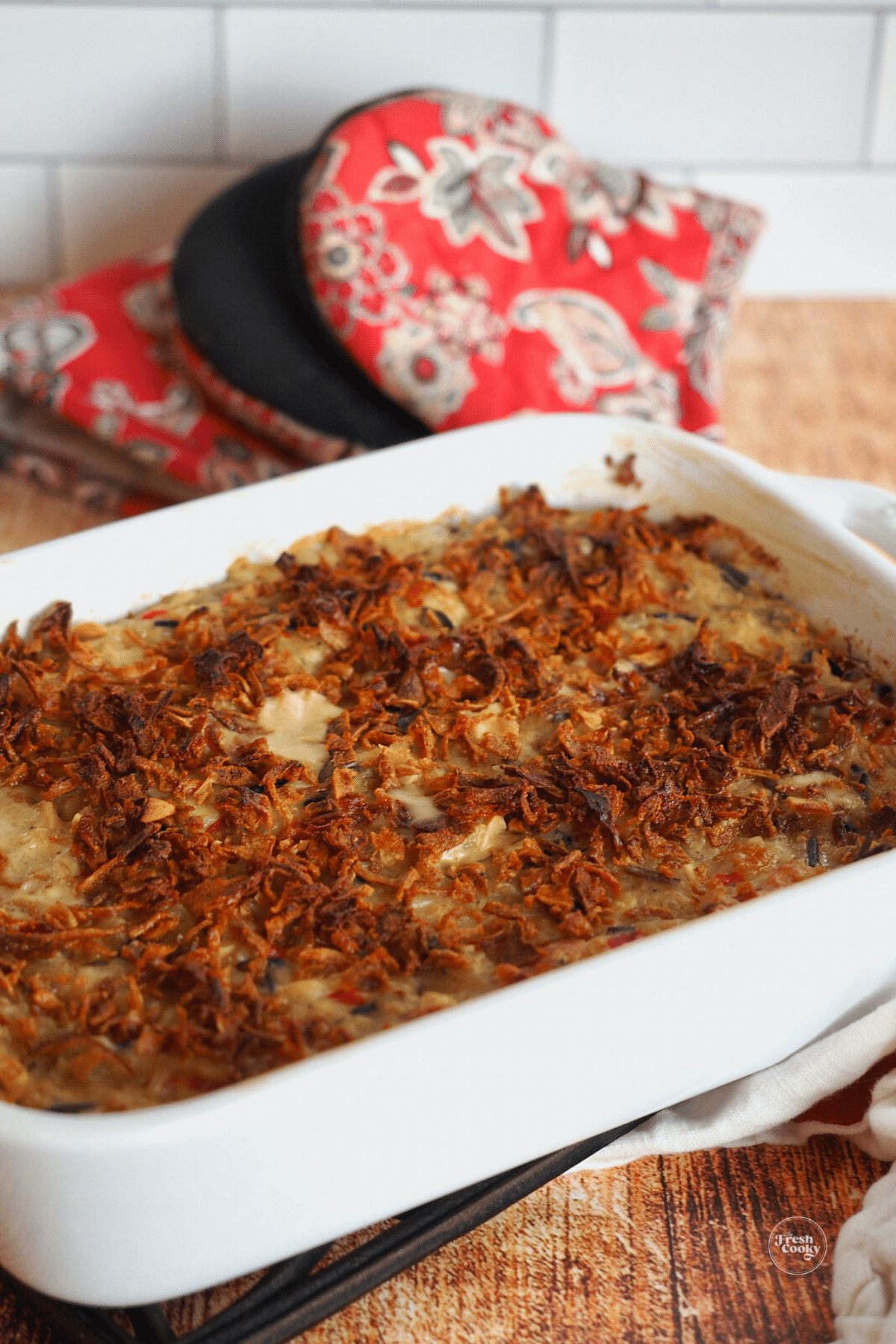 Gluten-Free and Vegan options
One of the most frequent questions I receive is "can I make a dish vegetarian, vegan or gluten free." I am happy to report, that this is an easy one to convert.
GLUTEN FREE | Easy peasy, simply make sure your rice blend you purchase is a GF product, then simply swap out the all purpose flour for a good 1-to-1 Gluten Free flour <– my favorite brand!
VEGAN/VEGETARIAN | This is a bit trickier, but still doable!

omit chicken/turkey and add in a plant based protein if desired
swap chicken broth with vegetable broth
use a plant based butter blend or olive oil to saute veggies
make sure wild rice mix is Vegan (Lundberg brand is)
replace half and half with ½ coconut cream and ½ oat milk or other plant based milk
Variations
Remember The Fresh Cooky is all about "Make it yours!" so substitutions are always encouraged!
Try including chopped carrots with your onion and celery, creating a classic mirepoix.
No chicken or turkey? Try using cooked breakfast sausage or ground hamburger instead! Ooo wild rice casserole with hamburger! Takes me back to my childhood.
Pimiento's not your thing? Dice a red, orange or yellow pepper and saute with onion mixture. Or use roasted red peppers or sun dried tomatoes!
Fresh out of fresh parsley? Substitute with 3 teaspoons dried.
Can't find the brand of long grain and wild rice mixes mentioned? This recipe was originally made using Uncle Ben's Long Grain & Wild Rice mix, or substitute with your favorite, if it's within a few ounces of the other one it shouldn't change a thing.
Toss in up to 1 cup prepared wild rice in addition to other rice.
Saute the veggies in olive or avocado oil instead of butter.
Use milk or heavy cream instead of half and half
Try chopped walnuts, chestnuts, hazelnuts or pecans — or omit altogether.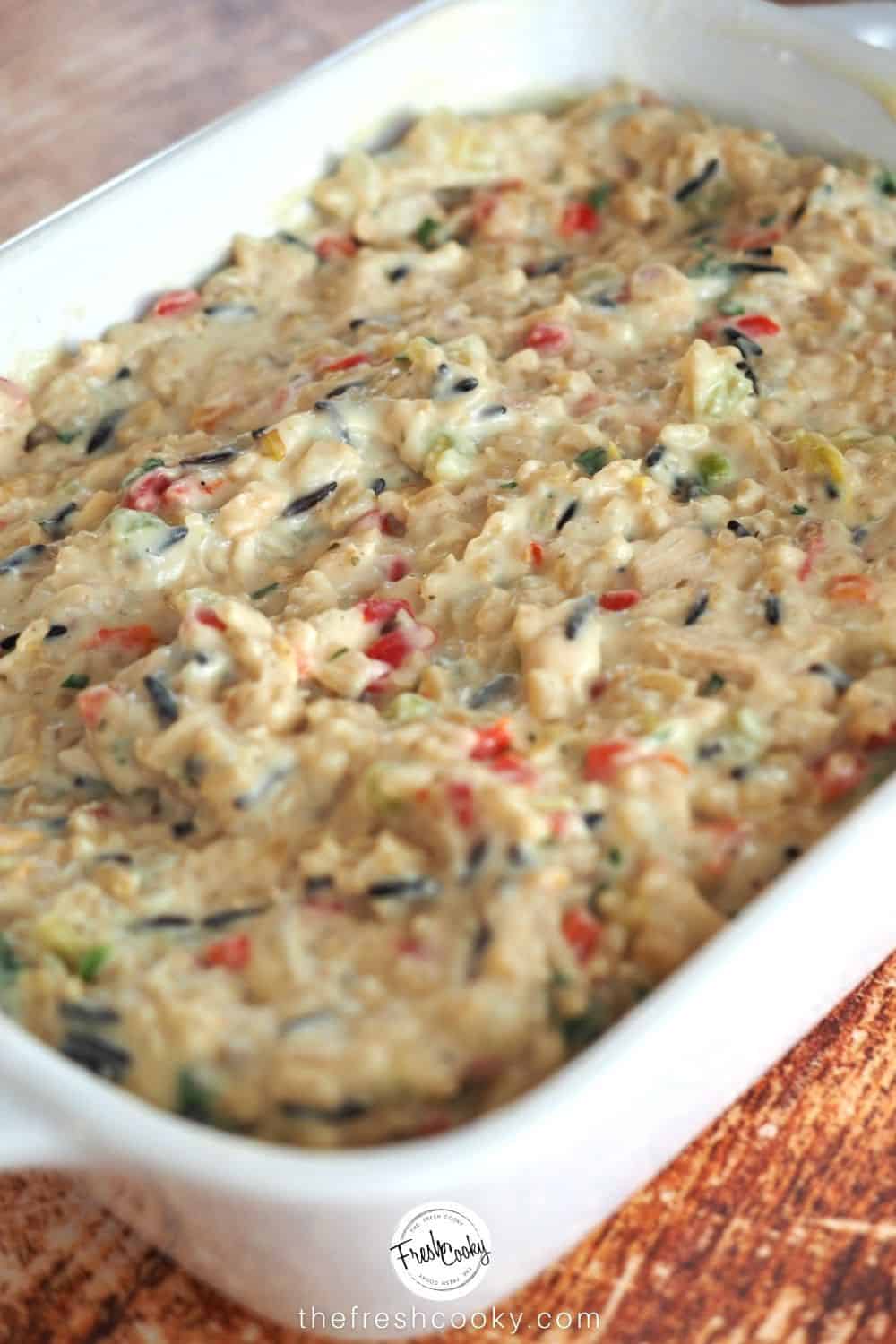 MAKE AHEAD AND FREEZING INSTRUCTIONS
This chicken and wild recipe is the perfect make ahead and freezer friendly meal or side dish. When I am cooking for the holidays I am always looking for ways get things done ahead of a holiday so I can enjoy it more!
MAKE AHEAD INSTRUCTIONS
Assemble the entire casserole and cover well, lasts up to one week in fridge and up to 6 months frozen.
Remove from fridge while your oven preheats, uncover and bake as directed.
FREEZING INSTRUCTIONS
If freezing uncooked, cool completely prior to freezing and wrap well with aluminum foil. Thaw in fridge overnight and bake as instructed.
Freezing cooked Chicken and Wild rice Casserole? Allow to cool completely, wrap in aluminum foil, sealing well. To rewarm preheat oven 300 degree F oven for 30-40 minutes, may be reheated frozen or thawed, check thawed at about 30 minutes. Cover up until last 10 minutes to re-crisp the top.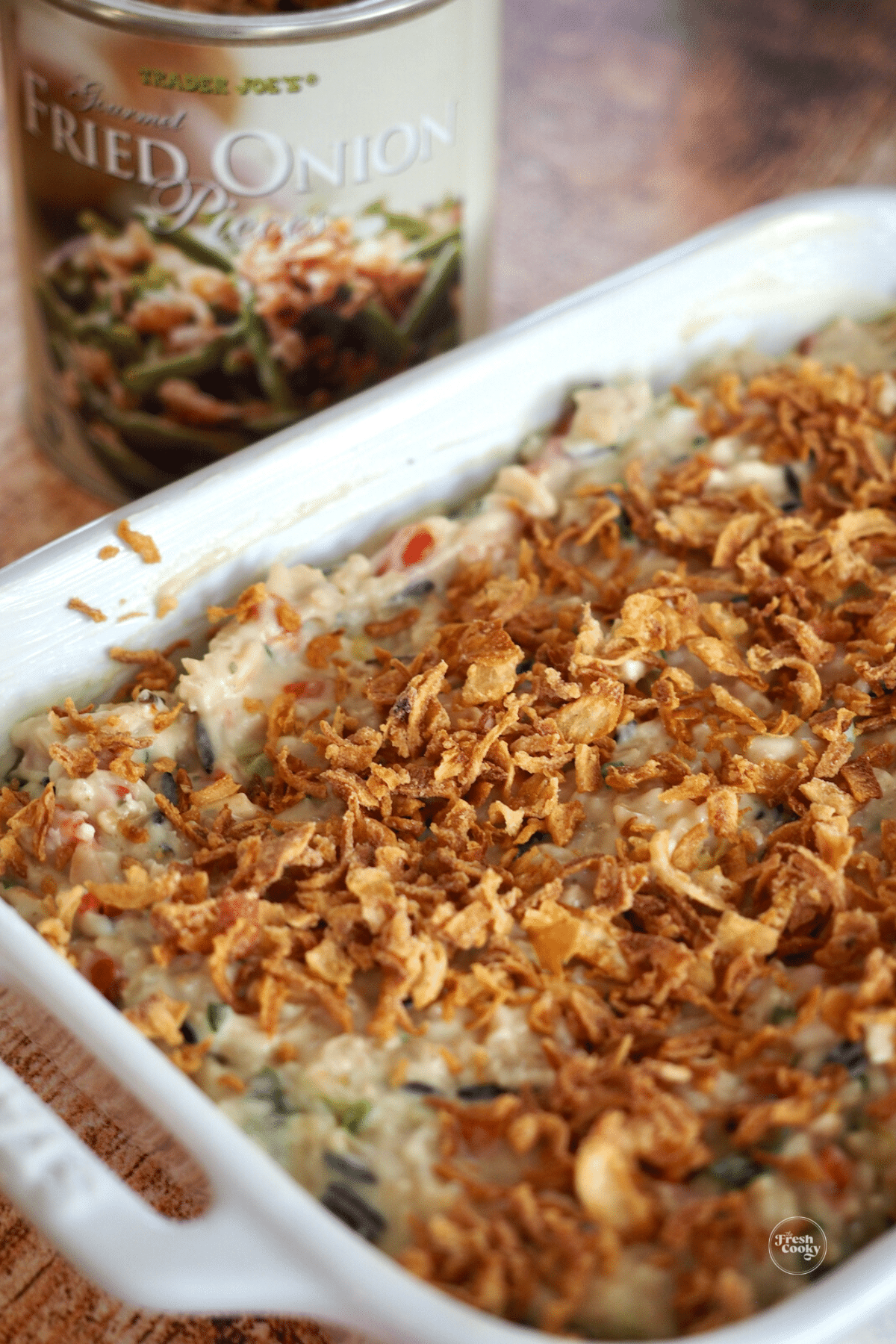 I am excited to be a part of a fabulous group of bloggers coming together to bring you loads of fabulous holiday sides this week! Below are all the links.
Wednesday Holiday Side Dish Recipes:
I sure hope you enjoyed this delicious, low-carb, chicken and wild rice casserole easy recipe comfort food recipe! It's not just for the holidays either, it's delicious using leftovers or for a busy weeknight meal.
More Delicious Casseroles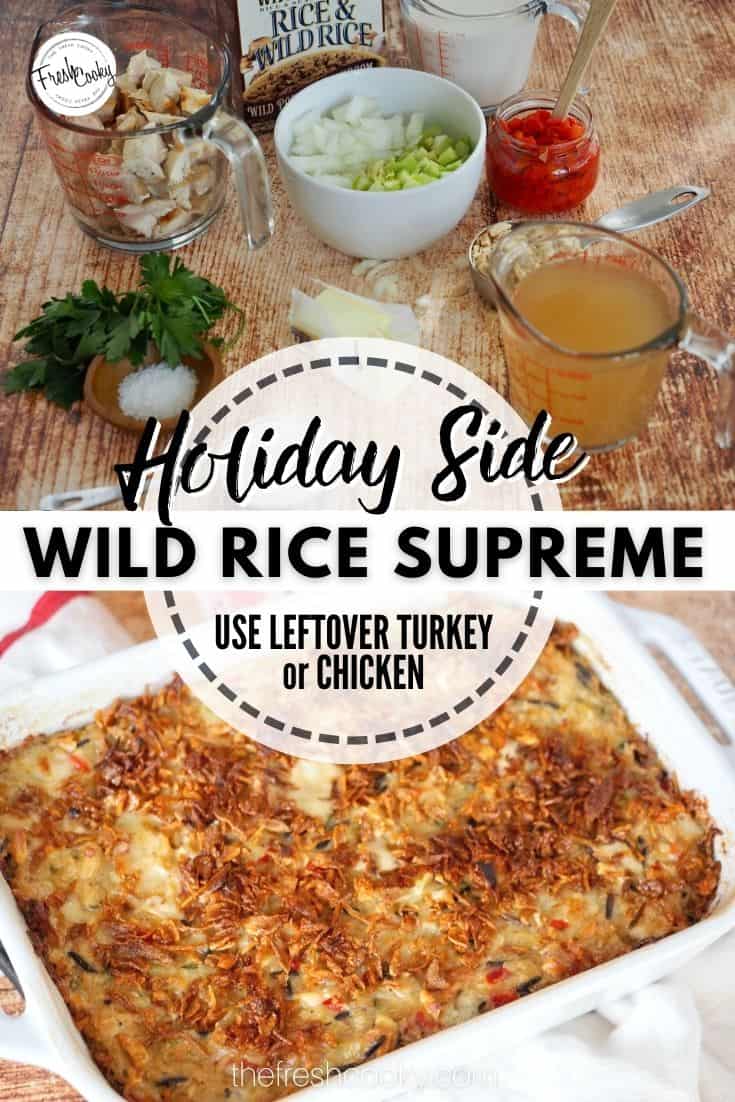 Like this recipe?
Don't forget to give it a ⭐️⭐️⭐️⭐️⭐️ star rating and comment below the recipe!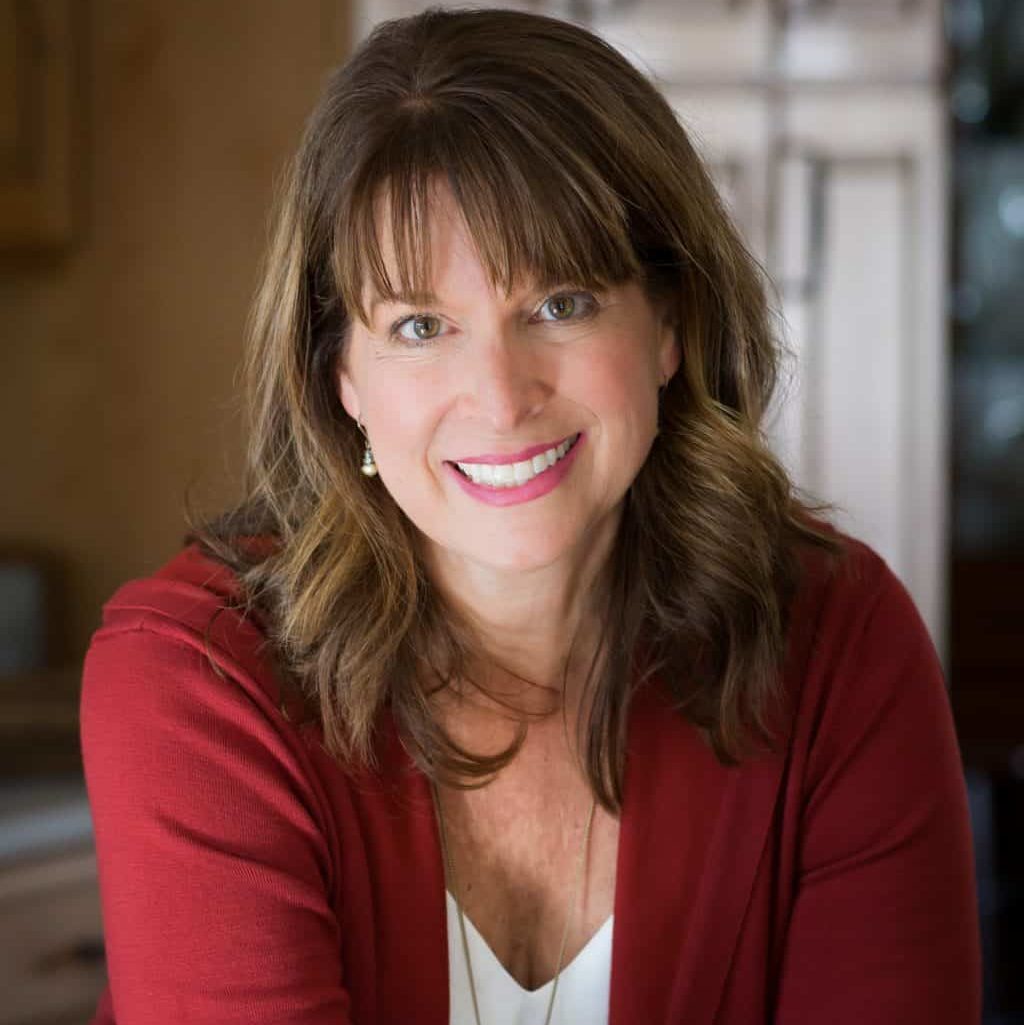 About Kathleen Pope
Recipe Innovator | Food Photographer | Food Writer
Hi, I'm Kathleen Pope. Here at The Fresh Cooky you will find easy, mostly from-scratch, trusted recipes for all occasions. From speedy dinners to tasty desserts, with easy step-by-step instructions. I am here to help teach you how to make mouthwatering recipes without spending hours in the kitchen. Read more about Kathleen here.