Best Traditional Shortbread Recipe
As an Amazon Associate, I earn from qualifying purchases. Please read my disclosure policy.
The secret of shortbread's buttery crumb lies in its simplicity. This traditional shortbread recipe is a simple blend of 4 basic ingredients; butter, sugar, and flour resulting in a taste far more than the sum of its parts. This recipe is a classic Scottish Shortbread recipe, and our family's favorite! They are even Ted Lasso worthy!
Shortbread cookies are probably one of my favorite Christmas cookies, but I make these cookies all year long! They are so versatile, you can make them in a pan, or roll and cut into shapes!
If you love a buttery cookie, you are going to love these other family TFC Favorites: Eggnog Gooey Butter Cookies, Greek Butter Cookies and Pan Banging Sugar Cookies <<– a must try! And if you are looking for simple and elegant, you must try this gorgeous Champagne Truffles!
So maybe you are wondering if this is the official Ted Lasso Shortbread Recipe, well not quite, but these are certainly a crumbly, tender, buttery delicious version — and mine were popular before Ted Lasso's recipe! 🙂
Scottish Shortbread Recipe
I believe the secret to delectable, buttery, soft, melt in your mouth Scottish shortbread comes from quality ingredients.
The better the butter, the better the shortbread! No blends here! If it's soft coming out of the fridge, it's not pure butter, splurge for these delicious cookies.
In fact, shortbread biscuits or cookies are all the rage thanks to the Ted Lasso Biscuit recipe — I think you will find these superior!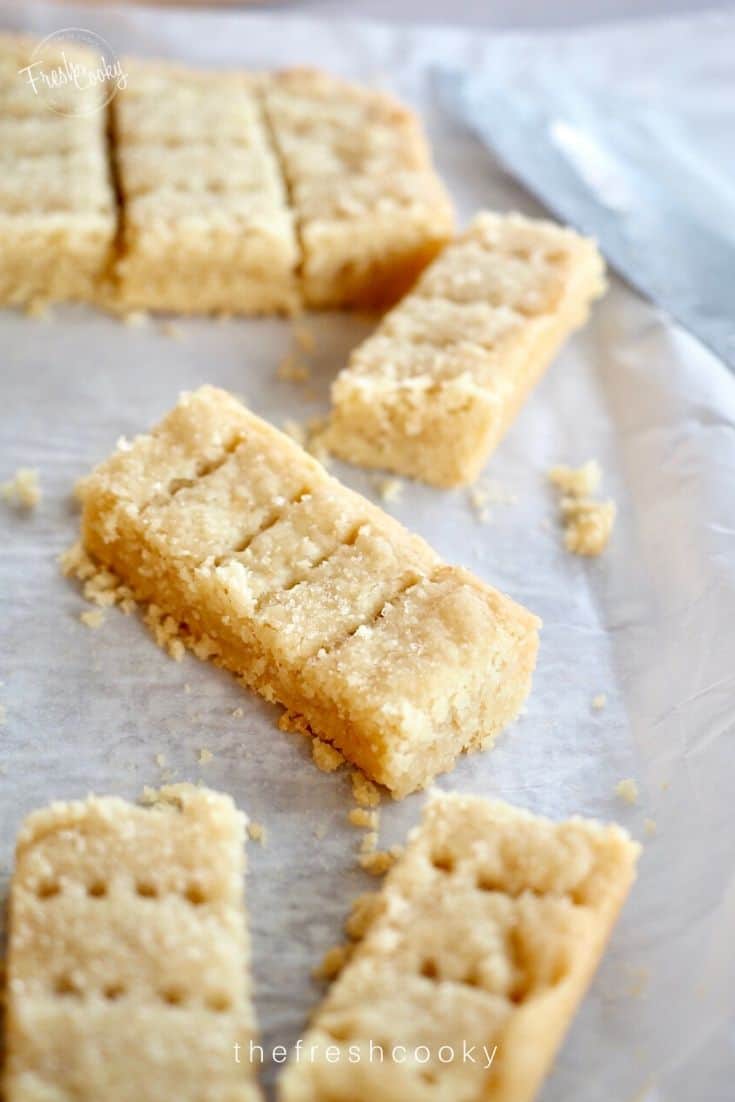 History of Shortbread Cookies aka Biscuits
According to Saveur this delicious confection was once considered a festive food consumed only on Christmas or on Hogmanay, the Scottish New Year's Eve, shortbread has evolved into a treat enjoyed year-round—and there are as many variations of it as days in the calendar.
Since medieval times the term short has been used to describe all things crisp and crumbly, but it wasn't applied to cake and bread until the 1600s, when it came to refer to baked goods that contained a lot of butter or shortening.
The first shortbread recipe appeared in a Scottish cookbook dated 1736; early formulas called for yeast, but by 1850 most were utilizing only butter, flour, and sugar, combined in a ratio bakers still use.
Scottish Short Bread Recipe Ingredients
Simple pantry ingredients that hopefully everyone has on hand! You will whip this traditional shortbread recipe up in no time!
This is a recipe from a dear Scottish friend of our family, I halved the original recipe I have been using for decades.
It yields about 2 ½ dozen, but know that the recipe is easily doubled to make 5 dozen Scottish Shortbread Cookies.
Unsalted butter | Use the real deal, no blends here, real creamery butter, salted may also be used, but omit the salt
Sugar | I use all natural pure cane sugar, white or bakers sugar may be substituted
Pure vanilla Extract | Adds a lovely vanilla hint to the coookie
All-purpose flour | I use unbleached flour for all of my baking
Cornstarch | This will give it a soft, buttery bite, I like non GMO starch
Sea salt | Or kosher salt, you just need a touch!
How to Make Traditional Shortbread Recipe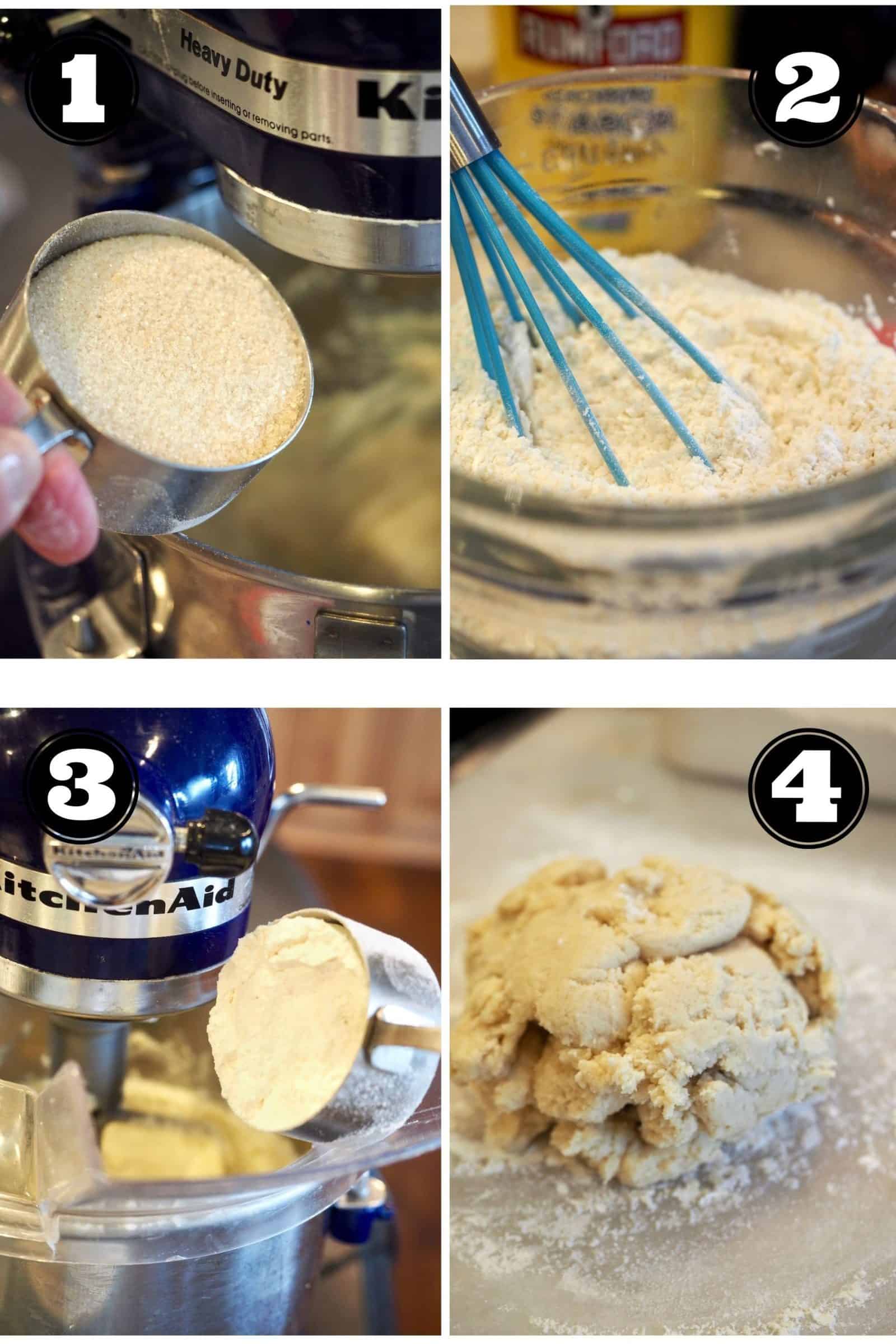 Beat butter at medium speed with an electric mixer until creamy; gradually add sugar, beating well about 2-3 minutes. Stir in vanilla.
Combine flour, cornstarch, and salt and whisk until combined
Gradually add flour mixture to butter mixture, beating at low speed after each addition. (Mixture will be stiff)
Turn dough onto a lightly floured surface; it will be crumbly.
Knead dough until it holds together, about 7-8 times.
Press dough into an un-greased 11×7 or 9×9 pan (if doubling, use a 15×10 in jellyroll pan, parchment lined if desired for easier removal).
Prick dough at 1-inch intervals with a fork, and score (cut) into 2 ½ x 1 inch bars. Cover and chill for at least 2 hours. *Make sure to chill, this will firm the butterfat back up allow for that delectable light, crisp crumb you get with Scottish Shortbread.
If desired sprinkle with raw sugar or colored sugars before baking.
Bake at 325F degrees for 35 minutes, until set and very lightly golden. Cool in pan on a wire rack 5 minutes; cut shortbread into bars using previously scored lines. Cool completely before removing from pan. Store in airtight container at room temperature up to 1 week, or freeze up to 6 months.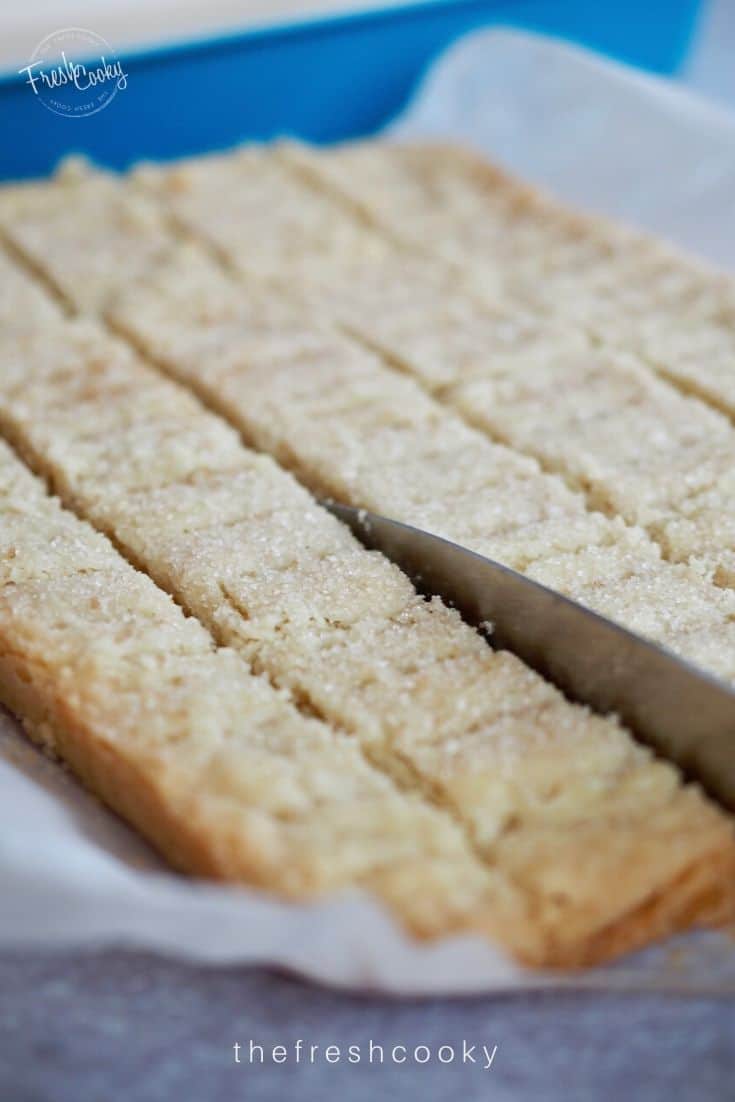 What Type of Sugar is Used in Shortbread Cookies
You will find recipes using all types of sugar! Classic white sugar, castor or Baker's sugar (here in the states) and powdered sugar.
I use all natural cane sugar, the grain is a little larger, but I love the slightly caramel flavor it lends to the shortbread.
For this recipe, you can easily replace the sugar with classic white, or bakers sugar, but I have never tried using powdered or confectioners sugar, let me know if you try it.
Frequently Asked Questions
Why is my shortbread dough crumbly? And How do I fix it?
The quality of your butter and the amount of fat it contains can change the moisture content, so be sure to start with REAL butter. How did you measure the flour? Might be too much flour. Use the spoon and level method.
Did you use all-purpose flour? Perhaps you used a pastry or whole wheat flour, whole wheat flour absorbs more moisture which would lend to a dryer crumb.
Be sure to cream your butter and sugar together well, at least 2-3 minutes on medium speed.Knead! The dough will be somewhat crumbly when you take it from the mixer, get in there with your hands and gently knead the dough until it begins to come together.
How Do I fix Crumbly Shortbread?
Try kneading it a few times and see if it begins to hold together, something about kneading by hand will typically bring the mixture together.
Add softened butter, a few teaspoons at a time.
If still too crumbly to hold a shape, add a touch of water, again teaspoons at a time, mixing until it holds it shape. If it holds it shape enough to press into a baking pan, don't worry too much about how crumbly it is, it should blend and bake together well.
Can I freeze Traditional Shortbread recipe?
Yes! You can freeze the dough and bake as directed, or simply freeze the baked cookies and thaw at room temperature.

If baking frozen dough, bake an additional 2-3 minutes, covering with foil if they start browning too quickly. Remove from freezer for 20-30 minutes while you preheat your oven.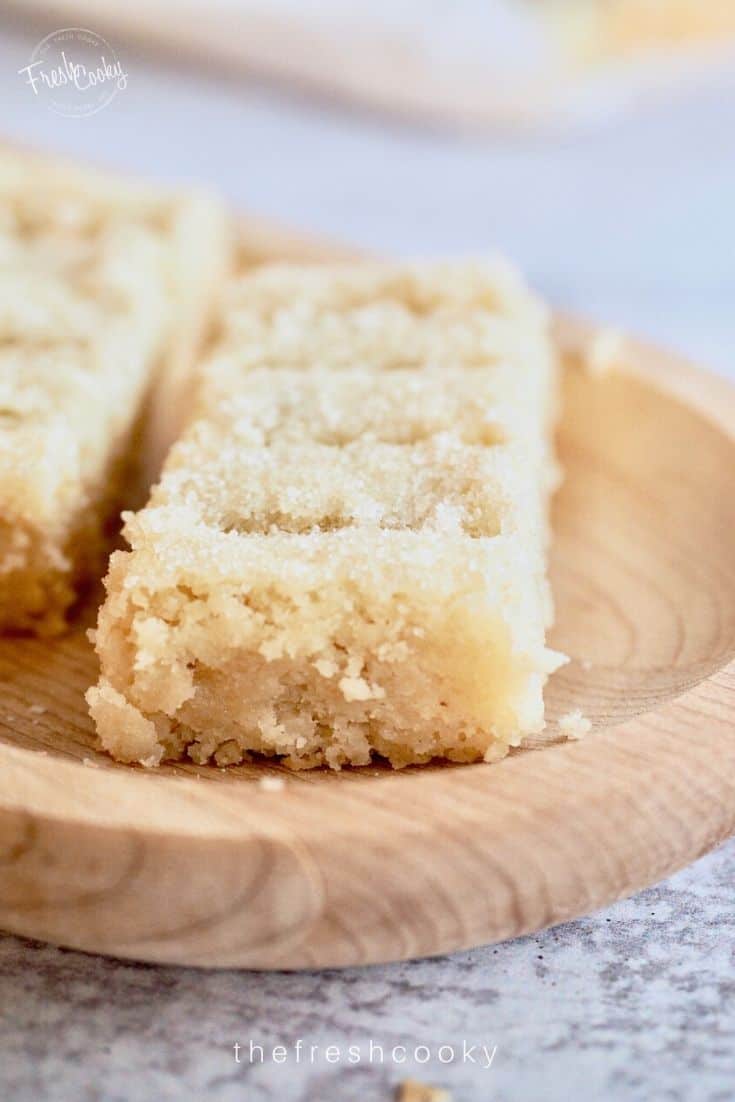 Gluten-Free Shortbread Cookies
I have found that when the ingredients are simple, it's easy to convert recipes to be gluten-free. I haven't tried making shortbread gluten-free, let me know if you do!
Substitute the all-purpose flour for your favorite 1-to-1 Gluten Free All Purpose Flour or try Almond Flour as well, many cookies do extremely well made with almond flour!
High Altitude Adjustment for Traditional Shortbread Recipe
This recipe is a winner at sea level and high altitude and anywhere in between! No adjustments necessary!
How to Shape Shortbread!
Shortbread dough is quite versatile. If you want to cut shapes with your cookie cutters, chill the dough in 2-3 discs wrapped in plastic wrap for 2 hours.
Roll or press dough to about ⅓ – 1/2 inch thick and press cookie cutters into dough, transferring shapes with a spatula to a parchment lined cookie sheet. Like these fun Valentine's Day Shortbread cookies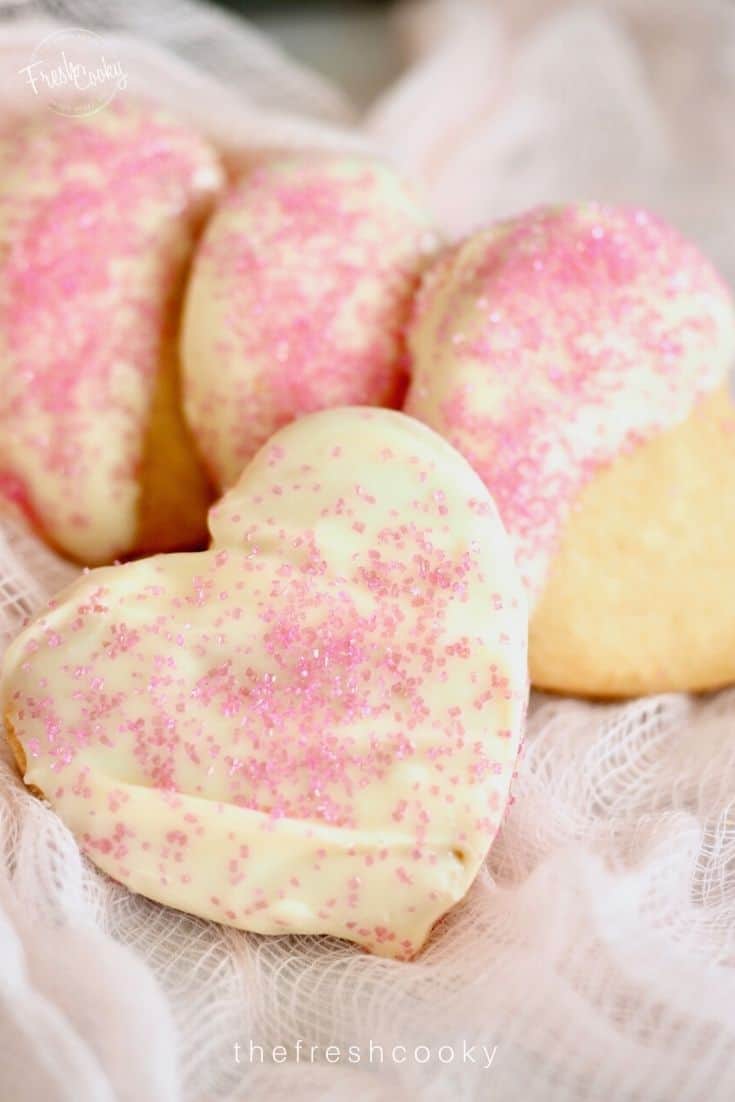 Or shape into rectangle about ¼ inch thick and cut into finger sized rectangles, piercing with a fork for the traditional shortbread appearance. or cut into squares, then cut squares at a diagonal.
Transfer to parchment lined cookie sheet with a few inches between each cookie for a crisper cookie. Bake at 325 for 10-12 minutes, do not let them brown (golden is fine.)
If you want to get really fancy, press dough into a pretty shortbread mold and make Christmas shortbread cookies! Easy and gorgeous!
CHOCOLATE DIPPED SHORTBREAD COOKIES
If you'd like to dip these shortbread cookies into a little dark, milk or white chocolate as shown in the pictures.
1 cup of your choice of chips (dark chocolate, semi-sweet, milk or white chocolate chips)
2 teaspoons butter
Melt on high in 20-30 second intervals, stirring well between heatings. The chocolate will continue to melt with residual heat, it's important not to overheat it as it will cause the chocolate to "break". If it does burn or break, try adding a teaspoon at a time of a little vegetable oil whisking until smooth and glossy.
Dip as desired and add sprinkles if desired.
I hope you try this simple cookie and trust that it will soon become your favorite cookie as well!
Need more great holiday cookie recipes?
Don't forget to PIN to your favorite Cookies board!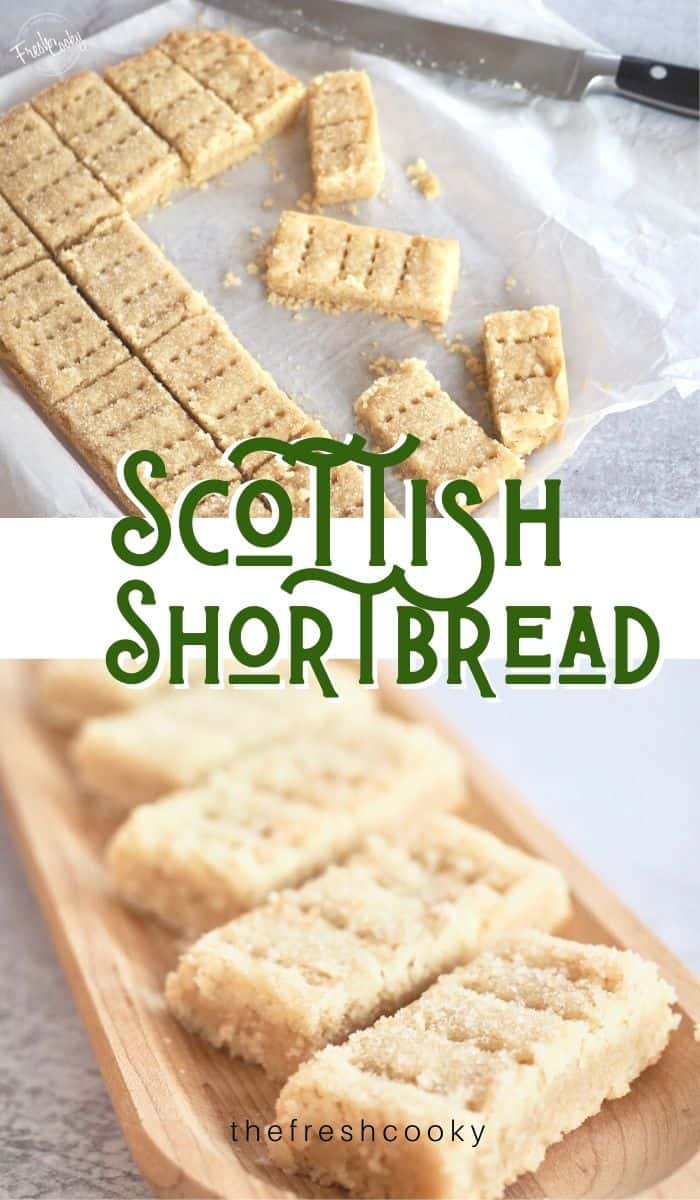 Like this recipe?
Don't forget to give it a ⭐️⭐️⭐️⭐️⭐️ star rating and comment below the recipe!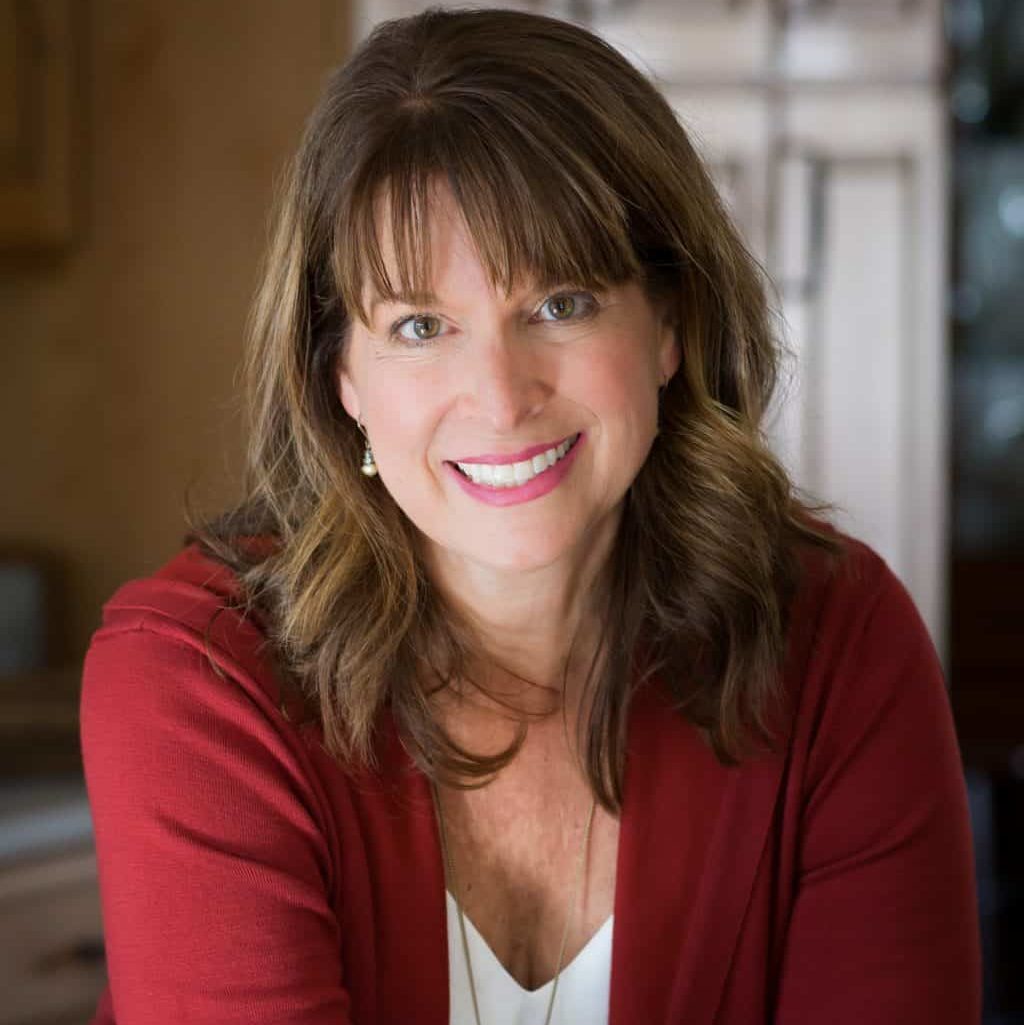 About Kathleen Pope
Recipe Innovator | Food Photographer | Food Writer
Hi, I'm Kathleen Pope. Here at The Fresh Cooky you will find easy, mostly from-scratch, trusted recipes for all occasions. From speedy dinners to tasty desserts, with easy step-by-step instructions. I am here to help teach you how to make mouthwatering recipes without spending hours in the kitchen. Read more about Kathleen here.