Nothing says love like a Chicago-style deep-dish pizza! That's right—pizza is its own love language. This recipe shows how to make pan pizza, in easy step-by-step detail! An incredible and easy butter crust pizza is filled with cheese, your favorite toppings, and a rich, zesty chunky tomato sauce, it can even be frozen for later!
October is National Pizza Month and I am thrilled to be joining other bloggers for Perfect Pizzas Week, be sure to check out all of the fantastic pizza creations at the end of the post!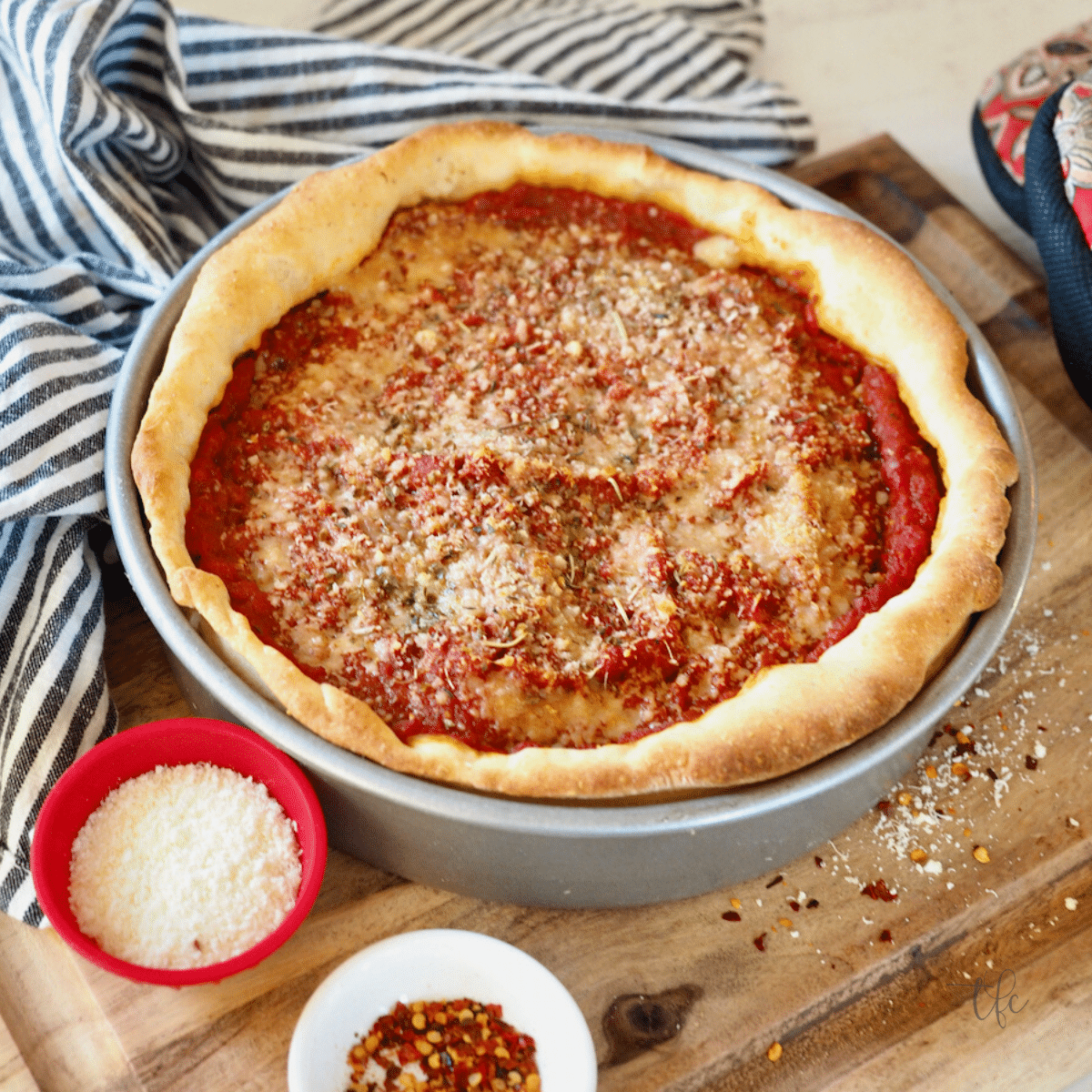 When the weekend comes, a Chicago style deep dish pizza recipe hits the spot. It's time for delicious cheesy goodness, pepperoni, sausage, and favorite toppings. Take this deep dish to the park, a ball game picnic, a potluck, or eat it in front of your favorite show.
Butter Crust Pizza Dough
This butter crust pizza dough recipe makes you look like a pizzeria chef! We're all busy, and if you need to make your time in the kitchen count, this is the recipe for you. It's two meals: eat one now and save the other for later! And this recipe is easy enough for a beginner!
When you're ready for an Italian week, check out Grandpa Frank's Spaghetti Sauce. Next, try the Best Italian Pasta Salad with Sun Dried Tomatoes, yummy with artichoke hearts and a simple balsamic vinaigrette! Then you have got to try my "souper" easy Easy Italian Wedding Soup with savory meatball. And don't forget dessert; try this traditional (and easy) Tiramisu.
Deep Dish Pizza Dough Ingredients
Every deep-dish pizza dough recipe is going to include basics like flour and yeast, but this one is like a true Chicago-Style deep-dish pizza crust. The butter makes it absolutely silky and delicious!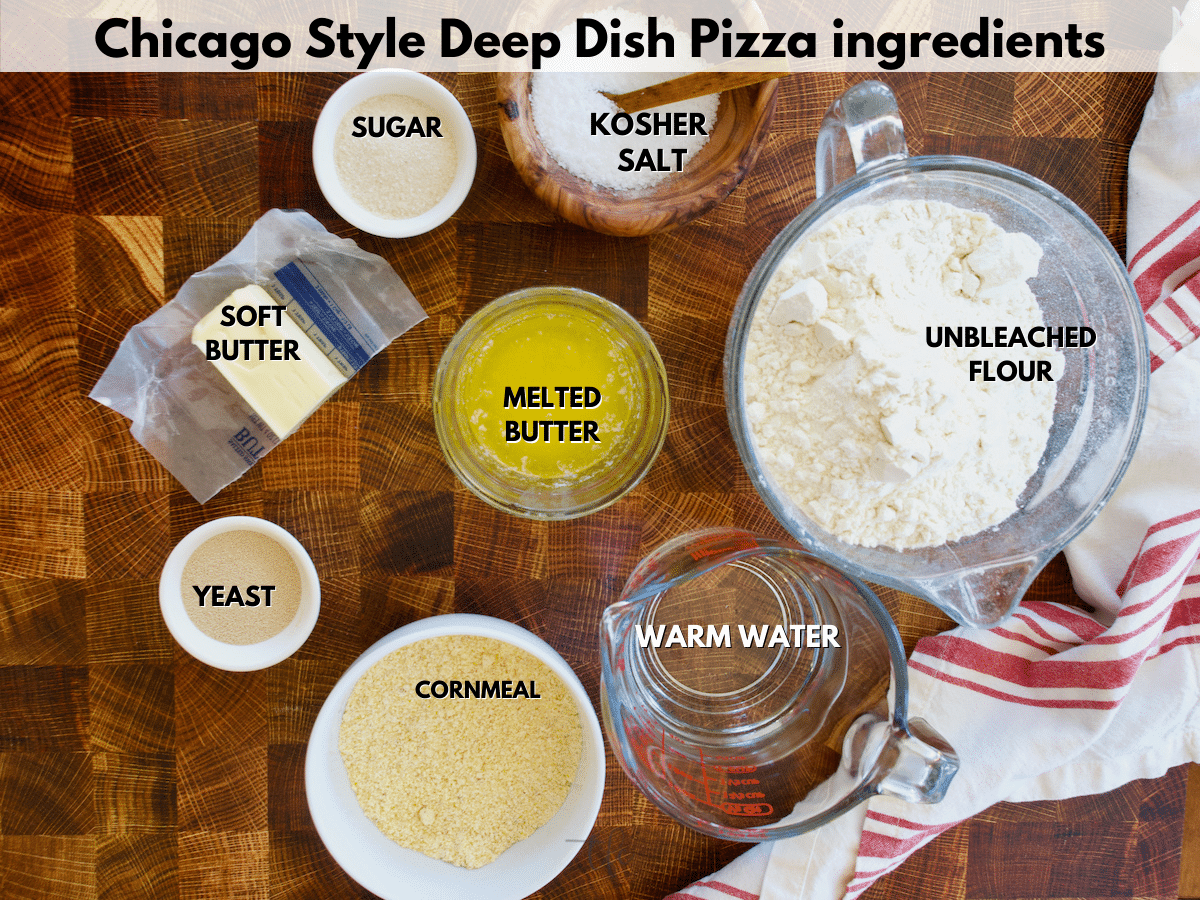 Chicago-Style Deep Dish Pizza Ingredients
Here are some suggested ingredients; our family usually does one pretty basic pepperoni pizza as shown in the video. But the second pizza, I usually go all out on; with caramelized peppers and onions, artichoke hearts, olives, and pepperoni or sausage, or both! And whatever else I can find in my fridge!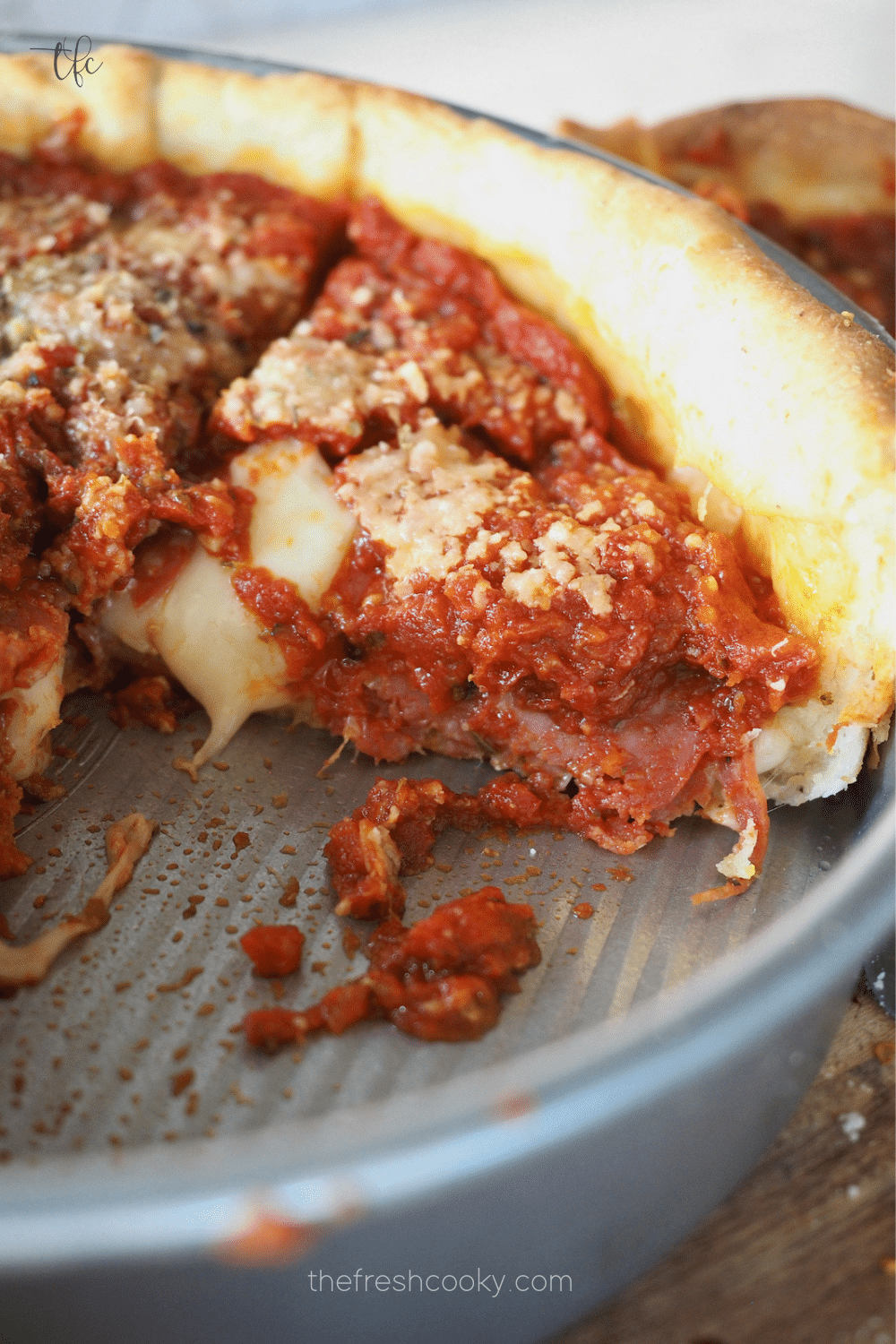 What is Chicago-Style Pizza
Originally invented in the '40s, the Chicago deep-dish pizza is typically characterized by a tall, butter crust that caramelizes as it bakes, holding a thick layer of mozzarella cheese and robust chunky tomato sauce.
A thick, almost casserole style pizza too rich to eat with your hands and a shameless amount of gooey cheese, best eaten with a fork and knife, it might not be for everyday, but special occasions are perfect for deep dish pan pizza! And by special occasions I mean, Friday or Saturday!
I have eaten many authentic Chicago Deep-Dish pizza's in Chicago (drool), this recipe mimics Lou Malnati's pizzas, which you can actually have shipped frozen right to your door. Lou's signature butter crust pizza is what makes this the best Chicago-style deep dish pizza recipe!
How to Make Pan Pizza
Start with making the dough for this recipe for deep dish pizza, it's so easy, read on and see!
In a stand mixer bowl, add the flour, cornmeal, kosher salt, sugar, and yeast.
Slowly add the butter and warm water, with mixer on low and fitted with "J" hook.
Beat the dough until it pulls away from the sides of the bowl—it only takes a few minutes. The dough should be smooth and stretch without breaking.
Form the dough into a ball and place it into a large bowl greased with olive oil, coating the dough entirely. Cover and let it rise in a warm space until doubled for 1-2 hours.
HINT | I turn my oven to 150 degrees, let preheat, then TURN OFF and place dough in warm oven to rise.
After rising, punch down the dough (my favorite step). Knead on a floured surface.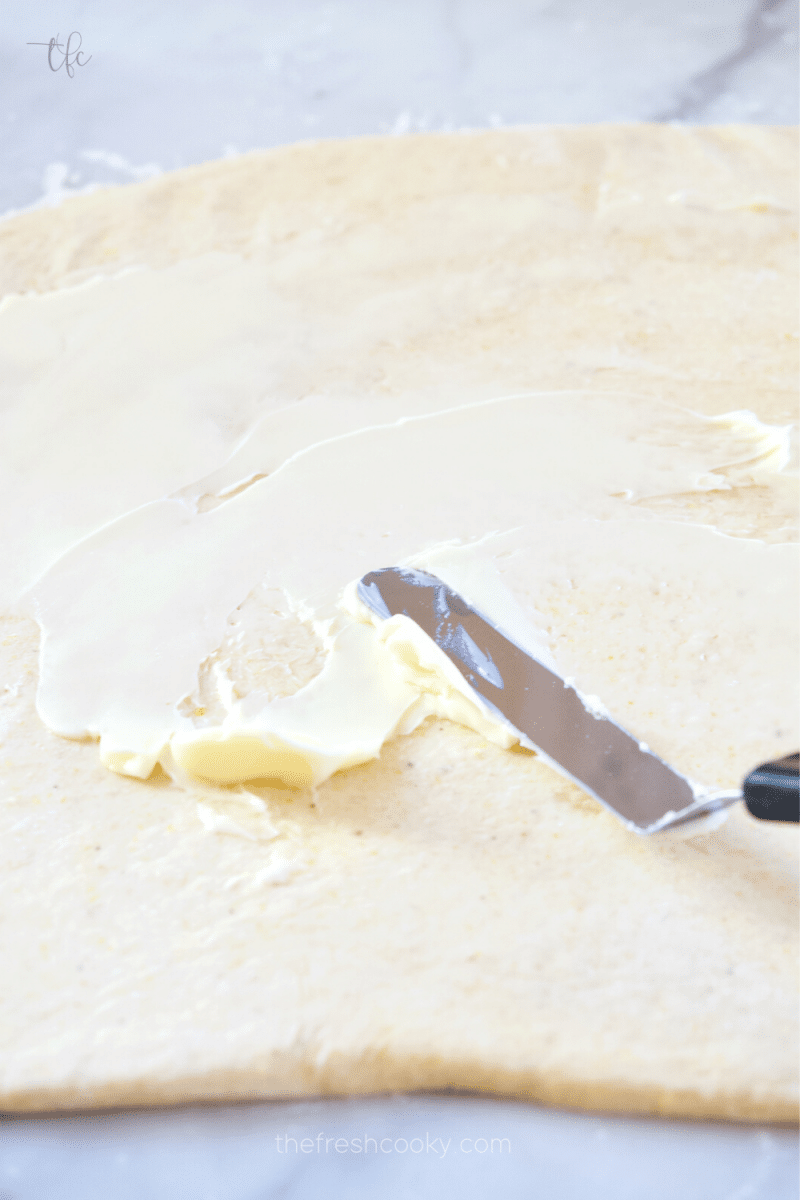 Spread remaining butter onto the dough and roll up into a log. Shape and return the dough ball into a greased bowl. Rise inside the fridge this time for about an hour, covered.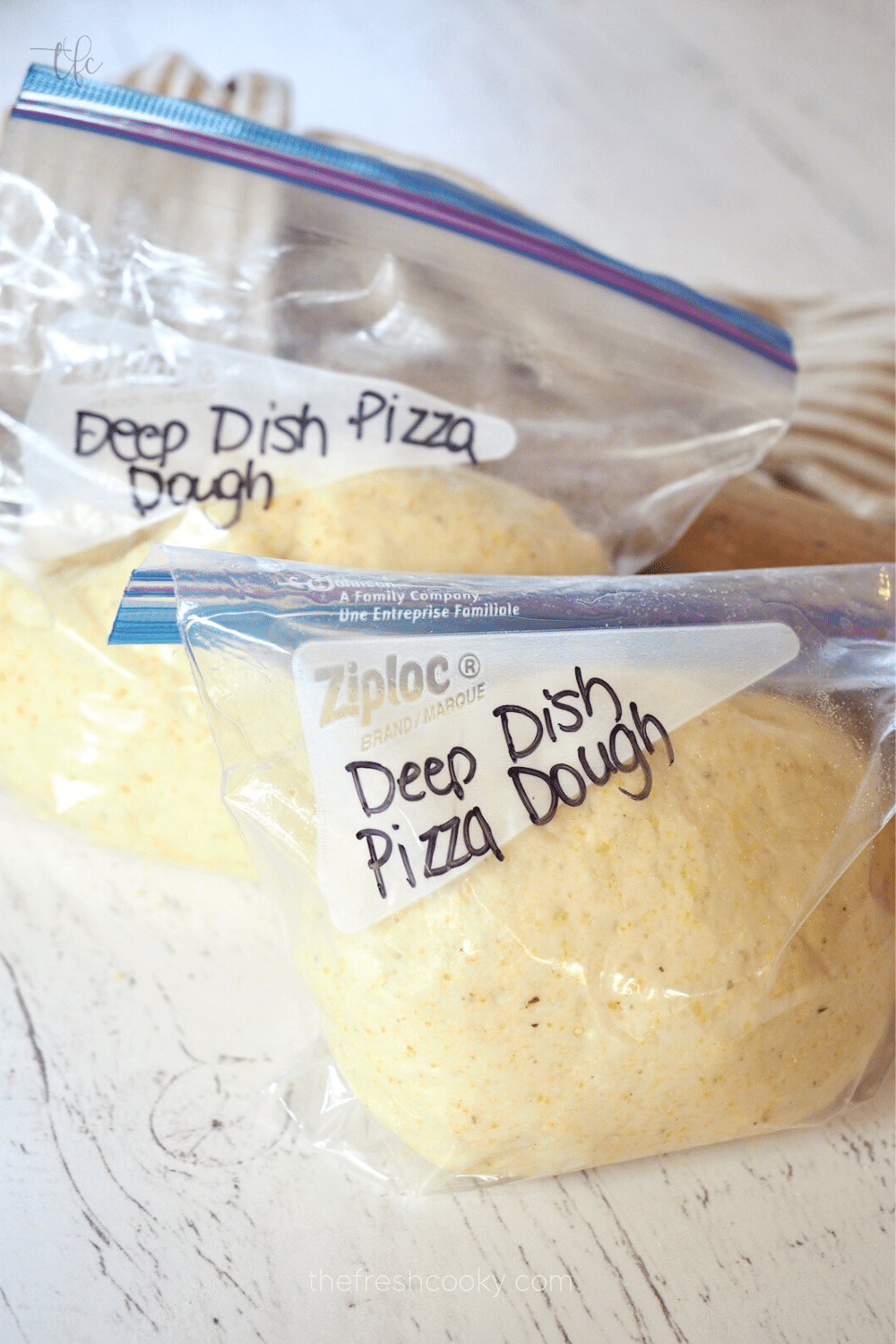 TIP | At this point, dough may be frozen for future use. Simply place dough ball(s) inside a freezer baggie sprayed with a little oil.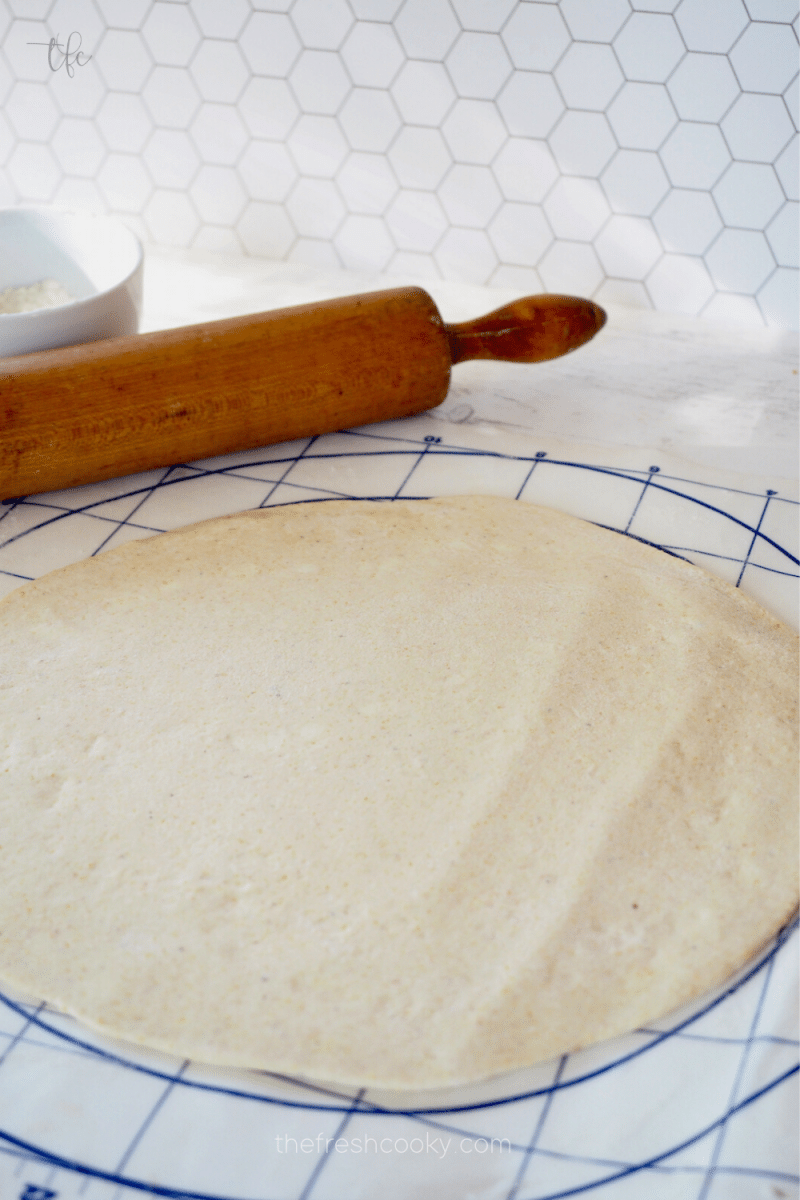 Best Chicago Deep Dish Pizza
For a deep dish pizza, roll out the dough ball into a 12″ circle, this dough is really easy to work with!
Place it over the cake pan, pressing it into the sides and bottom. If there is a lot of overhang, trim, but I like a little irregularity for a more rustic pizza dough.

HINT | If not using the rolled out dough right away, cover with a damp tea towel or damp paper towels until ready to use.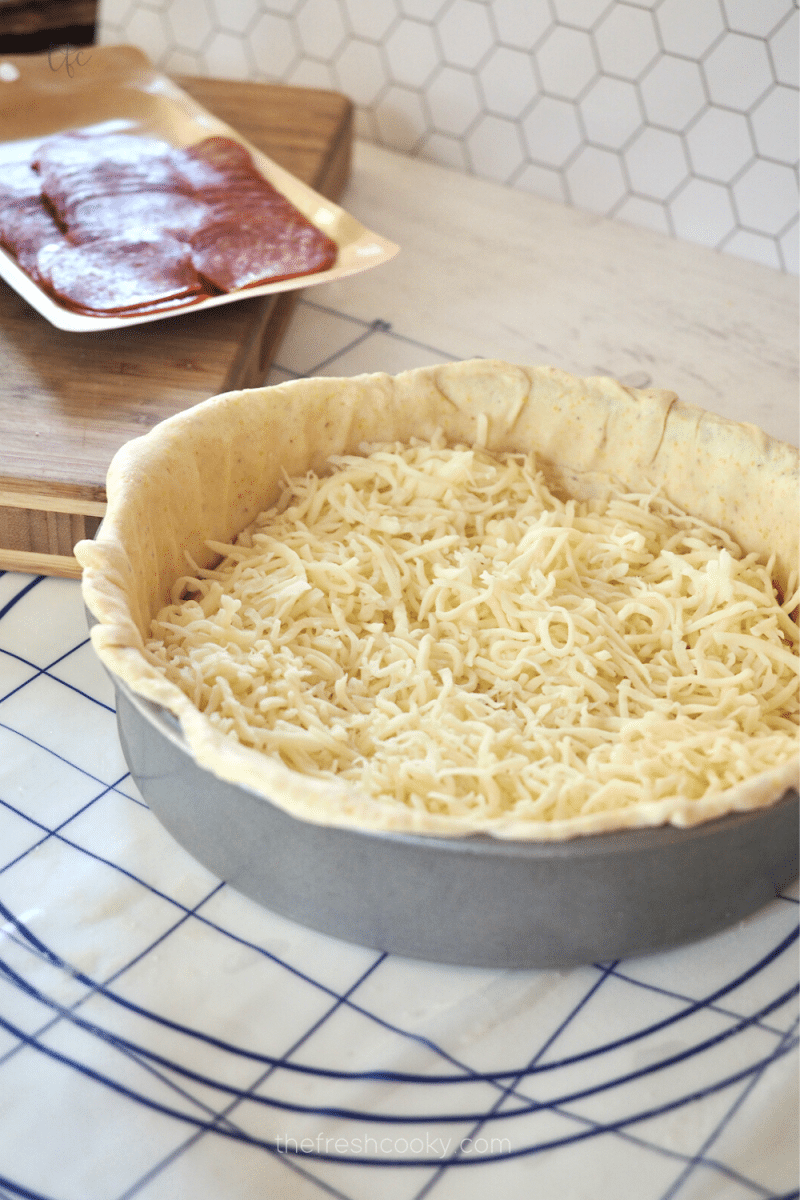 Start by filling pizza dough lined pan with 2 cups of shredded mozzarella cheese, then layer with your favorite toppings and sprinkle with a little Italian Seasoning and/or red pepper flakes. I used uncured pepperoni, see variations below for all sorts of ideas.
Then evenly spread deep dish pizza pan with 1 ¼ cups of chunky tomato sauce, topping with ¼ cup of grated parmesan cheese. Bake at 425F degrees for about 25-28 minutes until bubbly and crust is golden brown. If crust is browning too quickly, cover with a little foil.
Variations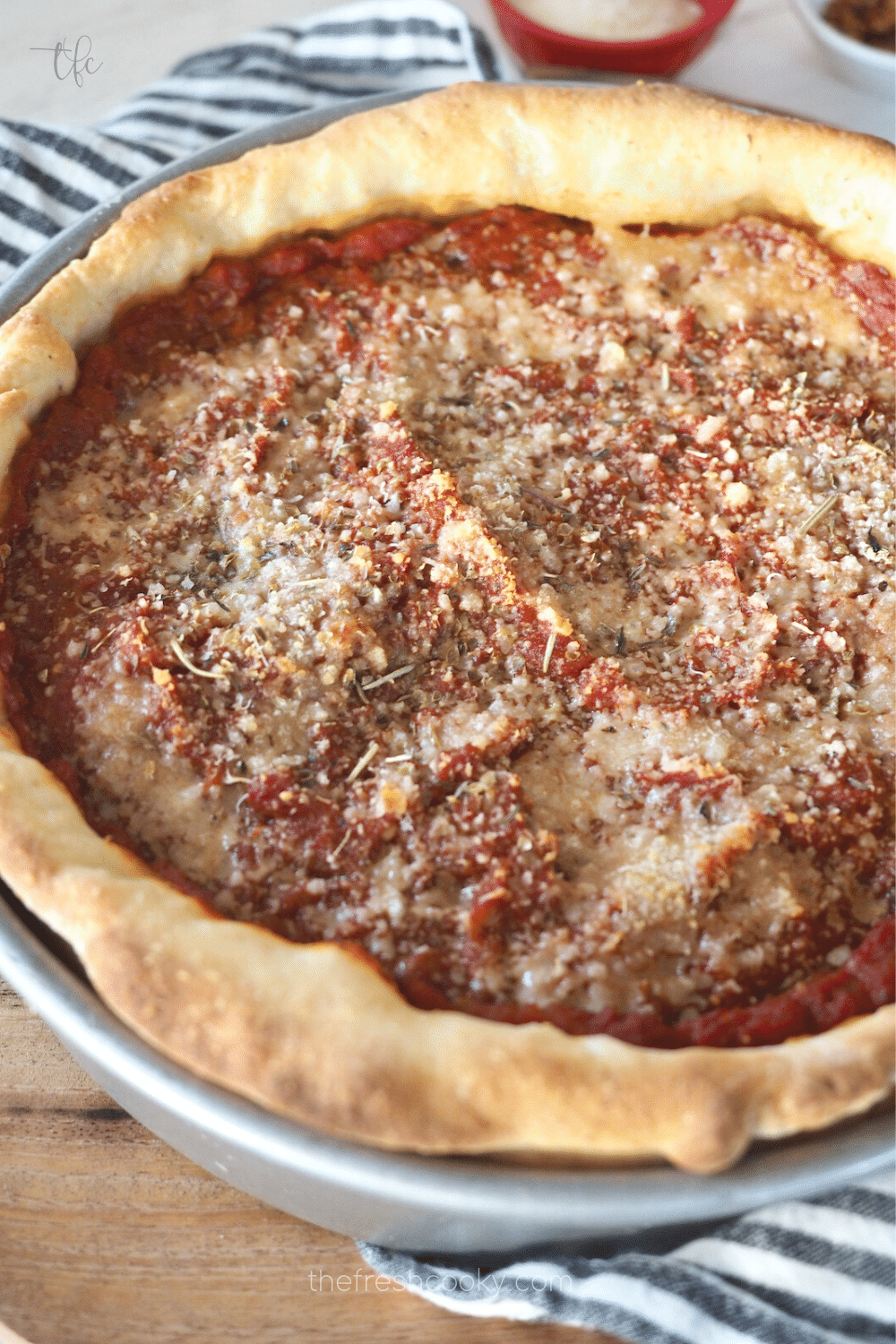 TFC Pro Tips
Recommended Equipment
Let's face it, to make a good deep-dish pizza you are going to need a few pieces of equipment.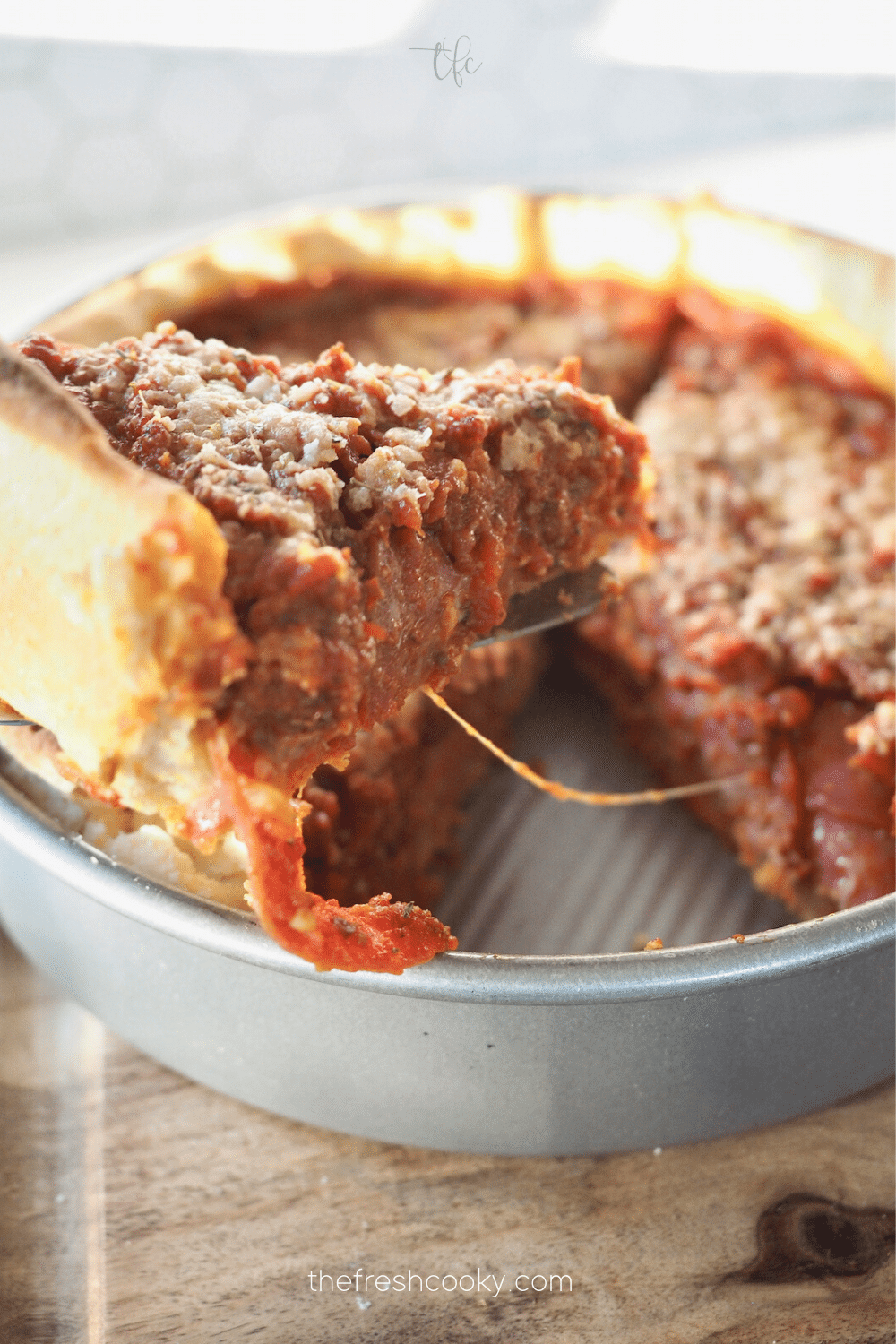 Recipe adapted from Sally's Baking Addiction
Frequently Asked Questions
How do I store my pizza dough in the freezer?
It's easy! Just coat with olive oil and put the dough balls into freezer bags. When ready to use, remove from freezer preferably overnight in the fridge, then remove to counter an hour before rolling.
Can I freeze my dish deep pizza with all the ingredients on it?
Technically, Yes! The trick here is to pre-bake the crust for ten minutes, cool, and then place all ingredients in freezer baggies so it's all on place. Just let the crust thaw overnight in the fridge or at least 3 hours at room temp, fill with thawed toppings and sauce, baking at 425 for 25-28 minutes.

How to bake frozen deep dish pizza?
For a completely assembled Chicago Style deep dish pizza; par bake your crust for 10 minutes, cool completely, then assemble with cheese, toppings and pizza sauce. Wrap well in plastic wrap (at least 2 layers) for up to 4 months, when ready to bake, bake from frozen in 425F preheated oven for 25-30 minutes for cheese pizza, 30-35 for veggie pizza and 30-40 minutes for a meat pizza. Covering with foil if the crust starts getting too brown.
Why is the second rise done in the fridge?
The cooler temperature slows the process, giving the final product more flavor, you can keep in the refrigerator for up to 48 hours.
What to Serve with this Recipe for Deep Dish Pizza
This Chicago-style deep dish pizza recipe is a meal all by itself, but here are some suggestions.
Don't want all the fuss of a deep-dish pizza, then try my 10 minute Pizza Dough recipe and How to Bake Homemade Pizza!
Like this recipe?
Don't forget to give it a ⭐️⭐️⭐️⭐️⭐️star rating in the recipe below!
More Perfect Pizza Recipes:

We share Recipes From Our Dinner Table! Join our group and share your recipes, too! While you're at it, join our Pinterest board, too!
Yield:

2-9-inch pizzas, about 12 slices
Chicago-Style Deep Dish Pizza & Dough Recipe
Inactive (Rise) Time:
3 hours
Total Time:
4 hours
10 minutes
This recipe shows how to make deep dish pan pizza, in easy step-by-step detail! An incredible and easy butter crust pizza is filled with cheese, your favorite toppings, and a rich, zesty chunky tomato sauce, it can even be frozen for later! Crust, Sauce and pizza recipe included.
Ingredients
Deep Dish Pizza Dough (makes two)
3 ¼ cups all purpose flour
½ cup yellow cornmeal
1 teaspoon kosher salt
1 tablespoon granulated sugar
2 ¼ teaspoons active dry yeast (instant yeast may be used) (1 standard packet)
1 ¼ cups slightly warm water (not hot, but warm to the touch)
½ cup butter, divided (¼ cup softened to room temp ¼ cup melted and cooled slightly) (Salted or unsalted butter, if using unsalted, increase salt to 1 ¼-1 ½ teaspoons)
Olive oil for coating the bowl
Deep Dish Pizza Ingredients (divided between two pizzas)
4 cups shredded mozzarella cheese
½ cup parmesan or parm/reggiano cheese, grated (also try Asiago or Quatro Frommagi)
Pizza Sauce (or favorite marinara sauce, but make the sauce!)
2 TBL butter (regular or unsalted)
1 small onion, grated on a cheese grater (about ⅓ of a cup)
3 garlic cloves, minced
¾- 1 teaspoon kosher salt
1 teaspoon dried oregano
½ teaspoon crushed red pepper flakes (optional, but so good)
1-28 oz can crushed tomatoes*
¼ teaspoon granulated or brown sugar (optional)
Topping Suggestions
Uncured or regular pepperoni (try turkey pepperoni)
1-2 teaspoons Italian Seasoning blend
Cooked, crumbled Italian Sausage (mild or hot)
Canadian bacon
Artichoke Hearts, diced in large chunks
Sliced bell peppers, any color
Sliced sweet or red onions
Sliced mushrooms
Sliced Olives
Instructions
Make dough at least 3 hours ahead of time!
You will need two deep dish round pans, 9" x 2" for this recipe, or you may use a 9" inch springform pan. I have also made this in a 10" cast iron skillet.
In the bowl of a stand mixer* fitted with a dough hook (J hook) combine flour, cornmeal, kosher salt, sugar and yeast. With mixer on low speed mix the above ingredients, then slowly add the ¼ cup of slightly cooled melted butter and the warm water. If the water is too hot, it will kill the yeast, you just want it warm.
With the mixer on low speed, beat or stir the dough until everything begins to moisten, beat the dough until it is soft and elastic and pulls away from the sides of the bowl, about 4-5 minutes.
If the dough is too stiff (hard) , beat in an additional teaspoon of warm water, or if it's too soft and sticky, add in additional tablespoon of flour.
Remove dough from bowl and form into a ball and place in a large bowl greased with some olive oil, place the dough ball inside, turning to coat both sides. Cover the bowl tightly with plastic wrap or aluminum foil and allow to rise in a warm place for 1-2 hours, until doubled in size. If you have a proofing setting on your oven, turn it to proof and place bowl in a warm oven. If you do not have a proofing setting, preheat oven to 150 degrees F, once it is heated, TURN OFF OVEN. Place covered dough inside oven; close oven and turn on lights, the residual heat will help dough rise.
Once the dough has risen, gently punch down dough and place dough ball on lightly floured surface and knead gently a couple times to remove any air bubbles. Roll dough into 15x12 inch rectangle, it will be very easy to work with, almost like play-doh.
Spread remaining ¼ cup softened butter on top of dough. Roll up dough from 12" side (shorter) the length of the dough, cut the dough log in half using a bench scraper or sharp knife. Gently shape the dough logs into two dough balls and return to greased bowl, cover again with plastic wrap or foil and this time allow to rise in the refrigerator for one hour (not a warm place). This is a great time to make your pizza sauce.
Melt butter in a medium saucepan over medium heat. Then add grated onion, oregano, salt, and red pepper flakes, stirring occasionally until lightly browned/golden, about 5 minutes. During the last 2 minutes, add minced garlic and stir until fragrant, about 1-2 minutes.
Add the tomatoes and sugar if using, stirring to combine. Reduce heat to simmer or low and allow to simmer until the sauce is thick, fragrant and rich in color, about 30 minutes. The sauce should reduce to about 2 ½ cups at this point, if it looks like more, continue simmering until it reduces further. Remove from heat and set aside until ready to use.
Spread on pizza crust and build pizza as desired. This pizza sauce works great on deep dish pizzas, thin crust, regular crust, even on french bread or store bought pizza crust. Note: allow to cool 15-20 minutes before using on thinner unbaked crusts, to avoid soggy crusts.
If not using sauce immediately, cool completely and store in airtight container or freezer baggie until ready to use. Refrigerated keeps 4-6 days, frozen up to 3 months.
To make deep dish pizzas:
Preheat oven to 425 degrees F.
After the dough has risen in the fridge for an hour, remove dough balls one at a time and roll out on a lightly floured surface into a 12-inch round. Place dough over a 9x2" cake pan, using hands to press into the sides and bottom of the pan, fold edges over, or trim if desired, repeat with second dough ball if desired. Brush the edges of dough with a little olive oil, optional.
Spread 2 cups of mozzarella cheese into bottom of pizza in pan, then add desired toppings, sprinkle with Italian seasoning blend, next spoon on about 1 ¼ cups of pizza sauce spreading to cover the toppings. Sprinkle sauce with ¼ cup of parmesan cheese. Repeat with second pan if making both. Place pan(s) on large cookie sheet and bake for about 25-28 minutes (we like ours a little longer). If crust is browning too quickly, loosely cover edges with foil. Allow to cool on wire rack for 10 minutes before slicing.
Notes
*If you do not have a mixer with a dough hook, mix in mixer until just combined, then knead on a floured surface for 7-8 minutes until elastic and soft. Or using a large bowl and a wooden spoon mix everything until combined, then turn out onto floured surface and knead until smooth and elastic about 7-8 minutes (a great arm workout!)
Storage: Dough will keep in fridge for up to 1 day, I recommend freezing if storing for longer. This dough is freezer friendly, place each dough ball in separate quart sized freezer baggies with a little spray oil or olive oil. Place in refrigerator overnight to thaw and then use as directed.
To Freeze Assembled Deep Dish Pizza
Pre-bake the crust for 10 minutes in the pan, allow to cool completely then wrap pizza dough tightly in aluminum foil, then plastic wrap and freeze up to 6 months. I recommend measuring out the cheese, sauce and toppings needed for the pizza freezing in separate containers, then assembling as directed below.
To assemble from frozen:
Thaw overnight in fridge or 3 hours at room temperature, fill with (thawed) cheese, toppings and sauce, then bake in preheated 425 degree F oven for 25 minutes. Allow to cool 10 minutes before slicing.
Recipe adapted from Sally's Baking Addiction
Recommended Products
As an Amazon Associate and member of other affiliate programs, I earn from qualifying purchases.
Nutrition Information:
Yield:
12
Serving Size:
1
Amount Per Serving:
Calories:

385
Total Fat:

19g
Saturated Fat:

11g
Trans Fat:

1g
Unsaturated Fat:

6g
Cholesterol:

53mg
Sodium:

729mg
Carbohydrates:

40g
Fiber:

3g
Sugar:

5g
Protein:

15g
The nutritional information is estimated and may not be entirely accurate, at times it pulls information for suggestions and options which may increase calories, etc. Nutritional information will change based on used ingredients, quantities used, etc.