Chicago-Style Deep-Dish Pizza Recipe
As an Amazon Associate, I earn from qualifying purchases. Please read my disclosure policy.
Nothing says love like a Chicago-style deep-dish pizza! That's right—pizza is its own love language. This recipe shows how to make pan pizza, in easy step-by-step detail! An incredible and easy butter crust pizza is filled with cheese, your favorite toppings, and a rich, zesty chunky tomato sauce, it can even be frozen for later!
October is National Pizza Month and I am thrilled to be joining other bloggers for Perfect Pizzas Week, be sure to check out all of the fantastic pizza creations at the end of the post!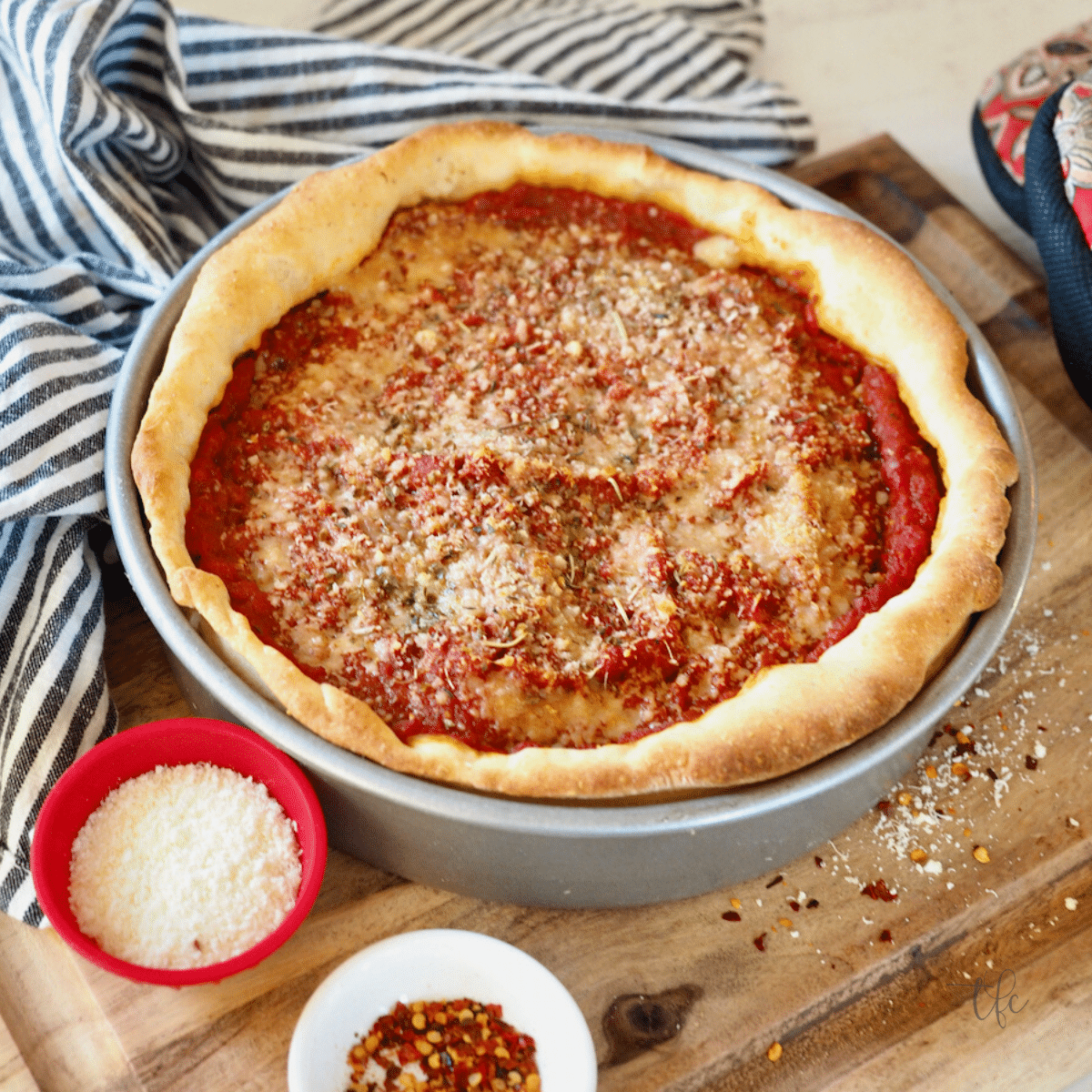 When the weekend comes, a Chicago style deep dish pizza recipe hits the spot. It's time for delicious cheesy goodness, pepperoni, sausage, and favorite toppings. Take this deep dish to the park, a ball game picnic, a potluck, or eat it in front of your favorite show.
Butter Crust Pizza Dough
This butter crust pizza dough recipe makes you look like a pizzeria chef! We're all busy, and if you need to make your time in the kitchen count, this is the recipe for you. It's two meals: eat one now and save the other for later! And this recipe is easy enough for a beginner!
When you're ready for an Italian week, check out Grandpa Frank's Spaghetti Sauce. Next, try the Best Italian Pasta Salad with Sun Dried Tomatoes, yummy with artichoke hearts and a simple balsamic vinaigrette! Then you have got to try my "souper" easy Easy Italian Wedding Soup with savory meatball. And don't forget dessert; try this traditional (and easy) Tiramisu.
Deep Dish Pizza Dough Ingredients
Every deep-dish pizza dough recipe is going to include basics like flour and yeast, but this one is like a true Chicago-Style deep-dish pizza crust. The butter makes it absolutely silky and delicious!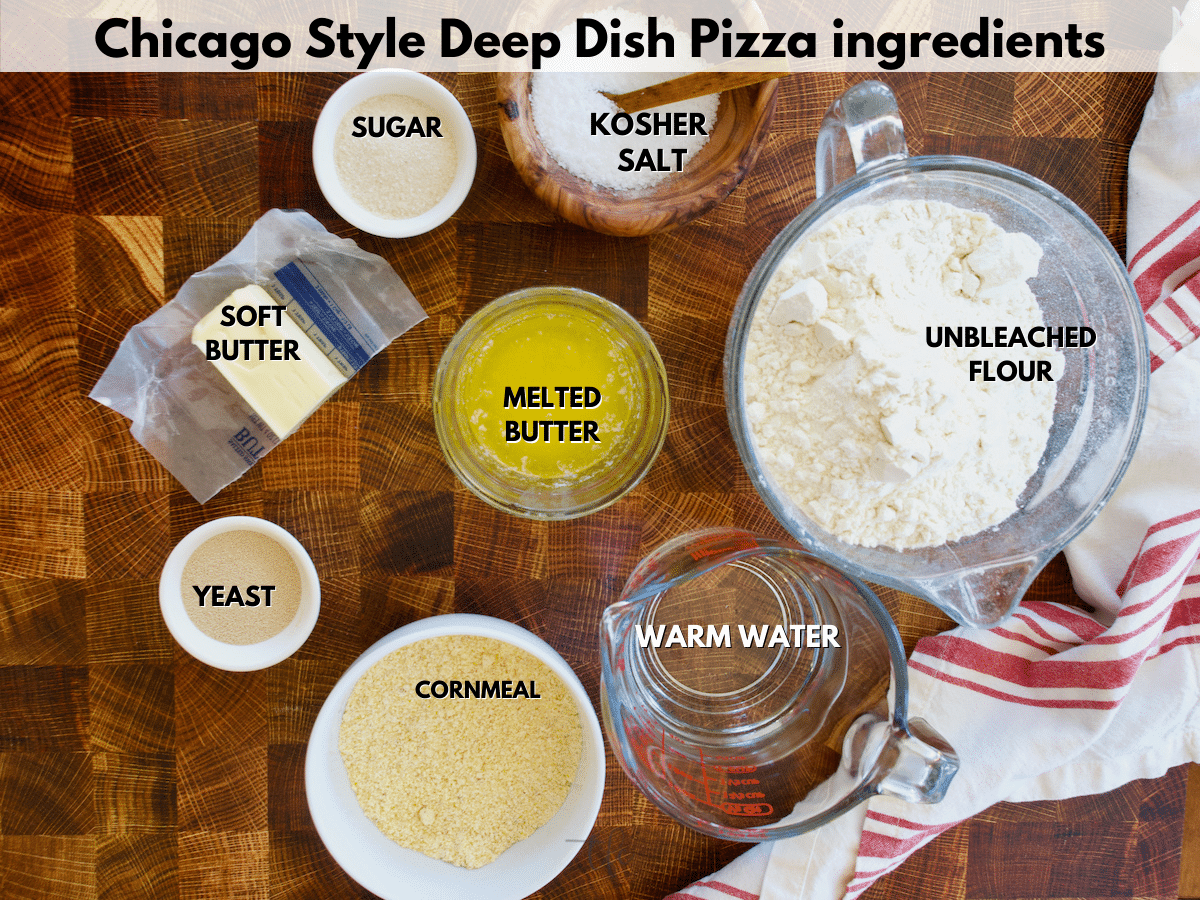 All-purpose flour | I use organic all-purpose flour in my recipe.
Cornmeal | Chicago-style butter crust pizza is a unique dough, the cornmeal is the signature ingredient!
Active dry yeast | Yeast is a living organism, but it stays fresh stored in the fridge or freezer.
Butter | Butter adds the best flavor, so use the good stuff!
Olive oil | Here's a tip: pure olive oils congeal in the fridge.
Chicago-Style Deep Dish Pizza Ingredients
Here are some suggested ingredients; our family usually does one pretty basic pepperoni pizza as shown in the video. But the second pizza, I usually go all out on; with caramelized peppers and onions, artichoke hearts, olives, and pepperoni or sausage, or both! And whatever else I can find in my fridge!
Cheese | It would hardly be pizza without cheese and as true traditional Chicago-Style deep dish pizza, with a melting layer of mozzarella cheese on the bottom and a little parmesan sprinkled on the top.
Pepperoni | I use uncured meats, to our family this is the quintessential ingredient!
Italian sausage | You can mix it up with anything from mild to hot!
Veggies | I've suggested artichoke hearts, peppers, onions, mushrooms, and olives, but you can go wild, adding whatever strikes your fancy!
Chunky Tomato Sauce | I didn't leave you hanging without a recipe for thick, chunky pizza sauce, included in the recipe!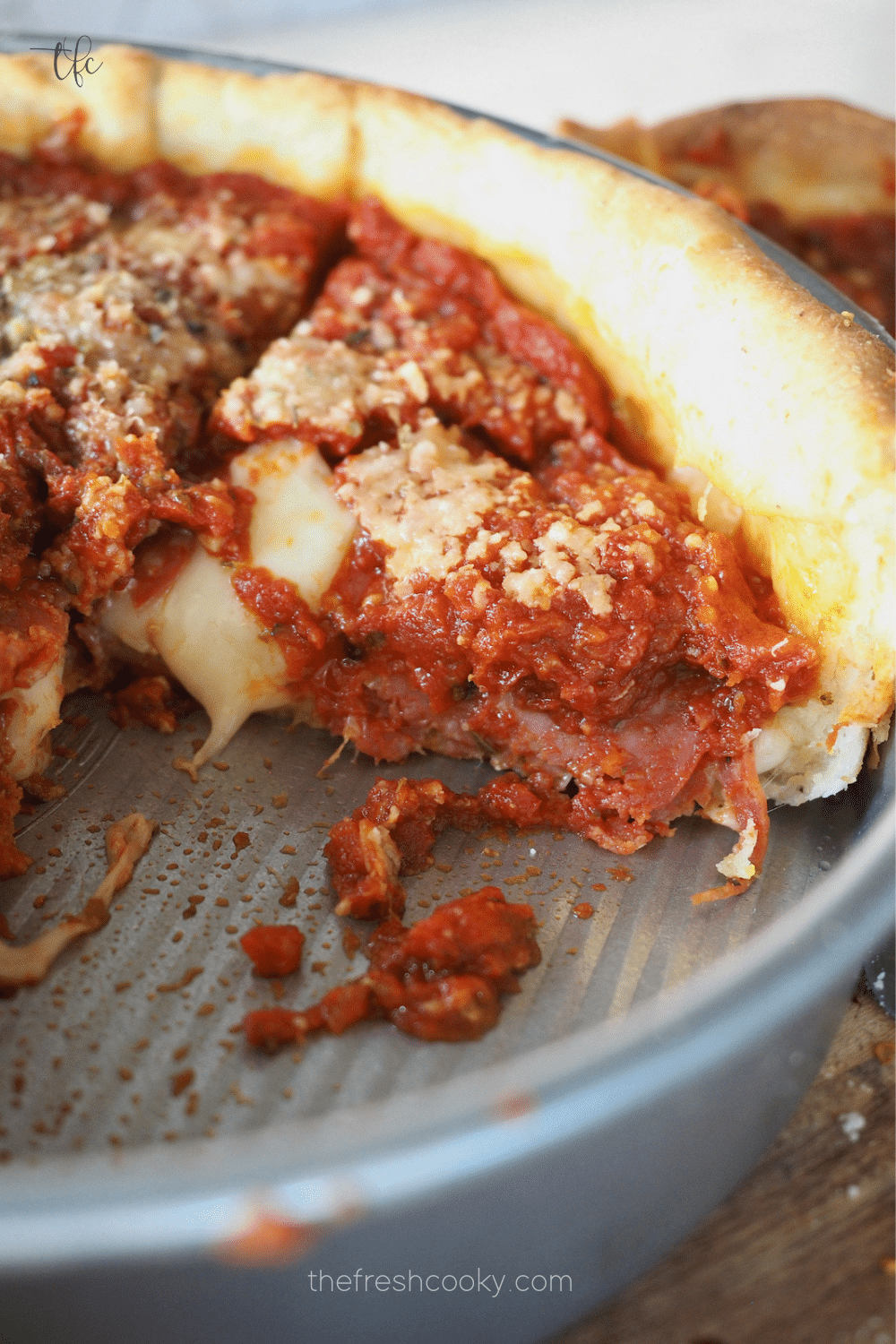 What is Chicago-Style Pizza
Originally invented in the '40s, the Chicago deep-dish pizza is typically characterized by a tall, butter crust that caramelizes as it bakes, holding a thick layer of mozzarella cheese and robust chunky tomato sauce.
A thick, almost casserole style pizza too rich to eat with your hands and a shameless amount of gooey cheese, best eaten with a fork and knife, it might not be for everyday, but special occasions are perfect for deep dish pan pizza! And by special occasions I mean, Friday or Saturday!
I have eaten many authentic Chicago Deep-Dish pizza's in Chicago (drool), this recipe mimics Lou Malnati's pizzas, which you can actually have shipped frozen right to your door. Lou's signature butter crust pizza is what makes this the best Chicago-style deep dish pizza recipe!
How to Make Pan Pizza
Start with making the dough for this recipe for deep dish pizza, it's so easy, read on and see!
In a stand mixer bowl, add the flour, cornmeal, kosher salt, sugar, and yeast.
Slowly add the butter and warm water, with mixer on low and fitted with "J" hook.
Beat the dough until it pulls away from the sides of the bowl—it only takes a few minutes. The dough should be smooth and stretch without breaking.
Form the dough into a ball and place it into a large bowl greased with olive oil, coating the dough entirely. Cover and let it rise in a warm space until doubled for 1-2 hours.
HINT | I turn my oven to 150 degrees, let preheat, then TURN OFF and place dough in warm oven to rise.
After rising, punch down the dough (my favorite step). Knead on a floured surface.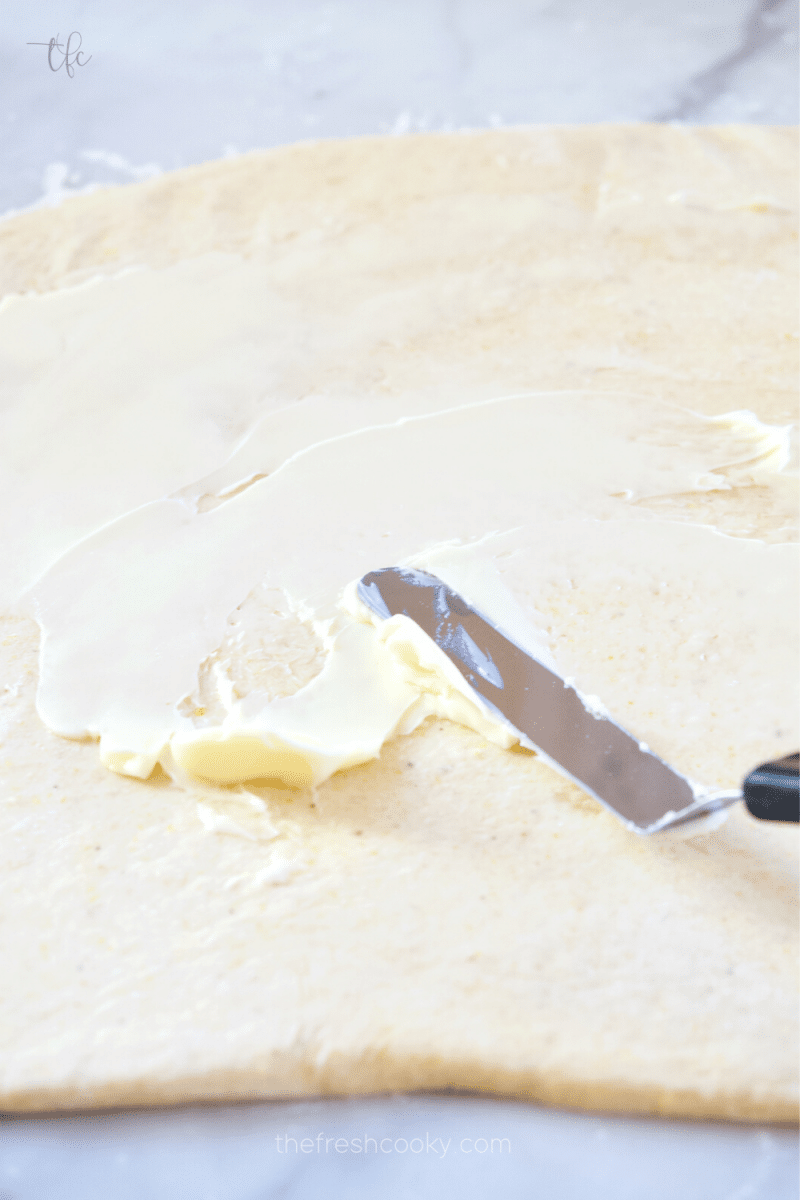 Spread remaining butter onto the dough and roll up into a log. Shape and return the dough ball into a greased bowl. Rise inside the fridge this time for about an hour, covered.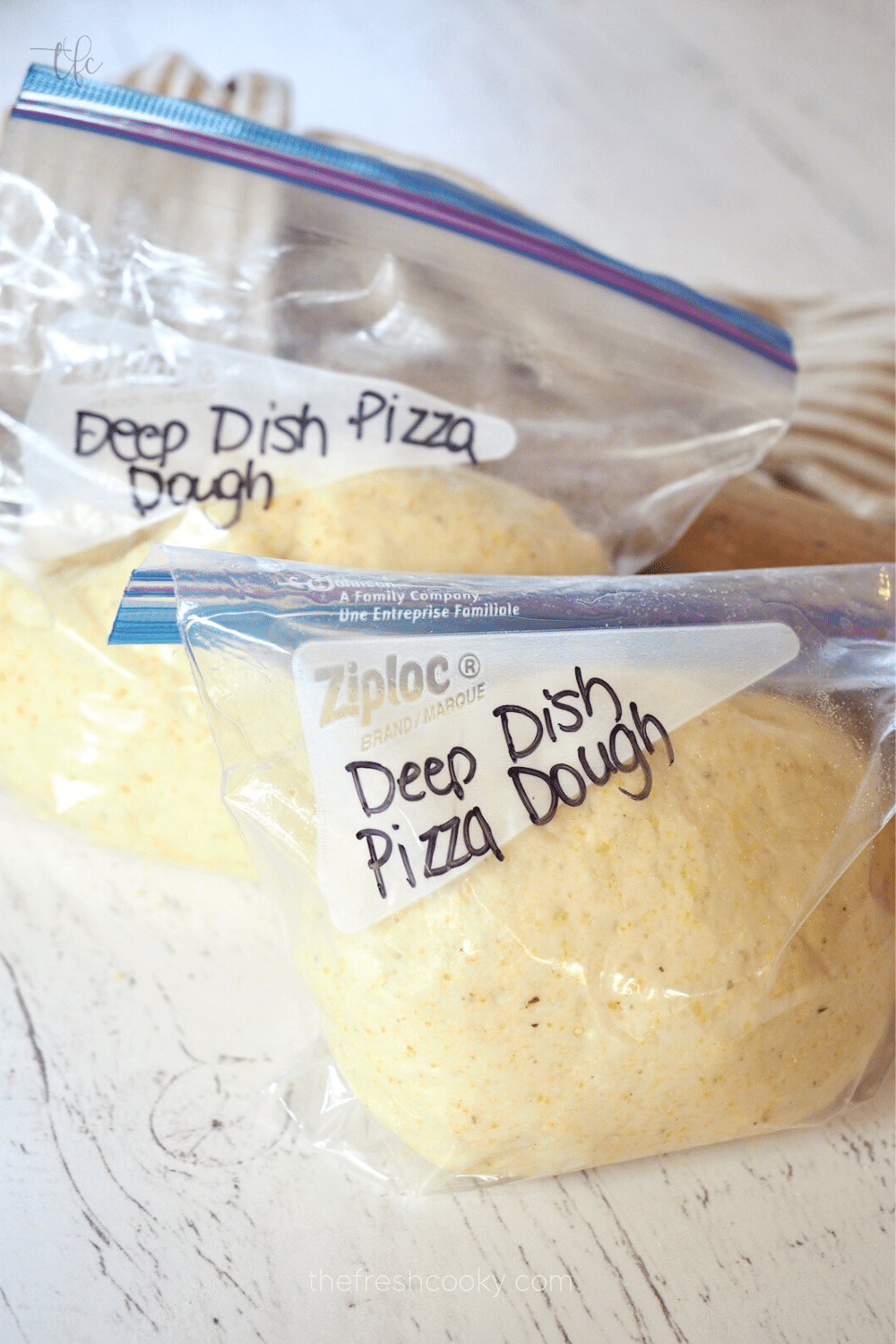 TIP | At this point, dough may be frozen for future use. Simply place dough ball(s) inside a freezer baggie sprayed with a little oil.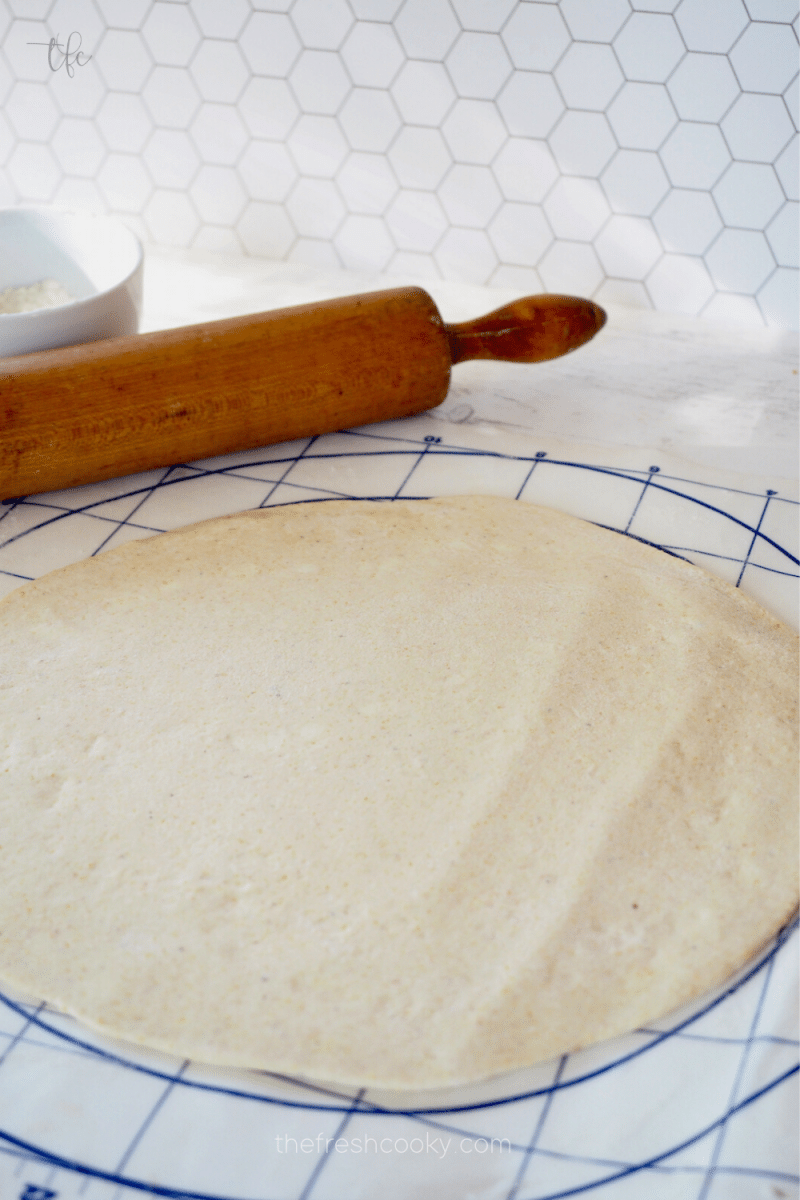 Best Chicago Deep Dish Pizza
For a deep dish pizza, roll out the dough ball into a 12″ circle, this dough is really easy to work with!
Place it over the cake pan, pressing it into the sides and bottom. If there is a lot of overhang, trim, but I like a little irregularity for a more rustic pizza dough.

HINT | If not using the rolled out dough right away, cover with a damp tea towel or damp paper towels until ready to use.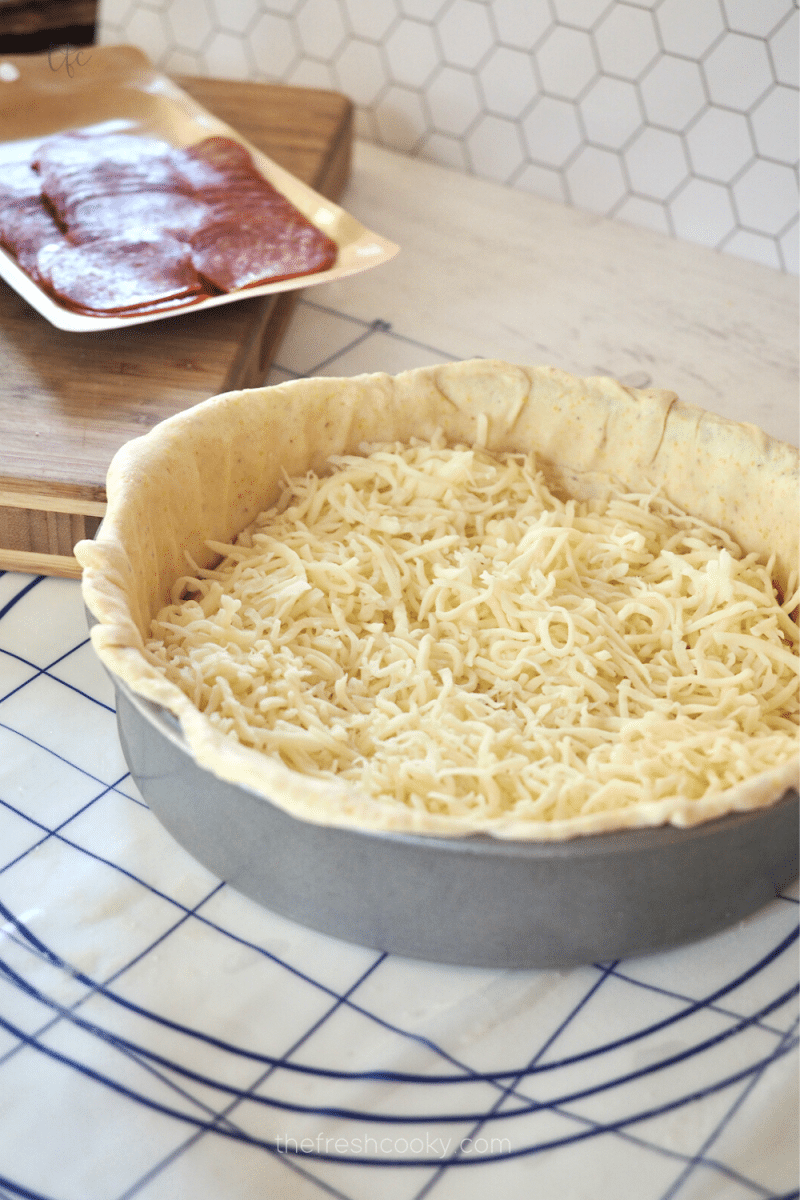 Start by filling pizza dough lined pan with 2 cups of shredded mozzarella cheese, then layer with your favorite toppings and sprinkle with a little Italian Seasoning and/or red pepper flakes. I used uncured pepperoni, see variations below for all sorts of ideas.
Then evenly spread deep dish pizza pan with 1 ¼ cups of chunky tomato sauce, topping with ¼ cup of grated parmesan cheese. Bake at 425F degrees for about 25-28 minutes until bubbly and crust is golden brown. If crust is browning too quickly, cover with a little foil.
Variations
Deep Dish Veggie Pizza | Use any veggies you like! Think outside the pizza box! Try asparagus or cauliflower and all the other veggies topped with a sprinkling of balsamic vinegar. Presto!
Individual deep dish | Half the fun is choosing your toppings. Try these mini deep dish pizza pans so everyone can personalize their dinner! This is great for teens and kids!
Make It Yours | use your favorite toppings! Like a Hawaiian deep dish pizza, go for it. Or maybe you are more of a meat lovers deep dish kinda person, load it up with Italian sausage, Canadian bacon, pepperoni.
Deep Dish Cheese Pizza | Or maybe you are more simple and just want a deep dish cheese pizza! Add some unique cheese like, smoked gouda, maybe a little fresh mozzarella along with the shredded!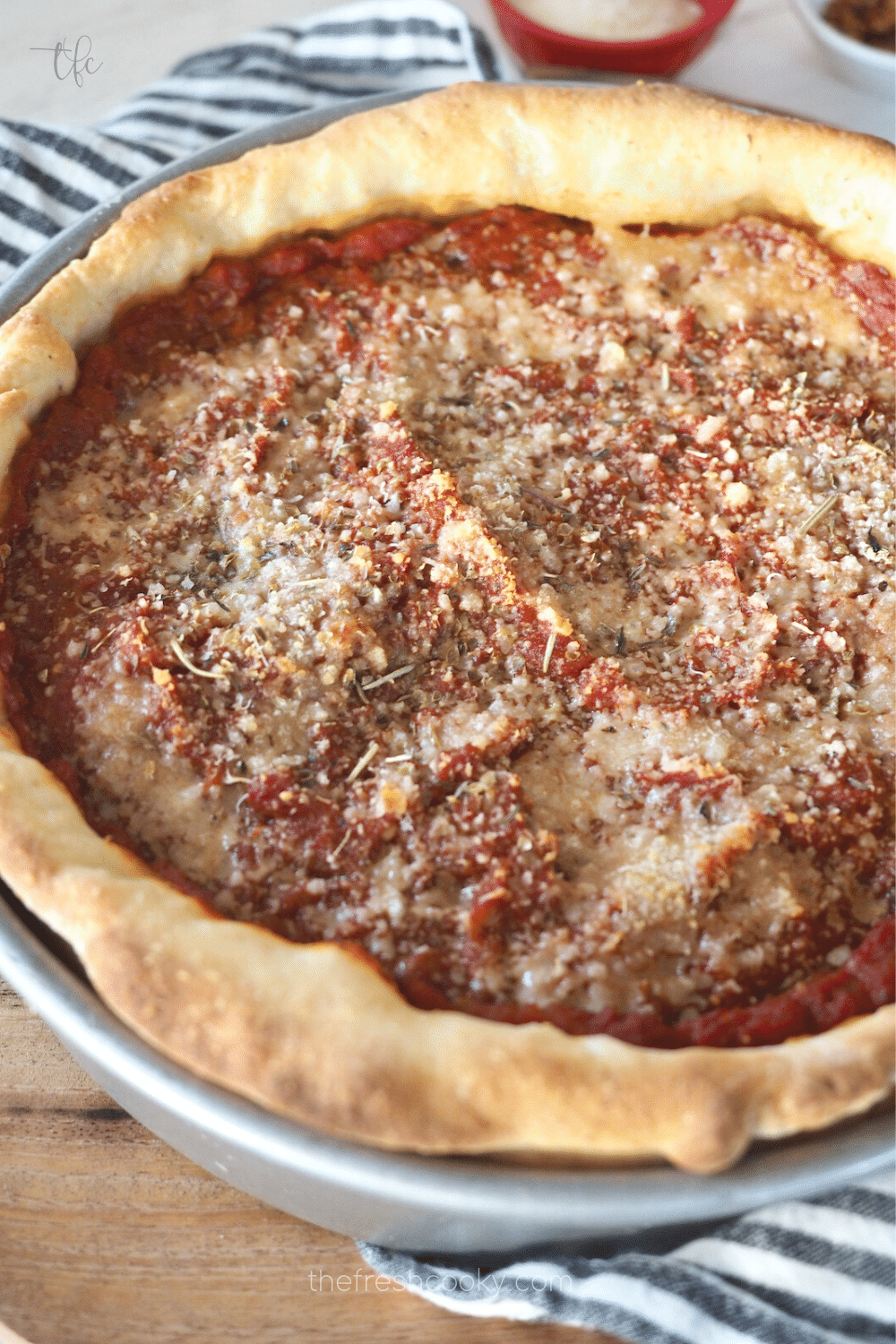 TFC Pro Tips
Don't skimp on the sugar | Yeast is alive, and it feeds off the sugar to rise. This is essential for success.
Bake it HOT! | Professional pizza ovens are 800 degrees Fahrenheit, so make sure your oven is fully preheated to the full temperature to improve your deep dish pizza.
Store your extra dough | You can keep your pizza dough in the fridge for one or two days or in the freezer for about 3 months.
Kneading the dough | If you have a stand mixer, let it do the work for you, but if you are all about getting an arm work-out, then check out this kneading mat for pies and pizza. This is also great for rolling out dough.
Recommended Equipment
Let's face it, to make a good deep-dish pizza you are going to need a few pieces of equipment.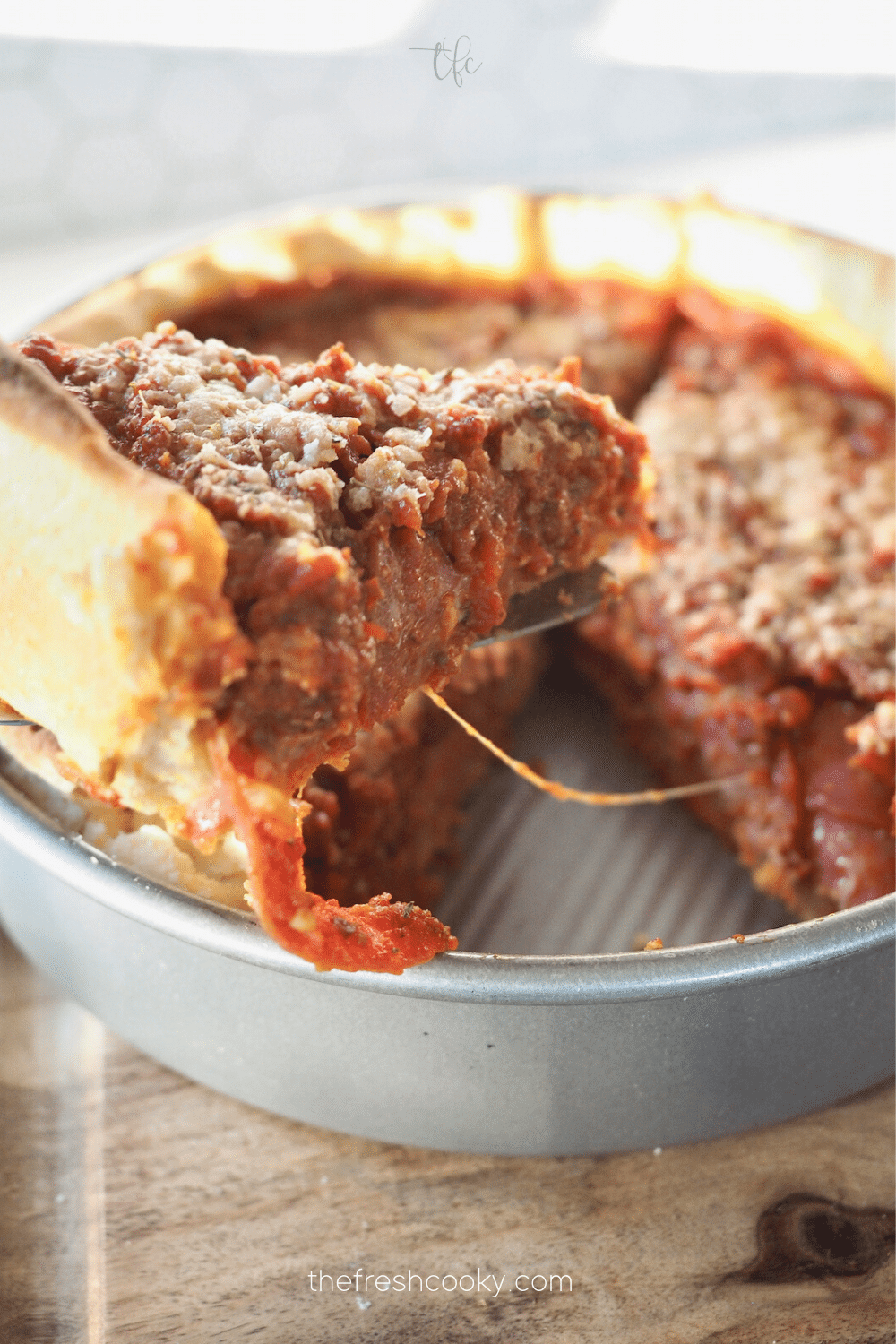 Recipe adapted from Sally's Baking Addiction
Frequently Asked Questions
How do I store my pizza dough in the freezer?
It's easy! Just coat with olive oil and put the dough balls into freezer bags. When ready to use, remove from freezer preferably overnight in the fridge, then remove to counter an hour before rolling.
Can I freeze my dish deep pizza with all the ingredients on it?
Technically, Yes! The trick here is to pre-bake the crust for ten minutes, cool, and then place all ingredients in freezer baggies so it's all on place. Just let the crust thaw overnight in the fridge or at least 3 hours at room temp, fill with thawed toppings and sauce, baking at 425 for 25-28 minutes.

How to bake frozen deep dish pizza?
For a completely assembled Chicago Style deep dish pizza; par bake your crust for 10 minutes, cool completely, then assemble with cheese, toppings and pizza sauce. Wrap well in plastic wrap (at least 2 layers) for up to 4 months, when ready to bake, bake from frozen in 425F preheated oven for 25-30 minutes for cheese pizza, 30-35 for veggie pizza and 30-40 minutes for a meat pizza. Covering with foil if the crust starts getting too brown.
Why is the second rise done in the fridge?
The cooler temperature slows the process, giving the final product more flavor, you can keep in the refrigerator for up to 48 hours.
What to Serve with this Recipe for Deep Dish Pizza
This Chicago-style deep dish pizza recipe is a meal all by itself, but here are some suggestions.
A simple crisp green salad is my personal favorite! A little chopped romaine, parm cheese, maybe some tomatoes and your favorite dressing!
Caesar or a wedge salad, or try this amazing 1905 salad.
We love dunking our crust in homemade Ranch dressing or blue cheese! YUMMY!
Get on the HOT HONEY craze and drizzle some of the top of your pizza!
Also try garlic knots and mozzarella sticks, because…more bread and cheese!
Don't want all the fuss of a deep-dish pizza, then try my 10 minute Pizza Dough recipe and How to Bake Homemade Pizza!
Like this recipe?
Don't forget to give it a ⭐️⭐️⭐️⭐️⭐️ star rating and comment below the recipe!
More Perfect Pizza Recipes:

We share Recipes From Our Dinner Table! Join our group and share your recipes, too! While you're at it, join our Pinterest board, too!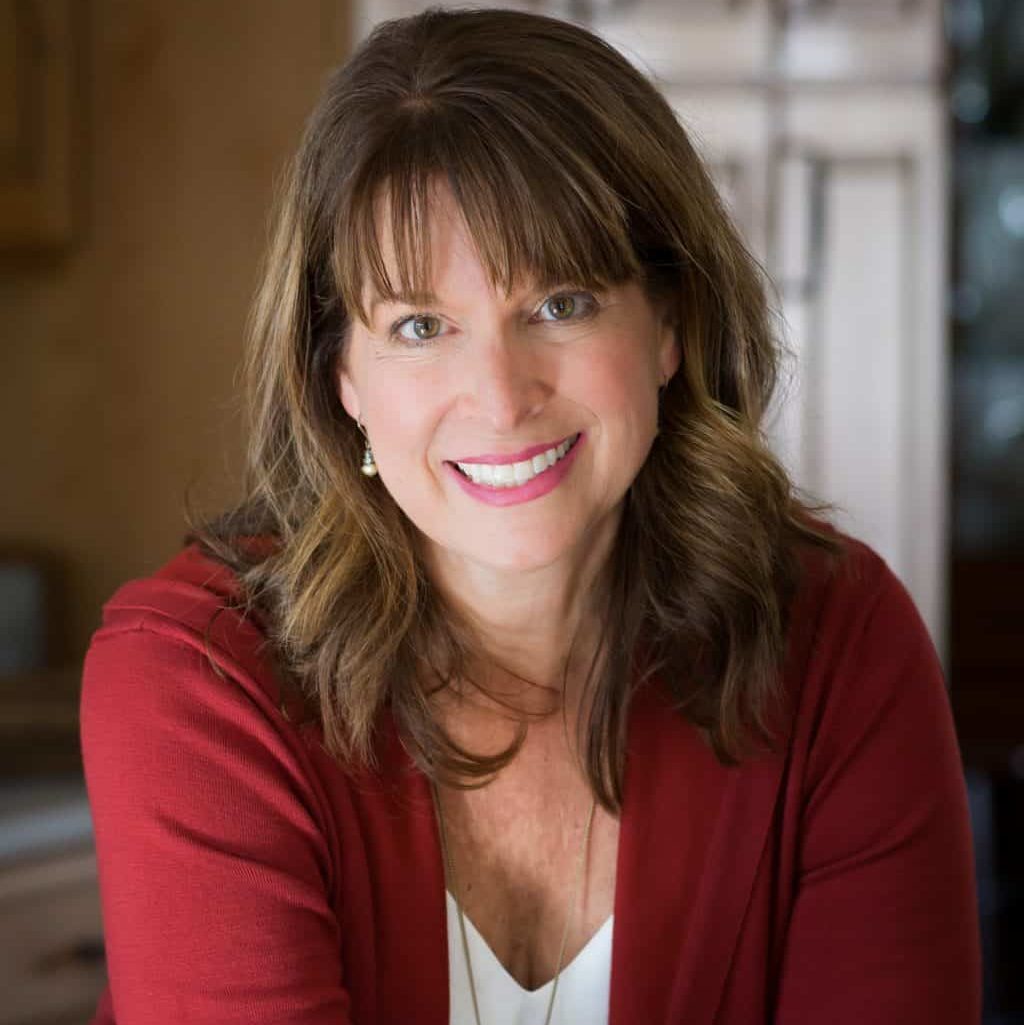 About Kathleen Pope
Recipe Innovator | Food Photographer | Food Writer
Hi, I'm Kathleen Pope. Here at The Fresh Cooky you will find easy, mostly from-scratch, trusted recipes for all occasions. From speedy dinners to tasty desserts, with easy step-by-step instructions. I am here to help teach you how to make mouthwatering recipes without spending hours in the kitchen. Read more about Kathleen here.