Easy 5-Ingredient Raspberry Cheesecake Thumbprint Cookies Recipe
As an Amazon Associate, I earn from qualifying purchases. Please read my disclosure policy.
This easy recipe for 5-Ingredient Raspberry Cheesecake Thumbprint cookies are as beautiful as they are simple to make. Soft and buttery, with the bright taste of raspberries, these melt-in-your mouth beauties are sure to become one of your favorite butter cookie recipes.
I love any kind of shortbread cookie, from my traditional shortbread cookies (perfect, easy Christmas cookie) or these Lemon Cranberry Bars.
You might also enjoy these delicious recipes; try my Christmas Muddy Buddy recipe, Crumbl Chocolate Chip Cookies (the best!), sparkling Cranberry Christmas cake.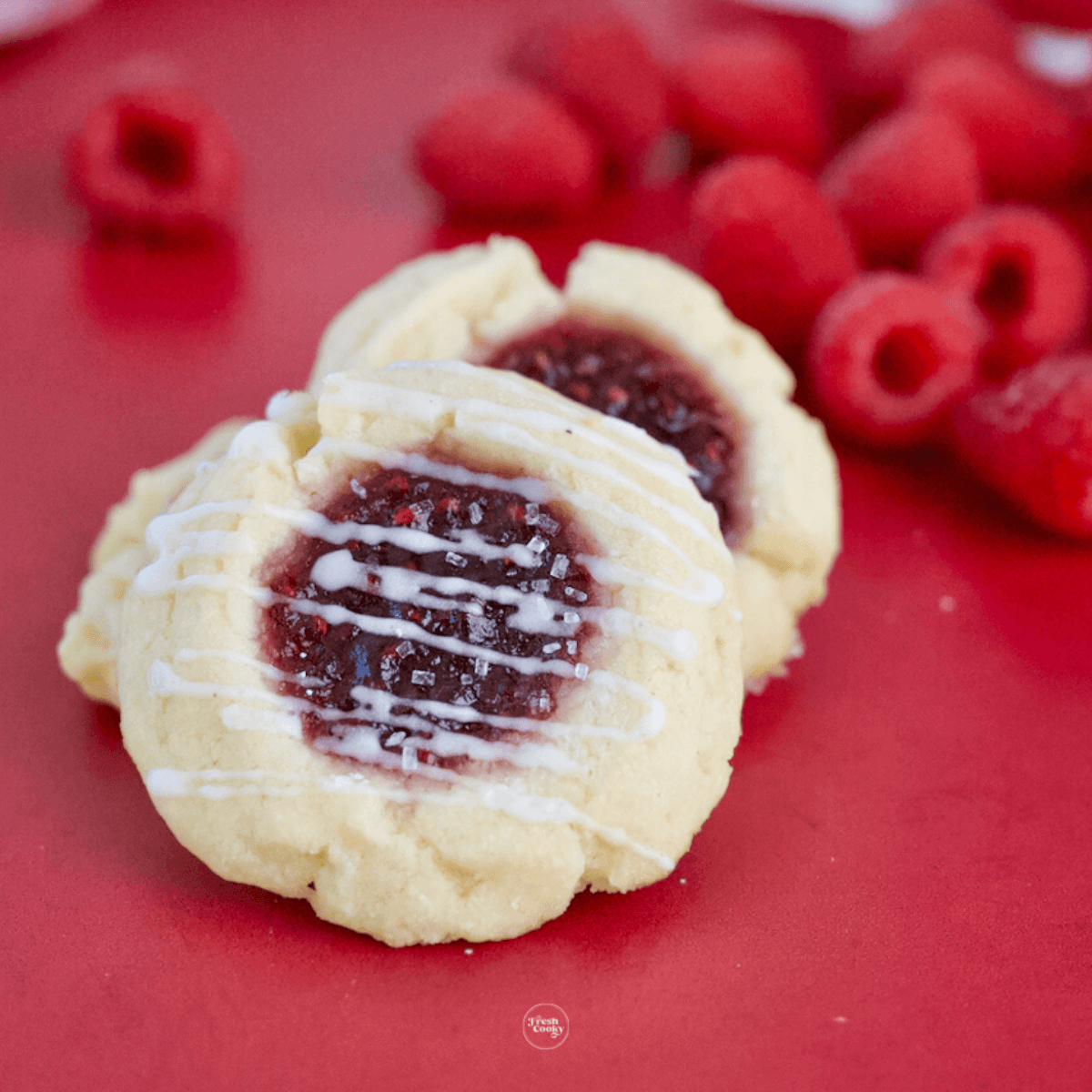 Why You Will Love this Recipe
Oh So Easy | It will take you longer to drive to the grocery store then it will to whip up a batch of these classic cookies.
Enough For a Crowd, or a Cookie Exchange | One recipe makes 36-48 cookies! A must share…or maybe not 🙂
Beautiful | These dazzling cookies will make any dessert tray at your Christmas party look special for the holidays.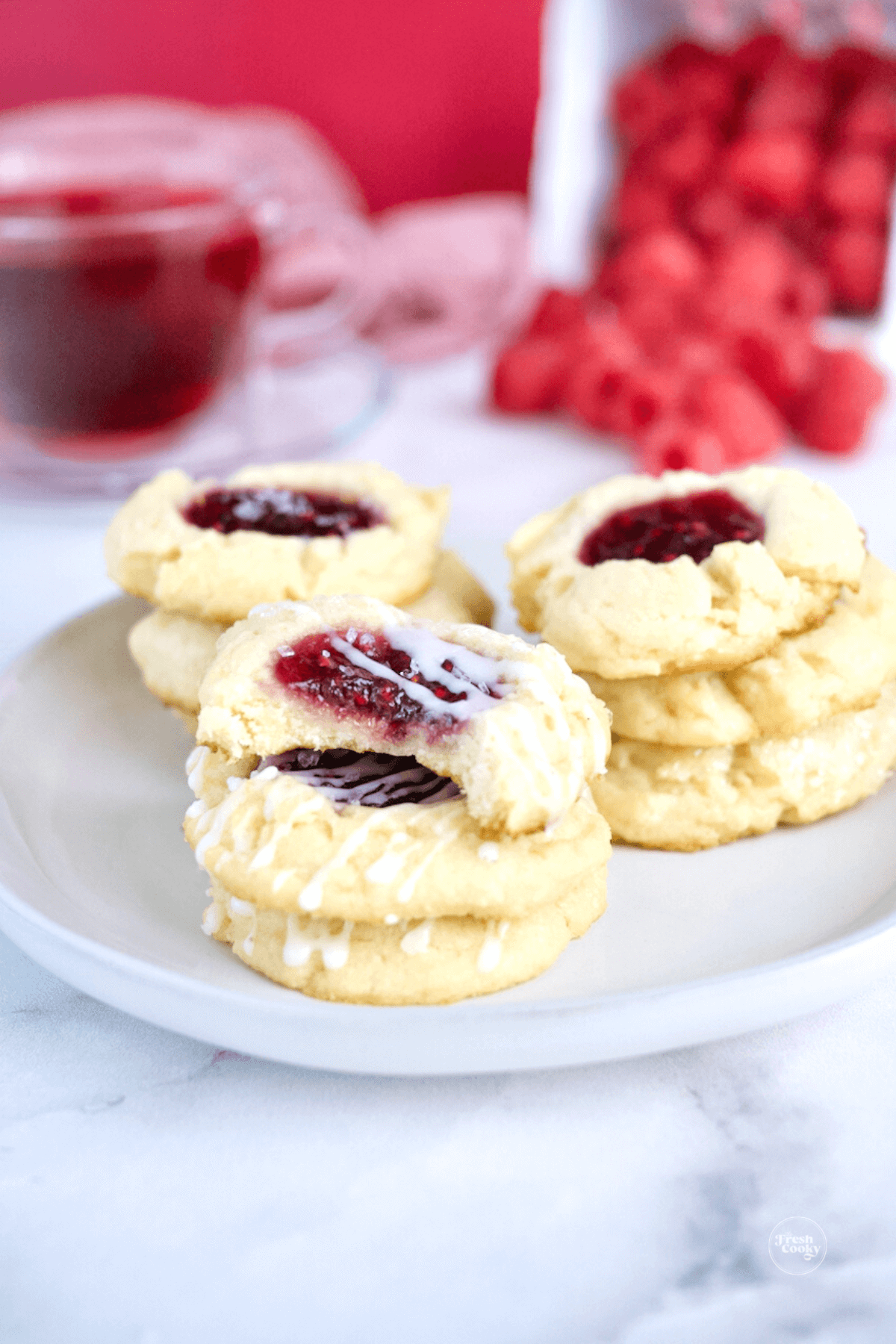 The Sweetest Season & Cookies for Kids' Cancer
I am joining with The Speckled Palate and Feast + West for The Sweetest Season This virtual cookie exchange raises awareness (and funds) for the non-profit organization, Cookies for Kids Cancer.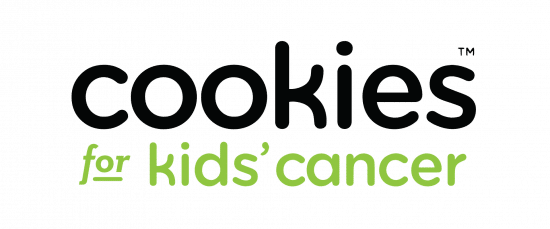 About Cookies for Kids' Cancer
Cookies for Kids' Cancer is a 501(c)3 non-profit organization dedicated to funding research for new, innovative and less-toxic treatments for childhood cancer. Since 2008, Cookies for Kids' Cancer has granted nearly $17 million to pediatric cancer research in the form of 100+ research grants to leading pediatric cancer centers across the country. From these grants have stemmed 35+ treatments available to kids battling cancer today.
My niece died from a childhood cancer when she was 5 years old; to say that is heartbreaking is an understatement! Whatever we can do to promote pediatric cancer research, especially less-toxic treatments is a win for me.
Cookies for Kids' Cancer is in a matching window with their friends at OXO, who will be matching every dollar raised through the end December 2022, up to $100,000. Whatever money we raise will automatically double on our fundraising page! Join us!
Key Ingredients & Optional Add-Ins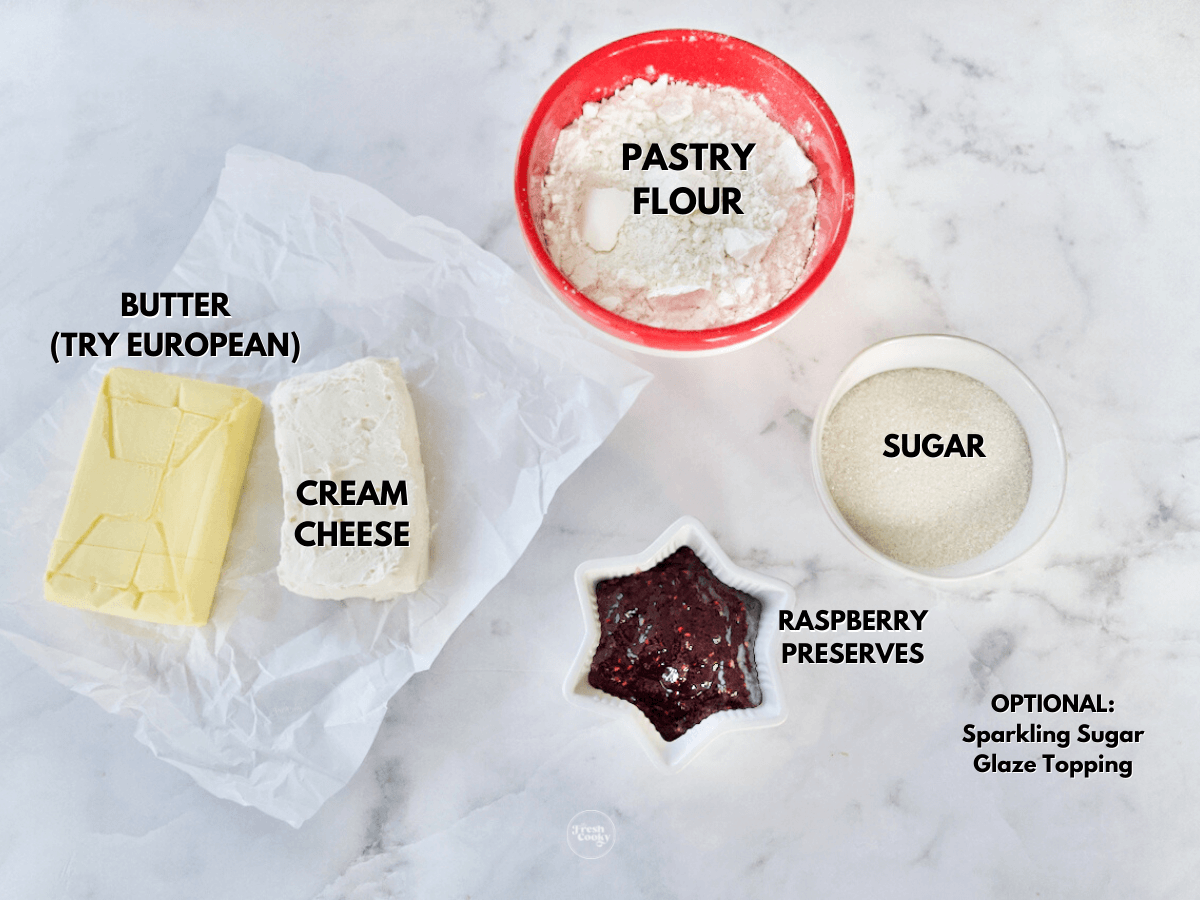 Ingredients, directions and nutritional information in the printable recipe card at the end of the post.
Cream Cheese | Adds richness and a fluffy texture, I like full fat for this recipe – only 5 ingredients and all!
Butter | I used salted European butter for its rich and slightly tangy taste and its higher butterfat. Really though, have you ever met a butter you didn't like?
Sugar | I use organic cane sugar for fabulous results. White sugar works as well.
Pastry Flour | This low protein flour is designed to make pastries lighter and more delicate. See tip below for how to easily convert you all-purpose flour to pastry flour.
Raspberry Preserves (regular or seedless) | I prefer seedless raspberry jam. Real fruit preserves are thick and will hold their shape during baking. Not a fan or raspberry? Try strawberry, apricot or plum preserves.
Optional Add-Ins
Vanilla | Real vanilla extract has a heavenly scent and improves any of your baked goods.
Sparkling Sugar | Adds a touch of shimmer and a nice sweet crunch.
Swedish Pearl Sugar | This sugar also add sweetness and crunch and looks like mini pearls.
Glaze | A simple powdered sugar glaze adds flavor and elegance to this thumbprint cookie recipe. Yes please!
Pro Tip
Read through all instructions before starting, this cookie dough requires chilling before baking.
Let's Make Raspberry Cheesecake Thumbprint Cookies
Step 1 | Mix the Wet Ingredients
In a large bowl of a stand mixer fitted with paddle attachment or mixing bowl with hand mixer, beat the softened butter and cream cheese until light and fluffy, about 5 minutes on medium-high speed. Scrape down the sides every few minutes.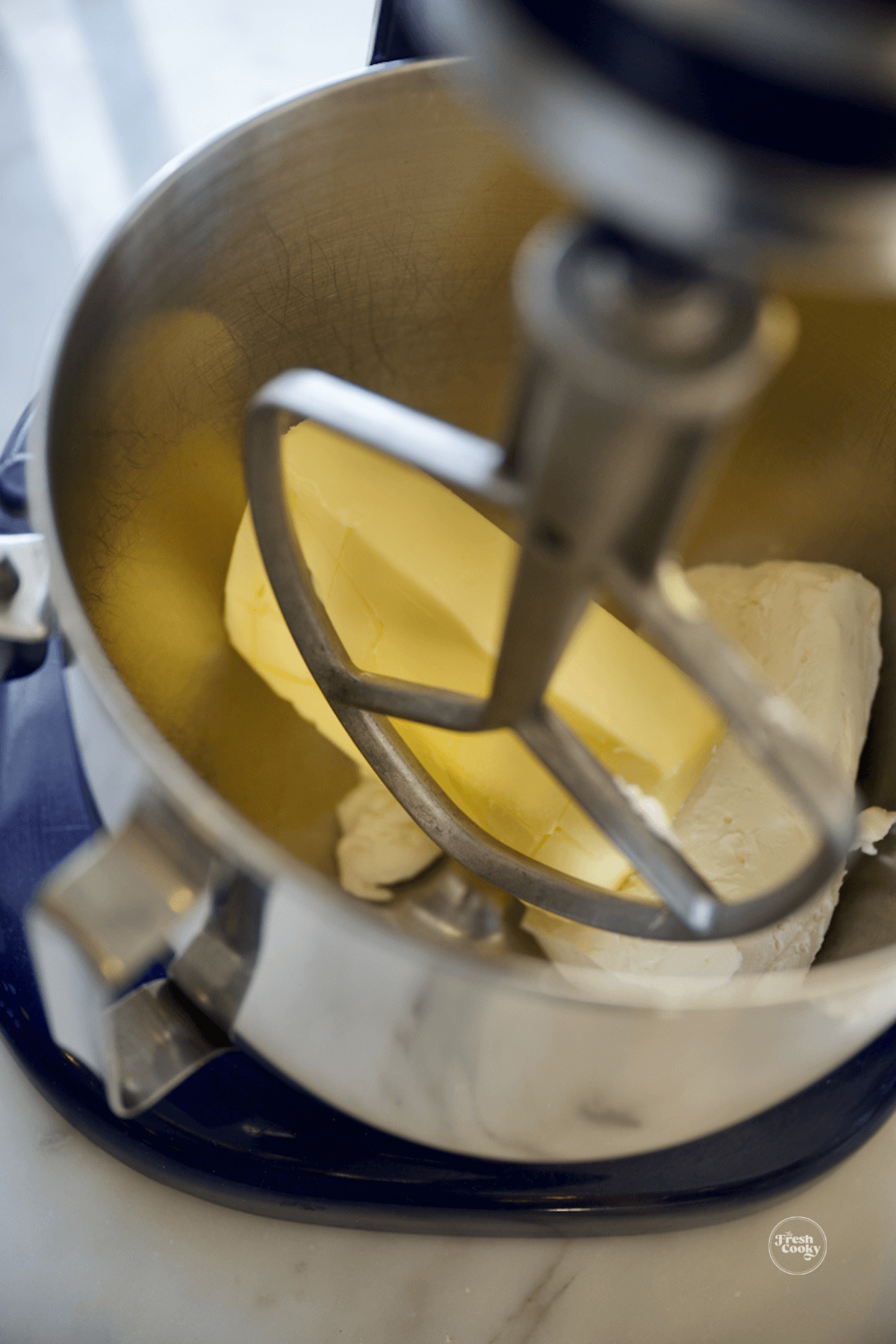 Step 2 | Mix the Dry Ingredients
Gather your dry ingredients, and with the mixer on medium, add sugar, then increase speed to medium-high and beat for 6-8 minutes until mixture is extremely light and fluffy.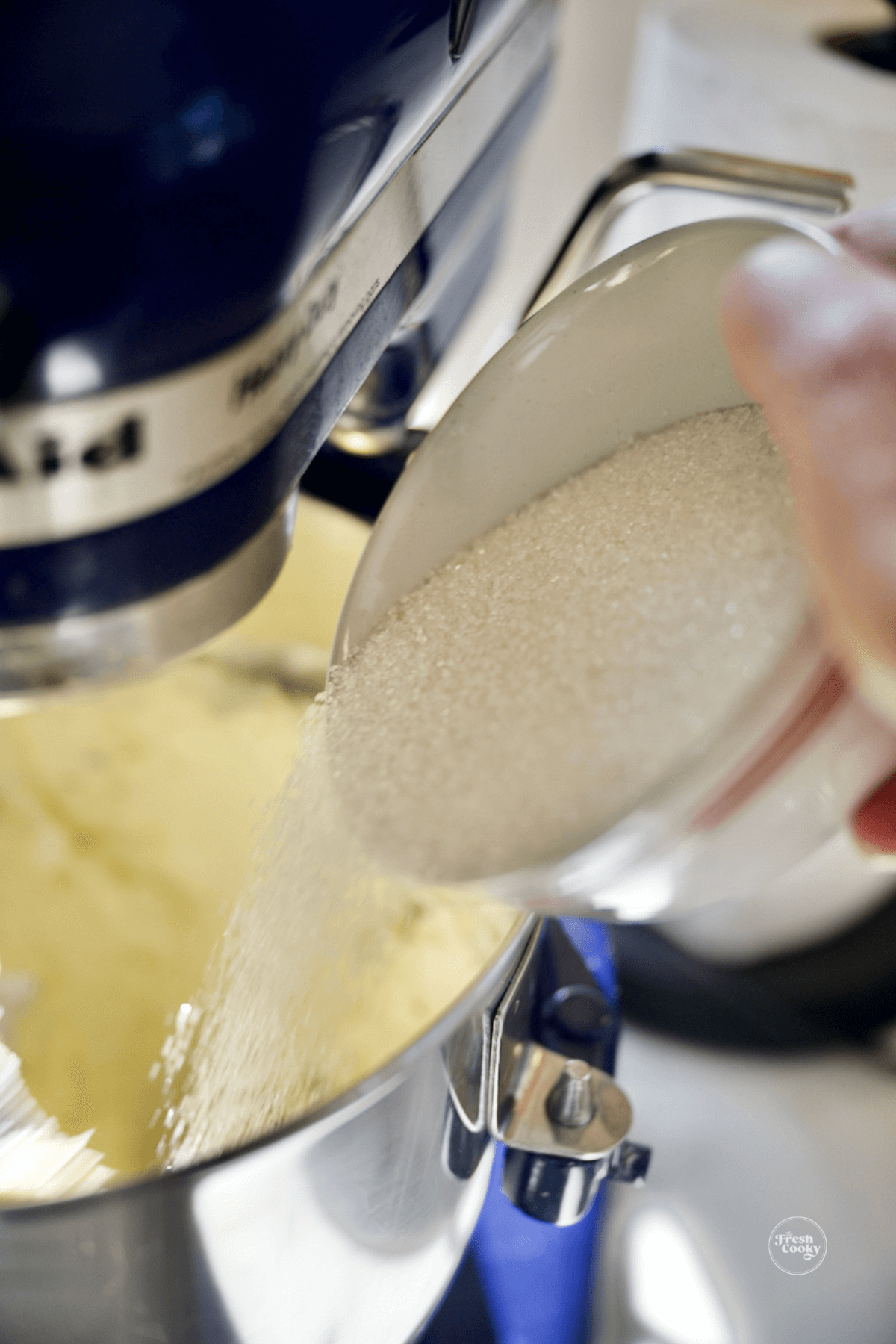 Scrape down the sides of the bowl. Measure pastry flour into a bowl and using a whisk, gently stir or if desired, sift.
Reduce to low speed speed and add in flour ¼ cup at a time, mixing just until incorporated. If needed, scrape down sides of bowl occasionally.
Step 3 | Refrigerate Dough
Do not skip this important step! Place cookie dough in fridge, covered with plastic wrap for about 45 minutes but no longer than 2 hours (it will get too firm). About 30 minutes before baking, preheat the oven to 375 degrees F and line several baking sheets with parchment paper or a silicone baking mat.
If you leave the cookie dough in the fridge too long, have no fear, just bring the dough to room temperature for 30 minutes, scoop as planned. You may have to form the cookies a bit more if they split when making the thumbprint.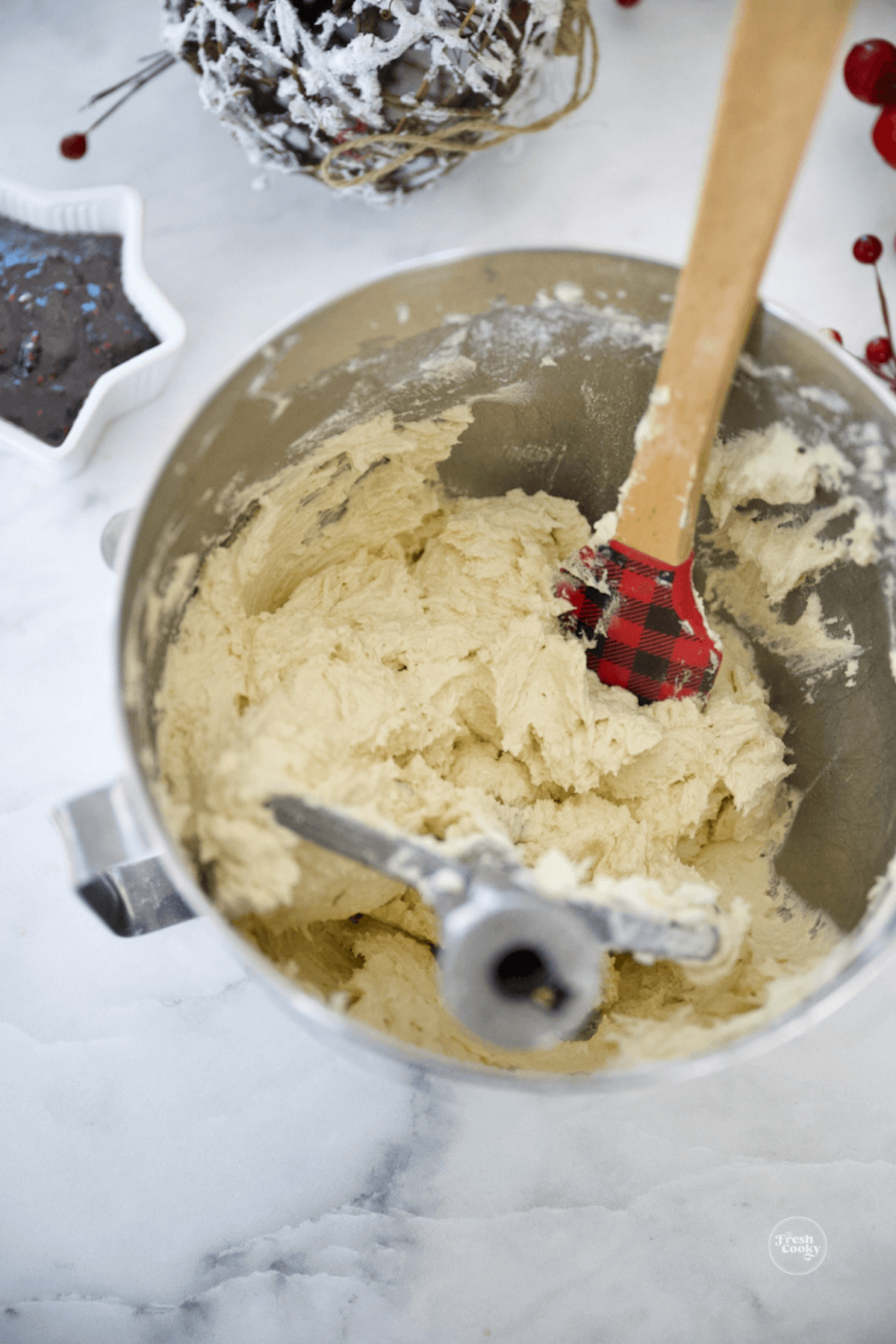 Step 4 | Form and Fill Cookies
Using a small cookie scoop (about a tablespoon of so, around the size of a walnut) scoop dough onto a prepared baking sheet lined with parchment.
In the center of each cookie, press with your thumb lightly (hence thumbprint cookies) or you can use the bottom of a muddler (then make this cherry cocktail 😉 ) or a rounded teaspoon bottom.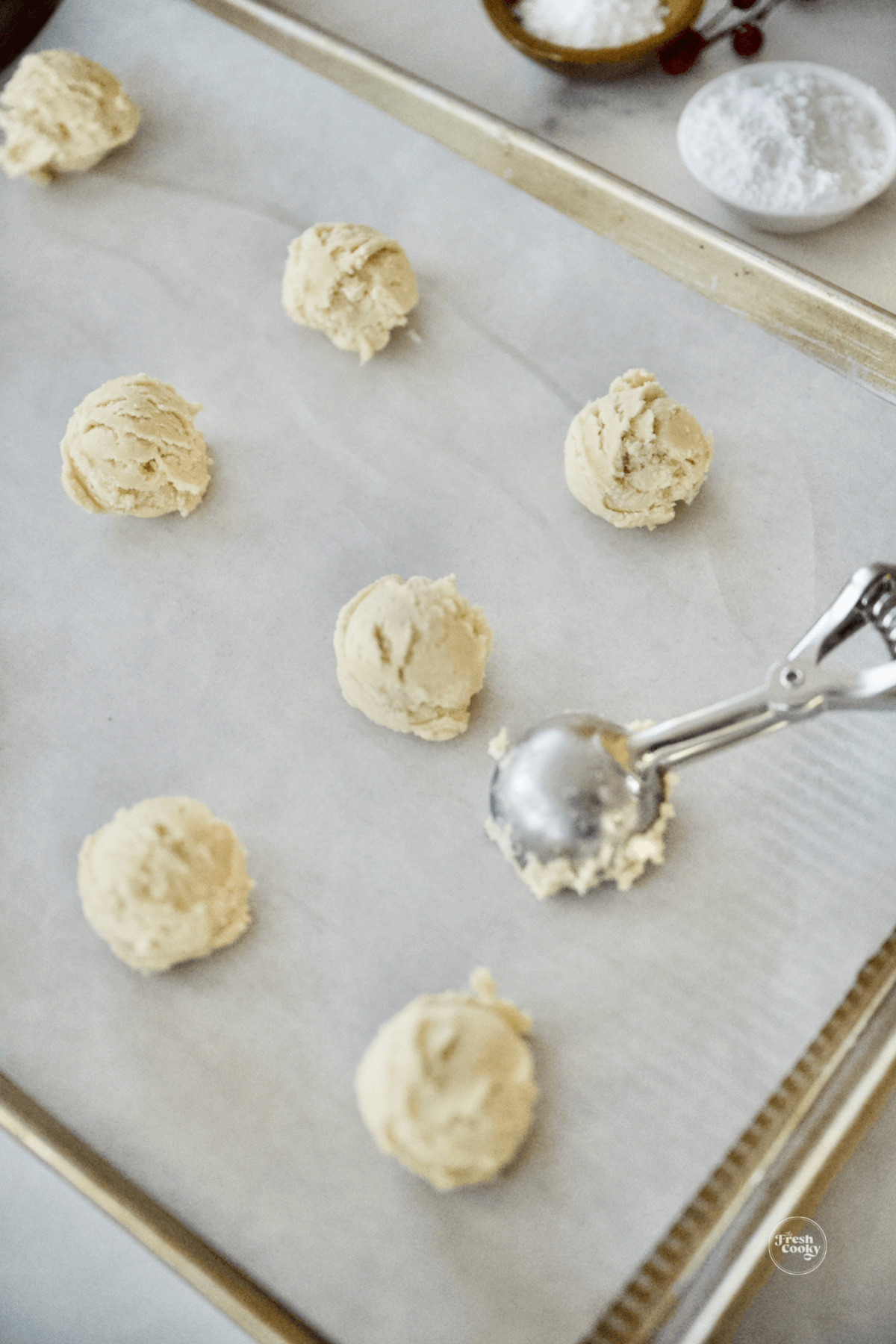 Dip it in a little powdered sugar first to keep from sticking. If desired, roll one edge of cookie in a little sparkling sugar or Swedish pearl sugar. Fill each indentation with a little jam, about ½ a teaspoon.
Step 5 | Bake
Bake in preheated oven for 10-12 minutes or until the edges are just barely golden. Your bake time may vary depending on your oven, every oven heats slightly different. It's always a good idea to test your oven using an oven thermometer.
Allow to cool on baking sheet for 10 minutes before transferring to a cooling wire rack. They will be very soft out of the oven, but that's okay, it gives them their melt-away flavor and texture!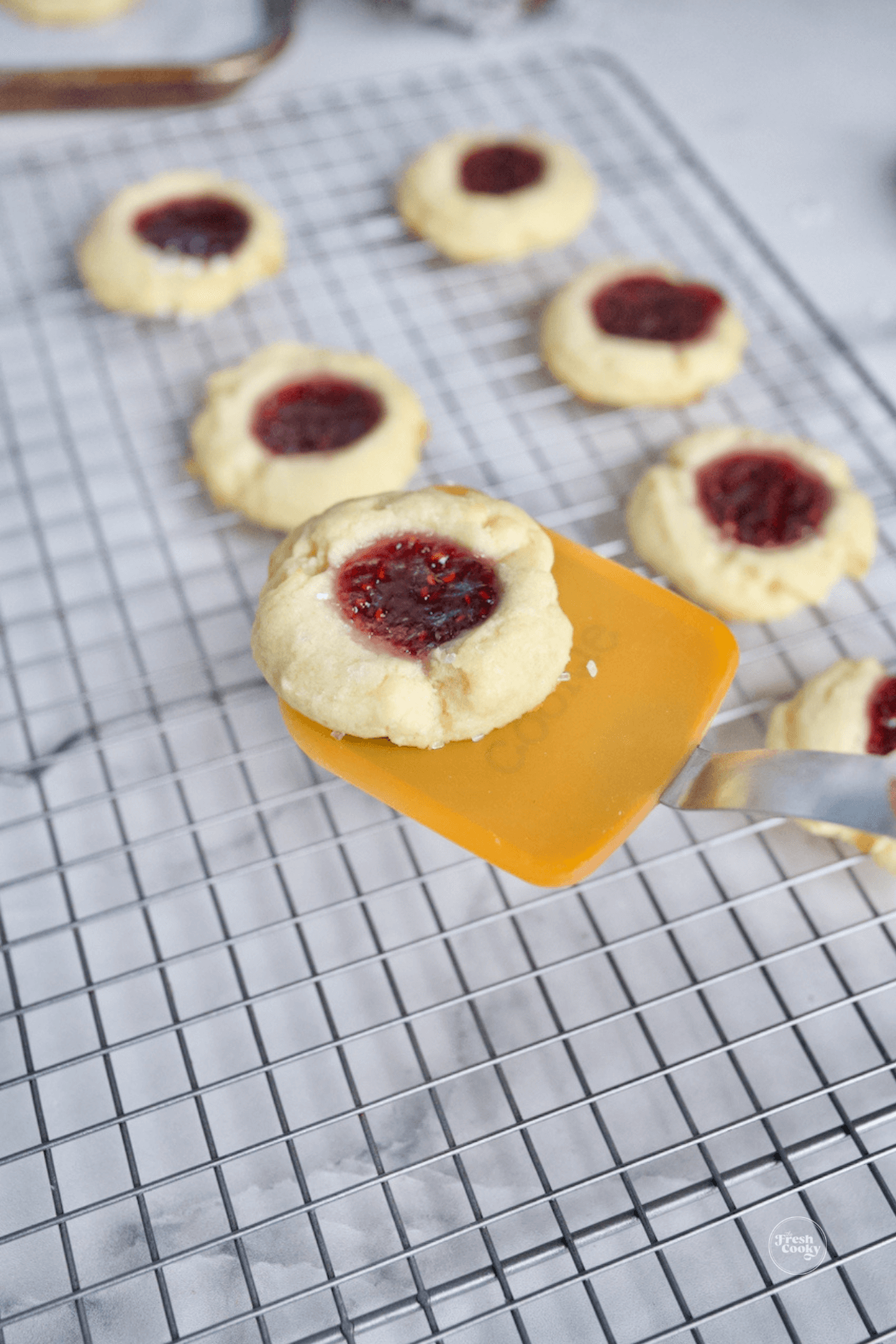 Step 6 | Glaze
For a special touch, while cookies are still on the cooling rack, add a little drizzle of frosting. Mix together powdered sugar, cream and a touch of vanilla, stir until desired consistency. For best results, drizzle glaze over the cooled cookies and enjoy!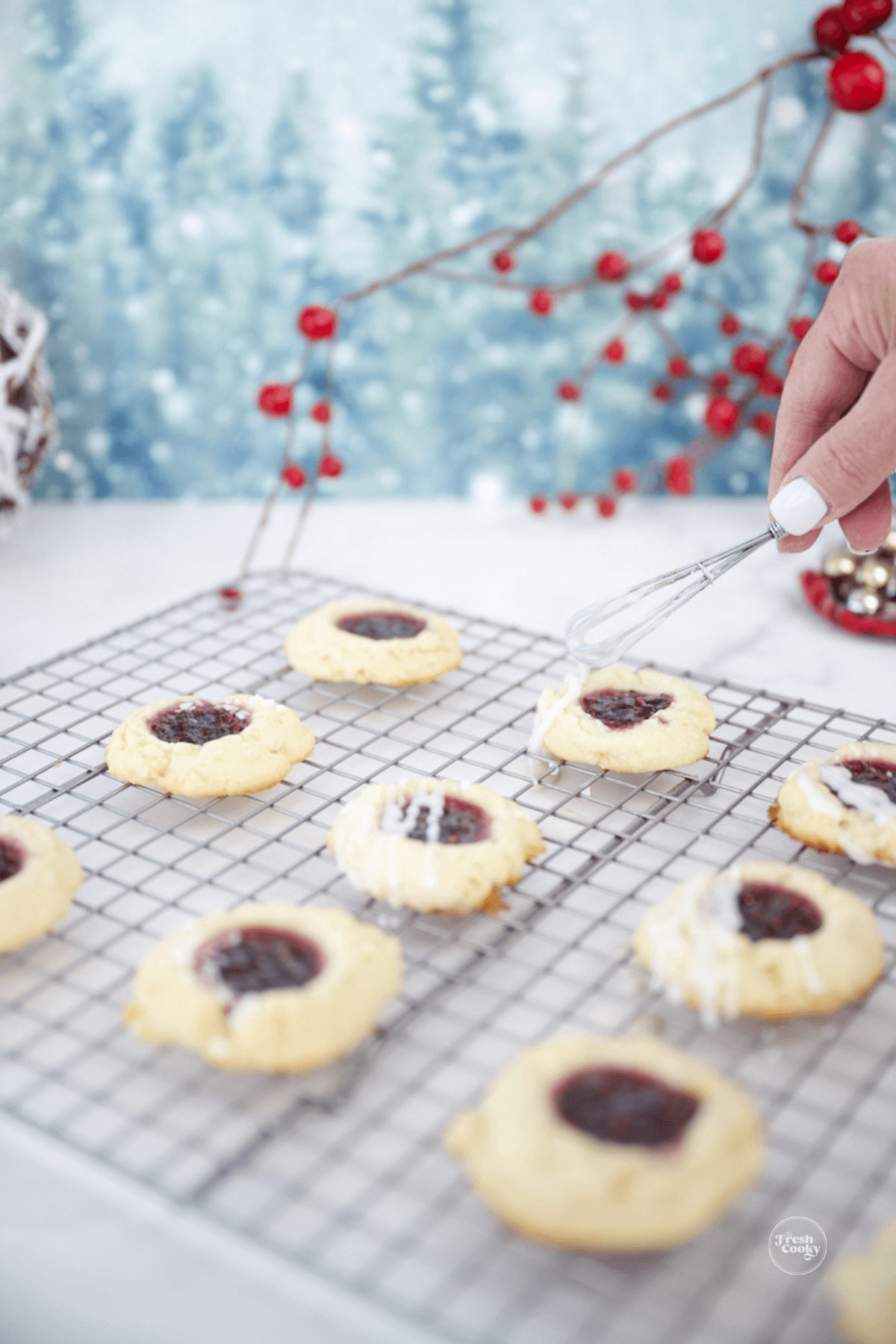 My hubby is not a fan of fruit in any sweets, but when Mr. Fresh Cooky tried these cookies, he said, "tastes like a delicious fine pastry!"
Variations & Substitutions
Use your favorite jam or preserves, but raspberry, strawberry and 4 fruits preserves are the best, making your 5 ingredient raspberry cheesecake thumbprint cookies look like little jewels.
Make your own pastry flour by adding 2 tsp. of cornstarch to a one-cup measuring cup. Fill the rest of the cup with all-purpose flour. Mix or sift the flour mixture to ensure the cornstarch is well incorporated, check out my Baking Substitutions Chart for more ideas!
These are a tender, flaky, soft cookie, pastry flour lends to that. I used Bob's Red Mill Fine Pastry Flour (available at Safeway and Whole Foods), but you can make the cookies with regular all-purpose flour.
Unsalted Butter | I use salted butter in almost all of my baking, if using unsalted, add a ¼ teaspoon of salt.
Less Cookies? Cut the recipe in half for fewer cookies! Use the meter (under servings) on the recipe card to do the math for you.
Use a cream cheese filling and top with fresh raspberries.
Add a splash of almond extract to the cookie dough and the icing.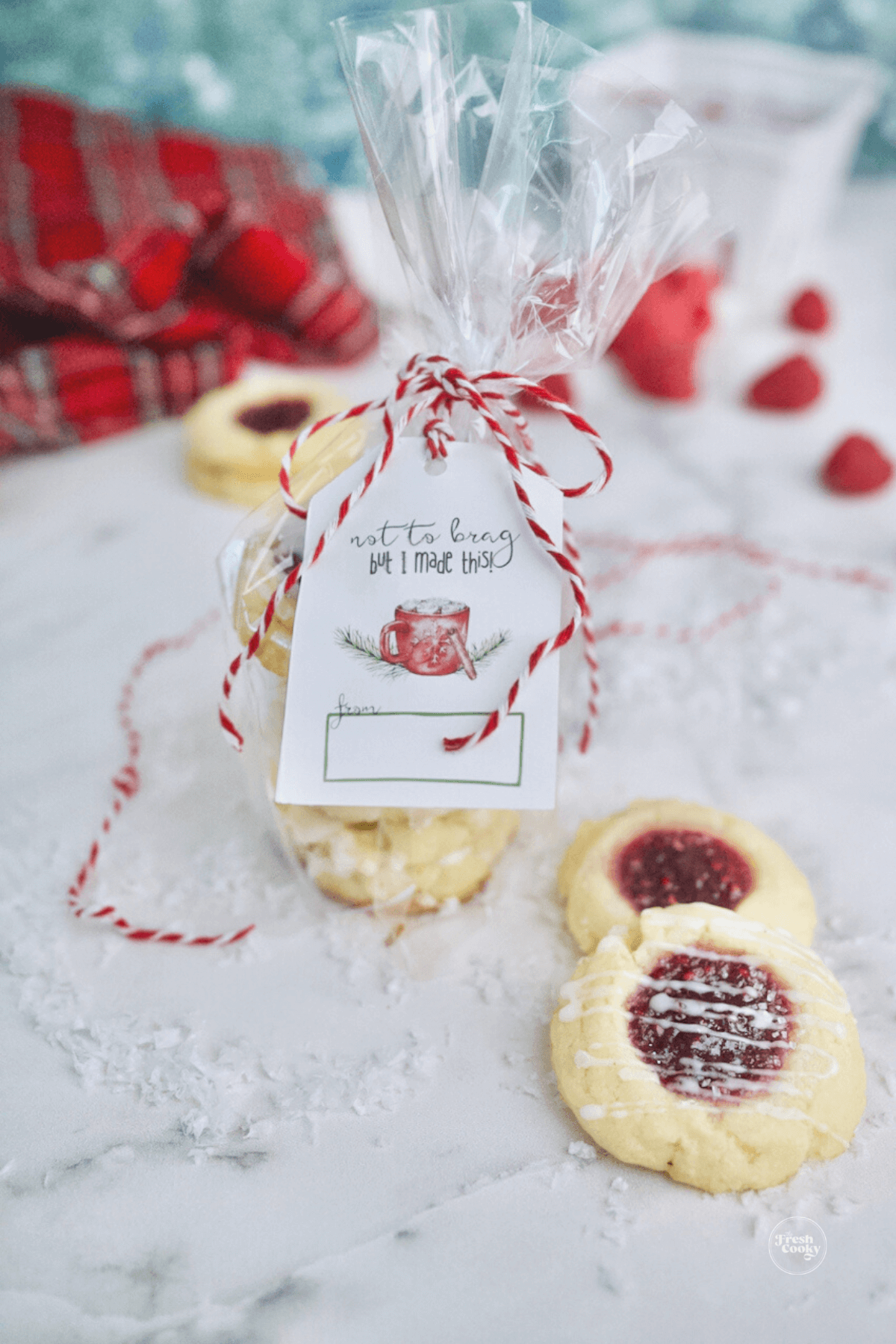 Add a Gift Tag
Download my free Christmas from the kitchen of gift tags, package cookies in cello bags and tie with a little string. Ta-da! Beautiful cookie packages!
Or perhaps you want to print out these every day from the Kitchen of… gift tags that fit more with Valentine's day — which these cookies would be perfect for as well!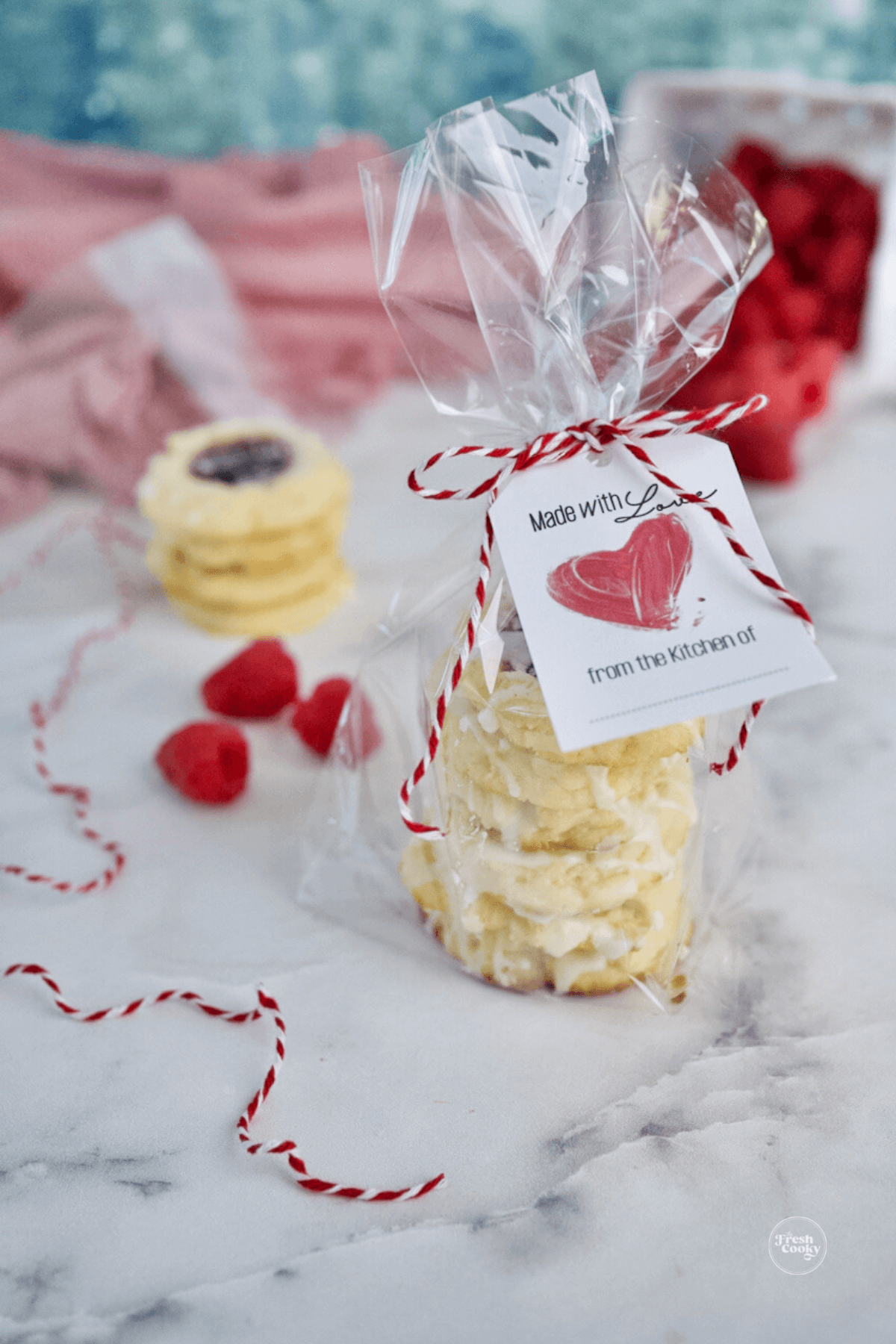 Toppings Suggestions for Raspberry Cookie
Sprinkle cookies after baking with a little sparking sugar or Swedish pearl sugar for a bit more pop. Or try brown sugar!
Melt and drizzle white chocolate over the cooled cookies, or for an extra decadent treat drizzle a combo of white and dark or milk chocolate.
For a nutty twist, sprinkle chopped almonds, walnuts, pecans or toasted coconut on cookie.
High Altitude Raspberry Thumbprint Cookies
Increase flour by 3 tablespoons
Decrease sugar to ¾ cup
Bake at regular temperature, but for slightly less time, more around the 10 minute mark.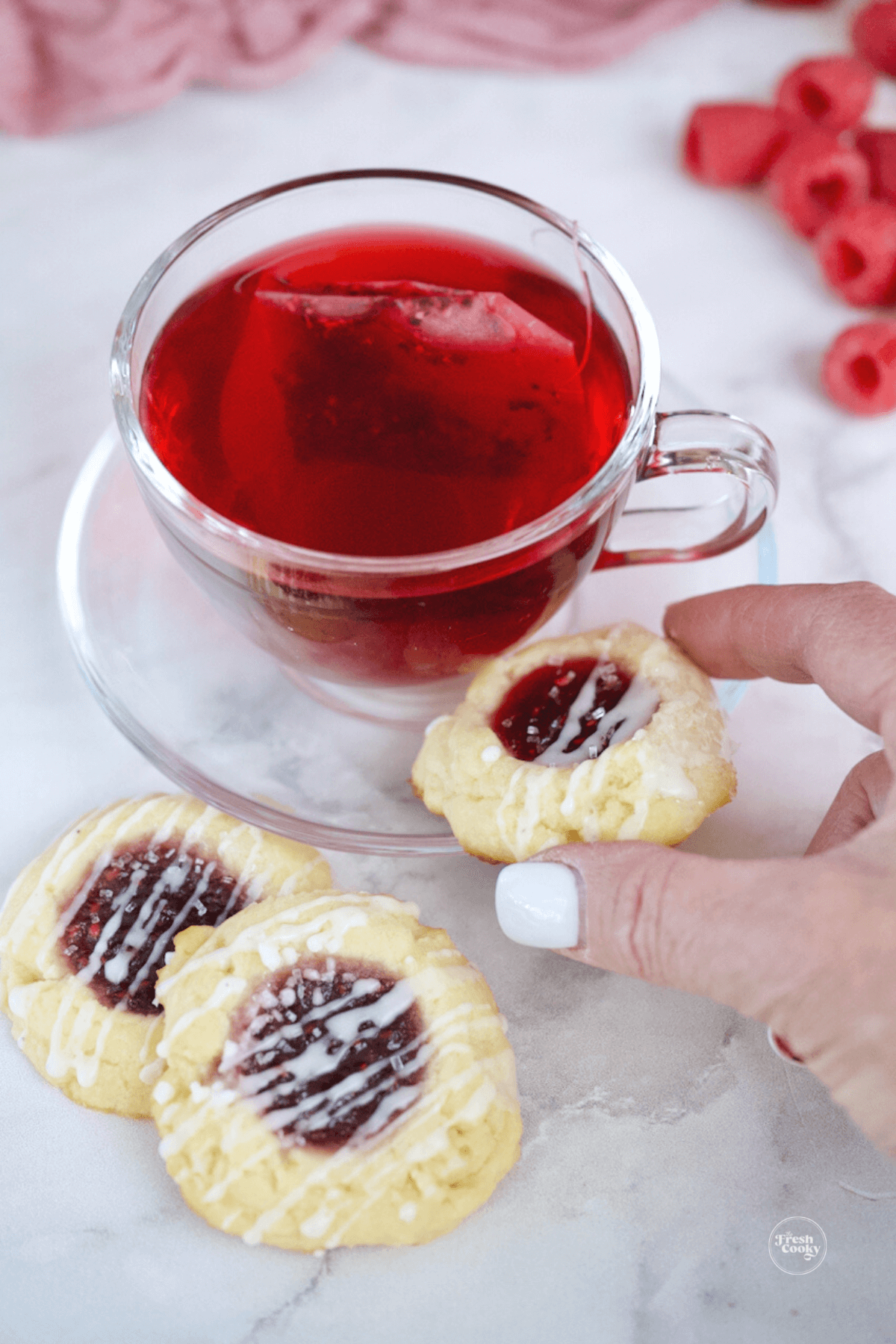 Gluten-Free Raspberry Thumbprint Cookies Recipe
These light and buttery cookies are easily made gluten-free. Swap out the pastry flour with fine ground almond flour and proceed with the recipe, or use a combination of ½ almond flour and ½ cup for cup all-purpose gluten-free flour.
Frequently Asked Questions
What are thumbprint cookies?
Thumbprint cookies are a super simple and basic butter cookie, or sugar cookie; a shortbread cookie. Also called "hallongrotta", which means "raspberry cave" in Swedish. Cookies you get to play with, roll them, flatten them slightly and then use your thumb to make an indent to hold sweet raspberry preserves.
Why did my thumbprint cookies spread too much?
Make sure your butter is slightly softened and not melted when you begin. Also, make sure you chill the dough at least 45 minutes, but not longer than 2 hours.
Can I ship these cookies?
I'm not sure these cookies would ship very well, they are tender, fragile cookies and are best when enjoyed the day they are baked. That being said, if you want to try and ship them, layer cookies between parchment and tuck with crumbled parchment or wax paper, place in cookie tin and then ship! Maybe add a note, "If the cookies crumble, enjoy them over waffles, ice cream or yogurt!"
Can you use the cream cheese from the tub or does it have to be the brick?
I recommend using the brick. It is much easier to measure, and the consistency is slightly more dense than the tub. But it should be room temperature.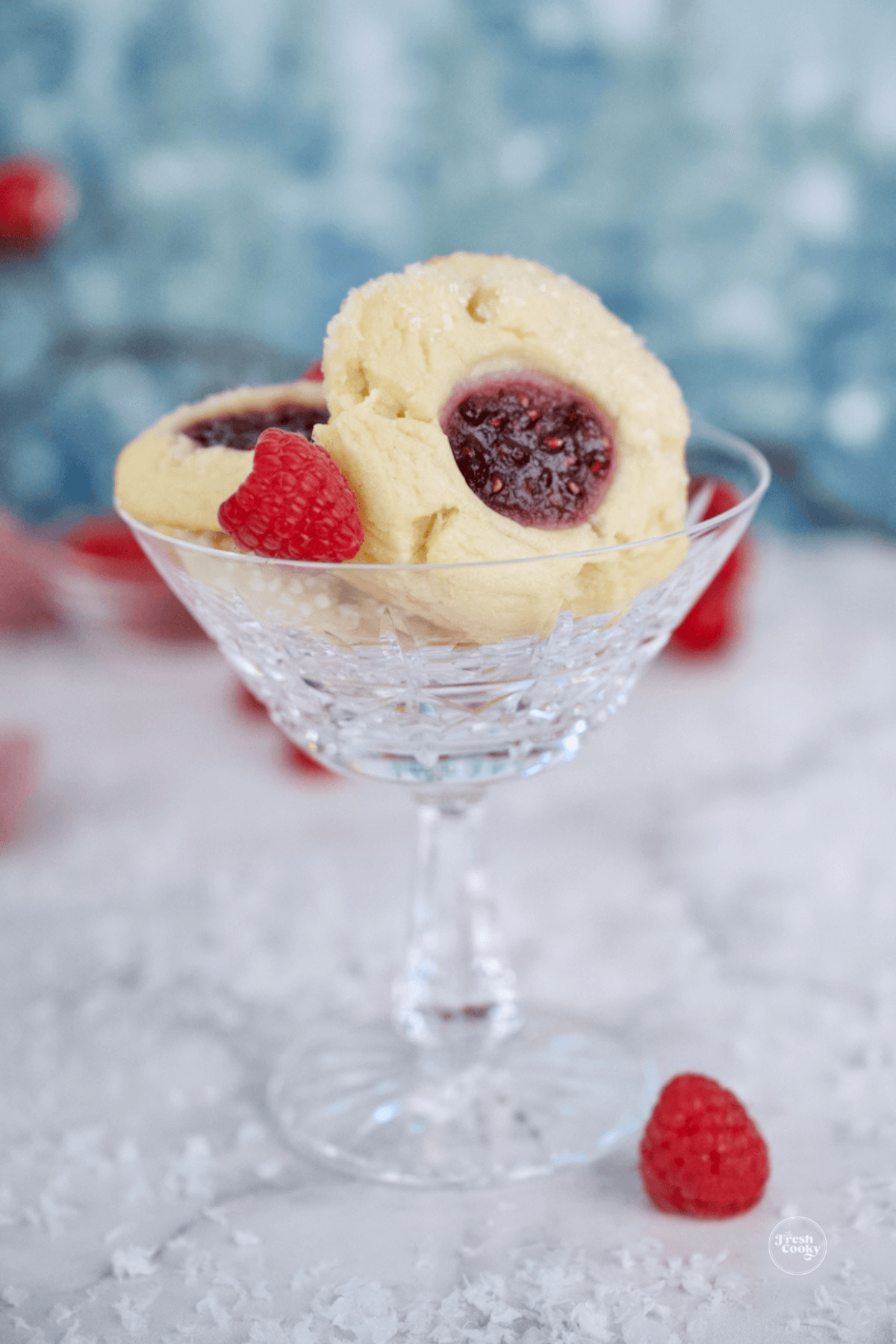 How to Store Raspberry Cream Cheese Thumbprint Cookies
Do I need to refrigerate thumbprint cookies?
Store these cookies on the counter for up to 2 days in an airtight container with wax paper or parchment paper between layers. Or, for longer lasting cookies, store up to 5 days in the refrigerator in airtight containers, bringing to room temperature before enjoying.
How do I make these cookies ahead of time?
Scoop cookie dough, make indents and store in the fridge up to 3 days. Chill on a baking sheet in the fridge or freezer for 30 minutes before placing cookie dough balls carefully next to one another in an airtight container with waxed paper between layers. To bake, bring to room temperature for 30 minutes while preheating the oven, fill with jam and proceed with the recipe.
Can I freeze these cookies?
Absolutely! Cookie dough may be frozen for up to 3 months if properly stored, wrap well in parchment, then place in airtight freezer baggie. Thaw overnight in fridge, or on counter for about an hour, then add jam and bake in preheated oven.
To freeze after baking, cool 5 ingredient raspberry cheesecake thumbprint cookies completely, layer cookies in a large airtight container, placing wax paper or parchment between layers.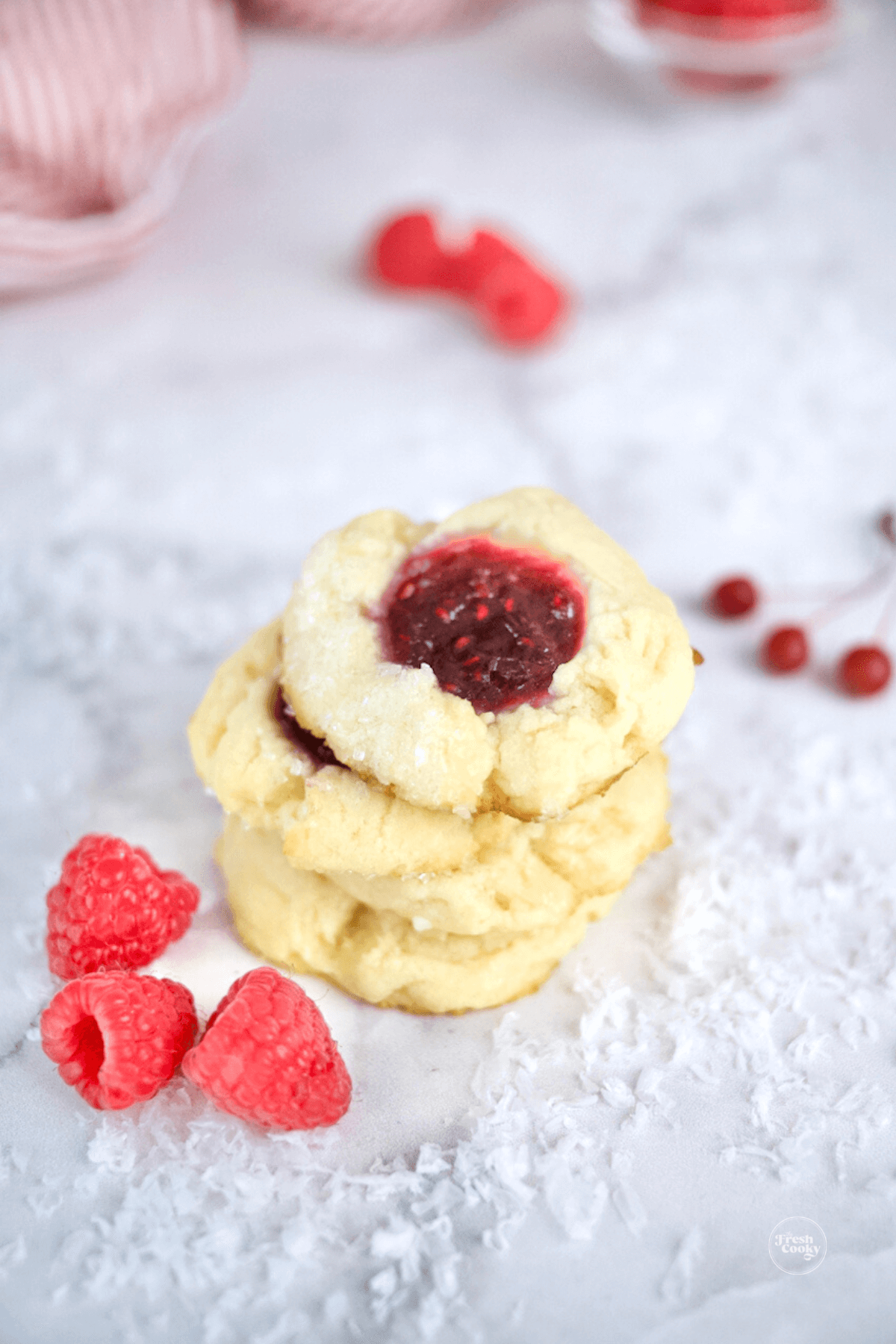 More great cookie recipes
Try these other Raspberry and Fruit Inspired Recipes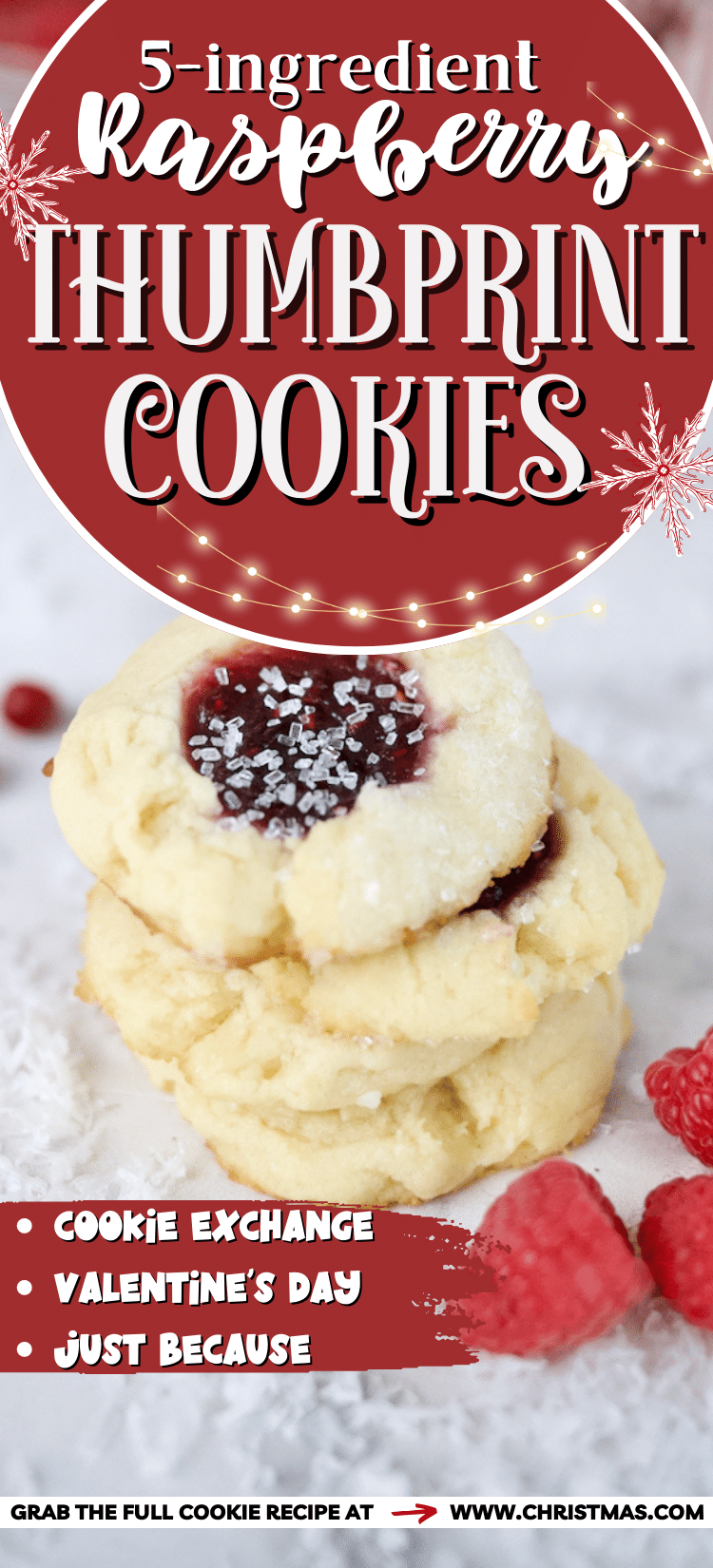 Be sure to chill the cookie dough, if not, your cookies might spread too quickly.
What to serve with these Raspberry Filled Cookies
I hope you loved this 5 Ingredient Raspberry Cheesecake Thumbprint Cookies recipe — if you did, would you share your creation on Instagram, Facebook and Pinterest? And be sure to comment below!
Like this recipe?
Don't forget to give it a ⭐️⭐️⭐️⭐️⭐️ star rating and comment below the recipe!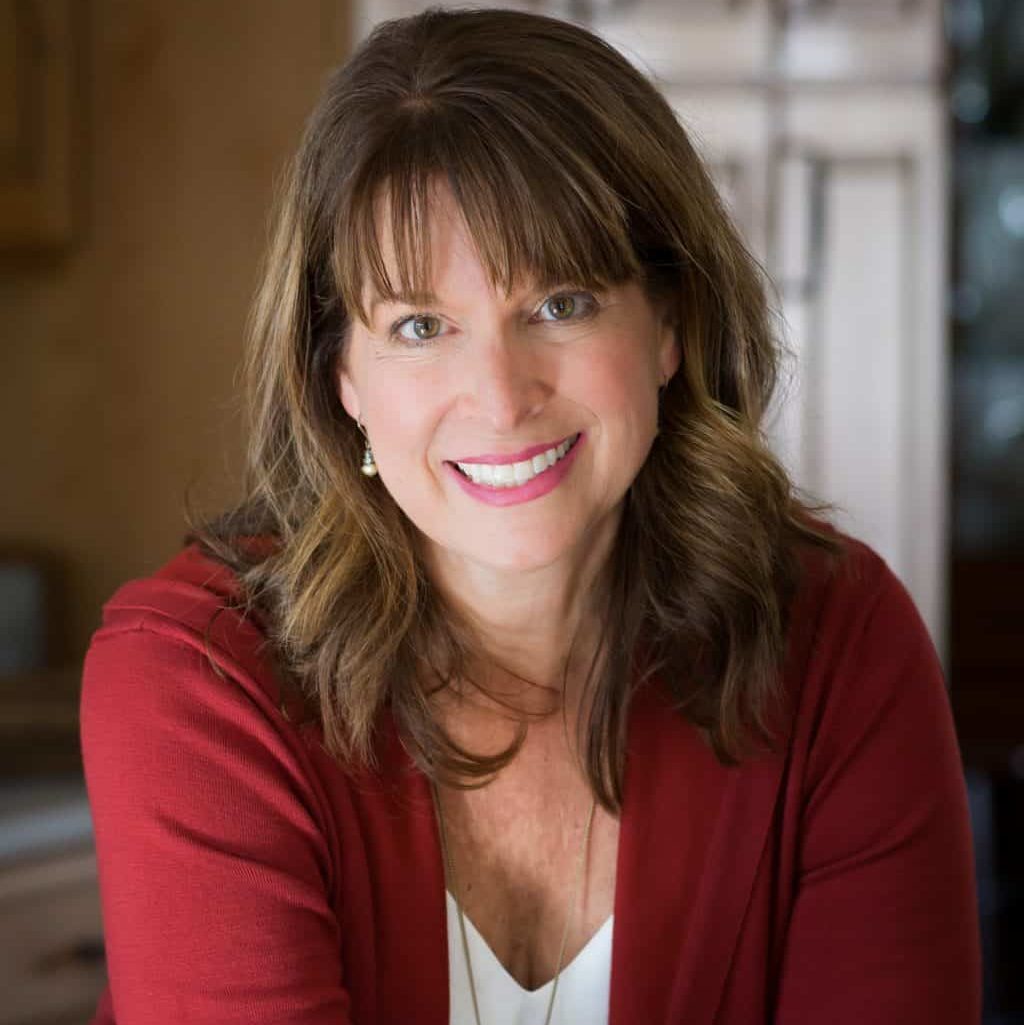 About Kathleen Pope
Recipe Innovator | Food Photographer | Food Writer
Hi, I'm Kathleen Pope. Here at The Fresh Cooky you will find easy, mostly from-scratch, trusted recipes for all occasions. From speedy dinners to tasty desserts, with easy step-by-step instructions. I am here to help teach you how to make mouthwatering recipes without spending hours in the kitchen. Read more about Kathleen here.