So you love Chipotle's Chicken? Skip take out, because now you can make this copycat Chipotle Chicken recipe right in your own home. A few simple pantry staples are all you need to make a delicious, copycat marinade, let it hang out in the marinade for a couple hours and WOW!
JOIN THE FRESH COOKY ON PINTEREST
This recipe is on repeat in our home! In fact, I generally double or triple the recipe and freeze for later.
My neighbor (hey, Caitlin!) recently gave this recipe a shout out and since our boys practically live at Chipotle, I thought I would give it a try. It tastes like the real thing! I have made it over a dozen times, typically weekly, I've tweaked it a smidge to make it work best for our family.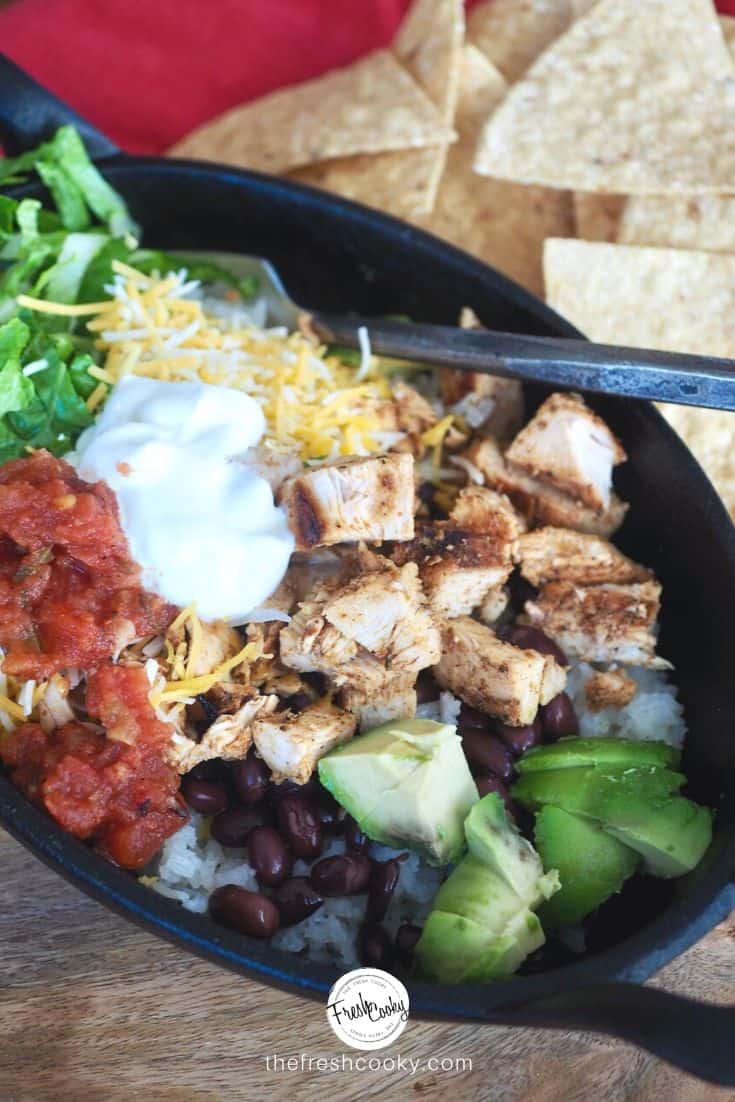 Make a Chipotle Style Taco or Burrito Bar
Flour, Corn, Naked? White or brown rice — black or pinto beans? What type of meat? Oh Copycat Chipotle Chicken you say!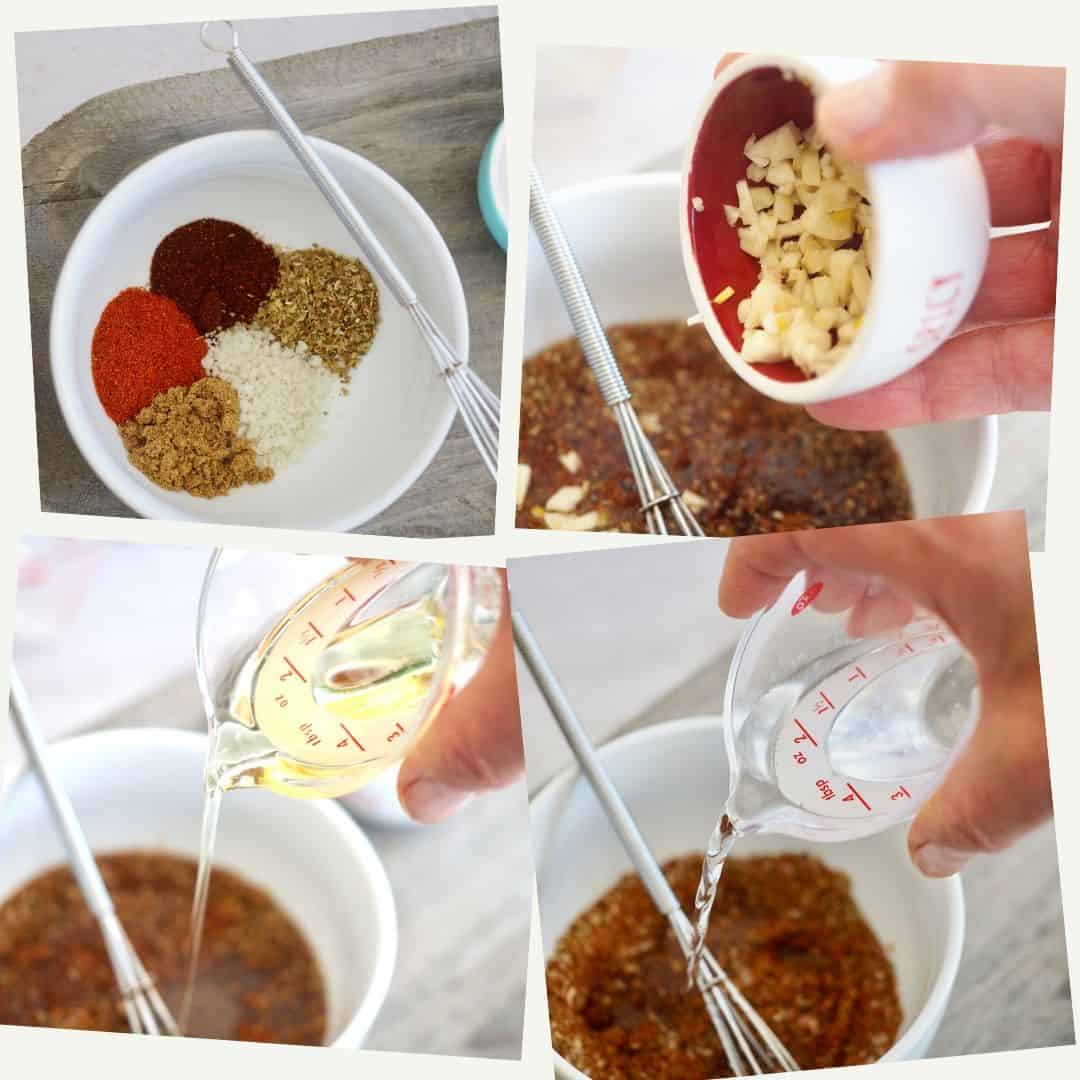 Chicken Breast or Chicken Thighs for Chipotle Chicken?
Chipotle restaurants use primarily chicken thighs, which are much more tender and juicy than breasts, however; we have made this both ways and both are quite delicious!
Copycat Chipotle Chicken Marinade Recipe
3 boneless, skinless chicken breasts (about 2-2.5 lbs) or boneless thighs or combination
½ teaspoon coarse ground black pepper
1 teaspoon chipotle jalapeno powder (or use 2 teaspoons and omit regular chili powder)
¼ cup distilled white vinegar
4-6 garlic cloves, minced
2-3 tablespoons water
Whisk it together, pour over pounded chicken meat and allow it to hang out in the marinade for at least 4 hours, preferably 6 or more. Make sure you squish the marinade around in the freezer bag, distributing the marinade over the entire surface area of the chicken.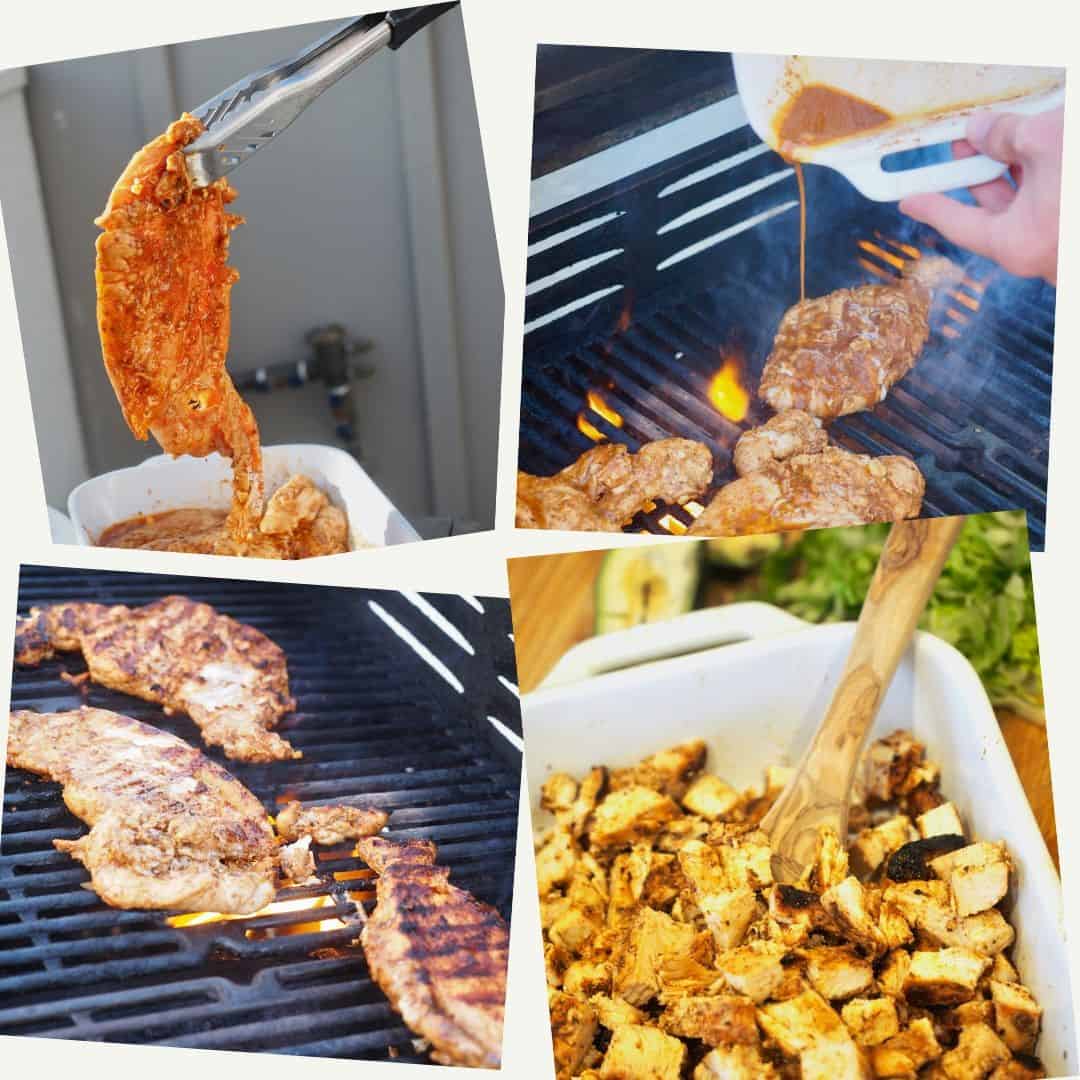 Make Ahead Freezer Instructions
Can I freeze the chicken in the marinade? Absolutely! In fact, I encourage it, make a mess once, eat two or three times I always say! As I mentioned above, this recipe is on repeat in our home, so I typically have one in the freezer ready to go.
Simply place your pounded chicken in a freezer ziplock baggie (you might want to write on it before you place your food in the baggie, no mystery meats here), pour the marinade over the chicken, squish to distribute marinade, squeeze as much air out as you can and freeze flat.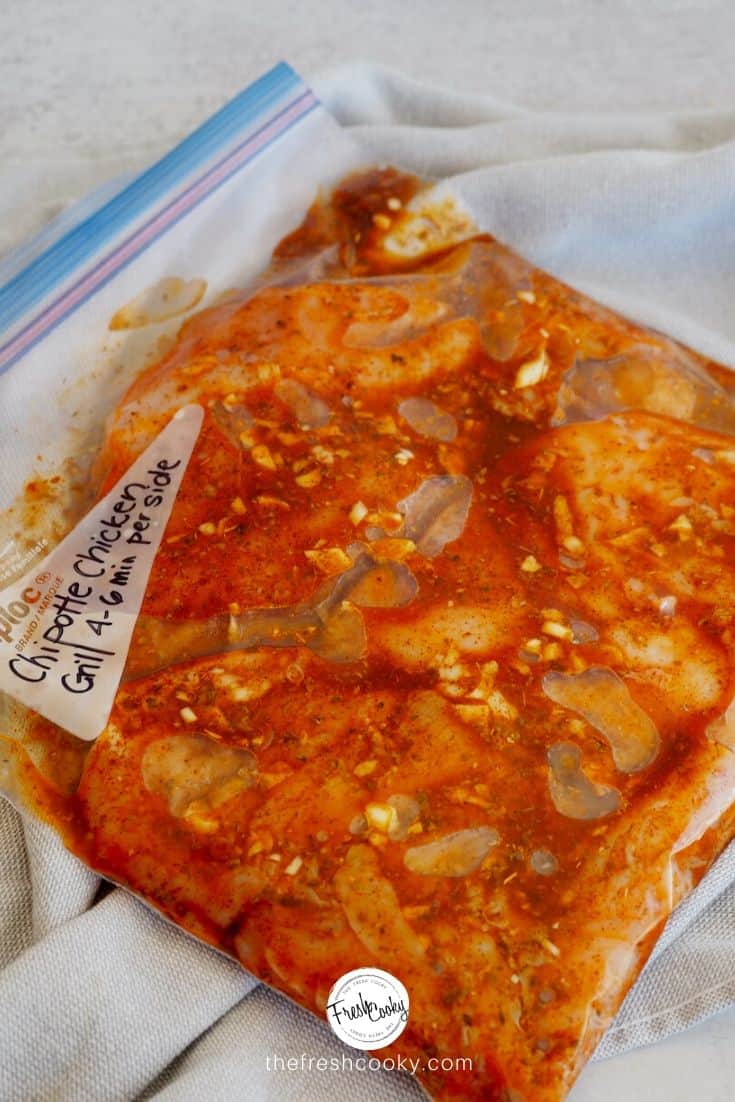 To prepare from frozen, allow to thaw in the refrigerator overnight (or on the counter for a couple of hours if you are comfortable with that). Squish the marinade around during the thawing process to ensure it's touching all of the chicken. Then grill as above.
Recipe adapted from Dinner Then Dessert
That's it! How will you use your Copycat Chipotle Chicken? In tacos, enchiladas, on a salad, in a bowl, in eggs (my oldest makes his omelet with it every time we make this recipe), nachos, quesadillas?
While you are thinking about it, Pin the recipe to your favorite board using the pin below! Then be sure to print the handy-dandy recipe below!
⭐️ FREE, DELICIOUS RECIPES? YES, PLEASE! ⭐️
Like this recipe?
Don't forget to give it a ⭐️⭐️⭐️⭐️⭐️star rating in the recipe below!
Yield: 6-8 servings
Copycat Chipotle Chicken
Craving a Chipotle Chicken burrito, bowls or just looking for a chicken recipe with amazing flavor? Now you can make this copycat Chipotle Chicken recipe at home, this recipe is on repeat in our home! In fact, I double the recipe and freeze one for later.
Total Time
6 hours
30 minutes
Ingredients
3 boneless, skinless chicken breasts (about 2.5 lbs) or boneless thighs or combination
½ teaspoon coarse ground black pepper
¼ cup distilled white vinegar
4-6 garlic cloves, minced
2-3 tablespoons water
Instructions
Pound chicken using mallet until even thickness, about a half inch thick. Tip | place chicken in freezer ziplock baggie or between two sheets of plastic wrap before pounding.
In a small mixing bowl, add all spices, garlic, oil, vinegar and water together, mixing well.
Pour over chicken placed in freezer bags or in baking dish, lifting and moving to make sure all chicken is covered in marinade. Best if marinated for 6 hours, but tastes decent at 3-4 hours too. If marinating in dish, be sure to occasionally turn the chicken.
Heat grill to medium heat and grill for 5-6 minutes per side until cooked through, if grilling thighs, and they are thin, reduce time to 3-5 minutes per side. Remove from grill, allow to rest 5 minutes covered before chopping into bite sized pieces.
Serve in tacos, enchiladas, quesadillas, salads, burrito, or make your own burrito bowl using Cilantro Lime Rice, heated canned black beans, guacamole (no $2 up charge here), salsa, cheese, sour cream -- you get the idea!
Notes
The original recipe from Dinner Then Dessert calls to add chopped chicken into a medium high heat pan with 2 tablespoons oil to heat and crisp after chopping. I have done it both ways, my family doesn't notice a difference, so I omit this step.
Recommended Products
As an Amazon Associate and member of other affiliate programs, I earn from qualifying purchases.
Nutrition Information:
Yield:
7
Serving Size:
1
Amount Per Serving:
Calories:

231
Total Fat:

15g
Saturated Fat:

3g
Trans Fat:

0g
Unsaturated Fat:

11g
Cholesterol:

77mg
Sodium:

398mg
Carbohydrates:

1g
Fiber:

0g
Sugar:

0g
Protein:

22g
The nutritional information is estimated and may not be entirely accurate, at times it pulls information for suggestions and options which may increase calories, etc. Nutritional information will change based on used ingredients, quantities used, etc.
GET FREE RECIPES DELIVERED RIGHT TO YOUR INBOX!
Love Wholesome & Delicious Recipes?
Follow along on Pinterest ★ Instagram ★ Facebook ★