As an Amazon Associate, I earn from qualifying purchases. Please read my disclosure policy.
There's nothing like a rich, hearty steak dish on these cold winter days. Crockpot London Broil is a slow cooked beef dish, smothered in a rich, red wine gravy, served with creamy carrots and potatoes. Capture the warmth of the season with this slow cooker London Broil recipe that is absolutely overflowing with savory goodness.
When it comes to many slow cooker dishes, the secret is in the sauce — or the gravy, in this case. That's why my Crockpot London Broil recipe is so delicious! The meat cooks in a glorious combination of herbs and spices, earthy vegetables, and red wine, mushroom beef broth.
Though this recipe is served with potatoes, the traditional dish is served over a bed of mashed potatoes. Luckily, I have a recipe for that!
These delicious garlic mashed potatoes go very well with the flavors in the meat. The sweet and tangy notes in this dish also go well with my roasted Brussels sprouts.
Then, the liquid is thickened into the most incredible gravy. The result is so tender and flavorful that the smell as it's cooking is almost too much! Luckily, this crockpot London Broil recipe is easy to prepare and makes great leftovers!
January is National Crock Pot Month and I am joining other bloggers this month bringing you several new recipes, be sure to check out all of them at the end of this post. In addition to today's post, I have my Olive Garden Crock Pot Chicken and on Friday I will be posting a delectable Crock Pot Ranch Chicken – all of these are mostly dump and go.
Ingredients
The full list of ingredients and measurements is in the recipe card at the end of the post.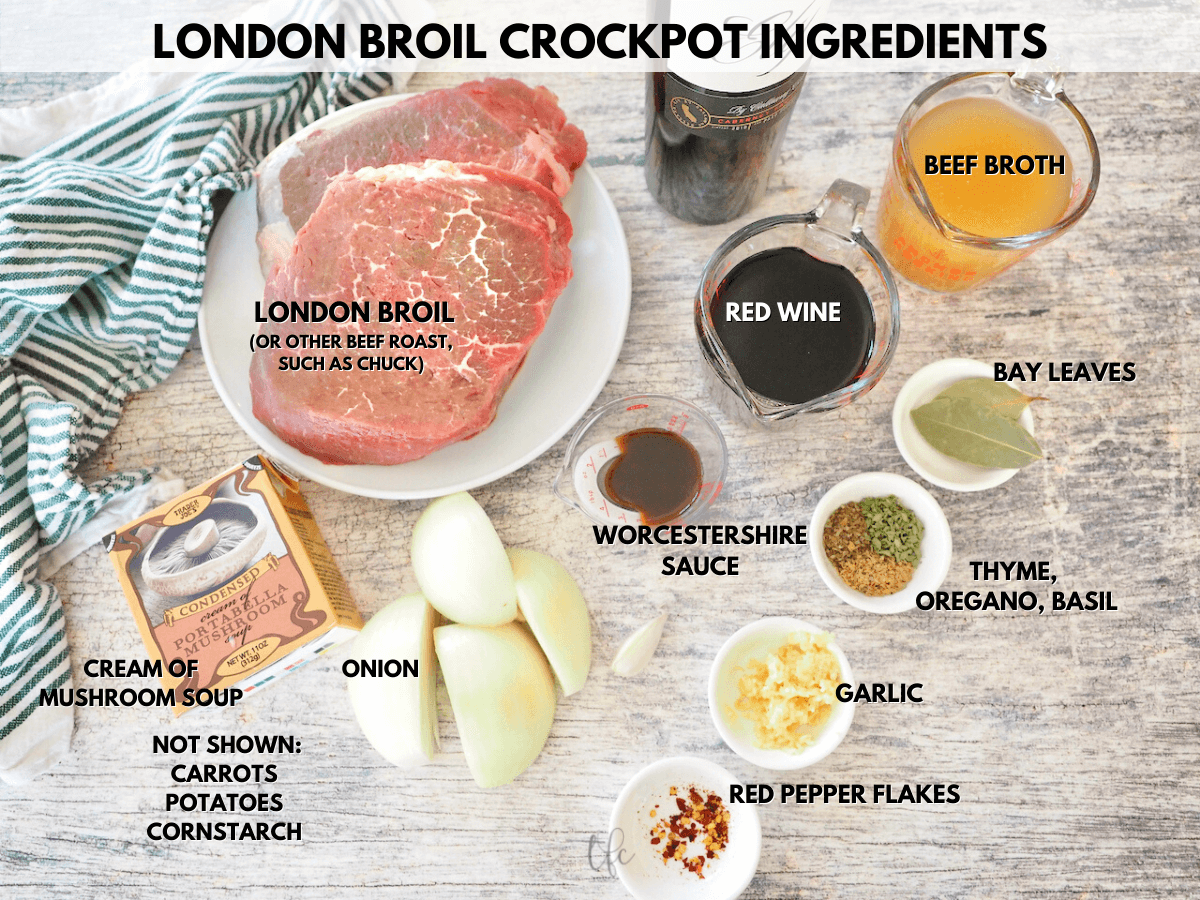 London Broil Beef Cut | I have always purchased a cut called "London Broil" at our markets, it's a thick, slab style steak, that can be rather tough unless prepared correctly. You may also use any other beef chuck roast cut for this recipe. Any cut you would use for a pot roast, you can use for this dish!
Worcestershire Sauce | This savory sauce is somewhat sour, slightly sweet, and salty.
Red Wine | The acidity of the wine helps to tenderize meat as it cooks and keep it moist, but if you prefer, you can replace it with extra beef broth. Rule of thumb, use a wine you would enjoy drinking.
Beef Broth | This will help to tenderize your slow cooker London Broil and is the base of the gravy, try making your own amazing Beef Bone Broth!
Cream of Mushroom Soup | An all-natural option is always best: I used the Trader Joe's brand, see my tip below.
Garlic | Incredibly aromatic and deepens the flavor of the dish.
Potatoes | Use halved miniature potatoes.
Carrots | You can use either miniature or larger vegetables cut into 2" chunks.
Oil | This will be used to sear your steak. I like using avocado oil, olive oil, grapeseed oil as well.
Seasonings | Dried thyme, oregano, and basil give this dish an earthy, bold, and savory flavor. Bay leaves and red pepper flakes may also be added if desired.
TFC TIP | If using an all-natural Cream of Mushroom soup, add kosher salt to taste as those condensed soups are not nearly as salty. I generally wait until the end of the recipe to add more salt and pepper to the dish.
What's the difference between a slow cooker and a crock pot?
Nothing really, Crock Pot is simply the brand name of a slow cooker, which is why we use it interchangeably, my recommendations are below.
Recommended Equipment
4 qt or larger crockpot | My favorite slow cooker is this one from All-Clad as its aluminum liner can go from stovetop to slow cooker. This is especially handy for recipes that need browned meat, like my Slow Cooker Beer Beef Stew or Firecracker Chili. But it's pricey, so I also recommend this more budget friendly Cuisinart.
Flexible Cutting Boards | These flexible cutting boards are super handy when prepping ingredients to slide into a pot. I like them because they are BPA Free.
Cast Iron Skillet | Invest in a good cast iron skillet for searing your meat. This Staub is my absolute favorite, and Lodge has come out with a similar pan for much less! YAY!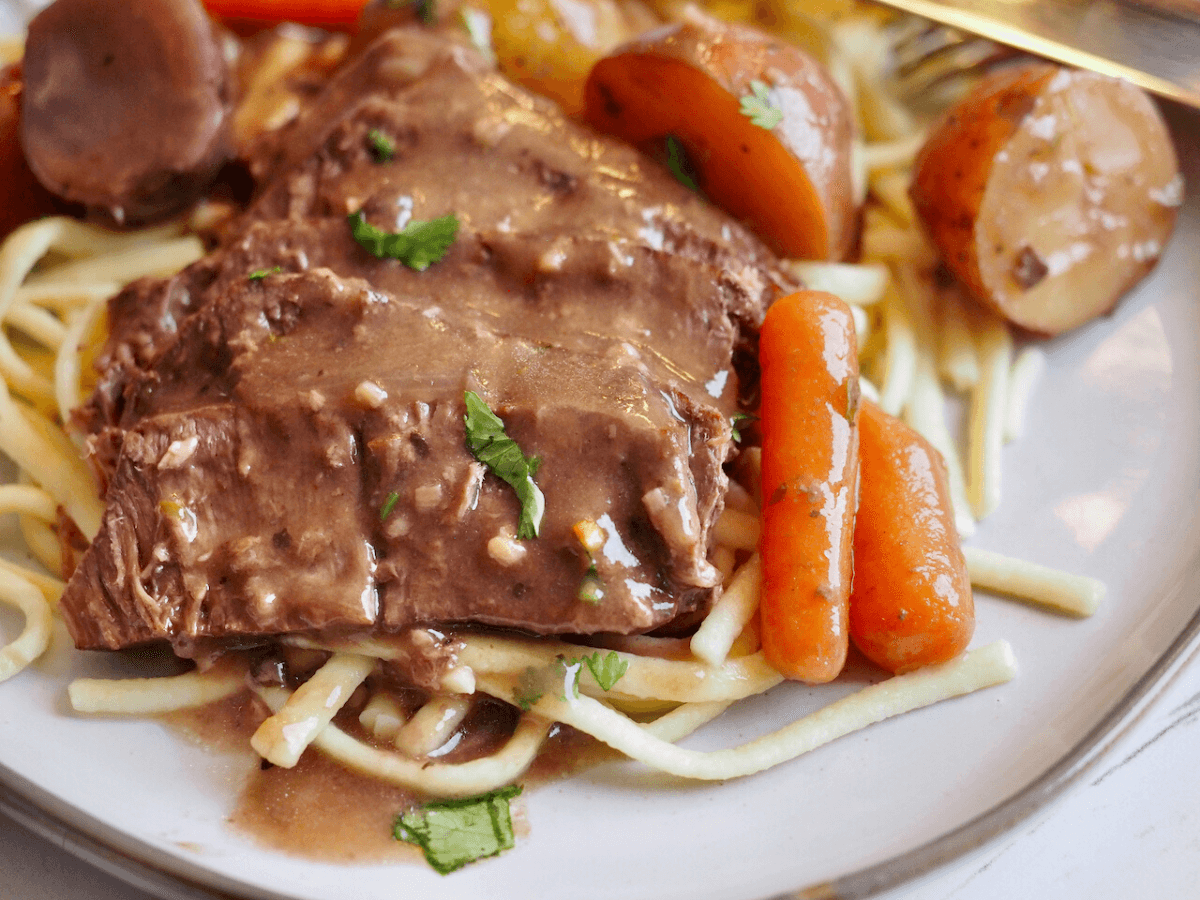 Instructions
Pat the beef dry with paper towels and season with salt and pepper. This step is important as when searing meat, if it's too wet, then it will "steam" instead of creating a nice crusty sear on the steak or roast.
Heat oil in a large cast iron pan over medium-high heat. Sear the beef for roughly 2-3 minutes on all sides. Turn on your fan, your pan should be screaming hot to get a good crusty sear!
Transfer the steak to a crock pot. Add the onion, garlic, and herbs.
Combine the Worcestershire sauce, red wine, beef broth, and cream of mushroom soup in a bowl and mix well. Pour over the beef, then dot the top of the meat with butter.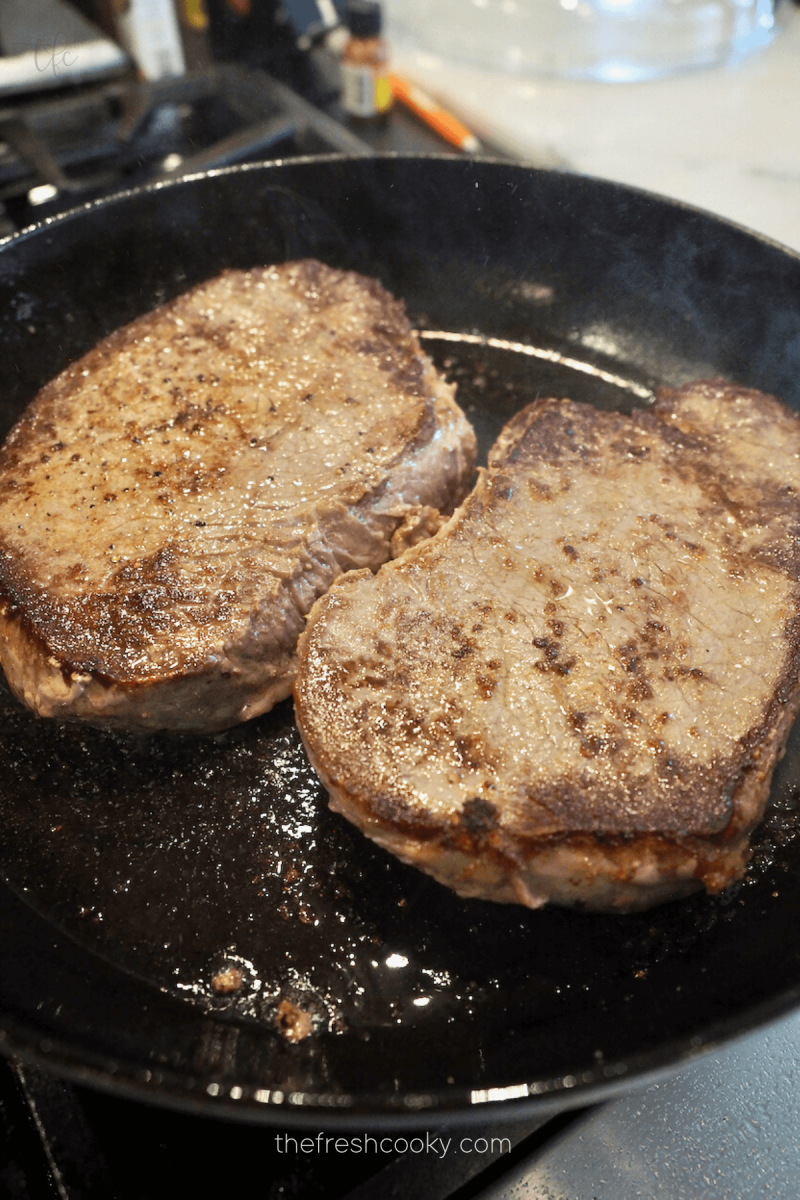 Cover and cook on Low for 8-10 hours (or on High for 5-6 hours).
Add the vegetables during the last 3-4 hours of low cooking. Or if you don't mind really soft veggies, add them in the beginning.
Alternatively, you may also make this entirely in a dutch oven, cover and cook in 250 degree F oven for 6-8 hours.
For thicker gravy, mix a cornstarch slurry in a small bowl.
Once the meat is removed, slowly stir this mixture with the juices until the gravy reaches your desired thickness. Taste and adjust seasonings with additional kosher salt and pepper.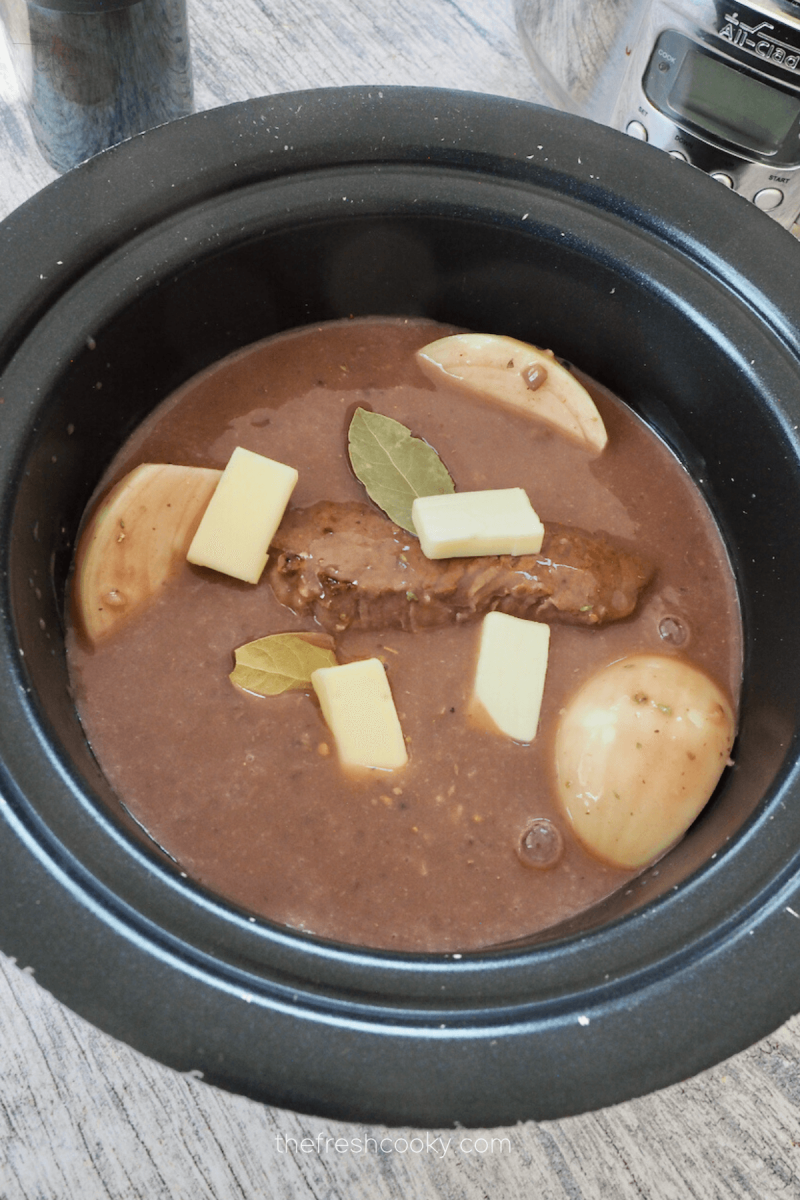 Remove meat and allow to rest for 5-10 minutes before slicing, then slice your slow cooker London Broil against the grain into thin strips or hunks if you prefer and serve with the vegetables. Spoon the gravy over top and serve the extra on the side.
Variations & Substitutions
Cauliflower, celery, asparagus, brussels sprouts, and squash are all great seasonal vegetable alternatives.
The red wine in this recipe can be swapped out for additional beef broth.
If you don't have cream of mushroom soup handy, you can substitute cream of chicken or cream of potato.
TFC Pro Tips
Pro Tip 1 | You can prepare this ahead of time, but do not marinate for longer than a day, or you risk the steak becoming too tough.
Pro Tip 2 | Leftover slow cooker London Broil is great for next-day fajitas, quesadillas, or a breakfast hash. Or honestly, I think it's even better the next day, much like my Red Wine Braised Short Ribs.
Pro Tip 3 | If you prefer, this dish can be cooked in a conventional oven instead. Find instructions in the recipe card below.
Frequently Asked Questions
How long should the steak rest before carving?
You should let your slow cooker London Broil rest for at least 5 minutes before slicing. 5-10 minutes is the sweet spot!
Is London Broil the name of the meat or the cooking method?
Traditionally, the name was used to describe the way that the meat is cooked. However, the name has become so associated with this round steak that you can find it labeled as a London Broil Top or Broil Steak.
How long can I keep leftovers in the fridge?
Cooked beef lasts for 3-5 days in the refrigerator when stored in an airtight container. And up to 3 months in the freezer.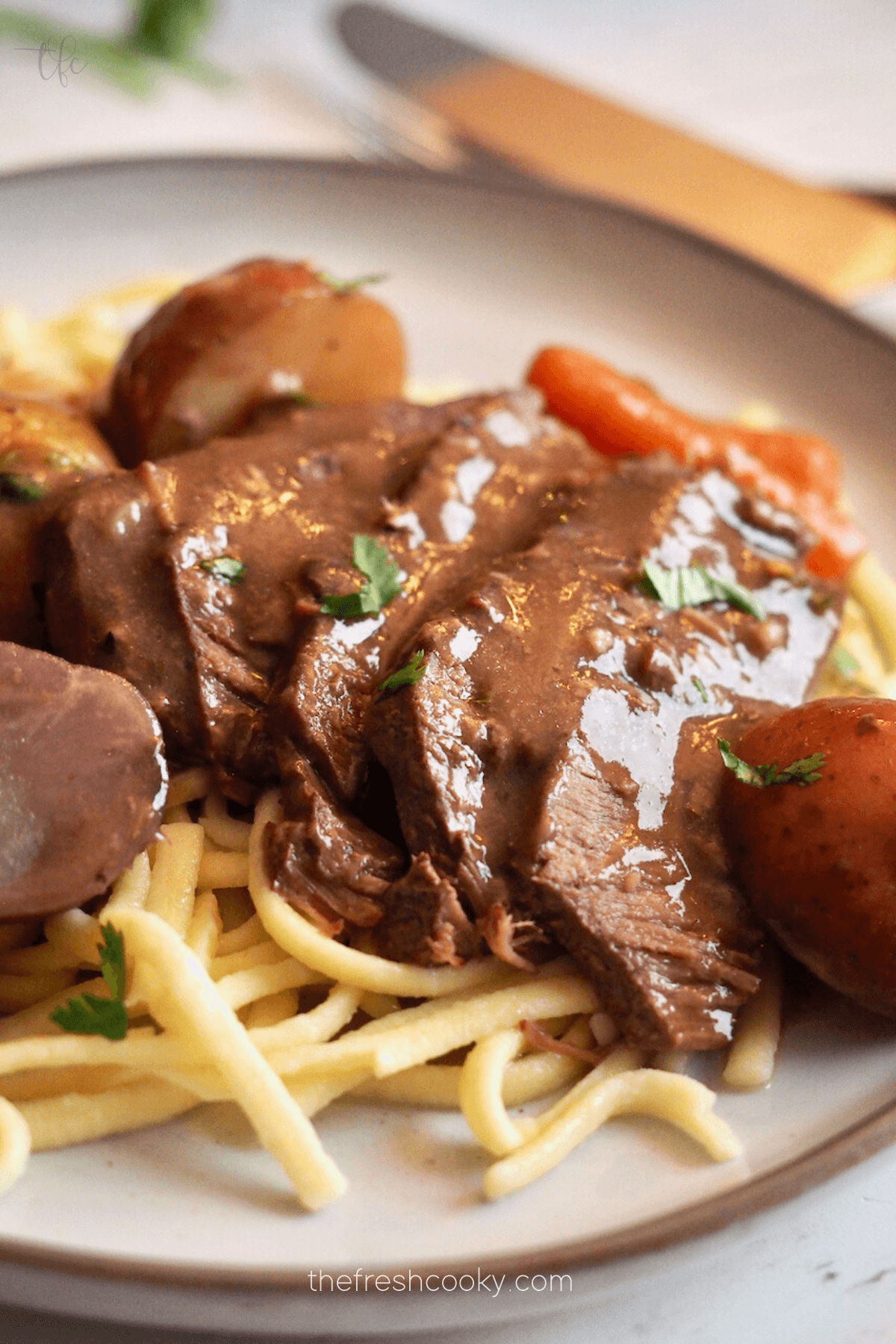 TFC FREEZER PREP | Place all ingredients (except carrots and potatoes), including London Broil in a freezer baggie. When you are ready to slow cook, thaw overnight in fridge, then pour all of the ingredients into the crockpot (minus the baggie) and cook on low for 8-10 hours until tender and hot.
Serving Suggestions for Crockpot London Broil
This is pretty much a one pot meal, but as mentioned earlier, it's delicious over mashed potatoes (try my Instant Pot Rustic Mashed Potatoes) as well as over Egg Noodles (<<= my favorite brand), a family favorite.
We always love warm, homemade bread to go with our pot roasts and stews, give these a try.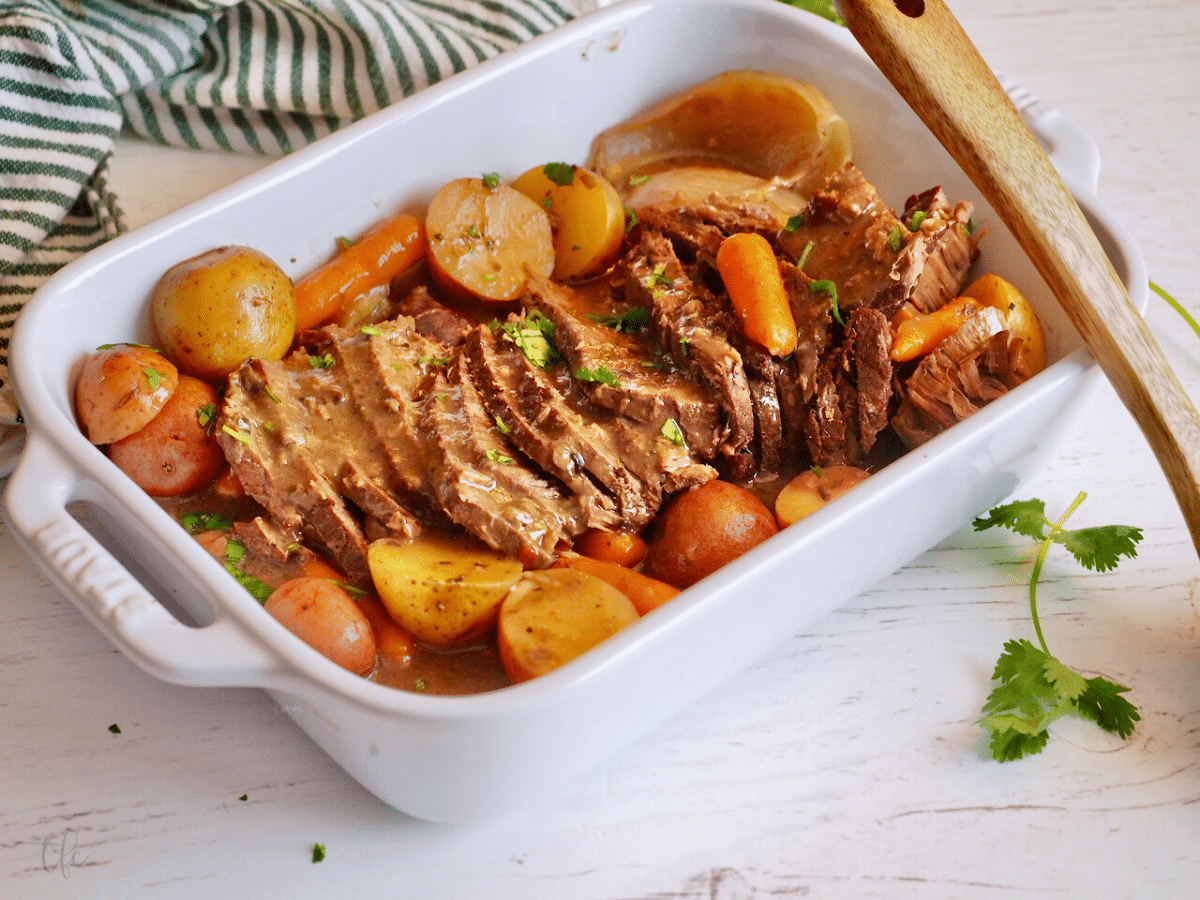 More great Slow Cooked Recipes:
LOVE IT? PIN IT!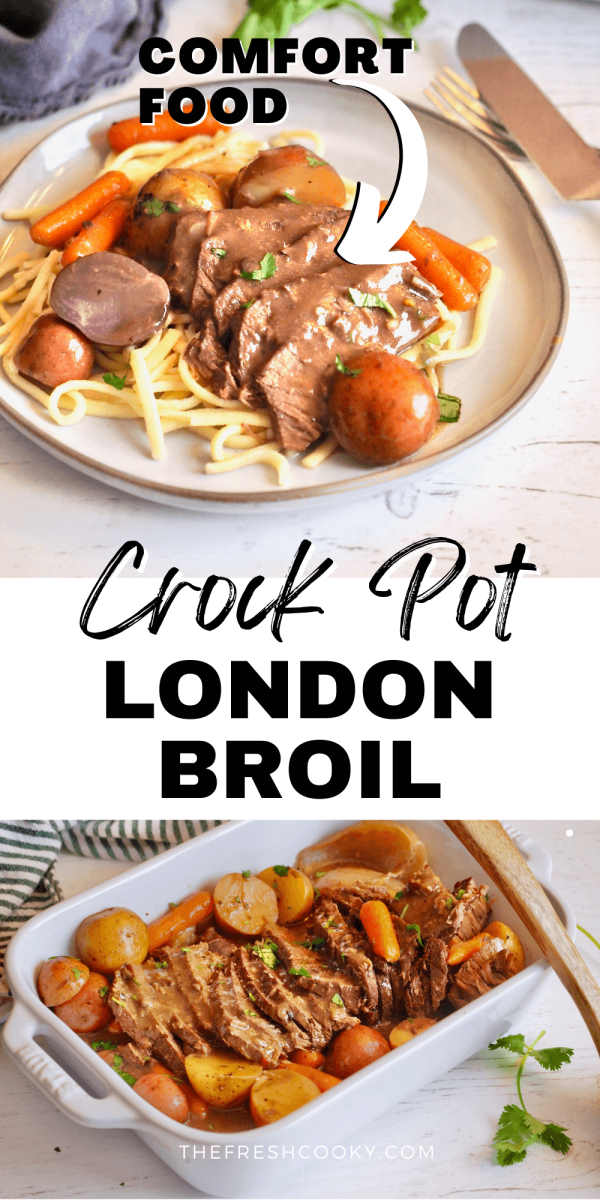 Like this recipe?
Don't forget to give it a ⭐️⭐️⭐️⭐️⭐️ star rating and comment below the recipe!
Welcome to our #NationalSlowCookerMonth Celebration!
January is National Slow Cooker Month and this week we are celebrating all things slow cooker! We have delicious recipes from across the country to fill your meal plans with delicious slow cooker recipes!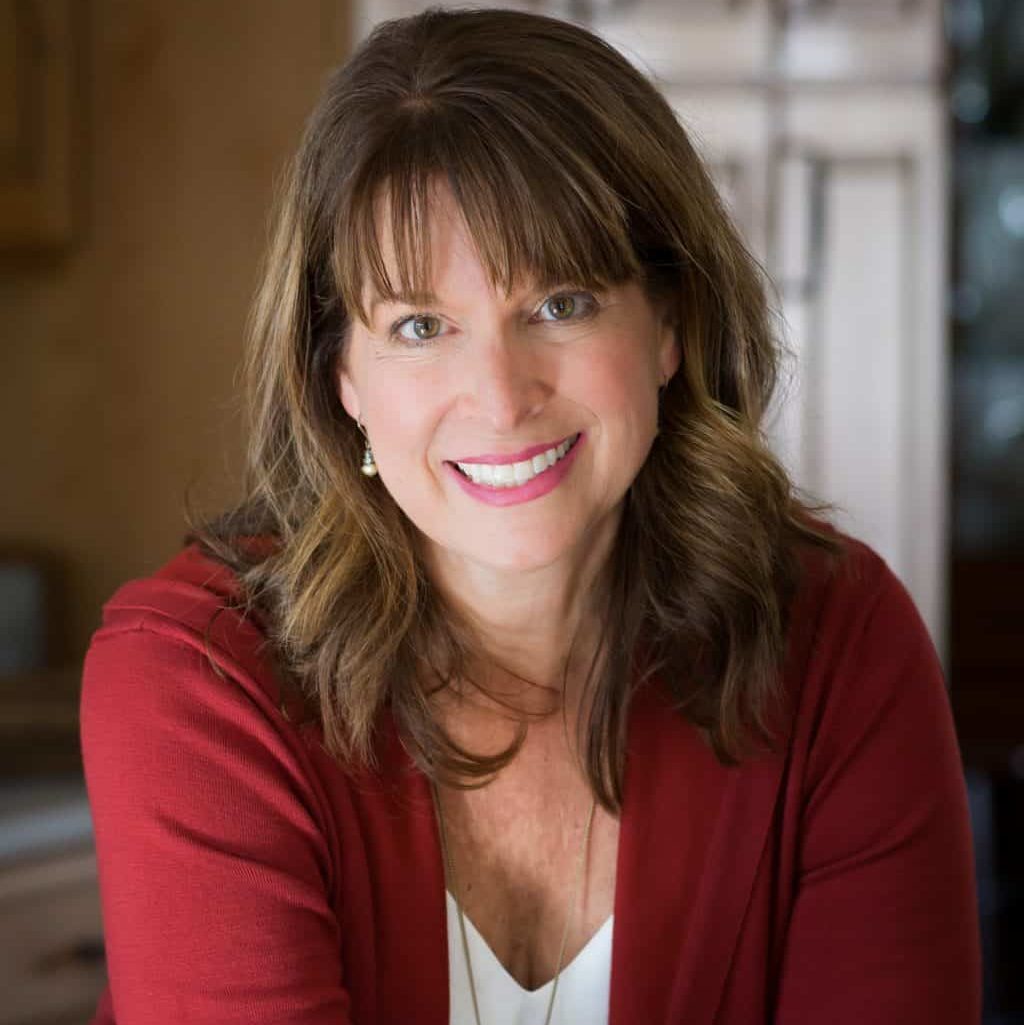 About Kathleen Pope
Recipe Innovator | Food Photographer | Food Writer
Hi, I'm Kathleen Pope. Here at The Fresh Cooky you will find easy, mostly from-scratch, trusted recipes for all occasions. From speedy dinners to tasty desserts, with easy step-by-step instructions. I am here to help teach you how to make mouthwatering recipes without spending hours in the kitchen. Read more about Kathleen here.