White Chocolate Peppermint Cookies
As an Amazon Associate, I earn from qualifying purchases. Please read my disclosure policy.
Nothing screams Christmas cookies like white chocolate peppermint cookies! Using crushed candy canes, these are soft, chewy, minty cookies; the perfect addition to any Christmas cookie tray.
You are going to love these candy cane chocolate chip cookies! I have it on good authority they are Santa's favorite cookie! Try these other minty recipes; Mint Fudge Chocolate Brownies, White Chocolate Peppermint Cheesecake and this no-bake Peppermint Ice Cream Cake.
And if you are after show-stopping Christmas tray cookies, then try my Crumbl Chocolate Chip Cookies or these Traditional Shortbread Cookies.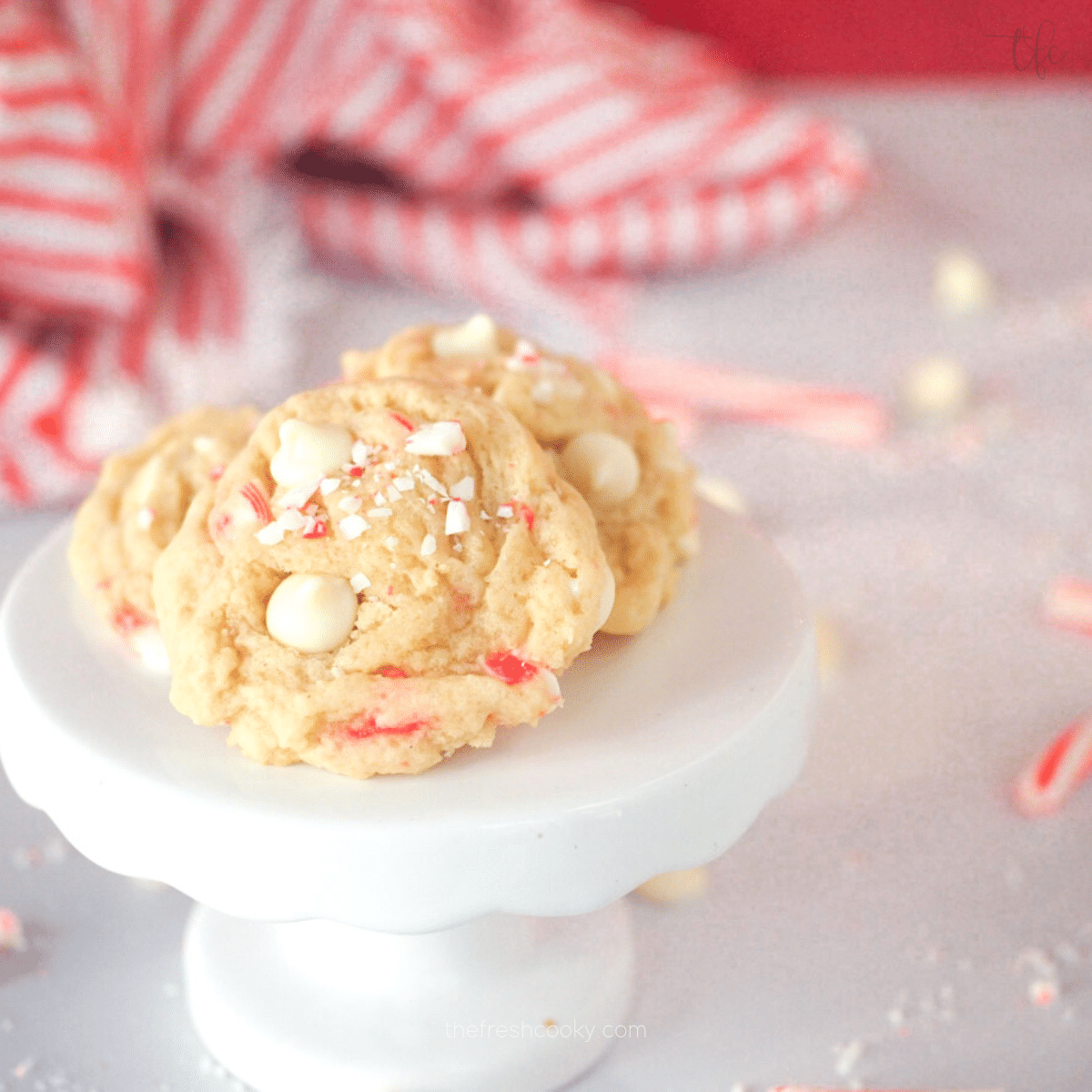 Friends, today is Freaky Friday! Hosted by Michaela from An Affair from the Heart (check out her blog, then come back here).
Meet Julie from Hostess at Heart
I am thrilled to introduce you to Julie from Hostess at Heart! And I really hope you take the time to browse through her beautiful blog! Read her About page and find a friend!
I have "known" Julie for a few years, in fact, this is the second time I've been assigned to her blog, the first time I chose her amazing Sweet Molasses Brown Bread. I look forward to someday meeting her in person, I just know we'd hit it off!
Julie uses real food, pronounceable ingredients in all of her cooking and baking! Yeah girl, we are soul sisters!
She creates recipes that are simple to put together but look like a Master Chef prepared them! Like this fancy looking, but not really hard, Turkey Roulade!
She loves to entertain, but simply, so you can sit down with your guests and enjoy! I have wanted to make her Cheese Stuffed Pork Chops forever!
Julie is an extraordinary baker, all of her recipes are drool worthy, like this Swedish Apple Pie, claimed to be the easiest pie you will ever bake!
I personally think she shines with her Easy Overnight Sourdough bread — it's been my go-to sourdough recipe for the past 2 years! She has become quite the expert, go and check out all of her sourdough related recipes.
Here are a my previous Freaky Friday recipes; Toasted Ravioli Old Fashioned Lemon Squares, Creamy Bow Tie Pasta Recipe, Cranberry Bourbon Sour, Mint Fudge Brownies, and Oatmeal Rolled Sugar Cookies.
So what recipe did I choose? She has so many great cookie recipes, like these Spiced Coffee Cookies or these Nutella Filled Cookies, but in the end I was smitten by her White Chocolate Peppermint Cookies.
Simple Ingredients for Candy Cookies
Full list of ingredients and measurements are in the recipe card at the bottom of the post.
All-purpose Flour | I use organic unbleached all-purpose flour in my baking, it works great for this recipe.
Butter | use real butter here, nothing soft out of the fridge, salted or unsalted works great!
Granulated Sugar | I use all-natural cane sugar in my baking, the grain is more coarse than white sugar, but it still works great, I'll tell you how. White sugar is fine too!
Eggs | we use large eggs, room temperature works best.
Vanilla Extract | I love using Rodelle vanilla extract or try making your own vanilla extract.
White Chocolate Chips | Use quality white chocolate here! I used Ghirardelli
Crushed Peppermint | you can use peppermint candies, or go traditional and use crushed candy canes!
Instructions for White Chocolate Peppermint Cookies
Line half sheet pans with parchment paper for the best results. Preheat oven to 350 degrees F
In a mixing bowl combine flour, baking powder, baking soda and salt, whisking to combine, set aside.
Cream butter for 1-3 minutes in the bowl of a stand mixer or hand mixer. Add sugar and beat on medium-high speed for 1-3 minutes (longer for cane sugar) until light and fluffy, scraping sides occasionally.
Add eggs, one at a time, beating 1 minute per egg, add vanilla extract and combine.
Slowly add the flour mixture a little at a time, only mixing until combined, scraping sides of bowl as needed. On low mix white chocolate chips and peppermint pieces.
High Altitude Note: If making at high altitude, add a little milk, cream or water while adding flour mixture.
Make candy cookies using a small cookie scoop for the most even cookies, about 1 tablespoon. Place onto prepared baking sheet, 2 inches apart, bake 8-10 minutes; see below for high altitude instructions.
For a professional bakery look; sprinkle on additional crushed peppermint and press in a few more white chocolate chips. Cool on pan for two minutes, then transfer to cooling rack.
High Altitude White Chocolate Peppermint Cookies
I made a few adjustments to Julie's recipe, adjusting for high altitude baking. My tips for high altitude cookies.
Increase flour by ¼ cup
Decrease sugar by ¼ cup
Add a 1-2 teaspoons of milk, cream or water when adding flour mixture, the dough should be soft, but not sticky.
Normally, I would increase the oven temperature by 25 degrees and decrease the time for a few minutes. I tested the recipe at 375 and at 350 degrees and honestly they came out perfect at 350 degrees for 8 minutes each.
I also tried keeping them mounded and flattening them a smidge, I liked them both ways. Mounded was a bit softer and chewier in the center, flattened they were a bit larger, still chewy though!
Optional White Chocolate Dipped Peppermint Cookies
Because I love a dressed up cookie! If desired to dip or drizzle your white chocolate peppermint cookies in white chocolate.
Drizzled | melt ½ – ¾ cup white chocolate chips in 30 second intervals in the microwave, stirring between each heating until melted. Chocolate will keep melting even after heating. Pour into baggie, snip a tiny bit off the end and drizzle over the top of the cookie, sprinkle with a little extra crushed peppermint.
Dipped | Melt 1 cup of white chocolate in a microwave safe bowl, 30 second intervals, stirring until melted, stir in 1 teaspoon of butter. Dip each cookie into the chocolate, shaking off excess, let set on parchment paper and sprinkle with crushed candy canes.
Variations
Use milk or dark chocolate chips instead of white chocolate chips or a combination.
Like them more pepperminty? Add ¼ teaspoon peppermint oil.
Nuts? You bet, I think that chopped macadamia, walnuts or hazelnuts would be delicious in this recipe, add ⅓ of a cup.
Tips for the Best White Chocolate Peppermint Cookies
Hostess at Heart Tips
Don't crush the candy canes too finely, the additional sugar can cause the cookies to spread too much.
Use a scoop when making cookies, they will be even and bake evenly.
Be sure to line the baking sheets with parchment paper or silicone baking mat, as the candy canes will melt and can burn onto the pan.
TFC Tips
If your cookies are spreading too much, don't flatten them, and refrigerate them for 6-10 minutes before baking.
Cookie dough freezes great, scoop the dough balls and flash freeze for one hour on a sheet pan, then store in airtight baggie up to 3 months. When ready to bake, while your oven preheats allow dough balls to come to room temp on baking sheet.
Do not overbake! Unless you like crispy cookies (I get that, great for dunking). If you like CHEWY cookies, take the cookies out when they just barely start turning golden at the edges and are still a little glossy in the center.
Storage
Store cookies 3-5 days in airtight container on the counter, for longer storage I recommend freezing these peppermint cookies. They will stay great frozen in an airtight container up to 3 months.
To thaw, bring to room temperature or pop in a 275 degree oven for 2 minutes. YUM!
Recommended Equipment
Stand Mixer or Hand Mixer | While you can mix these candy cane chocolate chip cookies by hand, having a stand mixer or hand mixer sure does make it easier!
Small Cookie Scoop | Using a small scoop will yield 48 same size cookies! Baking perfectly.
Cookie Sheet | These heavy duty half sheet pans are the best and they are made in the USA! And don't forget your parchment paper.
More Christmas Cookie Recipes
What to Serve White Chocolate Peppermint Cookies
Be sure to browse ALL of the fabulous Freak Friday recipes below and meet some new, fabulous food bloggers.
Take a look at all of our 2021 Freaky Friday Holiday Cookie Exchange Recipes: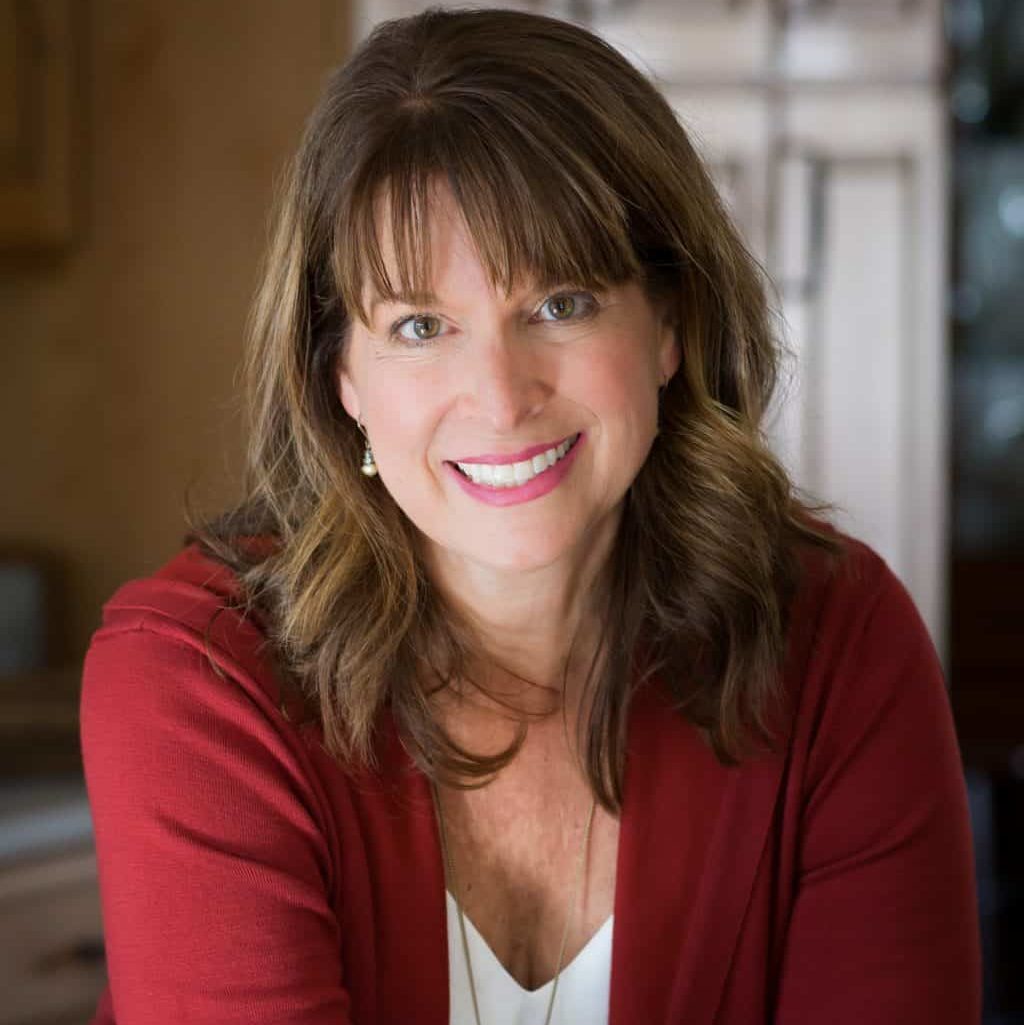 About Kathleen Pope
Recipe Innovator | Food Photographer | Food Writer
Hi, I'm Kathleen Pope. Here at The Fresh Cooky you will find easy, mostly from-scratch, trusted recipes for all occasions. From speedy dinners to tasty desserts, with easy step-by-step instructions. I am here to help teach you how to make mouthwatering recipes without spending hours in the kitchen. Read more about Kathleen here.