As an Amazon Associate, I earn from qualifying purchases. Please read my disclosure policy.
Pop, Fizz, Fudge! This holiday season you can have your champagne and chocolate truffles too! Champagne Truffles are a rich, chocolate truffle, dancing with creamy chocolate and sparkling wine or champagne.
If you are looking for a special, gourmet treat to make for a Christmas party, food gift, these champagne truffles are perfect! New Years Eve celebrations, they will sparkle and shine. Valentine's day, yes! Wedding favors, absolutely! These champagne chocolate truffles will be ideal.
If you love no bake desserts, you might try our Browned Butter Buckeye Bars, these luscious Kentucky Bourbon Balls, Chocolate Cream Pie or this holiday favorite Tiramisu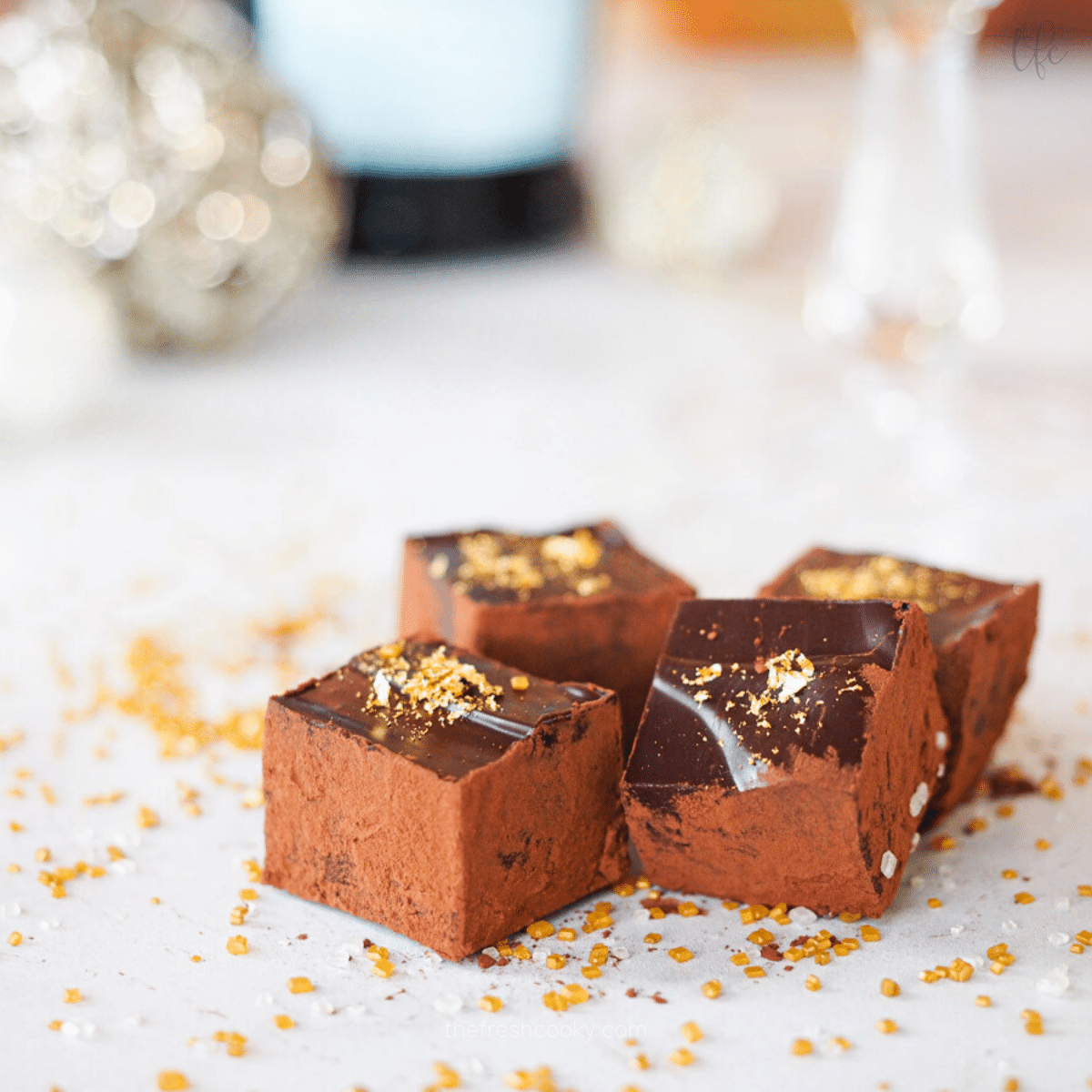 I am joining other bloggers today bringing you some fabulous holiday candy and fudge recipes. These Champagne truffles fall into both categories I'd say, they are both a candy and rich in delicious fudgy goodness. Be sure to check out all of our candy and fudge recipes just above the recipe card.
TFC PRO TIP | Plan ahead! These truffles need to chill 8-24 hours to firm up.
Simple Ingredients Champagne Truffles
The measurements and details of the recipe are in the printable recipe at the end of this post.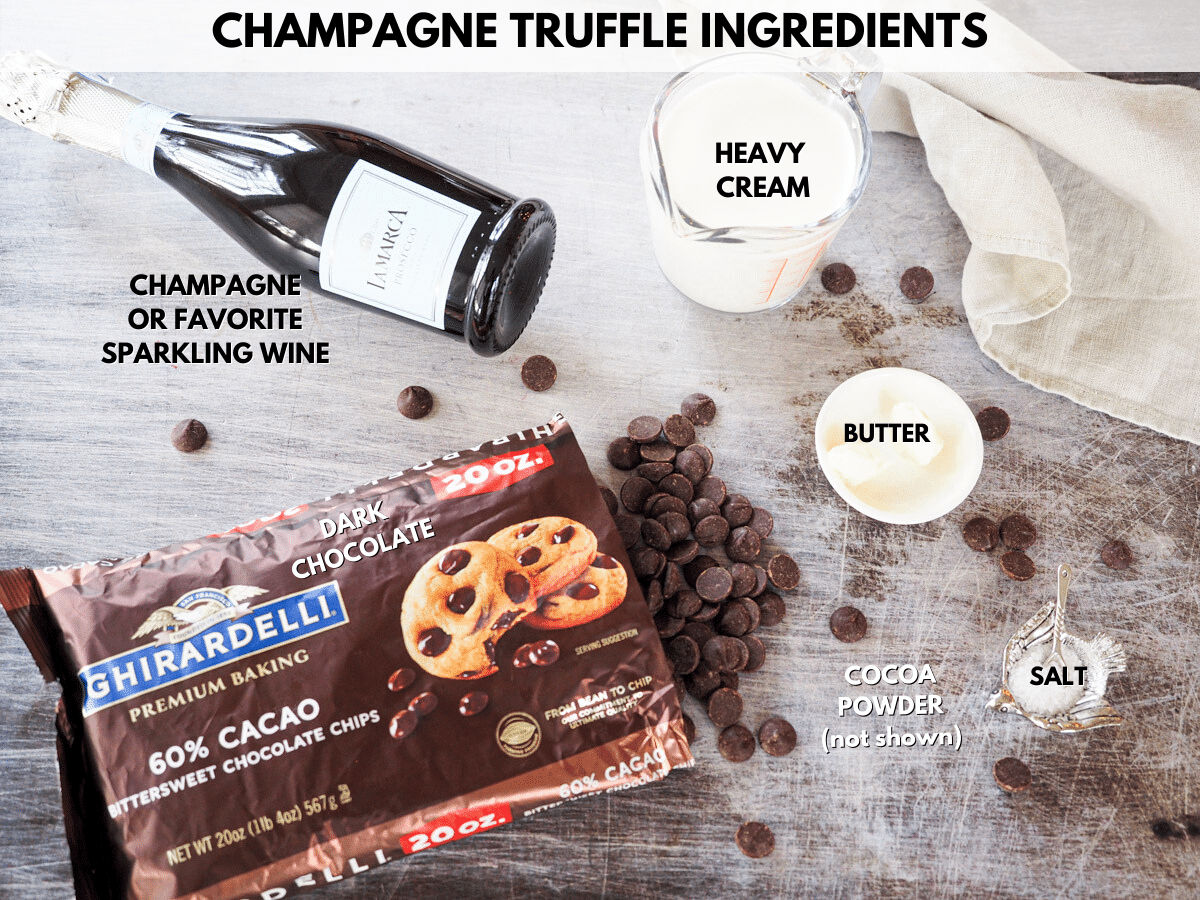 Chocolate | They wouldn't be rich, creamy boozy chocolate truffles without the chocolate would they! I used Ghirardelli Bittersweet Chocolate chips. Chop dark chocolate bars as an option too.
Heavy Cream | We are basically making a chocolate ganache here (also amazing), and the key ingredients are chocolate and cream.
Champagne | Use any bubbly (or flat) beverage you like! I like Prosecco, so that is what I used, just use one you enjoy, these small bottles are perfect for this recipe.
Cocoa Powder | This is optional, but actually makes the boozy truffles a bit easier to handle and is a beautiful finish to the classic chocolate truffle. My favorite Cocoa Powder is Rodelle!
TFC PRO TIP | Quality ingredients will shine best in these boozy truffles, purchase the best you can afford!
Instructions
Step 1 | Melt the chocolate and cream
Lightly spray or butter a loaf pan or an 8×8 inch pan, then line with parchment paper — this is one recipe that you will have the best results with if you use parchment paper. Leave some hanging over the sides, so you can easily lift it out.
Place a medium glass bowl in a medium saucepan over a couple inches of simmering water (not boiling) and do not let the bowl touch the water — you are creating a double boiler.
Add the chocolate, heavy cream and salt, stirring until the mixture is mostly melted and smooth. Remove from heat once just a few chocolate pieces remain, continue stirring until combined and all chocolate is melted.
Step 2 | Finish & Set Chocolate Truffles
Add the butter and whisk until smooth. Then pour in the champagne or your favorite sparkling wine (*see notes for variations). Whisk until combined and smooth.
Pour into prepared pan and refrigerate uncovered for a minimum of 8 hours; preferably 20-24 hours.
Which Pan is best for these Boozy Truffles
While searching for a copycat Teuscher Champagne Truffles recipe I stumbled upon this recipe from Simply Recipes. I learned a few things the way, that I hope to pass along to you, making these boozy chocolate truffles even easier.
By the way, the Teuscher Champagne Truffles were a bit more complex than I wanted to make, their gourmet Champagne truffles have a creamy milk chocolate and Dom Perignon center, wrapped in a dark chocolate truffle. Divine!
But back to the best pan for these creamy, easy truffles. The original recipe calls for a loaf pan, but I found that made really tall, rich chocolate truffles, so I opted to slice them in half again, I am all about a delectable, creamy, rich bite of chocolate, just a bite is perfect.
Using an 8×8 inch pan was a much better fit for these delicious truffles, making them shorter with more surface area. Your choice, you could even use an 7×11 inch pan.
How to Cut Champagne Truffles
Once your holiday truffles have set up (they will still be soft, but that's how you want them), you can either scoop and roll them in cocoa powder like a traditional truffle, or you can slice them and coat them in cocoa powder, for a pretty presentation.
Use the sides of parchment and carefully remove the chocolate truffle block from the pan, setting on a cutting board.
Dip a long knife in hot water, then dry with paper towels (repeating for each slice) and slice the ganache block in half. Pulling the knife straight out without lifting.
Then slice each half in half, and again into 1/4s so you have a total of 8 "bars".
Slice in half lengthwise, then again in half (see images on how to slice). If you used the loaf pan, pull off one section at a time and if desired for smaller pieces, slice again in half.
TFC PRO TIP | You can also use a small cookie scoop and scoop this truffle batter, rolling quickly into balls. I recommend using gloves as the mixture is soft and will soften with the heat of your hands.
How to Decorate Chocolate Truffles
Sift cocoa powder <== (my favorite) in a medium shallow bowl.
Place a truffle or three in the bowl, and carefully roll in cocoa powder, keeping the top uncoated if adding gold leaf.
If using gold leaf, I highly recommend you purchasing gold leaf flakes vs. the gold leaf sheets. I bought the sheets and honestly it was quite difficult to get larger pieces off the sheets and onto the truffles, the flakes, make it much easier. This is edible gold leaf!
You could also coat or dust or brush on this edible glitter or dust, it would be beautiful as well!
Additionally I used some silver dragees that I had on hand, it made for a fun assorted presentation and they kind of resemble the bubbles in champagne!
Variations
Milk Chocolate Champagne Truffles | Use a high quality milk chocolate in place of the dark chocolate. Use a mixture of dark, bittersweet and milk chocolate.
Snowball Truffles | Instead of rolling the chocolate truffles in cocoa powder, roll instead in sifted powdered sugar.
Baileys Chocolate Truffles | Replace the champagne with equal amounts of Bailey's or your favorite liquor, Kahlua and even Eggnog Liquor would be delicious here.
Rum or Brandy Chocolate Truffles | The same as above, replace the champagne with your favorite rum or brandy.
Frequently Asked Questions
Is there alcohol in Champagne Chocolate Truffles?
Yes, since you are adding the champagne or sparkling wine after you melt the chocolate, there is no chance that any of the alcohol will "cook off". Personally, we would let our kids have one or two of these truffles since the amount in them is minimal at most.
Can I substitute champagne?
Of course! If still wanting to make a boozy truffle, then add your favorite sparkling wine to the truffles, I used Prosecco since I like the flavor better. You may also substitute the champagne for non-alcoholic sparkling beverages, but be careful of the flavors, you want something that is pleasant. You might try non-alcoholic wine or sparkling wine.
Are chocolate truffles real truffles?
Not at all! Chocolate truffles resemble real truffles in their size and shape (though mine are square, so there you go), but their similarities end there. Chocolate truffles are made from a simple chocolate ganache, which is from chocolate and heavy cream, sometimes rolled in cocoa powder, or powdered sugar, sometimes covered in a shell of chocolate. No real truffles were harmed in the making of this recipe (I crack myself up!).
Can I double this recipe?
Yes! Increase your pan size to either two 8×8 pans or one quarter sheet pan for best results.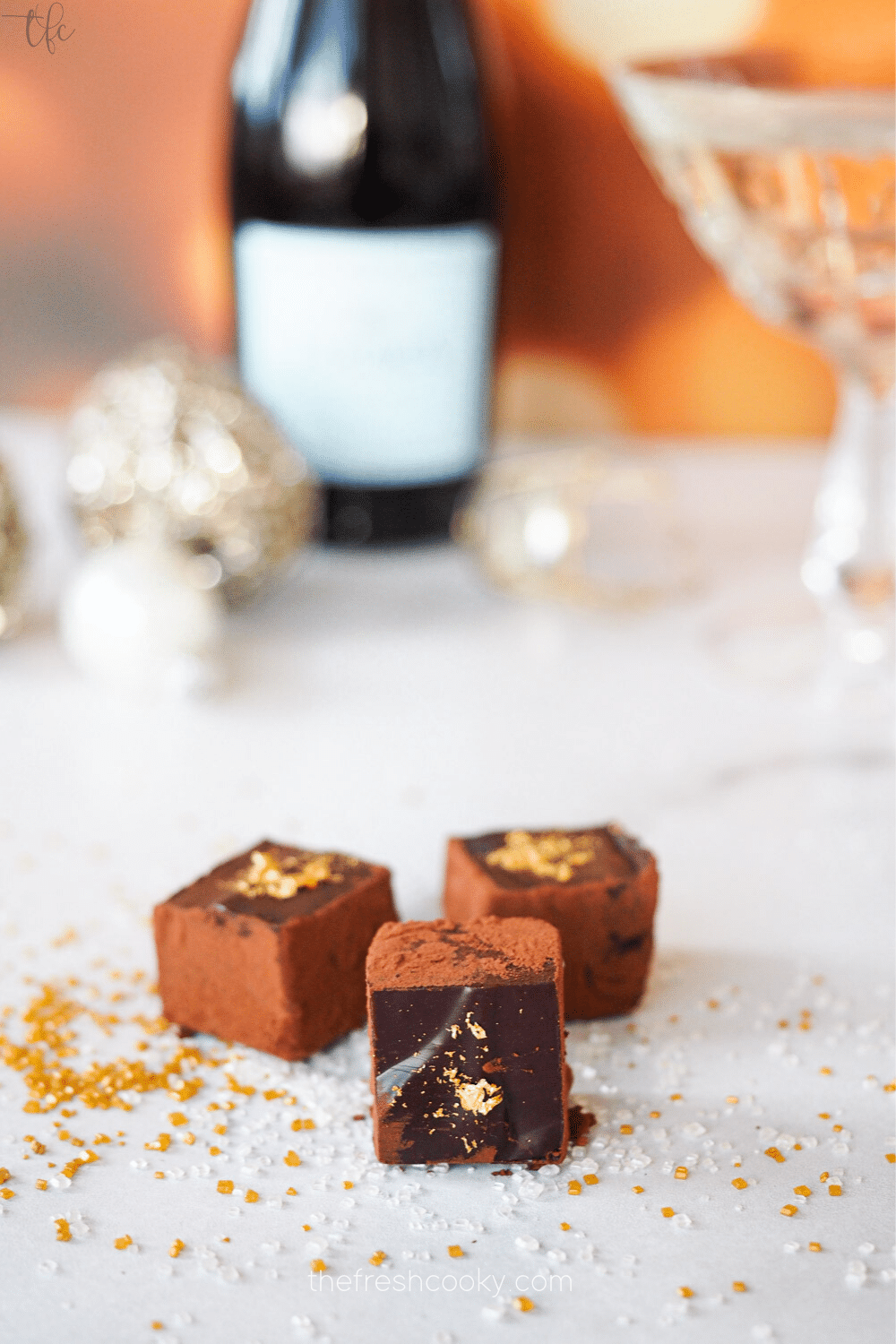 Storage
Champagne Truffles keep best in the refrigerator in an airtight container, up to 1 week.
When ready to serve, remove chocolate truffles and place on serving dish allowing to come to room temperature (about 30 minutes) before serving. Though I am not sure anyone would spit it out if they ate it straight from the fridge.
Serving Suggestions
Champagne Truffles are a bit easier to serve if placed ahead of time in mini baking cups, these gold & silver foil baking cups add to the gourmet elegance of the truffle experience!
These gourmet holiday truffles would also be beautiful as a decoration on a pretty holiday dessert. Try them on this Triple Chocolate Torte, or these Mini French Silk pies.
Don't forget to serve with a glass of your favorite sparkling wine or champagne! These would be gorgeous on a holiday charcuterie board!
Recommended Equipment
Glass Mixing Bowl | These Pyrex stackable glass bowls are perfect to use as double boilers, they are heat safe and the rim keeps them on top of your pan.
Sturdy Spatula | love these spatulas as you can remove the silicone head and pop in your dishwasher. Plus this one is just plain darling!
Whisk | A good wire whisk is a must to getting a smooth ganache for your truffles.
I hope you enjoyed this unique, gourmet candy recipe. I am thinking these might show up in my neighbors and coworkers gift baskets this year and I am definitely remaking them for New Years Eve, with the gold leaf and silver dragees they make the most festive and celebratory treats!
More Holiday Desserts
Welcome to #CandyFudgeFavorites Day hosted by Jennifer from Take Two Tapas! It's the holidays and we are celebrating the holiday tradition of making candy and fudge!
Join me and my fellow bloggers as we share our favorite holiday candy and fudge recipes today. I know you will see some old favorites and I hope you find some new ones!
Like this recipe?
Don't forget to give it a ⭐️⭐️⭐️⭐️⭐️ star rating and comment below the recipe!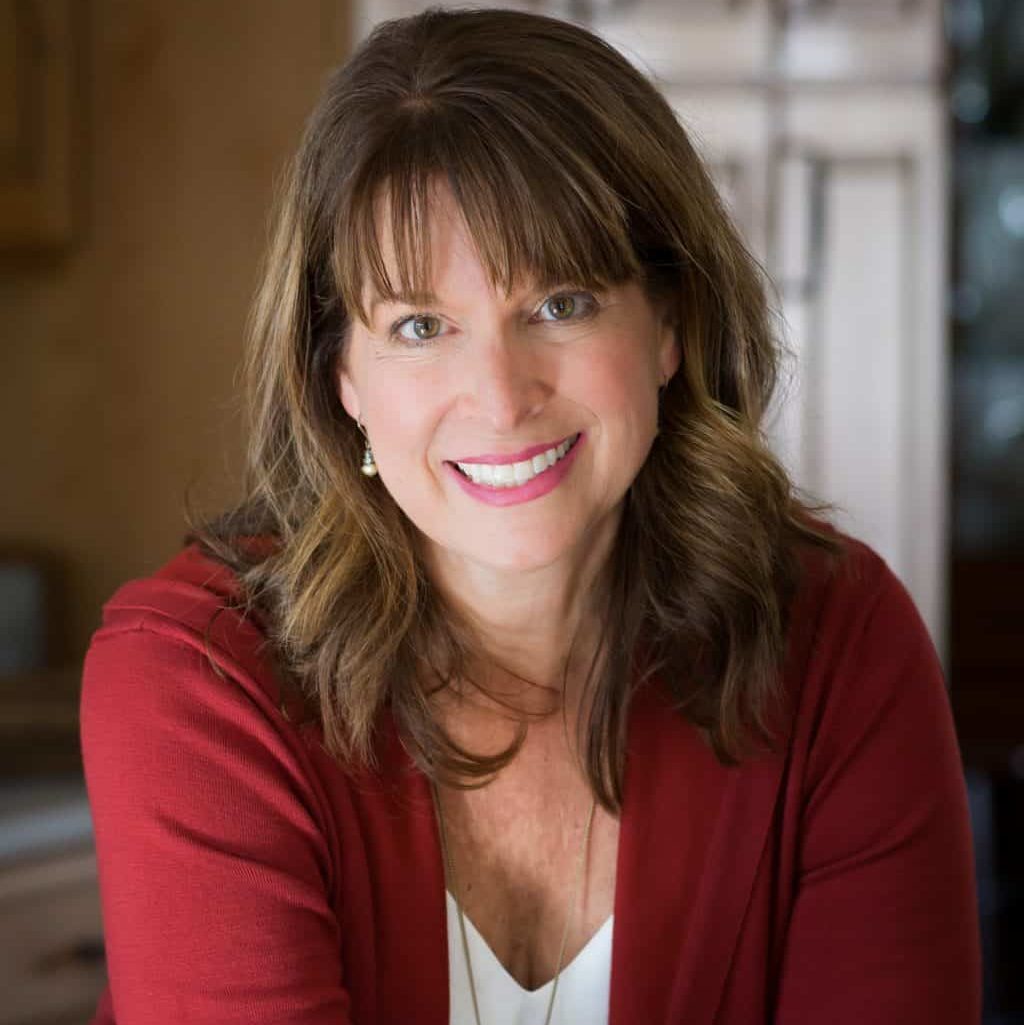 About Kathleen Pope
Recipe Innovator | Food Photographer | Food Writer
Hi, I'm Kathleen Pope. Here at The Fresh Cooky you will find easy, mostly from-scratch, trusted recipes for all occasions. From speedy dinners to tasty desserts, with easy step-by-step instructions. I am here to help teach you how to make mouthwatering recipes without spending hours in the kitchen. Read more about Kathleen here.