As an Amazon Associate, I earn from qualifying purchases. Please read my disclosure policy.
Save money with this simple and delicious homemade coffee-free Chai Tea Latte recipe! Darjeeling tea infused with the rich warm spices of cloves, nutmeg, vanilla, cinnamon and ginger. It has all the right spices, beautifully blended, and extremely smooth, the kind of drink that warms you through and through.
Whether you drink it warm or iced, this is a beautifully balanced beverage.
Serve hot or in a tall glass over ice and if you enjoy this recipe you might enjoy my bulletproof coffee, Golden Milk Turmeric Tea or this variation called a Christmas Morning Chai!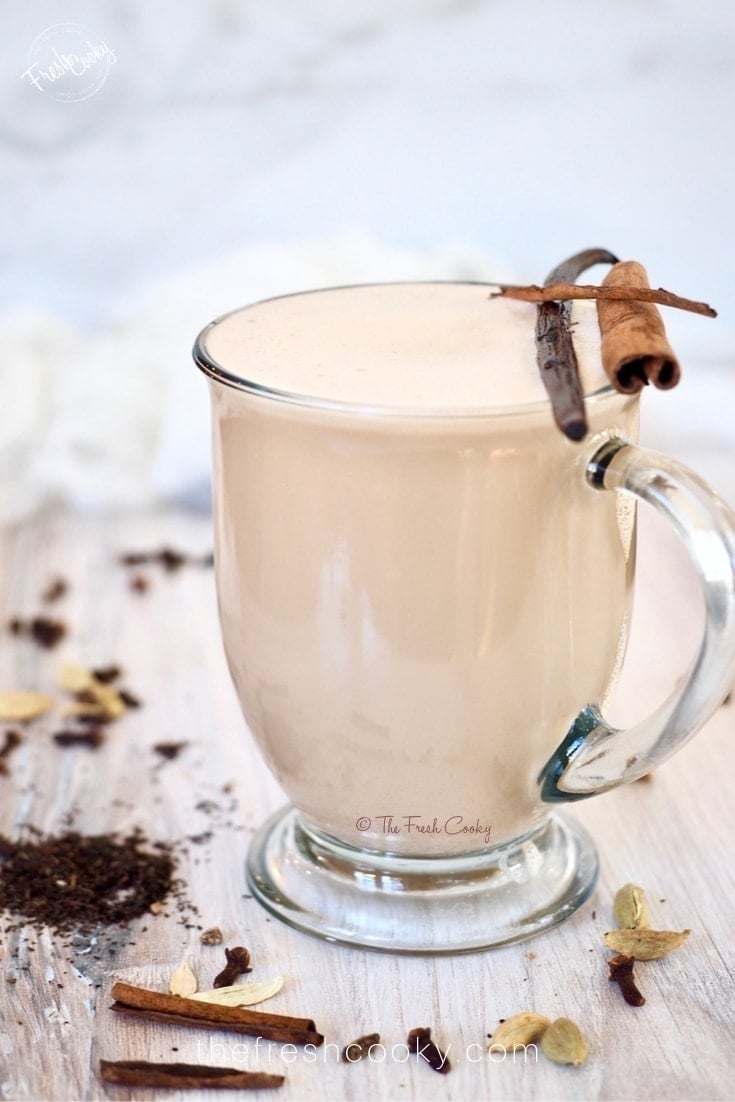 I've definitely acquired a taste for Chai, some are too spicy, but I love this one, it is the perfect balance of not-to-sweet and not-to-spicy!
I came across this recipe for small batch homemade chai tea latte that you can keep in your fridge at a fraction of the cost it will cost you to buy one at a coffee shop.
I found it in a cookbook I picked up while on vacation; I love picking up local cookbooks with recipes from local restaurants and B & B's, some are winners some are not, but this is most definitely a winner!!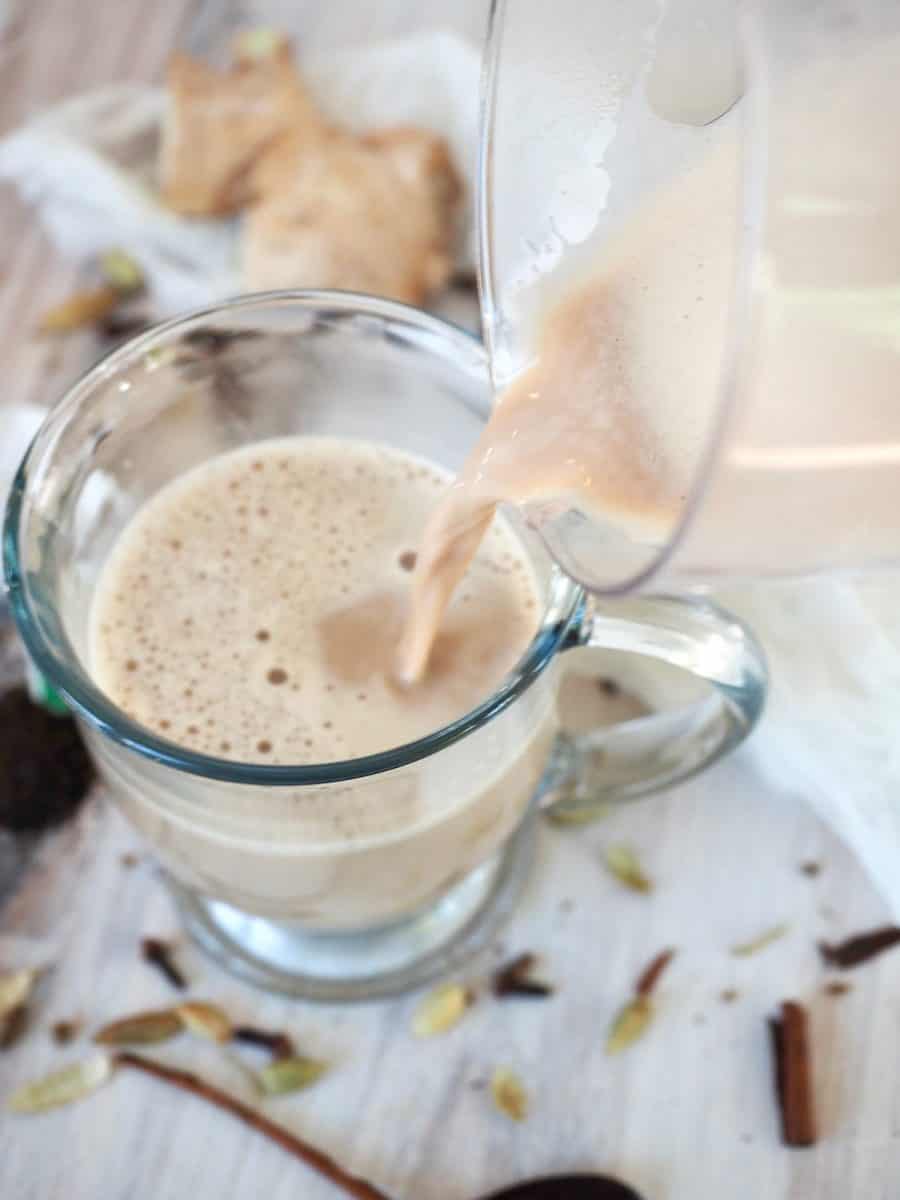 You may have to go out and buy a few of the ingredients, but once you have them hopefully you'll be fine for awhile. (Note the missing ginger, sigh)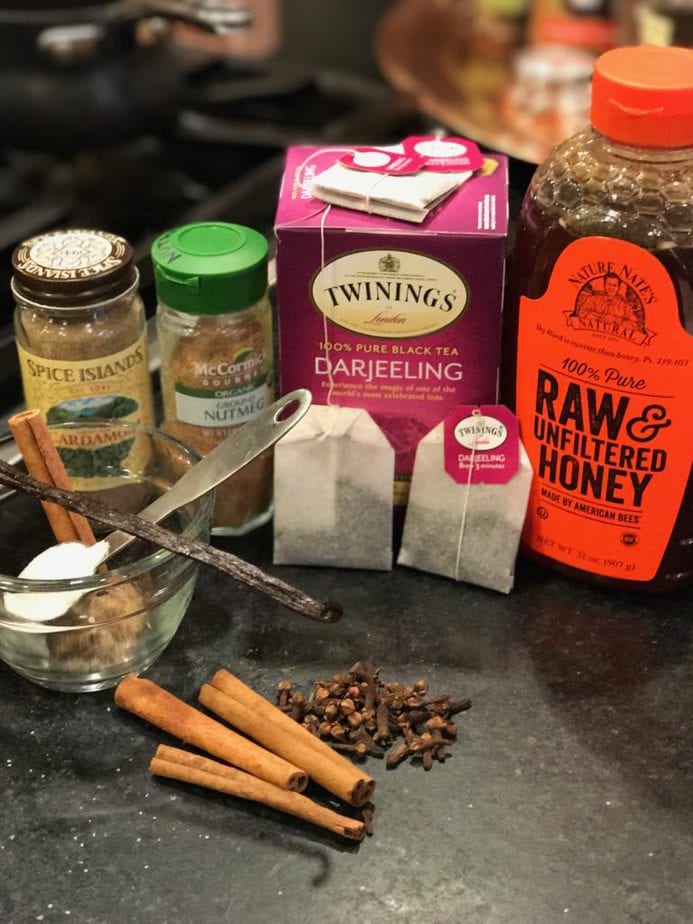 Homemade Chai Latte Ingredients
Darjeeling Tea | traditionally used, but other black teas would work as well
filtered water
fresh ginger | the ginger is what some people do not like in Chai, try with and without!
nutmeg | just a touch, fresh is so amazing
sugar | I always use all natural cane sugar
honey | I love using local, raw and unfiltered honey
milk | I used whole milk, use what you like, plant based should work too!
I made two batches of this for two different gatherings, back-to-back and both times I completely spaced the ginger!
It's easier if you measure all of your ingredients (except the milk) into a small bowl before you get started, that way once your water comes to a boil, you can place everything in the pot.
How Do you make Chai Tea Latte from Scratch
First pour water into medium saucepan and bring to a simmer, once simmering, add tea bags or loose leaf tea.
Next snip your vanilla bean into 1 inch pieces and place with the rest of your ingredients.
FRESH TIP | Since vanilla beans have become so expensive, easily substitute 3 teaspoons of vanilla extract or 1 teaspoon vanilla bean paste.
Place all spices and vanilla (including the ginger slices if desired) into the boiling water, give a quick stir.
Stir in honey.
FRESH TIP | Spray the measuring cup with a little bit of spray oil, your honey will slide right out.
Boil for 5 minutes, stirring occasionally. Add milk (I use whole milk, but try 2% or plant based as well), give it a stir.
Return to a boil, then remove from heat. Place fine mesh strainer over a 4-5 cup bowl, place a coffee filter (or layered cheesecloth) inside the sieve.
Slowly pour the hot chai over the sieve, depending on how fine the mesh is on your sieve, it might take awhile, gently stir the bottom and remove the large pieces and discard.
If you get impatient (as I did), gently pull back the coffee filter and allow the mixture to go through the sieve, gently rocking it back and forth.
Refrigerate any unused portion until ready to use, lasts up to 7 days refrigerated.
When ready, pour out desired amount and warm on stovetop or my favorite way is to place in a frother and heat until silky smooth, with a lovely head of frothed milk.
How to make an ICED CHAI TEA LATTE
Simply pour over a tall glass of ice!
How do you make chai tea latte without a machine
So simple, you do not need a frother, or any special machinary to make a homemade chai latte.
If you really want it frothy, pour the desired amount in a blender (<–my favorite small batch blender!) and blend for a few seconds.
Be careful when removing the lid if the mixture is hot as it will "SPIT" at you a bit.
Are Chai Tea Lattes Good for you?
Yes here are a few of the benefits of Chai Tea!
May improve heart health
Could reduce blood sugar levels
May reduce nausea and improve digestion
Could help prevent weight gain (Source)
Serve with one of my favorite cookies or quickbreads!
You might also enjoy this calming, soothing, sleep inducing Golden Milk Spice Mix, so delicious!
What do you like to drink on a chilly day? Please comment below!
PIN TO YOUR FAVORITE DRINK BOARD
Like this recipe?
Don't forget to give it a ⭐️⭐️⭐️⭐️⭐️ star rating and comment below the recipe!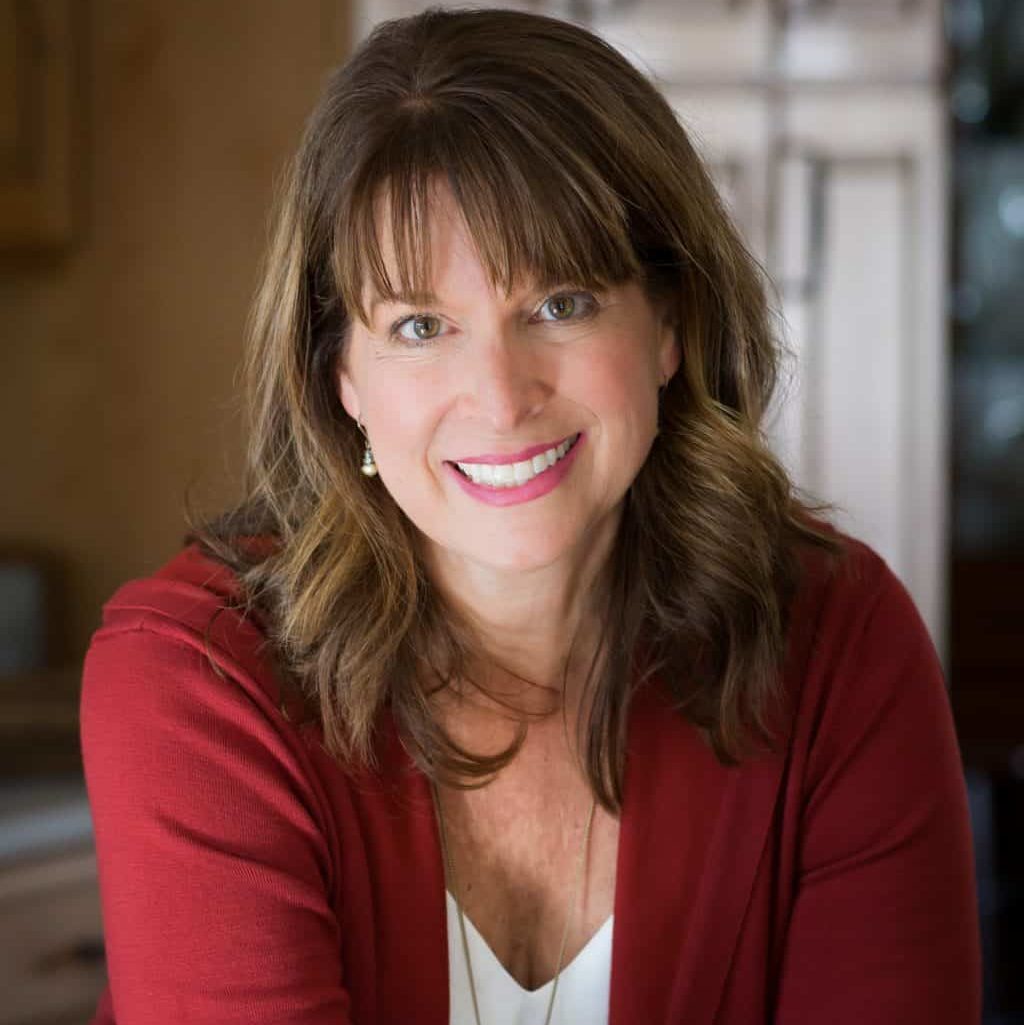 About Kathleen Pope
Recipe Innovator | Food Photographer | Food Writer
Hi, I'm Kathleen Pope. Here at The Fresh Cooky you will find easy, mostly from-scratch, trusted recipes for all occasions. From speedy dinners to tasty desserts, with easy step-by-step instructions. I am here to help teach you how to make mouthwatering recipes without spending hours in the kitchen. Read more about Kathleen here.