Disclosure I am a participant in the Amazon Services LLC Associates Program, an affiliate advertising program designed to provide a means for us to earn fees by linking to Amazon.com and affiliated sites, this post may contain links. At no cost to you!
Save money with this simple and easy recipe for Chai Tea Latte! Darjeeling tea infused with the rich warm spices of cloves, nutmeg, vanilla, cinnamon and ginger. It's a little spicy (not hot), extremely smooth and the kind of drink that warms your body through and through.
Whether you drink it warm or iced, this is a beautifully balanced drink. I've definitely acquired a taste for Chai, some are too spicy, but I love this one. I served it up to a couple of friends the other day who are non-chai lovers and they liked it! I don't know if they loved it, but they liked it! I think we boiled down the reason why, I totally spaced putting in the ginger and I think it's that gingery bite that some people do not like.
I came across this recipe for small batch homemade chai tea latte that you can keep in your fridge at a fraction of the cost it will cost you to buy one at a coffee shop. I found it in a cookbook I picked up while on vacation; I love picking up local cookbooks with recipes from local restaurants and B & B's, some are winners some are not, but this is most definitely a winner!!
You may have to go out and buy a few of the ingredients, but once you have them hopefully you'll be fine for awhile. (Note the missing ginger, sigh)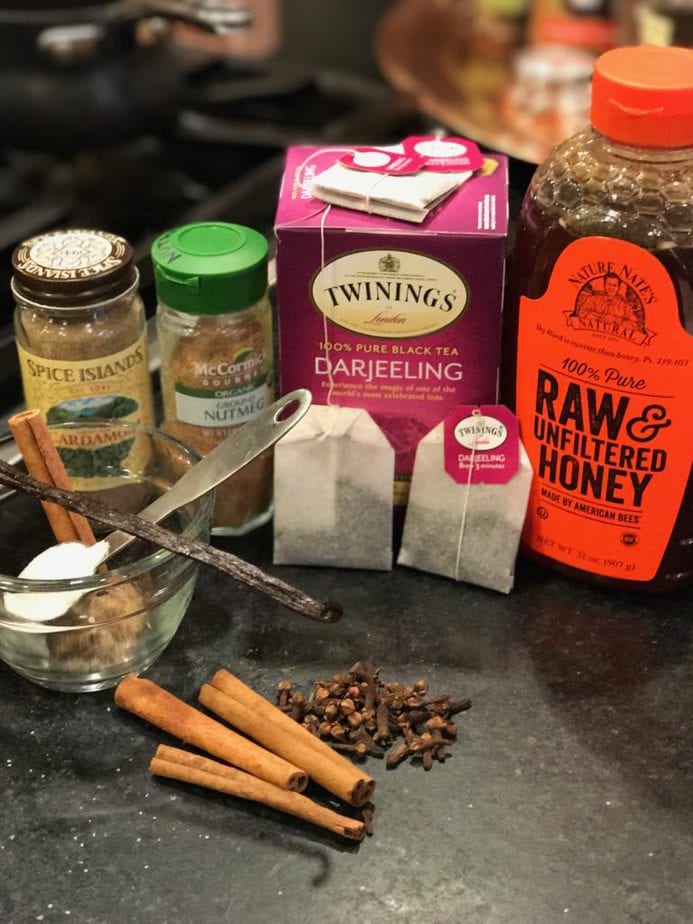 I made two batches of this for two different gatherings, back-to-back and both times I completely spaced the ginger! But as I said earlier, I think that is why the non-chai drinkers actually liked it, so put it in, reduce it, or leave it out all together, it's a matter of taste.
It's easier if you measure all of your ingredients (except the milk) into a small bowl before you get started, that way once your water comes to a boil, you can place everything in the pot.
How to Make Chai Tea
First pour in your water and bring to a simmer, once simmering, add your tea bags or loose leaf tea.
Next snip your vanilla bean into 1 inch pieces and place with the rest of your ingredients.
TIP | Since vanilla beans have become so very expensive, feel free to substitute 3 teaspoons of vanilla extract or 1 teaspoon vanilla bean paste.
Place all of your spices and vanilla (including the ginger slices if desired) into the boiling water, give a quick stir.
Next add your honey.
TIP: Spray your measuring cup with spray oil, your honey will slide right out.
Boil for 5 minutes, stirring occasionally. Add your milk (I use whole milk), give it a stir…
Return to a boil, then remove from heat.
Place fine mesh strainer over a 4-5 cup bowl, place a coffee filter inside the sieve.
Slowly pour the hot chai over the sieve, depending on how fine the mesh is on your sieve, it might take awhile, gently stir the bottom and remove the large pieces and discard.
If you get impatient (as I did), gently pull back the coffee filter and allow the mixture to go through the sieve, gently rocking it back and forth. Keep doing this until you have strained all of the chai.
Serve hot or in a tall glass over ice.
Refrigerate any unused portion until ready to use. When ready pour out desired amount and warm on stove top or my favorite way is to place in a frother and heat until silky smooth, with a lovely head of frothed milk.
What do you like to drink on a chilly day? Please comment below!
Pin Now for Later
Tools for this Recipe!
[amazon_link asins='B006LMVOFG,B000SATIG4,B01BTNALW8,B01HJHSVG6,B074NBPV87,B0026PCGEK,B00CMQD3VS' template='ProductCarousel' store='thefreshcoo0a-20′ marketplace='US' link_id='5fb431b1-b935-11e8-afaa-2f243b667a04′]
Print
Homemade Chai Tea Latte
Author:

Prep Time:

5 mins

Cook Time:

10 mins

Total Time:

15 mins

Yield:

4

servings

1

x
Category:

Hot Drink
---
---
---
---
Recipe Card powered by
Tools for this Recipe!
[amazon_link asins='B006LMVOFG,B000SATIG4,B01BTNALW8,B01HJHSVG6,B074NBPV87,B0026PCGEK,B00CMQD3VS' template='ProductCarousel' store='thefreshcoo0a-20′ marketplace='US' link_id='5fb431b1-b935-11e8-afaa-2f243b667a04′]