The Best Christmas Morning Chai Recipe (Dutch Bros)
As an Amazon Associate, I earn from qualifying purchases. Please read my disclosure policy.
This holiday season enjoy this copycat Dutch Bros Christmas Morning Chai recipe. Spicy chai tea mixed with half and half and swirled with white chocolate syrup, for an amazing holiday chai latte. Delicious iced or hot.
Make your own chai tea using my authentic chai recipe or make it simple and use Oregon Chai concentrate which is what Dutch Bros uses in their famous Christmas morning chai latte. Enjoy it hot or iced!
If you love chai tea drinks, then you need to try my Starbucks White Hot Chocolate, Hot Chocolate for Two, Eggnog latte recipe and this Hot Buttered Rum.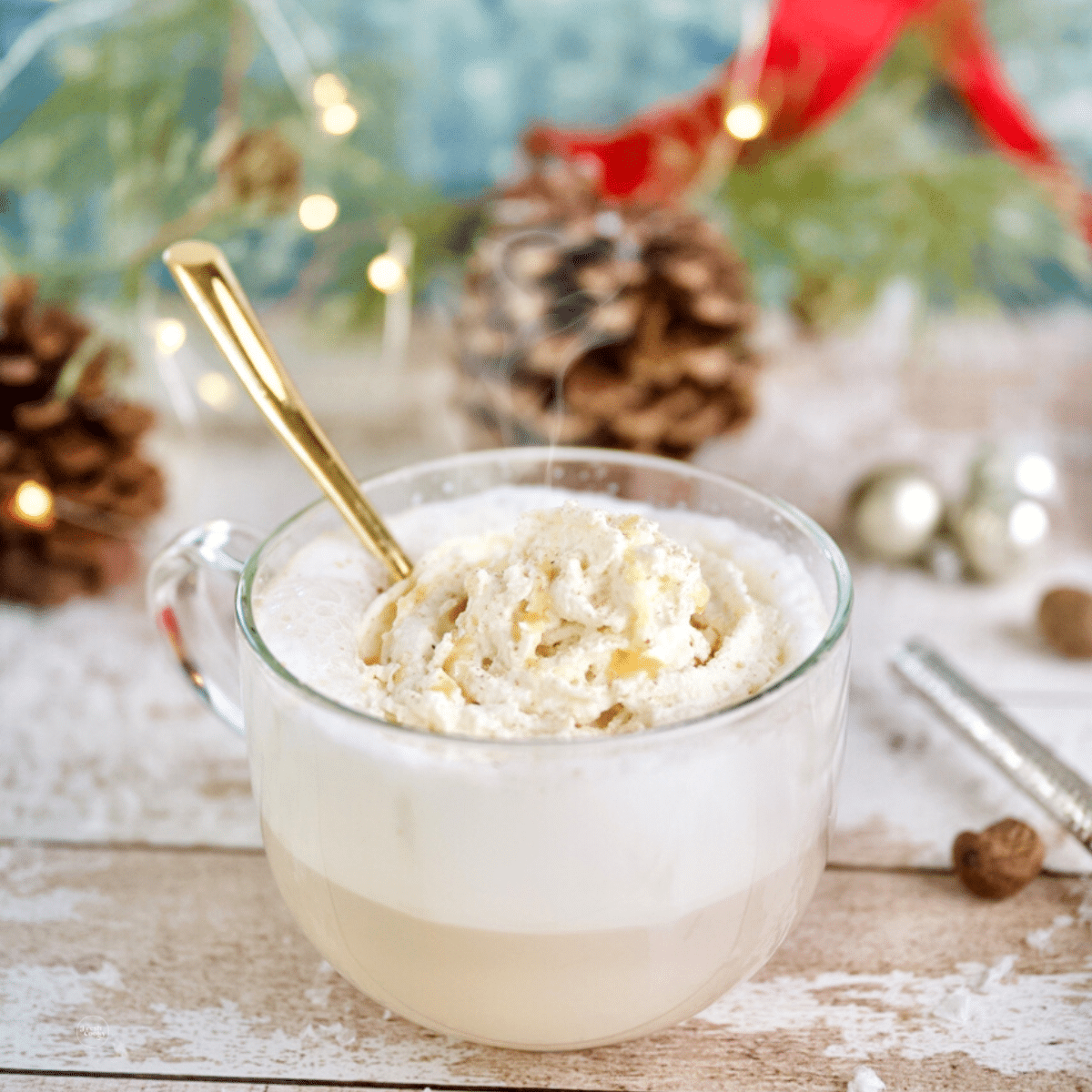 What is Chai?
We American's call it Chai tea, but that is like saying "tea tea". Chai is the word for tea in the Assam region of India, a blend of black tea leaves, fresh ginger and whole spices like cinnamon sticks, black pepper, cloves, nutmeg, cardamom pods and notes of warm vanilla. Basically it is a black tea that is filled with aromatic spices that are healthy and good for you. Typically sweetened with honey, chai drinks have become an American favorite.
Why You Will Love this Recipe
Copycat | Copycat recipes are my specialty, it's less expensive and more convenient than having to run out to your closest Dutch Bros. Especially if you are a chai tea drink fanatic like me and do not live near one of the Dutch Bros. franchises.
Perfect for the Holiday Season | Whether you are hosting a breakfast, brunch or Christmas tea this year, your guests will love this drink and it's ideal to serve to kids and adults, hot or cold for Christmas morning breakfast.
What is Dutch Bros.?
Dutch Bros. (short for Dutch Brothers) started as a pushcart business in 1992 by brothers Dane and Travis Boersma (hence Dutch Bros) in Grants Pass, Oregon. Since then they have been spreading their values of community and relationship across the United States. I discovered Dutch Bros. in the Denver area a few years back when I had my first sip of this cozy drink.
Key Ingredients
Ingredients, directions and nutritional information in the printable recipe card at the end of the post.
Oregon Chai Tea | Dutch Bros. uses Oregon Chai for their chai, but do they use the instant powder mix (Chai tea packets) or the concentrate? Calories are about the same either way, but I prefer the ingredients in the carton of chai concentrate to the Oregon Chai Tea Latte powder mix. Either way, no tea bags necessary!
Half and Half | Using half and half separates this delicious drink from the rest. You may use whole milk or lesser percentages, but it won't be quite as creamy.
White Chocolate Syrup | It's not overly white chocolatey, I used Torani brand which is what Dutch Bros. uses to my understanding. However; I have used Ghirardelli White Chocolate as well. You could also use Torani white chocolate syrup (regular or sugar-free) but use a little at first, flavoring to taste.
Whipped Cream | Both the hot and the iced chai tea versions of this Christmas morning chai are served with a thick topping of whipped cream. Use canned whipped cream or make your own, homemade whipped cream. I love my Otis whipped cream dispenser it's so much cheaper and superior to canned whipped cream.
Nutmeg | Every good Christmas drink needs a good sprinkling of fresh nutmeg (this is my favorite spice grater) and a drizzle of white chocolate sauce.
Why this Christmas morning chai recipe is different?
In recipe testing I used both the Oregon chai concentrate and the Oregon Chai instant powder. The instant powder calls for 8 ounces of hot water, stirring until dissolved. I recommend using instead ¾ cup hot water (6 ounces), making the chai a bit stronger.
I like the spicy chai flavors to stand out when enjoying a chai latte, so I added more chai than I did half and half, giving it a stronger and spicier flavor. Taste test and make it yours!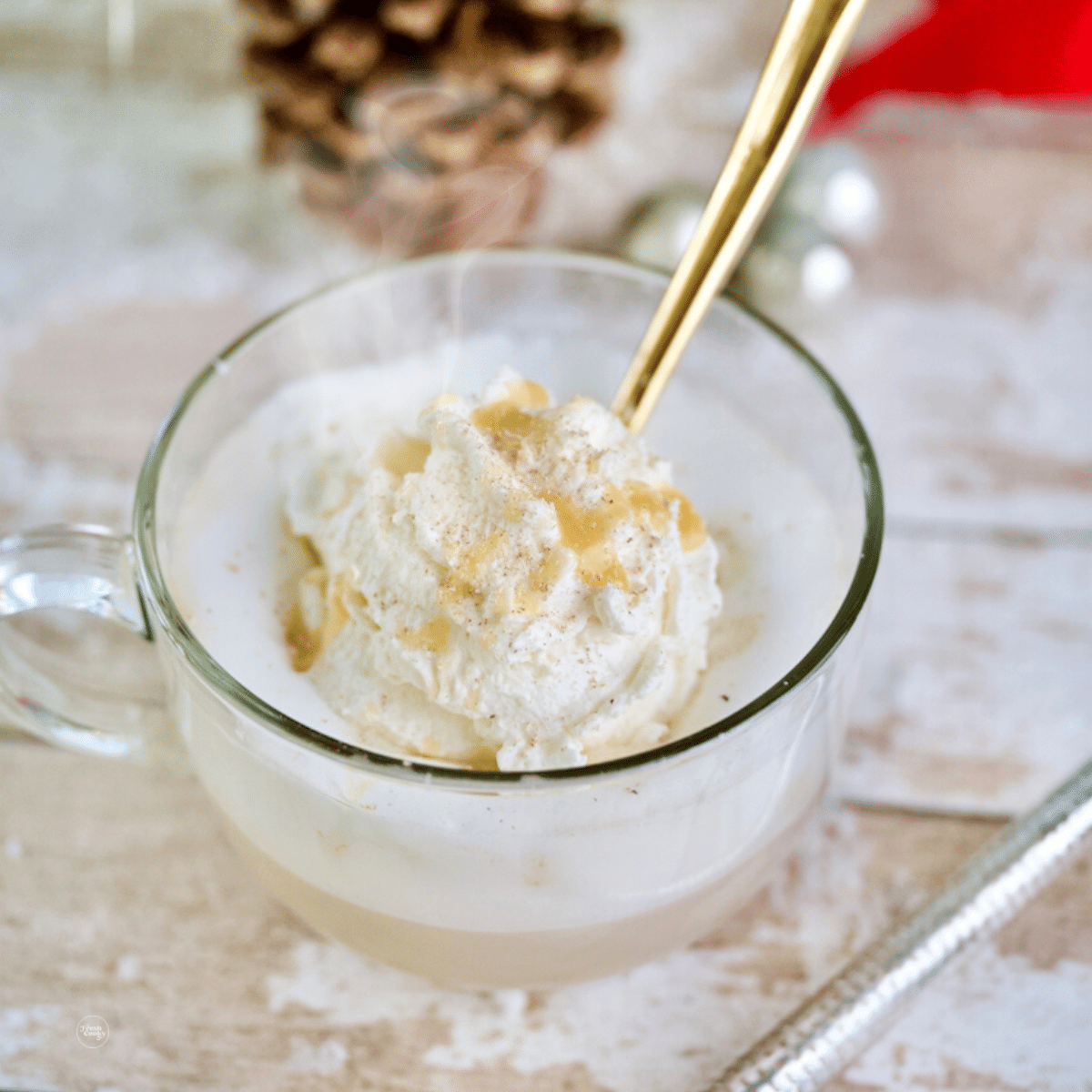 How to Make Christmas Morning Chai
Let's jump in and make this easy peasy Christmas morning chai.
Hot Christmas Morning Chai Tea Latte
Heat your chai tea on the stove in a small saucepan or in the microwave until hot.
For a true latte style drink, use a frother to heat the half and half until hot and foamy.
If you don't have a frother that heats or does cold foam. Heat the milk in microwave or pan, then use a hand frother or even pulse a few times in a blender (be careful with hot liquids).
Drizzle your mug with white chocolate sauce and pour in the hot chai quickly topping with foamed and hot half and half, spooning the foam on top.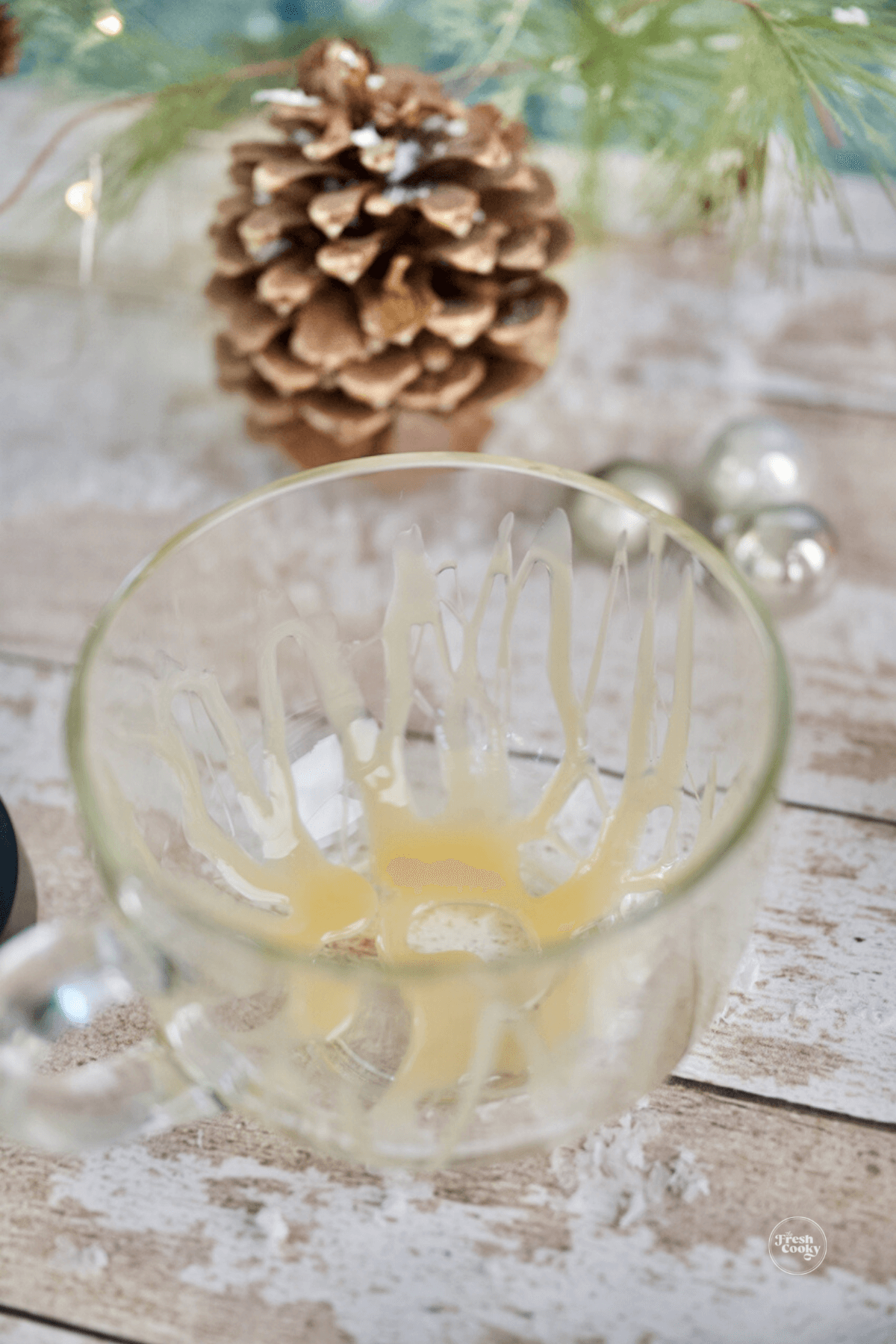 Finish your cup of tea, by stirring in an additional tablespoon of white chocolate syrup and top it with a generous serving of whipped cream. If desired, top with grated nutmeg and a few swizzles of white chocolate sauce.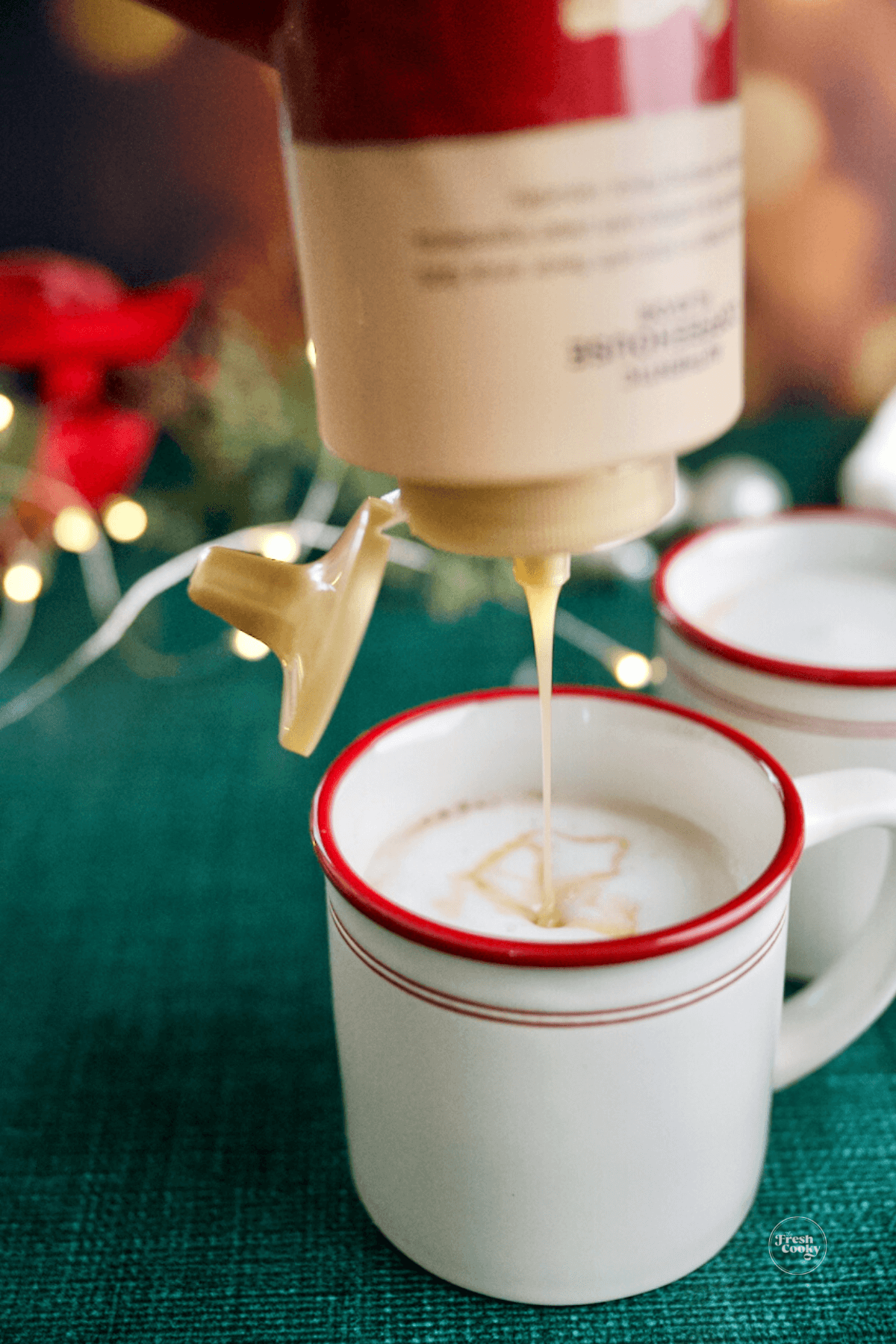 Iced Version of Christmas Morning Chai Recipe
Equally as delicious and I have made and served it both ways, make your own version of chai tea by placing the ingredients with ice in a blender for a frozen drink.
Do not heat the chai, but instead pour over a glass filled with ice cubes until about half way, drizzling white chocolate syrup in the glass ahead of time. Then, if a foamy latte style drink is desired, whir the cold half and half in a blender, use a hand frother or use a cold foam frother to blend, pouring it on top of the chai. Add whipping cream and fresh nutmeg.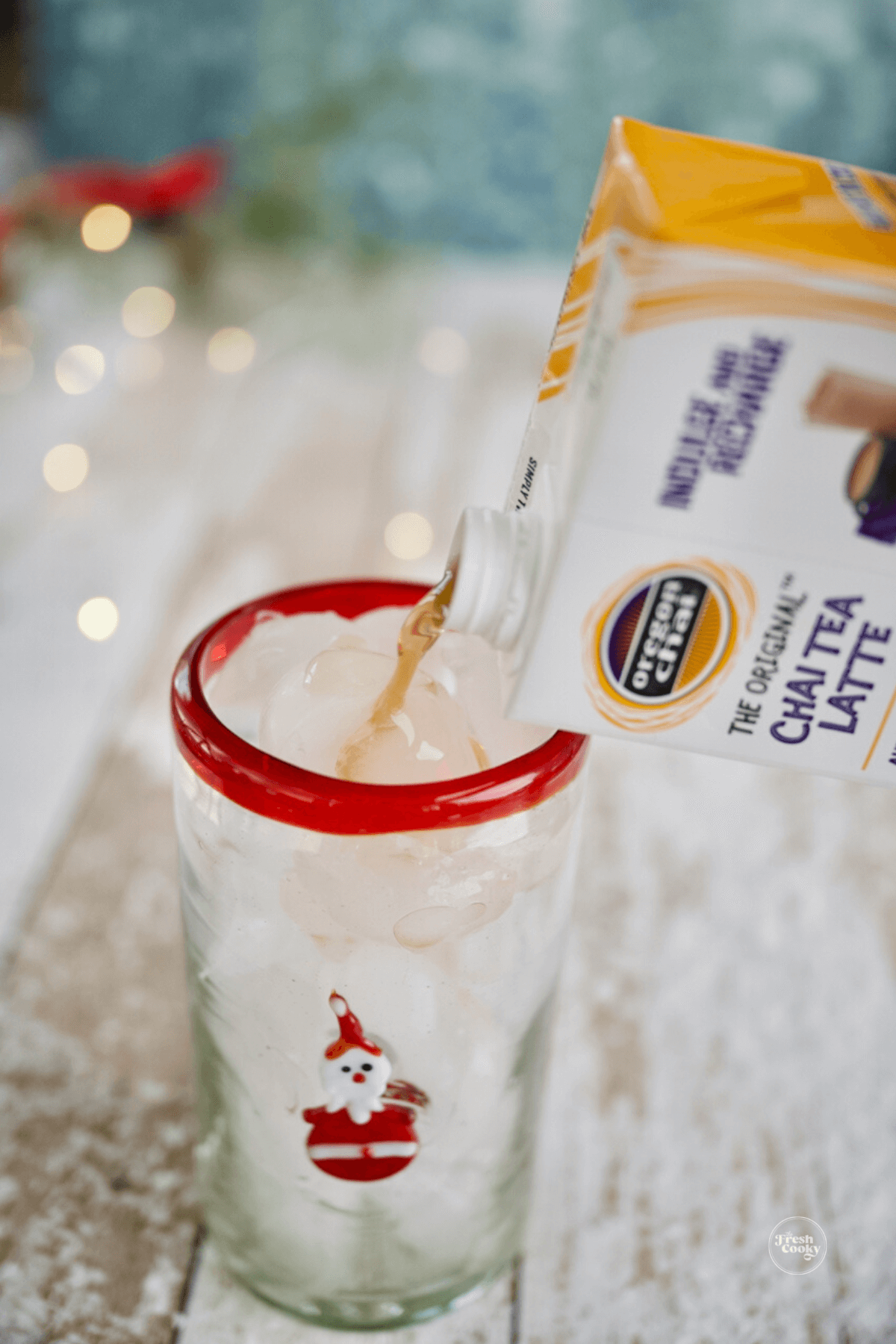 Frequently Asked Questions
What is a Christmas morning chai Dutch Bros?
The Christmas morning chai from Dutch Bros is a specialty drink from the chai menu. A breve chai drink that includes white chocolate. Breve means a drink that is made with half and half and can be cold or hot.
What does a Christmas morning chai taste like?
With warm holiday spices, like cinnamon, cloves, and nutmeg, it takes on a decidedly gingerbread latte flavor that wraps you in the comfort of Christmas morning. Plus it's white color is perfect for Christmas breakfast.
Is chai more healthy than coffee?
It depends on how you drink your chai, the health benefits of straight chai exceed the health benefits of coffee. But if you doctor up your chai or your coffee with sugar, syrups and dairy products, then they are pretty much tied.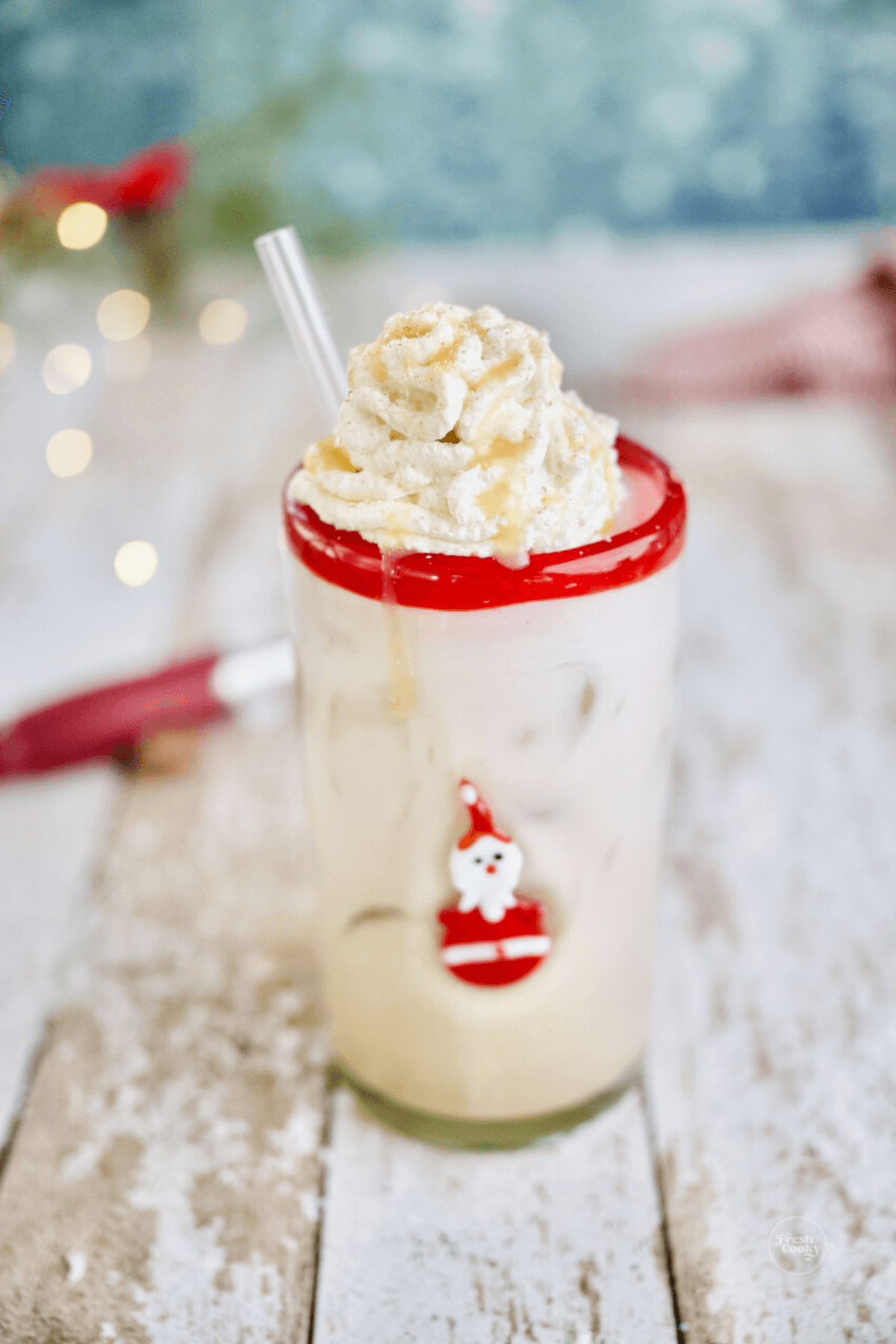 Variations & Substitutions
As always, here at The Fresh Cooky we're all about making it yours. Here are a few ideas:
Dark Chocolate | Instead of or in addition to, make your chai tea latte using dark chocolate syrup.
Vanilla | Love more vanilla? Add a little vanilla syrup or 1/2 teaspoon of vanilla extract.
Dirty Chai | A dirty masala chai consists of adding a shot of espresso to your chai concentrate.
Simple Syrups | If you like your chai extra sweet, add a few teaspoons of your favorite syrup. Try my cane sugar syrup or this brown sugar syrup.
Vegan Christmas Morning Chai | To make a dairy-free Christmas morning chai latte, replace the half and half with your favorite, rich and creamy plant-based milk and top with a dairy-free whipped topping.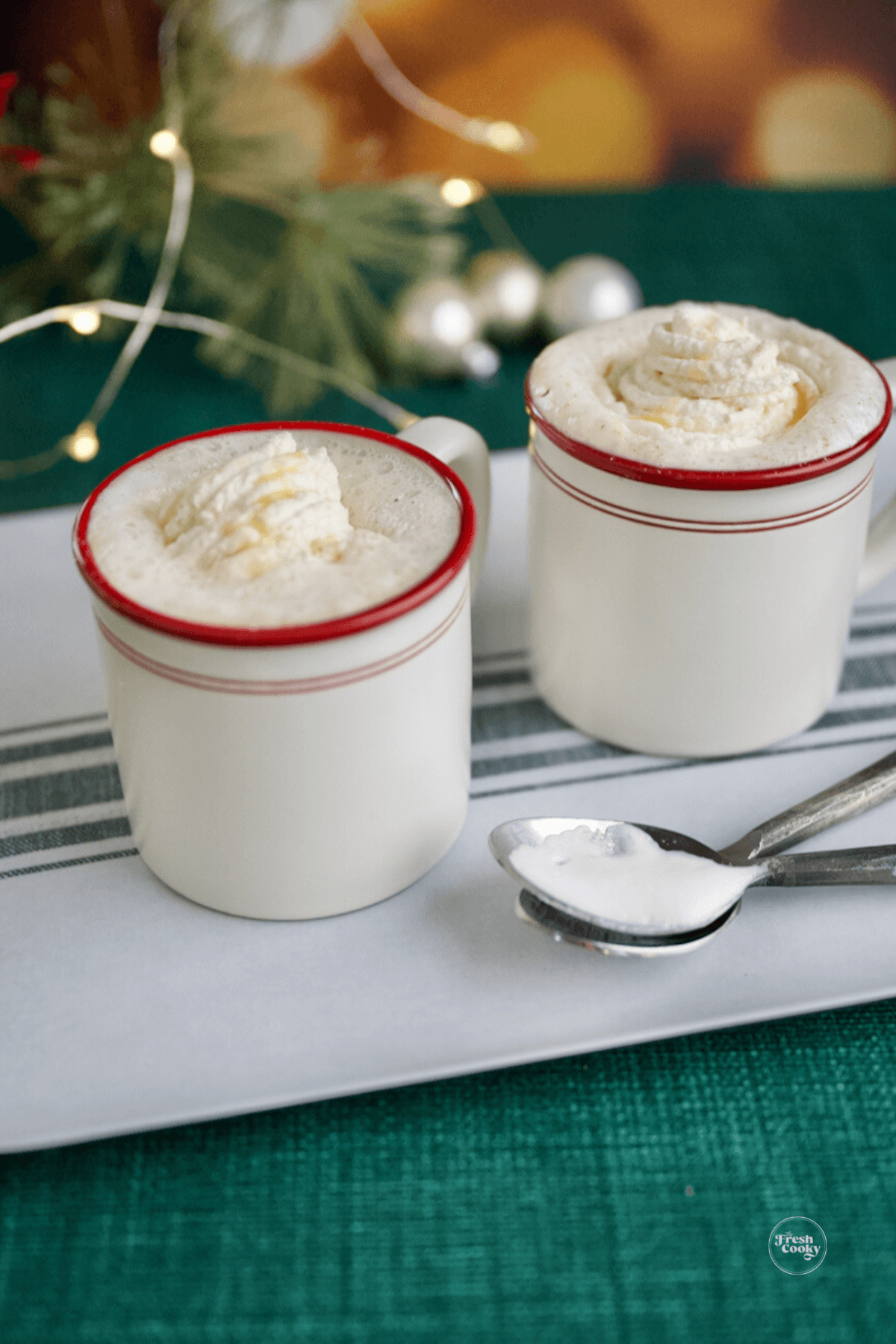 Recommended Equipment
You do not need any special equipment, but there are a few things that make latte making a bit easier.
Frother | I love this frother, it makes hot foam or cold foam depending on whether you making a hot drink or cold drink. But you can get a similar results by heating your half and half until hot (not boiling) on the stovetop or in the microwave and placing in a blender whirring for a few pulses. Or use a hand held frother.
More Christmas Drinks
Whether you are looking for drinks for Christmas morning or Christmas cocktails, I've got some great ones for you.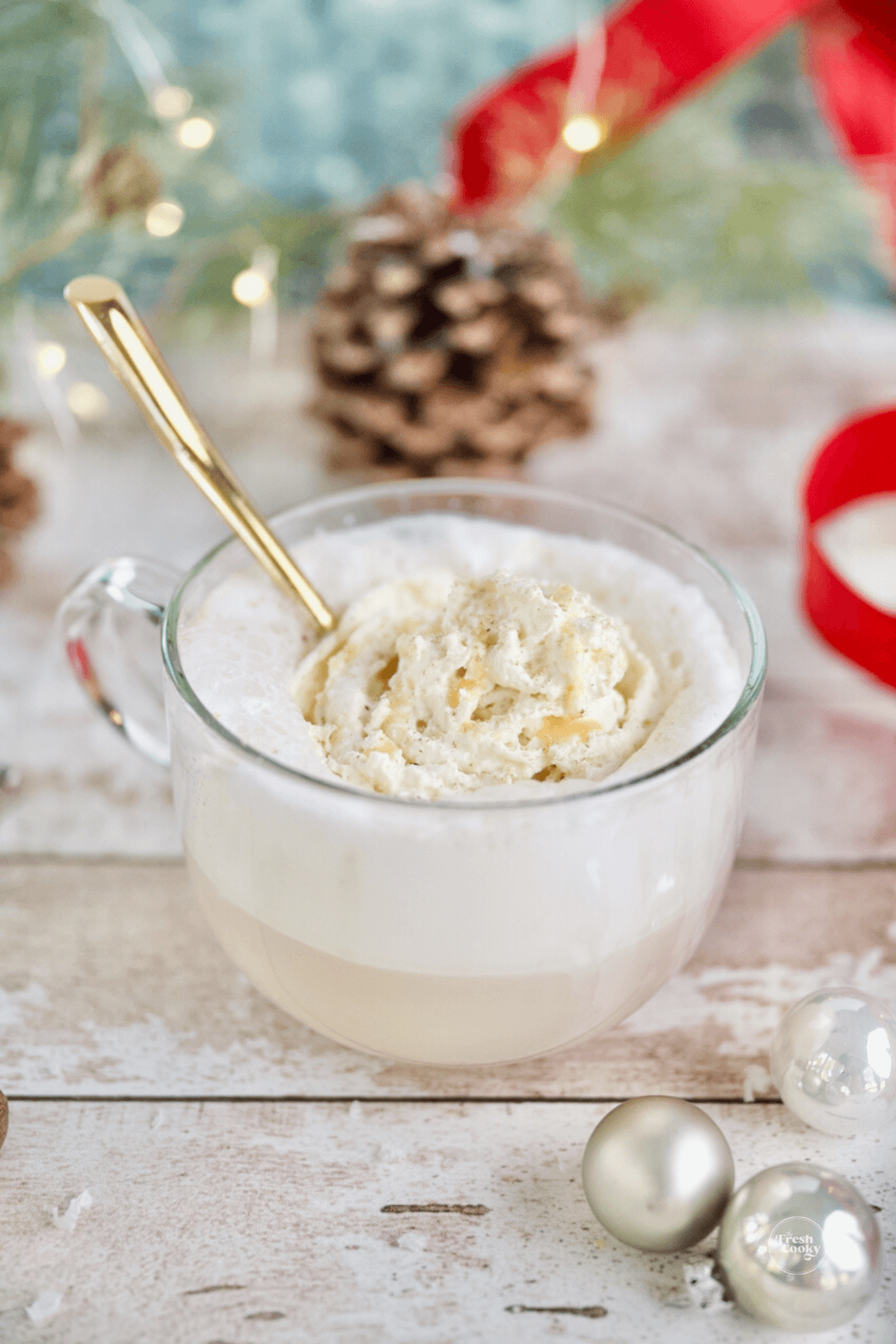 What to Serve with Christmas Morning Chai
Crockpot Christmas Morning Chai (for a crowd)
Serve this delicious drink hot and ready to ladle into mugs for your holiday celebrations. Serves about 8 (7 ounce servings), easily doubles or reduces.
Pour 1 (32 ounce) carton of Chai Tea Latte concentrate into crockpot.
Add 3 cups half and half and stir.
Add 2 cinnamon sticks for a little extra spice.
Stir in ¼ – ½ cup white chocolate sauce
Heat on LOW for about 4 hours, if you have less time, heat on stovetop until simmering, then transfer to low in crockpot.
Serve with whipped cream, extra White chocolate sauce and fresh nutmeg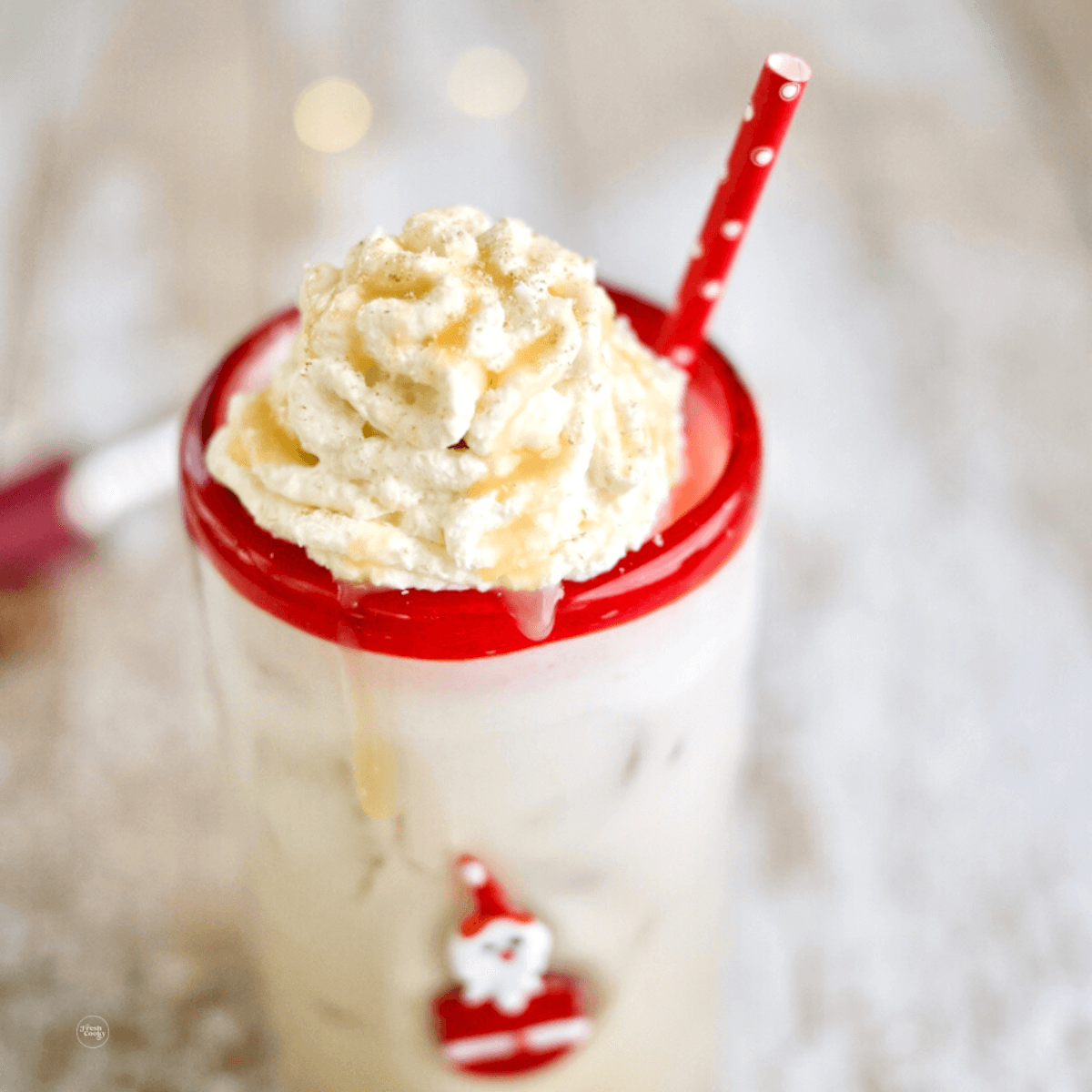 Popular Copycat Recipes
I hope you loved this Christmas morning chai Dutch Bros — if you did, would you share your creation on Instagram, Facebook and Pinterest? And be sure to comment below!
Like this recipe?
Don't forget to give it a ⭐️⭐️⭐️⭐️⭐️ star rating and comment below the recipe!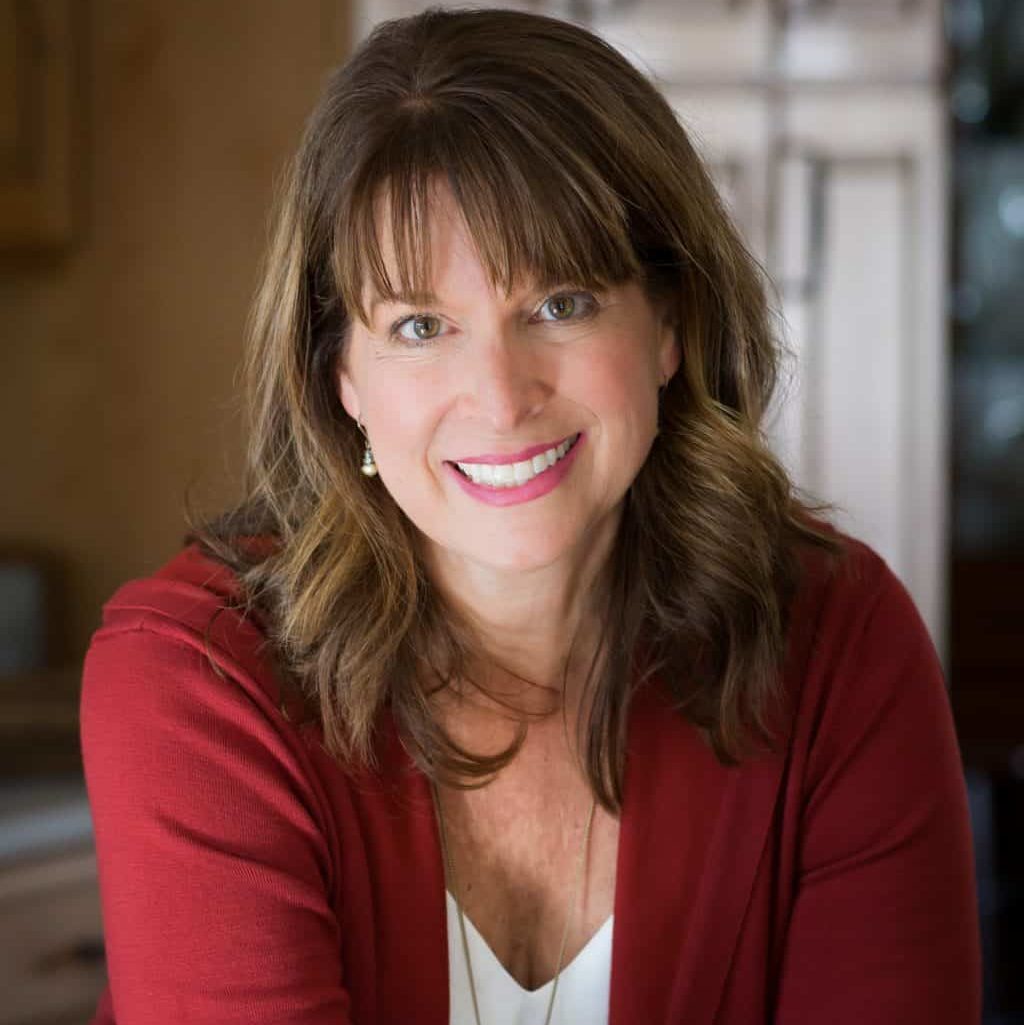 About Kathleen Pope
Recipe Innovator | Food Photographer | Food Writer
Hi, I'm Kathleen Pope. Here at The Fresh Cooky you will find easy, mostly from-scratch, trusted recipes for all occasions. From speedy dinners to tasty desserts, with easy step-by-step instructions. I am here to help teach you how to make mouthwatering recipes without spending hours in the kitchen. Read more about Kathleen here.