Thick & Chewy m & m Chocolate Chip Cookies
As an Amazon Associate, I earn from qualifying purchases. Please read my disclosure policy.
Chewy center; crispy, caramelized edges, not too fat, not too thin; thick & chewy m & m Chocolate Chip Cookies! These bakery-style chocolate chip m&m cookies will make anyone smile, tried and true recipe. Change the m&m's and change the look. High altitude chocolate chip cookie adjustments included.
Who doesn't love a chewy, soft, chocolate chip cookie, then toss in regular or mini m & m's and you have a party!
If you love chocolate chip cookies; you will love these reader favorites: Best Gluten-Free Chocolate Chip Cookies, Cake Batter Chocolate Chip Cookies, Triple Chocolate Cookies and Chocolate Chip Pudding Cookies.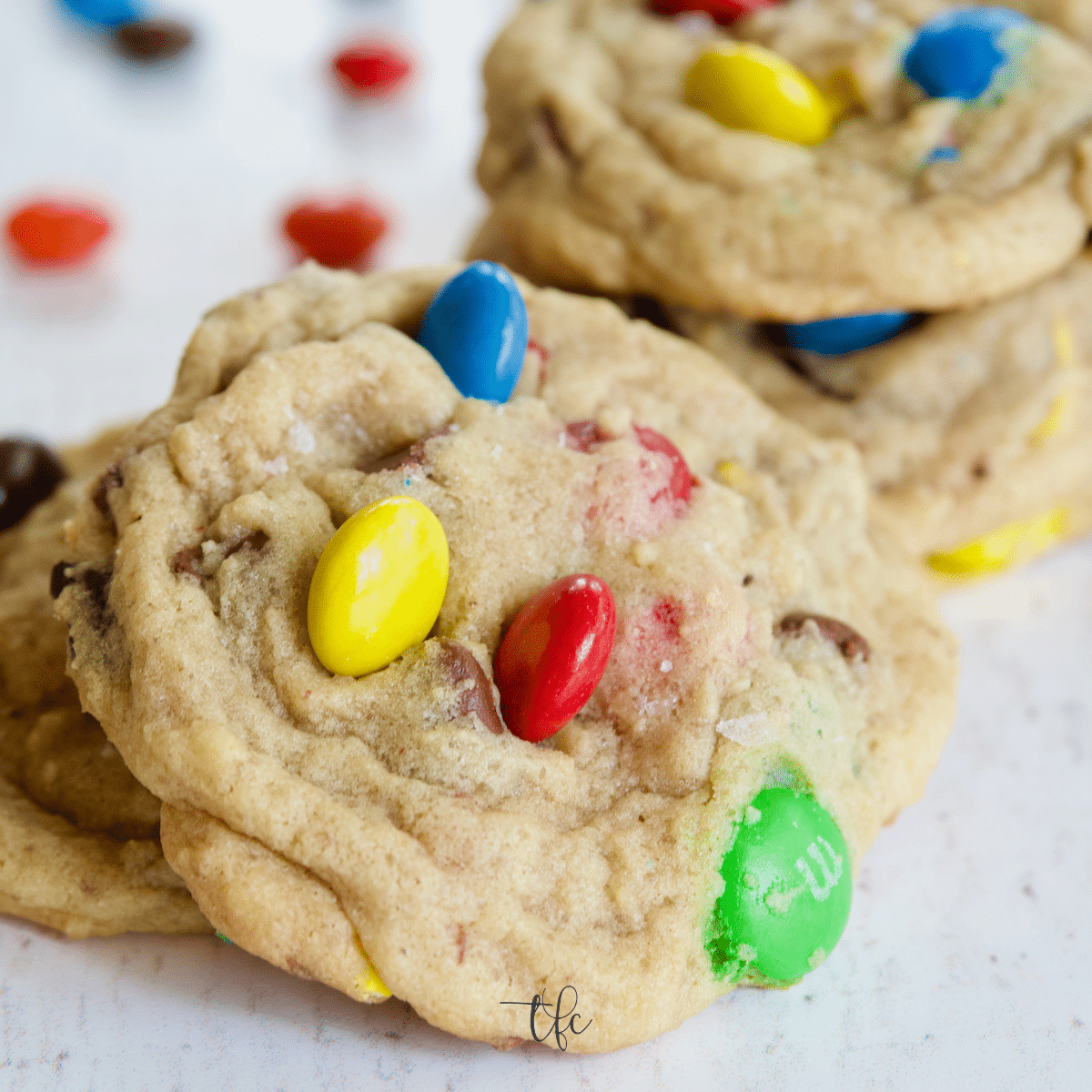 I've spent years perfecting my chocolate chip cookie. Especially at high altitude, it has to have just the right chewy to softness factor, loads of rich chocolate and sprinkled with a tiny hint of sea-salt. Adding regular or mini M&M's just dresses it up and adds even more chocolate!
The recipe is so simple really, follow my Chewy Chocolate Chip Cookie recipe, omitting the 2/3 cup chocolate chunks and replacing them with 1 cup M&M's of your favorite color. You can swap out any holiday M&M's! Think Christmas, Easter, Valentine's day and more!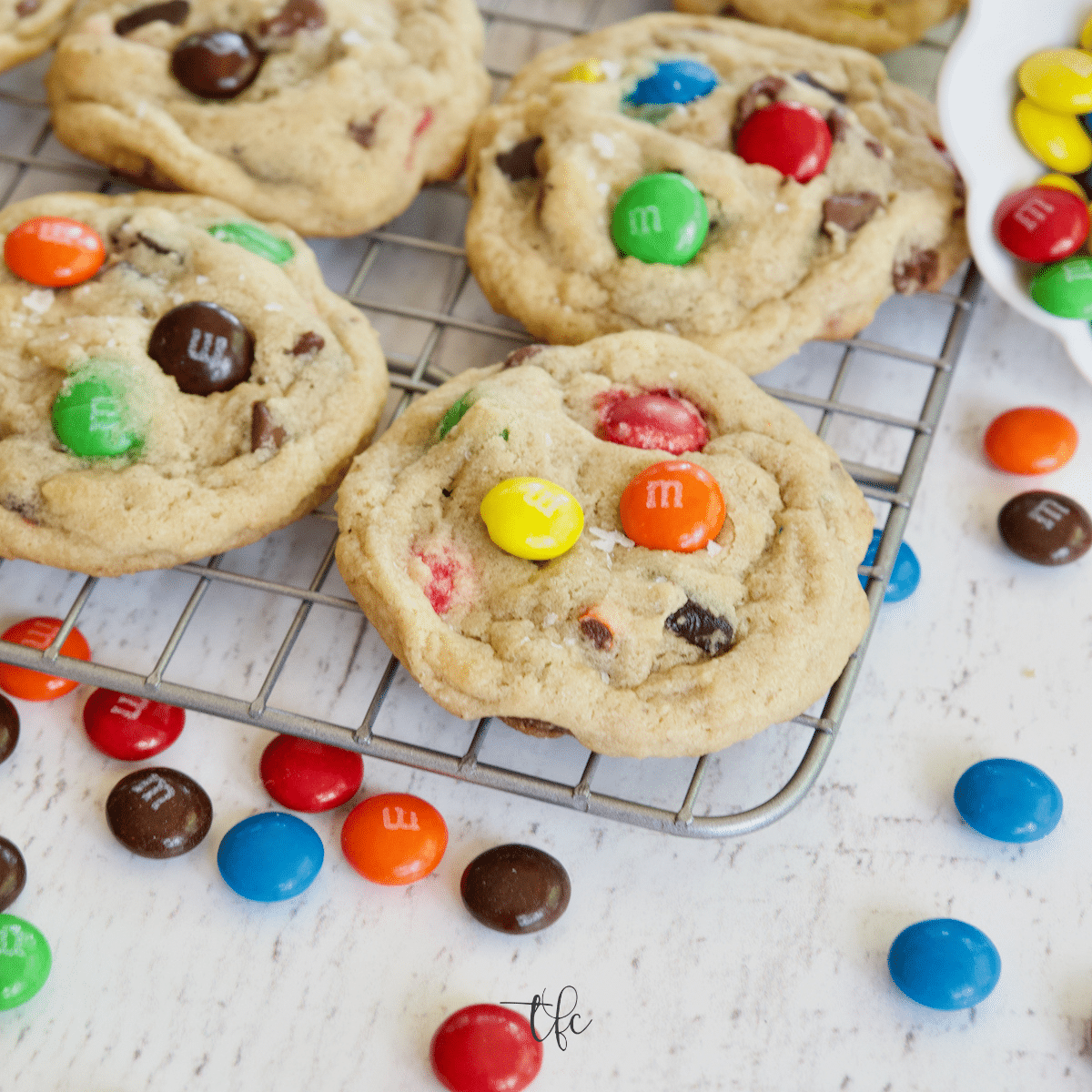 The handy printable recipe is below, but for step-by-step visuals, refer back to the Chewy Chocolate Chip Cookie recipe post.
Ingredients for Mini M & M Cookies
Here are the basics, but remember, quantities and instructions are in the printable recipe card at the end of the post.
BUTTER | the real deal, no substitutes (if it's soft coming out of the fridge, it's a butter blend, not real butter)
GRANULATED SUGAR | I use all-natural cane sugar in my baking, if using cream 1-2 minutes longer
LIGHT BROWN SUGAR | Be sure to pack it in!
EGGS | I typically use large eggs in my baking
VANILLA EXTRACT | If you have never made your own vanilla extract, now is the time!
ALL PURPOSE FLOUR | I use organic unbleached all-purpose flour, you can use regular AP Flour
CHOCOLATE CHIPS, MINI CHOCOLATE CHIPS (or SWAP out one of the two for Chocolate chunks
M&M's | use regular or mini, combine leftover packages. Use seasonal colors for holiday cookies.
How to Make m & m Chocolate Chip Cookies
I have detailed each step in the recipe card below.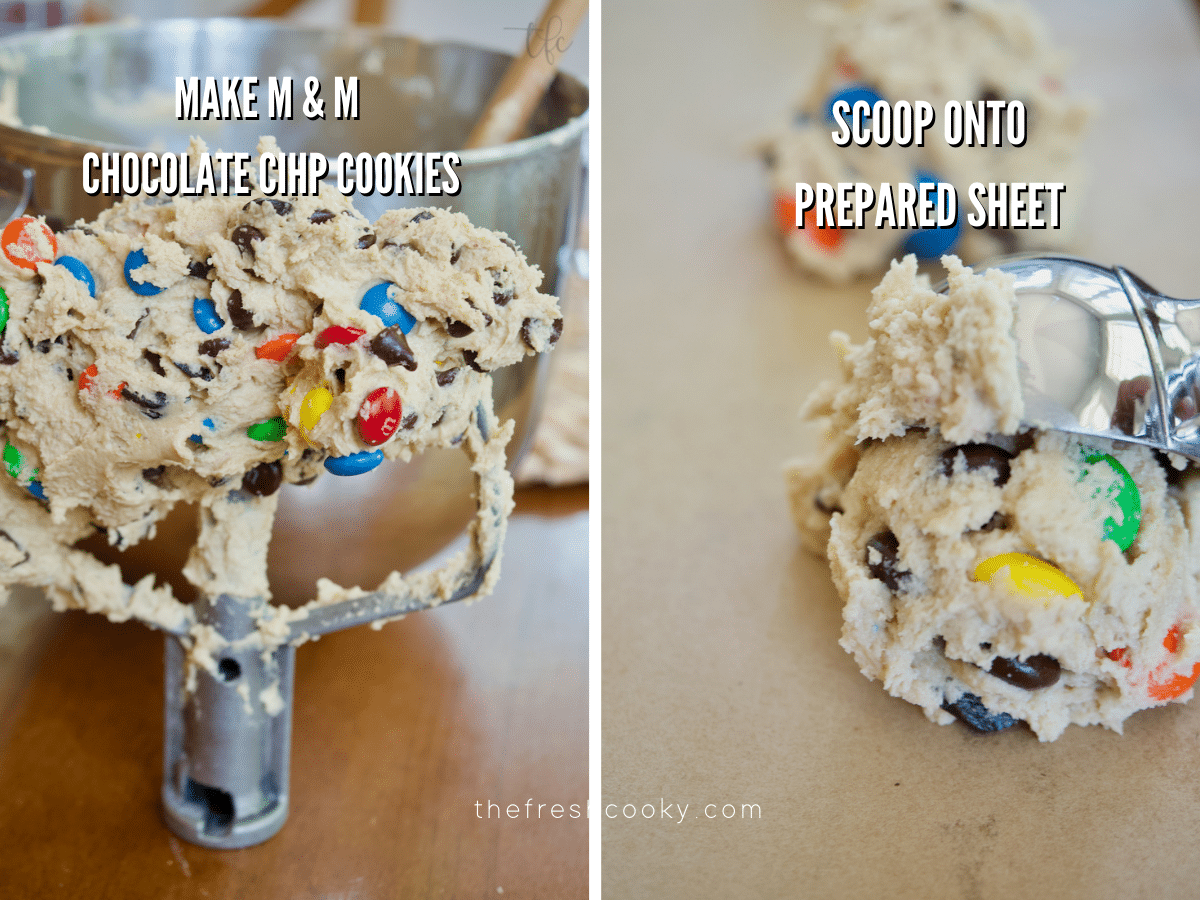 Once the batter is made, scoop onto parchment lined baking sheets, I usually scoop with a medium cookie scoop and can fit 12 on a half sheet.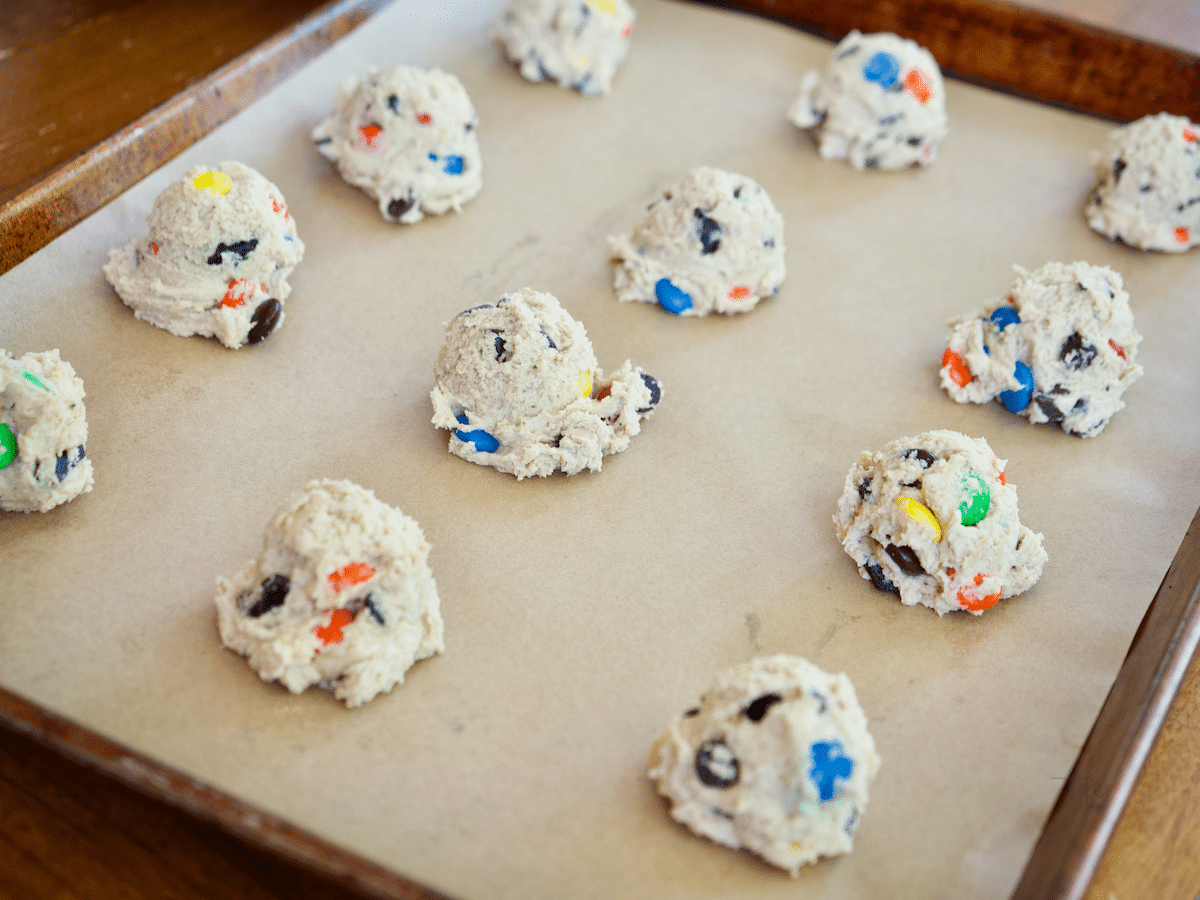 These cookies are FABULOUS packaged up in the dough ball form and given to family, friends, co-workers and neighbors as gifts over the holidays.
To flash freeze the m & m Chocolate Chip cookies, scoop them next to each other on a parchment lined half sheet baking pan, freeze for 1 hour until firm, then separate into half dozen or dozen dough balls and wrap into parchment paper.
Check out my post on how to package cookie dough for gifting, fun, yummy, creative gifts!!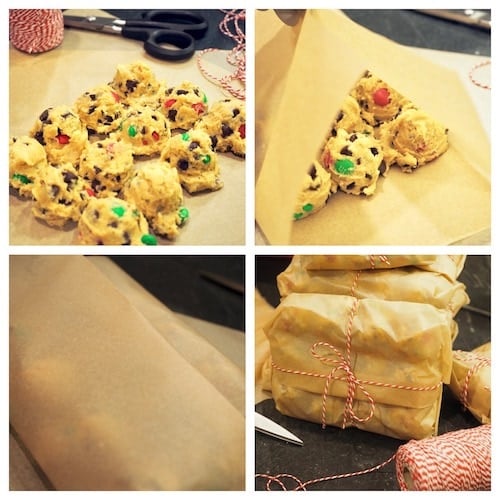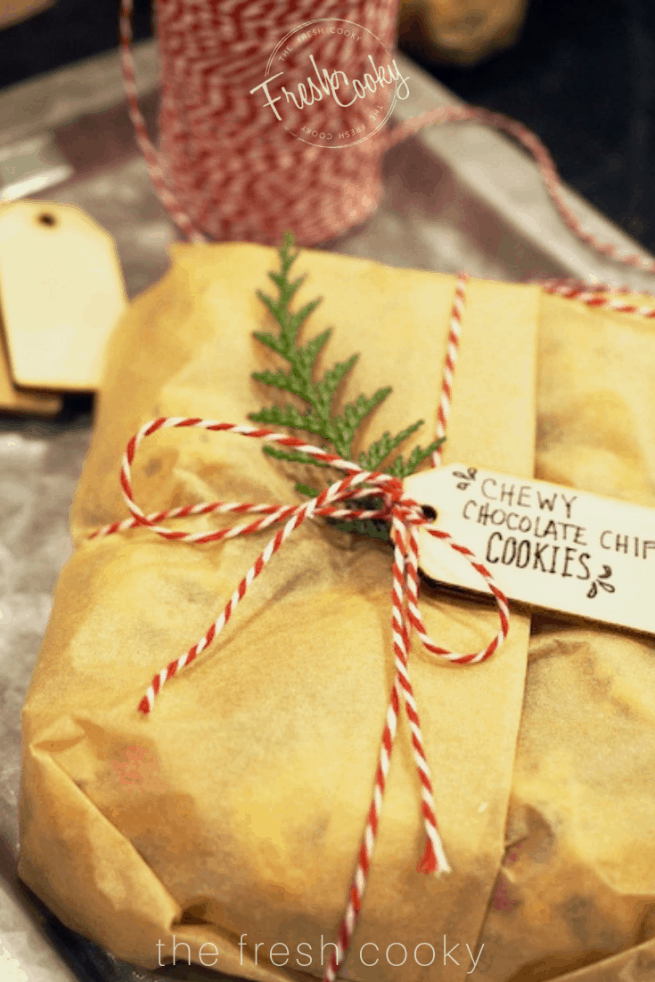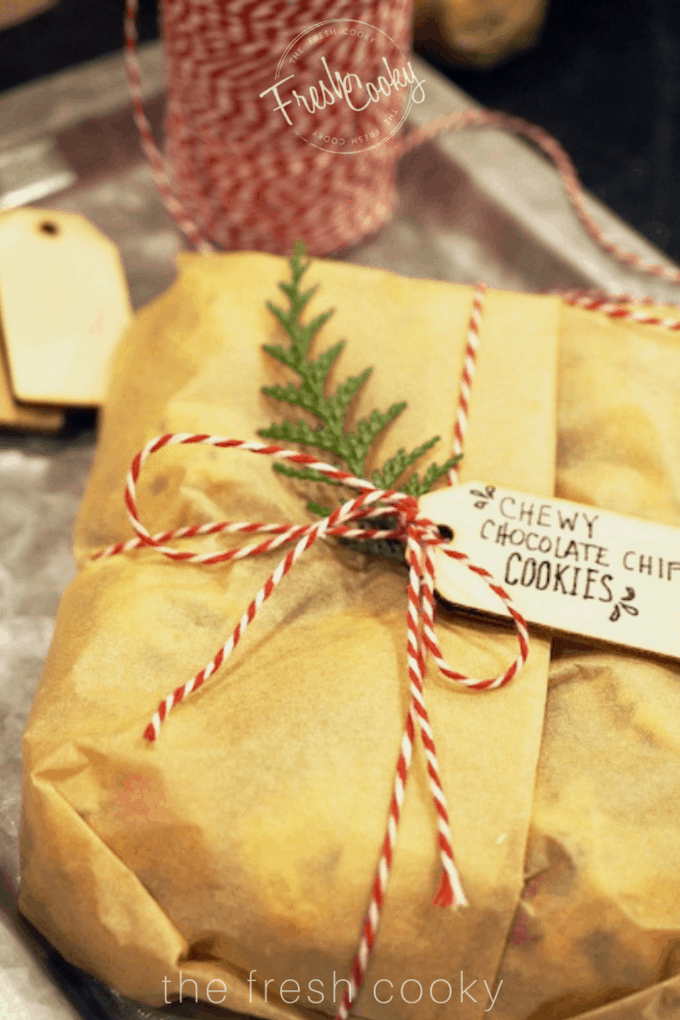 Best Cookies for Gift Giving or Christmas Cookie Exchanges
I love a super versatile cookie like this one, change the m & m's and use seasonal chocolate chip colors and you have a fun and festive cookie great for cookie exchanges and gifting.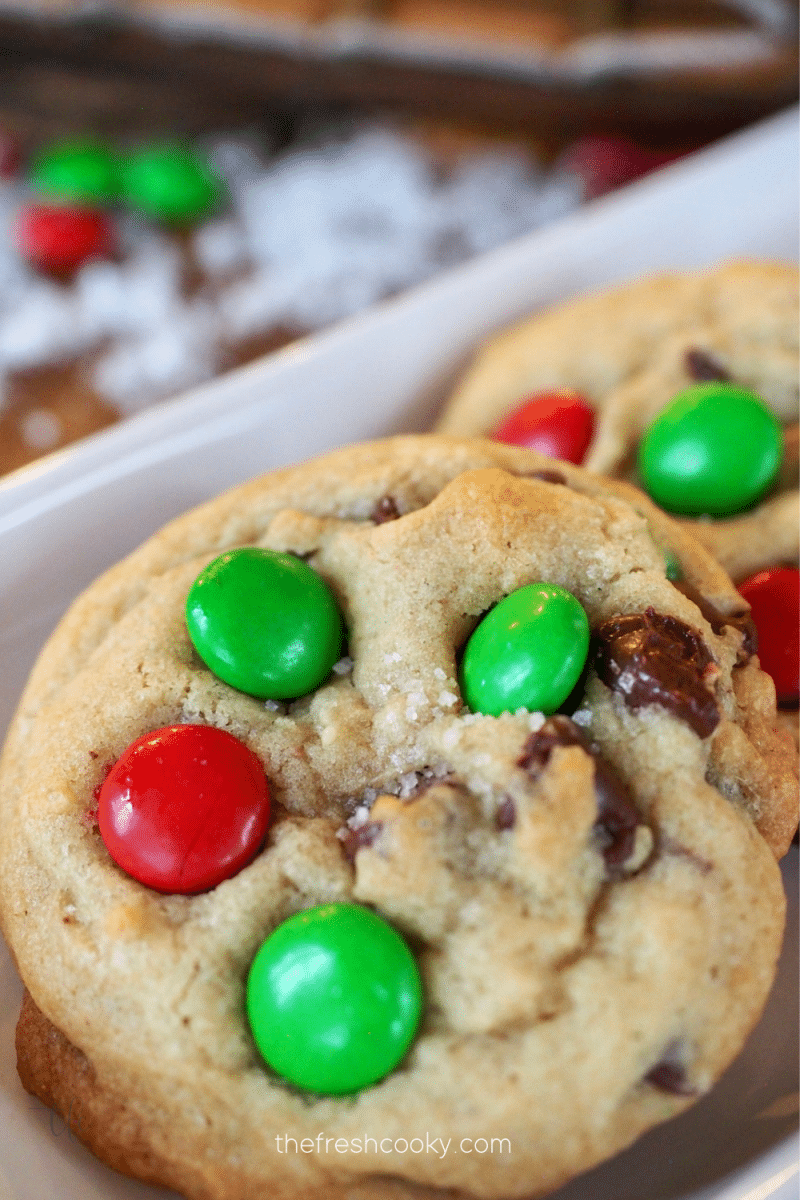 Variations
Swap out regular m & m's for Christmas, Valentine's day, any seasonal or specialty m & m.
Use mini m & m's for a fun twist
Try different chip flavors; butterscotch, peanut butter, milk chocolate, white chocolate, just stick to the same total amount.
What people are saying about High Altitude Chewy m & m Chocolate Chip Cookies
I can not thank you enough! I live in Silverton, Colorado (9,318ft) and I have yet to make super chewy cookies at this elevation. The soft & chewy m&m cookies have perfect consistency!!! I am a cookie fanatic, and a few local places sell homemade cookies. I know these ladies will keep their secrets, but I now have one of my own! You rock! Thanks so much!!!
Want MORE, chewy, soft, amazing cookies? Click here!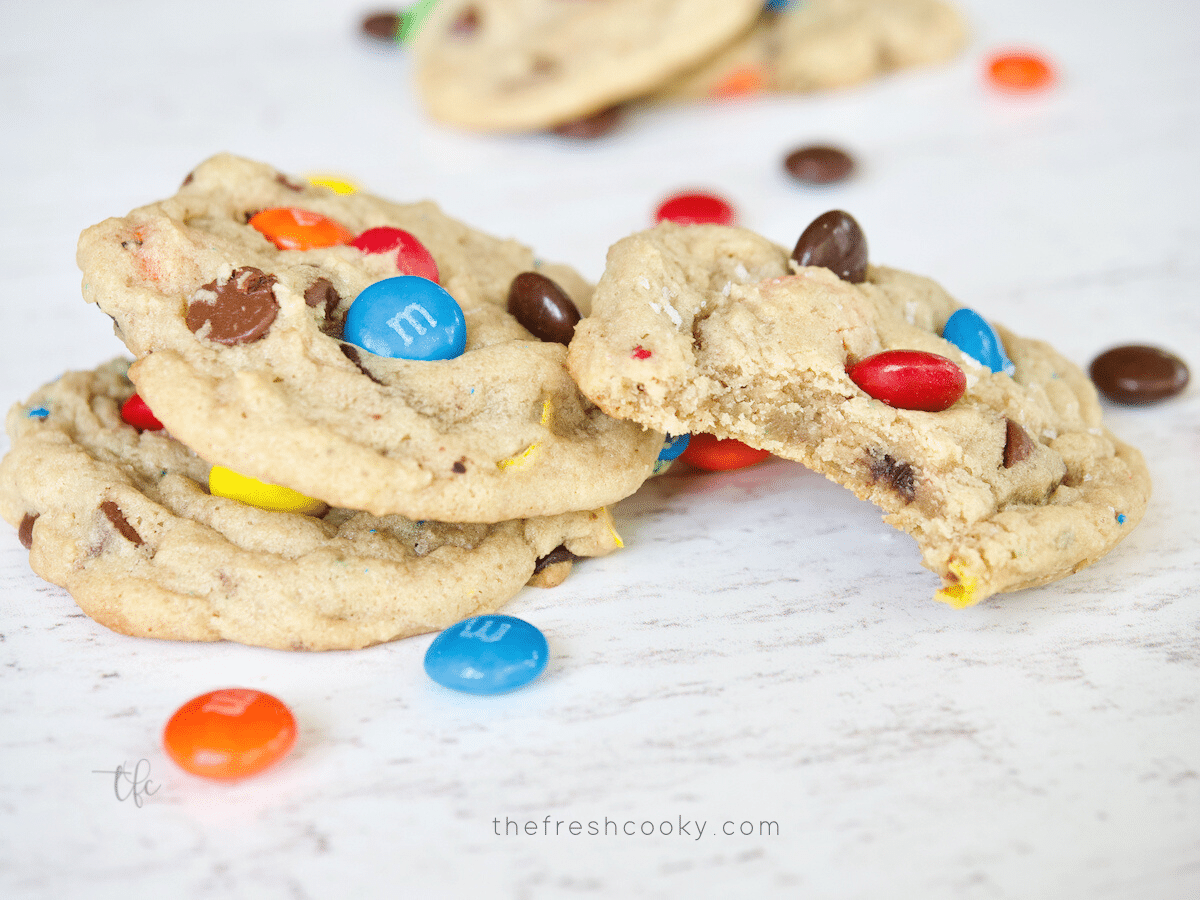 Like this recipe?
Don't forget to give it a ⭐️⭐️⭐️⭐️⭐️ star rating and comment below the recipe!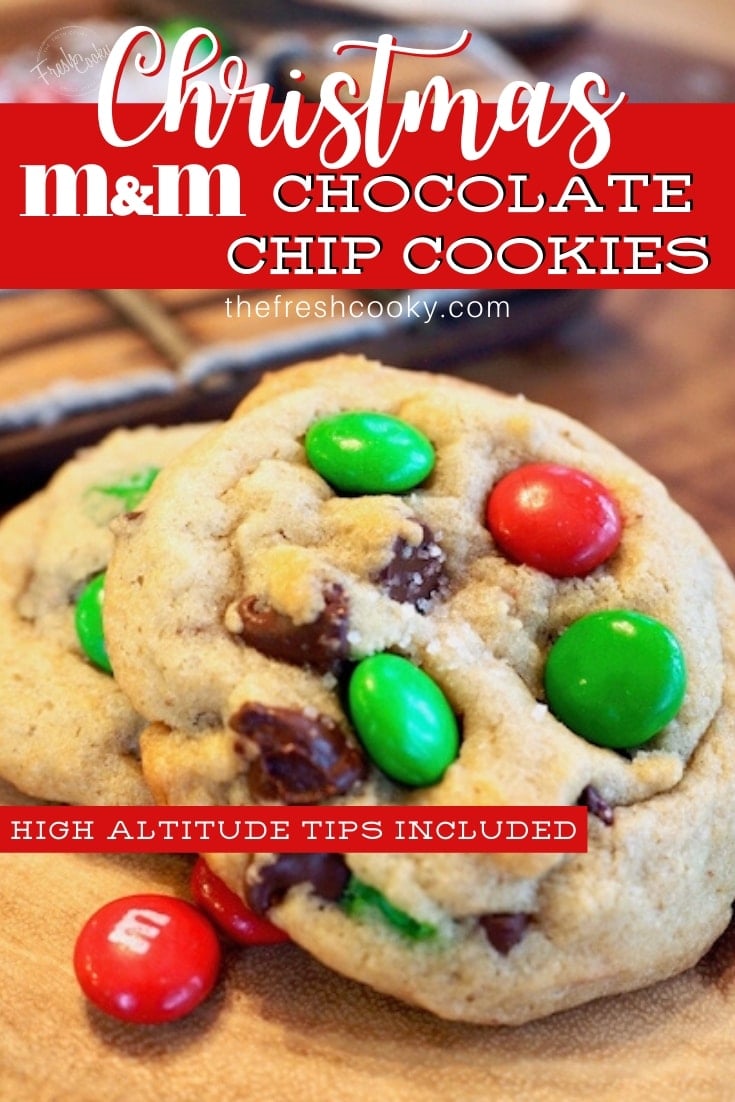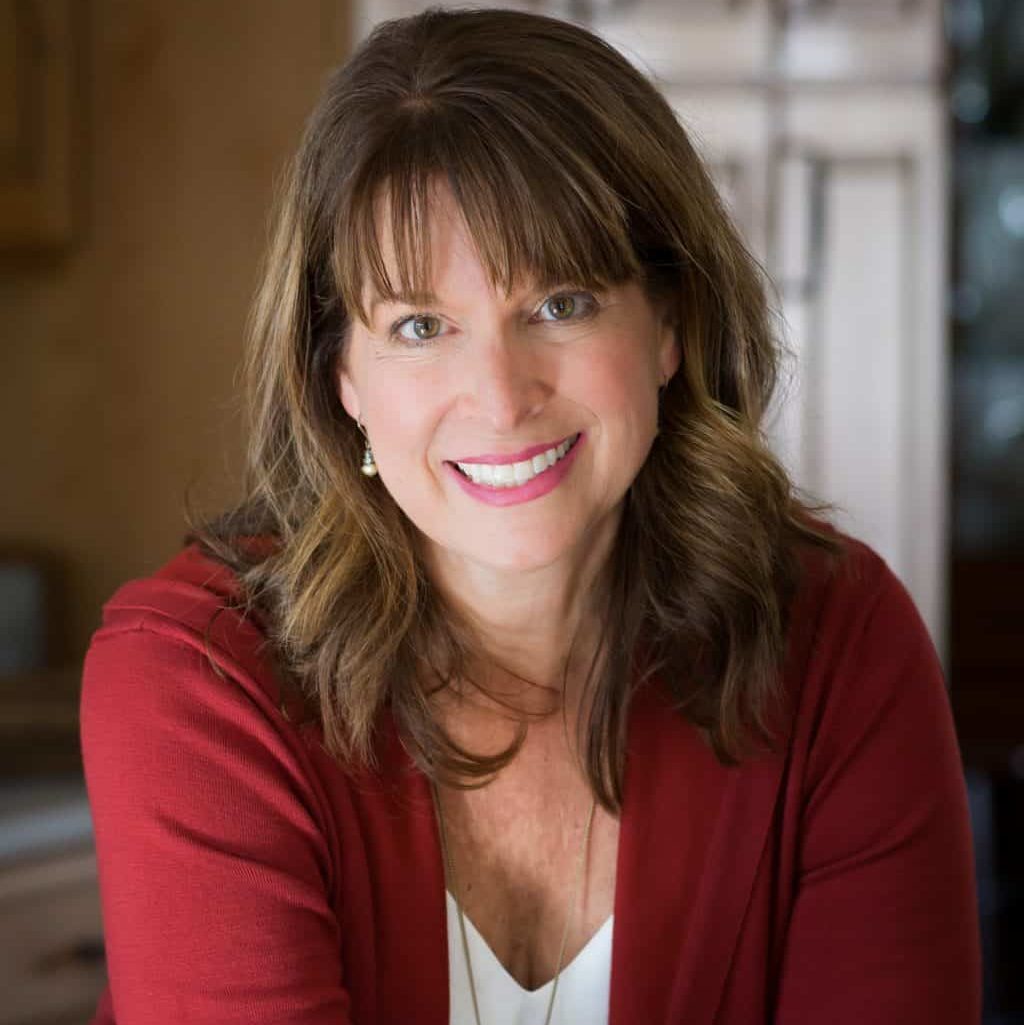 About Kathleen Pope
Recipe Innovator | Food Photographer | Food Writer
Hi, I'm Kathleen Pope. Here at The Fresh Cooky you will find easy, mostly from-scratch, trusted recipes for all occasions. From speedy dinners to tasty desserts, with easy step-by-step instructions. I am here to help teach you how to make mouthwatering recipes without spending hours in the kitchen. Read more about Kathleen here.