Homemade Eggnog Latte Recipe (Starbucks Copycat)
As an Amazon Associate, I earn from qualifying purchases. Please read my disclosure policy.
Celebrate the beginning of the holiday season with my rich, creamy Copycat Starbucks Eggnog Latte recipe. This homemade eggnog latte is so simple to make and so festive to drink! Enjoy this warm eggnog coffee drink before a crisp morning walk, or as a special treat on a chilly afternoon.
If you love this recipe, you will adore my other Starbucks Copycat Recipes (saving money too), Starbucks White Hot Chocolate, or this Starbucks Medicine Ball Tea all for a fraction of the price. Or try my Christmas Morning Chai recipe or this Hot Buttered Rum – the perfect drinks for this time of year.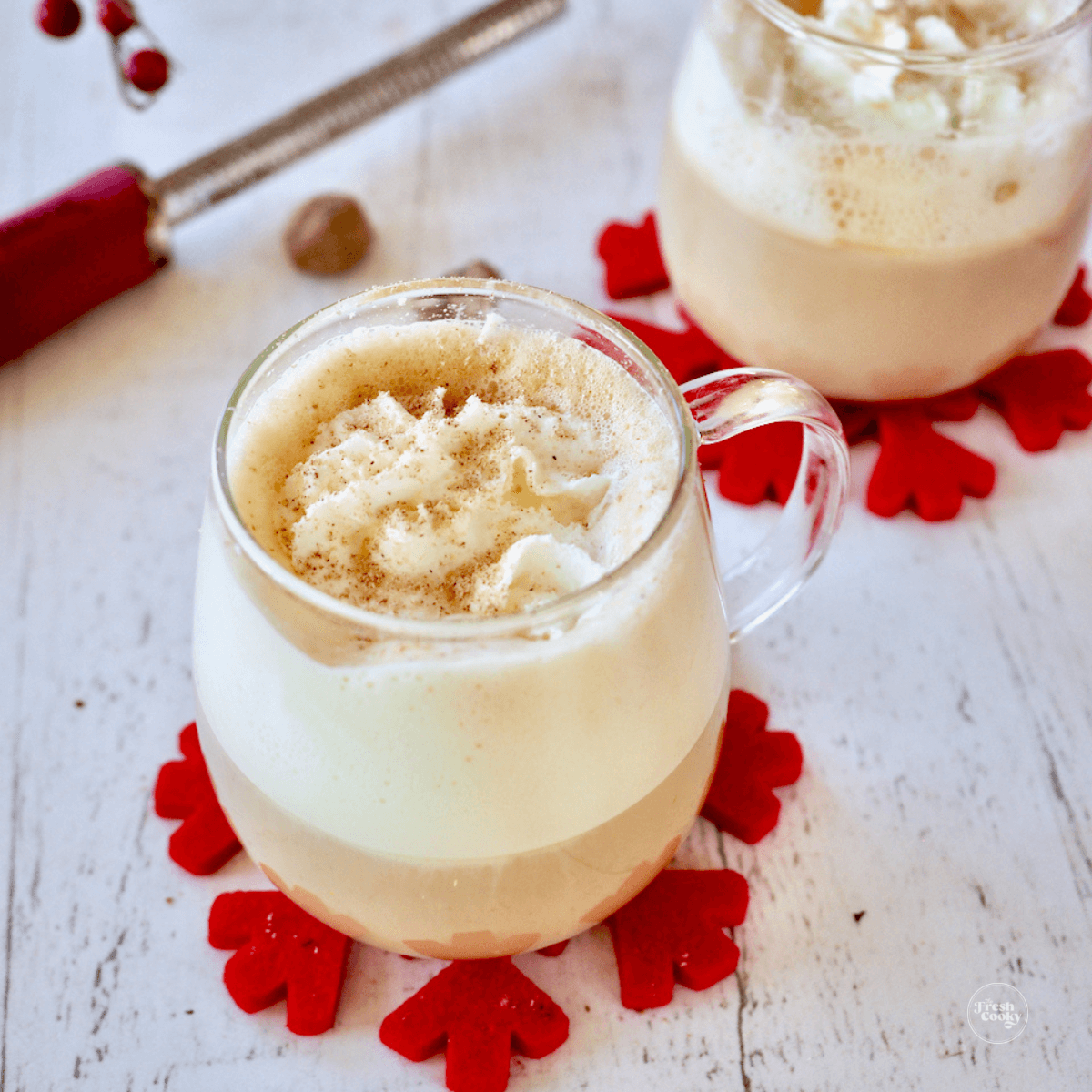 Why You Will Love Starbucks Copycat Eggnog Latte
Starbucks Copycat Recipe | For the second year in a row, the Eggnog Latte is not on Starbucks holiday drink menu. The good news is that you can make this creamy eggnog drink, a holiday favorite, right at home, no coffee shop required!
Easy Recipe | This lovely, hot drink comes together in the twinkling of the eye with simple ingredients. It is a great way to enjoy your own eggnog latte.
Making this latte has become a tradition during the month of December, and is one of my favorite coffee drinks especially enjoying on Christmas morning with these gooey cinnamon rolls. Even if you are not a huge fan of eggnog, the balance of flavors in this homemade latte is so inviting.
With just a sprinkle of nutmeg, this delicious coffee drink is sure to put most anyone in the holiday spirit. It's like Christmas in a cup! So long pumpkin spice lattes! You might enjoy it along with a slice of my No Bake Eggnog Pie. Slurp!
Healthy Twist
Swap out full-fat eggnog with a lighter version of pre-made eggnog.
Instead of whole milk, try using low fat milk, coconut milk, almond milk or any plant-based milk you might choose when making a latte
Simple Ingredients
Ingredients, directions and nutritional information in the printable recipe card at the end of the post.
Espresso | Starbucks uses their blonde roast in the original drink, which you can certainly do, but any strong brewed coffee will work. If you don't have an espresso maker, but have a grinder, grind the coffee very finely, which will contribute to a more bold coffee flavor.
Whole Milk | I like using whole milk in general, the higher fat content lends to a more rich flavor. You may also use lesser percentages or try oat milk for a healthier twist.
Eggnog | Full fat eggnog will give you the creamiest texture and fluffiest foam, but lower fat options can also be used.
Whipped Cream | To top off the latte, use canned whipped cream or make your own, homemade whipped cream. Feel free to omit as well.
Nutmeg | A little fresh nutmeg goes a long way to amplify the flavor in this recipe.
How to Make Copycat Starbucks Eggnog Latte
Add the milk and eggnog to a milk frother and heat until hot and increased in size. Be careful that your frother holds this quantity.
If you don't have a frother, heat the eggnog and milk in a small saucepan until just hot (do not boil, just see steam). Then use a hand frother or even pulse the milk mixture a few times in a blender. See fresh tips below.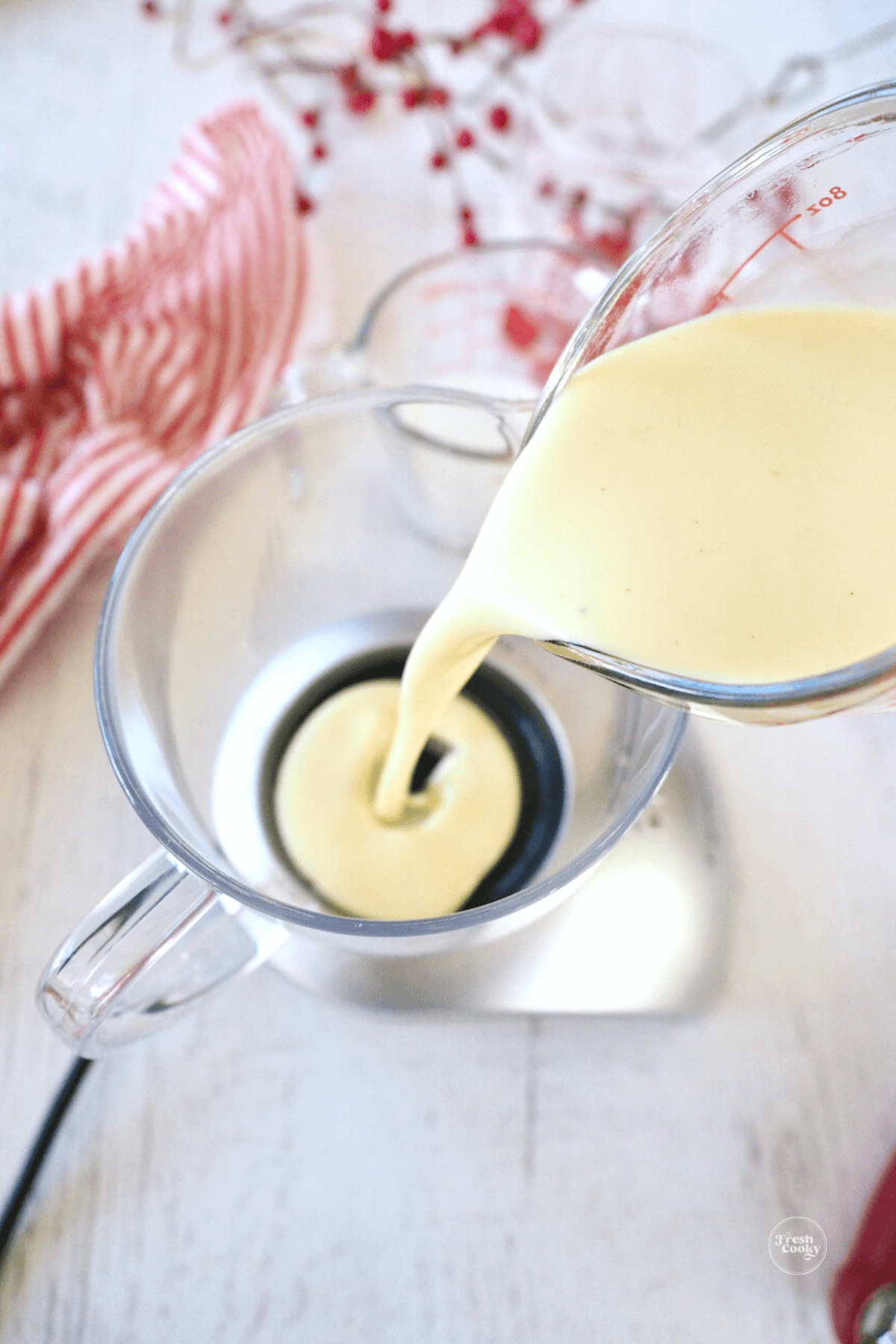 Meanwhile, make the espresso with an espresso machine, French press, instant espresso or just brew very strong coffee.
Pour espresso into a mug and top with ½ the milk and eggnog mixture, topping with whipped cream for extra richness and freshly grated nutmeg (the best!) That's it!
This easy and festive drink tastes better then the Starbucks version and will save you loads of money this holiday season!
Fresh Tips
If you don't have a frother, you can place heated milk in a blender and blend for about 30 seconds to get the same effect. BEFORE BLENDING; remove the "fill cap" on the blender, covering with a tea towel, the heat might cause the blender lid to pop if you don't allow it to release.
Measure out all of your ingredients and start heating your milk and eggnog before pulling your shot of espresso, that way it will be nice and hot when you are ready to combine the latte.
Love Eggnog?
Try these delicious recipes Eggnog Coffee Cake, Eggnog Scones or Eggnog Gooey Butter Cookies. All perfect additions to your holiday menu! Or check out my latest recipes……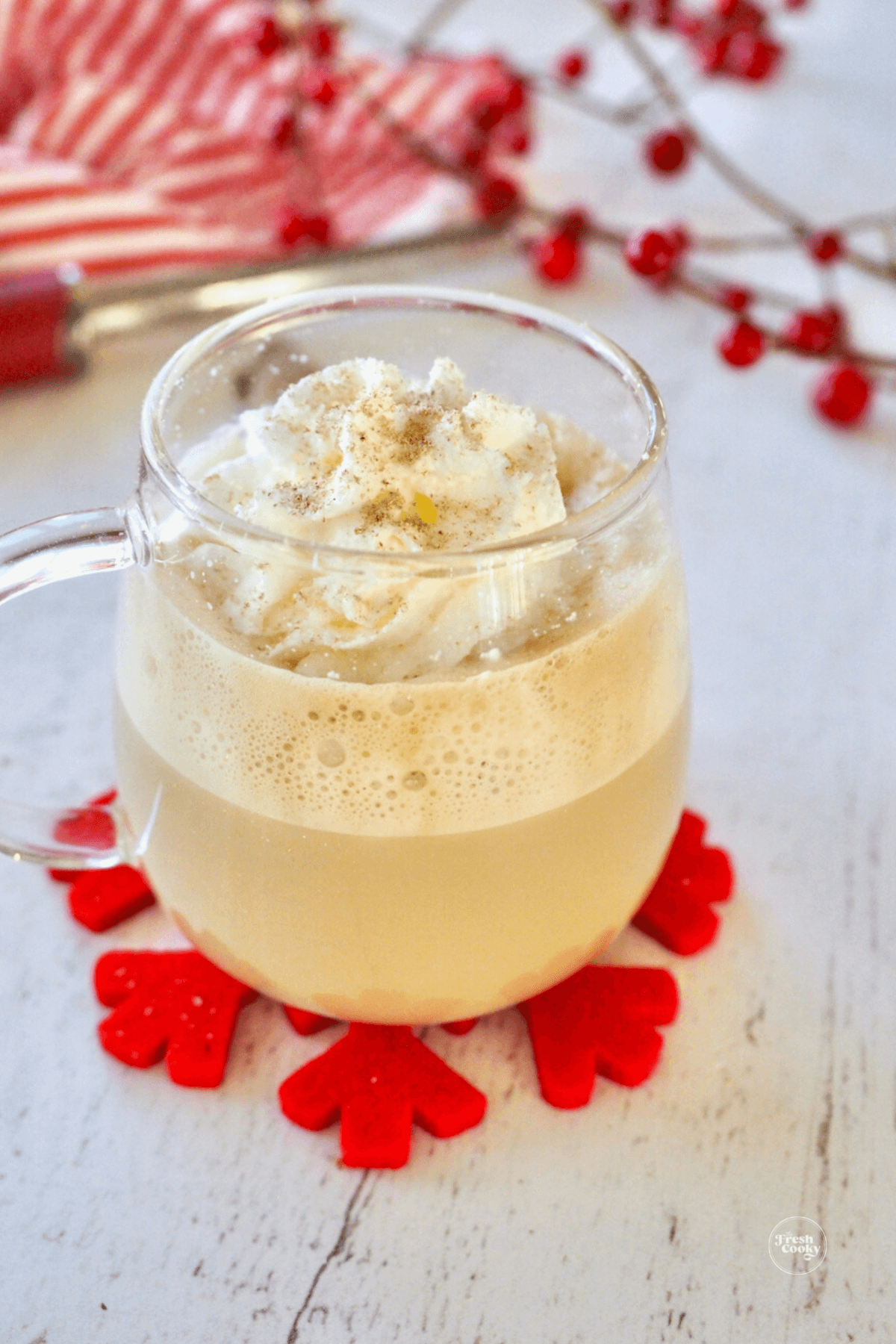 Frequently Asked Questions
Does Starbucks still make eggnog lattes?
Starbucks discontinued its eggnog latte in 2021 replacing it with the Iced Sugar Cookie Almond milk Latte. Although I have heard rumors that they brought it back. So grab your Starbucks Eggnog Latte 2022 while it lasts, or just make mine and never run out!
Does eggnog go well in coffee?
Yes, eggnog, especially full-fat eggnog makes a wonderful holiday inspired creamer! Or, make a chai eggnog latte for a fun twist!
Can you freeze eggnog?
Eggnog actually freezes very well! Freeze in the original container that is not overly full (leaving about ½ inch at the top for expansion). To thaw, place in the fridge overnight and then use within about 5 days. Shake well before serving or using a recipe.

PRO TIP | Do not thaw on the counter at room temperature, this will cause the egg nog to become separated and lumpy (ew!). But truly, who has leftover eggnog? 😉
How many calories in Starbucks eggnog latte?
The original eggnog latte from Starbucks has 460 calories, mine has about 120 calories!
Storage Tips
If you have leftover eggnog coffee, store cooled coffee in the fridge for up to 2 days. To reheat, place back in the saucepan and heat on low until steaming (but not boiling), use a frother to add a little air or just drink as is.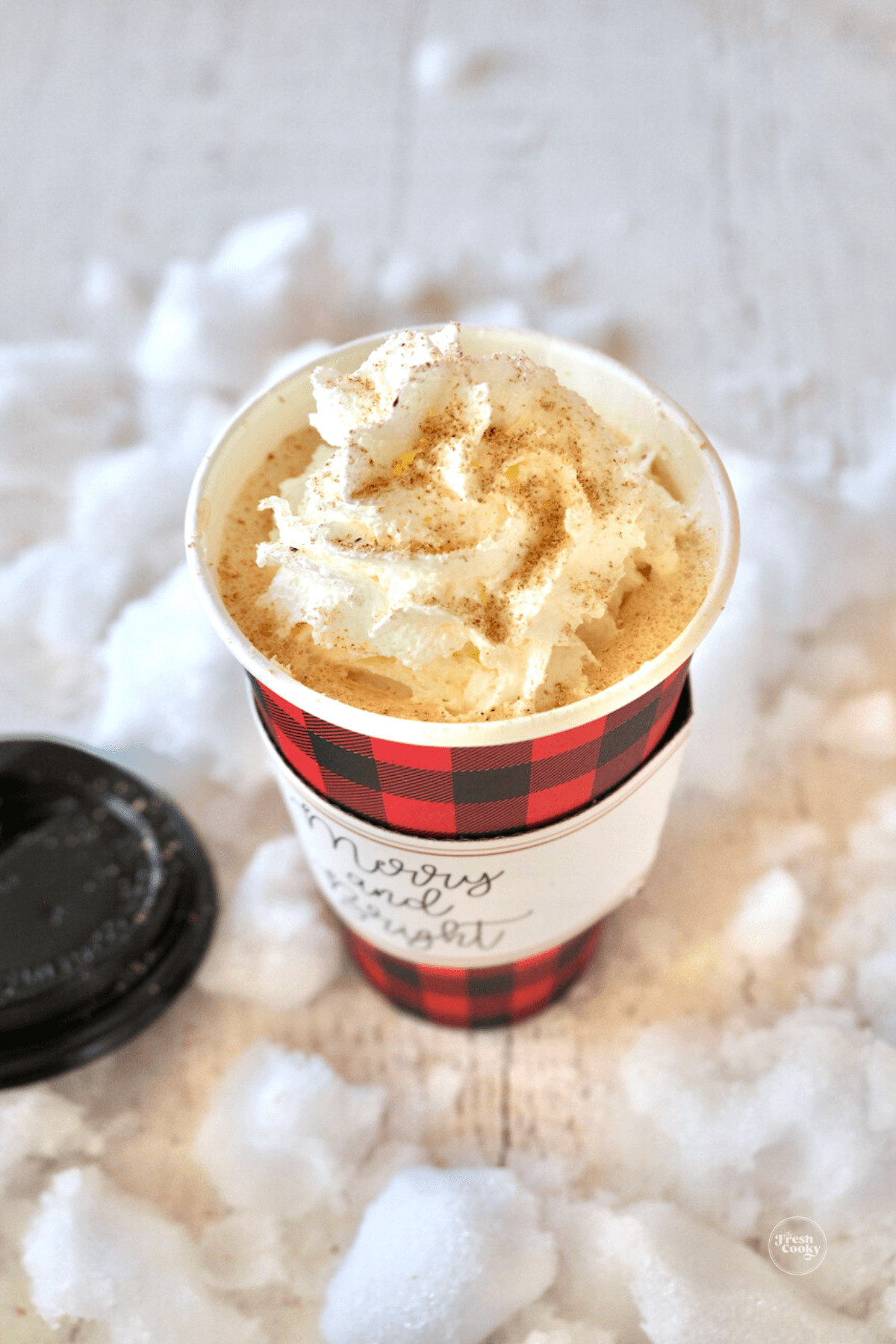 Variations, Substitutions and Tips
Dairy-Free (Vegan) Eggnog Latte | Replace milk and eggnog with your favorite plant-based counterparts, make the recipe as planned.
Add a swirl into the cup of your favorite syrup, try chocolate, caramel, white chocolate mocha for a little bit sweeter drink.
Play around with the amounts, if you don't enjoy it quite as "eggnog-y" add ¾ cup of milk and ¼ cup of eggnog and vice versa if you like it really eggnog flavored!
Spiked Eggnog Latte | Add 1-1 ½ ounces brandy, rum, bourbon or a shot of Bailey's Irish Cream to your eggnog latte.
Add a ½ teaspoon of your favorite vanilla extract – or try other extracts like chocolate or almond.
Iced Eggnog Latte | Instead of heating your milk and eggnog, use the cold froth function on a frother or just blend in a blender until light and frothy. Pour cold brewed espresso or cooled coffee into a mason jar or tall glass over ice, then pour frothed eggnog mixture. Top with whipped cream and nutmeg. YUM!
Decaf Eggnog Latte | Simple! Just brew yourself some decaf espresso or strong coffee and bingo!
Eggnog London Fog | Ever heard of an earl grey latte? Also known as a London Fog Latte or a steamy creamy Earl, well try it with eggnog!!
Recommended Equipment
Frother | Use a single unit frother to froth and heat your eggnog, or handheld frother to froth eggnog heated on the stovetop or in the microwave.
Make your own Whipped Cream | If you are looking for a fun gift for your baking friend? This whipped cream dispenser is a great gift, pour in heavy cream, add a little sugar or maple syrup and a splash of vanilla and insert a Nitrous Oxide canister to charge and you have instant, pure whipped cream.
Fun Mugs | These clear glass mugs are perfect for latte's year round! Or maybe enjoy in these festive paper cups (I found the ones in the pictures at TJ Maxx) or these Christmas-y mugs.
Crockpot Eggnog Latte Recipe
Making for a party? Make crockpot eggnog lattes!
5 cups strongly brewed coffee
½ gallon eggnog
2 teaspoons vanilla extract (try bourbon vanilla extract)
½-1 teaspoon ground nutmeg
Place all ingredients in a crockpot, stir well, cover and cook on HIGH for 1 – 1 ½ hours until hot. Then place on warm. Serve with whipped cream, fresh nutmeg, cinnamon sticks and if desired, some rum, brandy or whiskey.
Popular Christmas Recipes
More Delicious Drink Recipes
Try these other Copycat Starbucks Recipes
I hope you loved this Starbucks Eggnog Latte Recipe — if you did, would you share your creation on Instagram, Facebook and Pinterest? And be sure to comment below!
Like this recipe?
Don't forget to give it a ⭐️⭐️⭐️⭐️⭐️ star rating and comment below the recipe!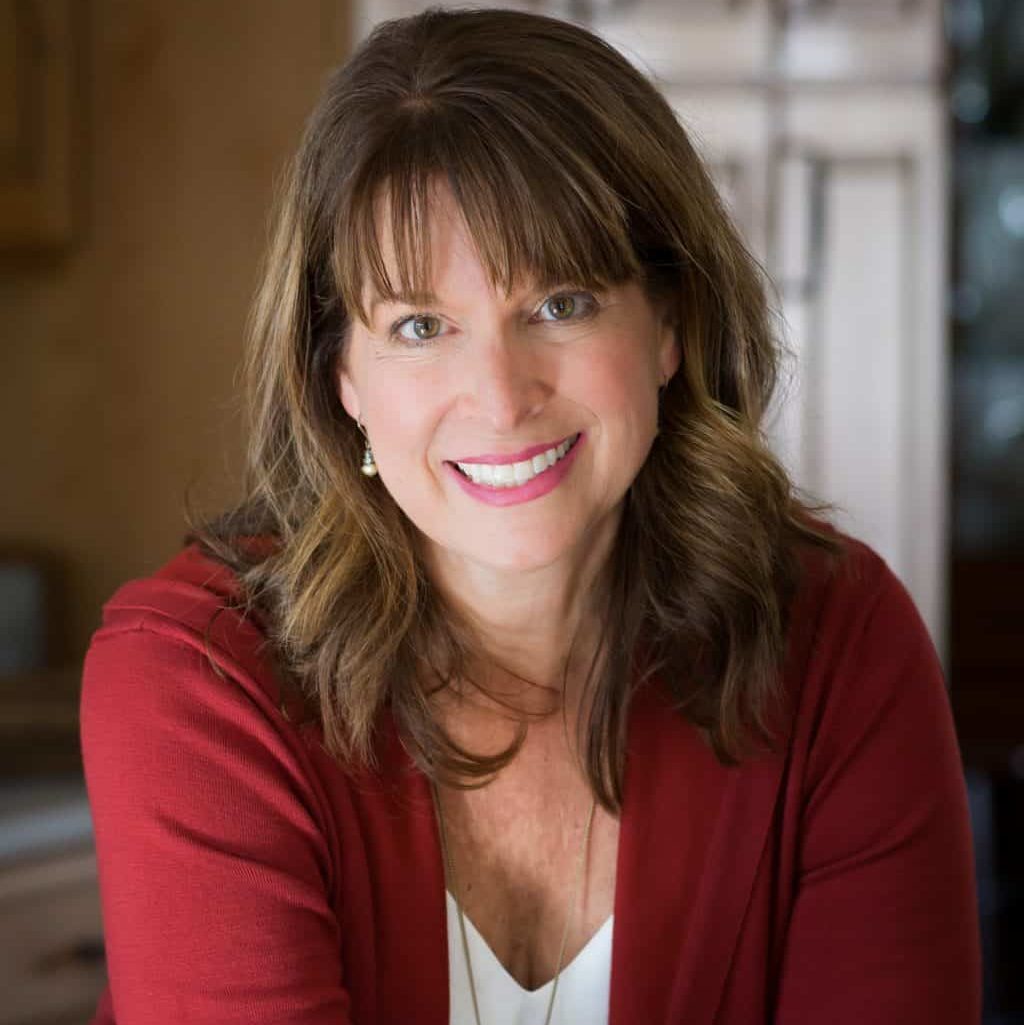 About Kathleen Pope
Recipe Innovator | Food Photographer | Food Writer
Hi, I'm Kathleen Pope. Here at The Fresh Cooky you will find easy, mostly from-scratch, trusted recipes for all occasions. From speedy dinners to tasty desserts, with easy step-by-step instructions. I am here to help teach you how to make mouthwatering recipes without spending hours in the kitchen. Read more about Kathleen here.