This easy Penne alla Vodka recipe is my favorite, go-to, throw-it-together, last-minute have people over dish! Ready in just 30 minutes, this sauce recipe boasts healthy bright tomatoes in a creamy vodka sauce with basil and Parmesan cheese for the finish.
In fact, it's so quick and amazingly delicious you'd think it takes hours to prepare, but it takes about 30 minutes! AND you can even make it ahead of time!
I love fast, easy authentic Italian meals! Try my Grandpa's Secret Spaghetti Sauce, Creamy Tuscan Bow Tie Pasta, or even this Spaghetti Pie!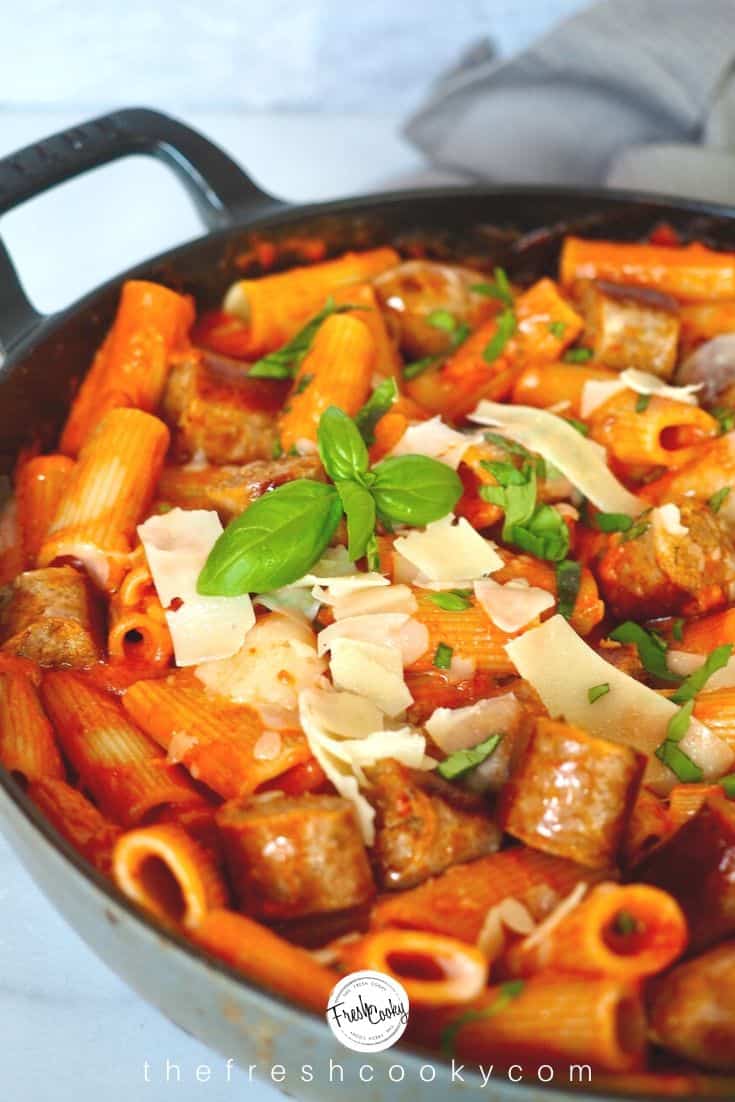 What Is Vodka Sauce?
Well simply put, it's a red cream sauce that you add vodka too, sometimes called pink vodka sauce. But it's not quite that simple, you can't just make your favorite sauce and toss in a shot of vodka.
If you did, you would be overpowered and put off by the bitter and strong alcoholic taste.
Instead, add it in the beginning with our melted butter and red pepper flakes and simmer away reducing it slightly. At first it tastes peppery, but as it simmers it blossoms with herbal notes you wouldn't expect.
Vodka is supposedly flavorless, but in this dish, it brings out the sweetness of the tomatoes, adding a bit of bite with a smooth finish!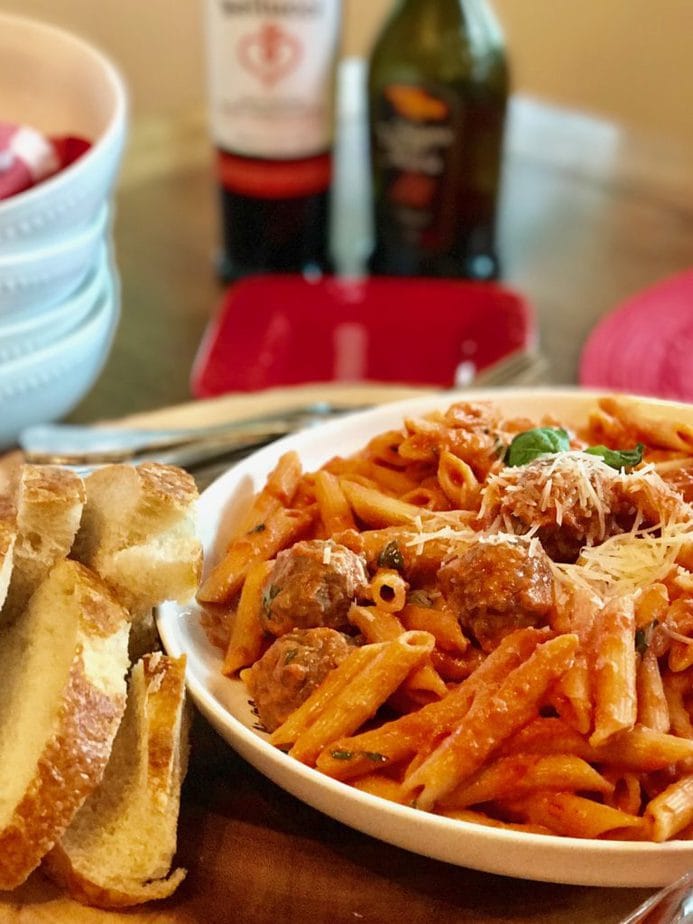 Do You Need Vodka for Penne Vodka?
Yes! Vodka does alter the flavor of the sauce in a pleasing way. It adds a touch of heat and a bit of a sharp bite that help balance out the sweetness of the tomatoes and the cream. Is it absolutely necessary? No, but vodka sauce just wouldn't be, well, vodka sauce without it. Source
How to Make Ahead
Boil pasta until al dente, which means it has a bit of a bite to it still, not mushy, rinse with cool water in a colander and allow to cool 2-4 minutes.
Toss back in pot and toss with a little olive oil (don't douse it, just a tablespoon or so) tossing to coat.
Store in airtight container in the fridge for up to 4 days.
To serve, toss pasta into pot of boiling water for 2-3 minutes, drain and use as planned.
How to Prepare Vodka Cream Sauce in Advance
Prepare sauce as described in recipe, allowing to cool to room temperature.
Place sauce in airtight container and place in refrigerator; will store up to 7 days.
Reheat on stovetop in large saucepan (this Staub Perfect Pan is truly perfect!), if desired add 2 teaspoons of vodka and simmer for additional 7 minutes on low. Proceed with recipe.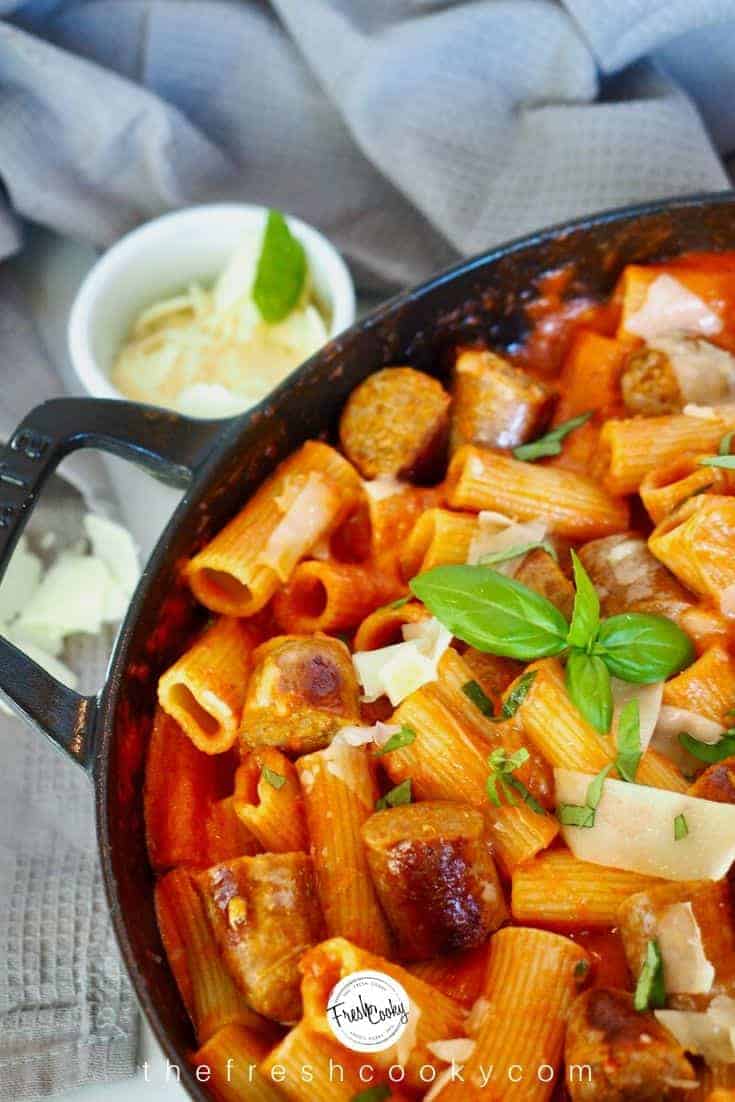 Can you Freeze Pasta
Again the answer is a resounding, YES!
Prepare ahead of time as directed above in the "Make Ahead" portion making sure to cool* completely. It's best to freeze the pasta and the sauce separately when possible.
If you have leftovers (yay!) they will keep well in the fridge for 5-7 days, rewarm by placing in a covered oven safe dish, in a preheated 300 degree oven for 15-20 minutes. Or microwave until warm.
For frozen leftovers, follow above instructions, but sprinkle a tablespoon of water and bake for 30 minutes until warmed through, or microwave on lower heat until warmed through.
*Hot or warm foods that go directly into the freezer produce condensation, which creates frost — and frost is not our friend when it comes to food!
How To Make
Start water boiling for pasta, add a teaspoon or two of salt
Throw (or calmly place) butter into a large skillet, melt and add red pepper flakes. Add more red pepper flakes if you like it spicier!
Carefully pour in vodka, it will boil up violently initially. Allow to simmer for 2-3 minutes until reduced by about half.
Add crushed tomatoes, or whole San Marzano tomatoes, crushed with your hands as you place in pan.
Pour in heavy cream, stirring gently to combine.
Add seasoning salt, stir to mix and bring to simmer, then simmer stirring occasionally for 7-10 minutes.
While sauce simmer's, cook pasta according to package directions.
Chiffonade (slice) your basil while sauce simmers and set aside grated parmesan cheese.
If meat is desired, cook Italian Sausage, meatballs or ground beef in separate pan. Or keep it vegetarian!
Add cheese, stirring to melt
Once sauce has simmered and pasta is drained, add pasta to saucepan (if too much, then pour pasta back into the pot it was boiled in (minus the water) and pour the sauce over the top, gently mixing to coat)
Top with shaved parmesan and minced fresh basil, serve immediately, with garlic bread and a crisp green salad.
TIPS and VARIATIONS FOR THE BEST VODKA SAUCE
PASTA | You don't have to use Penne Pasta, use any ridged pasta (it holds the sauce better), like Rigatoni (pictured above), fusilli, mostaccioli, and of course penne.
PROTEIN | Add some if you like, we like Italian sausage and/or meatballs, but grilled or rotisserie chicken, or shrimp would be delicious too!
SIMMER | Be sure to simmer the sauce for at least 7 minutes, this reduces the bite and bitterness of the vodka ensuring it only enhances the sweet tomatoes.
QUALITY TOMATOES | Italian canned tomatoes, splurge for the more expensive ones, it is so worth it. I like San Marzano! Crushed if you are in a rush, whole if you have a little time. You can place them in a blender and blend ahead of time, or whir with an immersion blender after you've simmered the sauce, before adding the cheese.
OTHER DISHES | Try using the sauce in place of other red pasta sauces; like in lasagna, stuffed shells, ravioli and more.
Serve Penne Alla Vodka hot with extra shaved cheese, grind a little additional salt and pepper if desired.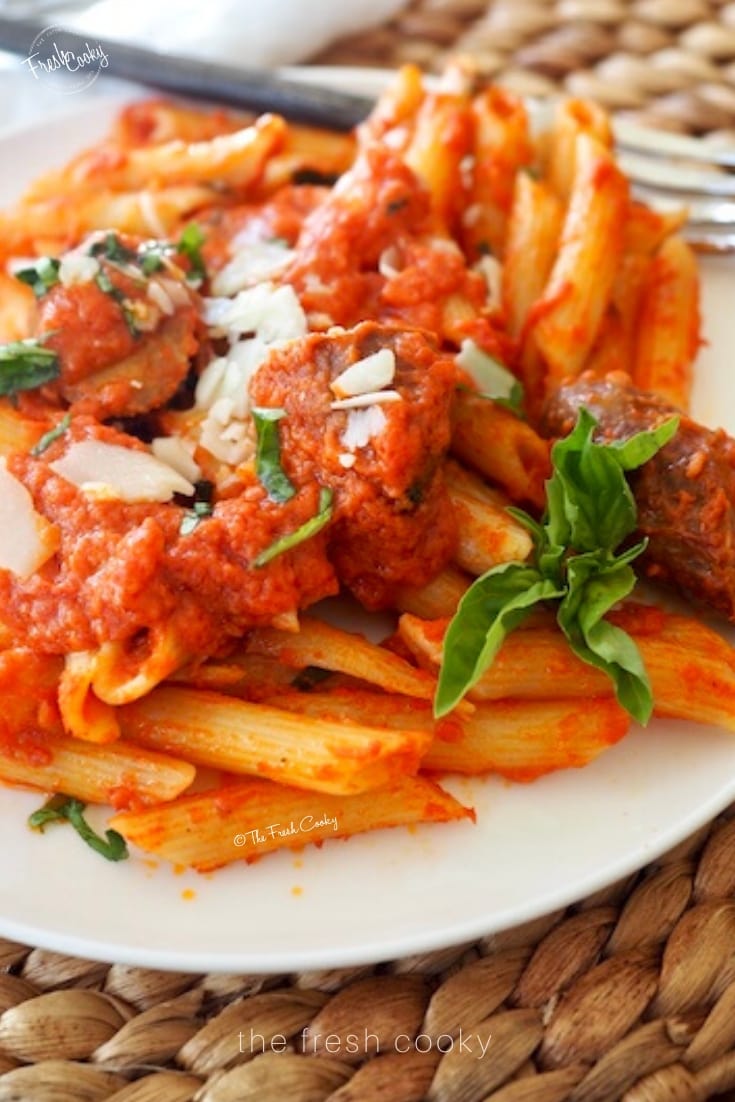 You may want to whip up some fancy cocktails or mocktails to go with this gorgeous dish, try this Cranberry Lemon Drop Martini or amazing Cherry Bomb, or pour yourself a glass of rich red wine!
Don't forget to PIN to your favorite Italian Recipes Board!
Like this recipe?
Don't forget to give it a ⭐️⭐️⭐️⭐️⭐️star rating in the recipe below!
Yield:

6-10 servings
30 Minute Penne alla Vodka
This recipe for Penne alla Vodka is ready in under 30 minutes making it perfect for entertaining. With simple ingredients, this creamy tomato vodka cream sauce has a little kick of heat, with warm, aromatic flavors.
Ingredients
1 lb box Penne pasta (or try Rigatoni (pictured above), fusilli, mostaccioli, and of course penne), cooked according to package directions
6-8 tablespoons butter (regular or unsalted, if using unsalted, add ¼ teaspoon more seasoning salt)
½ - 1 teaspoon red pepper flakes (or more depending on desired heat)
¾ cup vodka
1 28 oz can crushed tomatoes (or whole tomatoes and use immersion blender to mix)
¾ cup heavy cream
1 teaspoon seasoning salt (like Lawry's)
8 fresh basil leaves, chiffonade
4 oz parmesan cheese, grated or shaved
Fresh ground salt and pepper to taste
Instructions
Start 4 qts of water to boil in separate pot for pasta.
Melt butter in a large skillet. Stir in red pepper flakes and vodka, vodka will boil violently. Allow to simmer for 2-3 minutes.
Stir in crushed tomatoes and cream. Simmer 7 - 10 minutes
Add seasoning salt and stir well.
If desired, add cooked meatballs or Italian Sausage pieces for extra protein. Cover and simmer until warmed through.
While sauce simmers, cook pasta according to package directions. While pasta is cooking; chiffonade or chop of your basil.
Grate parmesan cheese. Drain pasta and return to pot. Pour pasta into sauce and stir to coat. Sprinkle in basil and shaved parmesan, mix gently.
Serve immediately with fresh parmesan grated on top, along with a few grinds of salt and pepper if desired.
Delicious served with crusty Italian bread, garlic bread and a crisp green salad.
Notes
Sauce may be made ahead of time and refrigerated up to 5 days. Or freeze up to 3 months, allow to thaw and reheat.
See post for details on making ahead and freezing as well as variations and additions.
Recommended Products
As an Amazon Associate and member of other affiliate programs, I earn from qualifying purchases.
Nutrition Information:
Yield:
10
Serving Size:
1
Amount Per Serving:
Calories:

255
Total Fat:

19g
Saturated Fat:

12g
Trans Fat:

1g
Unsaturated Fat:

6g
Cholesterol:

54mg
Sodium:

612mg
Carbohydrates:

8g
Fiber:

2g
Sugar:

4g
Protein:

5g
The nutritional information is estimated and may not be entirely accurate, at times it pulls information for suggestions and options which may increase calories, etc.
ABOUT KATHLEEN
I enjoy sharing easy recipes that are wholesome and delicious. I am fed by my faith, family, friends & food! Welcome to my kitchen! Read more...