Pink Lemonade Vodka Cocktail
As an Amazon Associate, I earn from qualifying purchases. Please read my disclosure policy.
Looking for a simple, homemade pink lemonade vodka cocktail? With a few simple ingredients this fresh and delicious all-natural pink lemonade vodka drink will become a summer favorite! This easy cocktail recipe can be made by the glass or by the pitcher!
Instead of using pink lemonade concentrate I focus on using ingredients that don't contain high fructose corn syrup or loaded with sugars; making this alcoholic lemonade on the skinny side.
If you love lemon you are going to go crazy over my Lemon Icebox Pie (No bake), these Old-Fashioned Lemon Squares and Lemon Gelato Ice cream.
Welcome to #LemonWeek 2022 hosted by Lynn from Fresh April Flours and Rebecca from Devour Dinner. This week is sponsored by Rodelle and La Tourangelle. I received product samples from these sponsors to help in the creation of my recipes. All opinions are my own. Come join me and my fellow Lemon Week bloggers as we bring you recipes from appetizers to drinks to entrées and desserts!
Today's recipe features Rodelle Vanilla, it's amazing what a splash of vanilla does to a cocktail! Like my wildly popular Cherry Bomb!
I am featuring a brand new lemon recipe every day this week! Try them all! Easy Lemonade Bundt cake with cream cheese frosting, One Pot Lemon Garlic Pasta Recipe, Lemon Dump Cake and Italian Lemon Ricotta Cake.
Why You Will Love this Pink Lemonade Vodka Drink
All-natural, nothing fake and a few easy tips to make it even healthier!
Fresh and bright, perfect for bridal showers, summer gatherings or sipping on the patio.
It is the perfect summer cocktail! Light, bright using fresh squeezed lemon and lime juice.
Simple Ingredients
Full recipe and ingredients in the printable recipe card at the end of this post.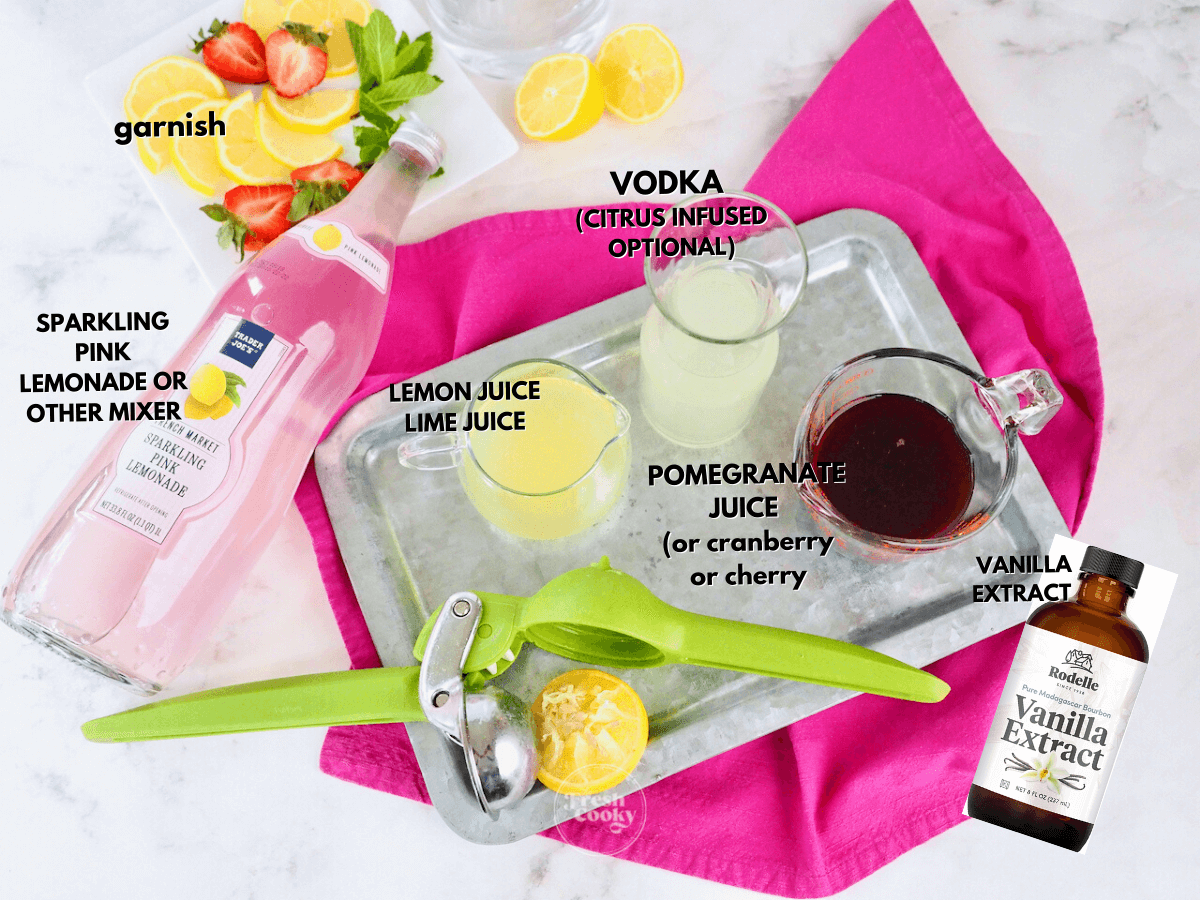 Vodka | I used a lemon infused vodka, to make it even more lemony (like Deep Eddy's). Also try Pink Whitney Vodka from New Amsterdam Vodka, a pink lemonade flavored vodka, Smirnoff Pink Lemonade or just use your favorite vodka!
Fresh Lemon Juice | Fresh squeezed is really essential in this recipe, bottled lemon juice has a bit of an off taste which will make the cocktail taste funny.
Fresh Lime Juice | I love the balance of both lemon and lime juice in this vodka recipe.
Red Juice | I used Pomegranate juice this time, but have also used cranberry juice and cherry juice, they all work great and makes a perfect fruity lemonade. See tips for light pink lemonade.
Vanilla Extract | A splash of vanilla brings this pink vodka lemonade to a whole new level and Rodelle Vanilla Extract is my favorite!
Mixer | I like using Sparkling Pink Lemonade from Trader Joe's, but I have also used regular lemonade (love Simply Light Lemonade) as well as Limoncello LaCroix. See variations below for all kinds of ideas!
Garnish | Use lemon slices, lime slices, fresh strawberries, raspberries, a sprig of mint, blueberries, all will enhance this fruity cocktail!
How to Make Pink Lemonade Cocktail
In a large pitcher add citrus vodka (or regular if using), lemon juice, lime juice, Rodelle vanilla and your favorite mixer, stir gently to combine.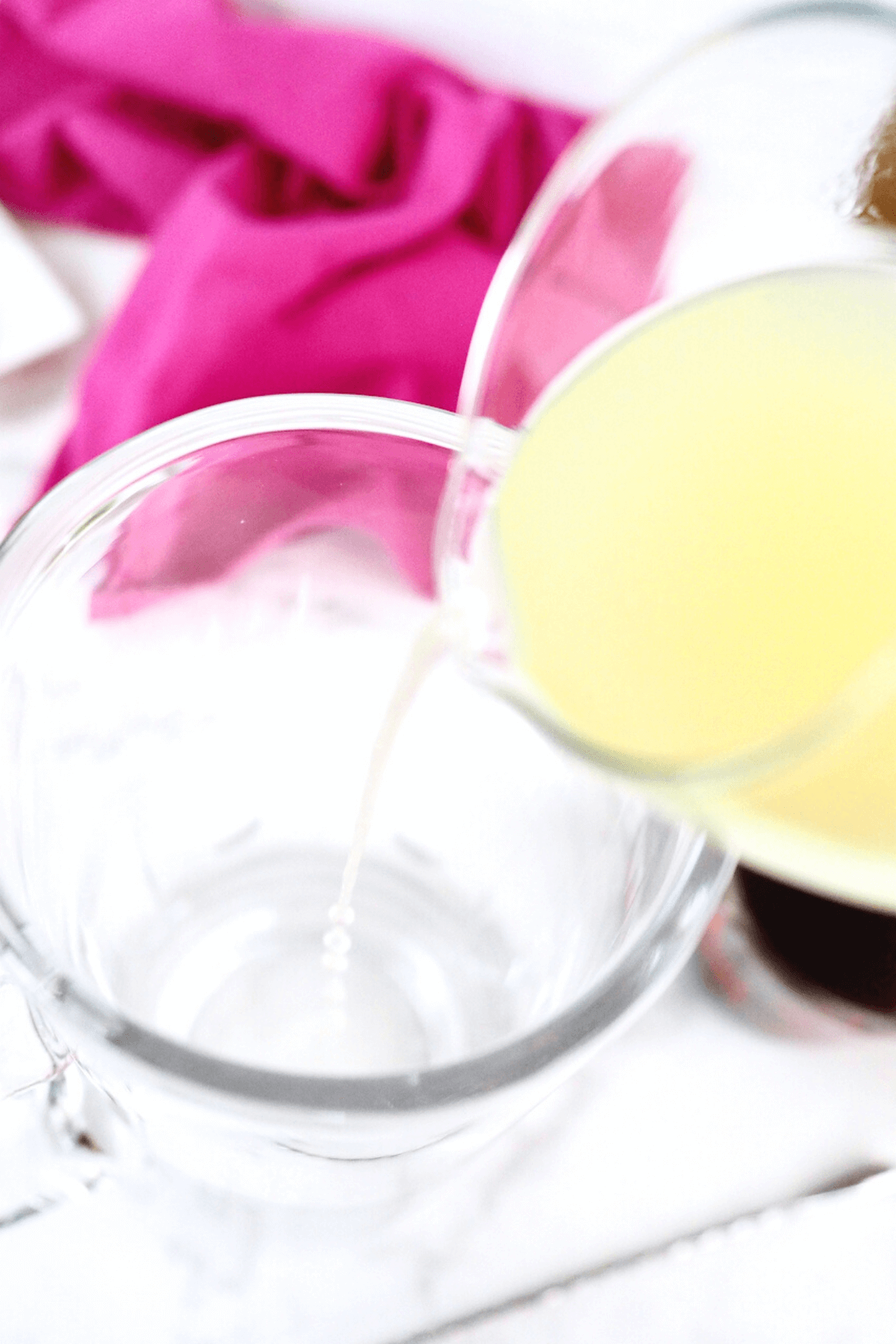 Fill glasses with ice, pour pink cocktail with vodka over ice into glass, garnish with lemon wheels, or a twist of lemon, a sprig of mint or your favorite fruit.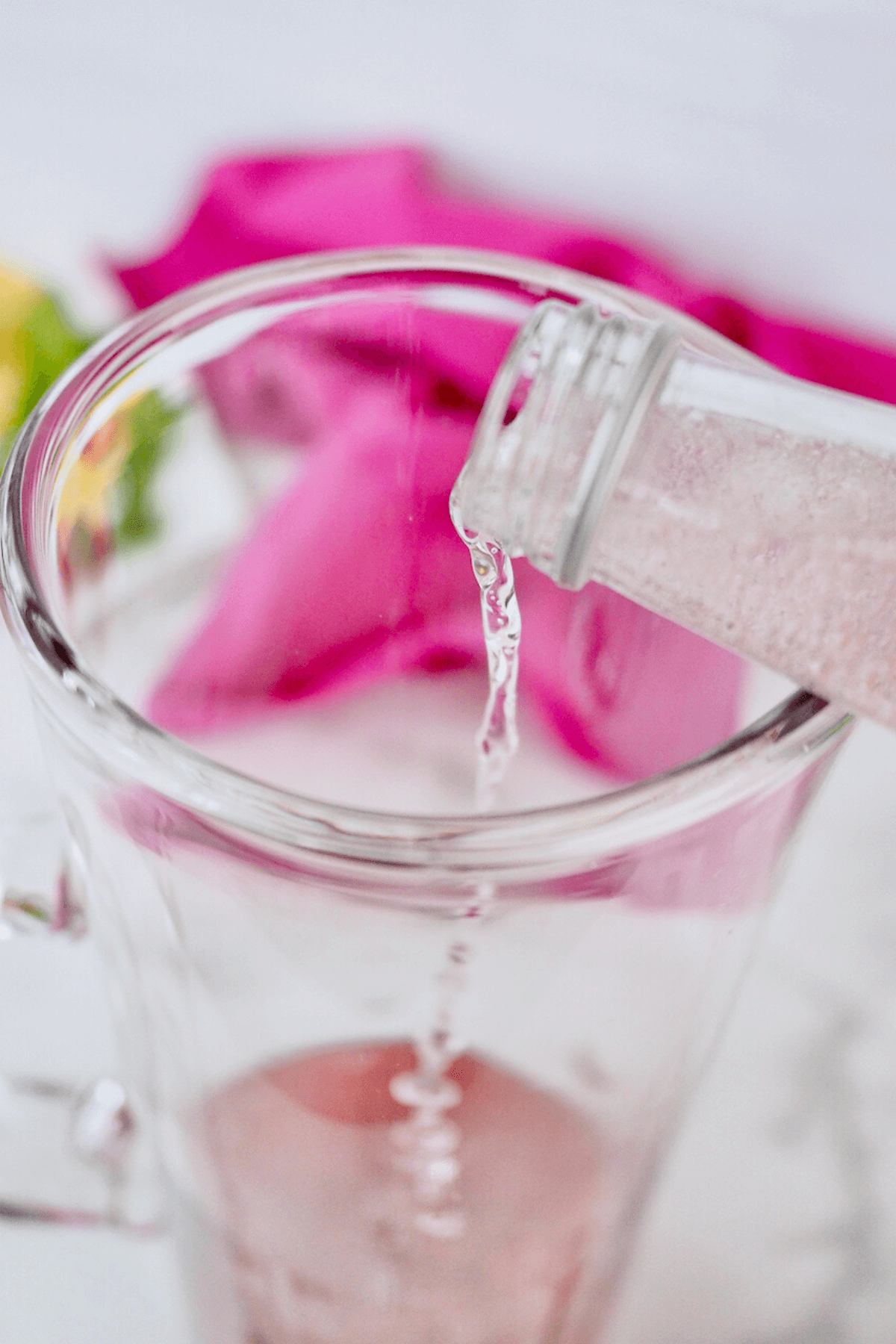 Hot Pink Lemonade vs. Light Pink Vodka Lemonade
To dial down the hot pink, simply cut your amount of fruit juice in half, adding just a little at a time until you have achieved the color desired.
Fresh Tip
Chill all ingredients for several hours before making this beverage and only add ice when serving.
Make Ahead & Storage
Combine the vodka, your red juice of choice, lemon and lime juices ahead of time and chill well in the fridge until ready to serve, when ready to serve pour lemonade or sparkling beverage stir gently to combine.
Store any leftovers in fridge up to 5 days. I found that stored after adding the carbonated beverage it still tasted delicious leftover. Freshen it up by splashing in a little extra before enjoying.
Frequently Asked Questions
Is pink lemonade made from pink lemons?
Confession time, when I first saw this question, I thought this was a joke. But did you know there really is such a thing as pink lemons? They are a new variety with striped skin and pink flesh, however; the juice runs clear. So while you can certainly make pink lemonade from pink lemons, typically regular fresh lemons are used.
Can I make a skinny Pink Vodka Lemonade?
Yes! Instead of using a sparkling lemonade or Sprite lemon-lime soda, use Key Lime LaCroix or Limoncello LaCroix, or simply use club soda for a less sweet version.
What flavor is pink lemonade?
The history of pink lemonade goes back to the 1800's where they originally flavored and colored pink lemonade with cranberry juice, strawberry simple syrup or raspberry juice. It is now typically colored with red dye sadly, but not mine! This is an all-natural pink lemonade which mostly tastes like lemonade with a hint of a fruity flavor.
Can I make pink lemonade vodka punch by the glass?
Yes, this recipe makes 8 servings, use the toggle on the recipe card and reduce the number of servings to one. If you do that, perhaps try pouring the juices into a cocktail shaker with a little ice, shake 10-15 times, pour over ice and add your sparkling lemonade.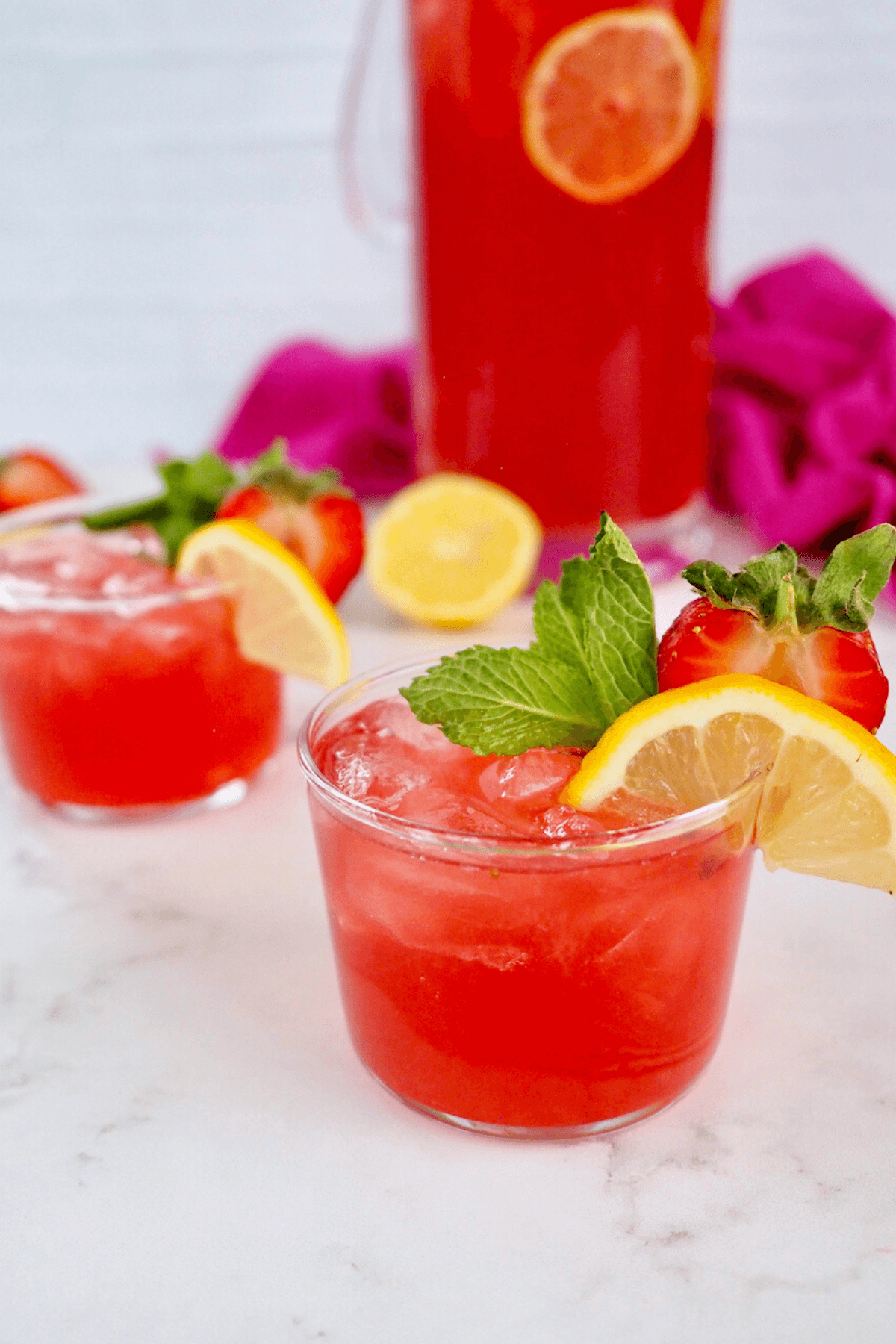 Pink Lemonade Mocktail
Trying to cut back or maybe you want to make this beautiful cocktail for someone who is pregnant or just doesn't not drink alcohol. The great news is they now make non-alcoholic versions of classic spirits — try this Seedlip Citrus for instance. Or you can certainly leave the vodka out all together for a simple Pink Lemonade.
Variations and Substitutions for Pink Lemonade Vodka Drinks
This is the fun part, make it yours!
In place of pomegranate juice, use cherry juice, raspberry juice, guava juice, fruit punch (sweeter) or try my bright Strawberry Syrup.
Use all fresh squeezed lemon juice or all lime juice.
Instead of vodka, you can also use gin (try some of the botanicals) or light rum. Use tequila and make into a pink lemonade margarita
Change up your mixer; use pink lemonade, limeade, Sprite (or your favorite lemon lime soda), or your favorite sparkling water for this vodka punch recipe
Muddle some fresh raspberries and a sprig of mint or fresh thyme sprigs in the bottom of the glass.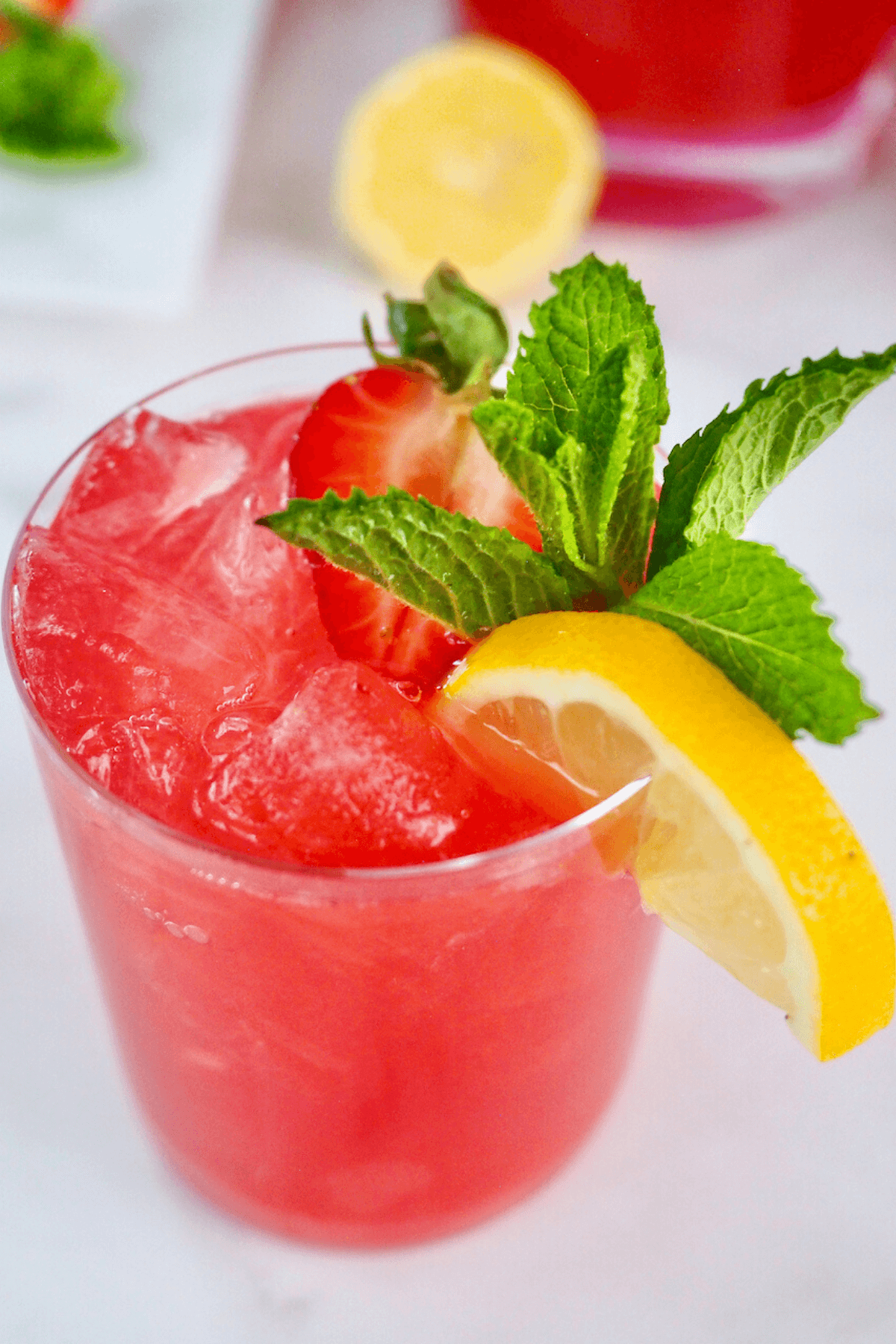 Ways to Serve Pink Vodka Lemonade
Double or triple this recipe for a crowd and serve in a pretty beverage dispenser.
This alcoholic drink is the perfect cocktail for a hot summer day, so light and refreshing, gorgeous in these hammered acrylic stemless wine glasses.
I am planning to serve this again at my next ladies night book club I am hosting, the gorgeous pink color is perfect!
Lemon Facts
How to Choose the Best Lemons | Choose lemons that are firm, but yield to gentle pressure, with a smooth, thinner skin. The lemon should not have blemishes, be pale or have any green; this indicates unripeness. Good lemons for juicing, should be heavier relative to their size.
How Best to Store Lemons | Lemons stored on the counter, look pretty, but dry out within a week. Lemons stored in the fridge will last longer, about a week to 10 days, lemons stored in a sealed plastic bag last up to a month!
Zesting | It is much easier if you zest your lemons before cutting in half to juice them. Wash and dry lemons before zesting, and do not zest too far down, the white part, called the pith is bitter.
Juicing Lemons | To get more juice from your lemon, try these ONE of these two tricks: 1) Place lemon on cutting board or counter and firmly roll with palm of hand until it starts to yield slightly, OR 2) Place lemon in microwave for about 10 seconds, then roll and squeeze.
An average lemon contains about 2 ½ – 3 tablespoons of juice.
Check out this post for all the fun facts about lemons!
Recommended Equipment
I would love to hear how you made this simple cocktail yours! Be sure to give it a 5 star rating and comment below the recipe card!
More great citrus recipes
More Delicious Cocktails & Mocktails
Love It? Pin It?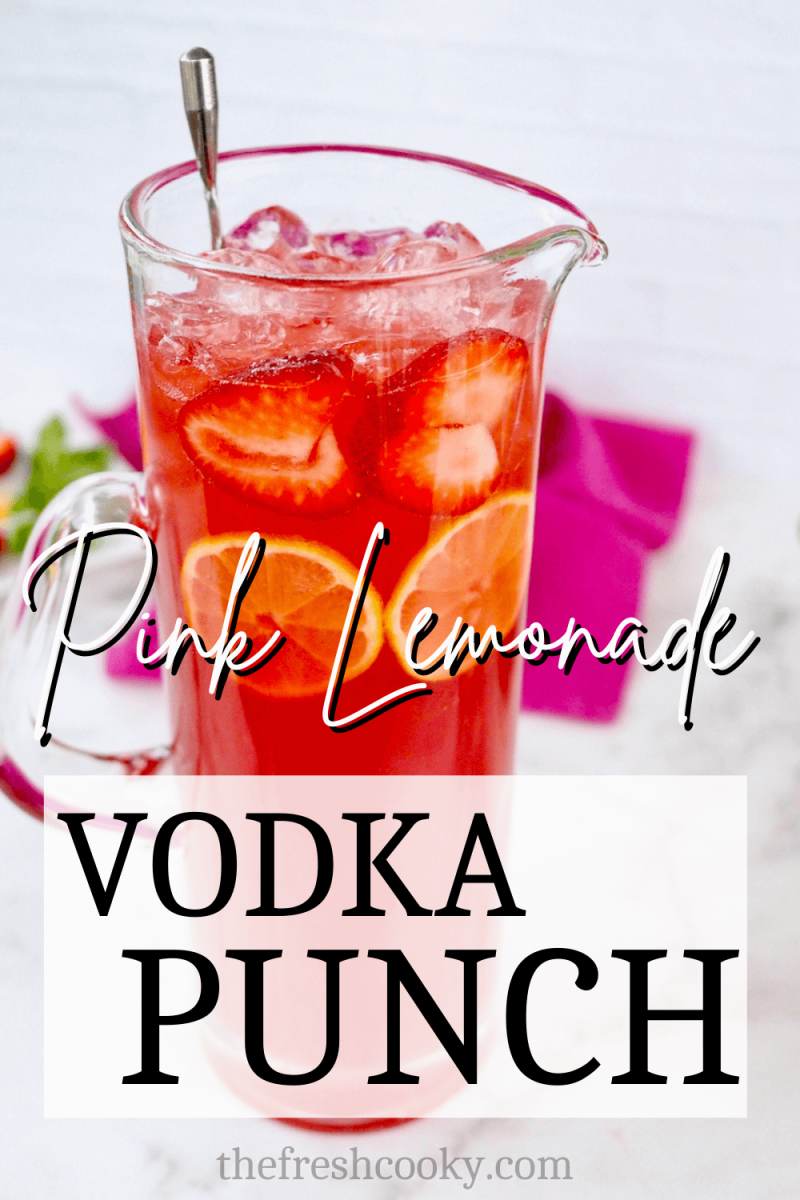 Tuesday #LemonWeek Recipes
Like this recipe?
Don't forget to give it a ⭐️⭐️⭐️⭐️⭐️ star rating and comment below the recipe!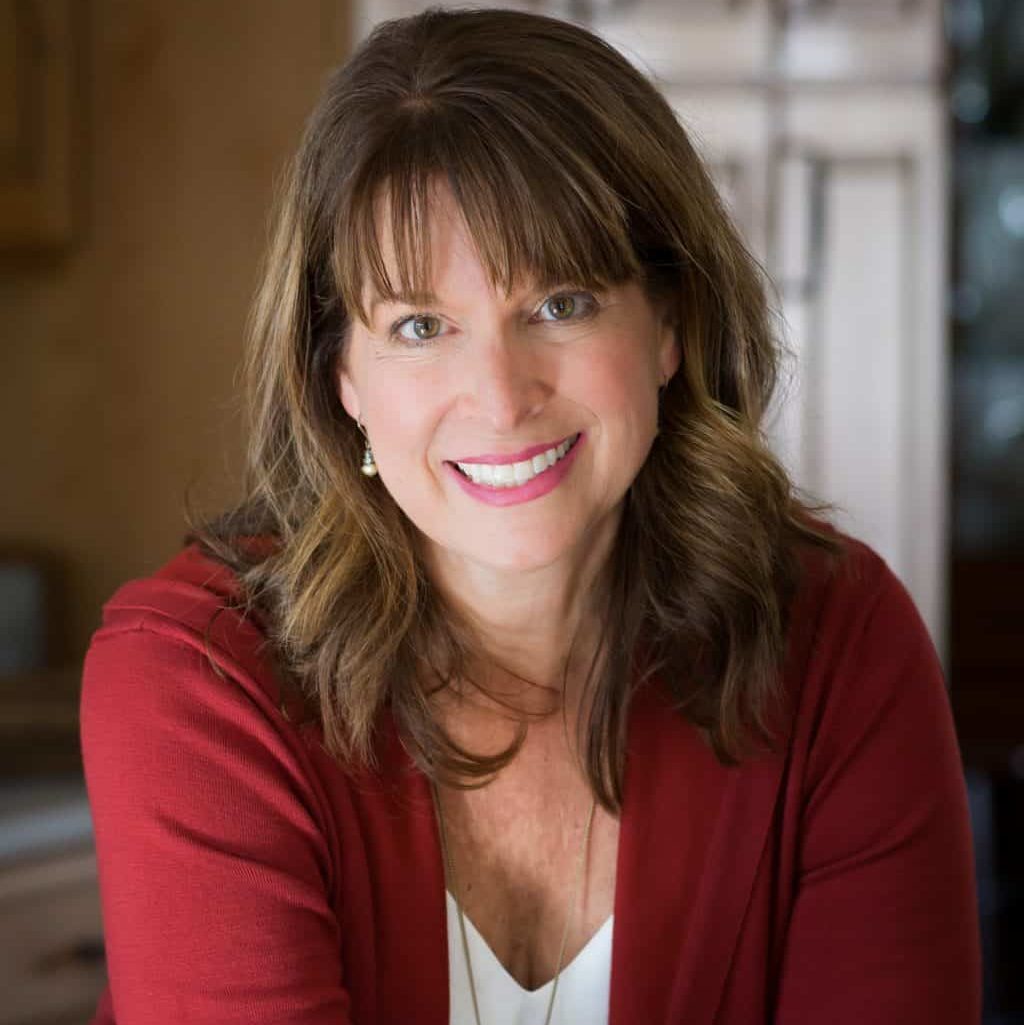 About Kathleen Pope
Recipe Innovator | Food Photographer | Food Writer
Hi, I'm Kathleen Pope. Here at The Fresh Cooky you will find easy, mostly from-scratch, trusted recipes for all occasions. From speedy dinners to tasty desserts, with easy step-by-step instructions. I am here to help teach you how to make mouthwatering recipes without spending hours in the kitchen. Read more about Kathleen here.