As an Amazon Associate, I earn from qualifying purchases. Please read my disclosure policy.
Buttery graham cracker crumble is lightly sweetened and flavored with warm fall spices. Top everything from yogurt to pancakes, ice cream to pumpkin pie, you will love how versatile this topping is! Plus it bakes up into a fall spiced graham crust too! Make gluten-free or regular.
I developed this versatile recipe for Fall Flavors week with our sponsors Nairn's and Dixie Crystals — but the opinions expressed are my own.
This week I am featuring a different fall flavored recipe each day; check out the other days: Panera Autumn Squash Soup, Fall Charcuterie Board, Gluten-Free Apple Pie, and this easy Pear Bundt cake.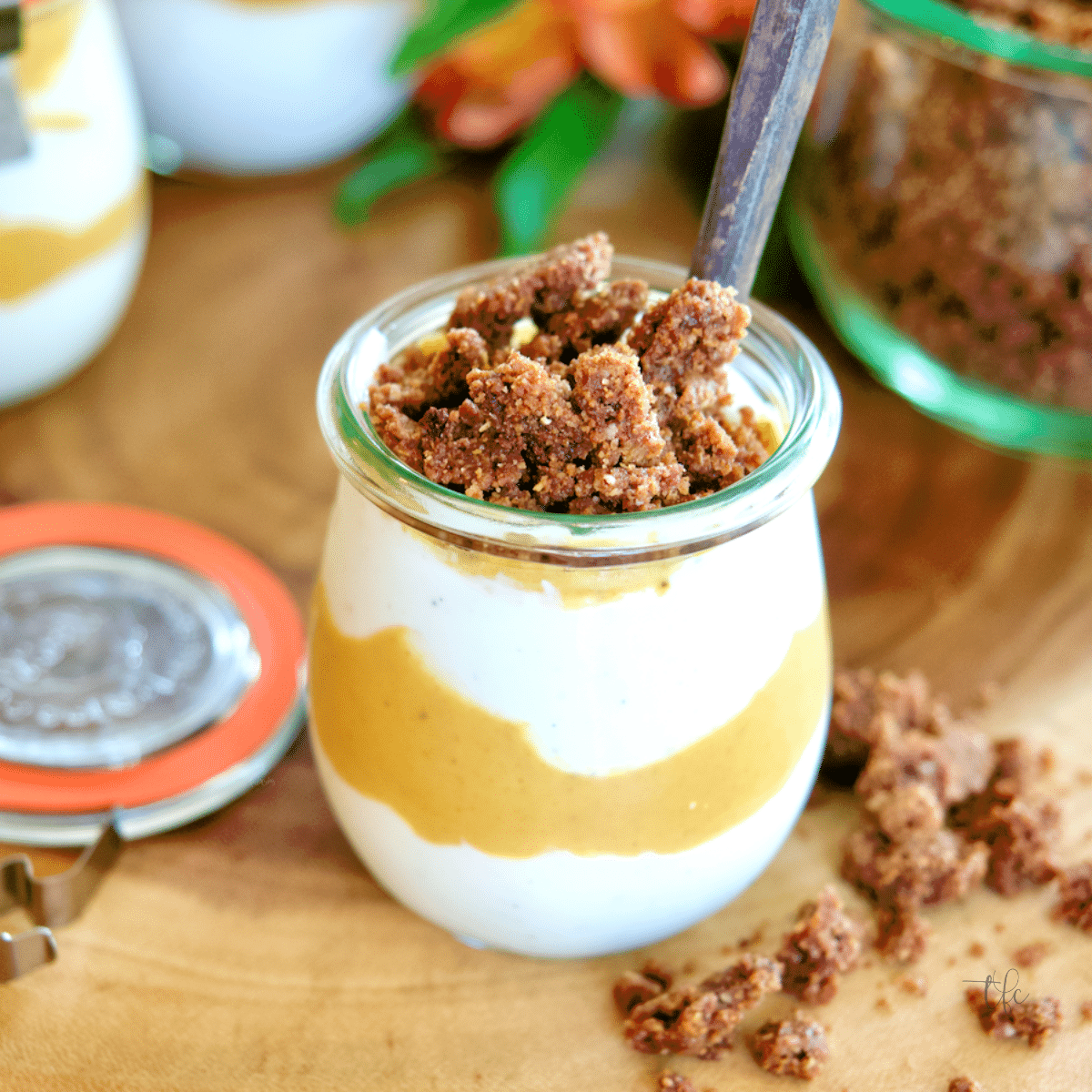 We tend to think of using graham crackers just for crusts, cheesecakes, S'mores and the sort. As a kid I would grab a spoon when my mom made graham cracker crust and when she wasn't looking dig into the bowl! Warm, buttery, full of sweet graham goodness!
So what makes this graham cracker crumble different? I used whole grain Chocolate Chip Oat Grahams, that are Gluten-Free from Nairn's — and I am telling you, they are delicious! Baked in Scotland, with 25% less sugar, these certified gluten-free graham crackers are top notch. With the nuttier taste of oats, you will never know they are gluten-free!
Ingredients
Simple ingredients with quantities and full instructions in the recipe card at the end of the post.
GRAHAM CRACKERS | I used Nairn's Gluten-Free Chocolate Chip Oat Grahams, you can certainly use regular grahams, other gluten-free flavors as well.
LIGHT BROWN SUGAR | I used Dixie Crystals non-GMO Light Brown Sugar, which is delish! You could also use dark brown sugar for a deeper molasses flavor.
SPICES | A combination of cinnamon, fresh grated nutmeg and flaky sea salt here!
VANILLA EXTRACT | Ever made your own never-run-out-again vanilla? You should try it!
BUTTER | Use the real stuff please, remember if it is soft coming out of the fridge it's not real butter, but a blend.
How to Make Graham Cracker Crumble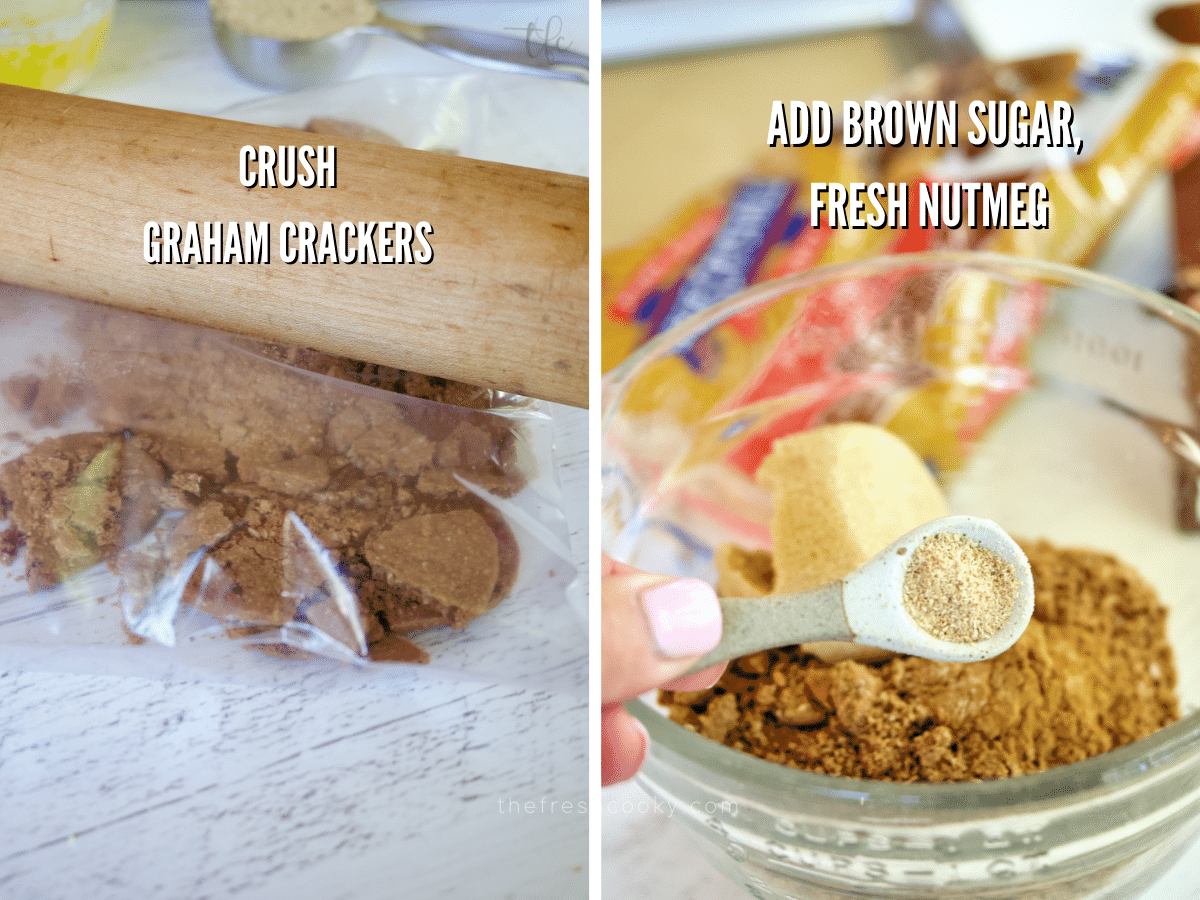 Place graham crackers in a plastic baggie and crush using a rolling pin or process in a food processor. Pour into medium mixing bowl and add light brown sugar, fresh grated (or ground) nutmeg.
HINT: Some larger pieces are great for the graham cracker crumble; if making a crust, make sure the grahams are crushed more uniform.
Stir in cinnamon and flaky sea salt, then pour in melted butter, stirring to coat well.
HINT | You can certainly use regular salt too, but flaky sea salt adds little bursts of sweet-salty goodness!
Line a quarter sheet baking pan with parchment paper or spray with a little non-stick spray, spread gluten free graham topping evenly on the pan. Bake in preheated 325 degree oven for 8-10 minutes. Allow to cool at least 10 minutes before using.
Substitutions
I am always about substitutions, try these fun alternatives and "make it yours!"
Use your favorite brand of graham cracker, regular or gluten-free! Substitute the same amount.
VEGAN | replace butter with plant-based butter or melted coconut oil and make sure grahams are vegan.
FLAVORS | Use Biscoff or Speculoos cookies instead of grahams, or try ginger snaps.
SPICES | Use Pumpkin Pie Spice in place of cinnamon and nutmeg.
Variations
Spicy Graham Cracker Crumble | Toss in a few shakes up to ⅛ of a teaspoon of cayenne pepper for a little heat!
Nuts | I love adding chopped nuts to things like this, chopped pecans, almonds, walnuts would all be delicious. Add about ¼ cup.
Storage Tips
Once the graham cracker topping has cooled completely, break apart and place in an air-tight or container. Keeps on the countertop 2-3 weeks, refrigerate or freeze for longer storage. Bring to room temp before serving.
Frequently Asked Questions
How do you make graham cracker crumbs?
Baggie u0026 Rolling Pin Method | Place grahams in a gallon baggie and using a rolling pin, smack a few times to break up the graham crackers, then roll pin back and forth until desired consistency is achieved.

Food Processor | Place grahams in the bowl of a food processor, breaking up with your hands before placing inside. Add sugar if using, then pulse until grahams are crushed into fine crumbs.
Ways to Use Graham Cracker Crunch Topping
Yogurt | My favorite, it adds a fun, crunchy almost cheesecake taste to yogurt, try it especially on Pumpkin Yogurt!
Ice Cream | For a delicious (and simple) fall dessert top your favorite ice cream (can you say, cookie butter ice cream!) with a couple swirls of salted bourbon caramel sauce, and the crumbles, or try my friend Tasia's Cookie Butter Caramel sauce. What!??
Oatmeal | Amp up the volume by topping your oatmeal with a little buttery crunchy goodness!
Pancakes & Waffles | Try on top of these amazing Coconut Pecan Pancakes or these Sourdough Waffles!
Pies | Either instead of or as a little additional crunch, top your favorite pies with this sweet buttery graham topping. Think pumpkin, pecan, apple pie or these mini French Silk pies — also consider replacing crusts!
Cakes | I used this on this Pear Bundt Cake, for a little crunch! Delicious on coffee cakes, bundts and more!
Gluten-Free Graham Cracker Crust
This recipe will easily convert to a gluten free graham cracker crust and it will so delicious, especially if you use these Chocolate Chip Oat Grahams! Yummo!
The only change you need to make is how fine you crush the graham crackers, you want them more finely crushed so that when pressed into a pie plate, they will stick together better.
Topping Lover? Try these!
Like this recipe?
Don't forget to give it a ⭐️⭐️⭐️⭐️⭐️ star rating and comment below the recipe!
More #FallFlavors Recipes Below:
Appetizers and Snacks
Breakfast and Baked Goods
Side Dishes
Main Dishes
Desserts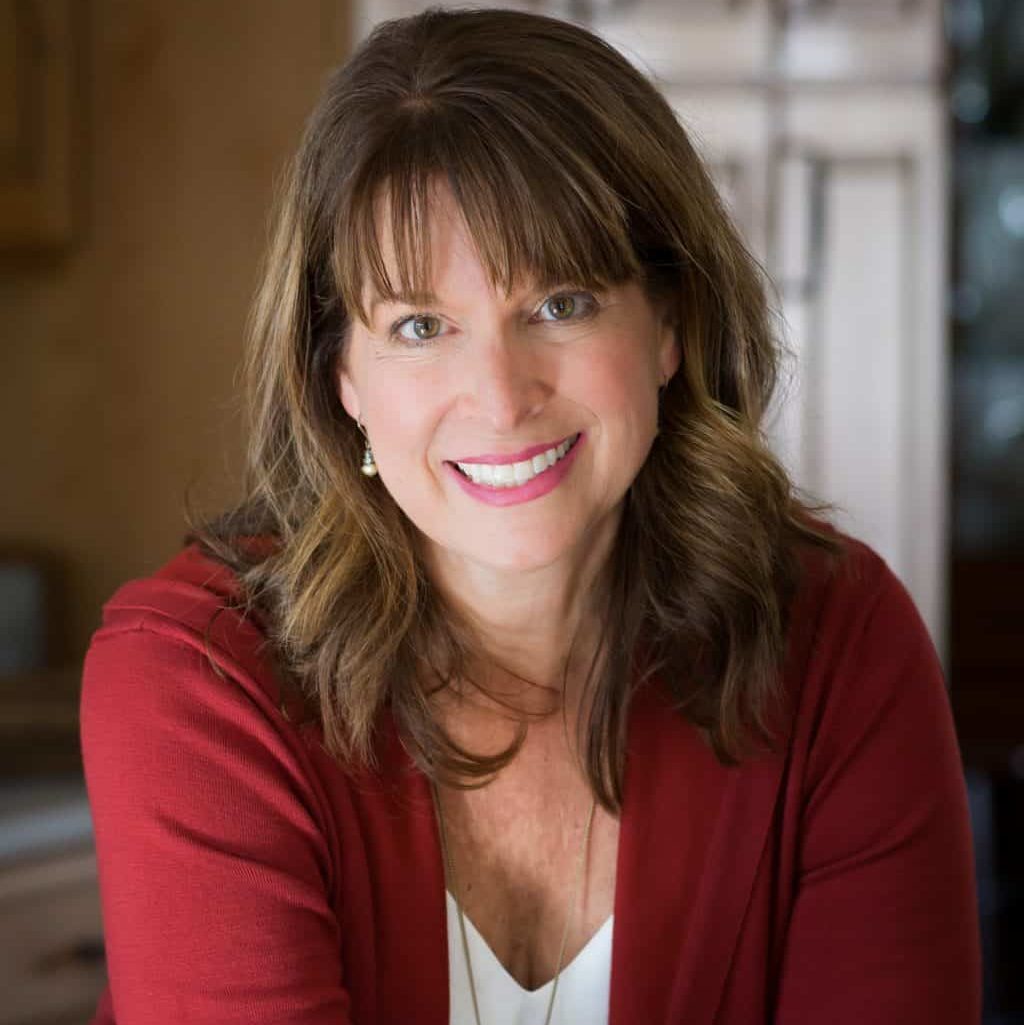 About Kathleen Pope
Recipe Innovator | Food Photographer | Food Writer
Hi, I'm Kathleen Pope. Here at The Fresh Cooky you will find easy, mostly from-scratch, trusted recipes for all occasions. From speedy dinners to tasty desserts, with easy step-by-step instructions. I am here to help teach you how to make mouthwatering recipes without spending hours in the kitchen. Read more about Kathleen here.