Instant Pot Oatmeal Recipe (Steel Cut & Rolled Oats)
As an Amazon Associate, I earn from qualifying purchases. Please read my disclosure policy.
While making Oatmeal in your Instant Pot doesn't necessarily make it faster, it is certainly easier, way easier! My Instant Pot Oatmeal recipe can be used for steel cut oats or old-fashioned rolled oats with oodles of topping and mix-in ideas.
Who doesn't love a steaming bowl of heart-healthy, creamy oatmeal on a chilly winter morning? This recipe for Instant Pot Oatmeal is great for meal prepping and portion control.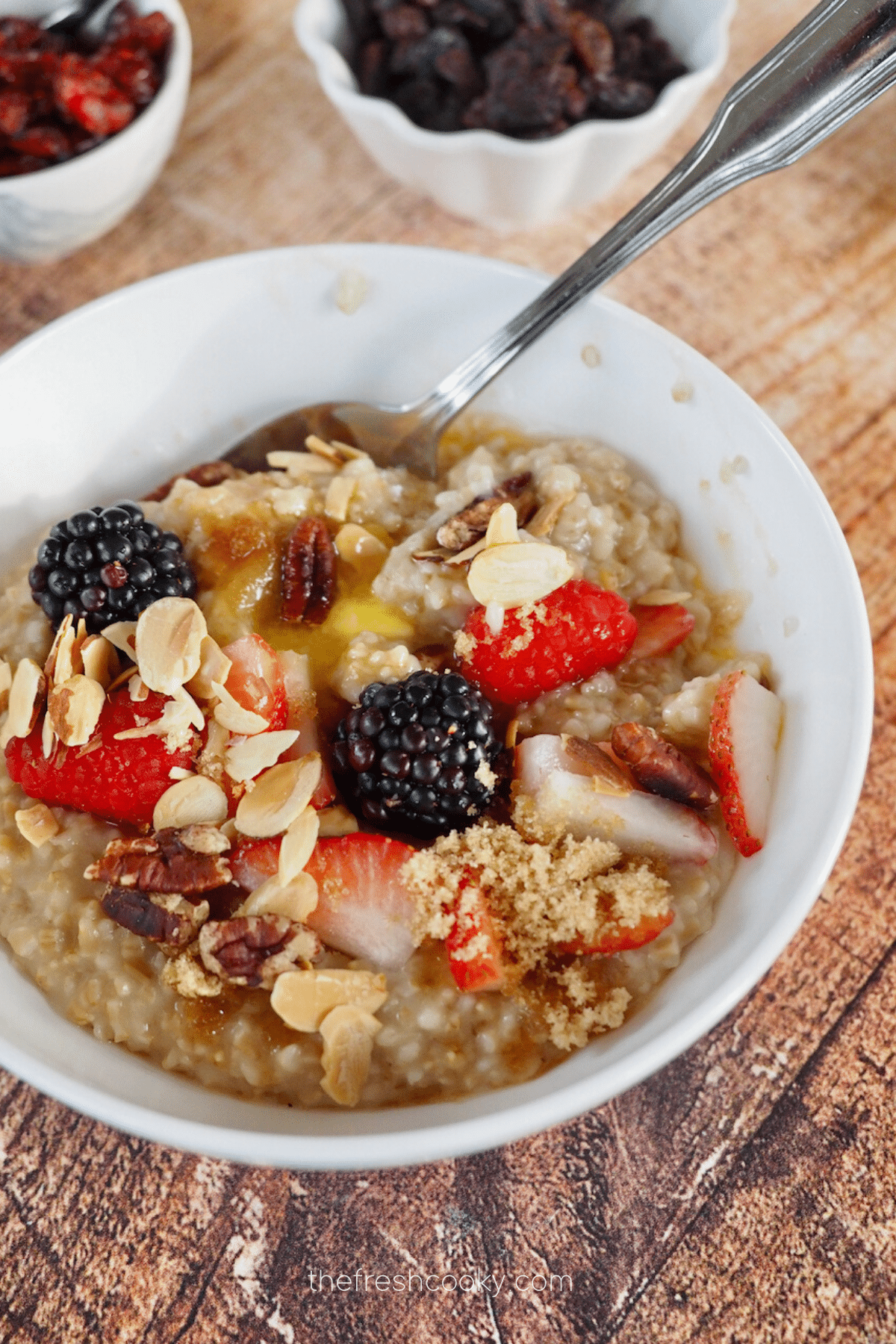 January is National Oatmeal month! Heart-healthy oatmeal is the queen of winter breakfasts, well anytime of the year really! If you like cold overnight oats, try my Bircher Muesli recipe. Be sure to check out bunches of oatmeal recipes at the end of this post.
Love a delicious warm breakfast? Then you should try my Chile Relleno Casserole (most popular) and our personal family favorite Biscuits and Gravy Casserole.
Recommended Equipment
This is the Instant Pot I have and love. Instant Pots, also called pressure cookers and multi-cookers; as long as it has the option to cook under high pressure, you are all set. I used a 6 quart pressure cooker, other sizes may be used, but don't double if using a 3 qt.
Liquid and dry measuring cups, these are my favorite liquid measuring cups.
Wooden Spoon | Or plastic long handled spoon, but I love my wooden spoons.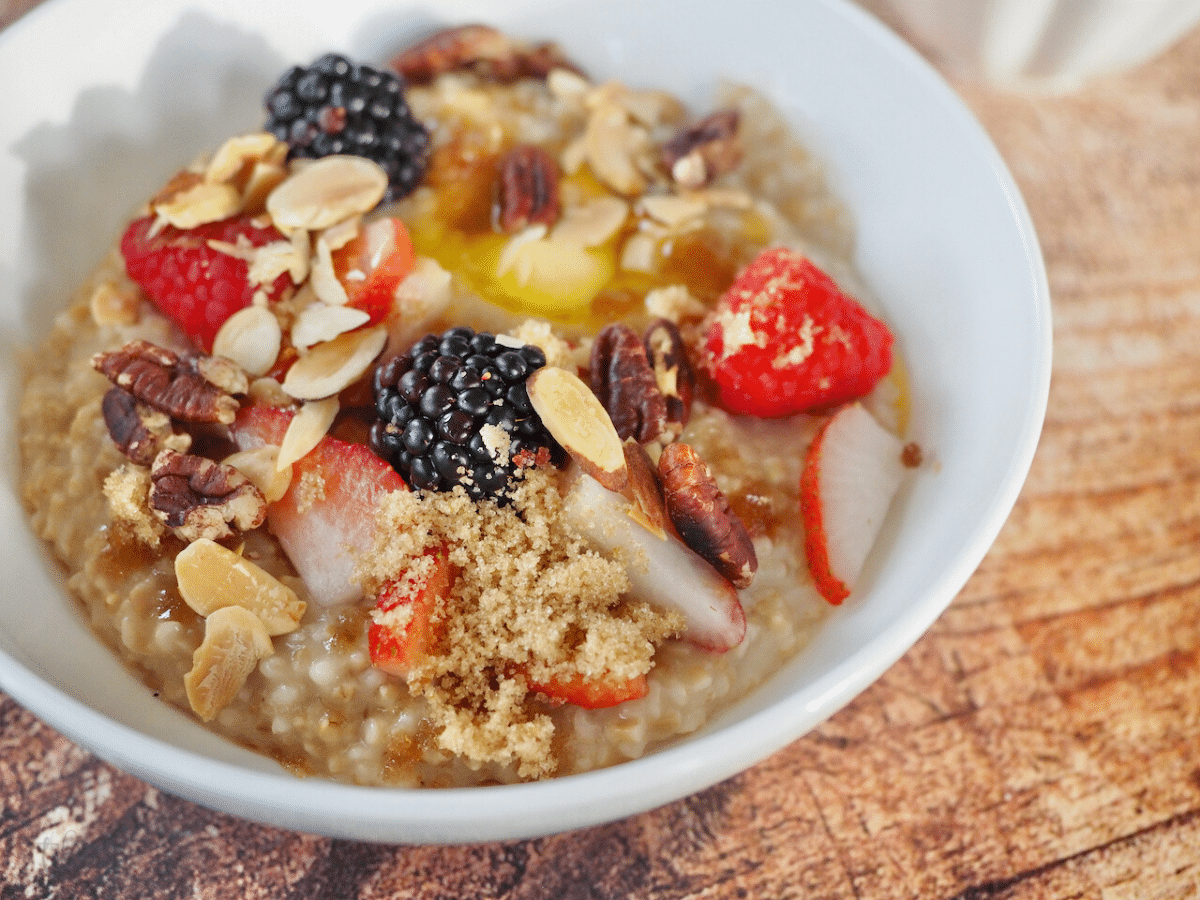 Benefits of Eating Oatmeal
Oatmeal is high in antioxidants and has been shown to lower blood sugar levels
Aids in weight loss, keeping you feeling full longer
Eases constipation and promotes healthy gut bacteria
Oats are high in fiber and can help lower bad cholesterol (LDL) (source)
Why Cook Oats in the Instant Pot?
Oatmeal is normally a very hands on breakfast or meal prep; instant pot oatmeal recipe is hands free, making it your dream breakfast. Get your instant pot oatmeal going, and walk away! No boil overs, no messy stovetops, just creamy, delicious, hot oatmeal.
Ingredients
The measurements and full instructions may be found in the printable recipe card at the end of this post.
Instant Pot Steel Cut Oats Ingredients
Water, I like using filtered water
Milk or Plant Based Milk (I love using whole milk and oat milk, pictured)
Steel Cut Oats (not quick cooking, you will get a burn notice)
Cinnamon stick or ground cinnamon (optional)
Instant Pot Old-Fashioned Rolled Oats Ingredients
Water, filtered
Milk or Plant Based Milk (I love using whole milk and oat milk, pictured)
Old-Fashioned Rolled Oats, regular or thick (not quick cooking, you will get a burn notice)
Kosher salt (don't skip this, salt highly compliments oats)
Cinnamon stick or ground cinnamon (optional)
Different Types of Oats | Oats 101
So many choices, so little time! Whole Grain Oats are naturally gluten-free.
Whole Oat Groats
I've always loved that term! Groats is simply the term used to describe any whole grain just after harvesting, cleaning and removing the inedible outer hull.
Rolled Oats vs. Steel Cut Oats
Steel cut oats are a step down from the whole oat groats, typically the oat groats are sliced using steel blades (ahem, Steel Cut) into 2-3 pieces, resulting in a nuttier, chewy and more coarse texture. Commonly known as Irish Oatmeal these take longer to cook.
Rolled Oats also known as Old-Fashioned Oats have gone through a process to moisten and flatten the oats. This results in a quicker to cook oatmeal, but the texture is not the same as steel cut oats and the flavor is more mild.
Quick Oats (Steel Cut or Rolled)
Also called Quick Oats or Quick Cooking oats — these are not the same as Instant Oats (which typically have sweeteners, sugars, etc. in them).
Quick cooking oats have been processed even more to shorten their cooking time by steaming them longer and rolling them even thinner than regular rolled oats.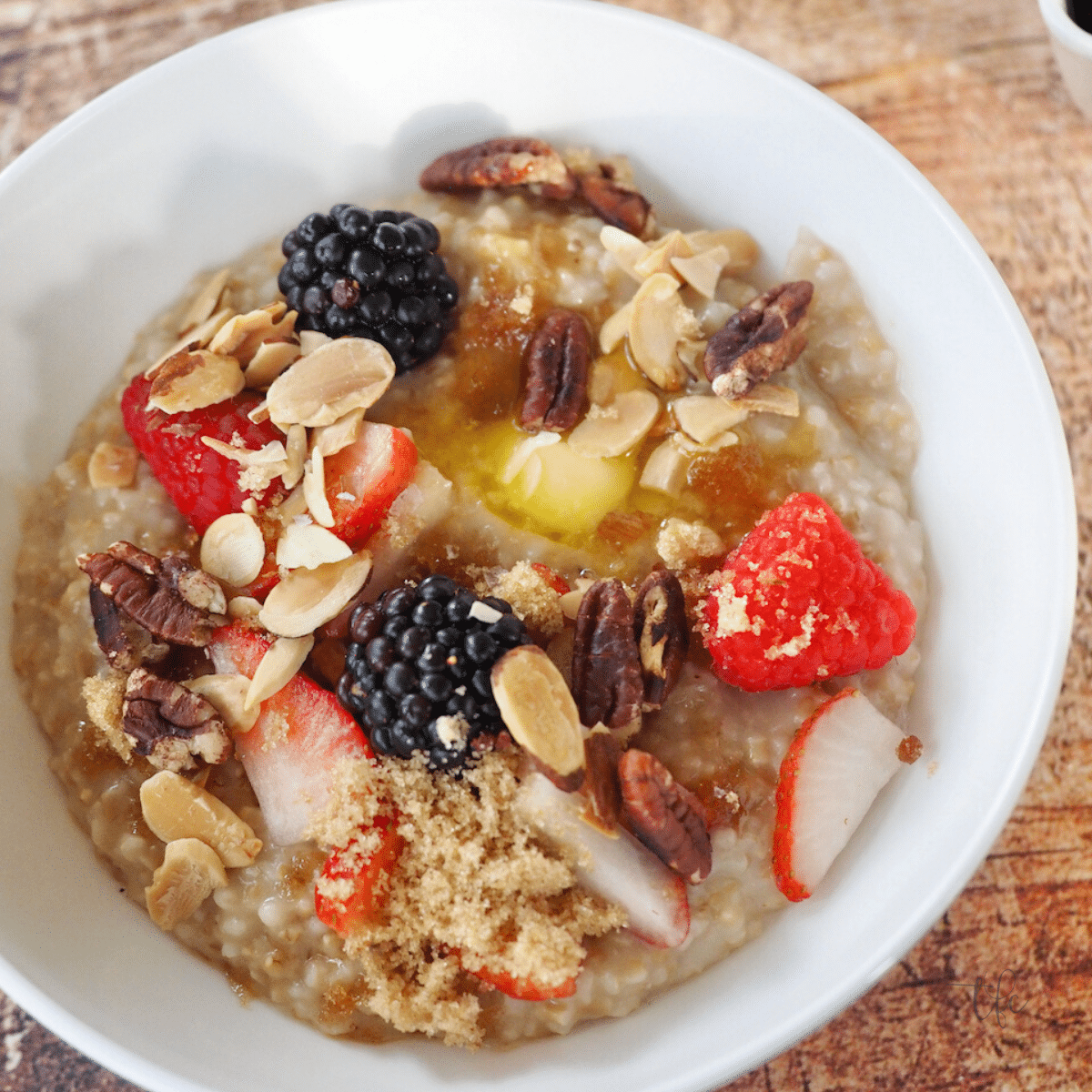 Best Liquid to Oats Ratio
Steel Cut Oats Water Ratio (not instant or quick cooking) you want a 3 to 1 ratio, 3 parts liquid to one part oats. You can use all water, or a combination of water, milk and/or plant-based milk. For creamier oats use milk or milk substitutive along with your water.
Old Fashioned Rolled Oat Water Ratio (not instant or quick cooking) it's a 2 cups liquid to 1 cup dry rolled oats. Same as above, for creamier oatmeal, use half milk and half water.
Oats are kind of personal, some like them on the firmer more textured side, some like them more like porridge; mushy, creamy, less texture. You know, Goldilocks and all! 🙂
Play around with your liquid, if you want them way creamier, add a little more liquid, if you want them less creamy, add a little less. Jot down your changes and don't do big changes all at once, let me know when you have your perfect recipe.
How to Make Instant Pot Oatmeal Recipe
Add oats (steel cut or rolled oats) to the Instant Pot, then add water, milk, kosher salt and cinnamon stick if using.
Place on lid and secure, move vent knob to seal position, set timer on high for 3 minutes (see below for high altitude tips). It will take 7-10 minutes to come to pressure.
Once the timer goes off, allow the pressure to release naturally for 10-20 minutes, then release any residual steam, stir and serve with your favorite toppings (see below for ideas)!
I liked my rolled oats in the Instant Pot at 15 minutes natural release time instead of 20.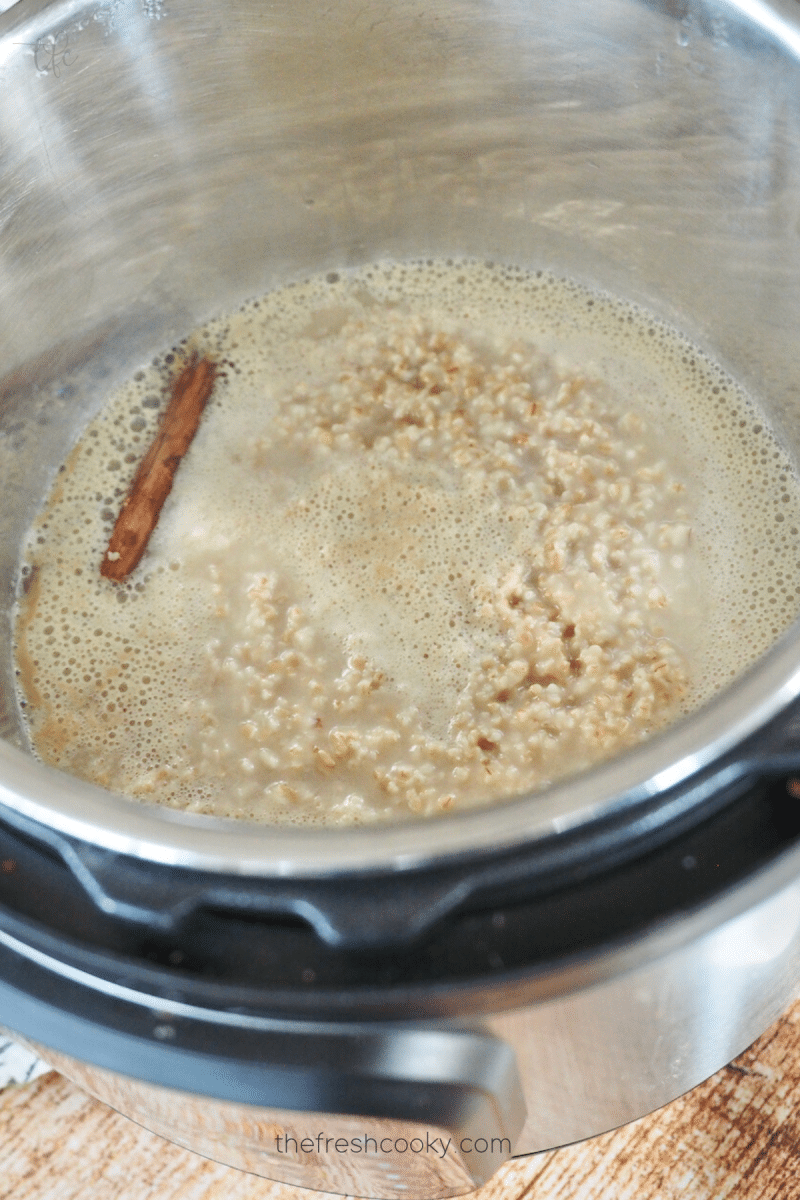 TIP FROM TFC | The longer you leave it under the natural pressure release the more liquid the oats will soak up. So play with it, if you like them more textured, then do the natural pressure release for only 10 minutes, if you like them less textured, the allow for the full 20 minutes. I've also let them stay in for over an hour (oops, went on a walk and forgot them) and they were perfect!
High Altitude Instant Pot Oatmeal Tips
Things take a little longer to cook at altitude in the Instant Pot, for soft and creamy oatmeal, increase the under pressure time to 4-5 minutes, you may have to play with it depending on your altitude.
If it's not quite cooked to your liking, you can always add a few minutes of time back on the pressure cooker, even after the release, but just try a minute or two at a time.
The longer it sits the more liquid the oats (steel or old-fashioned rolled oats) will soak up. Sometimes you just need to allow it to sit a few more minutes.
I liked my Instant Pot Rolled Oats at 15 minutes natural pressure release.
Option for Instant Pot Steel Cut Oats with Apple
Press the saute function on your pressure cooker, when it reads hot, add 2 tablespoons butter to the IP and melt. Add 1-2 small chopped apples (cored, but not necessary to peel unless you want to) and saute for 2 minutes, stirring occasionally. Then add steel cut oat groats and saute for another minute. Press cancel, then proceed with the recipe.
How to Make Oatmeal Taste Good | Topping Ideas
Oooh, this is my favorite part friends, time to customize your creamy oatmeal! Here are some suggestions, but I would love to hear how you love your oatmeal.
Make an oatmeal topping and mix-in bar, I made this for a brunch and everyone loved it!
Oatmeal Bar Topping Ideas | Place the following in small bowls with small spoons for people to customize their own oats. Butter, brown sugar, dried cranberries, raisins, toasted almonds, toasted pecans (or any other nut), fresh fruit, cinnamon and some flaky sea salt*. This Graham Cracker Crunch would also be amazing sprinkled on top!
Banana Split Oatmeal | Slice bananas, swirl in a little strawberry jam, sprinkle on some mini chocolate chips.
Cocoa Loco Oatmeal | Add 1-2 tablespoons cocoa powder to the oat mixture before cooking, or stir in a teaspoon into an individual bowl, sprinkle your favorite toasted nuts (try hazelnuts!) and a little flaked coconut.
Classic Oatmeal | Butter (I love grass-fed), a little brown sugar and a sprinkle of flaky sea salt. This is my favorite way! Some people love a little cream or milk in it too, that would be my hubby.
Traditional Irish Oatmeal | Top your oatmeal with a drizzle of honey, definitely a sprinkle of sea salt and a splash of milk – some say they enjoy a little splash of whiskey too on the weekends!
Nut Butter Oatmeal | Amp up the protein with a spoonful of your favorite nut butter; peanut butter, almond butter, cashew butter and of course the favorite; Nutella! Swirl in a little jam or honey, sprinkle with a little salt and you have dream oatmeal! Try a swirl of this Instant Pot Apple Butter – talk about the fall feels!
Eggnog Oatmeal | Replace half or all of your milk with eggnog, this is a great use for leftover eggnog, in addition to the cinnamon stick, add ¼ teaspoon of fresh grated nutmeg. Add butter, sweetener of choice and a little extra eggnog for serving.
Pumpkin Spice Oatmeal | Before cooking, stir in 1 cup of pumpkin puree (not pumpkin pie mix), 1 teaspoon of nutmeg and cinnamon, 1 teaspoon of vanilla extract. Serve with a little butter and brown sugar.
Frequently Asked Questions
How long does oatmeal last?
Cooked oatmeal will last in the fridge in an airtight container for up to 5 days. I like to keep all of my grains, including steel cut oats and rolled oats in the fridge or freezer. This will prevent molds from forming and keep your grains (flours, rice, etc) fresher longer.

Do the smell test, if it looks off, or smells off, throw it away!
Why do you put salt in oatmeal?
Because salt will bring out the flavor, the nuttiness of the oats and add a huge amount of depth to your oatmeal. Add it when cooking the oats, so it gives the salt a chance to mingle with the oats while cooking and then I personally like a little sprinkle of flaky sea salt when serving.
Why does my oatmeal burn in the Instant Pot?
Ever get that pesky burn notice? It happened to me while researching for this Instant Pot Oatmeal recipe. I had run out of regular steel cut oats and so supplemented with some quick cooking steel cut oats, these oats have been pre-cooked to make the cooking faster and that resulted in the liquids cooking too quickly with a slight burn or crispness at the bottom.

Which is why I recommend you DO NOT use quick cooking oats in this Instant Pot Oatmeal recipe.

It might also mean you are need more liquid, start with a few tablespoons at a time and make sure you aren't using all milk, add some water in there.
Can this Instant Pot oatmeal recipe be doubled?
Yes, it sure can – as long as you are using a 6 qt or larger instant pot.
My instant pot oatmeal is runny, what did I do wrong?
Most likely nothing, when you first remove the lid from the Instant Pot, give the oats a stir, they will continue to soak up the liquid as they cool. Alternatively, the next time you make them, allow them to sit a bit longer with natural pressure release.
Are Steel Cut or Old Fashioned Oats Gluten-Free?
All whole grain oats are naturally gluten-free, however, if you are celiac or highly sensitive be sure to by certified gluten-free oats. These have been processed in facilities that are gluten-free, others might be contaminated with gluten, when sharing processing equipment.
Storage for Cooked Oatmeal
Portion out desired servings of cooked steel cut oatmeal or regular oatmeal into individual serving sized containers. Store in fridge for up to 5 days.
Oatmeal may be frozen for up to 3 months, reheated by heating on low in the microwave or on the stovetop. Be sure to add a little milk or water when reheating, start with a tablespoon at a time.
The Best Oatmeal Making Tips
Add salt before cooking for the best flavors; then if you are like me, add a little flaky sea salt when serving as well. Trust me on this one or do your own taste test.
Make sure you prepare the oatmeal with the correct ratio of liquid to oats.
Leave yourself plenty of time, while cooking steel cut oats or rolled oats in the Instant Pot is easier, and doesn't require any babysitting, it does still take some time.
Play around with different types of oats in the instant pot, just do not use this recipe for quick cooking oatmeal or quick cooking steel cut oatmeal – as it will most likely burn or stick to the pot.
To Stir or Not to Stir | While researching recipes and methods and doing my own research for Instant Pot Oatmeal, some said, "DO NOT STIR the mixture", and others say, "ALWAYS STIR your mixture". I tried it both ways and didn't see any difference in the resulting texture. So, as I always like to say, "make it yours!"
Recipes using Oats or Oat Flour
More Instant Pot Recipes
LOVE IT? PIN IT!
National Oatmeal Month
Like this recipe?
Don't forget to give it a ⭐️⭐️⭐️⭐️⭐️ star rating and comment below the recipe!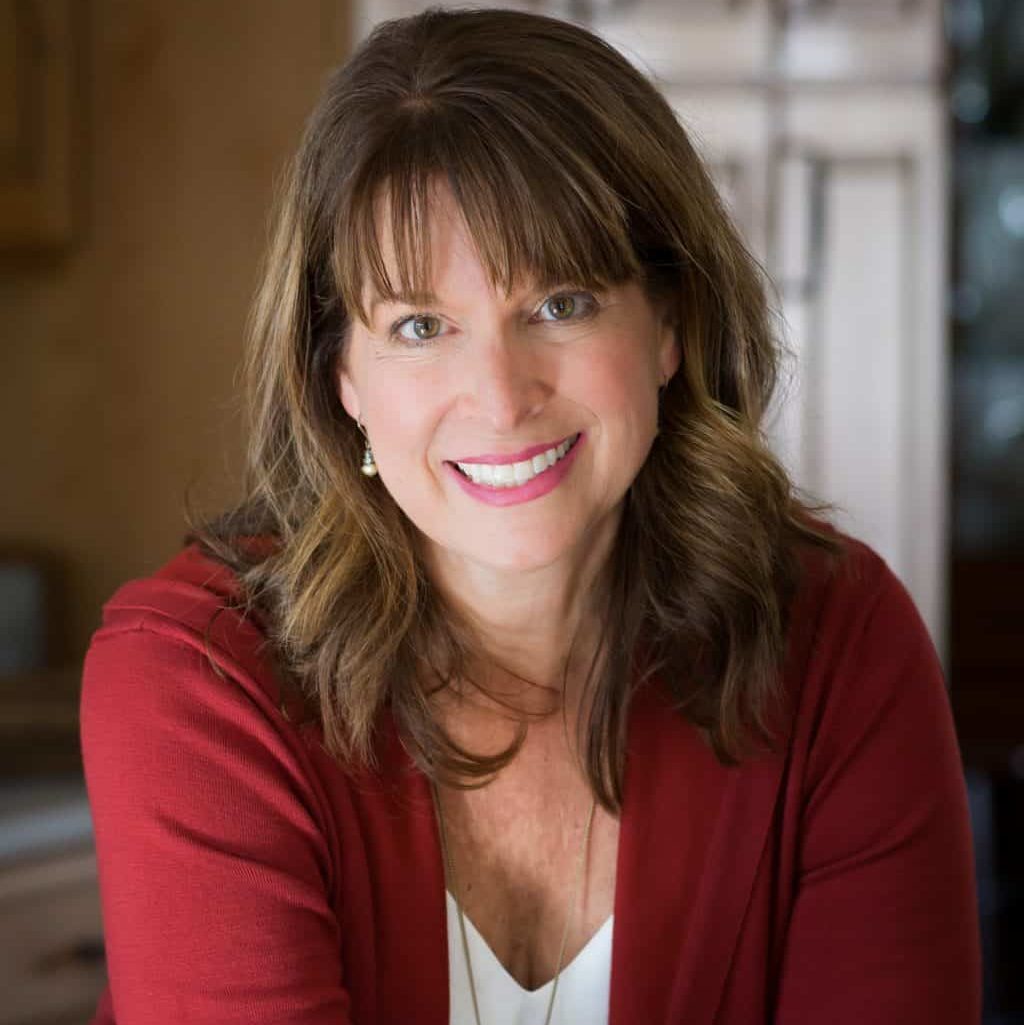 About Kathleen Pope
Recipe Innovator | Food Photographer | Food Writer
Hi, I'm Kathleen Pope. Here at The Fresh Cooky you will find easy, mostly from-scratch, trusted recipes for all occasions. From speedy dinners to tasty desserts, with easy step-by-step instructions. I am here to help teach you how to make mouthwatering recipes without spending hours in the kitchen. Read more about Kathleen here.