The Best Easy No Bake Banana Pudding Recipe (Magnolia Banana Pudding)
As an Amazon Associate, I earn from qualifying purchases. Please read my disclosure policy.
Magnolia Banana Pudding recipe is an old-fashioned Nilla wafer banana pudding recipe (no bake) made from scratch. Thick, creamy and easy homemade banana pudding is made using sweetened condensed milk, and then folded into thick whipped cream, layered with Nilla wafers and sliced bananas for a truly old fashioned banana pudding!
A favorite and popular dessert of Magnolia Bakery, NYC, they spilled the secret on how to make this amazing banana pudding! You can have it shipped, or you can easily make your own for a whole lot less!
We love no bake desserts in our house and our readers do too; try these favorites: Mile High Mud Pie, Traditional Tiramisu, Oreo Pudding Dessert and this amazing Fried Ice Cream Cake.
Why you will love this Best Banana Pudding Recipe
The BEST | Thick, super creamy and tastes like what Grandma made!
No BAKE! Yes, when it's triple digits outside and you need a cool dessert, this is the one!
Minimal Ingredients | Ingredients like vanilla wafer cookies, vanilla instant pudding mix and Sweetened Condensed milk.
Make Ahead | I love desserts especially that I can make a day ahead of time, takes one more task off my list!
Feeds a Crowd | This dessert serves 12-15, dish up into mason jars or small bowls and feed a crowd for a party, potluck or barbecue.
Ingredients
With a few simple, easily accessible ingredients you will be enjoying this Magnolia Banana Pudding recipe in a jiffy!
Sweetened Condensed Milk | I used Organic to keep this a bit cleaner, this is the small can, not evaporated milk.
Ice Cold Water | This helps the pudding mix set up when combined with the condensed milk. For Ice cold water | Fill measuring cup or bowl with 1 1/2 cups water and ice, let sit for a minute, pour into liquid measuring cup (keeping the ice out) for ice cold water, or use cold water from the fridge.
Instant Vanilla Pudding Mix | I tried to find an instant vanilla organic pudding mix, but had trouble finding one, so I used Jell-O brand which according to Magnolia Bakery Cookbook is preferred!
Rodelle Vanilla Bean Paste | This is my addition, to add even more rich, vanilla flavor to this amazing dessert! I love Rodelle products, all-natural, many organic, pure vanilla! Or substitute with regular vanilla extract.
Heavy Cream | the whipping kind, not fat free, use the real deal, it's so worth it! No Cool Whip here!
Nilla Wafers | According to the recipe, these should NOT be substituted, but I will give you some Gluten Free ideas at the end of the post. I used a few more than they called for, including some Mini Nilla Wafers.
Ripe Bananas | Not hard, but the perfectly ripe banana is what is perfect here! If you are worried about them turning brown, toss in a little lemon juice or a little orange juice if you are worried about the sourness of lemons.
Ripe Bananas | Not hard, but the perfectly ripe banana is what is perfect here!
How do you make Old Fashioned Banana Pudding from Scratch?
Below are the simple steps to making your own famous Nilla wafer banana pudding (no bake)!
Step 1 | Preferably the night before
TFC PRO TIP | do this first step the day before to allow the pudding to set up properly.
In a mixing bowl (this is my favorite small mixing bowl, it has a lid!), beat together sweetened condensed milk and ice cold water, with an electric mixer on medium speed. About 1 minute.
Pour in the pudding mix and vanilla bean paste, beat well, about 2 minutes until thick and incorporated. Don't worry, it won't be very pudding like yet, it will set as it sits in the fridge.
Cover and refrigerate at least 3-4 hours, preferably overnight, the pudding mixture will set during this time.
Step 2 | Preferably the next day
In a large bowl or in your stand mixer with whisk attachment, whip the heavy cream until stiff peaks form.
Then gently fold the pudding mixture into the whipped cream until combined using a rubber spatula, you might have a few bumps and bobbles, but don't worry about those.
Step 3 | Assemble Banana Pudding
Choose a large, wide bowl (a glass trifle bowl or trifle dish is beautiful to see those layers) with a 4-5 quart capacity. You can use a trifle bowl, but it's not necessary unless you have one.
Place Nilla Wafers on the bottom layer of the bowl and then a layer of sliced bananas, you can press some against the side of the bowl if you wish. You might need to do some overlapping.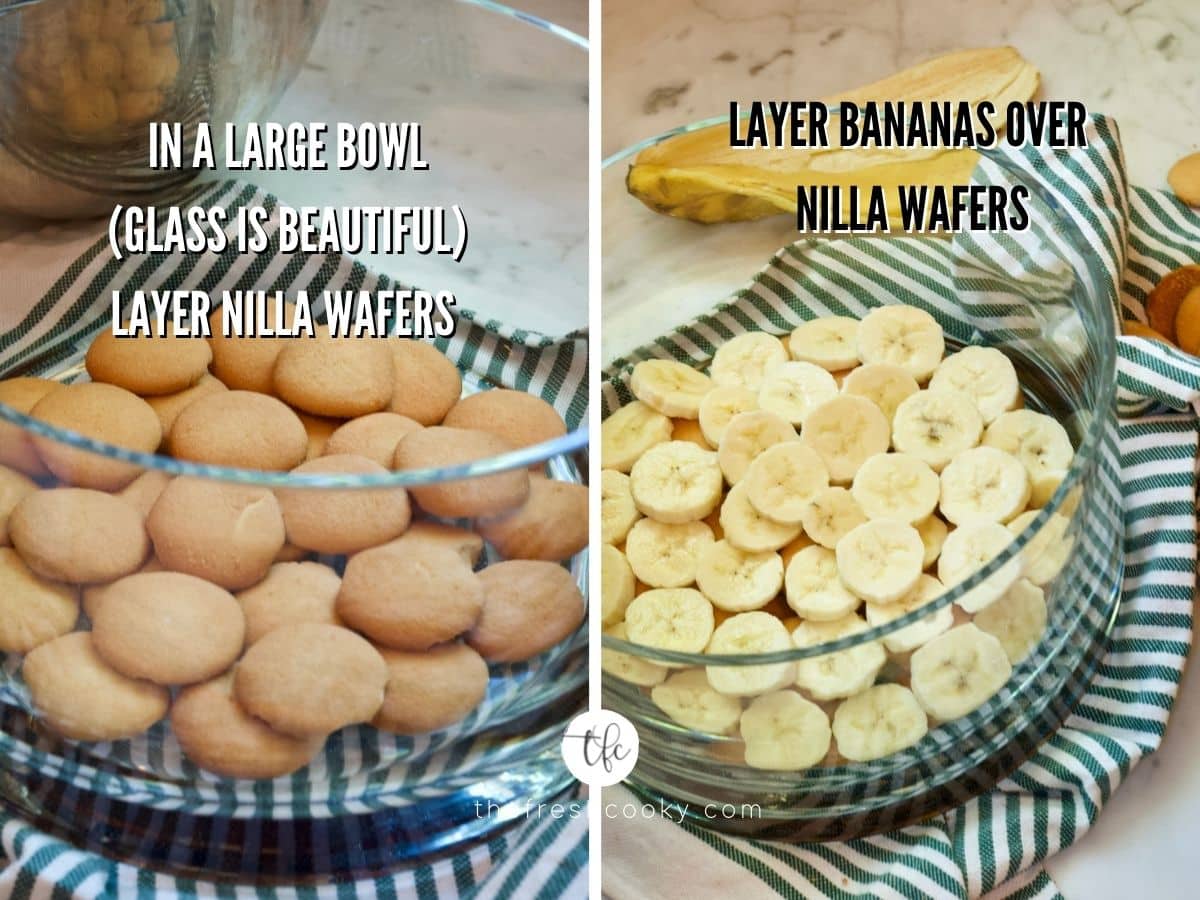 Layer one third of the pudding mixture on top of the bananas, repeating the layer of cookies, bananas and pudding two more times.
Step 4 | Final steps for old fashioned Banana Pudding
I fancied mine up a bit, by adding a few mini vanilla wafers around the top edge of the bowl, not necessary at all, but can you really have too many Nilla wafers? I think not! It is truly an easy banana pudding recipe.
Cover with plastic wrap and refrigerate for 4 hours and up to 8 hours!
Serve this no bake banana pudding recipe by scooping into bowls, dessert dishes, wine glasses, mason jars. If desired, add a little spritz of whipped cream, top with Nilla wafer and a slice of banana.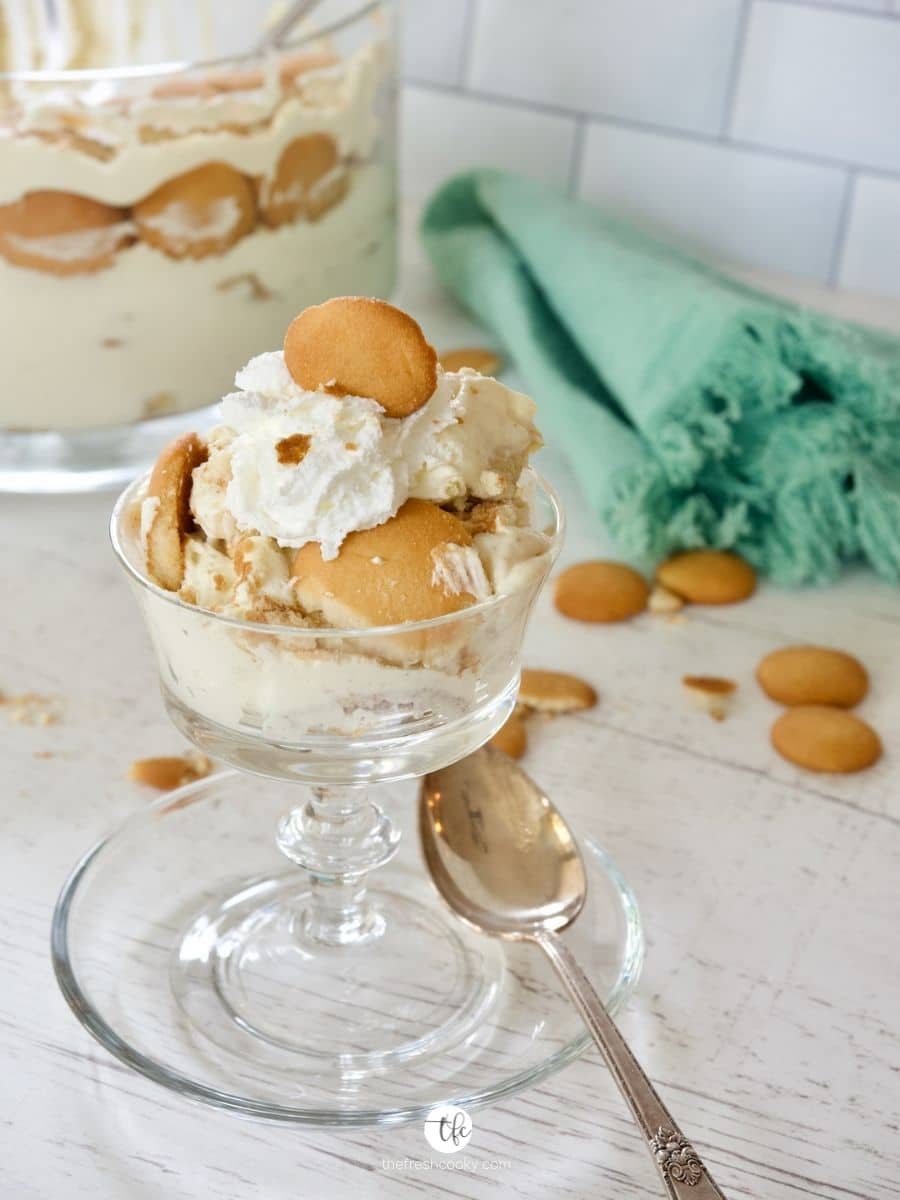 Fresh Tip
You can also assemble into individual serving containers if you prefer, you might need additional Nilla wafers (I'd suggest the Mini wafers) and bananas, but you should plenty of the pudding mixture to make at least 12 individual servings.
Frequently Asked Questions
Is Magnolia Bakery the same one owned by Chip & Joanna Gaines?
Admittedly, I thought it was one and the same, until I did a bit more research to discover that this Magnolia Bakery Banana Pudding recipe is from the world-famous bakery in New York City, Manhattan to be exact. Their two most popular recipes: their amazing cupcakes (might see these on the blog soon) and their Magnolia Bakery Famous Banana Pudding.
How long does banana pudding last?
Banana pudding should always be kept in the fridge, it will last for 48 hours, though the cookbook suggests it tastes best between 4-8 hours, I can tell you that I served this for our last book club and my family noshed on the rest of this all week long. While the bananas are not as pristine, they are certainly still edible 4-6 days later, if it lasts that long.
Can I freeze banana pudding?
For an old-fashioned creamy, banana pudding, I would not suggest freezing this no bake dessert. However; if you have leftovers, this dessert is comprised of the same ingredients as no churn ice cream recipes. I haven't tried it, but separate into individual servings, freeze and enjoy as a frozen dessert! Do not thaw!
Gluten-Free Banana Pudding
I love to be able to provide ideas to make desserts, especially a dessert as easy as this — gluten-free. The only gluten in this recipe are the Nilla Wafers and I believe they are easily substituted!
Omit all wafers, gluten full or gluten free — making it not only gluten-free, but a bit more of a low-carb dessert.
Substitute with a Gluten Free Wafer Cookie | I love this Kinnikinnik Brand!
Replace with your favorite GF Butter cookie, it will become one of your favorite desserts!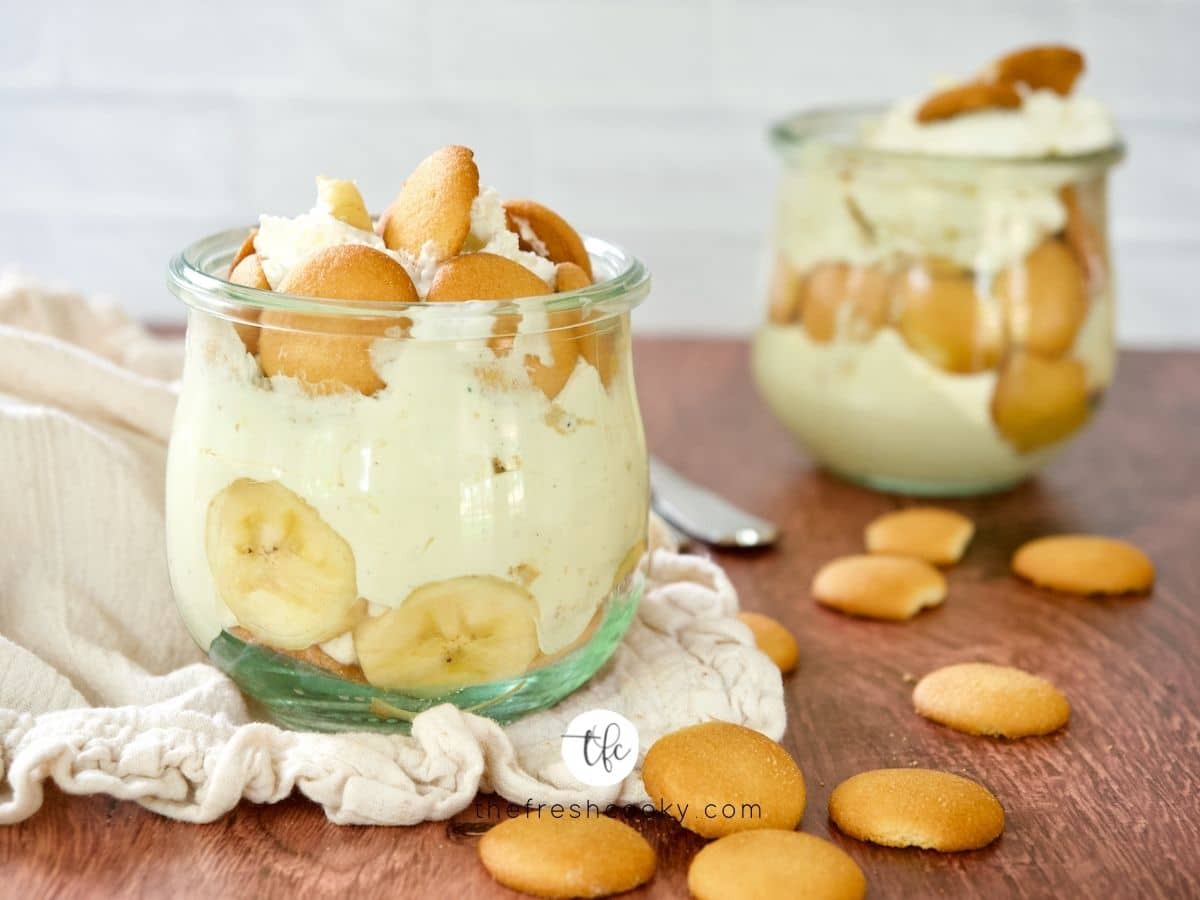 Dairy Free Banana Pudding
Dairy-Free Banana Pudding
I have a lot of friends who are not only gluten free, but dairy free too and this recipe is pretty simple to adapt to be dairy free too! I have not tried it using these ingredients, so let me know if you try it out!
How to Make Coconut Whipped Cream
Place a "full fat" can of Organic Coconut Milk and place it in the fridge overnight, you might need 2-3 cans for this recipe.
Scoop out all the thickened coconut cream and place in bowl of stand or hand mixer. Don't discard the water, use it to drink or in a protein smoothie.
Whip until light and fluffy, use as directed. If making for a topping, you may want to add 1-2 tablespoons powdered sugar and 1/2-1 teaspoon vanilla extract.
Use as directed folding into the pudding mixture.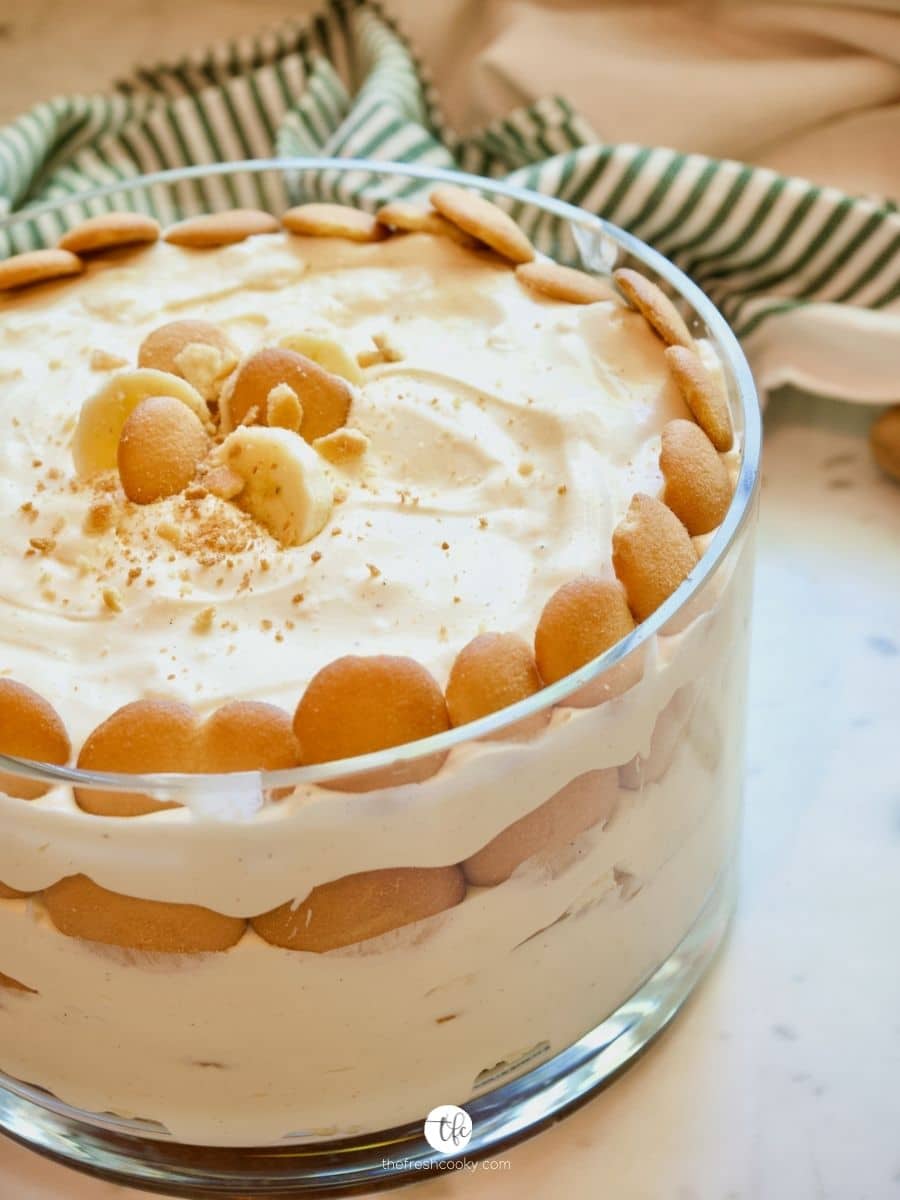 Storage
Store leftover layered banana pudding dessert in an airtight container and refrigerate up to 3-5 days. It will get soggier over time, but it honestly adds to the luscious banana pudding.
More serving options
You do not have to make this dessert in a glass bowl or even in mason jars, instead try some of these other ideas.
Assemble in a large casserole dish, depending on how large, it might just be two layers, but it will still taste great!
Split up the dessert into two smaller serving dishes, like two 8×8 pans.
Mini or Mason Jar Banana Pudding
I served my Old Fashioned Banana Pudding in these beautiful Weck jars, or use an 8 oz Mason jar, you could even prep ahead of time by spooning into individual jars if you know how many people you are serving. Use as big or small of jar as you'd like.
Serve up in stemless wineglasses, they make beautiful serving dishes for treats like this!
Well that's about it, I know you will LOVE this old-fashioned Banana pudding made from scratch by your cute hands!
More great easy dessert recipes you will love!
Like this recipe?
Don't forget to give it a ⭐️⭐️⭐️⭐️⭐️ star rating and comment below the recipe!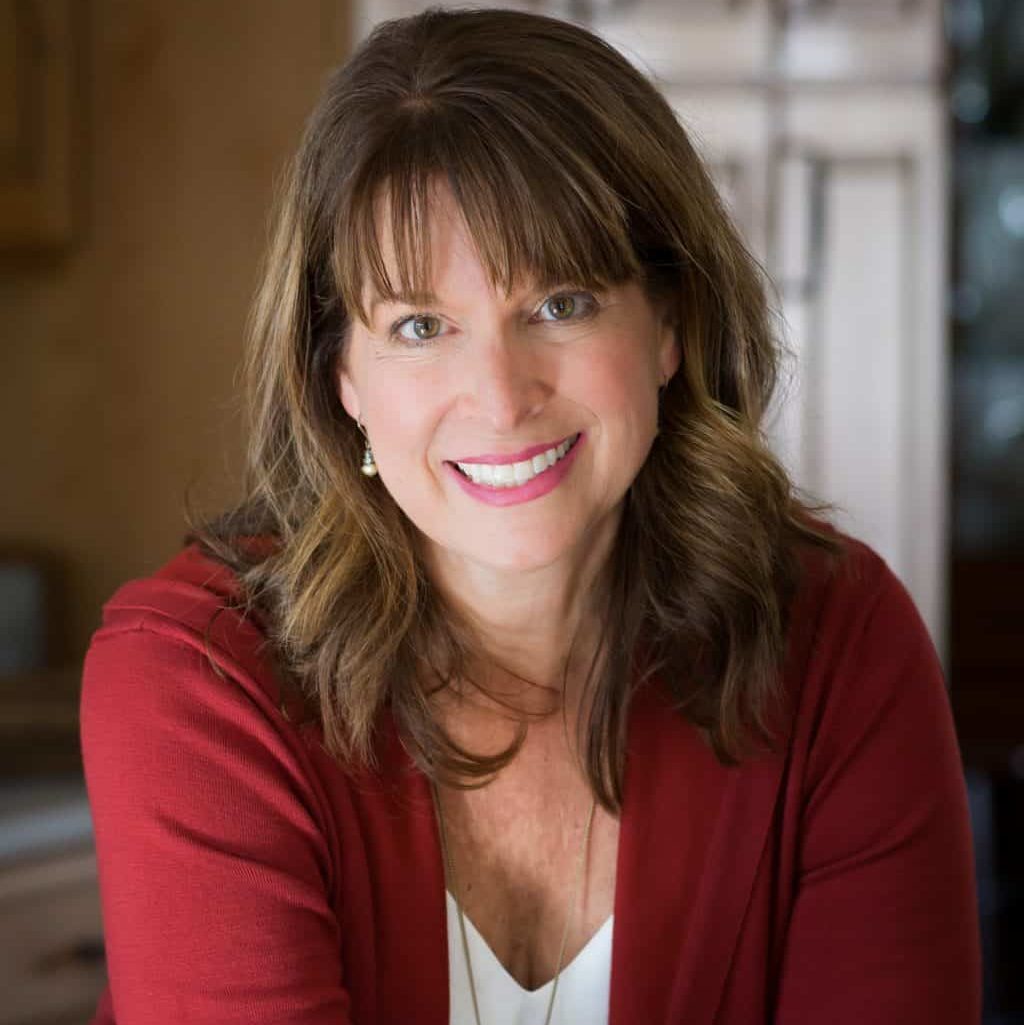 About Kathleen Pope
Recipe Innovator | Food Photographer | Food Writer
Hi, I'm Kathleen Pope. Here at The Fresh Cooky you will find easy, mostly from-scratch, trusted recipes for all occasions. From speedy dinners to tasty desserts, with easy step-by-step instructions. I am here to help teach you how to make mouthwatering recipes without spending hours in the kitchen. Read more about Kathleen here.