S'mores Chocolate Chip Cookies
As an Amazon Associate, I earn from qualifying purchases. Please read my disclosure policy.
S'mores stuffed chocolate chip cookies — need I say more? I adore a chewy and delicious chocolate chip cookie, but stuff graham crackers, marshmallow and chocolate inside! The ULTIMATE gooey, chewy cookie!
This s'mores cookie recipe is so much easier than hauling out the fire pit, finding sticks, sweating in front of a hot, smokey fire, getting your fingers and hands all sticky, a child screaming because their marshmallow burnt to a crisp then dripped into the fire, oozing and spitting. Not that I have first hand experience, sharing for "a friend". ????
This chewy, decadent, gigantic cookie deserves a shout out. I mean, I love gigantic cookies, cause it's less calories you know, if you are just eating one? Oh come on, work with me! If you like huge cookies, you might want to try our pan banging chocolate chip cookies, or pan banging sugar cookies, or even our half bakes (gah!).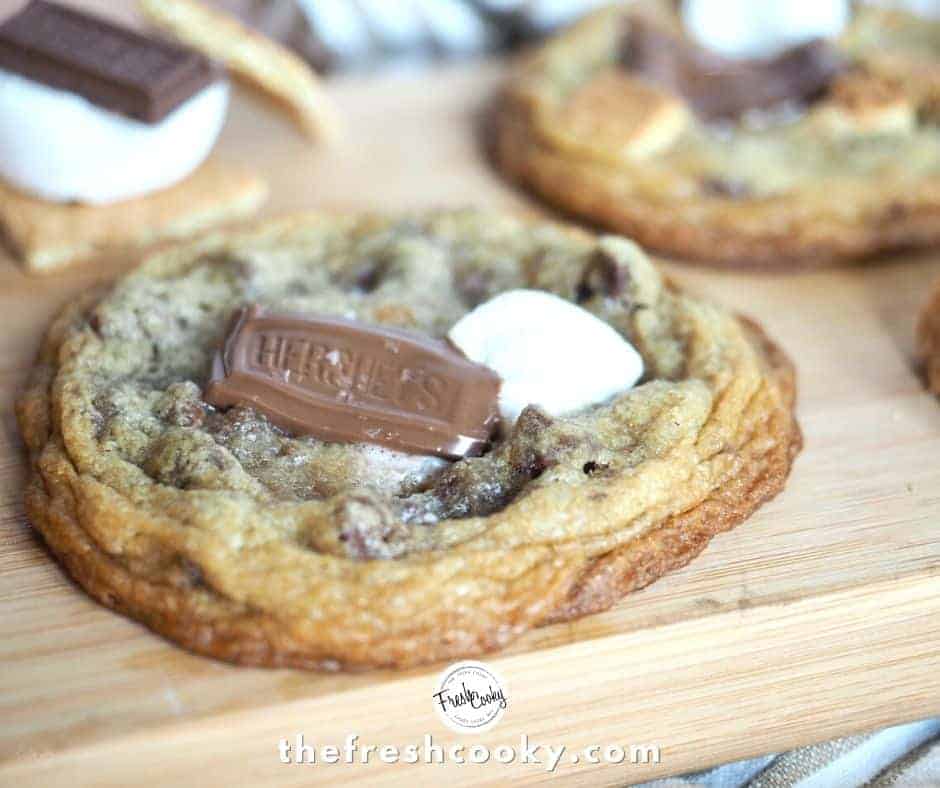 What I love about these marshmallow stuffed cookies is the mess stays pretty well contained; you take cold, dry ingredients, and stuff them into chocolate chip cookie dough, no fuss, no muss!
I am a bit embarrassed that I did not have a S'mores related recipe on the blog, I mean, who doesn't love S'mores? So I thought it was high time to give you a hands down, amazing S'mores Chocolate Chip Cookie recipe, in classic Fresh Cooky fashion; decadent, simple and EASY!
Ingredients for S'more Cookies
Butter | I use salted butter, but you may certainly use unsalted
Sugar | I use all natural cane sugar, which requires a bit more mixing to break down the larger crystals, regular refined sugar is fine too
Brown sugar | I typically use light brown, but honestly it's your preference
Eggs | I typically use grass fed Large eggs
Vanilla | again, the real deal, make your own much more economically at home! See my Vanilla extract post for more info.
All purpose flour | I like unbleached, cause you know, bleach in flour doesn't seem to go together.
Baking Soda & Salt | I like my cookies a bit saltier than most might, but salt is essential to bringing out the full flavor of the cookies
Graham Crackers
Hershey's Chocolate Bars
Marshmallows | regular sized, but you could use 2 mini marshmallows too.
Flaky Sea salt (optional)
How To Make the Best S'more Cookies
Start by making the best Chewy Chocolate Chip Cookie dough! I won't go into detail here, but you can read all of the tips, tricks on my complete post. All the details will be in the recipe card though!
Make up 12-24 mini S'mores by layering a square of graham cracker, half a full size marshmallow and a square of chocolate, set aside.
Scoop cookie dough using a 2 tablespoon scoop, I scooped out 24 dough balls to start, making 12 Smore cookies.
Flatten one cookie dough ball and lay on parchment lined baking sheet, place mini s'more on top, then top with second flattened cookie dough ball on top, seal the edges well or you'll have marshmallow oozing out, which isn't all bad.
IMPORTANT!! My first few test runs yielded extremely flat cookies without a gooey center, they were still delicious, but not my goal.
After testing numerous ways, I finally discovered that chilling the S'more stuffed cookie dough balls was the best answer. Refrigerate for at least 10 minutes, my dough was really soft due to a hot day, so I chilled for 15 minutes.
This allowed the cookies to spread slower, keeping the gooey s'more filling inside the cookies.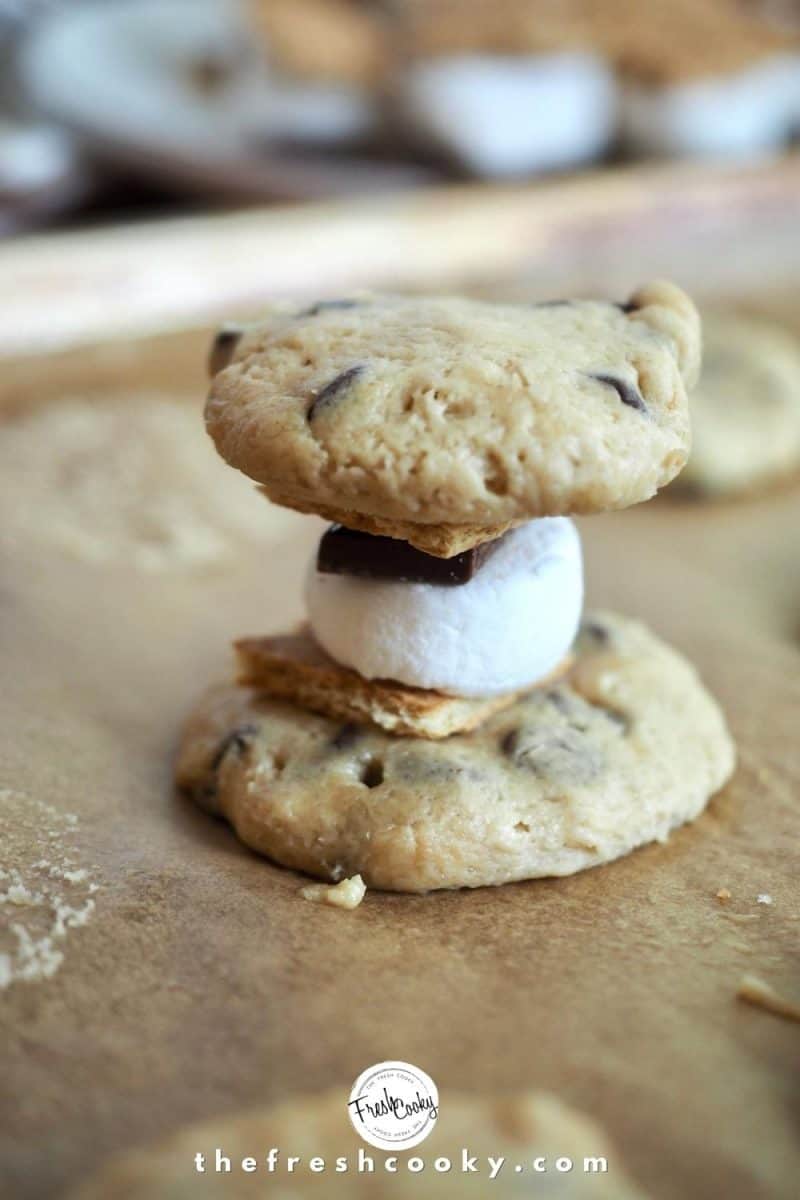 WHY ARE MY COOKIES FLAT?
More than likely the culprit is the butter, maybe it was too soft, or even melted? Or maybe you used a butter alternative like margarine or even a butter blend.
My rule of thumb is this: "If it's soft coming out of the fridge it's not 100% real cream butter." If you must use blends, use them on your toast, but not in your cookies.
Or if could be you didn't use enough flour, this comes from not measuring your flour in spoon and level way. You could always try mixing in a few tablespoons of flour (start with 2) at a time to try and fix this problem.
TIPS TO PREVENT FLAT COOKIES
Use real butter (remember if it's soft coming out of the fridge it's not real butter, yada, yada, yada!)
Do not use margarine (refer to above)
Chill the dough, I know many people balk at refrigerating their cookie dough, but I don't know about you, my kitchen sometimes gets hot, especially in the summer and my butter gets a little too squishy sitting on the counter softening. Chilling the dough does a sciency thing I don't quite understand, except that it firms that fat back; greatly slowing down the cookie spread. I typically start with chilling my chocolate chip cookies for 10 minutes.
Don't over mix your dough.
Try using parchment paper, or a silpat cookie sheet liner, these slow the spreading process and make for easy cleanup.
Lastly, cool your baking sheets between cookies, this would be the reason I own 5 half sheet baking pans, so I don't need to wait between batches! Overkill? Perhaps! 🙂
VARIATIONS FOR S'MORES STUFFED CHOCOLATE CHIP COOKIES!
Now you are talking! I'm all about a variations!
Try using other chips when making your cookies! Milk chocolate, dark chocolate, butterscotch, mini m&m's, chocolate chunks or white chocolate chips!
Instead of a hunk of Hershey's; try other chocolate-ish items, like a mini Peanut Butter Cup, Mini Snickers, Rolo, Twix; you get the idea.
Go crazy decadent and replace one of the graham cracker pieces with an Oreo cookie, or untwist the Oreo, using the chocolate cookie on either side of the marshmallow and chocolate! WOW!
Can I freeze S'more Cookie Dough
Dough may be frozen, while I don't recommend freezing already stuffed cookies; as it could alter the texture of the grahams and the marshmallows. You could freeze the dough discs then stuff when ready to bake, allowing the dough to thaw for 15 minutes should soften enough to form around the dough.
High Altitude Cookie Baking Tips
I bake my cookies at altitude, mile high altitude actually! I've learned a few tricks over the years and the following are my tips!
Refrigeration is your friend! Chill your dough balls prior to baking for the most part, especially if assembling your dough on a warm day.
Many times you need to increase the oven temp by 25 degrees and reduce the time baking, some of that depends on your oven, not all ovens heat the same. Try a sample batch of just 6 cookies or so.
I have provided ingredient adjustments in the printable recipe card for high altitude! Follow those and you should be golden.
Don't forget to PIN to your favorite Cookies Board!
S'mores Cookies in a hurry?
If you are in need of a quick dessert, buy some store bought cookie dough and proceed as planned! I won't tell anyone! 🙂
I hope you enjoyed my first S'mores recipe! I hope to bring you more as time allows, but read below for more S'more Inspired recipes from fellow bloggers.
Like this recipe?
Don't forget to give it a ⭐️⭐️⭐️⭐️⭐️ star rating and comment below the recipe!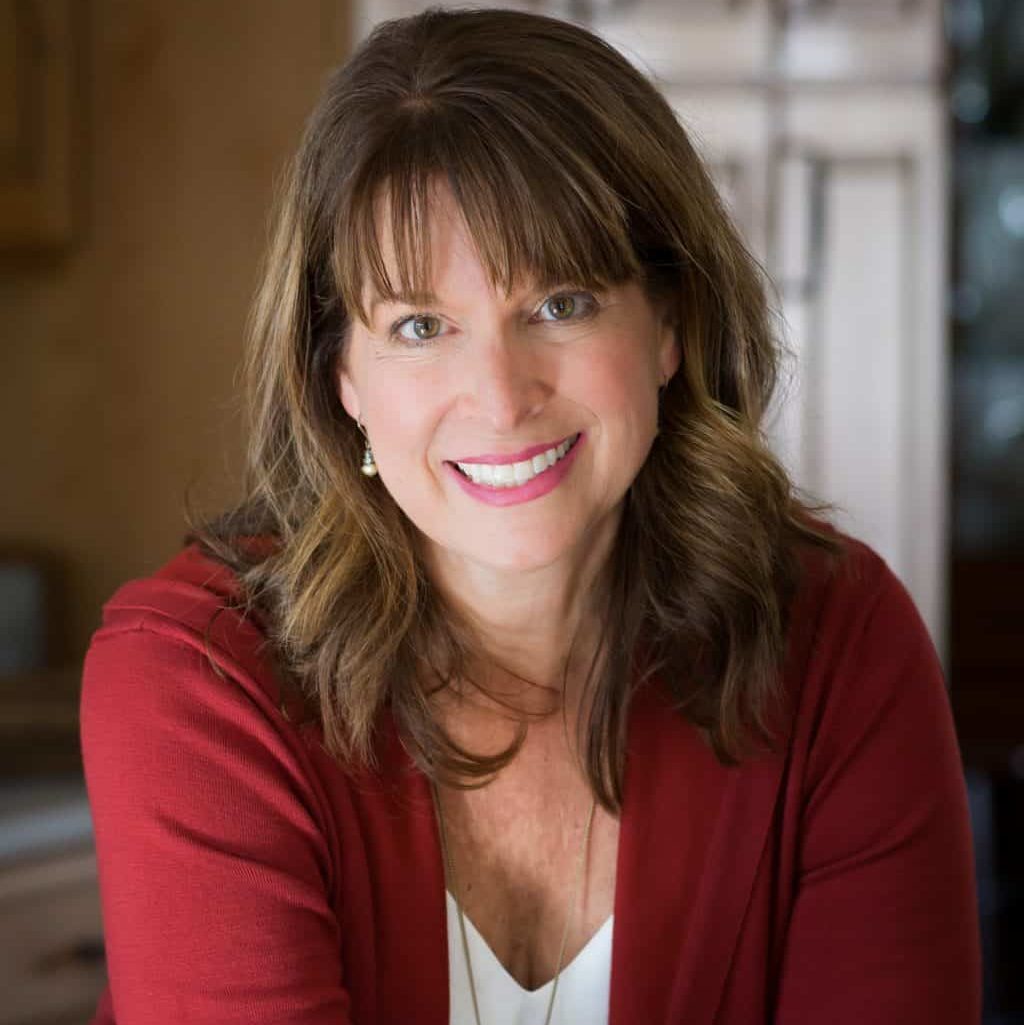 About Kathleen Pope
Recipe Innovator | Food Photographer | Food Writer
Hi, I'm Kathleen Pope. Here at The Fresh Cooky you will find easy, mostly from-scratch, trusted recipes for all occasions. From speedy dinners to tasty desserts, with easy step-by-step instructions. I am here to help teach you how to make mouthwatering recipes without spending hours in the kitchen. Read more about Kathleen here.