White Chocolate Peppermint Cheesecake (Instant Pot or Oven)
As an Amazon Associate, I earn from qualifying purchases. Please read my disclosure policy.
Make a special dessert this holiday season with this make ahead, White Chocolate Peppermint Cheesecake. It is so creamy and festive, loaded with white chocolate and the flavor of the season, peppermint all nestled into an chocolate cookie crust.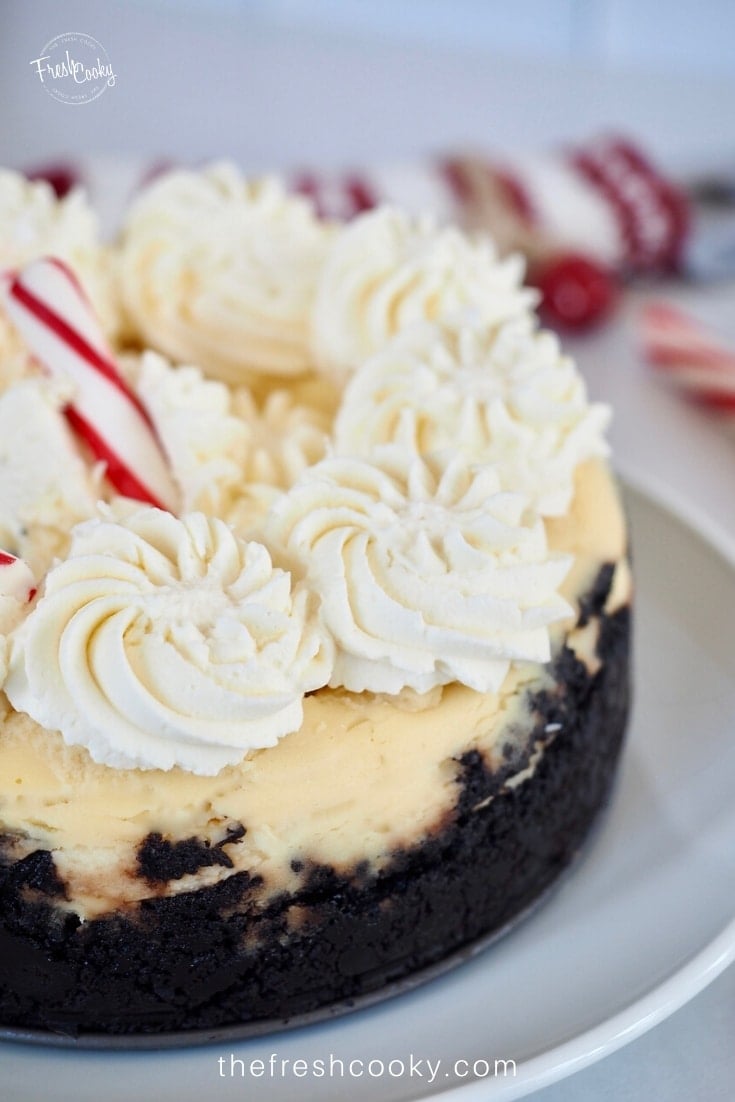 Have you ever tried making a cheesecake in your Instant Pot? Making this cheesecake has locked in my love of Instant Pots! I was visiting a friend and she made a similar cheesecake in her Instant Pot and I was AMAZED! So creamy, so easy, so hands off! Plus I'll give you the cooking times for high altitude as well as sea level.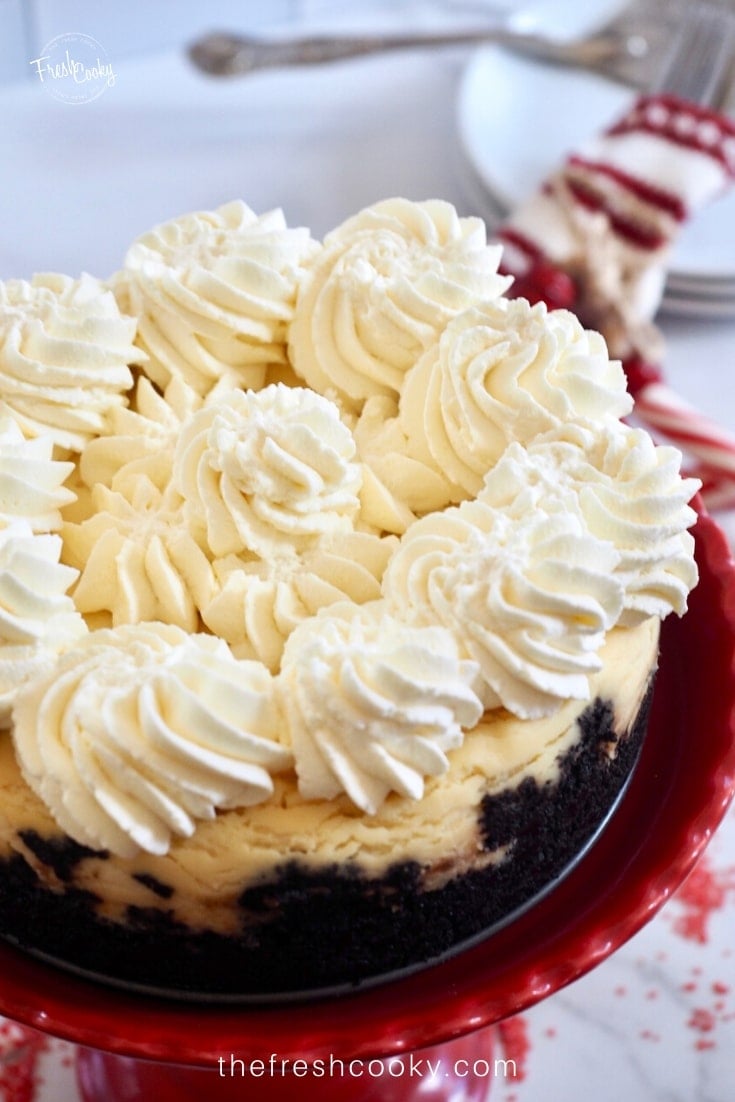 I have never been a huge cheesecake fan, I think it has been the texture, but somehow the process of cooking in a pressure cooker makes this cheesecake so delectable and delicious! I am sold!
Recommended Tools for White Chocolate Peppermint Cheesecake
I hope you will try it in your Instant Pot, however, I do provide oven instructions on the recipe card at the end of the post.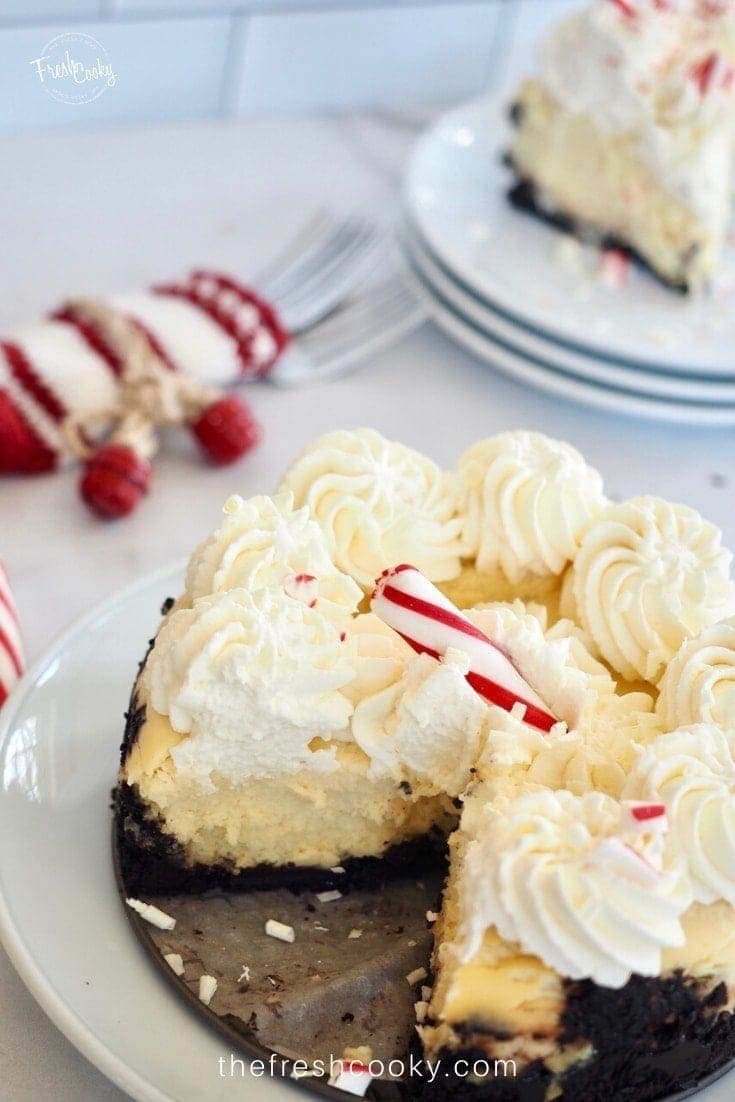 This recipe will overflow a 7″ pan, you want the filling to come a little below the rim of the pan, by about ¼ inch. I used the extra filling making some mini cheesecakes in a muffin tin, see instructions below.
Make Mini White Chocolate Peppermint Cheesecakes
If you find you have a lot of filling left over, have no fear mini cheesecakes are here!
Place cupcake liners in a muffin tin, mine made 6 additional cheesecakes.
Add a whole cookie to the bottom, then pour or scoop cheesecake filling over the cookie until just barely at the top of the tin.
Bake at 325 for 15-20 minutes, until only slightly jiggly in the center.
Set pan on wire rack, cooling for 30 minutes, then transfer to fridge for at least 2 hours.
They will sink a bit in the middle, but you will never notice since you will top them with whipped cream!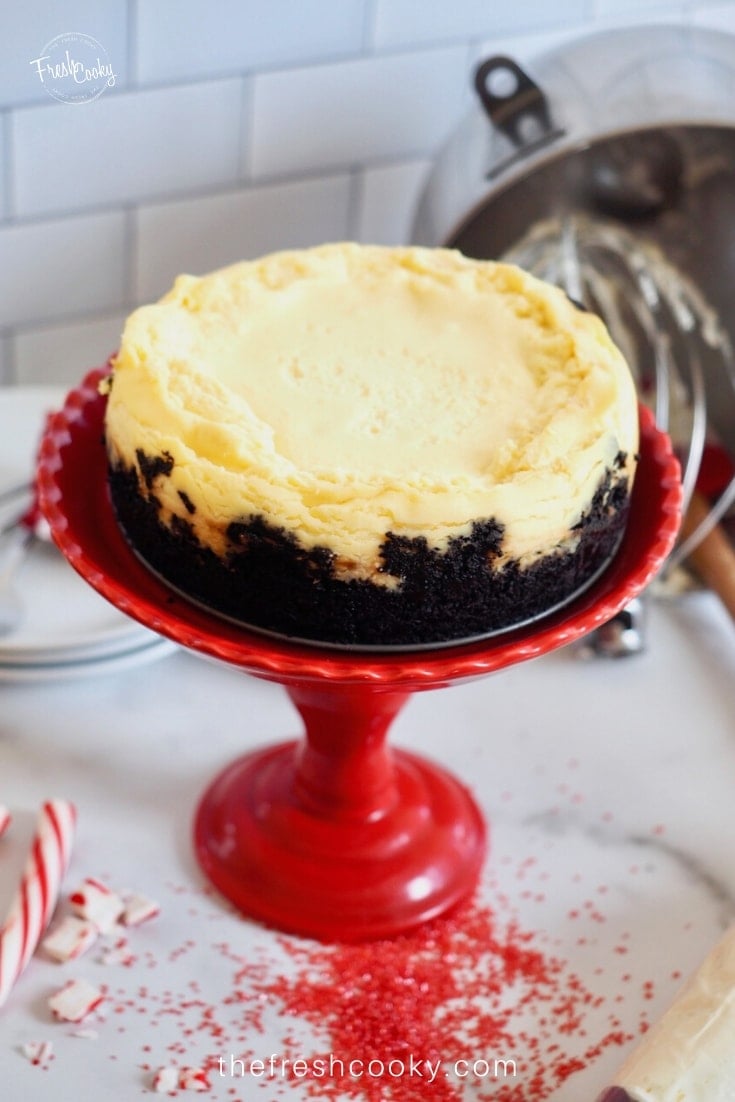 It might look dry and cracked, but honestly, using a warm butter knife you can smooth those cracks right out, but this cake is ANYTHING but dry and once you pipe on your whipped cream, nobody will notice anyway!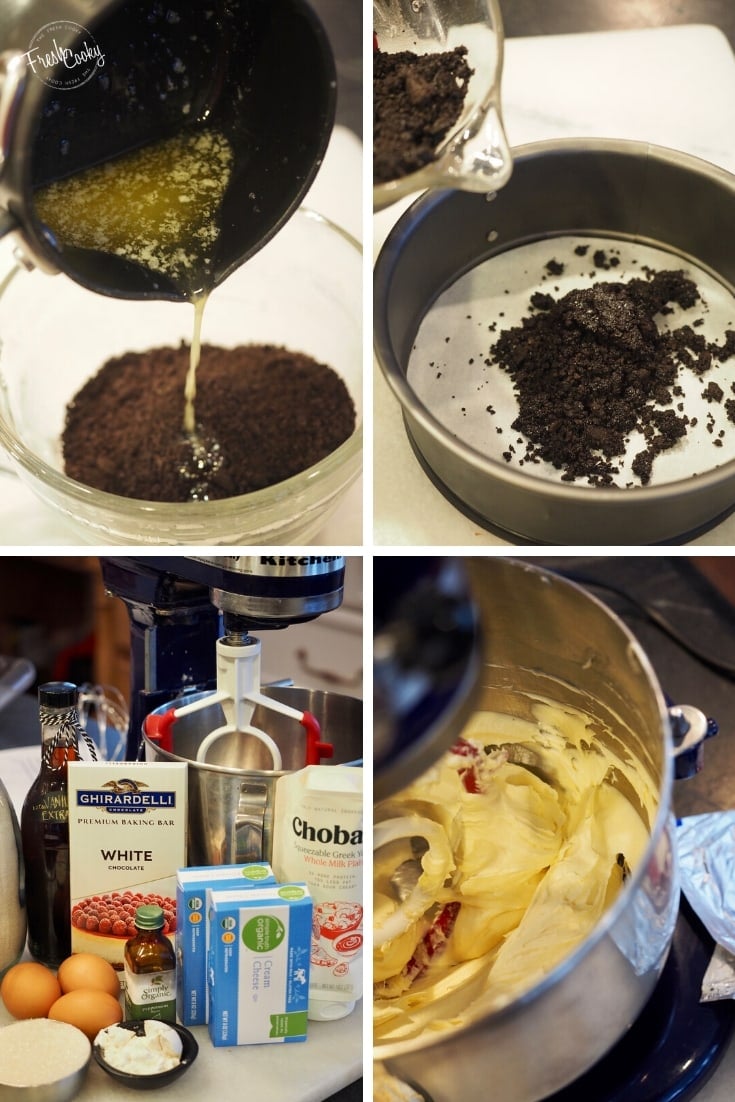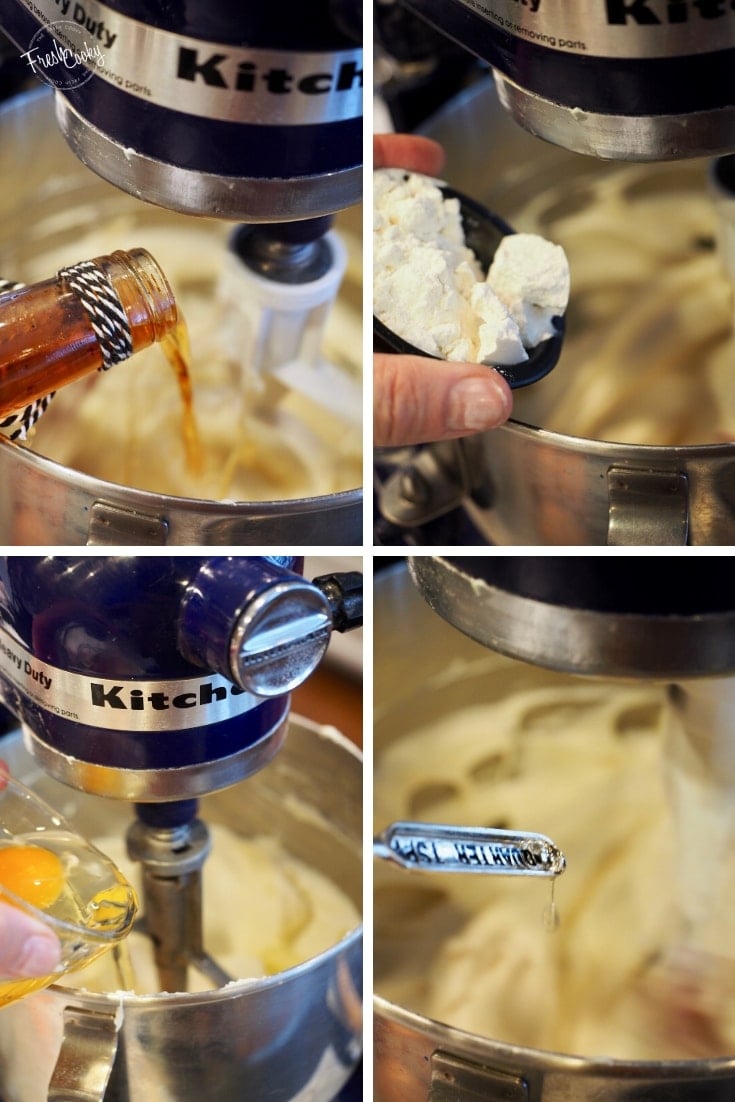 Can I make this Cheesecake Gluten Free?
Yes, and so easily! If making the entire cheesecake gluten free I would use Gluten Free Sandwich Cookies for the crust. If you just need to make a few, follow the instructions for making the mini cheesecakes, omitting the cookie in the bottom of the cupcake liner AND replace the flour in the filling with a good AP Gluten Free flour.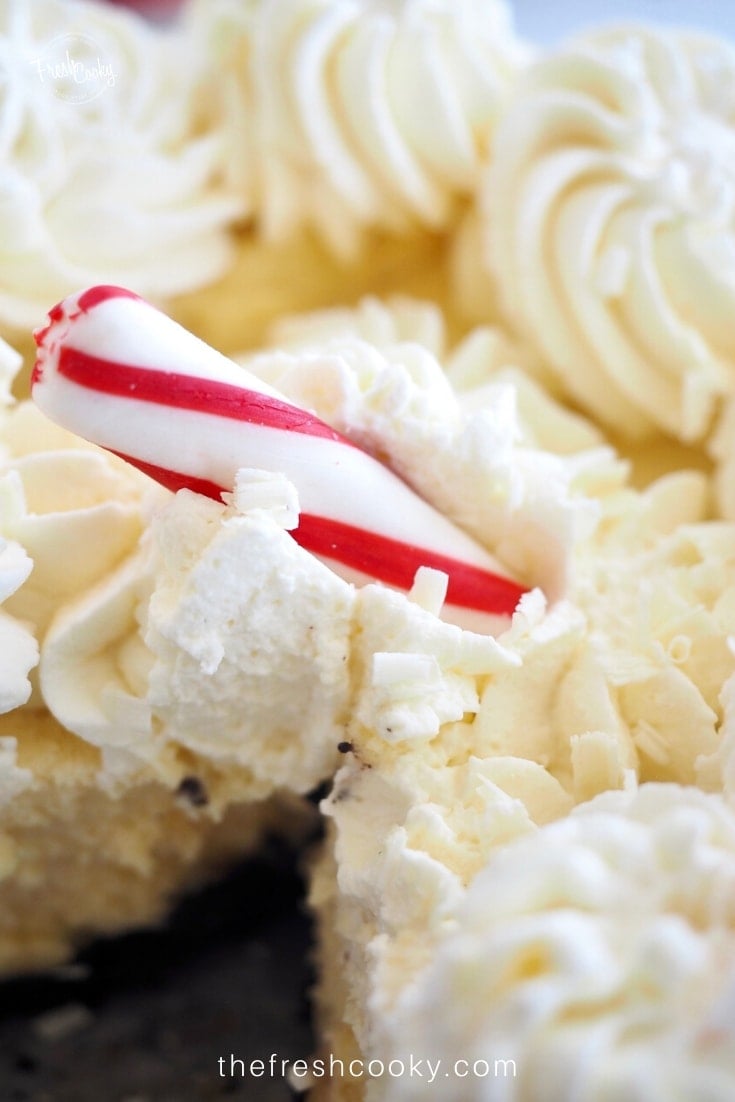 Extracts vs. Flavorings (or oils)
What's the difference? Extracts are usually made by literally extracting the flavor of the source ingredient into a liquid base, usually alcohol. For instance, pure vanilla extract is usually made by "brewing" vanilla beans in alcohol for an extended period of time. Try my bourbon vanilla!
On the other hand, flavoring oils or flavors, are the essential oil squeezed from the ingredient itself, yielding a much more concentrated and intense flavor. Typically much more pure.
We tend to use extracts in our everyday baking where the flavor is playing a supporting, rather than a starring, role. The oils like I've used here are really fantastic when you want that specific flavor to really shine through. Source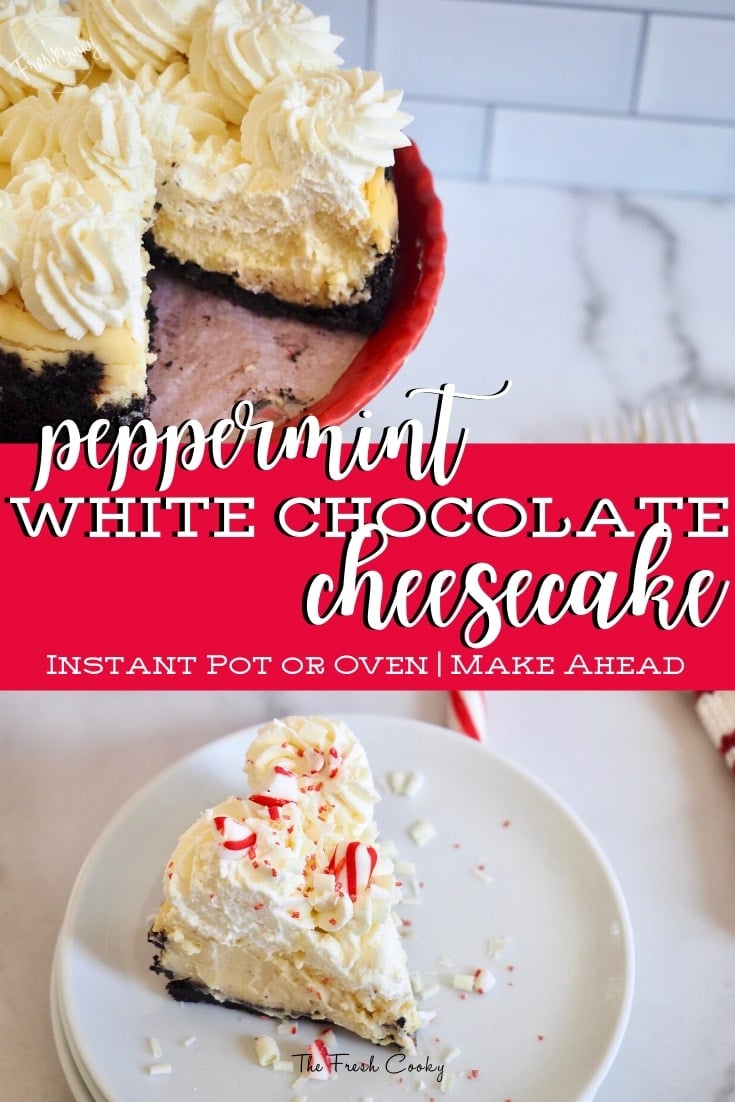 Give these other holiday treats a chance as well!
Like this recipe?
Don't forget to give it a ⭐️⭐️⭐️⭐️⭐️ star rating and comment below the recipe!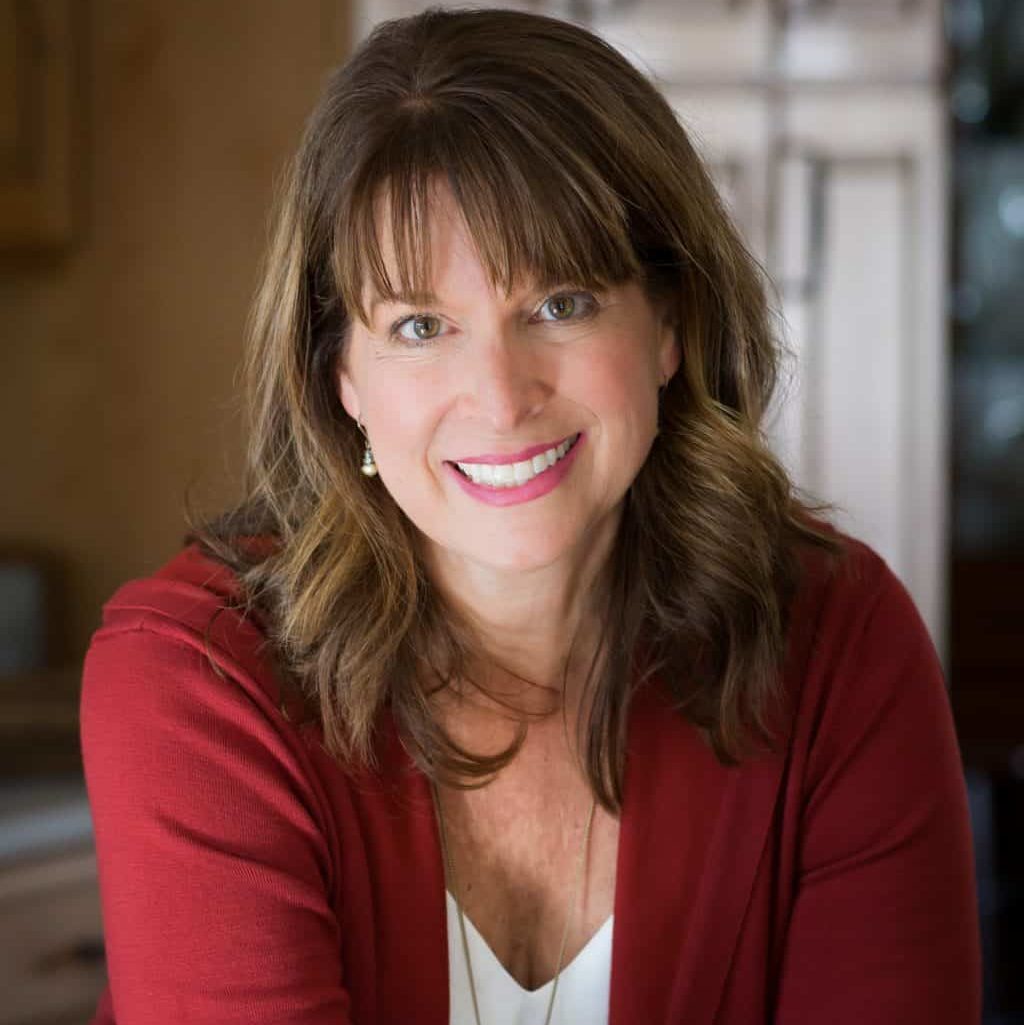 About Kathleen Pope
Recipe Innovator | Food Photographer | Food Writer
Hi, I'm Kathleen Pope. Here at The Fresh Cooky you will find easy, mostly from-scratch, trusted recipes for all occasions. From speedy dinners to tasty desserts, with easy step-by-step instructions. I am here to help teach you how to make mouthwatering recipes without spending hours in the kitchen. Read more about Kathleen here.