As an Amazon Associate, I earn from qualifying purchases. Please read my disclosure policy.
I love the bright reds in the holiday season, and these Oatmeal Cranberry Bars look festive and taste amazing. The fresh cranberries in the middle are tart and the one bowl, brown sugar crumb crust doubles as the topping! This recipe is popular with both kids and adults, so pull out a pan and let's get baking!
No holiday party is complete without cranberries on the menu. And cranberry orange bars are the perfect solution for a family party, office potluck or your favorite cookie exchange. This cranberry crunch dessert is sweet and sassy when served chilled and sliced or warm with ice cream or even whipped cream!
Try these cranberry favorites: Lemon Cranberry Bars, Cranberry Spritzer, Cranberry Relish, Sugared cranberries and this delicious Cranberry Bourbon Sour.
Welcome to Cranberry Week! I am excited to bring you decadent recipes featuring this superfood!
This week we are celebrating all things cranberry! We have delicious recipes from across the country to celebrate all things cranberry!
Cranberry Week is an annual blogging event that is hosted by Ashley from Cheese Curd In Paradise, be sure to browse through the entire post to see all of the great cranberry recipes from my fellow bloggers.
When I'm deciding what to make, I have to think about how long it takes. This dessert is a snap to make in about an hour. And you can even do it in advance, storing it for later. I also have plenty of variations for you!
This time of year, I love to use seasonal ingredients. Check out my Pumpkin Cheesecake Recipe for a delicious blend of cinnamon, nutmeg, and ginger. Another favorite are my Traditional Shortbread cookies, you can make them so many ways!
If you're a lemon lover like me, try my Old Fashioned Lemon Squares with a buttery shortbread crust! They're always on demand at my house.
Primary Ingredients
Measurements and instructions are in the printable recipe card at the end of this post.
Cranberries | This is the essential ingredient to make these not-too-sweet cranberry orange bars.
Orange Juice and Zest | The orange flavor enhances this recipe with its natural sweetness.
Rolled Oats | These give the dessert a satisfying texture and a bit of a crunch.
Almond Flour | Gives these bars a little added texture and crunch
All-Purpose Flour | I use King Arthur organic flour in my baking.
Sugar | This cranberry crunch recipe uses both brown sugar and granulated sugar—I use organic cane sugar with fabulous results!
Butter | Using real butter in baking makes everything delicious. Plus, your baked goods will brown easier and have a better overall texture.
Cinnamon | The tantalizing aroma of this spice will fill your entire kitchen while these are baking!
Vanilla | Real vanilla has a heavenly scent and improves any of your baked goods.
Instructions
Preheat the oven to 350 degrees Fahrenheit. Line a 9×13 inch pan (my favorite) with parchment paper and spray with oil.
You can mix the oatmeal crumb mixture two ways — in a food processor or by cutting the butter in with a couple of knives, a pastry cutter or your hands. I prefer the food processor myself.
Either way, add flour, brown sugar, oats, cinnamon, baking powder and salt to bowl or food processor and pulse or stir to combine.
Add cubed cold butter and pulse to combine or use two knives to cut butter into mixture.
TFC TIP | The mixture is ready, when you squeeze it and it holds together.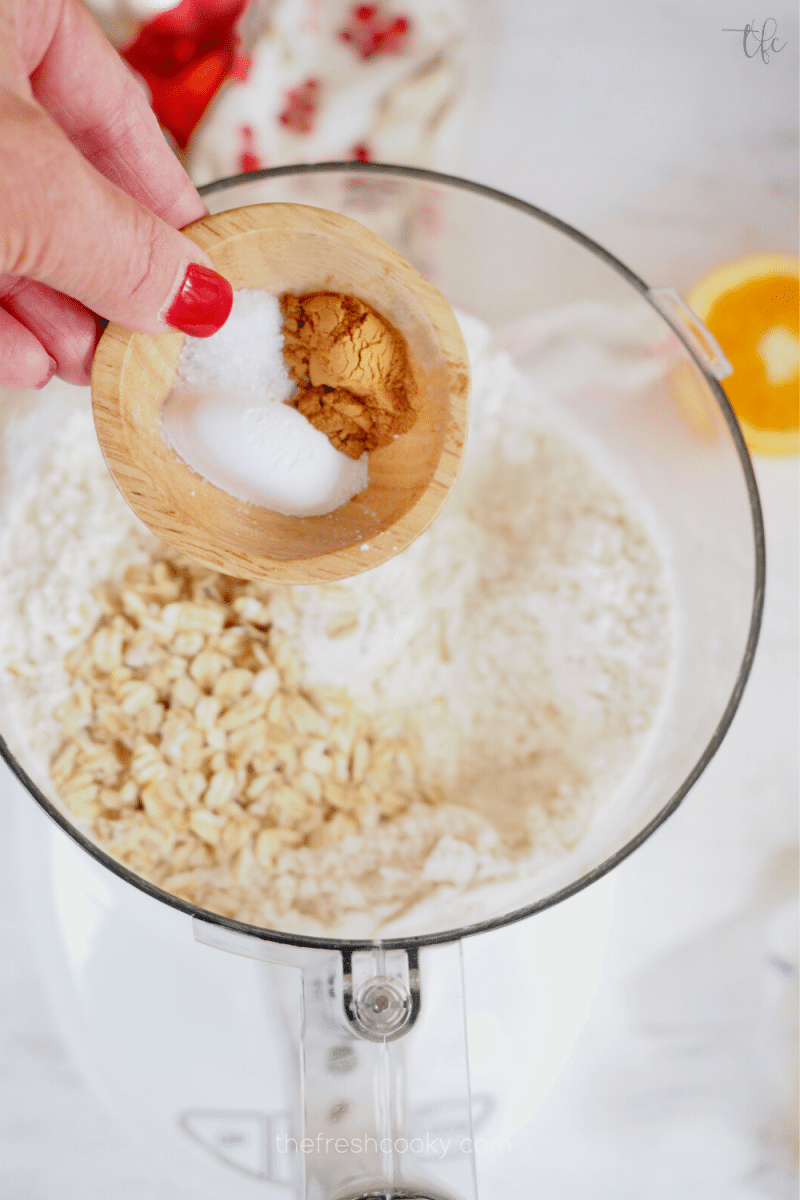 Pour oatmeal crumb mixture into large bowl, add egg and mix well. Press about 2 ½ cups (packed) of the mixture into the bottom of the prepared pan.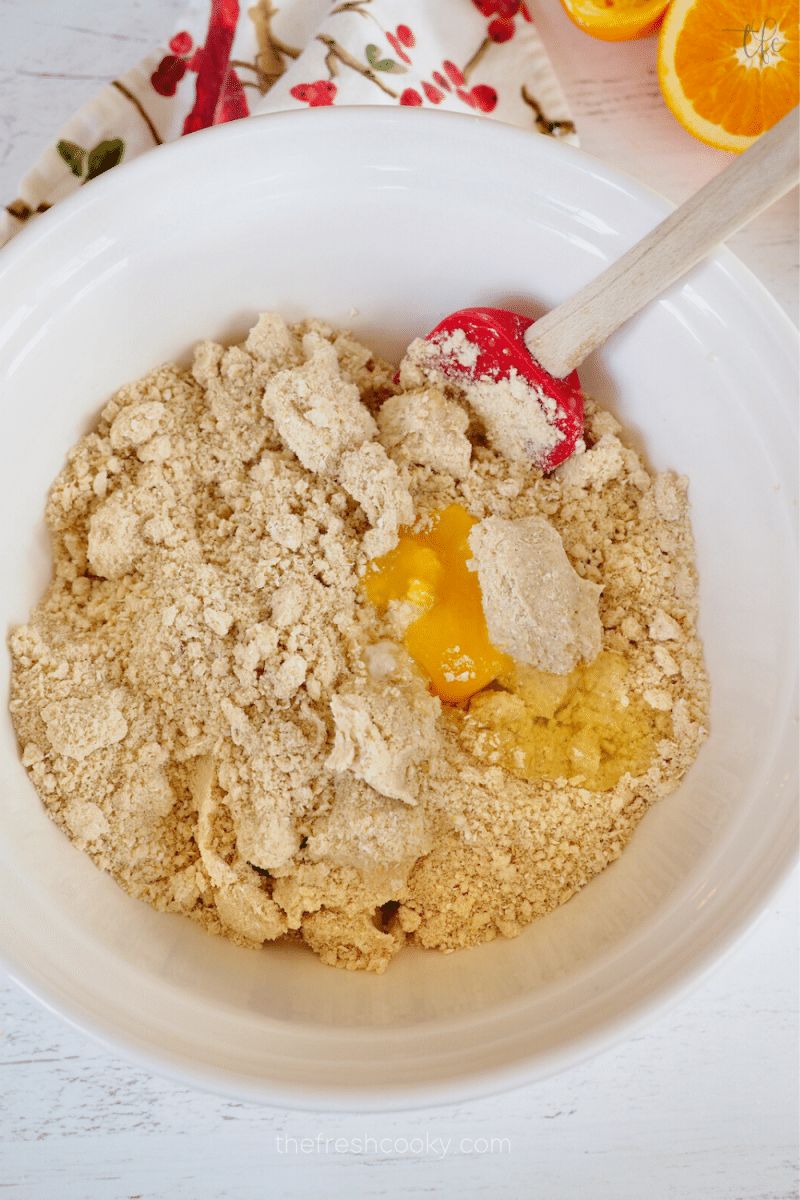 In another bowl, stir together cranberries, sugar, vanilla, cornstarch and orange juice, toss to help sugar dissolve.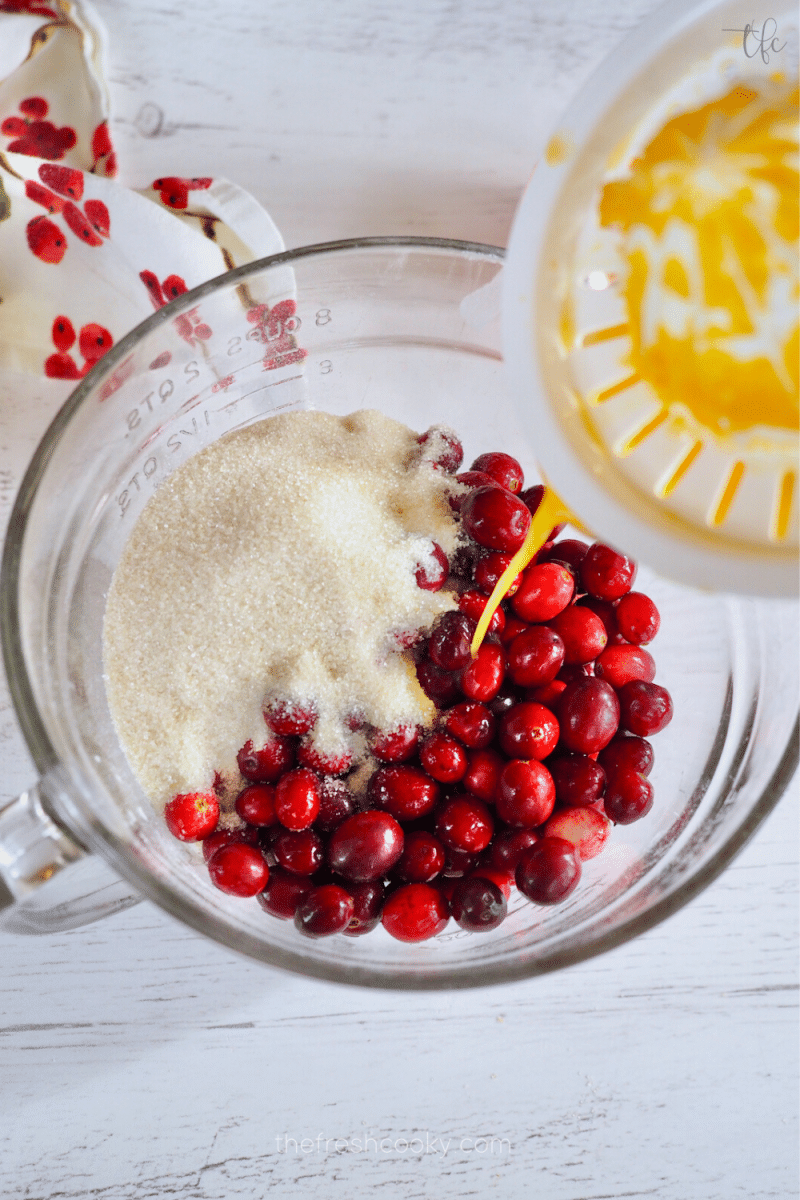 Spoon the cranberry filling over the crust, pressing or shaking cranberries until they are evenly distributed.
Using your hand, squeeze remaining oat topping evenly over the top of the cranberries, into chunky crumb topping.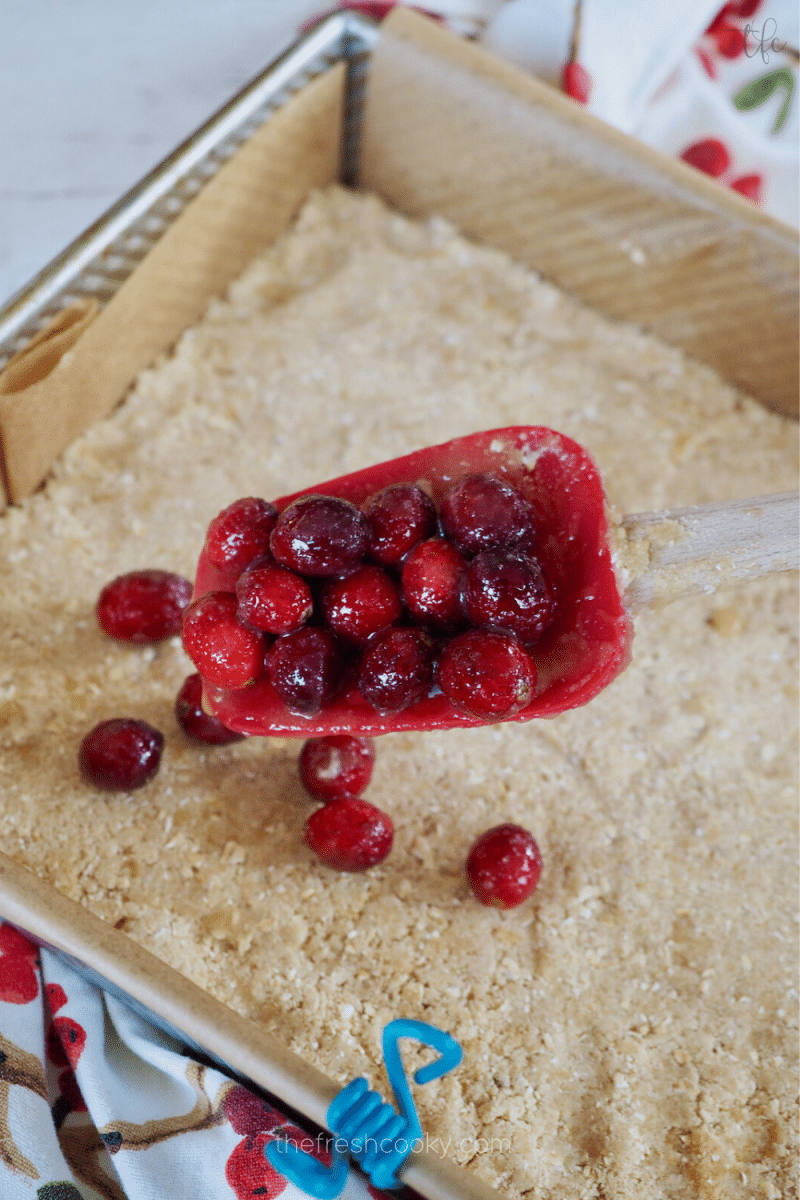 Bake the oatmeal cranberry bars for about 45-50 minutes, until they're a light brown.
Once the dessert has cooled completely, transfer it to the refrigerator and chill until firm, about an hour.
When ready to serve, use the parchment paper to lift the crunch bars out of the pan, slice and store in airtight container.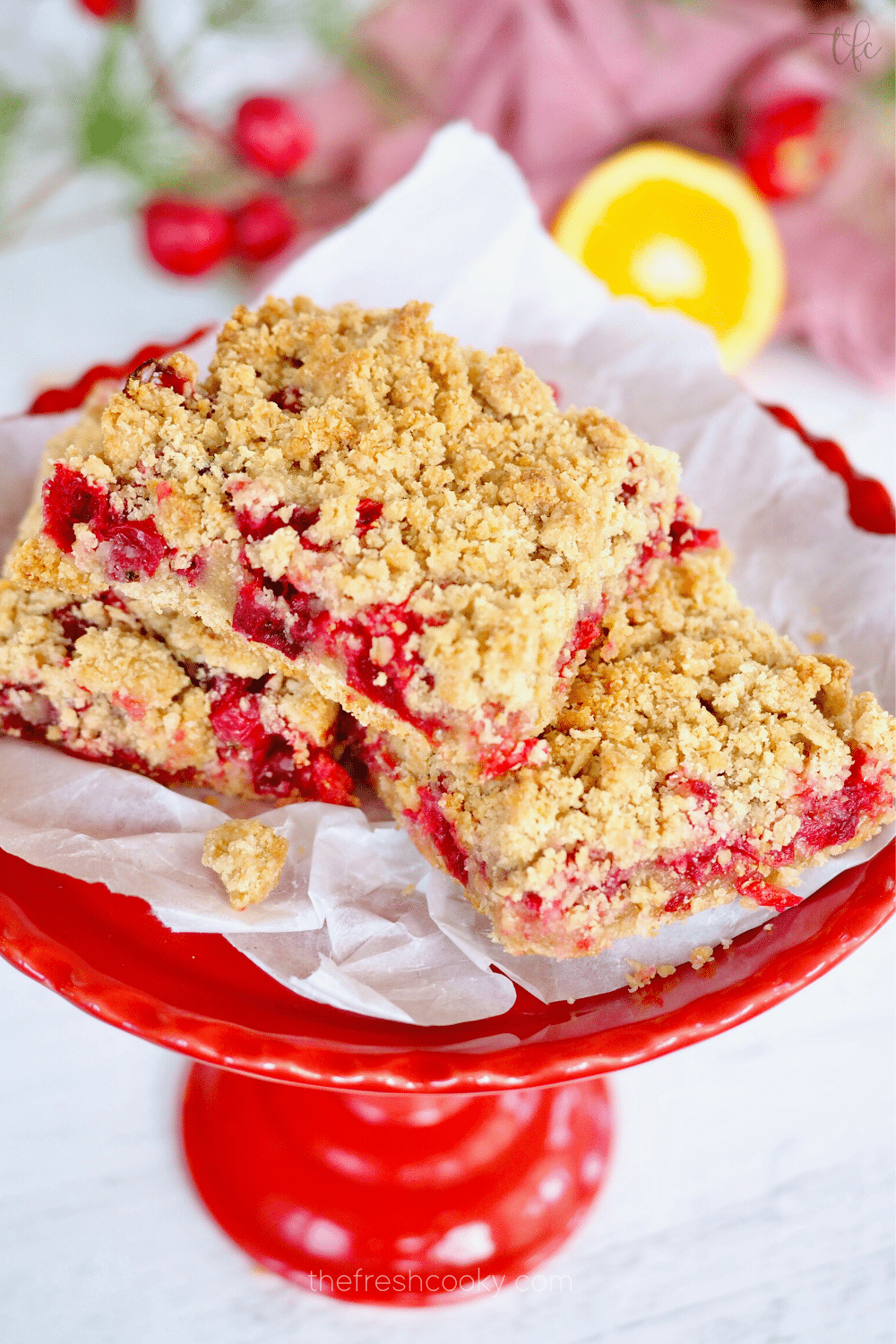 Storage
Oatmeal Cranberry Crunch bars will last on the counter in an airtight container up to 3 days. In the fridge up to 7 days and may be frozen (before or after baking) up to 3 months.
Make Ahead and Freeze
You can make these cranberries bars and freeze before baking. If doing that, I recommend wrapping well in plastic wrap and then foil to prevent freezer burn. Do not thaw before baking, place in 350 degree oven and baking uncovered for 25-30 minutes, then cover with foil and bake additional 20-30 minutes until top is golden and cranberries are bubbling.
Or make and bake the entire cranberry crunch bars, allow to cool completely. Using the parchment to lift out of pan, wrap well in plastic wrap, then again in foil, freeze up to 3 months. Allow to thaw on counter.
High Altitude Cranberry Bars with Oatmeal
There are no high altitude modifications necessary for these delicious sweet-tart streusel crunch bars.
Variations
If fresh cranberries aren't in season, you can substitute frozen cranberries (do not thaw) or 1 can of whole cranberry sauce. Simply stir the sauce to loosen, then spread over the top of the crust and top with the crumble topping.
You can also replace cranberries with other fruit; try blueberries, blackberries, peaches, strawberries, but I would cut the sugar significantly. You might also love my Strawberry Rhubarb Crumb Bars.
For a gluten-free option, replace the all-purpose flour with your favorite GF substitute. You can also use oat or almond flour—just be sure the oats are GF.
If you have a corn allergy, tapioca starch replaces the cornstarch easily. Just use about ¾ of a tablespoon instead.
Orangier Cranberry Orange bars? Zest ½ an orange before juice and toss into cranberries.
Nuts | If you love nuts, place ½ cup of chopped pecans, almonds, walnuts or hazelnuts into the crumb mixture.
Pro Tips
Freeze these oatmeal cranberry bars to enjoy later! They last for three months in an airtight container. You can also store them in the fridge for about a week.
Only used rolled oats. If you use quick oats, the cranberry orange bars will be hard.
Extend the sheet of parchment paper beyond the edges of the pan. Once the dessert is set, lift the entire thing out of the pan for easy cutting.
Frequently Asked Questions
Why do you add an egg to the oatmeal crumb or streusel topping?
Adding an egg is what gives this particular recipe, the crunch factor, elevating it slightly above other streusel toppings. Unless you are allergic, I highly recommend adding the egg!
How long can I store cranberries in the freezer?
If you would like to make these oatmeal cranberries out of season, you can store cranberries in the freezer for up to 12 months. The frozen berries will work just as well as fresh for this dessert. Just wash and dry them before freezing them in a single layer. Once frozen, you can store them in an airtight container.
Do frozen cranberries need to be thawed before using?
No. Just do a quick rinse under cool water before using them in the recipe.
Can I use dried cranberries instead of fresh?
Yes. For this recipe, I recommend that you rehydrate dried cranberries. Pour hot water over cranberries in a bowl, let sit 10-15 minutes, then strain and use as planned.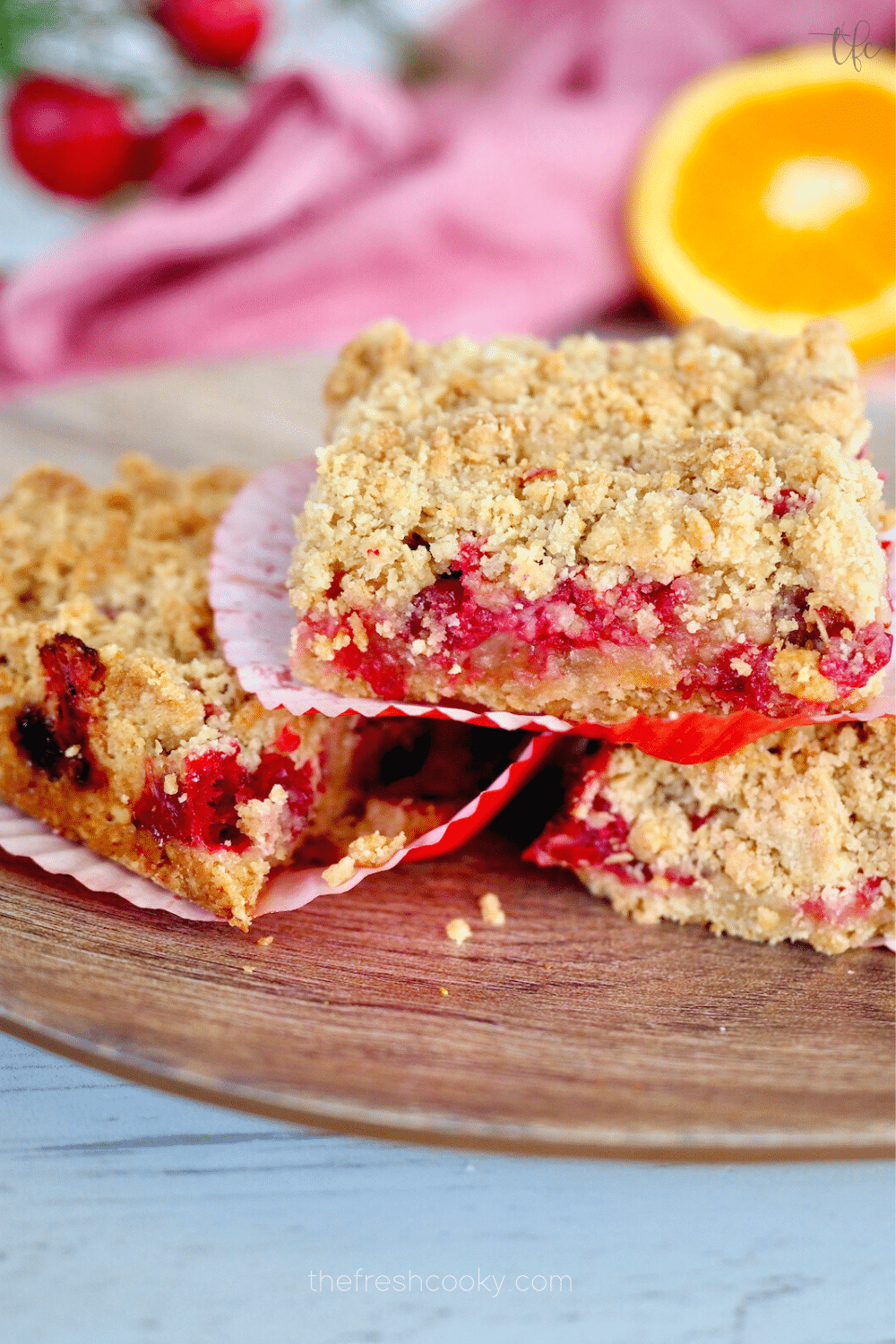 Serving Suggestions
Serve just like you would any other bar dessert, sliced into desired squares or cut in half to make triangles.
Or serve warm from the oven like a cranberry crisp, spooning into bowls with a scoop of vanilla ice cream or a dollop of whipped cream on top. DELICIOUS!
More Holiday Recipes You will LOVE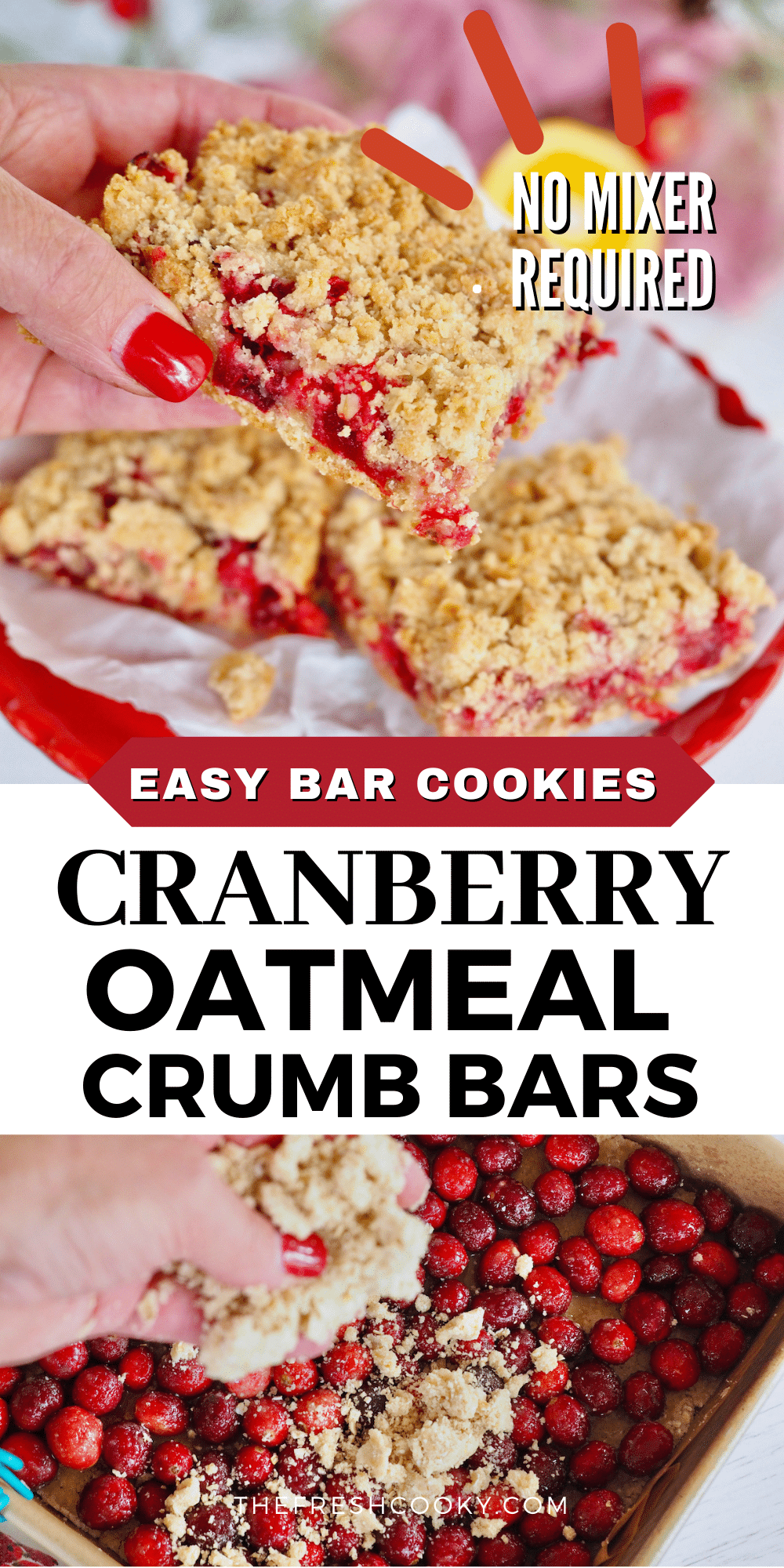 Don't forget to browse ALL of the fabulous recipes from Cranberry week just below!
Like this recipe?
Don't forget to give it a ⭐️⭐️⭐️⭐️⭐️ star rating and comment below the recipe!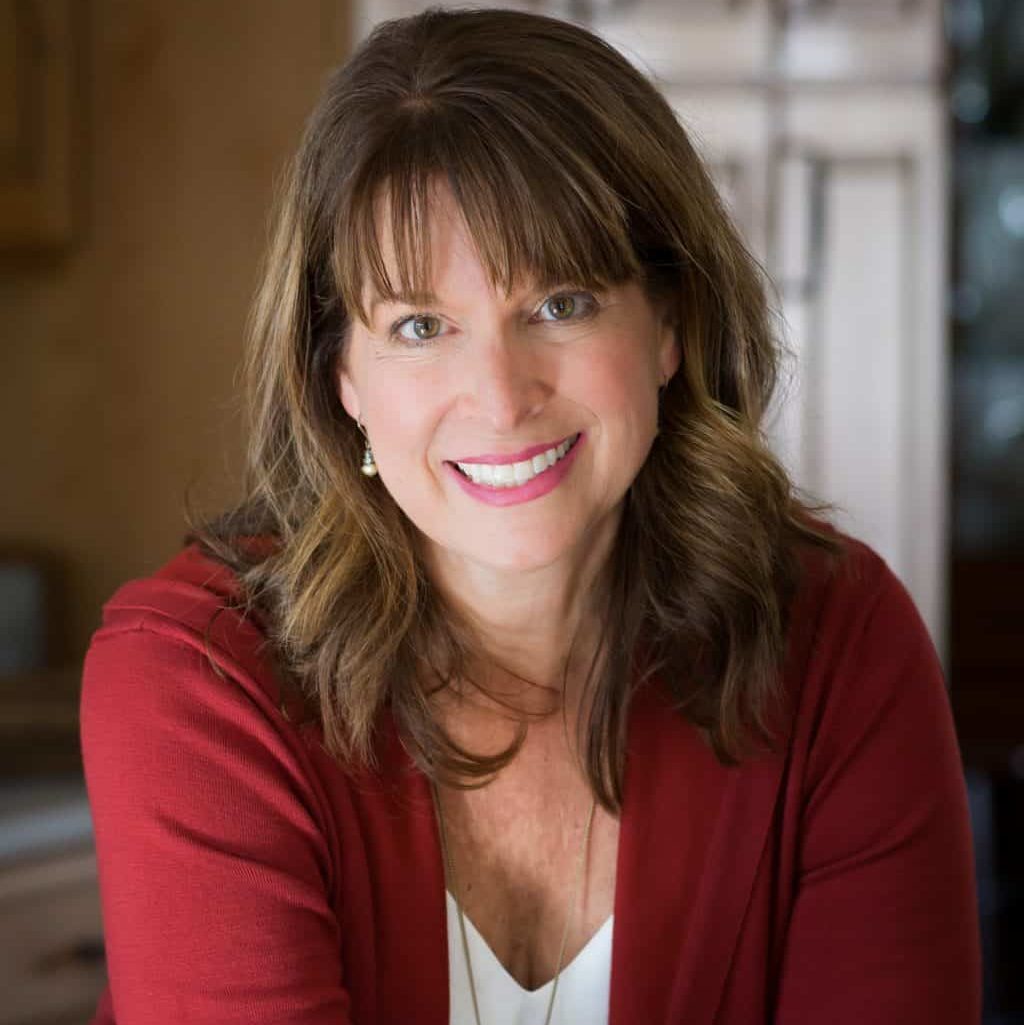 About Kathleen Pope
Recipe Innovator | Food Photographer | Food Writer
Hi, I'm Kathleen Pope. Here at The Fresh Cooky you will find easy, mostly from-scratch, trusted recipes for all occasions. From speedy dinners to tasty desserts, with easy step-by-step instructions. I am here to help teach you how to make mouthwatering recipes without spending hours in the kitchen. Read more about Kathleen here.