Thanksgiving Charcuterie Board (Breakfast) +Video
As an Amazon Associate, I earn from qualifying purchases. Please read my disclosure policy.
A simple recipe and show-and-tell on how to make a Fall Charcuterie Board, the perfect breakfast answer; Thanksgiving charcuterie board! Great for fall breakfast and brunch get-togethers.
You are going to love this scrumptious, fall grazing board, loaded with delicious, enticing and good-for-you nibbles perfect for Thanksgiving breakfast or brunch, or a chilly fall weekend. If you love charcuterie, then try my festive Charcuterie Cups, individual Charcuterie to go!
I was provided free product from Melissa's Produce and Nairn's to make this delectable breakfast charcuterie; however as always, the opinions are entirely my own!
You might enjoy these other amazing fall flavors; Panera Autumn Squash Soup, Gluten-Free Apple Pie, Graham Cracker Crumble and this scrumptious Pear Bundt Cake.
Epic Brunch Charcuterie Boards
My friends, as we enter into the crisp, cool months of fall; we enter the season for gatherings large and small. Adjust this fall charcuterie board as needed and invite some friends and family over for great conversation and eats.
Charcuterie Boards are so popular now, and why not, it's a nibblers dream! A variety of goodies that are sweet, savory and everything in between is sure to please everyone sitting down to breakfast.
Inspired by a breakfast charcuterie I put together for brunch last Thanksgiving; as the family woke up, they could grab a plate full of goodness when they were ready!
Ingredients & Suggestions
The recipe card at the end of the post has all of the suggested ingredients, recipes and details to make your own Thanksgiving charcuterie board.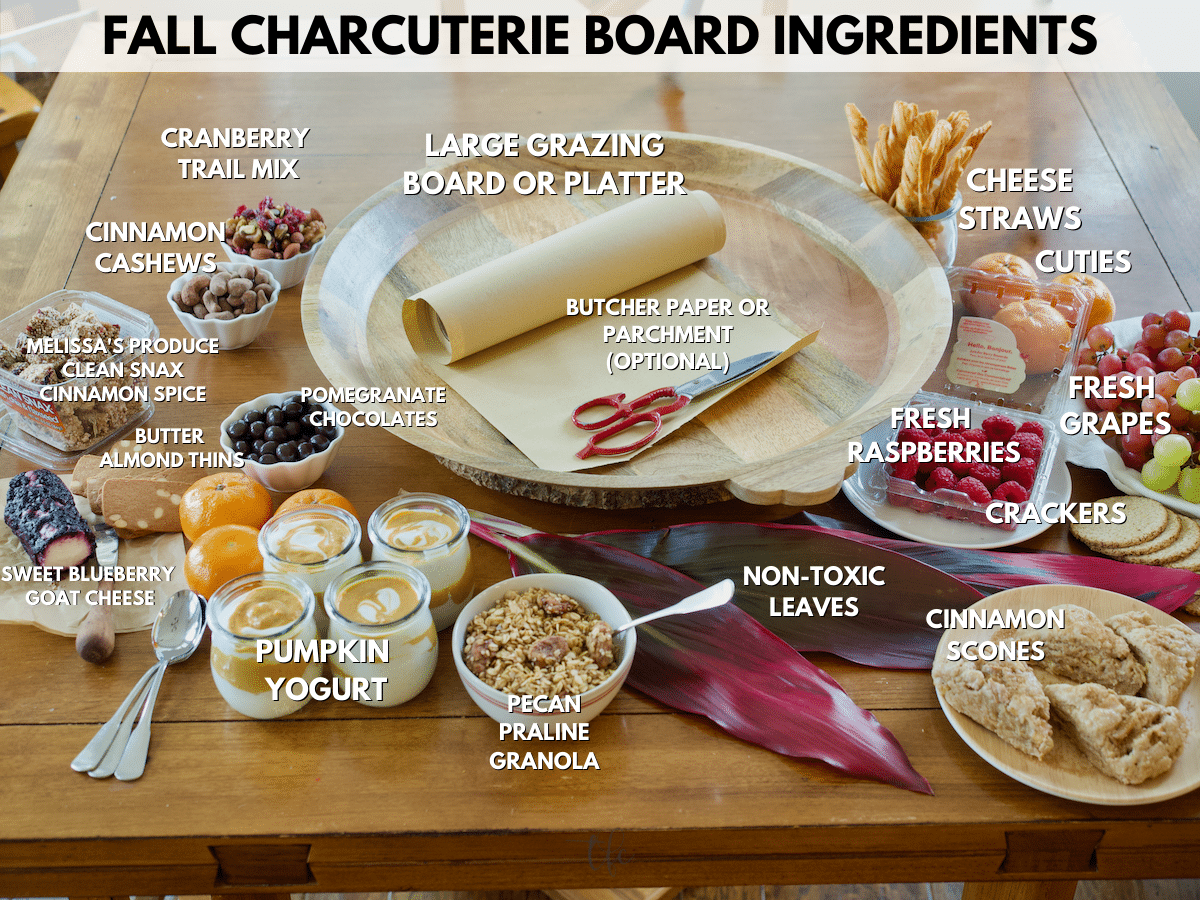 Trail Mix | A hearty, seasonal trail mix is perfect for a healthier, protein-packed nibble.
Gluten-Free Snack | These delicious Clean Snax from Melissa's Produce are loaded with seasonal spices, packed with protein and gluten-free too!
Sweet Cheese & Crackers | I opted for this sweet, creamy blueberry goat cheese from Trader Joe's, went perfect with Nairn's Gluten-Free Oat Crackers.
Chocolate | You have to have something chocolate on your board! I chose a healthier pomegranate dark chocolates, Acai and blueberry would also be delicious.
Pumpkin Yogurt | Purchase or make your own delicious Pumpkin Swirl Yogurt, I made these ahead of time! Delicious with Pecan Praline Granola!
Scones | Oh yes please! I made Cinnamon Crunch scones, but Pumpkin scones would also be amazing! Or feel free to purchase a mini baked treat!
Fresh Fruit | Melissa's sent me these sweet red Moscato grapes and I added fresh raspberries, Mandarin oranges and some green grapes as well.
Cheese Straws | I purchased Trader Joe's CheeseSticks to add height, crunch and well, yum!
Cinnamon Cashews | These are Whole Foods brand, cinnamon wrapped cashews, delicious and healthy! But these would be yummy too!
Large Charcuterie Board* | Be creative, you might even have something around the house you can use, tray's, cutting boards; you can even cover your table or counter with plastic wrap and then line with butcher paper if you don't have a board. I love this large Magnolia Wooden Tray from Target.
TFC PRO TIP | Make sure your board is food safe, if not, you can still use it, but I do suggest lining it with butcher paper or parchment paper.
Instructions
STEP 1 | Prep and Wash all ingredients going onto board
Start by gathering small and medium bowls, and place your mixes, nuts, candies, and loose nibbles into bowls and jars.
Wash fruit, and allow to sit for a few minutes on some paper towels to absorb the water. Remove cheese from fridge about 20 minutes before serving, since this will give it time to soften.
Step 2 | Assemble Thanksgiving Charcuterie Board
Watch the video on how to make this easy brunch charcuterie boards!
If using a board or tray, make sure it is food safe (it should say on the bottom of the board); if not, or for easy clean up line with parchment or butcher paper.
Lay down some non-toxic leaves, to add a seasonal look — I purchased mine from our grocery florist.
Start from the center, working your way outward. I used the granola to anchor the center of the board and then surrounded the bowl with jars of yogurt.
Place the cheese log and crackers and don't forget a cheese spreader.
Add any larger objects (cheese straws, oranges, scones, cookies, etc)
Tuck in small bowls filled with nuts, chocolates, fruit and other nibbles.
Use grapes and raspberries to fill in any gaps.
Substitutions
Use items that your friends and family will eat! This board is primarily gluten-free as our extended family has quite a few gluten-free eaters.
Storage Tips
Assemble this breakfast charcuterie about 20 minutes before serving, it will be fine at room temperature for about 1-2 hours.
Make Ahead Tips for Fall Charcuterie Board
Use items to hold the places of things such as the yogurt and other refrigerated items. Cover the entire board with plastic wrap so it doesn't get stale. Add your refrigerated items once ready to serve.
Frequently Asked Questions
What does charcuterie mean?
A French word; charcuterie (pronounced "shahr-ku-tuh-ree") is the art of preparing and assembling cured meats and meat products. A charcuterie board is an assortment of meats, cheeses, artisan breads, olives, fruit, and nuts, all artfully arranged on a serving board. However; as we know, you can place anything and everything making fun, themed and unique grazing platter boards.
What should be on a charcuterie board?
Typically, it's cured meats, hard and soft cheeses, sturdy crackers and olives. But as my tag line reads "Make it Yours!" Truly, you make the fall charcuterie board what you want it to be!
There is no right or wrong way to assemble a charcuterie board, there is no right or wrong items to put on a grazing board. This will be delicious using brands, products, fruits, cheese, crackers that you enjoy! These are simply suggestions to take some of the guess work out of it!
Be sure to tag me #thefreshcooky on Pinterest, Facebook or Instagram if you make one!
Thanksgiving Charcuterie Breakfast Board
A brunch charcuterie board would be the perfect Thanksgiving morning charcuterie board. Whip it up before you get the turkey in the oven, then as people come downstairs breakfast is ready and you can relax and enjoy a steaming chai latte!
More Great Breakfast Recipes
Like this recipe?
Don't forget to give it a ⭐️⭐️⭐️⭐️⭐️ star rating and comment below the recipe!
More #FallFlavors Recipes Below:
Appetizers and Snacks
Breakfast and Baked Goods
Soups and Salads
Side Dishes
Main Dishes
Desserts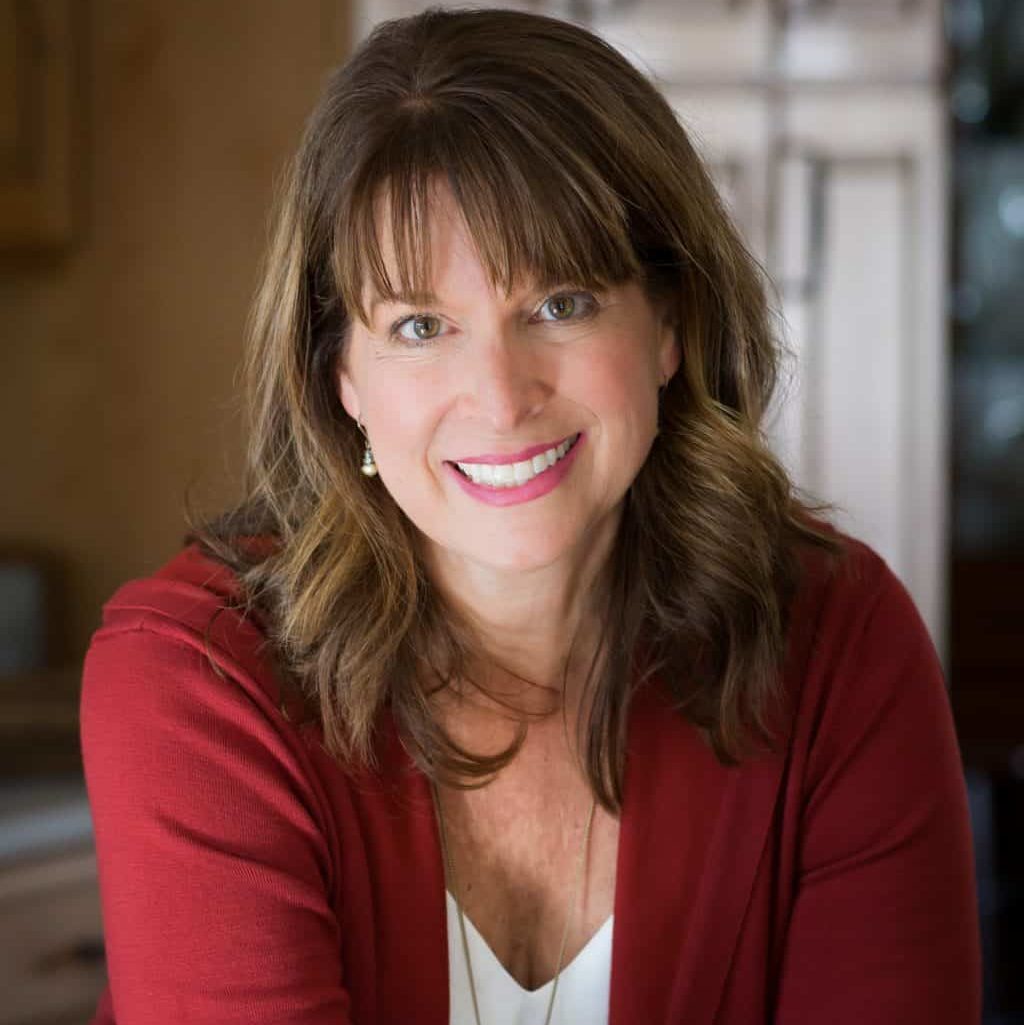 About Kathleen Pope
Recipe Innovator | Food Photographer | Food Writer
Hi, I'm Kathleen Pope. Here at The Fresh Cooky you will find easy, mostly from-scratch, trusted recipes for all occasions. From speedy dinners to tasty desserts, with easy step-by-step instructions. I am here to help teach you how to make mouthwatering recipes without spending hours in the kitchen. Read more about Kathleen here.