How to Make a Pancake Breakfast Charcuterie Board
As an Amazon Associate, I earn from qualifying purchases. Please read my disclosure policy.
Breakfast is my favorite! This Pancake Charcuterie Board is a fun way to serve all the deliciousness of your favorite breakfast foods in a beautiful and creative way. Fresh fruit, fluffy pancakes, crispy bacon are just the beginning. Gather your favorite toppings and pass the syrup!
I love everything about charcuterie, and this easy method of serving breakfast is so delightful! How fun would it be to customize this breakfast charcuterie board for a birthday brunch, Mother's Day or a special holiday? Even easier, everything can be bought pre-made, and all you have to do is assemble.
If you love breakfast, try my Easy Breakfast Sliders, Mock Eggs Benedict, Overnight Cinnamon Crunch French Toast or my Dutch Baby (Oven Baked Pancake). Or if you are a charcuterie lover, then try my fall breakfast charcuterie or this creative and fun Charcuterie Bouquet.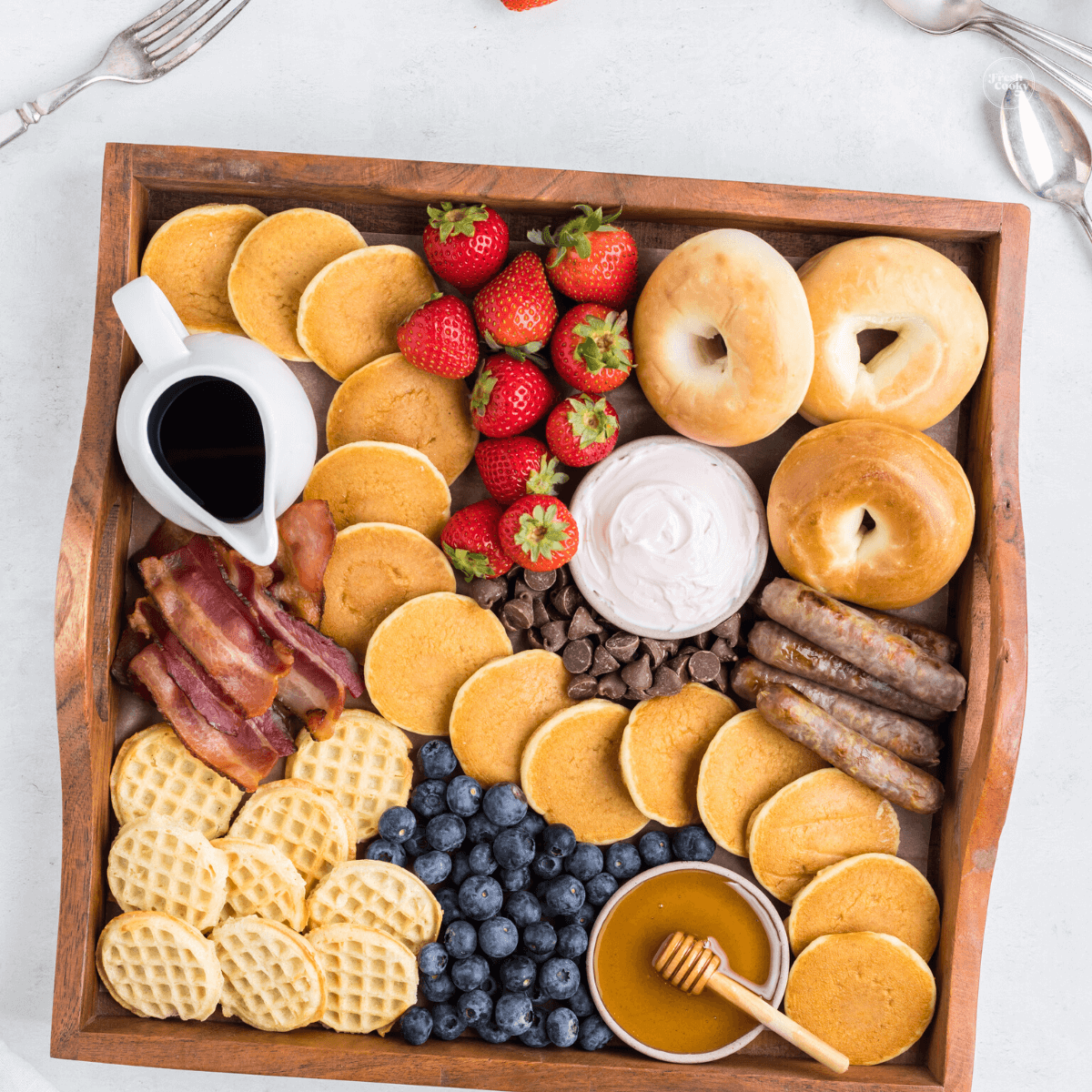 Why You Will Love this Recipe
Breakfast Board | Are you bored with your breakfasts? Putting together this pancake charcuterie board is a great way to get your (or your kids) creative juices flowing! It may become one of your favorite ways to serve breakfast.
Crowd Pleaser | Taking its cues from the classic charcuterie board, a breakfast board is perfect for Sunday brunch or any special occasion. Plus, having a variety of sweet and savory items means everyone gets to choose their favorite. I predict smiles all around!
Simplify Breakfast | No special equipment required. Simply grab a large cutting board (or any large board) a wooden board, a platter, whatever you have on hand and assemble to your hearts delight!
Suggested Key Ingredients
Below are suggestions for your pancake charcuterie board, but your imagination is your only limit to this breakfast classic. More details in the recipe card at the end of the post.
Mini pancakes or silver dollar pancakes | Use your favorite pancake recipe, or store bought.
Mini waffles | Homemade or store bought and toasted of course!
Mini bagels | Plain, blueberry or any flavor that suits your fancy.
Maple syrup | 100% real maple syrup for the richest flavor and warmed if possible.
Spreadable cream cheese | So many delicious options to choose from! I used plain.
Honey | Try a local raw honey.
Breakfast sausage | Links stack neatly on your board, make my air fryer sausage links to make it even easier!
Bacon | Thick or regular your choice.
Fresh Berries | Fresh strawberries, blueberries or any of your favorite fresh berries.
Chocolate chips | regular or mini chocolate chips | Try semi-sweet, milk, or white chocolate.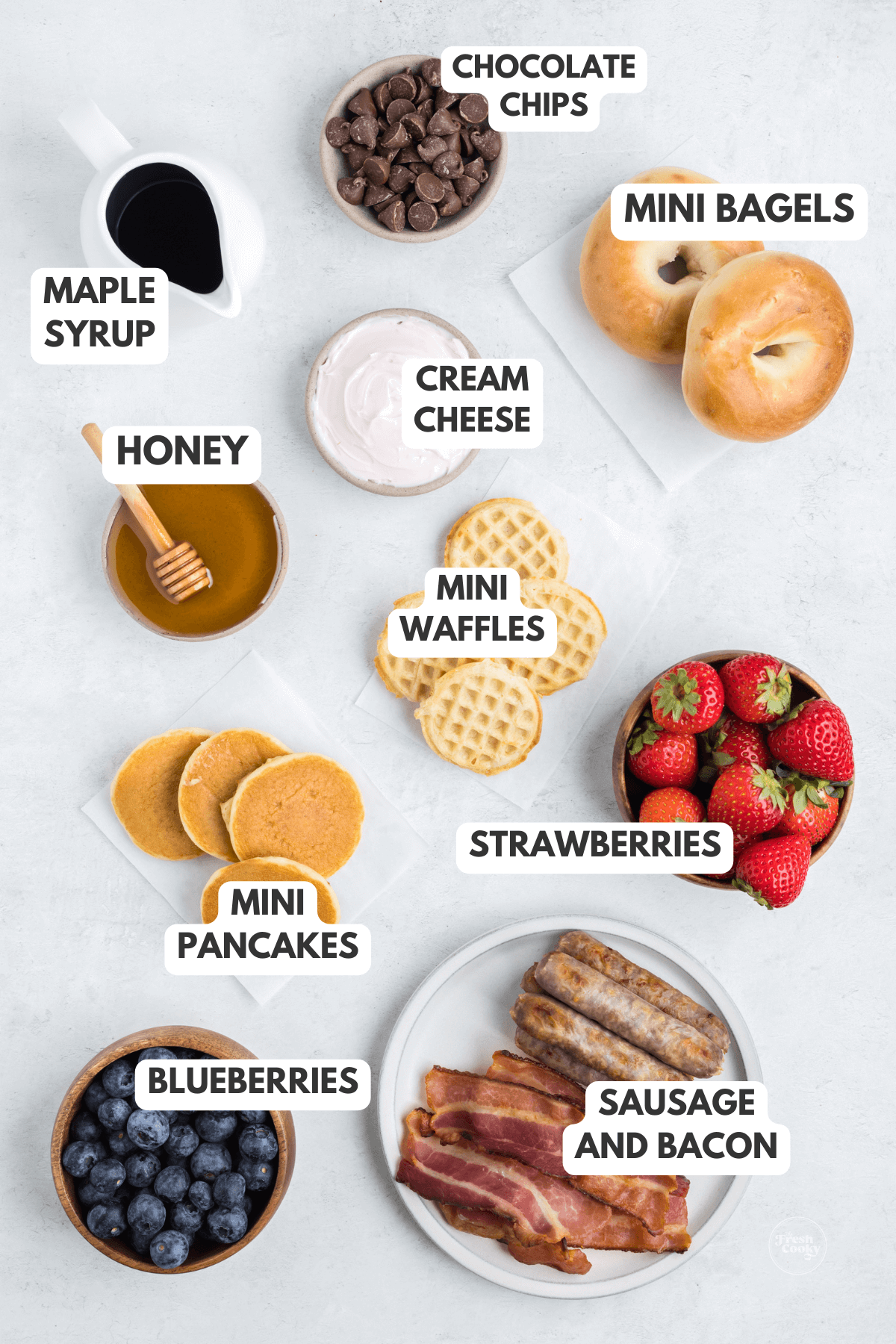 Recommended Equipment
The only true "equipment" you need for this breakfast charcuterie board is the board itself. I used a 13×13 wooden tray (similar) for this board — but adjust to the size of your group, I also love using this round wooden tray for a pancake charcuterie board.
How to Make a Pancake Charcuterie Board
Prep ingredients
Fill small dishes or bowls with spreadable cream cheese and honey (I added a honey server). Pour maple syrup into a small pitcher or bowl with a small ladle or spoon. Have chocolate chips ready or place in a small bowl with a spoon. Wash and pat dry blueberries and strawberries, set aside.
Cook the bacon and sausage, keeping warm in a 200 degree oven until ready to assemble.
Next, make the waffles and pancakes (either homemade or in oven) and keep in a 200 degree oven on a plate to keep warm.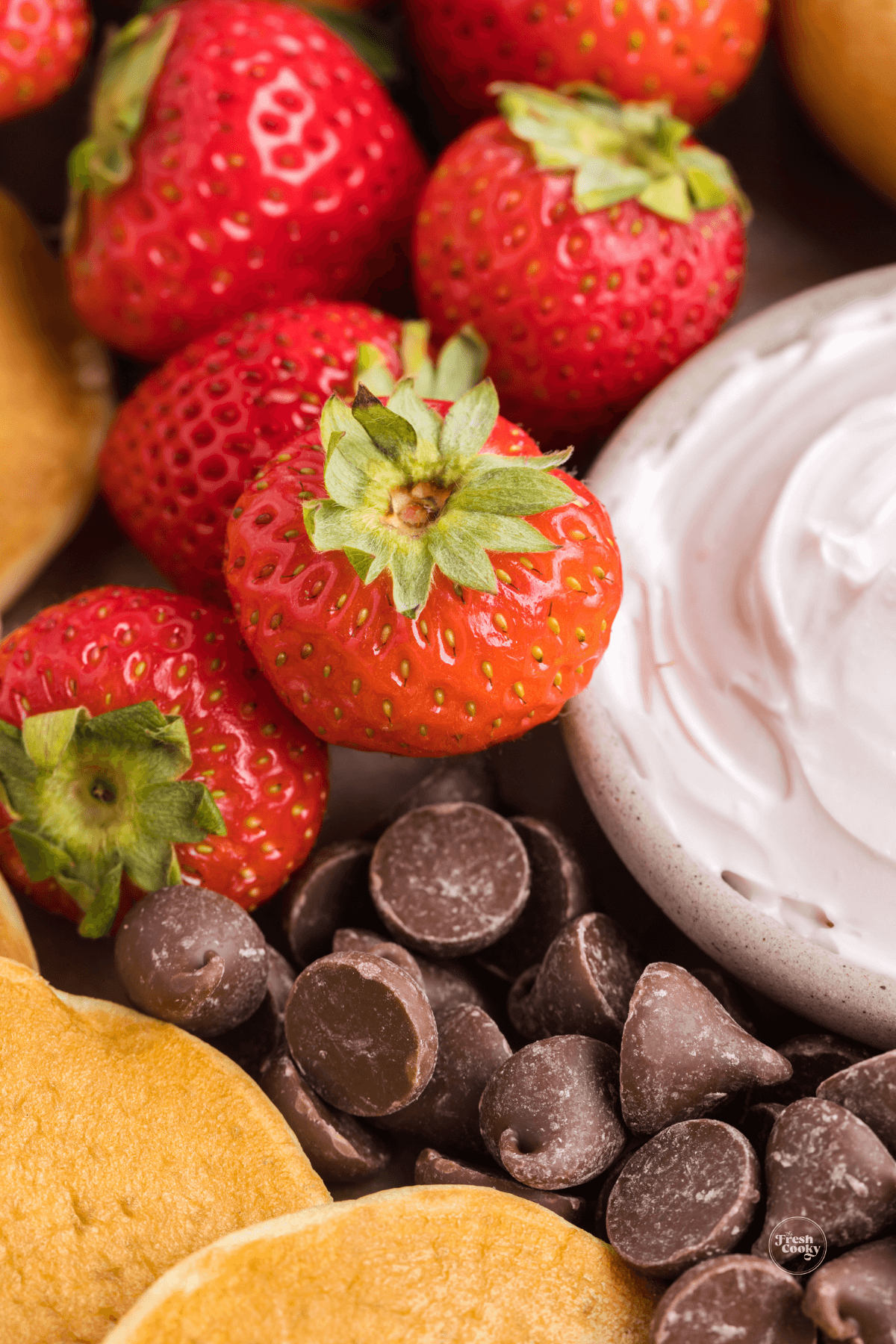 Arrange the Breakfast or Brunch Board
With all of your ingredients prepped and gathered into one place begin to assemble your board. Start by arranging your mini bagels, cooked waffles and pancakes on the board, using a swirl pattern. Be creative, use the pictures as a guide, but don't feel like you have to do everything the same way!
Then, add the bowls of toppings and condiments. Tucking the bacon and sausage in various areas near and around the pancakes.
Fill in the gaps with blueberries and strawberries and finally the chocolate chips if you did not add them to a bowl.
Fresh Tips
Go big or go home! | Quantities will vary depending on the size of your platter. I used a 13" x 13" platter for this board, so use these quantities as a guideline.
Do the prep work first | Prep as much as you can beforehand – wash berries, adding syrup, honey and chocolate chips to small bowls. It's best to assemble the board just before serving so that the waffles, pancakes and breakfast meats are warm and fresh.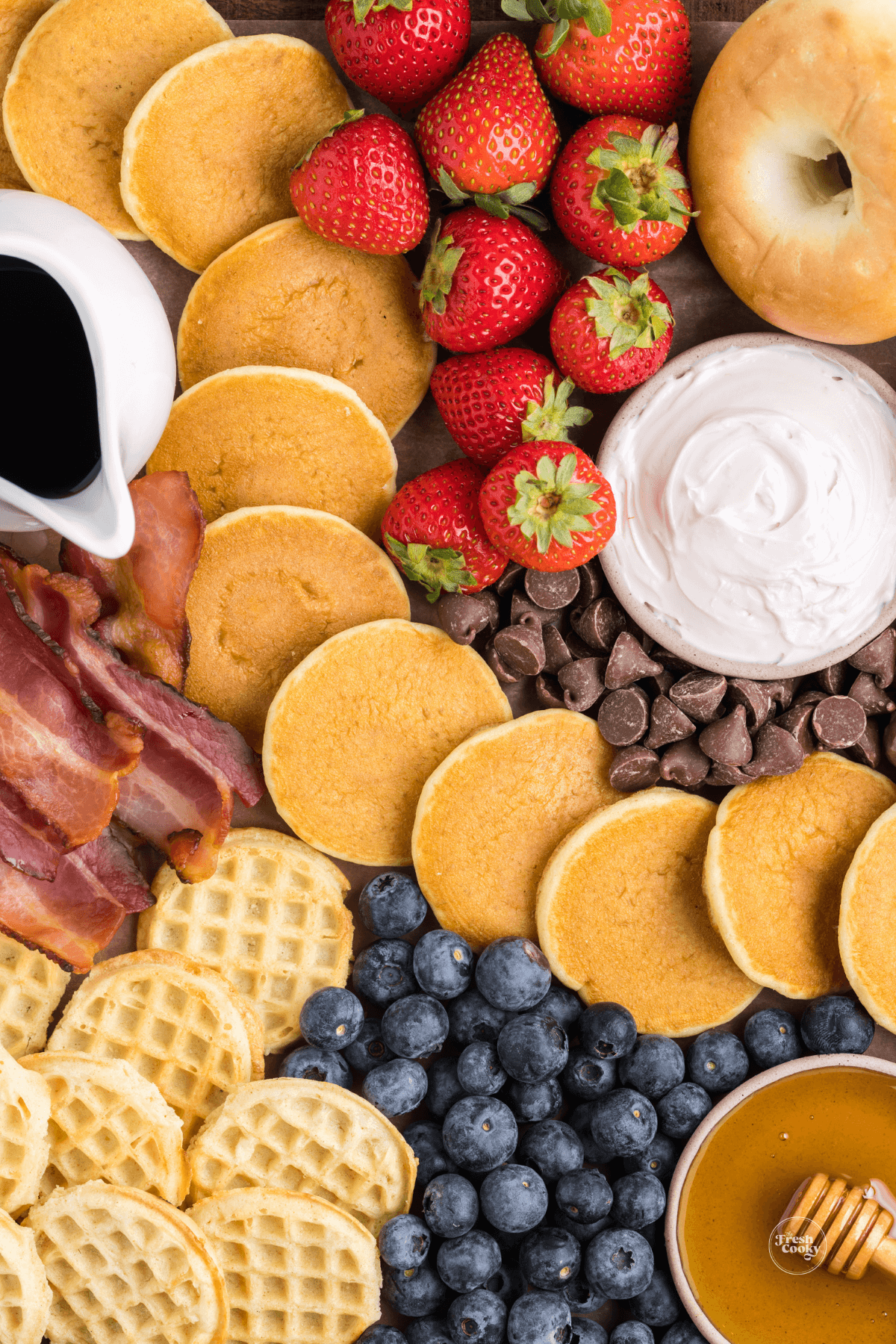 Variations & Substitutions
Try a variety of waffles; chocolate, chocolate chip, protein waffles, etc. Make your own waffles and just cut them into quarters.
Besides buttermilk pancakes, try adding blueberry, coconut or chocolate chips- yum!
Mini cinnamon rolls, mini muffins and donut holes will add extra variety and sweetness.
Use different flavored spreadable cream cheeses, like strawberry, herb or your favorite.
Try my homemade syrup; Strawberry Syrup, Blueberry Syrup or my Easy Vanilla Sauce.
Add eggs! Hard boiled, scrambled or even an omelette would be fun. Or try my Instant Pot Egg Bites with Sausage and Cheese.
Add peanut butter or any nut butter for an extra dose of protein and healthy fats. Nutella would also be delicious!
Switch up the berries! Add some sliced bananas if desired (soak in a little lemon juice beforehand so they don't turn brown).
For a themed holiday like Valentine's Day use heart cookie cutters for pancakes and waffles, and use raspberries, strawberries and strawberry cream cheese to keep with the pink and red theme.
For a large crowd, serve with cheese platters and additional fruit platters, or make my tropical fruit salad (so good).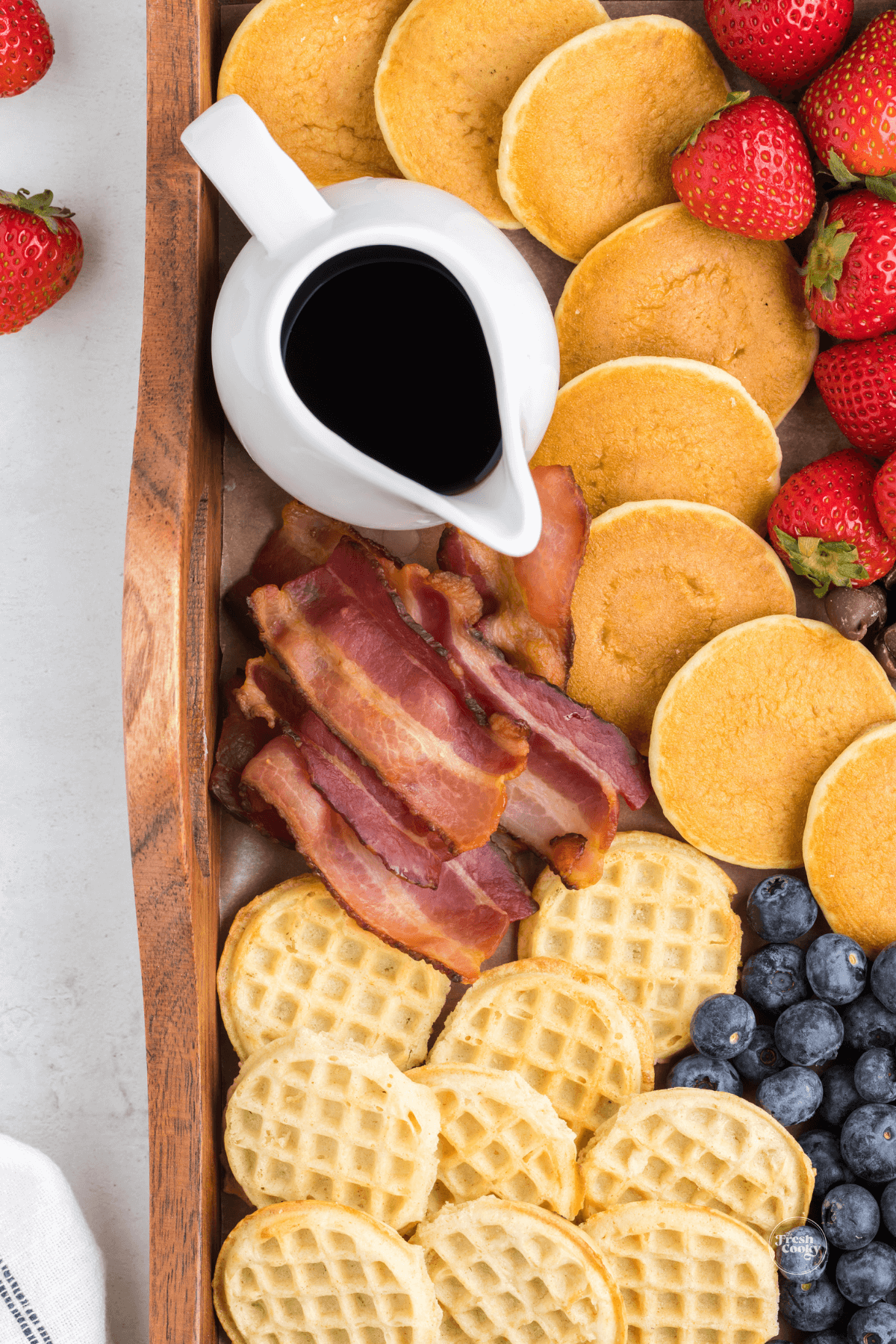 Tips for Two
Serving a smaller group? Make this ultimate pancake board into mini boards, or turn it into breakfast charcuterie cups, following the general instructions of my Charcuterie Cups recipe.
Storage Tips
Store leftover waffles, bagels and pancakes in an airtight container at room temperature. Reheat in a 300 degree oven for 10-14 minutes.
Return any leftover fruit to the refrigerator and eat within a day or two.
Make sure your breakfast meats (bacon and sausage) are completely cooled. Lay flat on a piece of aluminum foil in a single layer. Fold the foil on top of the meat, sealing all sides. Place in a zip-top bag and lay flat in the fridge. The quickest way to reheat bacon or sausage is to pop it in your air fryer, or simply heat a skillet or medium heat and add bacon or sausage in a single layer. Cook for about 2 minutes per side or until meat is heated through.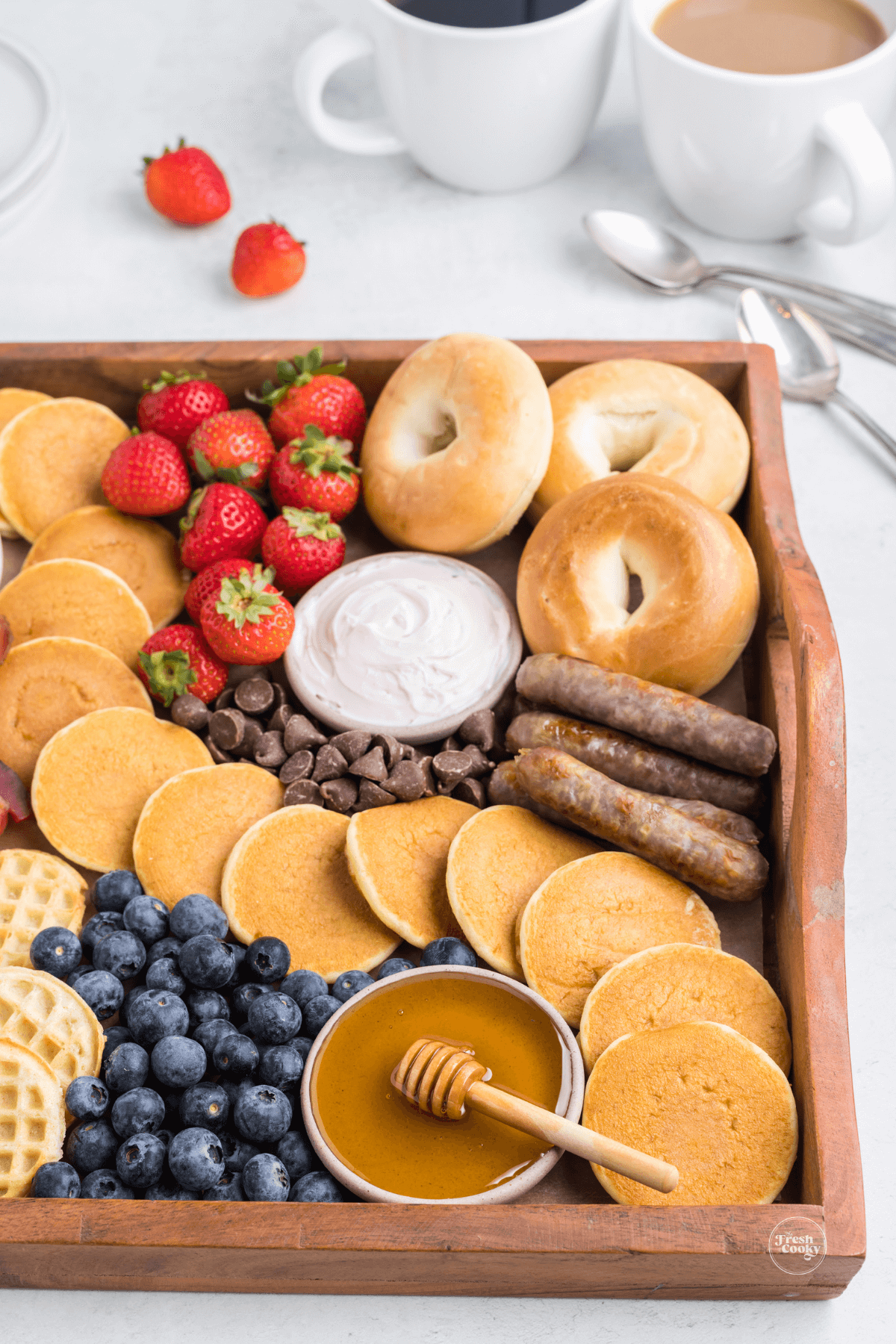 Frequently Asked Questions
Can you freeze leftover pancakes?
Absolutely! Once the pancakes are completely cooled, place them in a freezer bag for up to 3 months. You may also want to separate layers with parchment paper or wax paper in case you don't want to thaw all of them at once. Reheat in microwave or toaster.
How do you keep this pancake charcuterie board warm?
Keep your bacon, sausage links, pancakes and waffles in a 200 degree F oven on low until right before you assemble.
Can I cook pancakes and waffles ahead of time?
Yes! Pancakes and waffles are great make-ahead food. See storage and reheating options above.
What causes pancakes to fall apart?
Make sure your pan or griddle is sufficiently hot. Test with a few dollops of batter to confirm, they should "dance" when they hit the hot griddle.
What's the difference between a charcuterie board and a grazing board?
Technically, charcuterie is primarily meats and cheeses, whereas a grazing board is loaded with nibbles and bites of a variety of foods, not just meats and cheeses.
More Delicious and Easy Breakfast Recipes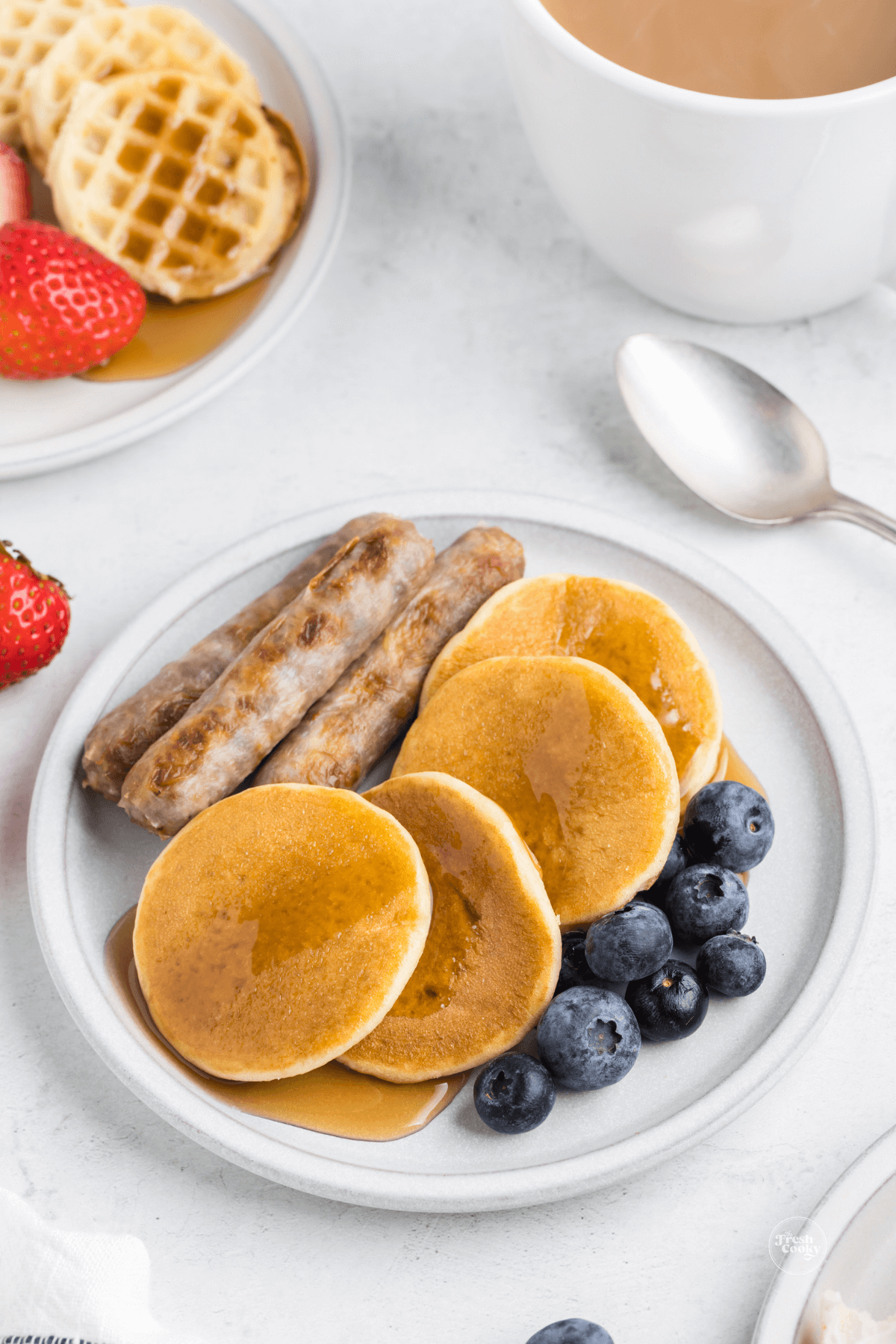 Top Pro Tip
Make sure your berries are firm and dry to prevent other ingredients from getting soggy, or place in small bowls.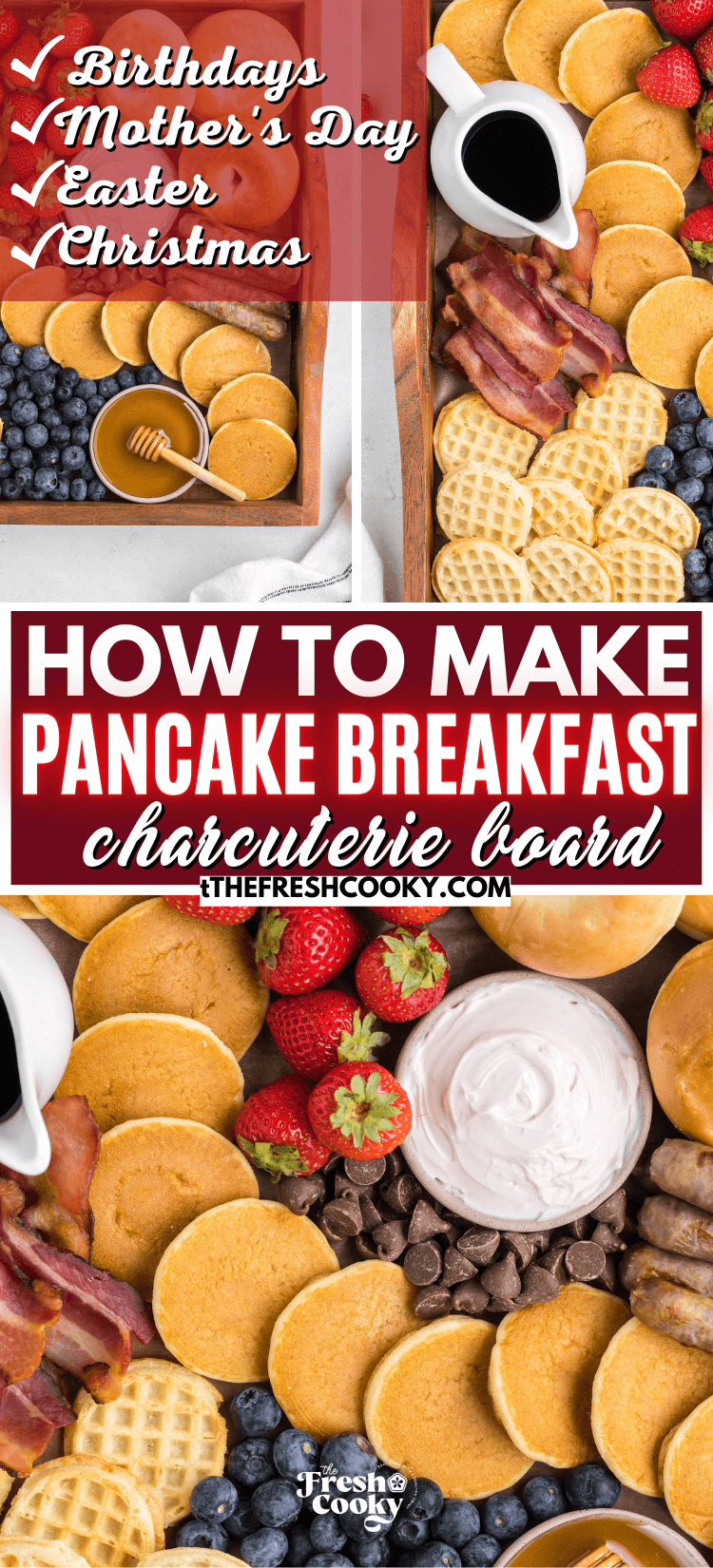 I hope you loved this Pancake Charcuterie recipe — if you did, would you share your creation on Instagram, Facebook and Pinterest? And be sure to comment below!
Like this recipe?
Don't forget to give it a ⭐️⭐️⭐️⭐️⭐️ star rating and comment below the recipe!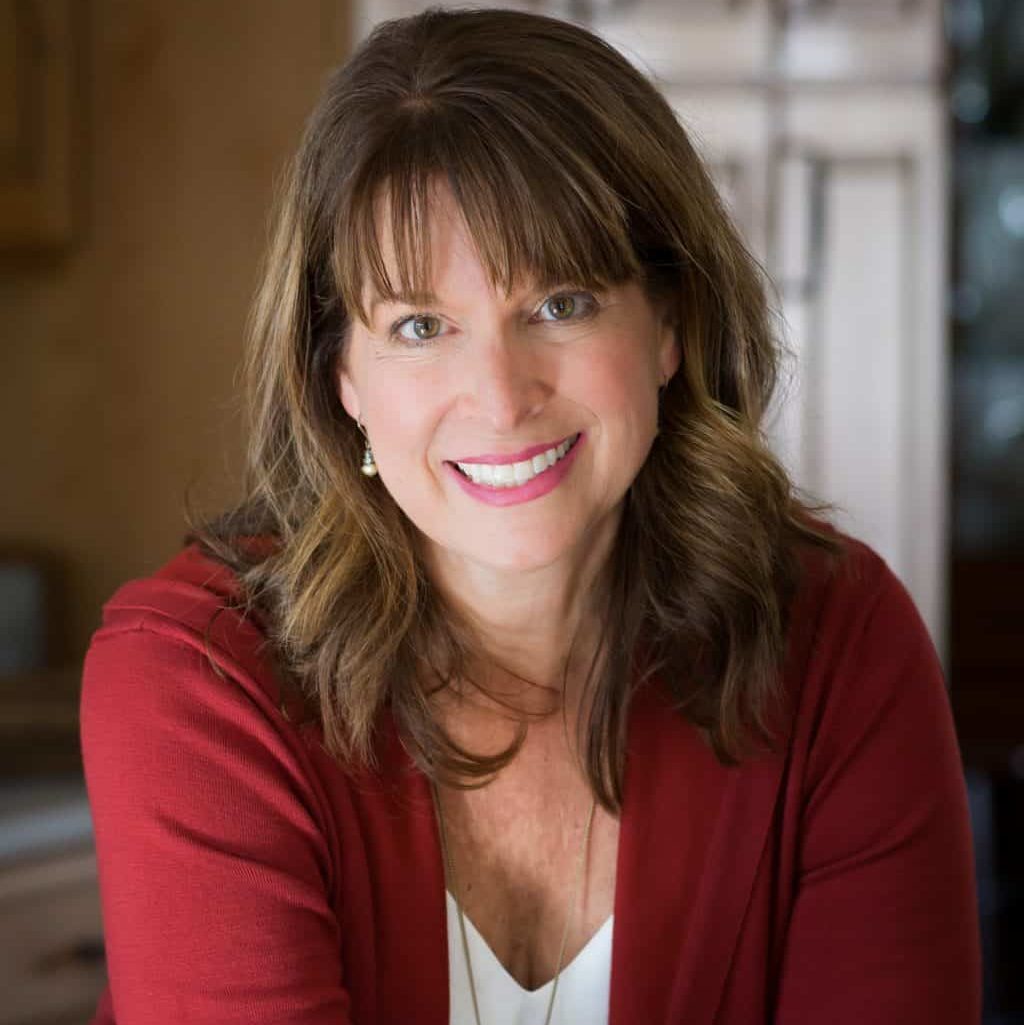 About Kathleen Pope
Recipe Innovator | Food Photographer | Food Writer
Hi, I'm Kathleen Pope. Here at The Fresh Cooky you will find easy, mostly from-scratch, trusted recipes for all occasions. From speedy dinners to tasty desserts, with easy step-by-step instructions. I am here to help teach you how to make mouthwatering recipes without spending hours in the kitchen. Read more about Kathleen here.