Basic Vanilla Buttercream Glaze Recipe
As an Amazon Associate, I earn from qualifying purchases. Please read my disclosure policy.
A basic vanilla buttercream glaze recipe is a must for every baker! If you want something a little more than a powdered sugar and water glaze, this is the recipe for you. Creamy, buttery and so very simple!
Whether you are lightly frosting a cake, quick bread, donut, cookies or cinnamon roll glaze, this vanilla glaze is perfect!
Having great frosting, buttercream and glaze recipes in your recipe box is essential, like this brown butter glaze, and our favorite fluffy vanilla buttercream.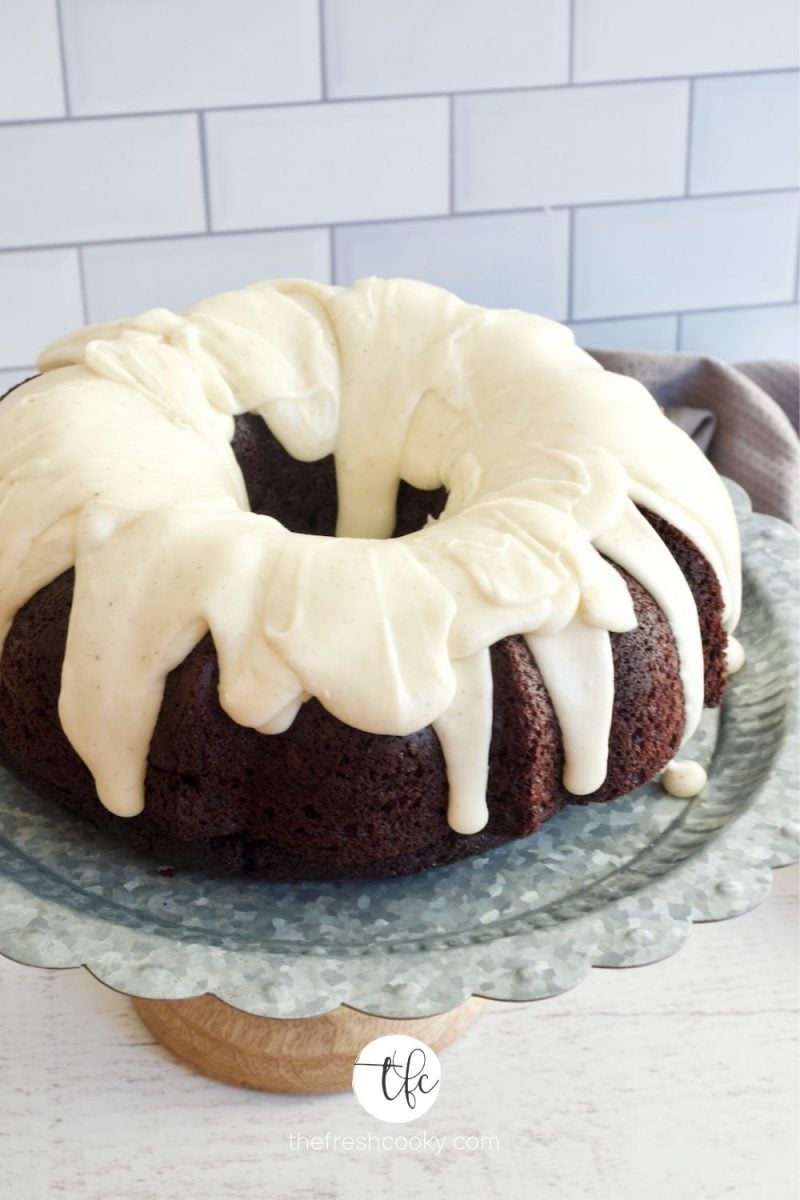 4-INGREDIENT BUTTERCREAM GLAZE
Simple ingredients you probably already have in your pantry, gather these and let's make this simple but amazing vanilla butter glaze: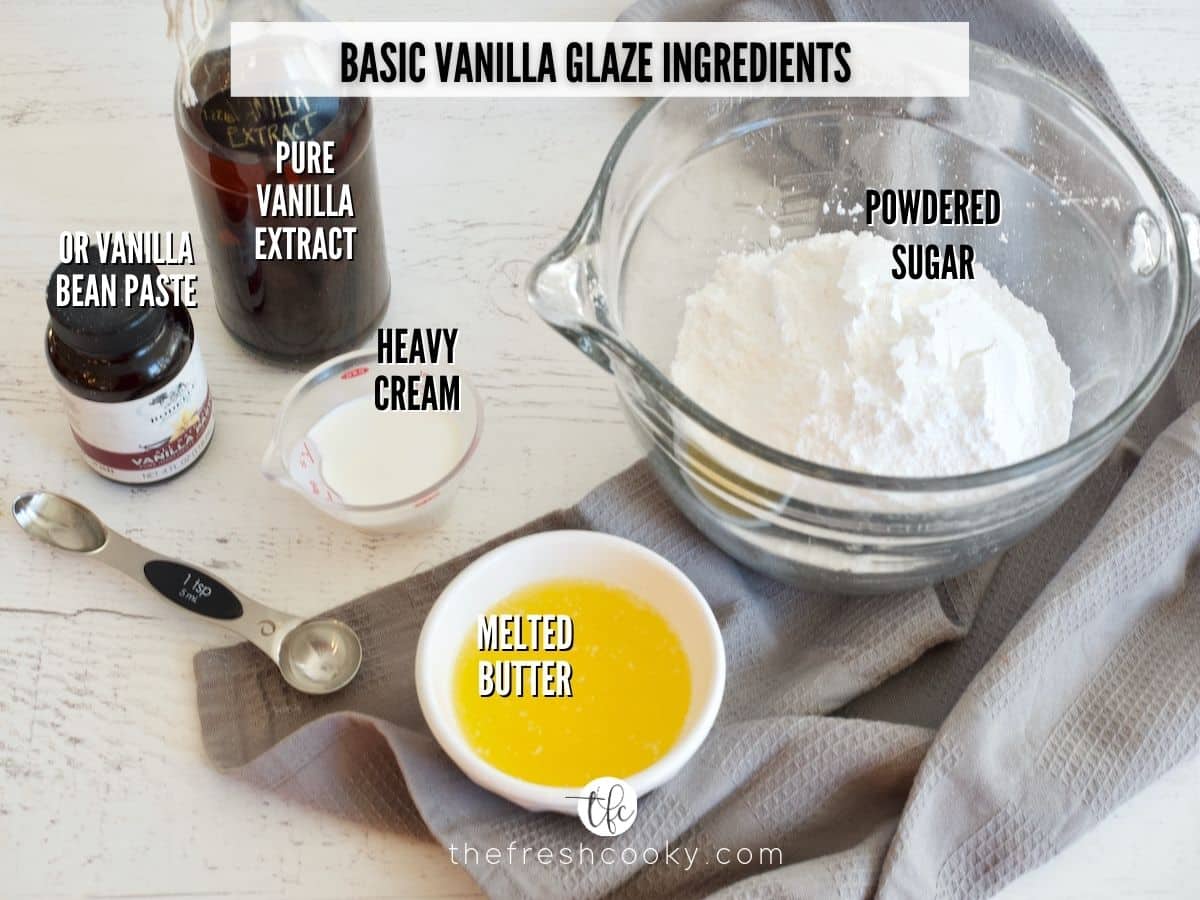 BUTTER | it wouldn't be a butter glaze without the butter, I used salted, if you use unsalted, add a pinch of salt.
POWDERED SUGAR |that fluffy sweet, white stuff, aka confectioners sugar and icing powder.
VANILLA EXTRACT | Real vanilla extract is important here! I also love using vanilla bean paste, or a teaspoon of each.
HEAVY CREAM | binds everything together, adding to that creamy texture and taste. If no heavy cream, half and half or whole milk may be used.
HOW TO MAKE VANILLA BUTTER GLAZE
In a large mixing bowl or bowl of a stand mixer, add all ingredients, beat on low until combined.
Increase speed to medium-high and beat until smooth.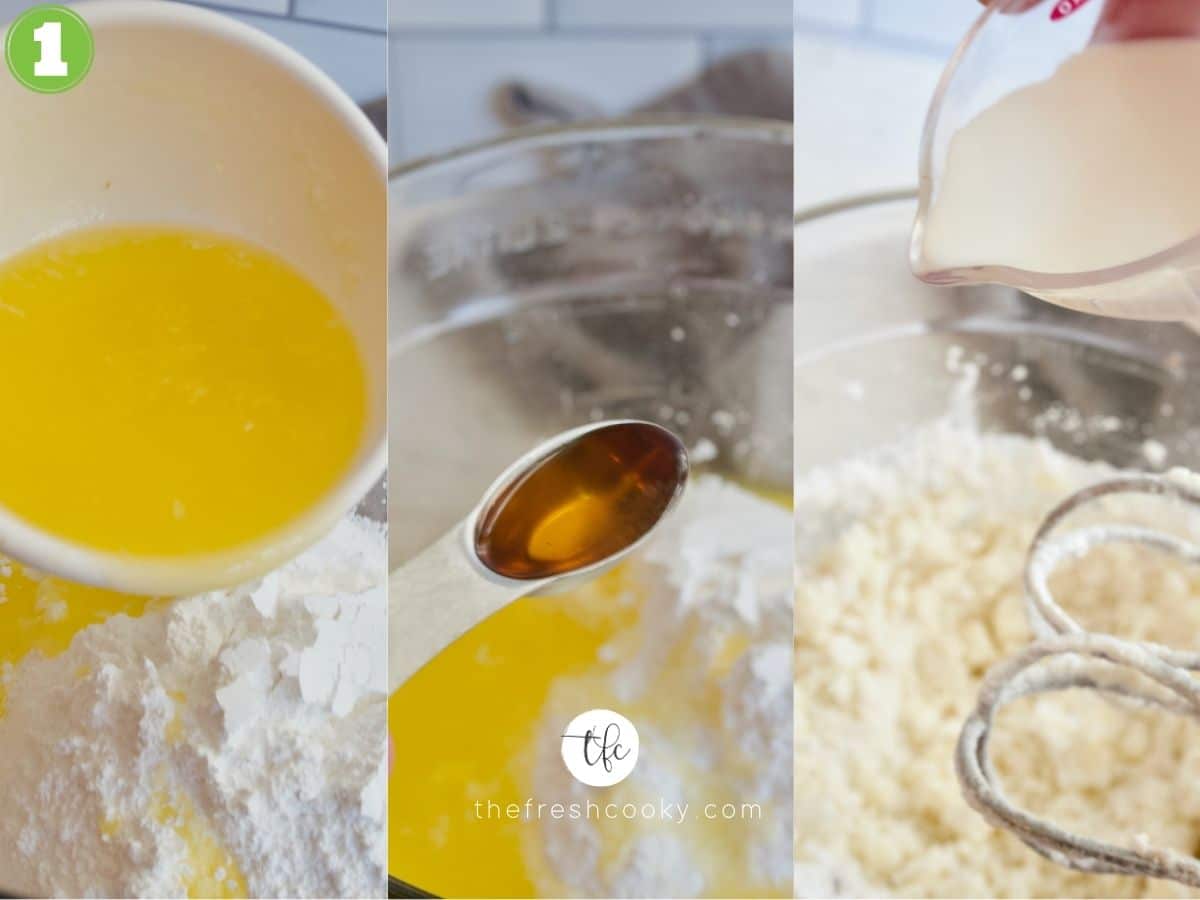 At this point it's a light, airy, buttercream, which is perfect to ice a cake or quick bread, but keep reading to see how to make this into a pourable icing.
HOW TO MAKE BUTTERCREAM AN ICING GLAZE
Simply place buttercream glaze into a microwave safe bowl and heat for 30 seconds, stirring until desired pourable consistency.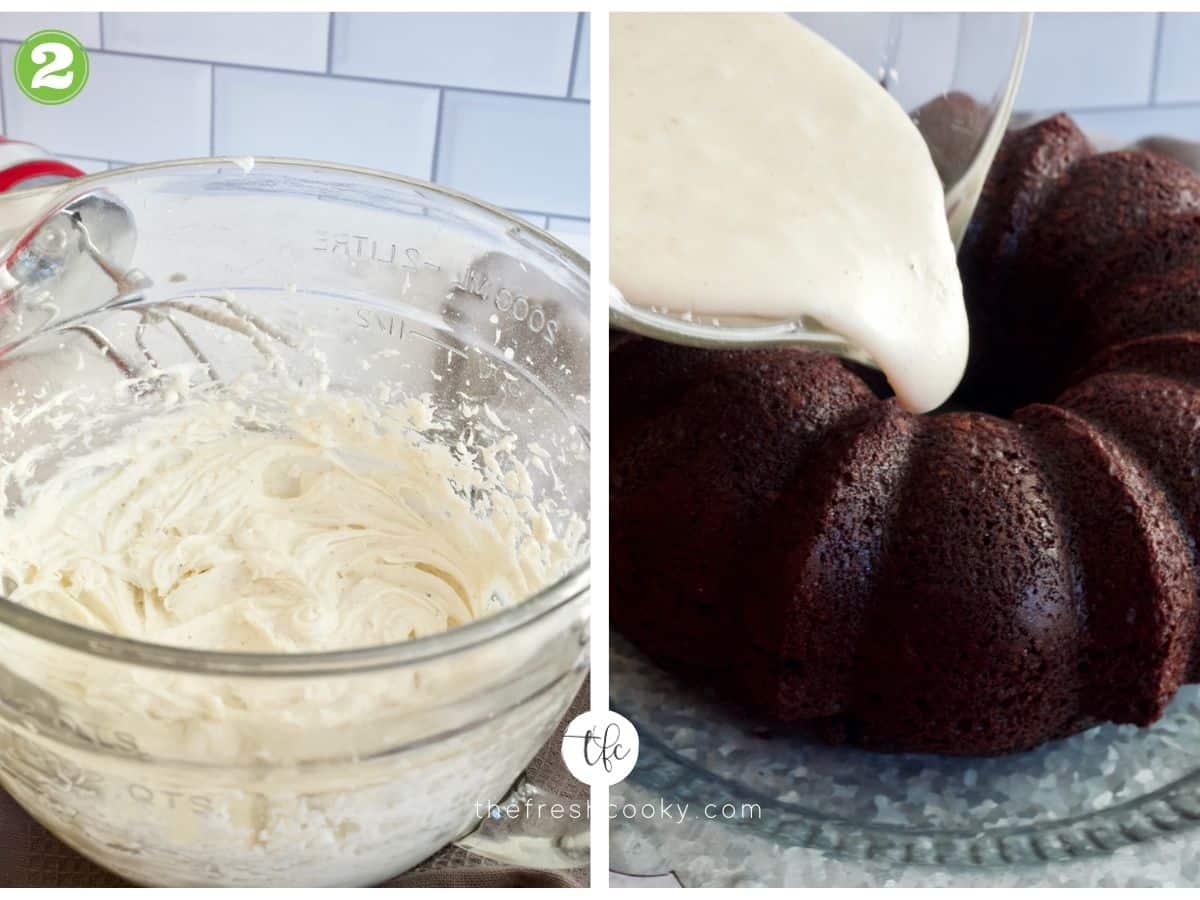 VARIATIONS FOR BASIC GLAZE RECIPE
Variations are the spice of life!
Use a different flavor extract | for instance, you might try Bourbon Vanilla, Lemon Extract, Peppermint extract, Orange Extract, Almond Extract and Maple extract. Substitute teaspoon for teaspoon.
ADD ZEST | Zest one lemon or an orange and toss it in during mixing, adds a bright and beautiful zing!
ADD COLOR |Add a drop or two of food coloring (I like all natural food colorings)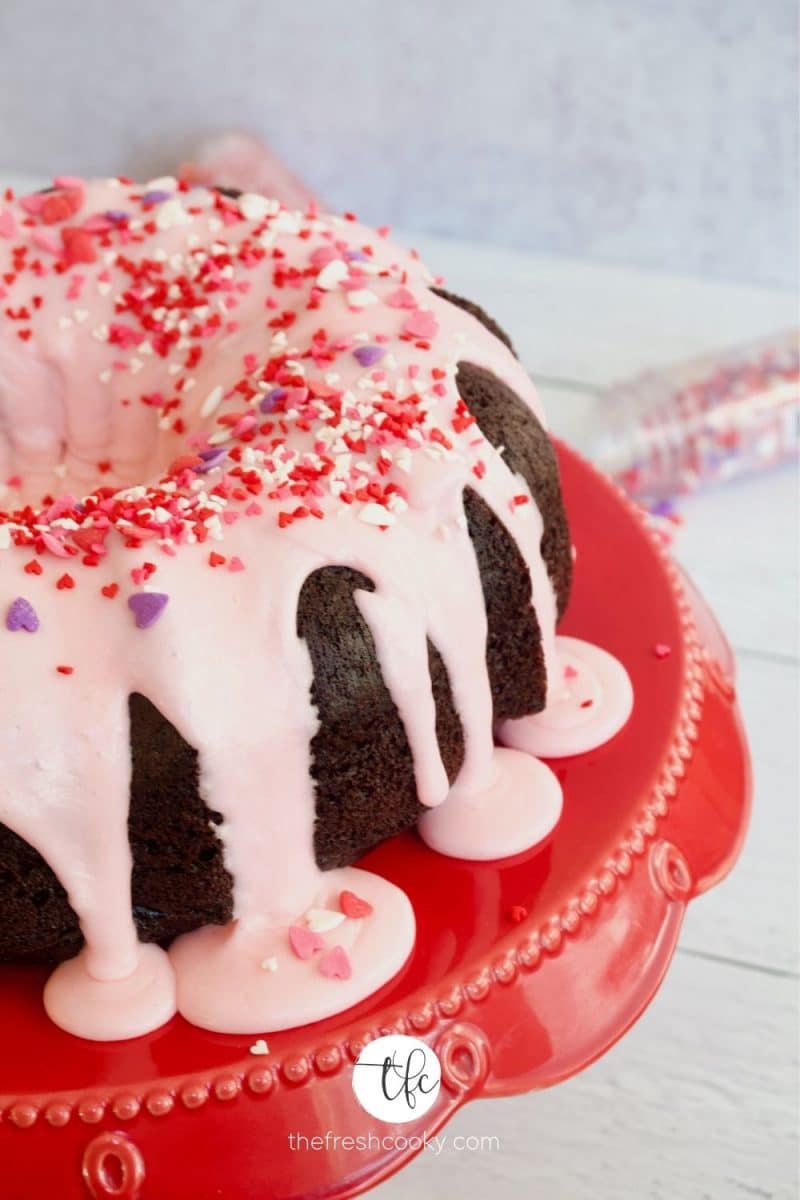 TIPS FOR THE BEST VANILLA GLAZE
Use immediately! Glazes will harden as they cool. If glaze hardens on you, simply stir in a teaspoon or two more of cream, stir and then microwave until pourable once again.
Pour onto COOLED Baked Goods | For a visible glaze or icing on the cake, make sure your baked goods are cooled completely.
Soaking a Cake | Some cakes use a glaze on the hot cake (like this Kentucky Butter Cake), the warm buttery glaze soaks into the cake giving it a sweet, slightly crunchy texture.
USE REAL BUTTER | In all baking recipes, it is important to use real, creamery butter. If your butter is soft directly out of the fridge it is not real butter, but a blend!
Storage | Store leftover icing glaze in the refrigerator in an airtight container, up to 7 days. Warm in microwave and stir well to use.
SPRINKLES | I love sprinkles, if using, sprinkle quickly after drizzling as this buttercream glaze will harden rather quickly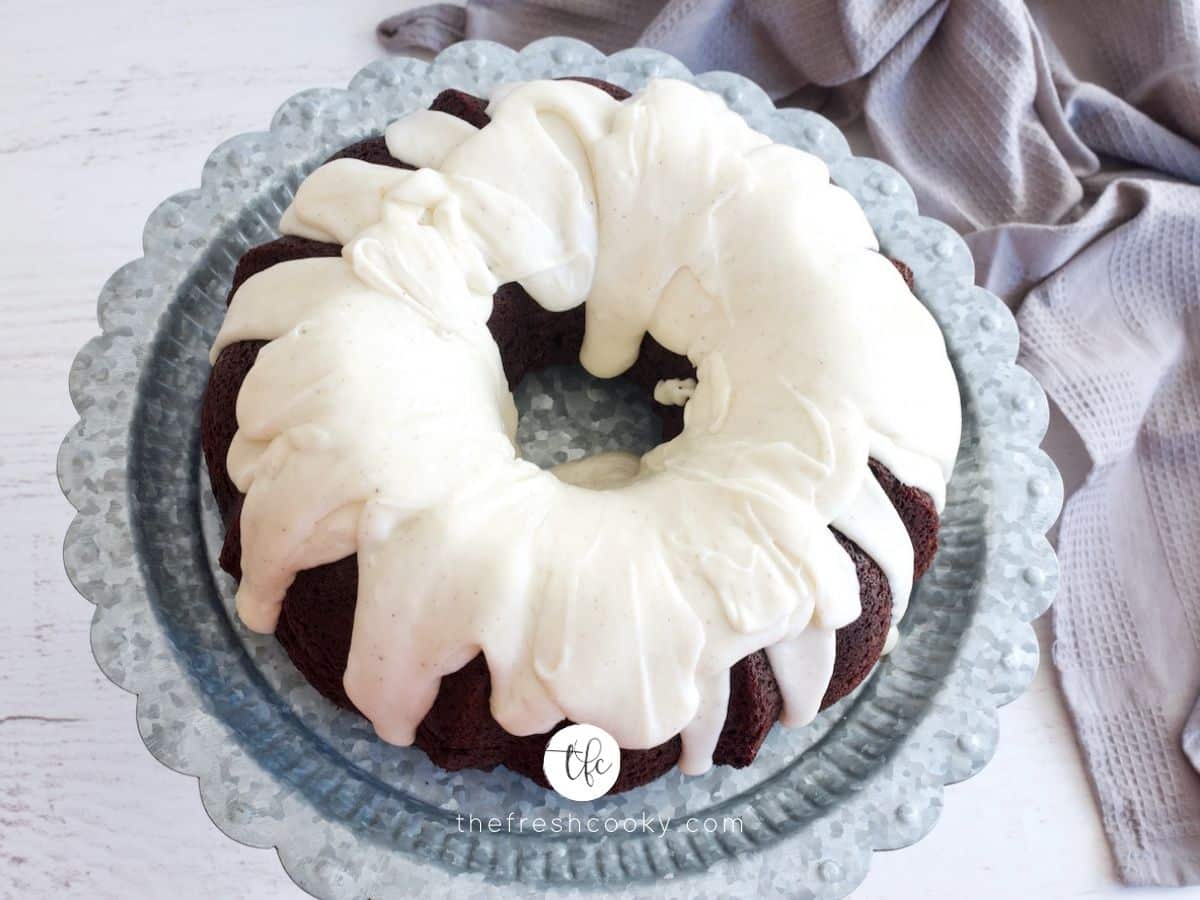 SERVING SUGGESTIONS FOR VANILLA GLAZE
The list is limited only by our imaginations!
Slather a little of this vanilla glaze on top of canned or store bought cinnamon rolls to spruce them up.
Pour over the top of your favorite quick breads to add a dessert like flare.
Drizzle butter glaze on top of your favorite cake or bundt cake recipe, like this Easy Chocolate Cake!
Like this recipe?
Don't forget to give it a ⭐️⭐️⭐️⭐️⭐️ star rating and comment below the recipe!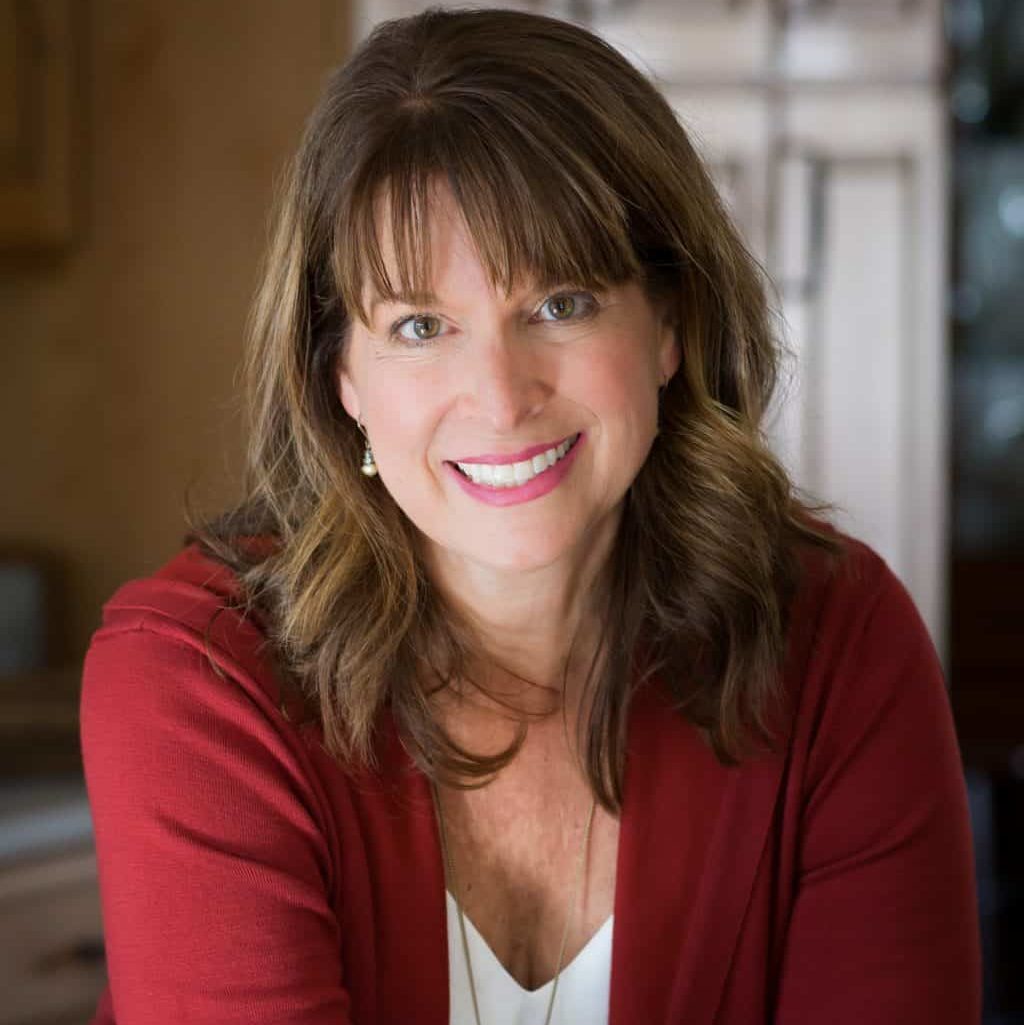 About Kathleen Pope
Recipe Innovator | Food Photographer | Food Writer
Hi, I'm Kathleen Pope. Here at The Fresh Cooky you will find easy, mostly from-scratch, trusted recipes for all occasions. From speedy dinners to tasty desserts, with easy step-by-step instructions. I am here to help teach you how to make mouthwatering recipes without spending hours in the kitchen. Read more about Kathleen here.