Butterscotch Cinnamon Pie Recipe
As an Amazon Associate, I earn from qualifying purchases. Please read my disclosure policy.
One piece of this Butterscotch Cinnamon Pie Recipe will not be enough, you will be hooked! The rich buttery brown sugar flavors mixed into a creamy homemade butterscotch pudding nestled in a flaky pastry crust. Heavenly!
The delicious cinnamon pie is draped in the creamy and buttery flavors of butterscotch with a beautiful flaky crust and a dollop of sweet homemade whipped cream. While this pie is perfect for Halloween, Thanksgiving or fall baking — it's a refreshing, creamy recipe all year long!
Use a store bought or homemade pie crust, try my 3 ingredient all-butter pie crust recipe!
What if I told you this pie had healing power in it? Wouldn't that be amazing?
According to the video game Undertale, that's precisely what it is. It boasts that Toriel's Butterscotch Cinnamon Pie supplies a complete healing agent. In fact, it's the only item in the game to do so.
I'll take the whole pie, please! My gaming son was THRILLED when I made this pie! I scored points on several accounts: that I knew about this pie and the game and that he got to eat it! And boy did he eat it!
Pie is definitely therapeutic, but I can't guarantee the healing part. Can someone convert that into real life, please? If you need a little more therapy, let me help you with a few recipes:
Why You Will Love Cinnamon Butterscotch Pie
Although you need to make this Sweet cinnamon butterscotch pie recipe in advance, there's the satisfaction of knowing your dessert is already made.
A creamy old-fashioned butterscotch pie recipe, the best!
Use your favorite homemade crust or a store bought crust, making it even easier.
Simple Ingredients for Butterscotch Cinnamon Pie
For complete list of ingredients and instructions, see the printable recipe card at the end of this post, this list is meant as a guide.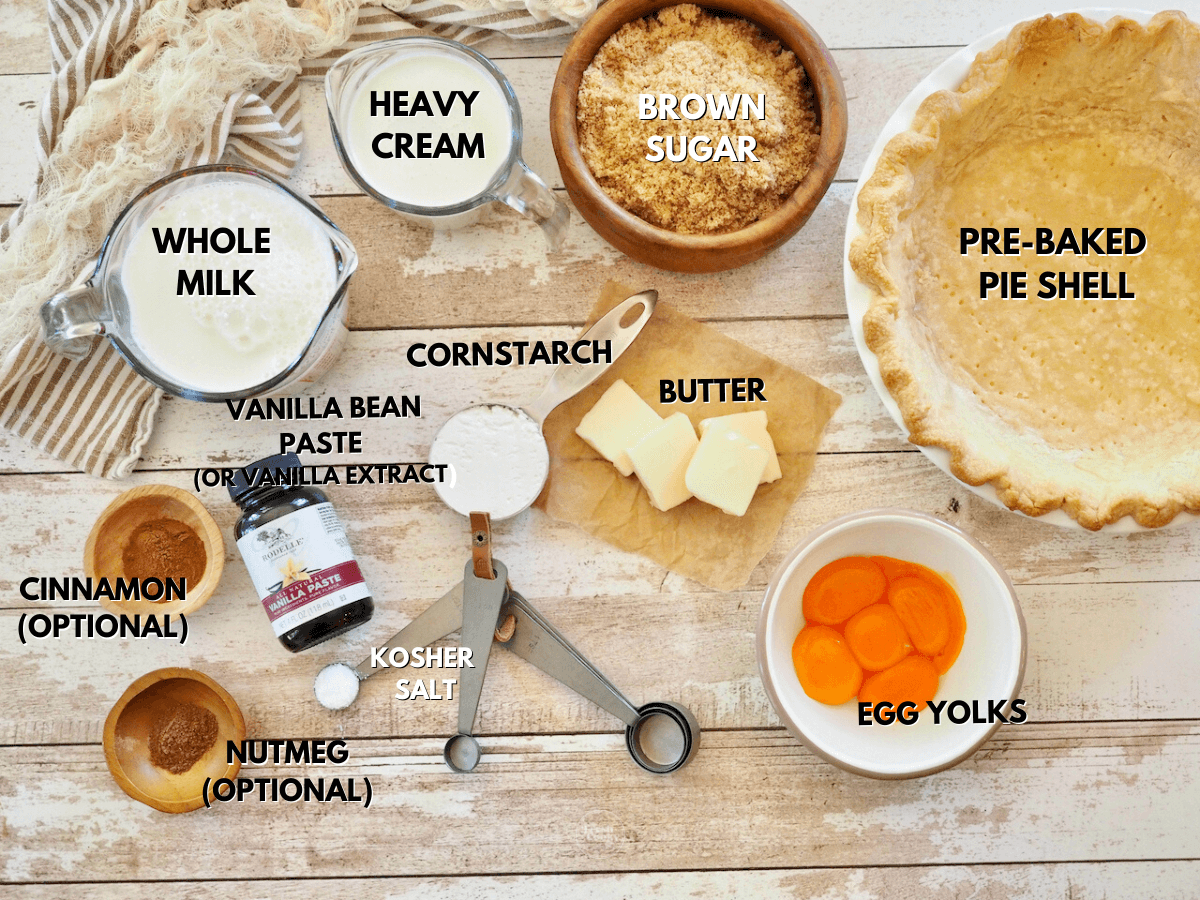 Pre-Baked Pie Crust | Pre-baked and cooled slightly. Make your own or use store bought.
Brown Sugar | I used light brown, but feel free to use dark brown sugar and pack it well.
Cornstarch | Cornstarch is used to make a lighter pie. If you like a firmer pie, use a little more.
Kosher Salt | Don't skip the salt it is the balance to the sweetness in the pie.
Whole Milk | For the creamiest pie, use whole milk. See variations and substitutions below.
Heavy Cream | It's okay to replace with whole milk, but is so silky and creamy made with cream!
Large Eggs | You will be using the yolks, beaten – see the notes about egg whites.
Butter | Use real butter, salted or unsalted butter, for that creamy fluffy butterscotch flavor, if using unsalted, add ¼ teaspoon additional salt.
Vanilla Flavoring | Vanilla bean paste or vanilla extract will work here. The real deal will give it a richer flavor than imitation vanilla.
Cinnamon | Cinnamon flavor is optional, but it is called Butterscotch Cinnamon Pie, after all and is surprisingly delicious!
Nutmeg | Nutmeg adds that warm nutty aroma that perfectly pairs with cinnamon. Again, this is optional but certainly preferred.
Cinnamon Whipped Cream Ingredients
Whipping Cream | Use heavy cream for a nice thick texture.
Powdered Sugar | Powdery and sweet goodness whips up perfectly and doesn't weigh down the cream.
Ground Cinnamon | Add 1/2 teaspoon to the whipped cream or just a sprinkle on top as a beautiful garnish to the deliciousness.
Vanilla Extract | Pure is better, my favorite is Rodelle Vanilla extract.
How to Make Butterscotch Cinnamon Pie Recipe
IMPORTANT | Make sure to first read through all the instructions. This pie is best made a day ahead of time, as it needs a good long while to chill before slicing for best results.
Step 1 | Prebake Pie Crust
Roll out the pie shell (or prebake a store-bought pie shell) into a 9" pie pan. Flute the edges of the pie crust or press them with the tines of a fork.
Using a fork, poke holes in the unbaked pie shell all over, including the sides. This will prevent shrinking and bubbling. You can also use pie weights or dried uncooked beans. (You will need to place a piece of parchment paper between the pie crust and the pie weights.)
Bake the pie according to the package or recipe directions. Then allow it to cool while you make the pudding, but it doesn't need to be thoroughly cooled. I let mine cool on the counter for about 10 minutes and then place it in the fridge for an additional 15 minutes.
Step 2 | Make the Butterscotch Pudding
In a medium saucepan, stir together the brown sugar, cornstarch, cinnamon, nutmeg (if you're using it), and salt. Stir it gently so you don't poof your cornstarch all over your kitchen.
Add milk, heavy cream, and egg yolks and stir to combine it with dry ingredients over medium heat. Stirring or constantly whisking, cook until the egg mixture thickens and bubbles. Then cook an additional minute *for High Altitude see tips below. It will take about 3-5 minutes for the hot liquid to reduce and come to a simmer.
Remove it from the heat and stir in the butter and the vanilla bean paste or extract. Stir until the butter is melted and the cream mixture becomes like smooth brown butter.
Then pour the mixture into the cooled pie shell and cool for 30 minutes before placing in the fridge.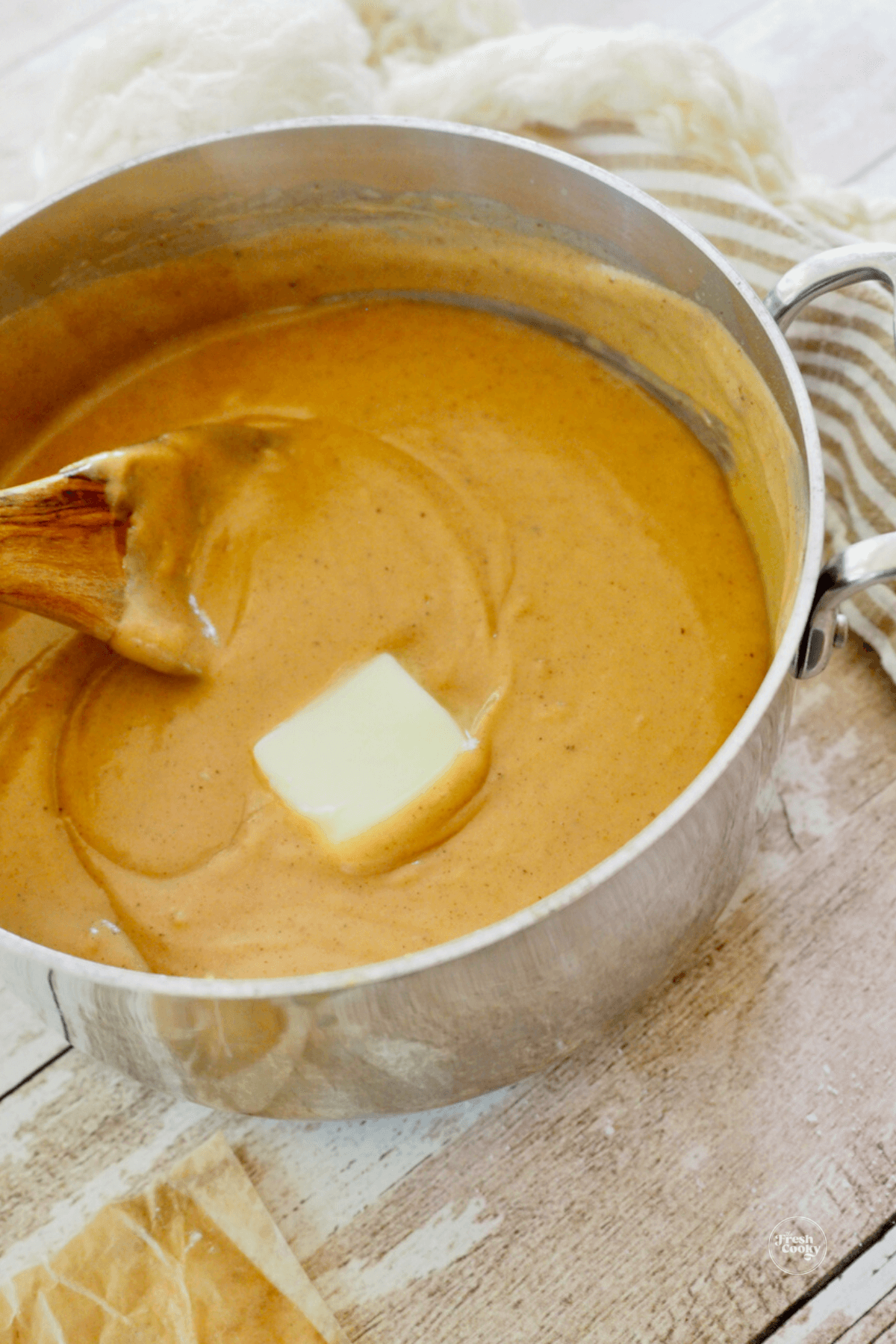 Press the wrap down slightly to create a seal against the warm butterscotch pudding. This will prevent a skin from forming, this is optional, the wrap will create wrinkles in the top of your pie, so if you don't want those, don't place plastic wrap over the top.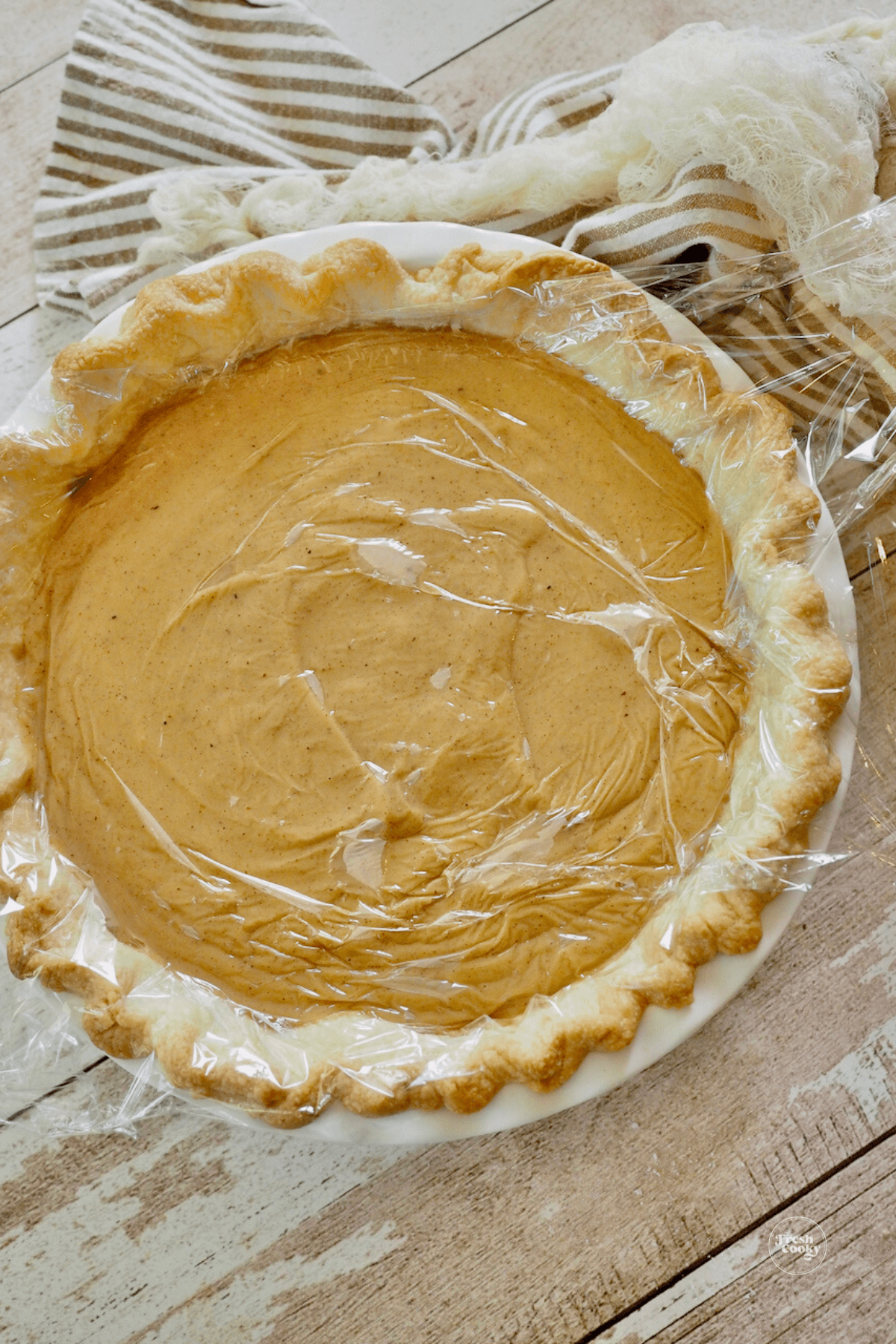 Step 3 | Set the Pie
Place the pie in the fridge for at least 6 hours or overnight for best results. It may be served sooner, but note that your pie will probably "fall apart" while serving. You'll wish you had waited, though the taste is the same!
Step 4 | Make Cinnamon Whipped Cream
When you're ready to serve, make the cinnamon whipped cream. Use the bowl of a stand mixer or a hand mixer with a whisk attachment. Beat the whipped cream at medium-high speed until soft peaks start forming. Add powdered sugar, cinnamon, and vanilla extract, and continue beating until thick and stiff peaks form.
Take out the pie from the refrigerator and remove the plastic wrap. You can either serve slices of pie with a dollop of whipped cream on each or spread the whipped cream over the top of the pie, slice, and serve with a sprinkle of cinnamon and nutmeg.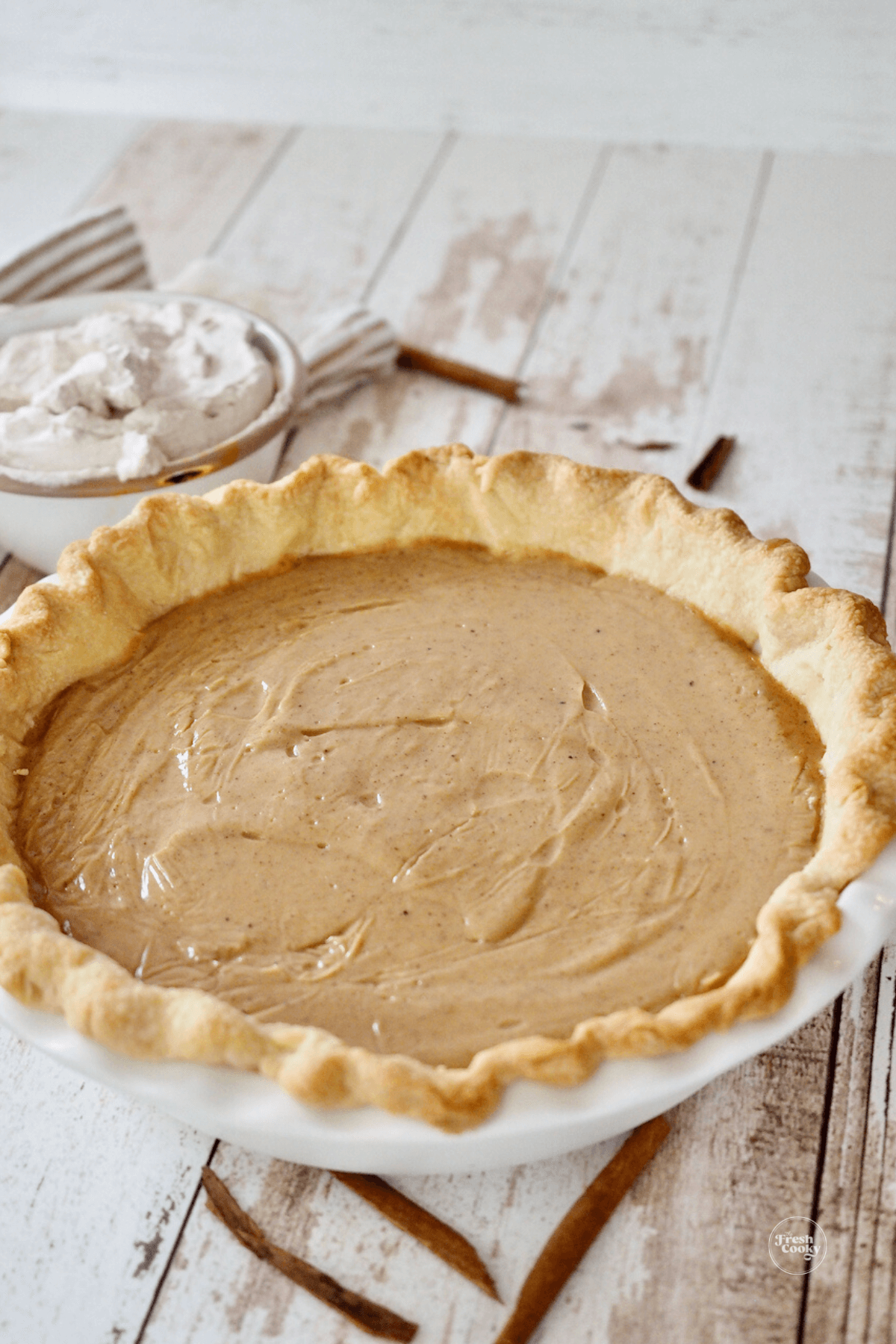 Fresh Tips
The warm spicy flavor of cinnamon and nutmeg are excellent for the fall and mixed with the warm rich flavor of butterscotch; it's delicious. That being said, this butterscotch pudding pie is just as delicious without the cinnamon and nutmeg, if you prefer.
I prefer using less corn starch in my baking. However, if you like a cleaner slicing pie, use the larger amount of cornstarch (⅓ cup) to help it firm up a bit more.
This is the perfect pie for the fall and Thanksgiving. It's easy to make a day in advance and take it out when you're ready.
This recipe is best when using at least whole milk. If you use a lower %, you will end up with a watery filling, so keep that in mind.
Variations & Substitutions
Toss some butterscotch chips on your pie crust when it first comes out of the oven for a butterscotch overload, or sprinkle some on top.
Gluten-Free Butterscotch Cinnamon Pie Recipe | Substitute your favorite gluten-free pie crust for the regular pie crust, the butterscotch pudding is naturally gluten-free.
As mentioned before, leave the cinnamon out of the butterscotch pudding mixture if desired.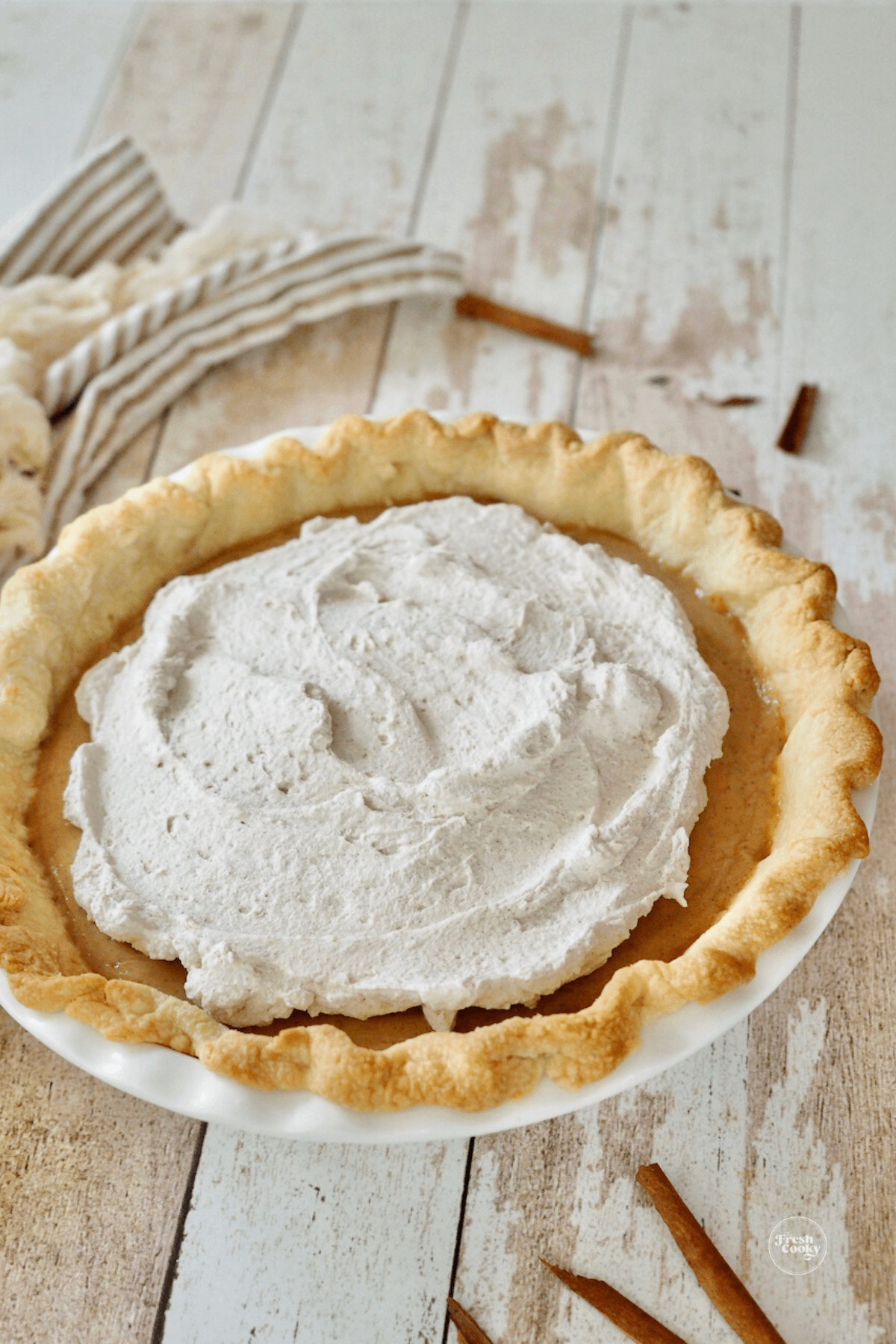 A heavy bottomed pan is all you need for this recipe, my favorite is this All-Clad pan.
This is my favorite pie dish.
Storage Tips
Store this Butterscotch Cinnamon Pie in the refrigerator for 3-5 days. It's meant to be served cold straight out of the fridge, not room temperature. I wouldn't recommend freezing a custard pie.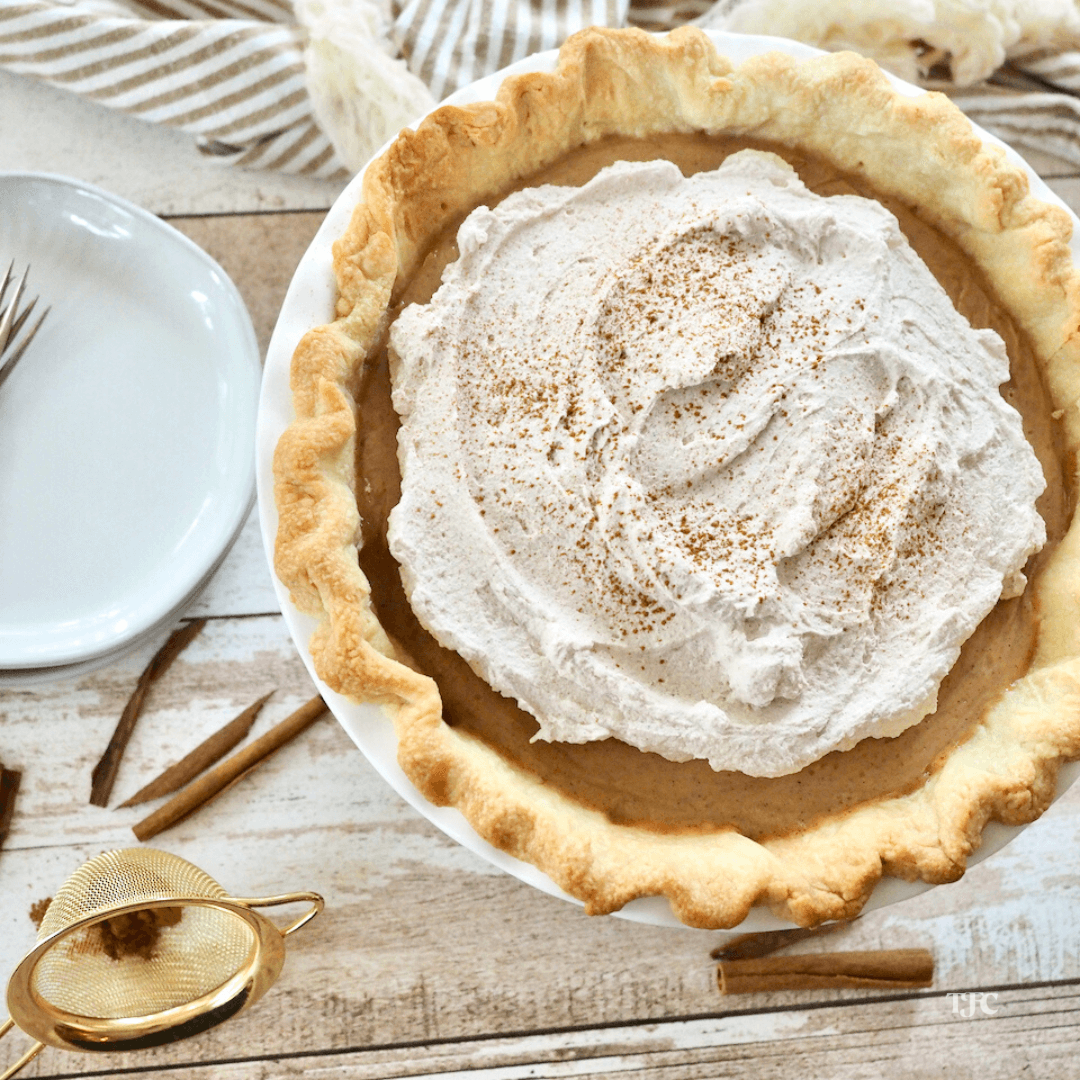 High Altitude Tips
No major adjustments for high altitude; however since things come to a boil quicker at higher altitudes you may need to cook the butterscotch pudding mixture a little longer.
Just make sure that the pudding is nice and thick before removing from heat, but do not overcook.
Frequently Asked Questions
What is butterscotch?
The short answer is that butterscotch has the essential ingredients of brown sugar, butter, and salt, with vanilla as an option. It is similar to caramel, which uses granulated sugar, but is a little deeper in flavor and color with the molasses that is in the brown sugar.
Is there a difference between butterscotch and caramel?
Raise your hand if you think they are the same? Or interchangeable?
Many think they are the same, but actually, butterscotch is made with brown sugar, as we just saw above, and caramel is made with white sugar.
What if the mixture isn't thick enough?
Mix about a tablespoon of cornstarch with just enough water to melt it and add to the mixture. It will start to thicken up a bit. Don't overdo though.
What is the Butterscotch Pie for Undertale?
Butterscotch Cinnamon Pie (or sometimes referred simply as Butterscotch pie) is a consumable healing item in the game Undertale. Typically found in Toriel's home after taking a nap or using the Butterscotch pie in the fight against Asgore. (Source)
Ways to Serve Butterscotch Cinnamon Pie
Enjoy with a thick dollop of cinnamon whipped cream, or make your own homemade Cool Whip (it's just whipped cream) or go crazy and serve with a scoop of rich vanilla ice cream.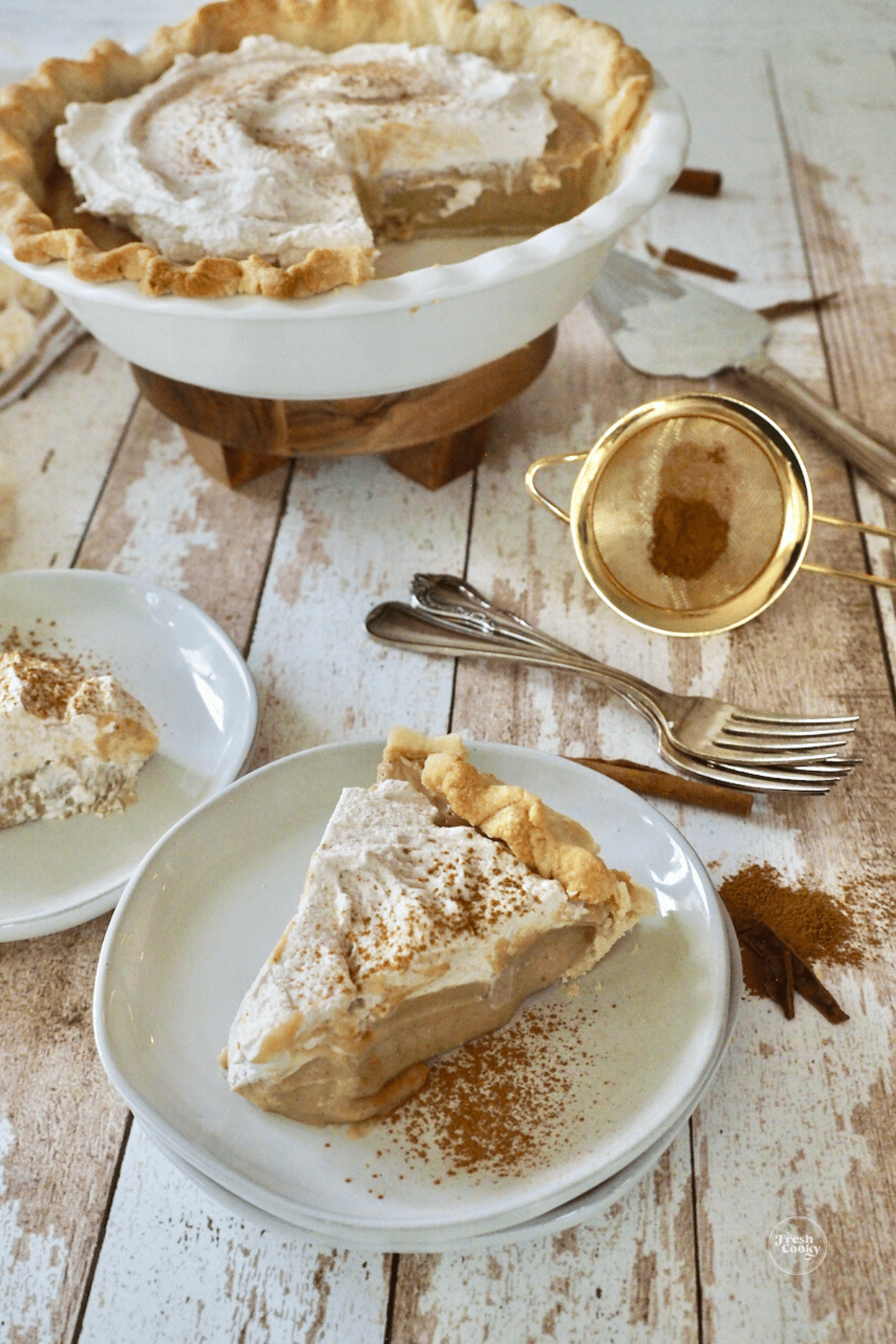 USE THE EGG WHITES! Make an egg white omelet, this amazing Whiskey Sour or make a meringue instead of the whipped cream. See how to below!

Beat the egg whites in a cool, clean small bowl until it's stiff (high speed is best).
Add ¼ cup sugar and one teaspoon cream of tartar to the beaten egg whites and whip until the meringue is shiny.
Spoon the meringue over the top of the pie and bake for 10 minutes in a 350-degree oven or until the top is golden brown. Then allow the pie to cool and set up for one hour.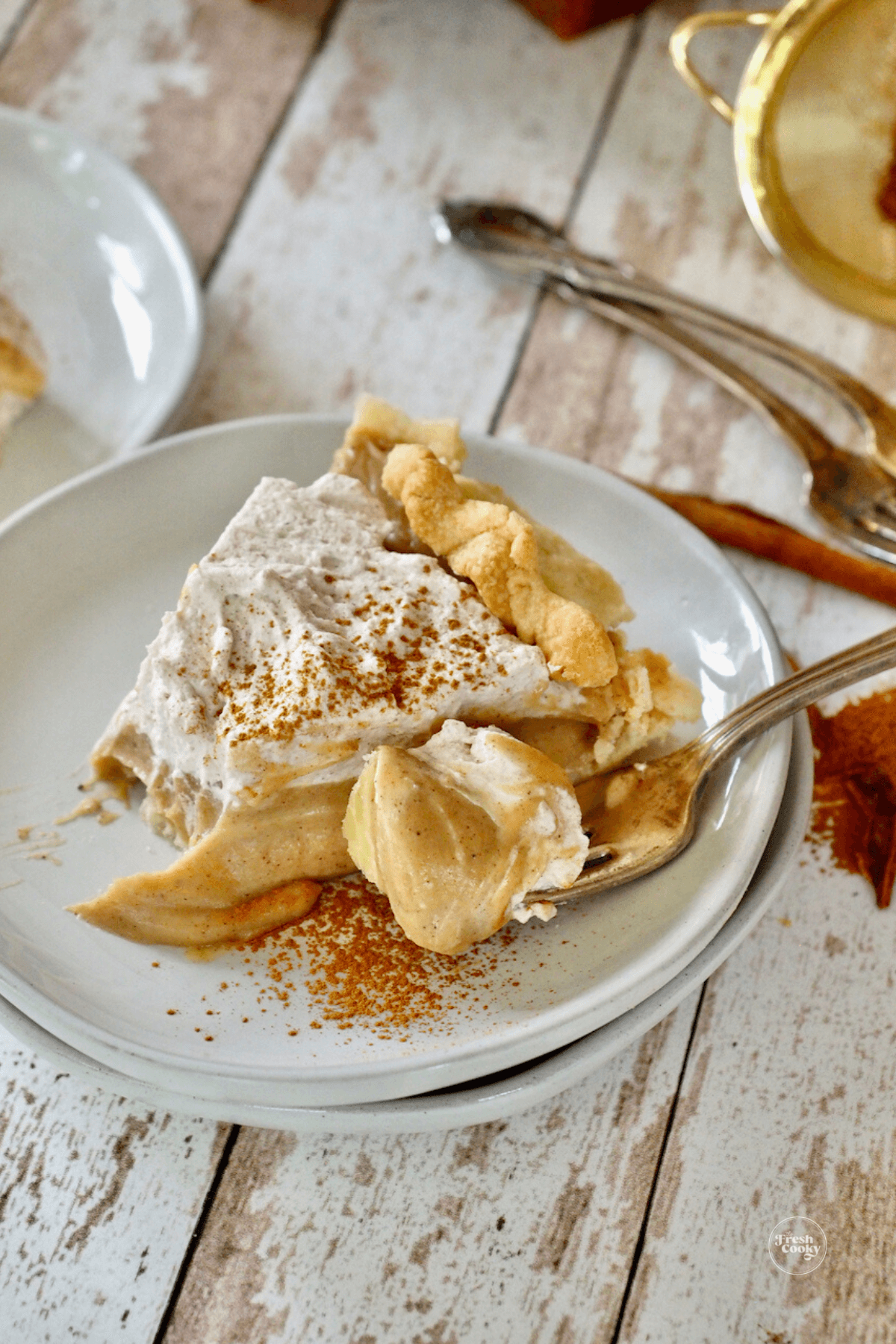 When you're making the hot mixture for the cream pie, you may think it's not thick enough, don't overcook, the boiling bubbles should be like lava. Be patient, and it will thicken when it's refrigerated.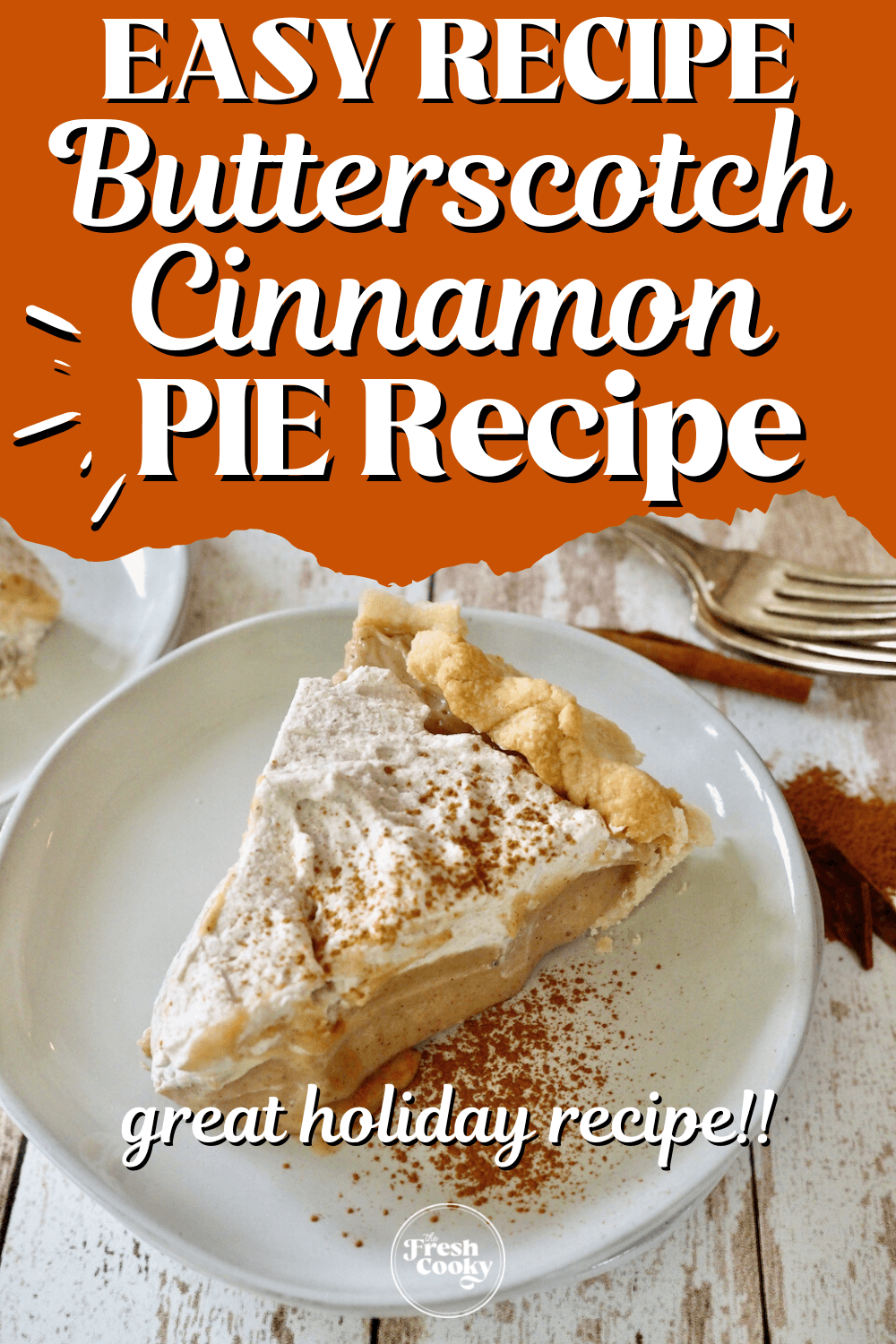 I hope you loved this Butterscotch Cinnamon Pie Recipe — if you did, would you share your creation on Instagram, Facebook and Pinterest? And be sure to comment below!
Like this recipe?
Don't forget to give it a ⭐️⭐️⭐️⭐️⭐️ star rating and comment below the recipe!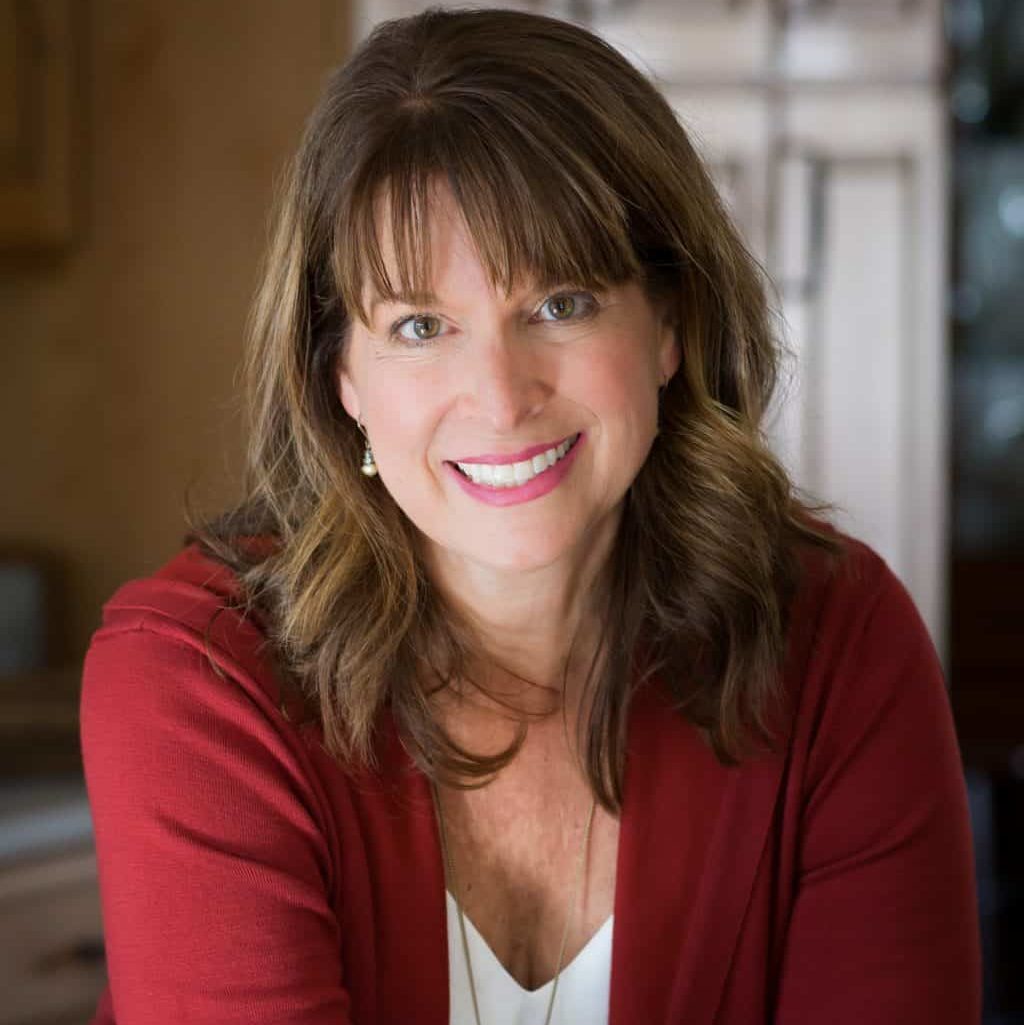 About Kathleen Pope
Recipe Innovator | Food Photographer | Food Writer
Hi, I'm Kathleen Pope. Here at The Fresh Cooky you will find easy, mostly from-scratch, trusted recipes for all occasions. From speedy dinners to tasty desserts, with easy step-by-step instructions. I am here to help teach you how to make mouthwatering recipes without spending hours in the kitchen. Read more about Kathleen here.