Blackberry Cocktail | A Blackberry Mule
As an Amazon Associate, I earn from qualifying purchases. Please read my disclosure policy.
Fresh, flavorful ripe blackberries, smokey bourbon and spicy ginger beer…you know it, I'm talking about a Blackberry Bourbon Moscow Mule people! An incredibly easy, refreshing and easy blackberry cocktail.
I am a sucker for a delicious cocktail or non-alcoholic drink; I do not drink often, but love something fun, fresh and unique when I do!
If you love fresh cocktails, you might enjoy this Cranberry Bourbon Cocktail, a reader favorite — Cherry Bomb, or my favorite fall drink, Maple Whiskey Sour.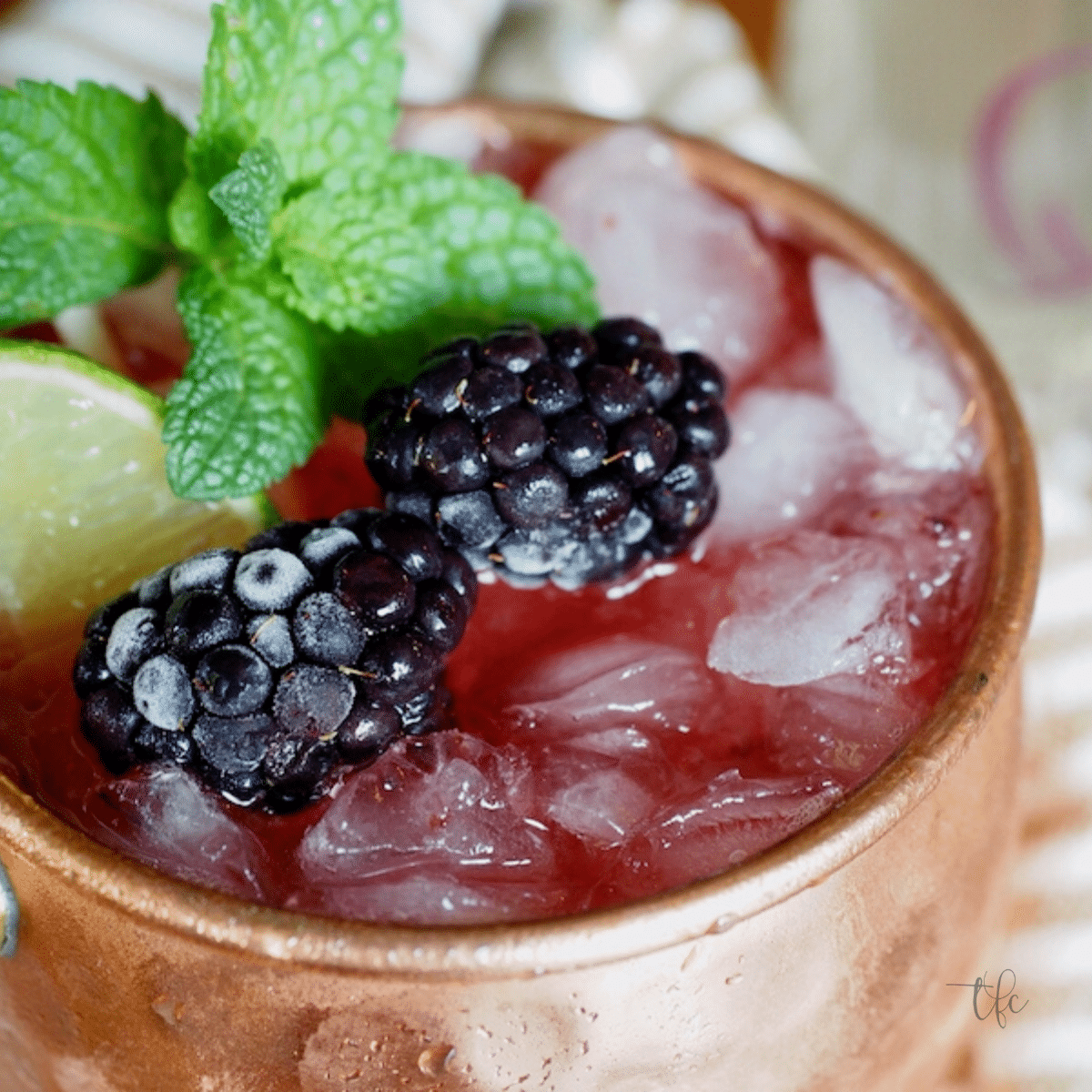 Or as we have fondly started calling it, the B²M². What can I say, I'm the wife AND the daughter of engineers! Although this is about as advanced as my math gets these days, somehow the math gene skipped me?!
This recipe is bursting with simple, amazing flavors; with smokey bourbon, sweet fresh blackberries, fresh lime juice and bubbly Ginger Beer.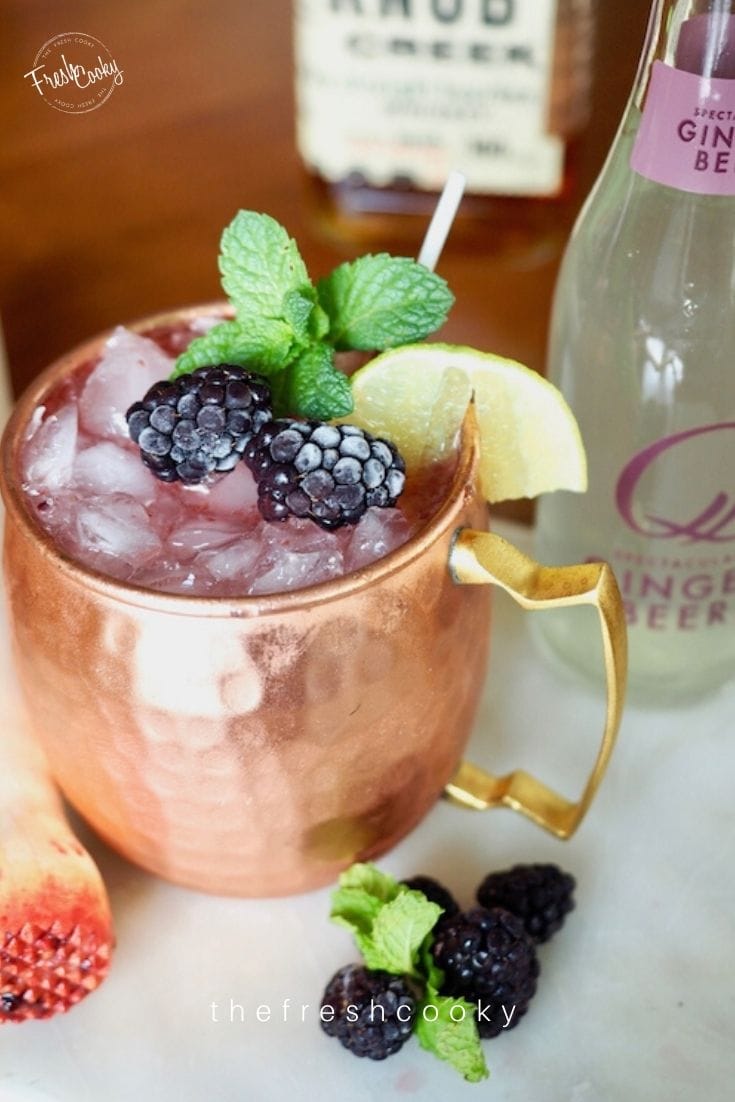 Q Drinks provided me with mixer samples to use in various cocktails and mocktails, however the opinions shared here are purely and completely my own.
Simple Ingredients
The recipe card holds all of the details, be sure to print at the bottom of the post.
BLACKBERRIES | Well it wouldn't be a blackberry cocktail without blackberries would it?
BOURBON | Bourbon is smooth, smokey and so delicious making this a wonderful fall drink or late summer cocktail.
GINGER BEER | Choose your favorite brand of ginger beer, some like it super spicy, others milder!
How to Make a Blackberry Cocktail
It's super simple and using fresh or even frozen blackberries, it's oh so very summery (or fall, winter or springy!)!
Start by tossing in 4-5 fresh, ripe blackberries into the bottom of a copper mule mug (or a chilled old fashioned, pour in your bourbon or whisky and using a muddler; muddle your fruit with the bourbon.
How Do you Muddle Something?
Basically simply translates into — smashing the fruit gently with a muddler, releasing the flavors to help it better bind with the alcohol. Well, don't just sit there, start your muddlin'!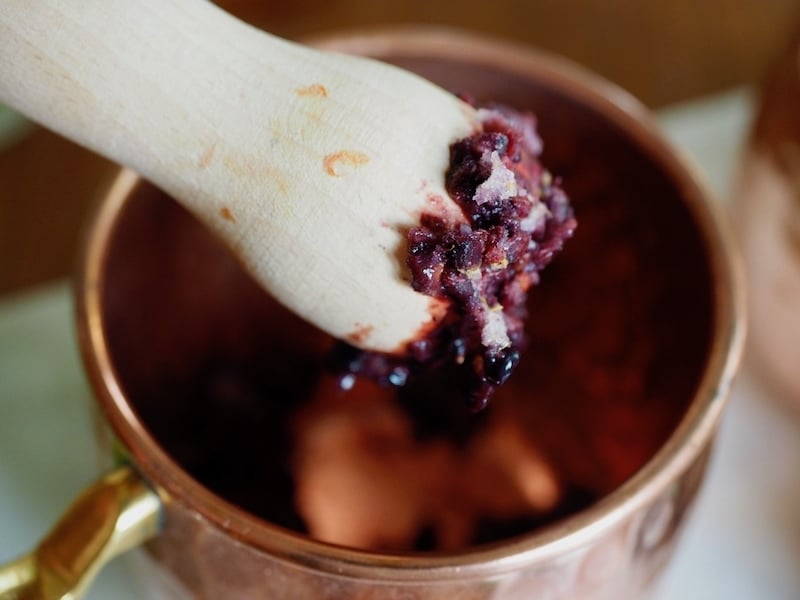 Then, if desired, take a few sprigs of mint and do the same thing, don't muddle too hard, you don't want the bitterness of the mint to be expressed, just the sweetness.
Squeeze in the juice from half a lime into the glass.
Fill the glass/cup with crushed ice; we don't have that function on our ice maker, so I just toss some ice cubes in a freezer baggie and get out my daily frustrations on the ice with a rolling pin = therapy and crushed ice for the WIN!
Then pour some Ginger Beer by Q Drinks and give it a gentle stir to bring up the lovely purple from the blackberries.
Garnish with a wedge of lime, a few fresh or frozen blackberries, and a sprig of mint, serve immediately!
Don't forget to PIN IT NOW for later!
This post is for 21+ adults, although this recipe tastes lovely without the alcohol and can be made into a mocktail by simply omitting the bourbon. Please drink responsibly.
If you enjoyed this blackberry cocktail, please give these others a try.
Just in case you need a bigger selection of recipes to choose from!
Like this recipe?
Don't forget to give it a ⭐️⭐️⭐️⭐️⭐️ star rating and comment below the recipe!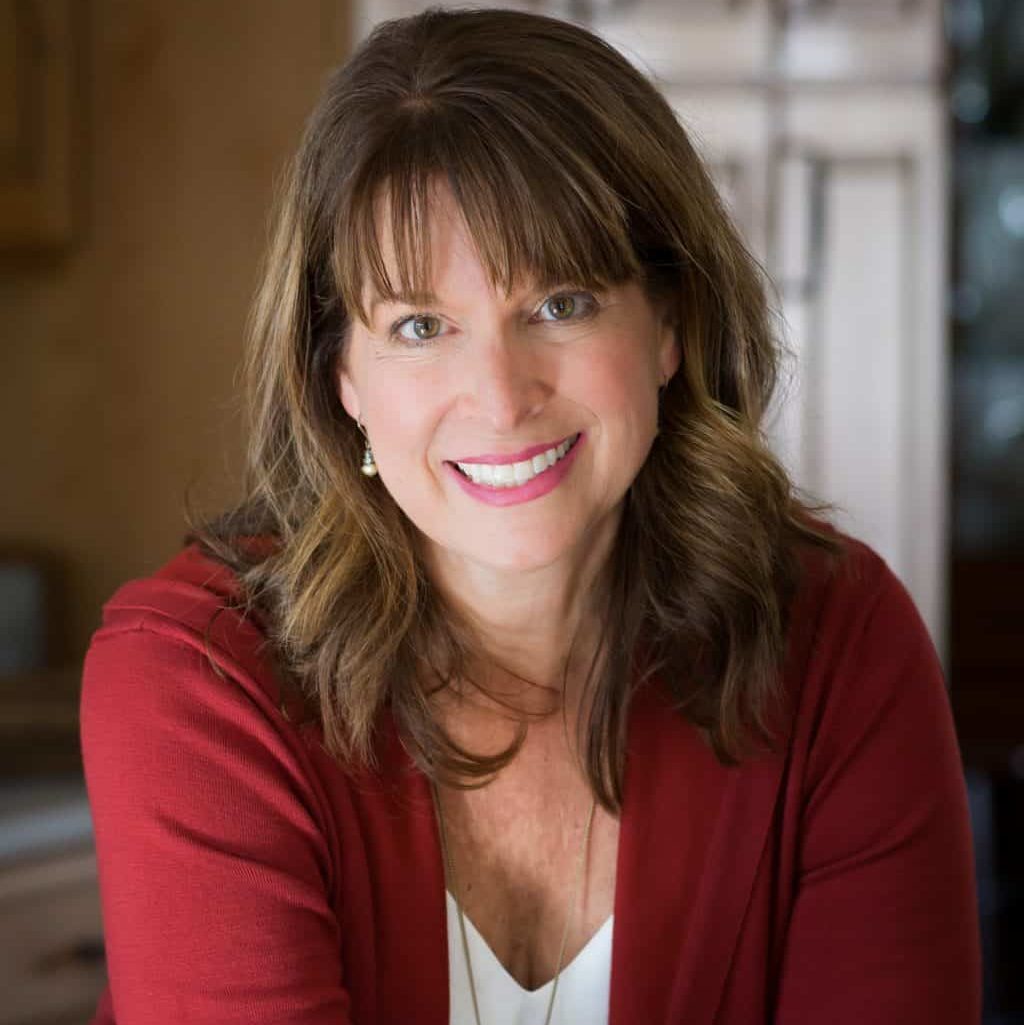 About Kathleen Pope
Recipe Innovator | Food Photographer | Food Writer
Hi, I'm Kathleen Pope. Here at The Fresh Cooky you will find easy, mostly from-scratch, trusted recipes for all occasions. From speedy dinners to tasty desserts, with easy step-by-step instructions. I am here to help teach you how to make mouthwatering recipes without spending hours in the kitchen. Read more about Kathleen here.