One-Pot Lemon Garlic Pasta Recipe
As an Amazon Associate, I earn from qualifying purchases. Please read my disclosure policy.
This scrumptious One Pot Lemon Garlic Pasta Recipe is so satisfying, with bold garlic and bright lemon flavors delivered to your table in under 30 minutes. Enjoy this zesty Gemelli pasta recipe on its own, add in more veggies, or top the dish with protein- there are plenty of ways to make this meal your own.
Of course, we all get in ruts making meal after meal for the family. That is why I love easy recipes like this lemon parmesan pasta. Since it is perfect just as it is, you can take the time to be creative with your add-ins.
For instance, I love to throw in some sun-dried tomatoes like in this Creamy Bow Tie Pasta Recipe. Or you can take a look at my Slow-Roasted Veggie Pasta for suggestions on adding delicious roasted vegetables. Indulge with this pesto appetizer with burrata and roasted tomatoes recipe alongside this meal!
You can treat this one-pot lemon garlic pasta recipe as a meal or side dish. For more easy pasta recipes, try my Delicious Antipasto Pasta Salad or maybe the Best Italian Pasta Salad with Sun-Dried Tomatoes. For a cold salad day, impress them with Bacon Balsamic Macaroni Salad.
Can you tell I adore a good pasta recipe? I would call it one of my favorite things- or guilty pleasures!
Welcome to #LemonWeek 2022 hosted by Lynn from Fresh April Flours and Rebecca from Devour Dinner. This week is sponsored by Rodelle and La Tourangelle. I received product samples from these sponsors to help in the creation of my recipes. All opinions are my own. Come join me and my fellow Lemon Week bloggers as we bring you recipes from appetizers to drinks to entrées and desserts!
I am featuring a brand new lemon recipe every day this week! Try them all! Easy Lemonade Bundt cake with cream cheese frosting, Pink Lemonade Vodka Cocktail, Lemon Dump Cake and Italian Lemon Pound Cake.
What is Gemelli Pasta?
Gemelli refers to the shape of the pasta itself. It is two short strands of pasta that are twisted together. This shape of pasta holds the flavor of whatever sauce you pair it with quite well. And it is easier than others to cook to the perfect "al dente."
Why You Will Love This Recipe
One-Pot Pasta | One pot means less cleanup and more time to enjoy the garlic lemon pasta, aka pasta al limone.
Versatile | It is so easy to change this recipe with add-ins and more!
Allergy-friendly | See my tips on making this dish to suit anyone with allergies.
Fast and Easy | This is really an easy weeknight meal you can prepare in minutes!
Healthy Twist
This is one of my favorite healthy recipes. The best thing is there are so many vitamins and minerals in the artichoke, broccoli, and spinach. And the health benefits of garlic and herbs add even more flavor and goodness. Need a little heart health? Add a splash or olive oil to the finished dish.
Simple Ingredients
For the full recipe and list of ingredients print the recipe card at the end of the post.
Gemelli Pasta | This is the best shape I have found to hold all the pasta sauce flavors. But feel free to get creative with your pasta shape, any short pasta will work, but angel hair pasta or other long pastas will work too!
Broth of Choice | Cooking the pasta in broth instead of cooking water infuses the flavor throughout the pasta, this was a game changer for me! Choose your favorite chicken broth or vegetable broth.
Garlic | Look for firm and fresh garlic cloves as they yield the best taste.
Heavy Cream | I use heavy cream for this recipe, but you can substitute it with half-and-half. I do not recommend whole milk as it tends to break up when in this recipe.
Parmesan Cheese | You can choose Parmesan Cheese, Parmigiano-Reggiano, or Grana Padano Parmesan for this recipe. Grana is slightly sweeter.
Italian Parsley | Be picky about your parsley. Find the fluffy and brightly green bunch for the freshest and most robust flavor. A little parsley goes a long way when fresh!
Baby Spinach | Baby spinach is the younger leaves. They are smaller and have a more tender and sweet flavor- just perfect for lemon pasta!
Lemon | You will be using fresh lemon zest and lemon juice for this creamy garlic pasta.
Broccoli | (see my fresh tips on cooking broccoli with pasta)
Artichoke Hearts | The tender and meaty part of the artichoke is a perfect addition to this dish. And it provides fiber and several vitamins as well. I like the brined version, but you can use marinated too.
La Tourangelle White Truffle Oil | I joined La Tourangelle to create this recipe using their truffle oil for the perfect ending to this fantastic garlic pasta dish. A little drizzle is all you need!
Add-Ins for Lemon Garlic Butter Pasta
As I said before, there are several ways you can alter this dish- they will hardly know it is the same meal! Try the following add-ins to change it up so you can make it again and again.
White Wine | Pour some white wine into the pasta before adding the cream and veggies.
Vegetables | Fresh green veggies seem to add nicely to this easy lemon pasta recipe. Try peas or zucchini. Mushrooms would be yummy too.
Protein | Take a simple cooked pasta recipe and make it a hearty weeknight dinner by adding some grilled or baked salmon, succulent shrimp, grilled, blackened, or crispy chicken slices, or perhaps a juicy steak hot off the grill.
Capers | Capers add that salty flavor and elevate any simple pasta dish.
Tomatoes | The color looks great nestled in the pasta dish, and they add vitamins.
Nuts or Seeds | Toasting nuts or seeds adds a rich nutty flavor and a little crunch. Try pine nuts, pepitas, sliced almonds, or walnuts to garnish your finished plate.
Fresh Herbs | garnish with any of a variety of herbs like fresh parsley, dill, oregano, fresh basil and more.
Sweet Peppers | I found these mini sweet pepper drops in our deli olive bar at the grocery store, they add the perfect sweet heat!
The company La Tourangelle makes a deliciously aromatic artisan truffle oil that is so good drizzled over the pasta just before serving! It has all the complex notes of woods, earth, and fruit authentic to the Italian White Alba Truffle. Made with sunflower oil, it pours beautifully.
How to make this Gemelli Pasta Recipe
Step 1 | Boiling the Pasta
In a dutch oven or a deep pot, dump the pasta right in. Then add the broth and minced garlic to the pot and turn it on high heat to boil. Once it has reached a rolling boil, you can reduce the heat, cover and cook the pasta according to the pasta package directions. You want it to be al dente pasta. Depending on your broth, I recommend adding the salt at the end of this recipe.
The liquid will reduce as the pasta boils and absorbs the salty garlic broth. Ladle some out to reserve for the creamy noodle sauce, if there is too much leftover.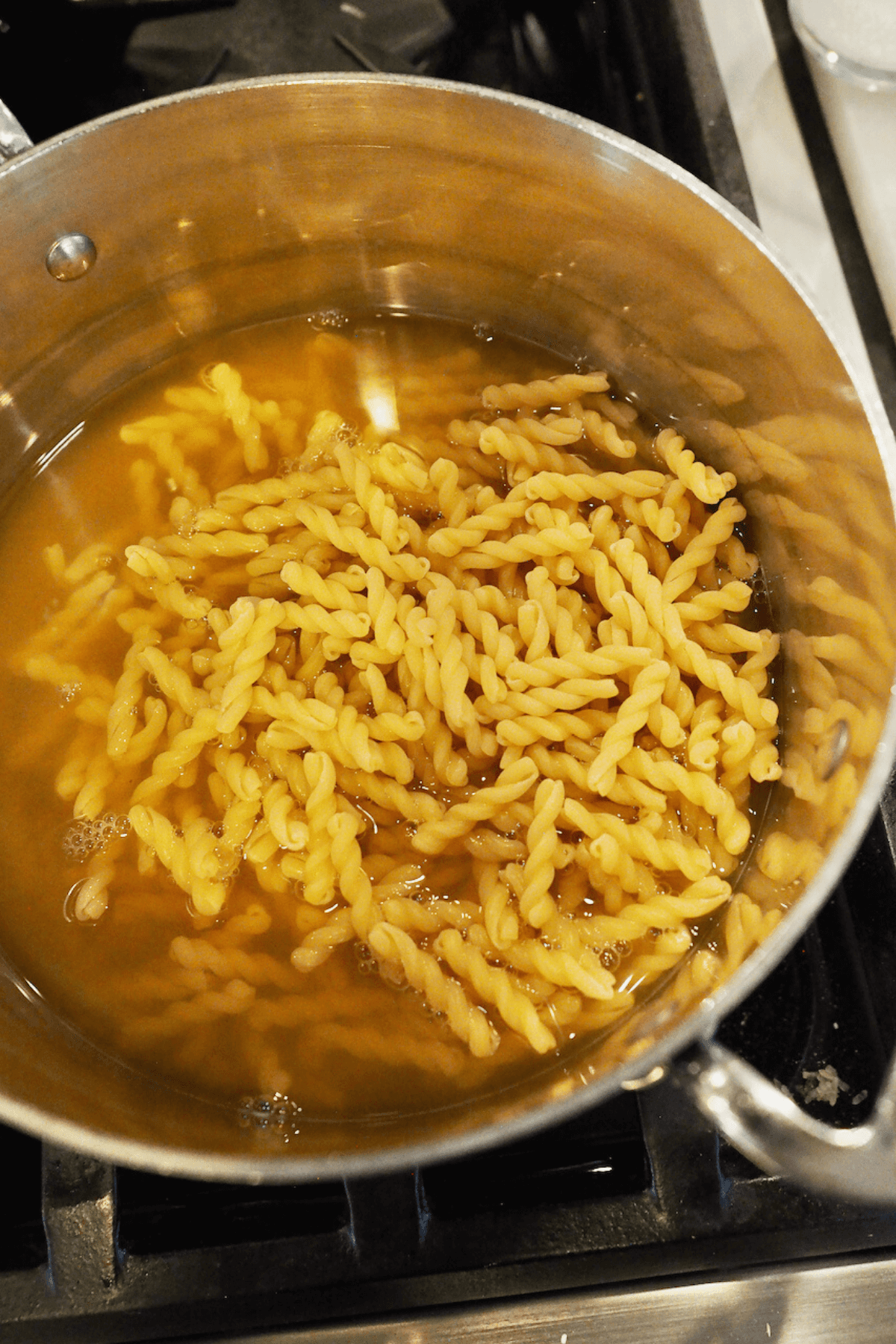 Step 2 | Prep the Ingredients
While the pasta is cooking away, juice the lemon, rinse and chop the broccoli, strain the artichokes, chop the parsley, and grate the cheese, we love our microplane.
Step 3 | Add in More Flavor
Zesting the lemon right into the pot with the Gemelli pasta heightens and brightens the flavor, and the fresh lemon juice adds that lemony goodness.
Fresh Tip
Go Big! This easy lemon garlic pasta recipe may easily be doubled for more!
Step 4 | Lemon Garlic Butter Sauce and Veggies
Time for the broccoli. (See my fresh tips on cooking broccoli just right.) Pour in the heavy cream and put the broccoli in the pasta, and cover, allowing the broccoli to steam a bit.
Then you can add in the spinach and artichoke and stir.
Step 5 | Garnish and Serve
Lastly, add the grated and shaved parmesan cheese and mix it until melted and creamy. I also have a bit more on hand to garnish the top. Now is a great time to take a taste, add salt and pepper to taste!
Then serve it up with a sprinkling of chopped parsley, a lovely lemon wedge, a healthy drizzling of the truffle oil and a dusting of parmesan cheese or some shaved parmesan.
Tips for Cooking Broccoli with Pasta
Broccoli takes longer to cook than the rest of the creamy pasta dish. So, here are a few tips on making your broccoli come out just the way you like it.
Crisp | Chop your broccoli into thin and smaller stalks without actually chopping it finely. Stir into pasta mixture before adding cream, cover, and allow to steam for 2-3 minutes.
Crisp Tender | With broccoli chopped smaller as above, add to noodles during the last 5 minutes of cooking. Be sure to cover.
Fork Tender | Again, chop broccoli smaller, add to noodles the entire time they cook, and be sure to keep the lid covered for the whole time.
Steaming | If preferred, steam the broccoli separate to your desired doneness, then just stir into the pasta.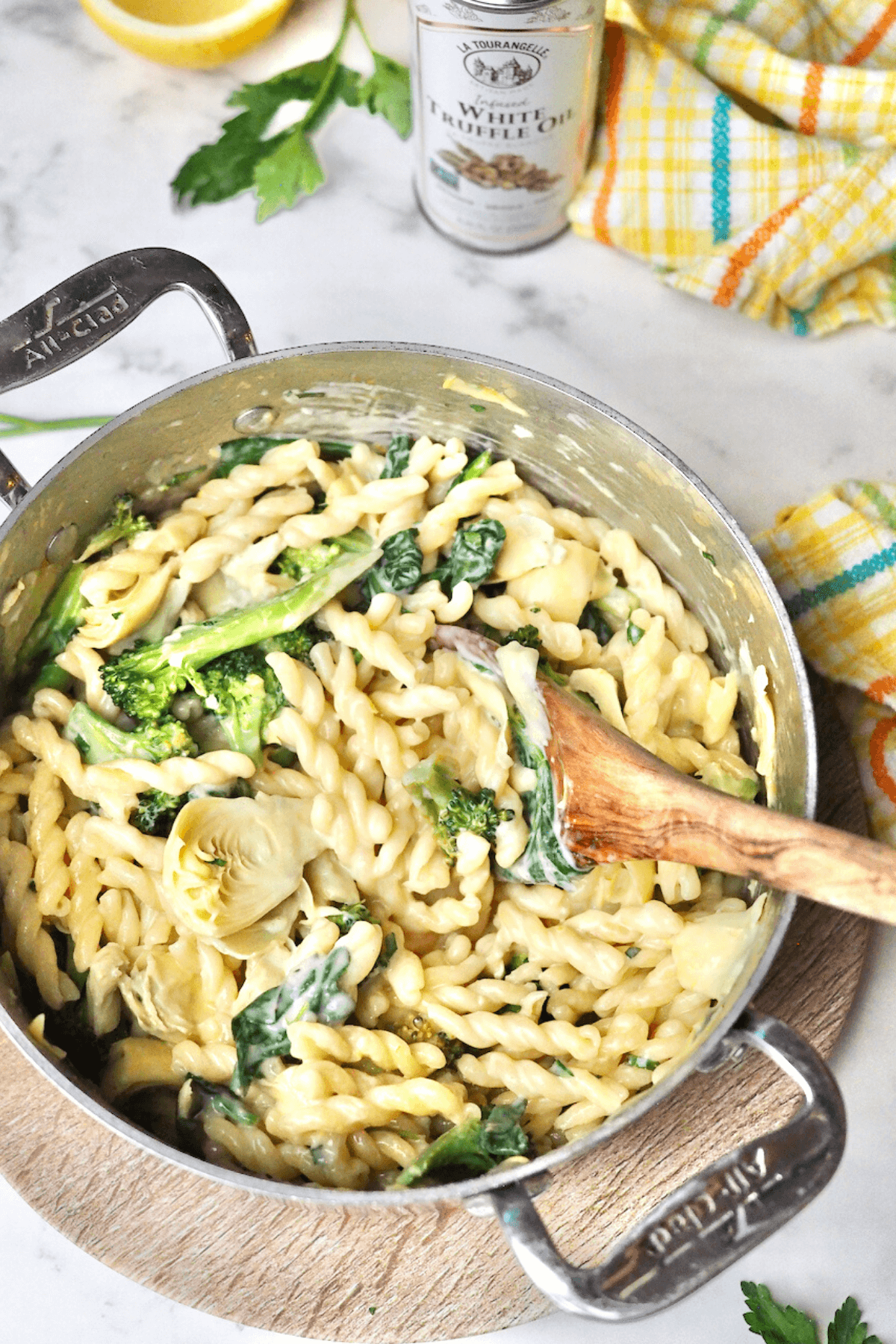 What to Serve with Lemon Garlic Pasta Recipe
Try my friend Chellie's tried-and-true recipe for Sous Vide Chicken for a complete meal, including protein. Or try this recipe for Instant Pot Whole Chicken. You won't believe how quickly this simple pasta recipes comes together; great for busy weeknights.
You can even use this as a side dish for my Coconut Lime Chicken for a summer meal. Or simply grab a rotisserie chicken from the grocery store and shred the meat for an easy protein add-in.
Love shrimp? Add the last few minutes of cooking the pasta until done and don't forget the Garlic toast!
Variations & Substitutions
Make it Gluten-Free | For a gluten-free version of this recipe, try using a Gluten-free penne Barilla makes a good one. I have not found a Gemelli in a GF pasta. Let me know If you do! Then, as long as your broth is GF and you grate your own cheese, you should be good!
Make it Vegan | For a vegan lemon pasta version, eliminate the cream and cheese. Nutritional yeast works well as a cheese substitute, and there are plenty of vegan cheeses in the grocery store today. For the cream, you can use almond milk, oat milk, or cashew cream for a gorgeous vegan lemon garlic pasta.
Spice it Up | You can add red pepper flakes or chili flakes when you are making the cream sauce. Start with ¼ tsp and go from there. And remember, the peppers open and heat up more as they cook.
Add Pesto | A couple of tablespoons of pesto will brighten the flavors even more! Try my Easy Nut Free Basil Pesto Sauce Recipe.
Recommended Equipment
A sturdy heavy-bottomed pot or Dutch oven will work best, though watch the size 4 quart works great, if the pot is too big, it will be harder for your gemelli pasta to cook.
Don't forget the microplane for your zesting your lemon and cheese grating, my favorite!
Storage Tips
To store this creamy lemon vegetable pasta, place the leftovers in an airtight container in the refrigerator for up to 4 days.
Freezing: I do not usually recommend putting creamy pasta dinners in the freezer as the cream doesn't freeze well. However if you cannot avoid, it's better to freeze than to toss, when re-heating, you might want to add a splash of cream and a little extra parmesan stirring into the hot pasta.
Reheating Tips
Then just warm it in the microwave or in a medium saucepan over medium heat to enjoy it again. To help the sauce coat the pasta again, add a splash of broth, the reserved starchy water, or cream and stir.
Frequently Asked Questions
Can I use pre-grated parmesan cheese in this pasta recipe?
Freshly grated parmesan melts better than pre-grated cheeses, which have anti-caking agents that may hinder the melting process. So, I prefer freshly grated cheese. That said, I like to at least buy a high quality grated parmesan cheese when I am in a pinch.
Are lemon and garlic a good combination?
They sure are. Lemon and garlic are often used together in salad dressings and more. And the garlic turns so buttery delicious when it cooks!
I like to add a squeezing of lemon to the finish of my Air Fryer Asparagus and many of the seafood and chicken dishes I serve.
Top Tip
If you know you will have leftovers, save the excess starchy pasta water in an airtight container in the fridge. Then you can pull it out and use the reserved pasta water to reconstitute the creamy sauce.
Tips for Two
As we are going to be empty nesters this fall I have begun giving tips for how to scale back a recipe. The easiest way if you truly just want two servings is to use the button on the recipe card and change the servings to the number you desire.
However; I've already scaled this recipe back to serve 4 people and this makes a lovely leftover lunch!
I sure hope you try and LOVE this easy one pot gemelli pasta recipe, the flavor is amazing! If you do, please give it a 5 star rating and comment below the recipe.
Recipe adapted from Food Dolls.
Wednesday #LemonWeek Recipes
Like this recipe?
Don't forget to give it a ⭐️⭐️⭐️⭐️⭐️ star rating and comment below the recipe!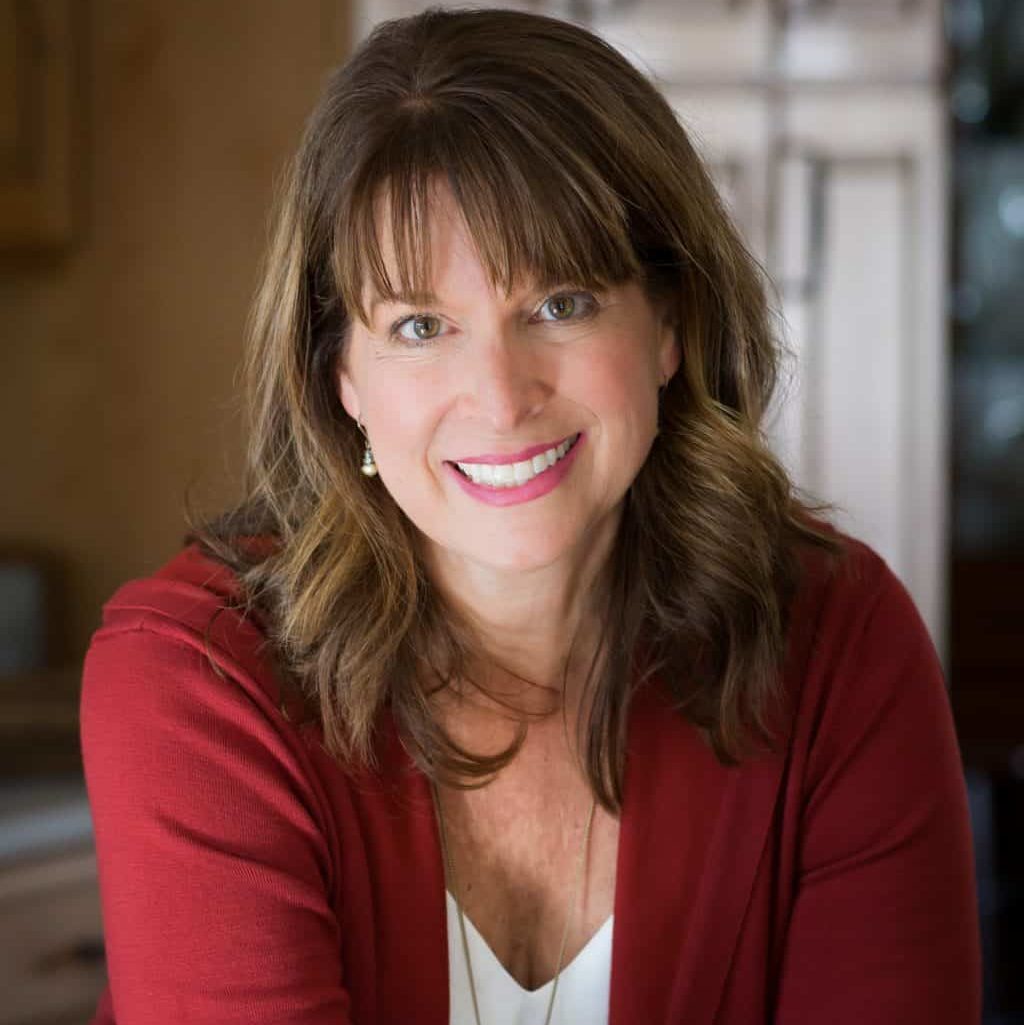 About Kathleen Pope
Recipe Innovator | Food Photographer | Food Writer
Hi, I'm Kathleen Pope. Here at The Fresh Cooky you will find easy, mostly from-scratch, trusted recipes for all occasions. From speedy dinners to tasty desserts, with easy step-by-step instructions. I am here to help teach you how to make mouthwatering recipes without spending hours in the kitchen. Read more about Kathleen here.